Flourless Peanut Butter Chocolate Chip Cookies are delicious gluten-free cookies using only 6 ingredients and taking only 15 minutes!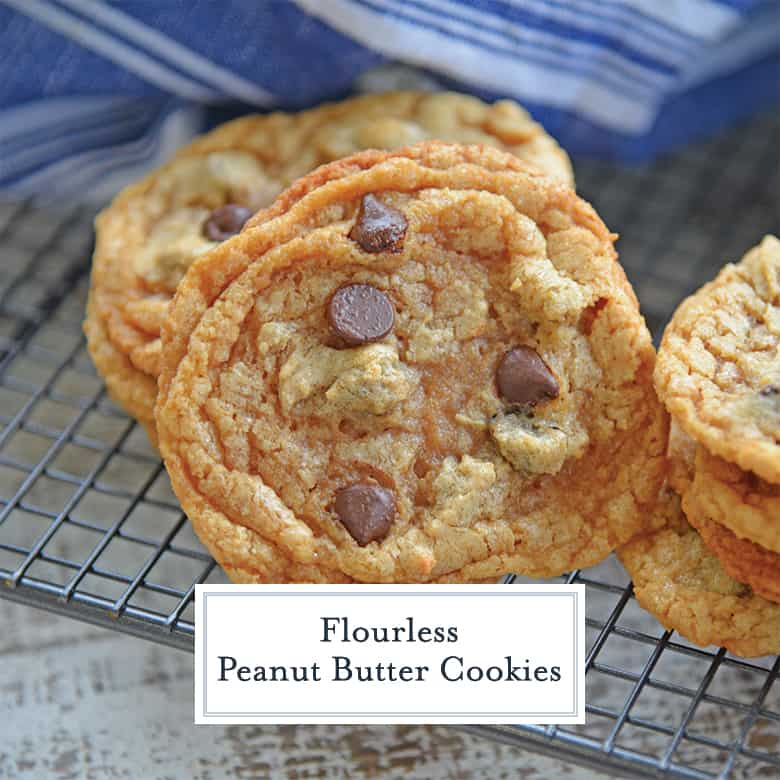 Flourless Peanut Butter Chocolate Chip Cookies are gluten-free and easy to make! A twist on classic peanut butter cookies.
There are two types of people in this world: crispy cookie people and soft cookie people. I am a soft cookie person. I want to pretend I am eating cookie dough instead of an actual cookie.
They are the best mix between traditional peanut butter cookies and chocolate chip cookies. But without the flour.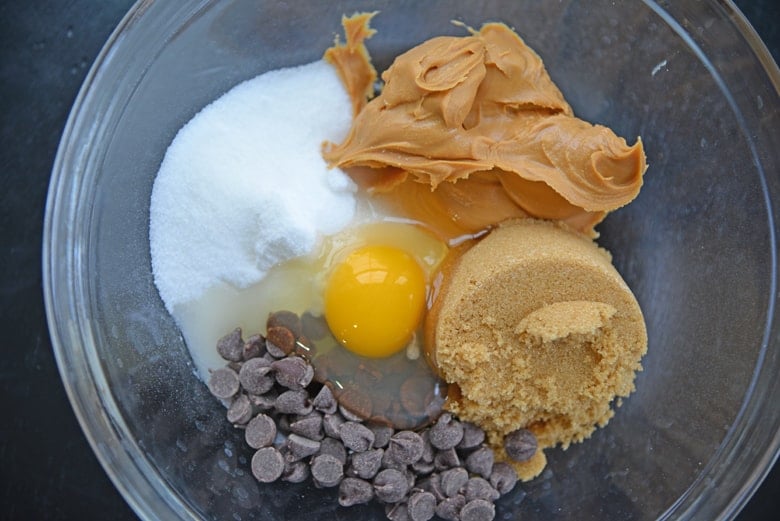 What does the flour do anyhow? It makes them fluffy and puffy. So you still get the cookie but with a little less height.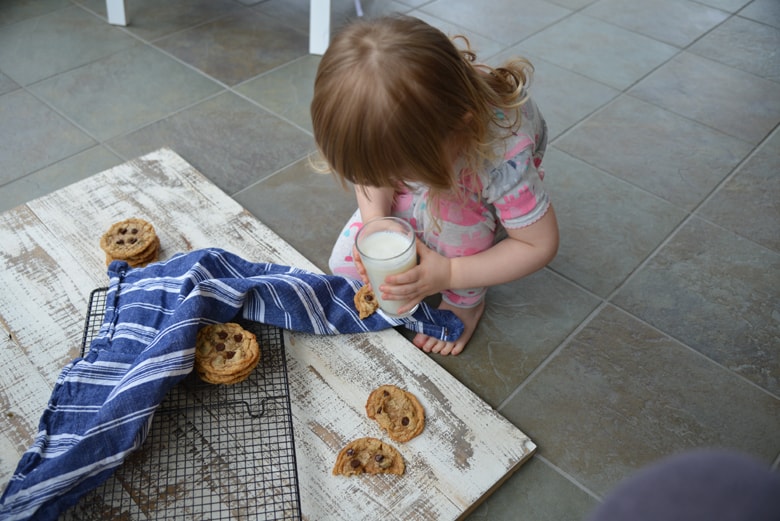 Flourless peanut butter and chocolate cookies are soft, rich and super simple to prepare, so they are right up my alley. If you are a crispy cookie person, you can just cook them a little longer and you'll be just fine.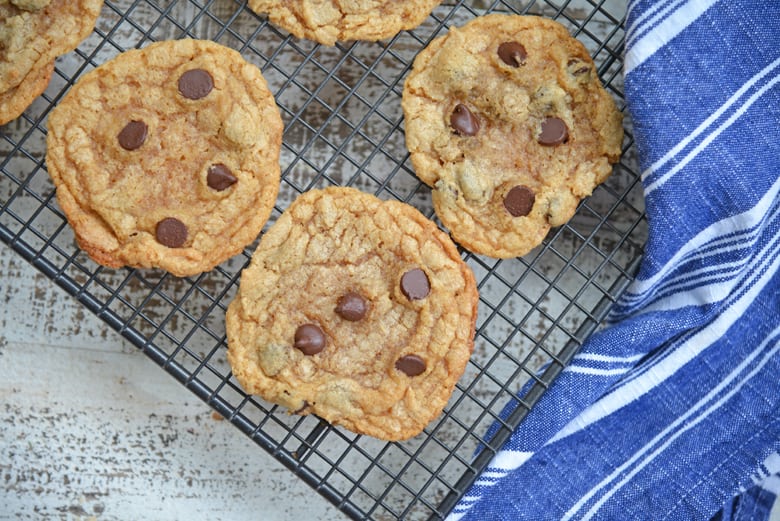 Don't get flourless confused with "healthy" because quite frankly, they are not low in calories, fat or sugar, but they are delightfully good, easy to make and safe for those living a gluten-free lifestyle.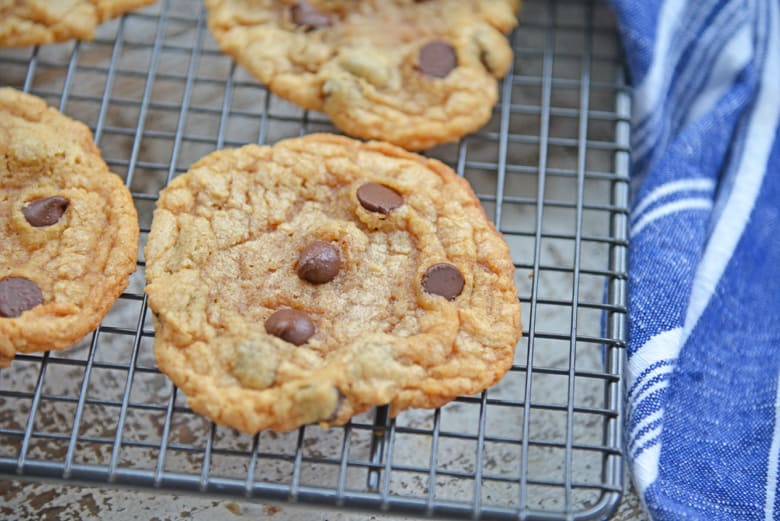 In fact, they were so good, my family didn't even realize they were gluten-free. I guess they will know now…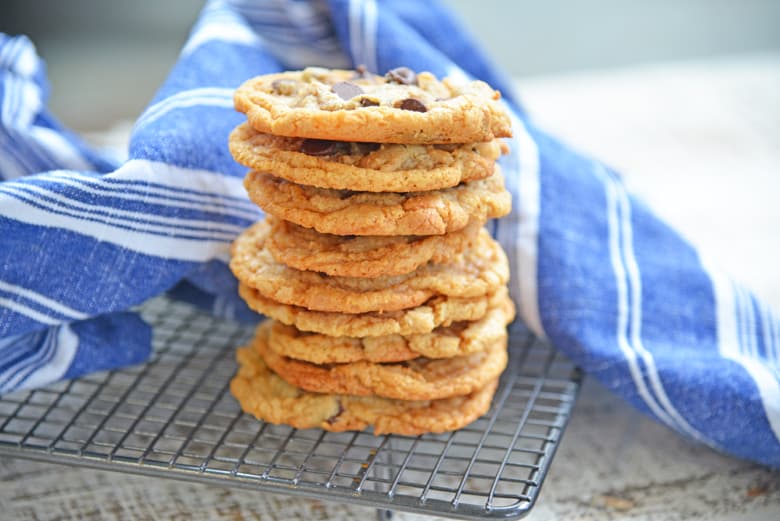 If you do want to slash a few calories, you can also make them sans chocolate chips. Or substitute chocolate chips with peanut butter chips … or whatever type of chip you'd like.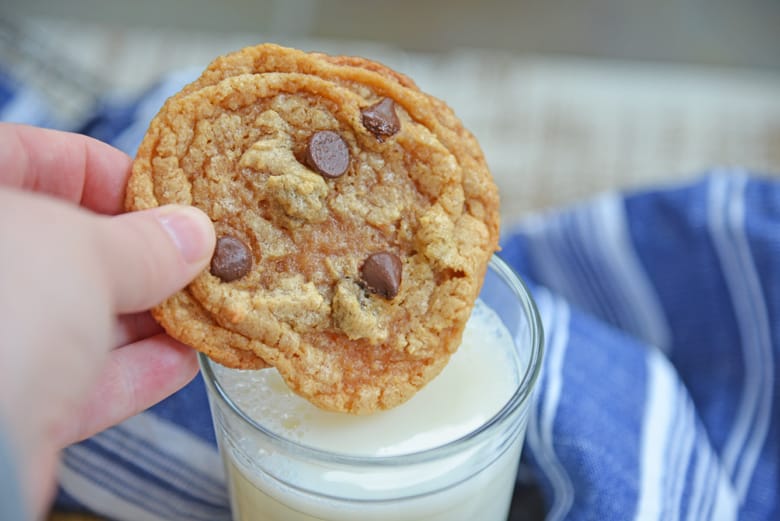 You can also add walnuts, pecans or any type of nut you choose.
I also have read several recipes and feedback in the comments regarding similar flourless cookie recipes. Please be mindful that without the flour the dough won't look like typical "cookie dough" Instead is remembers butter and sugar being creamed together but in a dark amber color.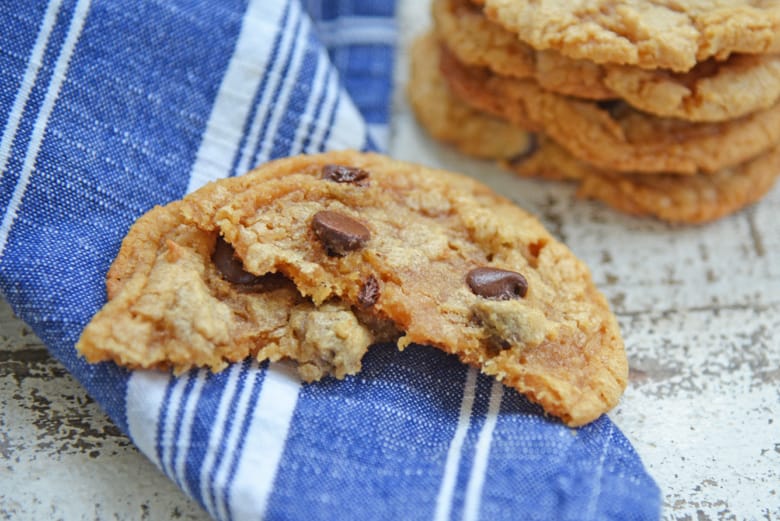 You won't be able to form balls in your hands or create a crosshatch pattern. The dough just isn't stable enough.
You can, however, easily dollop it onto the cookie sheet for baking. Just make sure you drop the cookies and then put them right in the oven. Too much time sitting and the will spread.
Also keep you used cookie dough in the fridge until you are ready to bake it.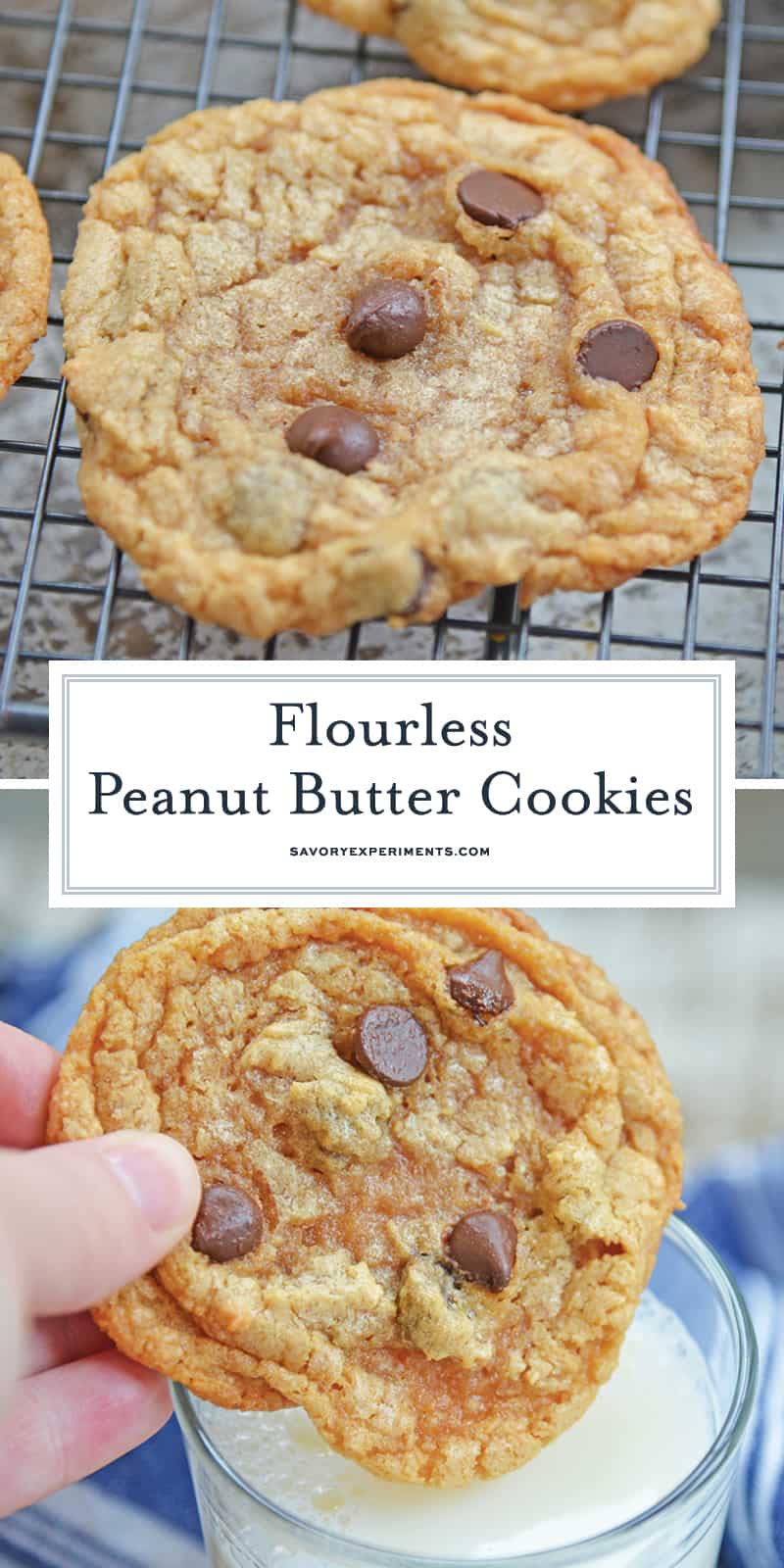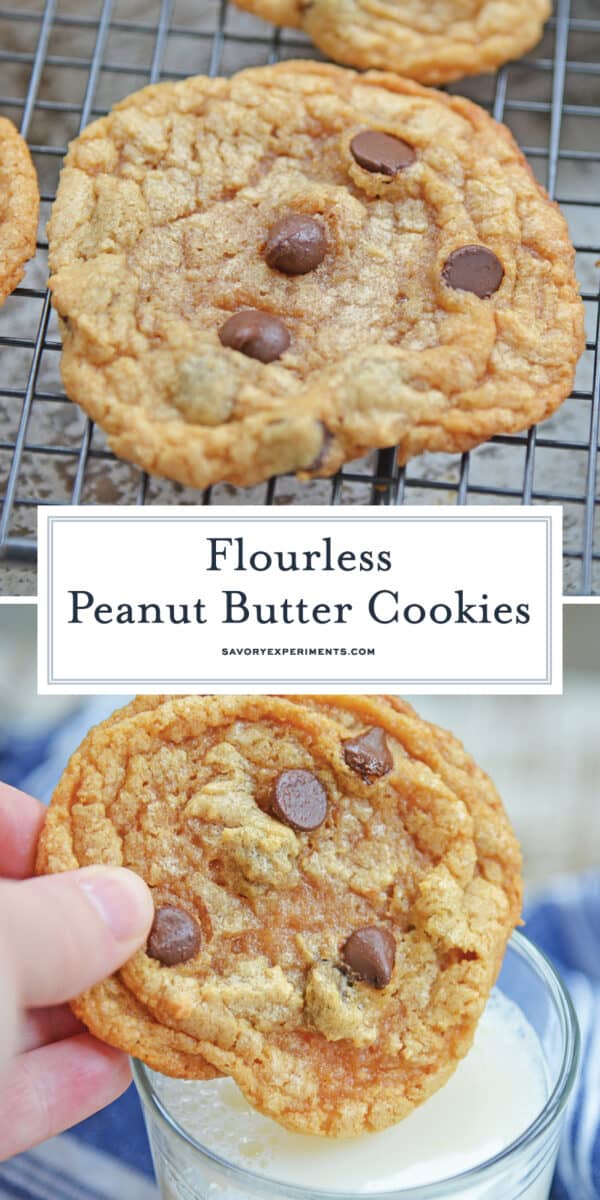 If you like this cookie recipe, you'll like these too!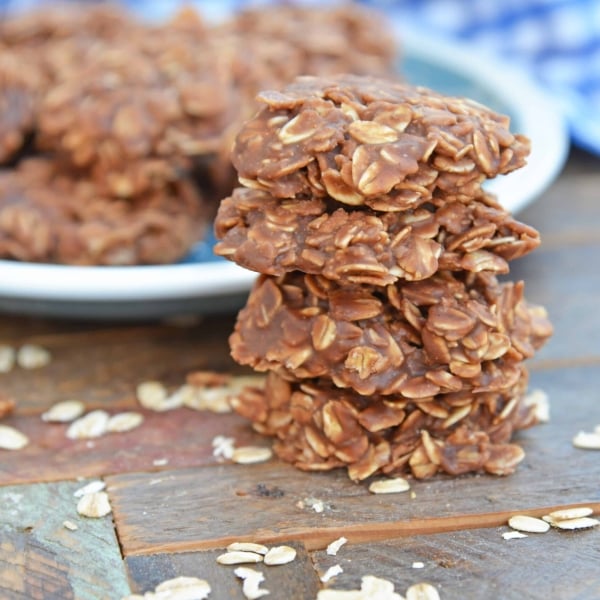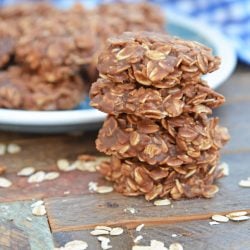 Classic No Bake Cookies
If you've always thought oatmeal no bake cookies were difficult, this classic no bake cookie recipe will change your mind. With these tips, you'll end up with the perfect peanut butter no bake cookies every time!
View this recipe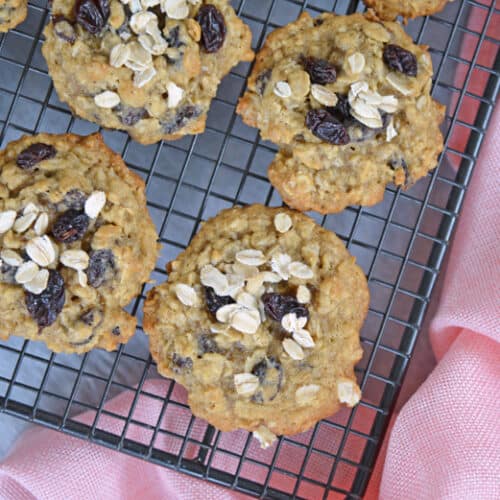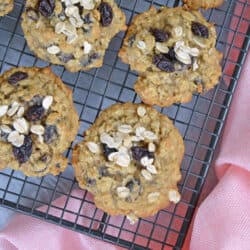 Oatmeal Raisin Cookies
Chewy on the inside and crispy edges, these Oatmeal Raisin Cookies are going to blow your mind!
View this recipe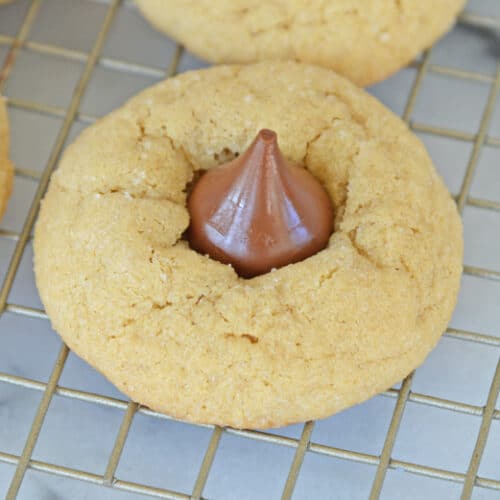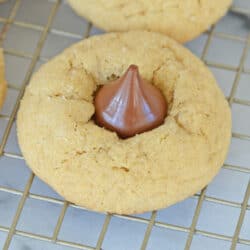 Peanut Butter Blossoms
Soft Peanut Butter Cookies rolled in sugar and topped with a chocolate kiss.
View this recipe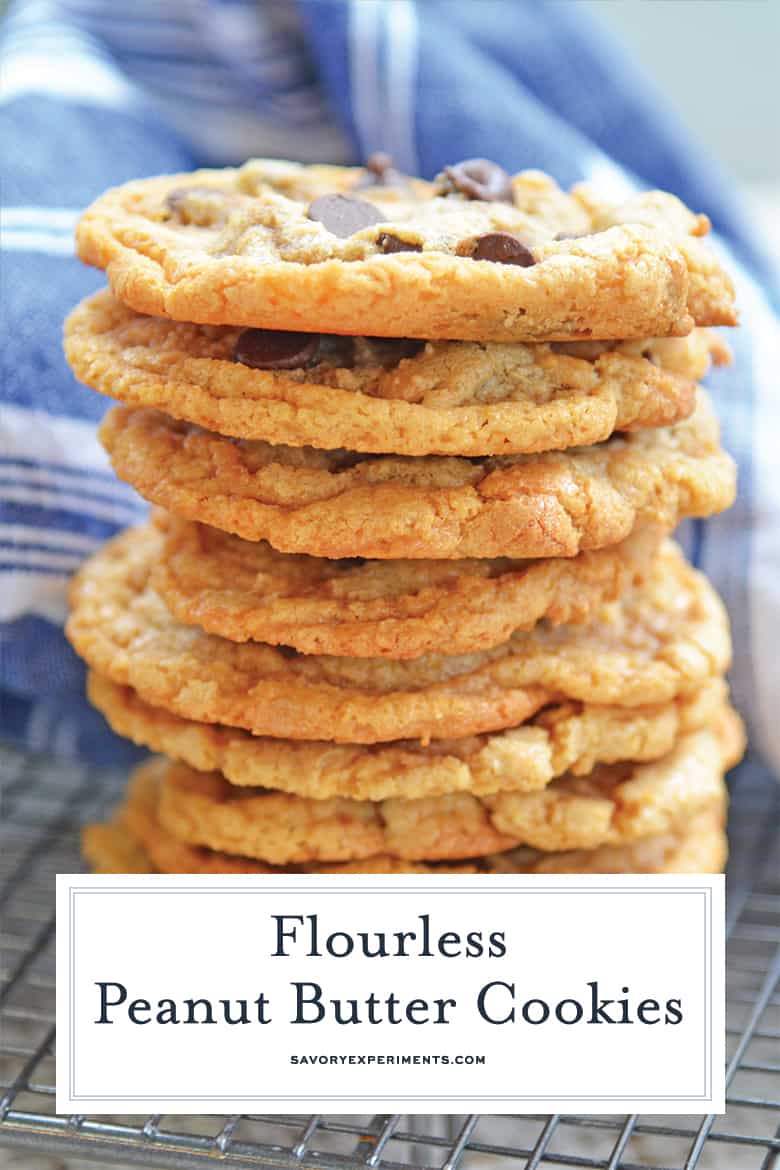 Tools for making Flourless Peanut Butter Cookies:
Mixing Bowls– make sure to check out my article on Using the Right Mixing Bowl, you'd be surprised how many people aren't!
Stand Mixer– I lived for a long time without one. My life was changed when I finally bit the bullet and bought one. Just do it and thank yourself later.
Insulated Cookie Sheet– Insulated cookie sheets allow hot air to circulate around the entire cookie, resulting in even baking.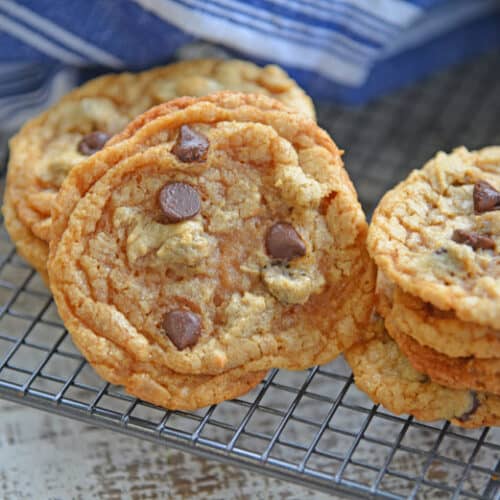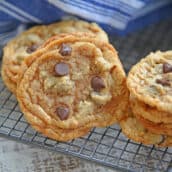 Flourless Peanut Butter Chocolate Chip Cookie Recipe
Flourless Peanut Butter Chocolate Chip Cookies are gluten-free and easy to make! A twist on classic peanut butter cookies.
Instructions
Preheat oven to 350 degrees. In a large bowl, combine peanut butter through vanilla until mixture is smooth. Fold in chocolate chips.

Line a cookie sheet with parchment paper. Scoop a tablespoon of dough out and roll between your hands to form a ball. Place the balls of cookie dough an inch or two apart on the cookie sheet. Flatten the dough with a fork in a crosshatch pattern.

Bake 10 minutes, turning the pan front to back halfway through cooking time. The cookies should be lightly golden. Watch carefully, do not over bake. Cool the cookies on the pan. Once cooled, they should lift easily off the parchment paper.
Nutrition
Calories:
243
kcal
,
Carbohydrates:
25
g
,
Protein:
6
g
,
Fat:
14
g
,
Saturated Fat:
4
g
,
Cholesterol:
14
mg
,
Sodium:
107
mg
,
Potassium:
199
mg
,
Fiber:
1
g
,
Sugar:
22
g
,
Vitamin A:
20
IU
,
Calcium:
24
mg
,
Iron:
1
mg