Pepper Jelly Goat Cheese Dip is the most popular dip I make! Creamy and full of sweet heat, this makes the perfect potluck dish. 
Pepper jelly and goat cheese seem to be making a rise in popularity again. I totally see why, tart and creamy flavor of goat cheese adds tons of flavor to salads and other dishes, while pepper jelly is a sweet heat best complmented by savory ingredients.
A few years back my husband and I traveled to St. Lucia in the Caribbean. For the most part we participated in resort activities and outings, but kept hearing about "Mango's Tours". One day at the pool Mango found us and proposed his day long outing to see the sights of St. Lucia in an intimate setting. Usually not risk takers, especially in foreign countries, we decided to break out of our norm and take Mango up on his cash-only offer.
The next morning, along with four other skeptical couples, we waited at the dock as Mango arrived in his small speed boat along with one of his teenage sons. We all boarded and zoomed off to explore the island. We toured the coast and homes of the stars, hiked the Pitons and an active volcano and finally relaxed with natural mud baths and waterfalls in a rain forest. The day ended with a meal at Mango's home prepared by his wife, one of the most memorable meals ever!
I received a tour of her kitchen and was able to ask some questions. One of her staple ingredients was pepper jelly. Sold in the US for decades, it is a newer trend in swanky restaurants, fine food magazines and starting to mainstream. Prepared from a Caribbean pepper, the scotch bonnet, this is a mouth watering, tangy, savory-sweet jelly. Most commonly it is used to glaze meats, fish and vegetables, as a spread for sandwiches, to toss chicken wings, in stir fry or for a tasty goat cheese dip appetizer!
Don't forget to PIN Pepper Jelly Goat Cheese Dip!
Print Recipe
Pepper Jelly Goat Cheese Dip
Yum
Pepper Jelly Goat Cheese Dip is the most popular dip I make! Creamy and full of sweet heat, this makes the perfect potluck dish.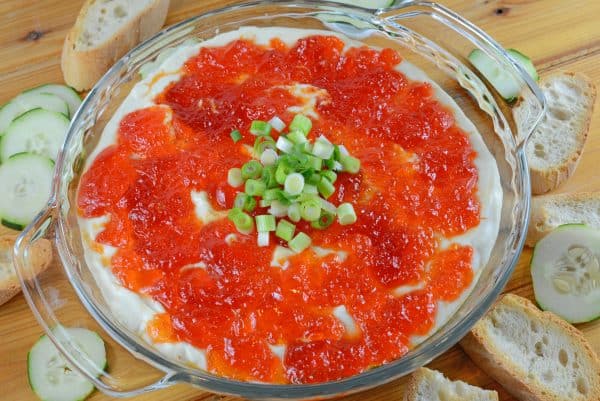 | | |
| --- | --- |
| | |
Heat oven to 350 degrees.

In a medium mixing bowl, the bowl of a stand mixer or food processor, blend creamy goat cheese, cream cheese, honey, fine sea salt, garlic.

Spread evenly in an 8-inch pie plate. Top with pepper jelly.

Bake goat cheese dip for 5 minutes, remove and top with scallions. The key here is to warm it up, but not too much as goat cheese can separate and become grainy if it is heated too much.

Remove from the oven and serve with crostini and cucumber slices.
If you like this recipe, leave me a comment and let me know! 
If you like this recipe, make sure to follow me on Pinterest for even more!