Fall is the perfect time to warm up with a delicious mug of hot chocolate. I've been trying out a couple of different recipes this year and fell in love with this white hot chocolate with pumpkin pie spice flavor.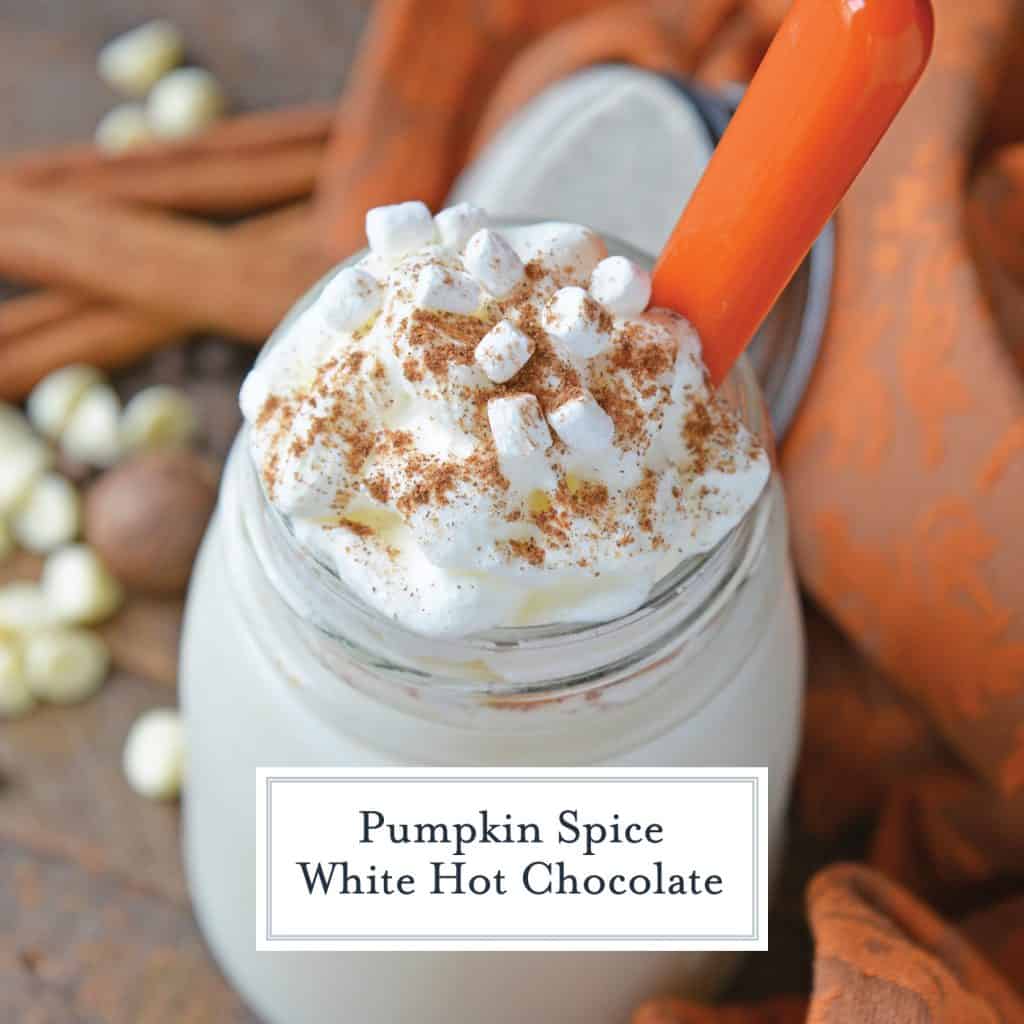 If you've had Starbucks Pumpkin Spice lattes or pumpkin spice coffee, it is similar but instead of a coffee base, this one uses my super popular white hot chocolate. Perfect for serving with Pumpkin Swirl Brownies, if you ask me.
Pumpkin Season
We are officially well into the middle of fall. This glorious time of year is perhaps more accurately known in the United States as Pumpkin Season. A time when nearly everyone loses their mind over everything pumpkin.
The funny thing about pumpkin season is that everyone clamors over "pumpkin" items that have no actual pumpkin in them. Nope. No pumpkin flavor. Have you ever taken the time to really think about that?
Sure pumpkin pies have pumpkin in them, but in reality, what people are tripping over themselves to eat is spices.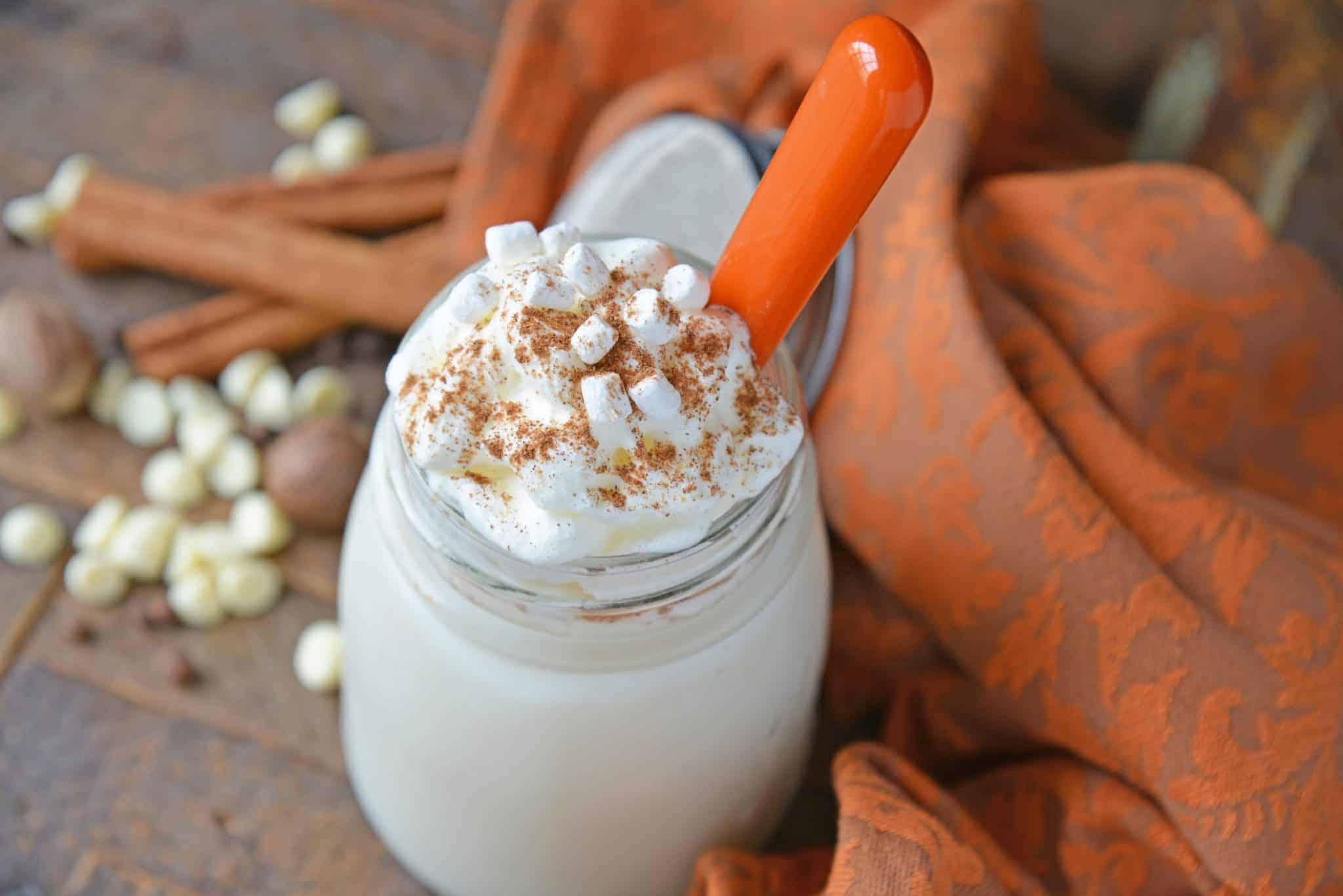 Pumpkin Pie Spice
Pumpkin Pie Spice is a blend of cinnamon, nutmeg, allspice and a few other delicious spices that combine to create something that smells and tastes like fall. This mix embodies fall and there is absolutely no pumpkin in it.
The key to its success is using warming spices that complement the sweet, nutty, and earthy flavor of pumpkin. If you want to experiment and create your own blend, you can easily do so.
Use cinnamon as the main spice and then add a dash of any/all of the following: nutmeg, allspice, clove, ground ginger, and if you are feeling a little bit of actual heat, perhaps a tiny sprinkle of cayenne.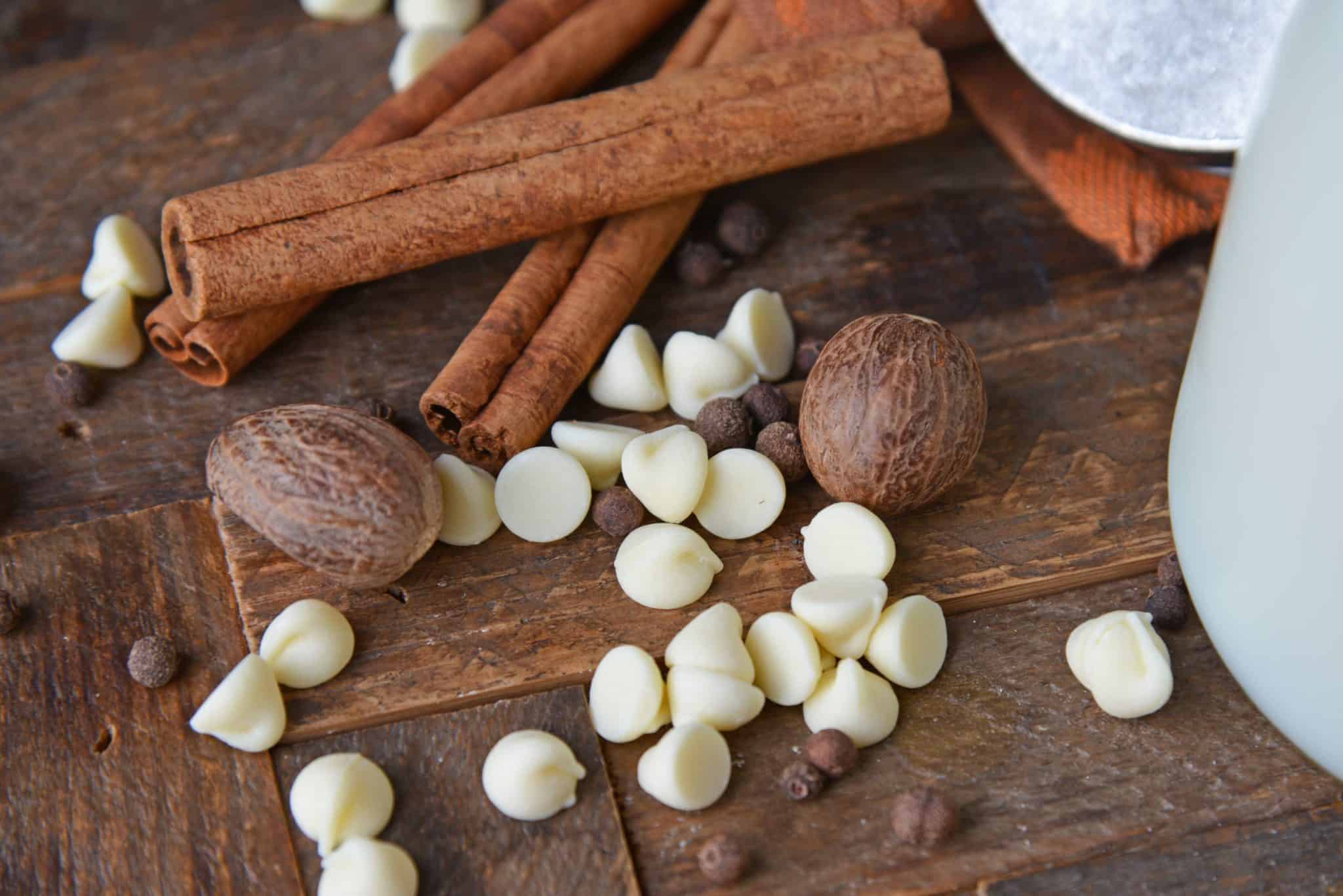 Pumpkin Spice Hot Chocolate
Back to hot chocolate and pumpkin. I tried making a true pumpkin hot chocolate, but real pumpkin puree in milk just feels grainy. I took a step back and decided it was pumpkin pie spice all the way, but that maybe I could change the chocolate component.
This hot drink uses white chocolate instead of milk or dark chocolate. Just like it doesn't contain any actual pumpkin.
The light and sweet flavor of white hot chocolate pairs well and does not overpower the pumpkin pie spice the way other chocolate flavors would.
Instead, the combination results in a smooth drink that just screams fall. This is the perfect kid-friendly version of a Pumpkin Spice Latte, without the caffeine.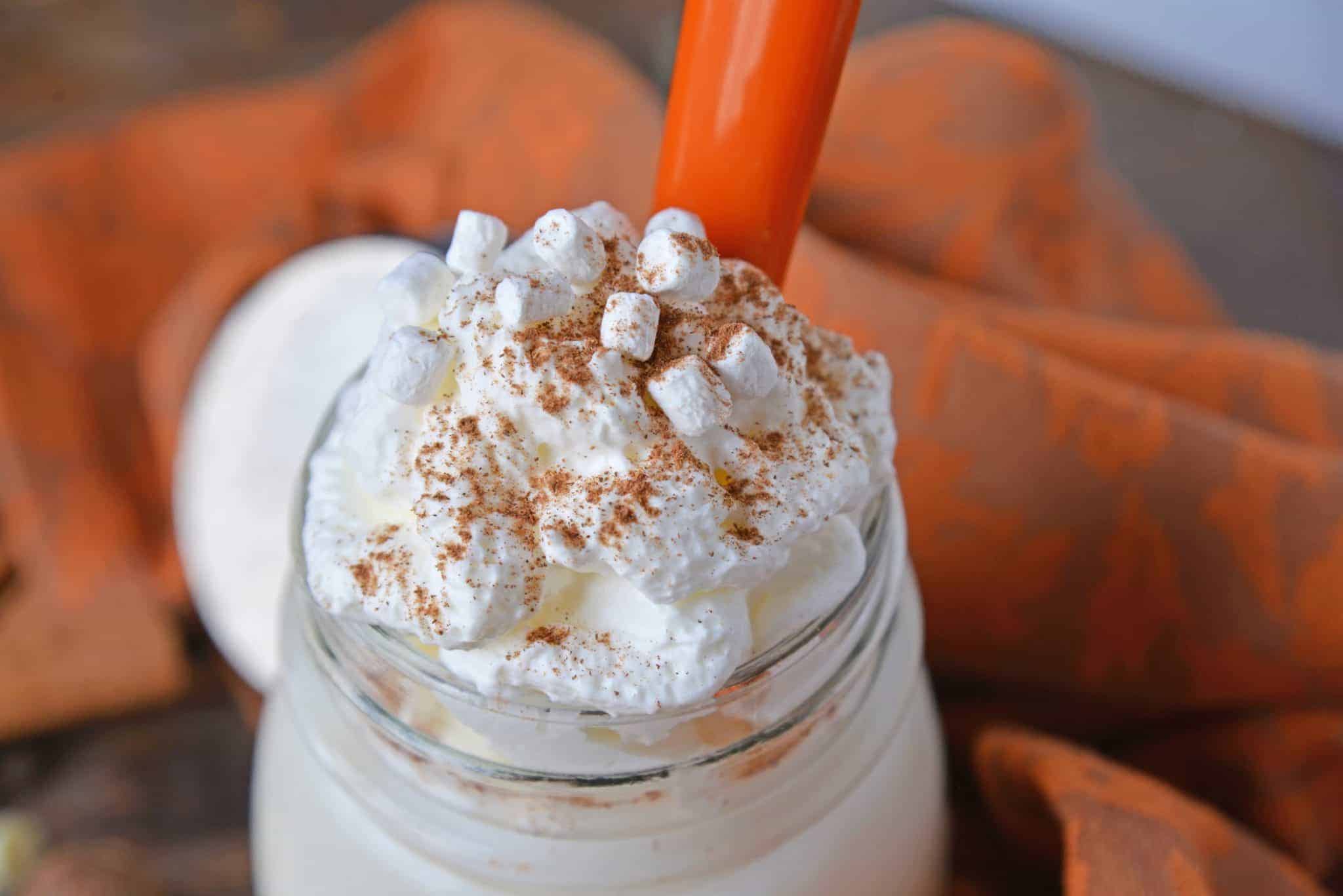 Make It!
Grab all the ingredients, most of which are kitchen staples (not hot chocolate mix, lol) including:
Milk- Whole milk will make for the most smooth and velvety. You can also use milk alternatives like oat milk, almond milk or soy.
White chocolate chips– you can use milk chocolate, but then you won't get this dreamy white Christmas type of vibe.
Vanilla Extract– Let's be honest, white chocolate doesn't have much flavor, so you'll need to help it out by adding a little vanilla. Some folks prefer to swap this out for maple syrup, honey or agave nectar.
Pumpkin Spice– Apple pie spice also works in a pinch.
Heat the milk in a medium saucepan over medium heat. Heat until just about to bubble, but not more- then it will be scalded milk.
Add the white chocolate chips, vanilla extract and pumpkin pie spice, stirring until completely melted so it doesn't scald to the bottom.
Serve with your favorite toppings! We like stir sticks, a whole cinnamon stick (even though it isn't edible, it looks pretty), star anise, whipped cream, mini marshmallows or even slice of biscotti. Some folks like a pinch of salt, but I don't feel this recipe needs it.
Creamy hot chocolate is the perfect treat for a party. Place it in a slow cooker on the "keep warm" setting with a ladle close by. Make it into a hot chocolate bar with all of the topping options.
Make it Adult
You can take these seasonal flavors up a notch further with a shot of chocolate liqueur or Baileys Irish Cream. Hubby also likes it with a little bit of whiskey or Grand Marnier. I've even been known to spike it with whiskey.
Vanilla or chocolate alcohol infused whipped cream are also great options.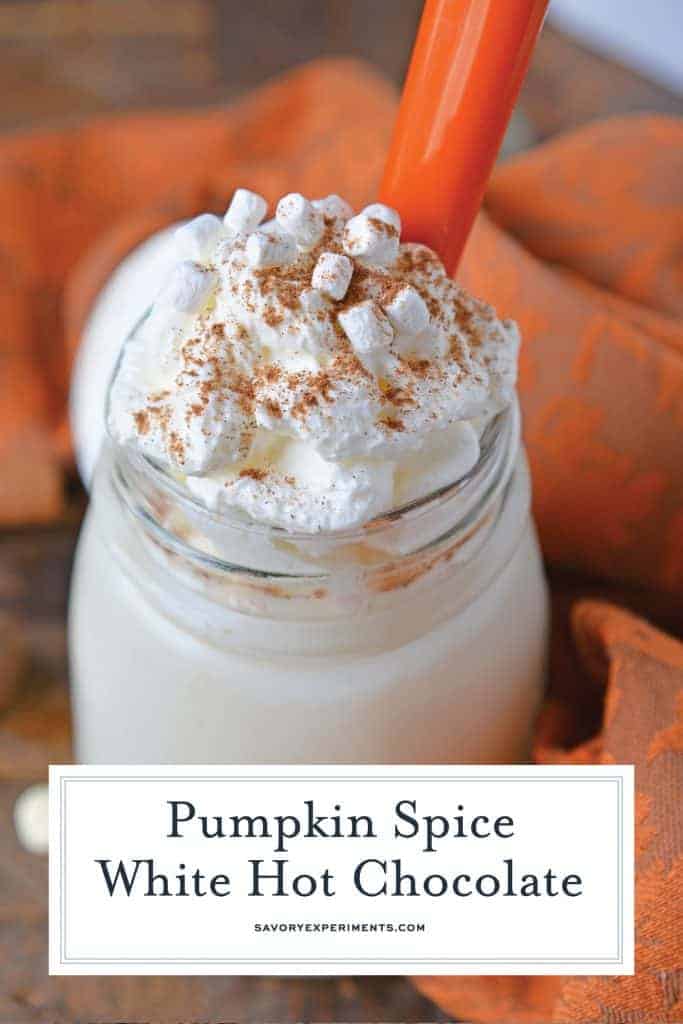 Leftovers & Make Ahead
If you do have leftovers or want to make it ahead, simply store for up to 5 days in an airtight container in the refrigerator. Reheat on the stove or in the microwave.
This doesn't freeze particularly well.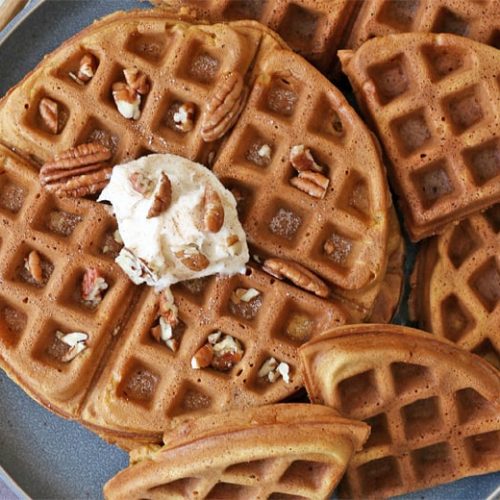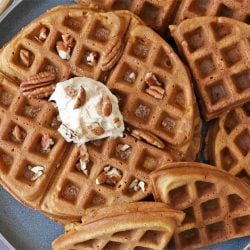 Pumpkin Waffles
Homemade waffles don't get much better than these Pumpkin Waffles! Full of fall flavor and perfect for breakfast or brunch! Homemade waffles don't get much better than these Pumpkin Waffles! Full of fall flavor and perfect for breakfast or brunch!
See The Recipe!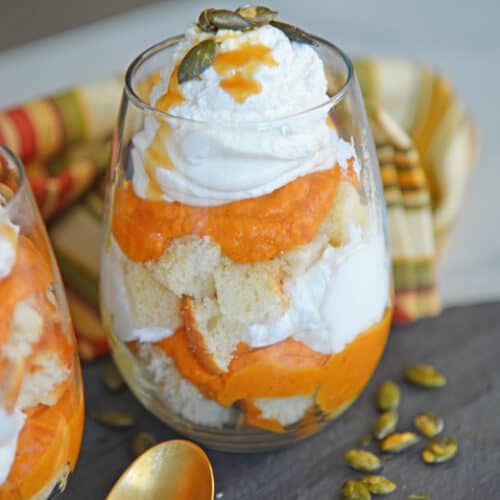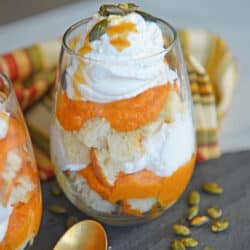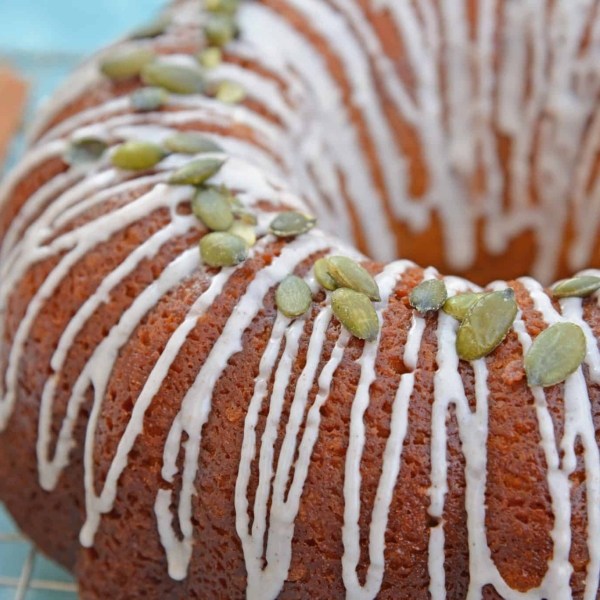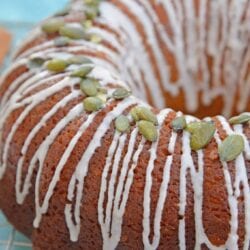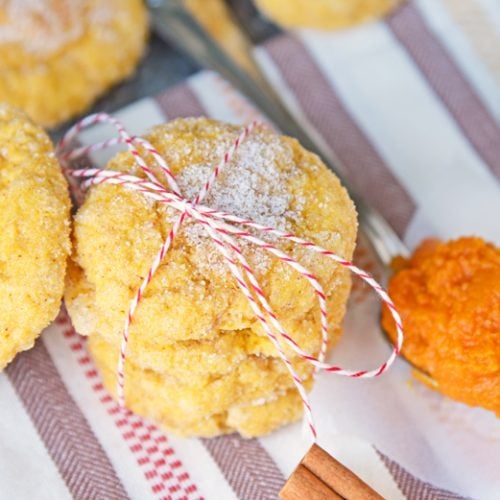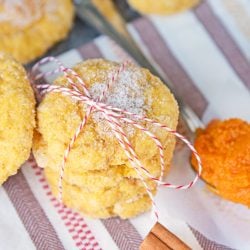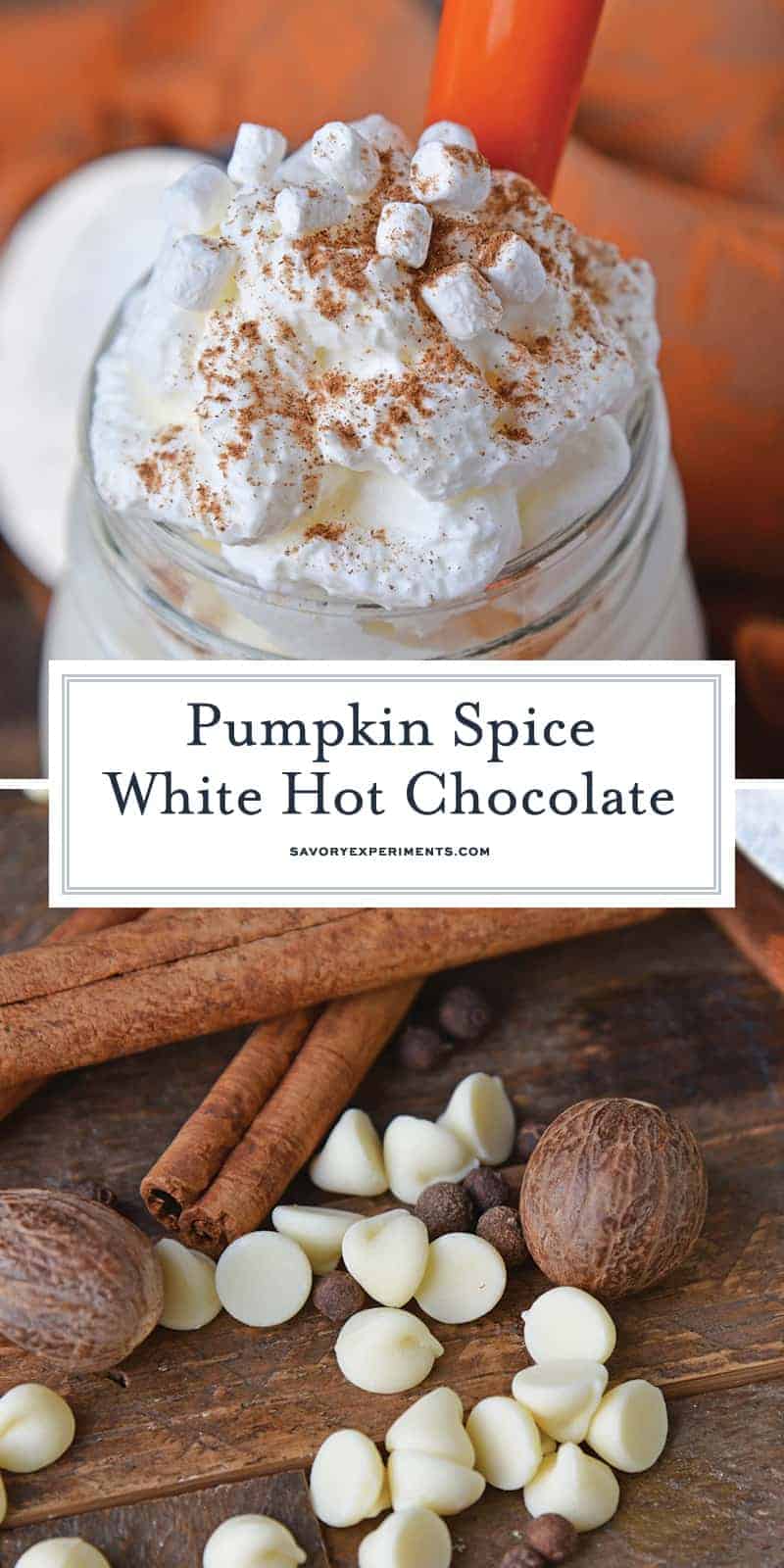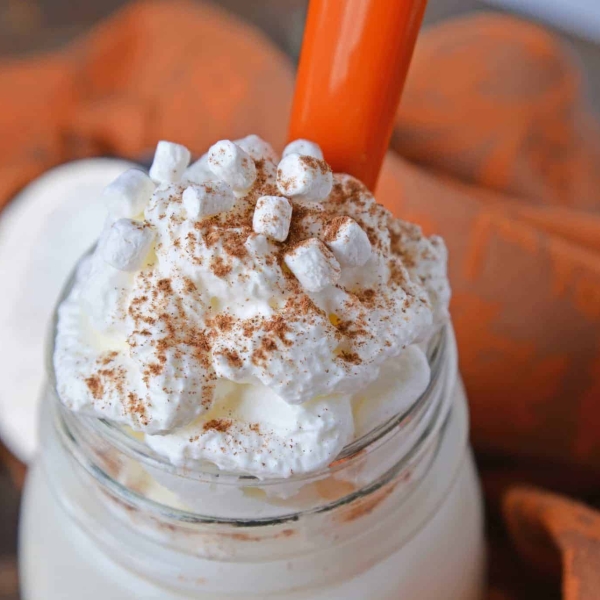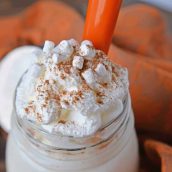 Pumpkin Spice Hot Chocolate
Pumpkin Spice Hot Chocolate is the perfect combination of white hot chocolate and pumpkin pie spice. The best hot chocolate recipe for fall!
Instructions
Heat milk in a heavy bottom saucepan over medium heat.

Reduce to low heat and add white chocolate chips, vanilla extract and pumpkin pie spice, stirring until completely melted.

Remove from heat and ladle into cups.

Garnish with toppings of choice and hot chocolate stir sticks.

If you've tried this recipe, come back and let us know hot it was!
Nutrition
Calories:
399
kcal
,
Carbohydrates:
39
g
,
Protein:
10
g
,
Fat:
22
g
,
Saturated Fat:
13
g
,
Cholesterol:
33
mg
,
Sodium:
146
mg
,
Potassium:
460
mg
,
Sugar:
39
g
,
Vitamin A:
410
IU
,
Vitamin C:
0.6
mg
,
Calcium:
376
mg
,
Iron:
0.5
mg