This Potato Latkes recipe only requires 6 ingredients plus oil for frying. Learn the best way to fry for a golden brown color and how to get them to stick.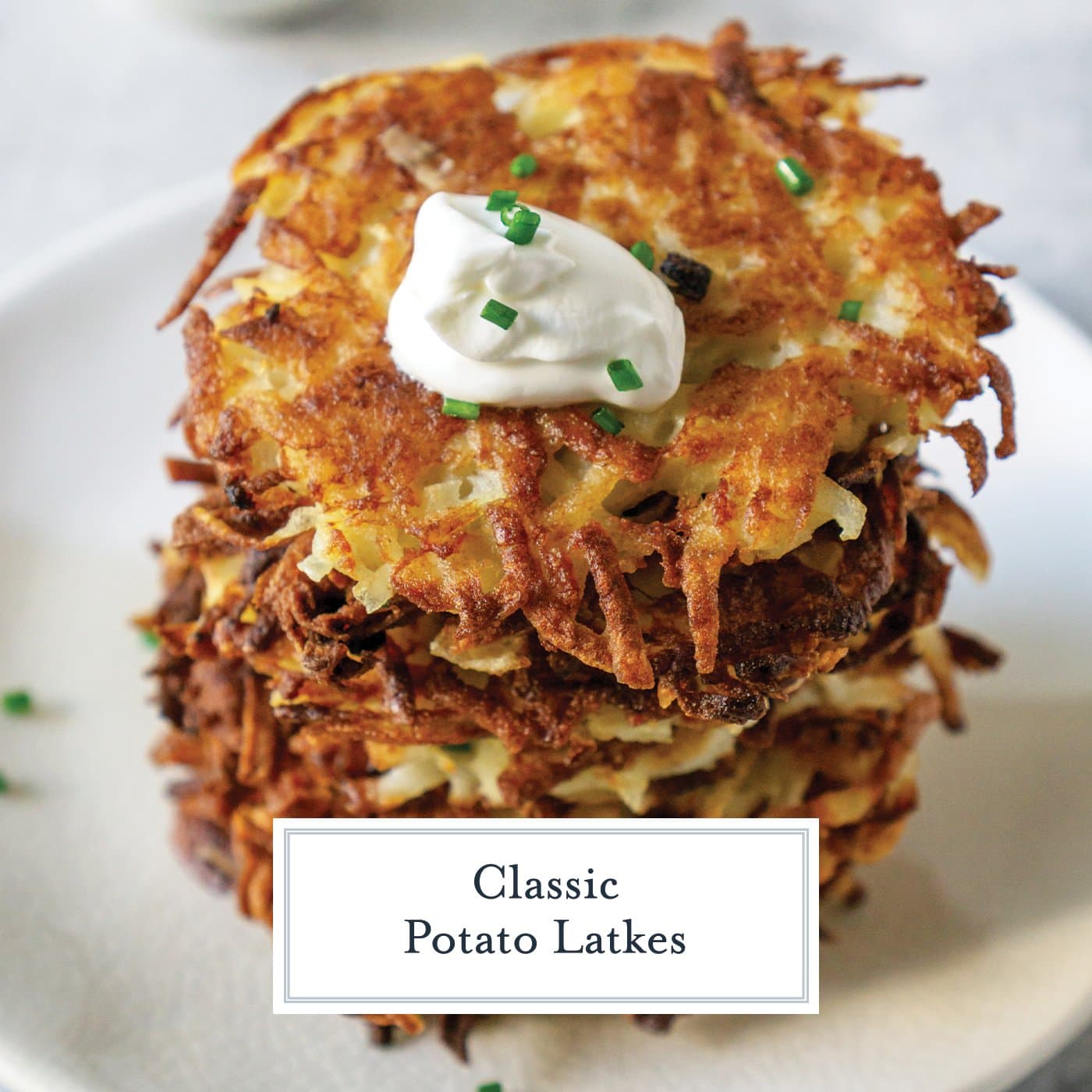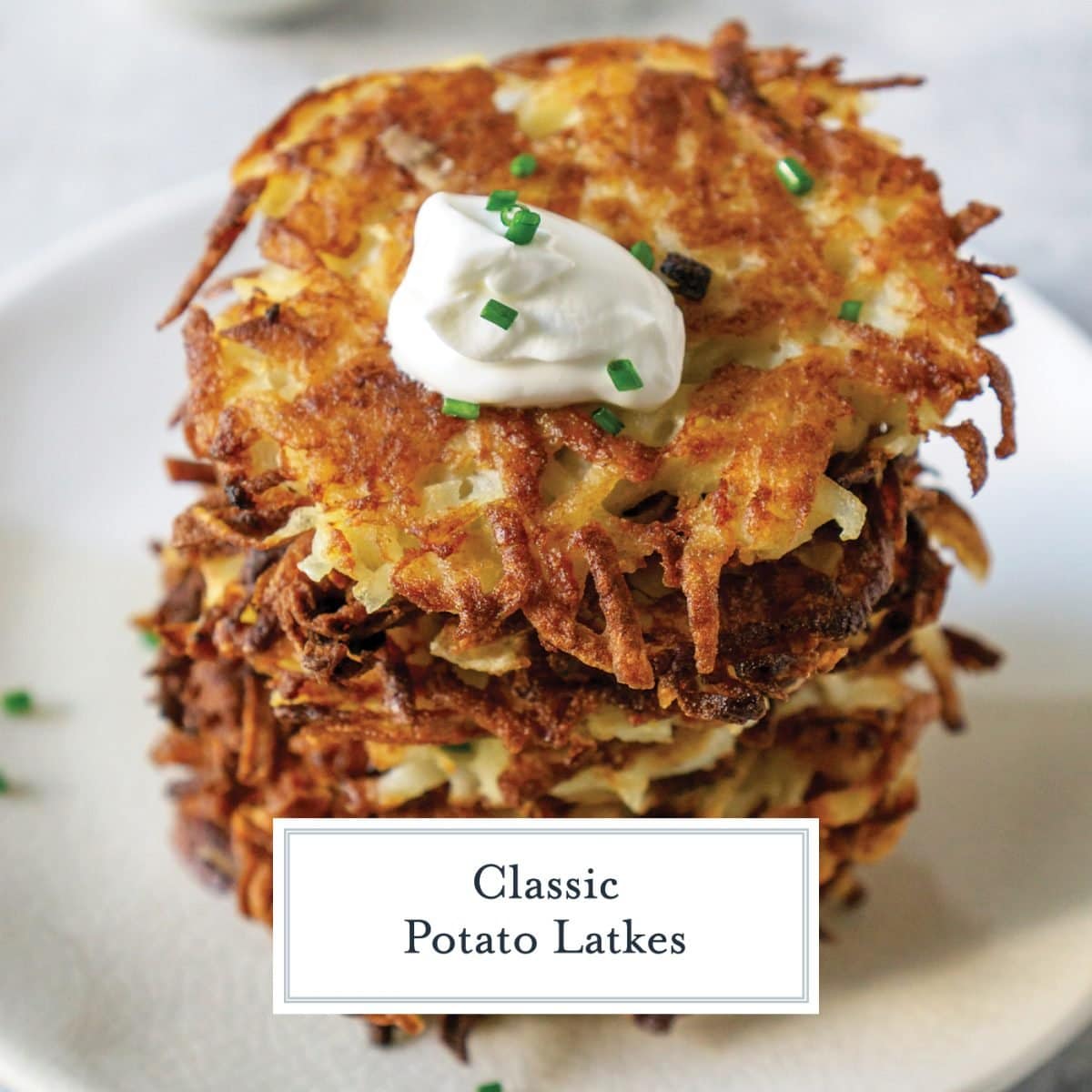 While traditional latkes are very simple in both ingredients and preparation, some home cooks tend to shy away merely because of the pan frying. Pan frying can be a bit tricky, but if you get to know your oils and also your range, you'll be a pro in no time at all.
Origin
Of course we associate potato latkes with Hanukkah, but did you know latkes descend from Jewish-Italian pancakes that were made with ricotta cheese?
The first connection between Hanukkah and pancakes was made by a rabbi in Italy named Rabbi Kalonymus ben Kalonymus (c. 1286-1328). According to The Encyclopedia of Jewish Food by Gil Marks, the Rabbi included pancakes in a list of dishes to serve at an idealized Purim feast, as well as a poem about Hanukkah.
After the Spanish expelled the Jews from Sicily in 1492, the exiles introduced their ricotta cheese pancakes, which were called cassola in Rome, to the Jews of northern Italy.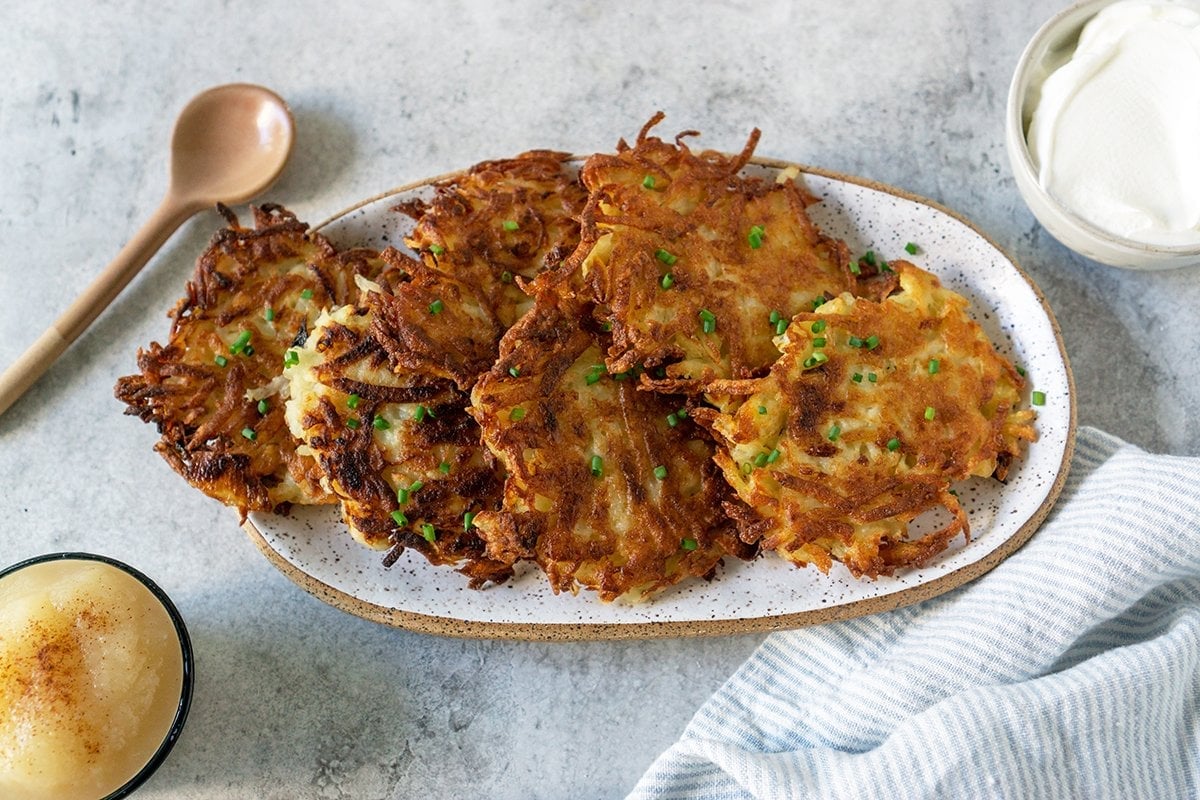 Consequently, cheese pancakes, because they combined the two traditional types of foods–fried and dairy–became a natural Hanukkah dish.
Frying potato latkes is also something deeply rooted in the Jewish faith. The use of oil for Hanukkah is very important. Oil is used to represent the oil that miraculously burned for 8 days straight when it was used to light the menorah of the Holy Temple.
How to Shred Potatoes
There are three common ways to shred potatoes easily.
Food Processor– The easiest way, most large food processor come with an attachment for shredding into small and large pieces. Use the larger side for latkes. This also comes in handy when shredding cheese.
Box Grater- The second way is a box grater. Set it into a large bowl and grate by hand. This will take the most arm strength and grunt work.
Mandoline Slicer– Many mandolines also come with a shred attachment, but I nearly always hurt myself when I use mine, so I try to stay away.
Potato Pancakes vs Potato Latkes
And the next most common question: what is the difference between potato pancakes and potato latkes? The answer is that they are very similar and use the same ingredients, the difference comes in small elements of preparation. Hash browns are also similar, but aren't formed into shapes.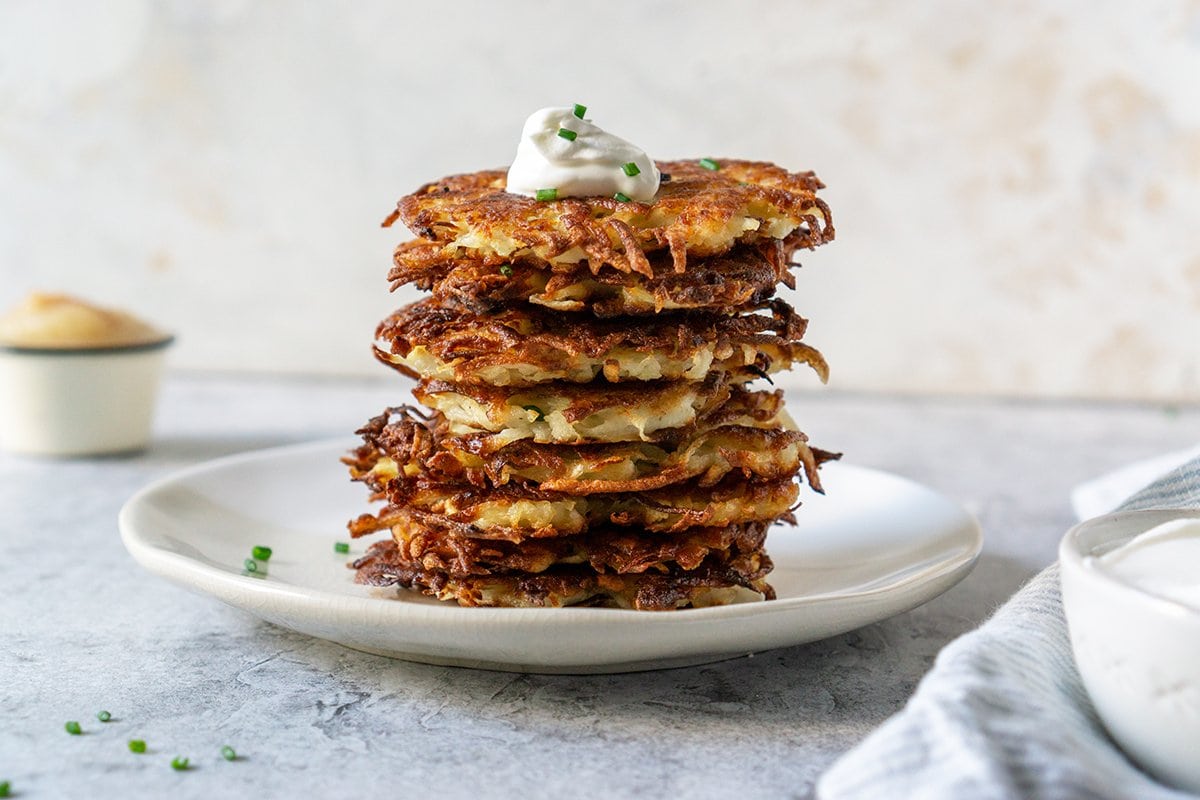 Potato pancakes– The potato is commonly finely grated, resulting in more of a pulp than thick shreds. This makes them easier to form into uniform circle shapes. Potato pancakes are often thinner and the texture resembles a coarse mashed potato pancakes.
Potato Latkes– Here the potatoes are shredded so they have a noticeable toothiness and texture when you eat them. They are dropped into the oil in haphazard shapes with crunchy strands hanging out the sides. They are typically a bit thicker and perfect in their imperfection.
Which Potato is Best
Russet potatoes are traditionally used because of the high starch content. This makes this sturdy enough for both shredding and frying. Yukon gold are a close second. Red potatoes can be used in extreme circumstances, but are a middle-of-the-road potato and might not get as crispy.
Whatever you do, avoid using waxy or soft potatoes like fingerlings, yellow or creamers.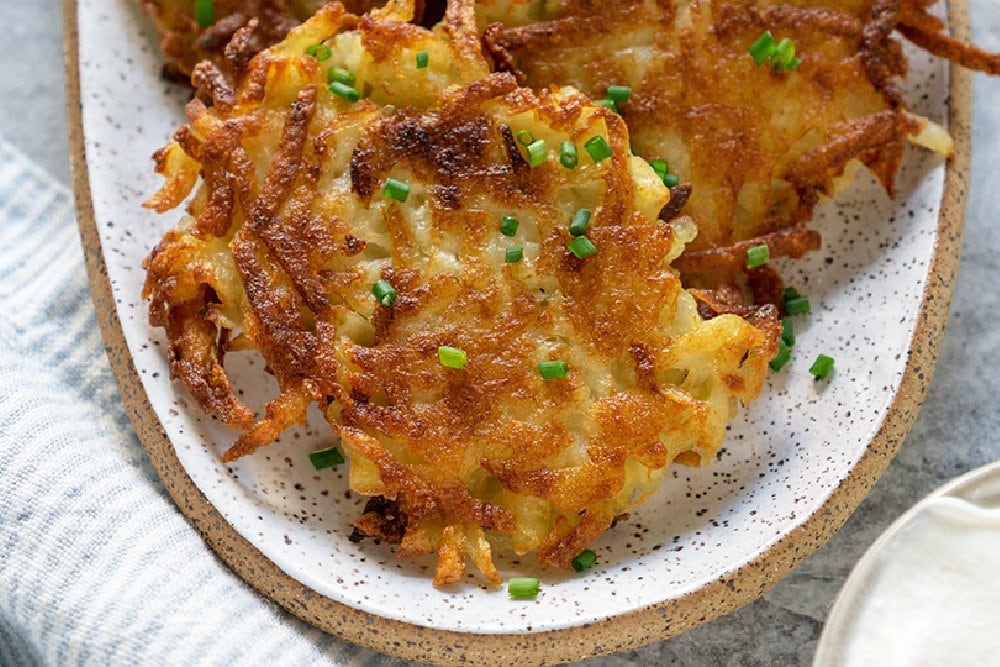 How to Fry Potato Latkes
No one wants overdone latkes, burnt oil or crispy hash brown shreds. If you are new to pan frying, keeping your oil from burning can be a learning curve. Here is my advice:
A dry potato mixture means a better brown and less sog. After soaking the potatoes, which reduces potato starch and prevents them from oxidizing (turning brown), you'll need to dry them. My favorite way is to wring them out in a tea towel or dry kitchen towel. Do this in small batches to get the most benefit. The next way is to place them between several layers of paper towels and press down.
Most recipes use olive oil, which has the lowest of smoke points. Any other neutral with a high smoke point oil like canola, peanut or vegetable oil can be swapped for a lower risk of burning. Raw olive oil does have a distinct (and delicious) flavor, but after being heated, that intense earthiness disappears and it is considered to be neutral, so the oil swap won't make a huge difference.
Keep your pan around medium heat throughout. Since we are quick pan frying, using a thermometer isn't an option because there isn't enough oil to sink it down in. Going over 325°F means you are deep frying instead of pan frying, so we try to keep it below that point. A lower temperature means that each latke will get a nice brown crust on the outside while allowing the potato shreds on the inside to cook and soften. Too hot means the outside will burn and the inside will be raw and too cool means the potato will start to disintegrate.
Every time a new latke gets introduced into the pan, the temperature will drop slightly just because the ingredients are cooler. Resist the urge to crank the heat to compensate, it will all work itself out.
If oil does burn, turn off the heat and wipe it out (carefully) with a paper towel. Start over again. This is the only way to get a perfect latke.
Add more oil as needed, but give it time to heat before adding more latkes. Latkes brown best when they are introduced to hot oil, not tempid.
Place cooked latkes on a baking sheet in a warm oven while you make the rest of the latke mixture.

Oven Baked Potato Latkes
Although frying latkes is traditional and quicker, oven-baked latkes are a simpler and healthier route.
Oven-baked latkes will still have that classic latke taste, but will miss the gentle char on the outside you can only get from a direct high heat sear from the maillard reaction. They will still have a pillowy soft inside, yet that nice crunch on the outside.
Reasons to make oven baked latkes:
No frying
Healthier
Less risk of burning
Easy clean up
No oil splatters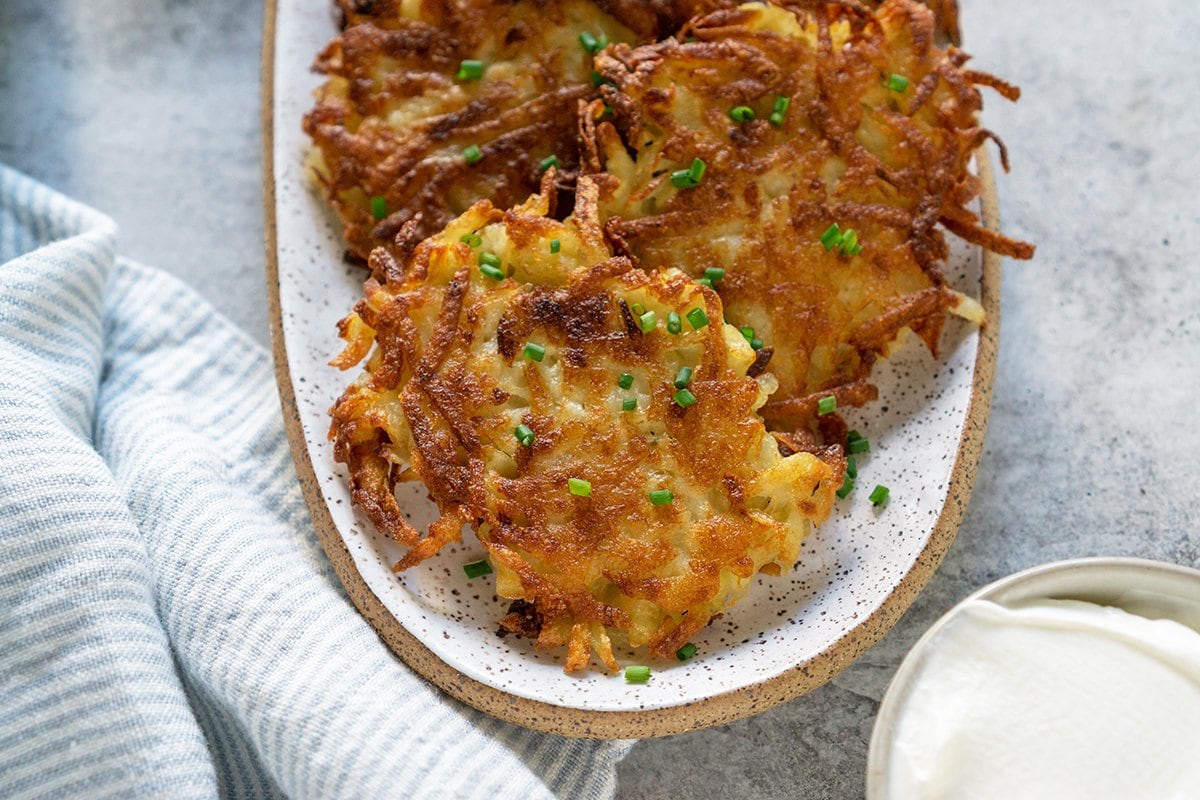 Of course if you are making these for Hanukkah, the downside is that you are missing the symbolic element of oil and frying.
Toppings and Dipping Sauces
In my opinion, there is nothing better than serving up some hot and fresh latkes with a dollop of applesauce. Sweet, cool and tangy, it is the perfect (and most traditional) pairing. But some people love to top theirs with sour cream. If you go this route, freshly snipped chives are a great addition for color and crunch.
If you aren't a fan of the sweetness, here are some other options you could try: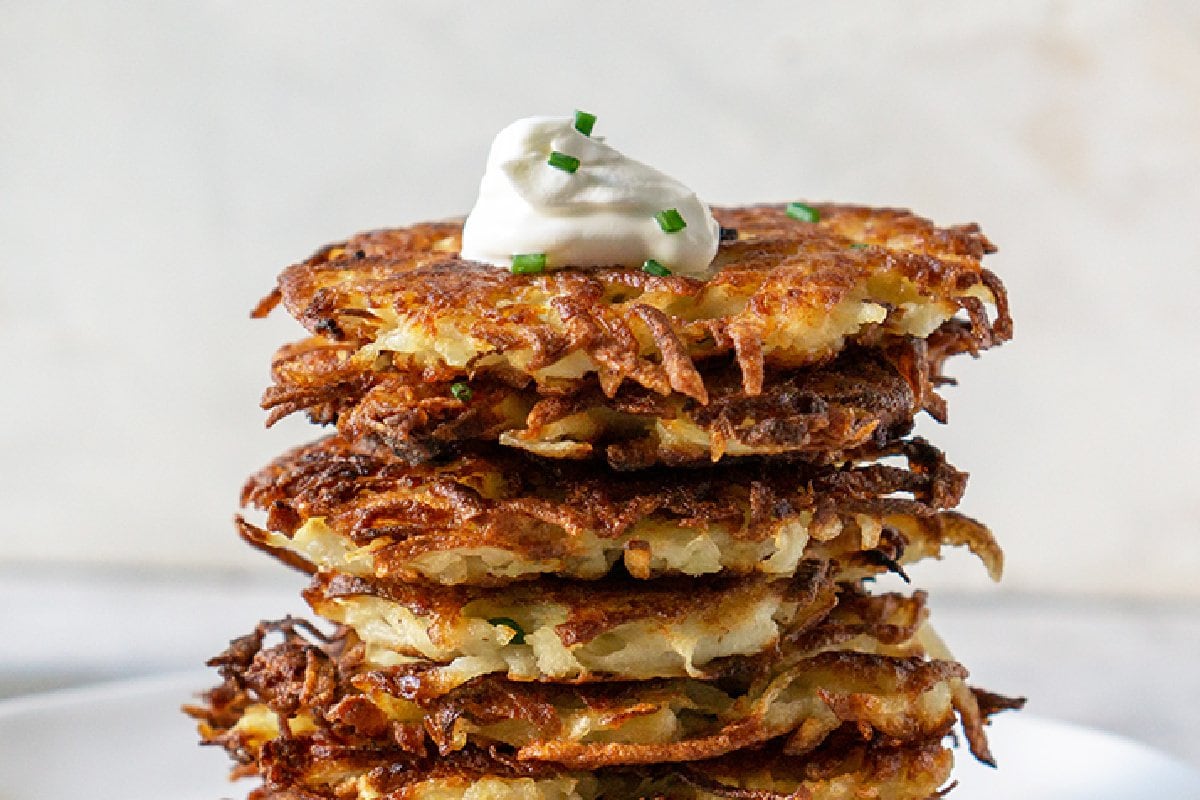 Potato Latkes Variations
Traditional latkes are great, but sometimes it's fun to step outside the box and get creative! Below are some fun variations you can try too.
Smoked salmon and sour cream latkes– make traditional latkes, but place a dollop of sour cream (or plain Greek yogurt) on top, then stud it with a sliver of smoked salmon. Capers, chives and finely diced red onions are also complement these flavors.
Sweet potato latkes with applesauce– swap out the white potatoes for sweet potatoes. We have a sweet potato hash brown recipe here.
Zucchini latkes- Either use half or all shredded zucchini. Toss the mixture with pine nuts, basil, and parmesan cheese.
Beet latkes- Swap out the potato for peeled and shredded beets. Prepare them exactly the same, but be prepared for lots of blood red beet juice.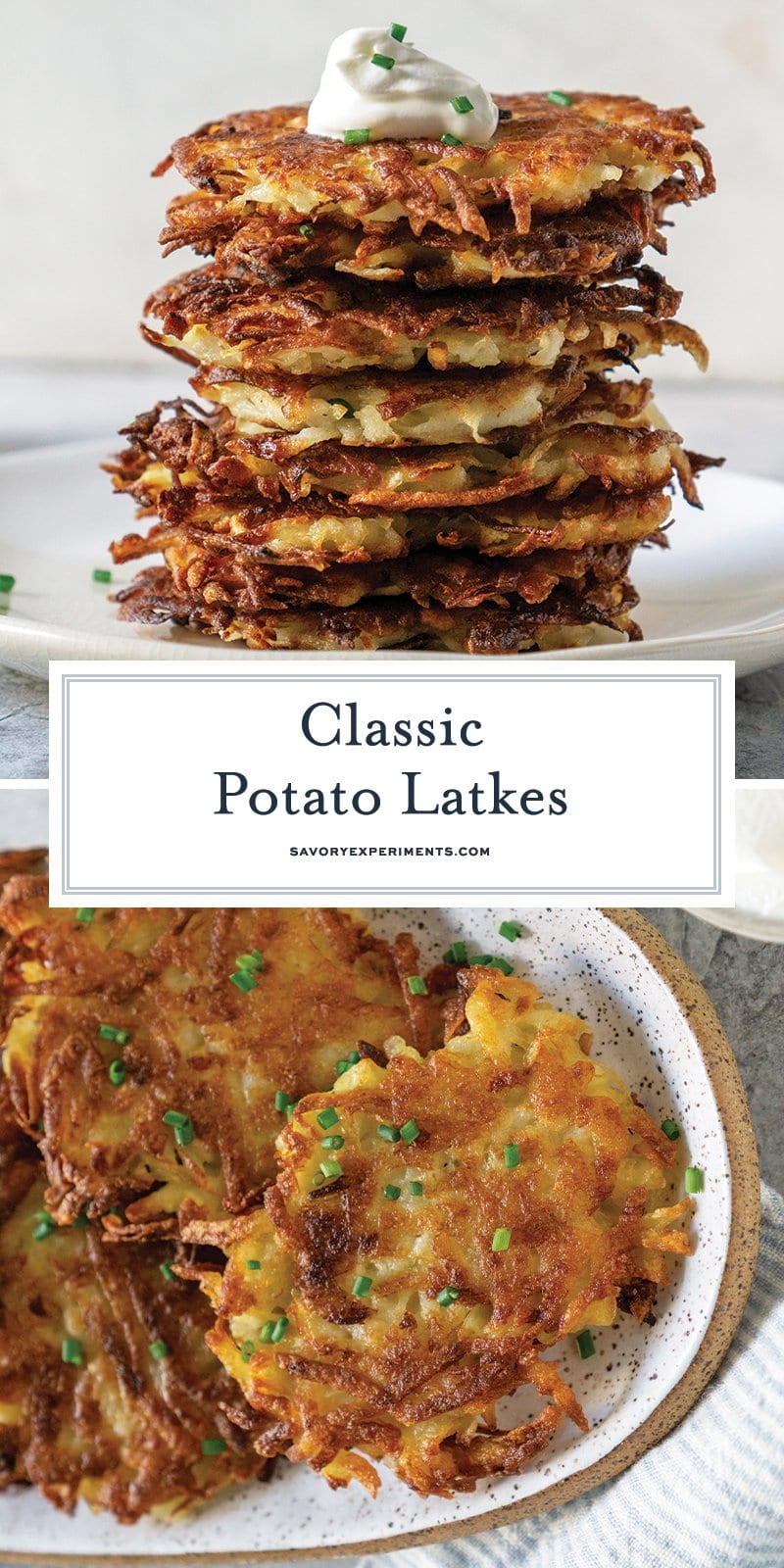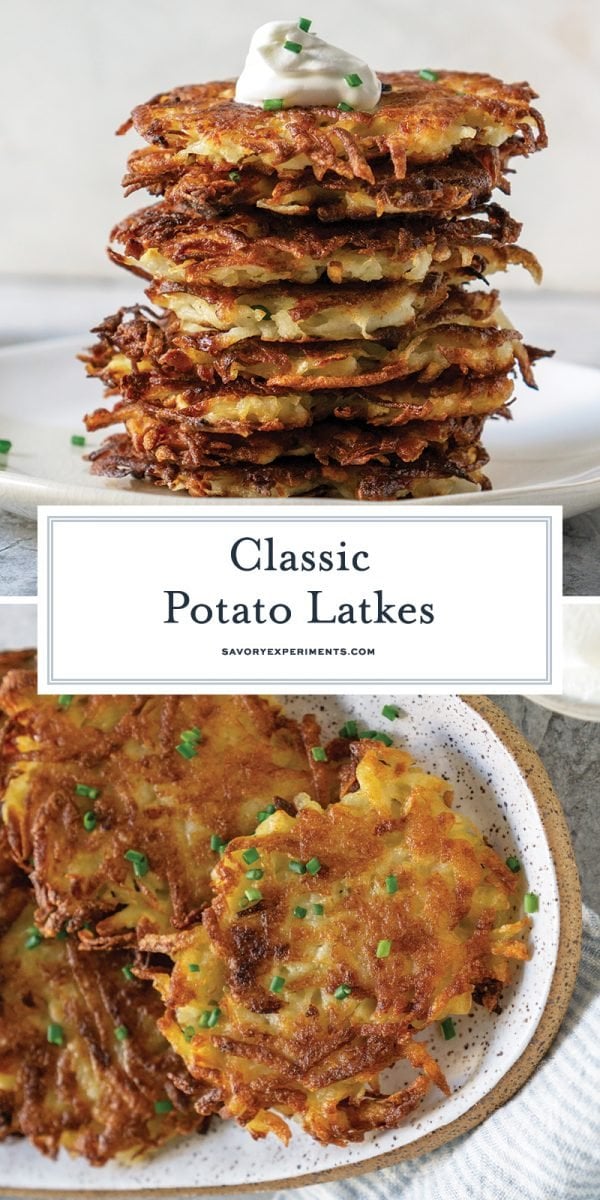 More potato recipes to try: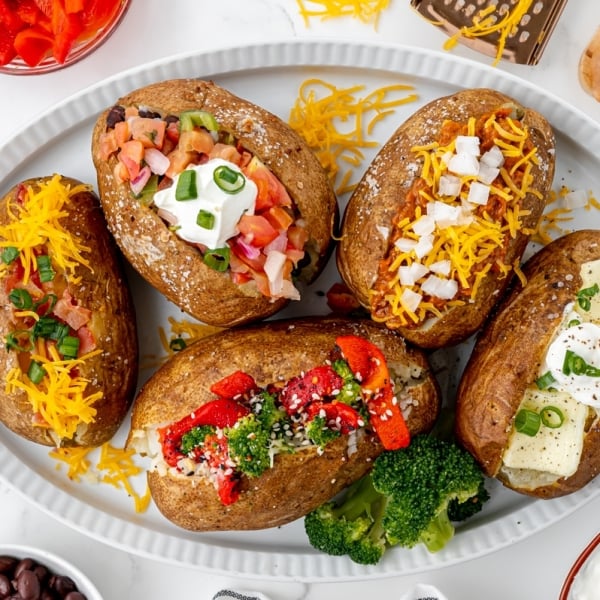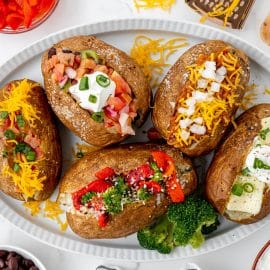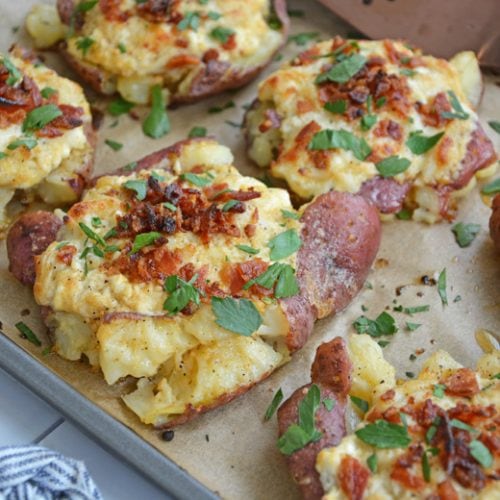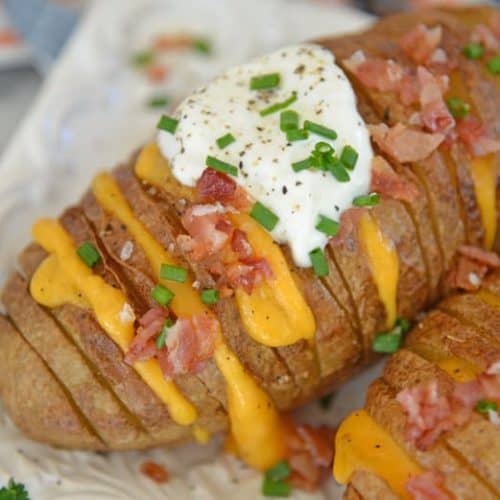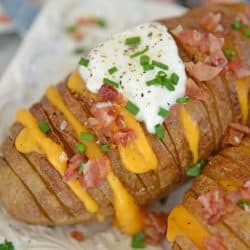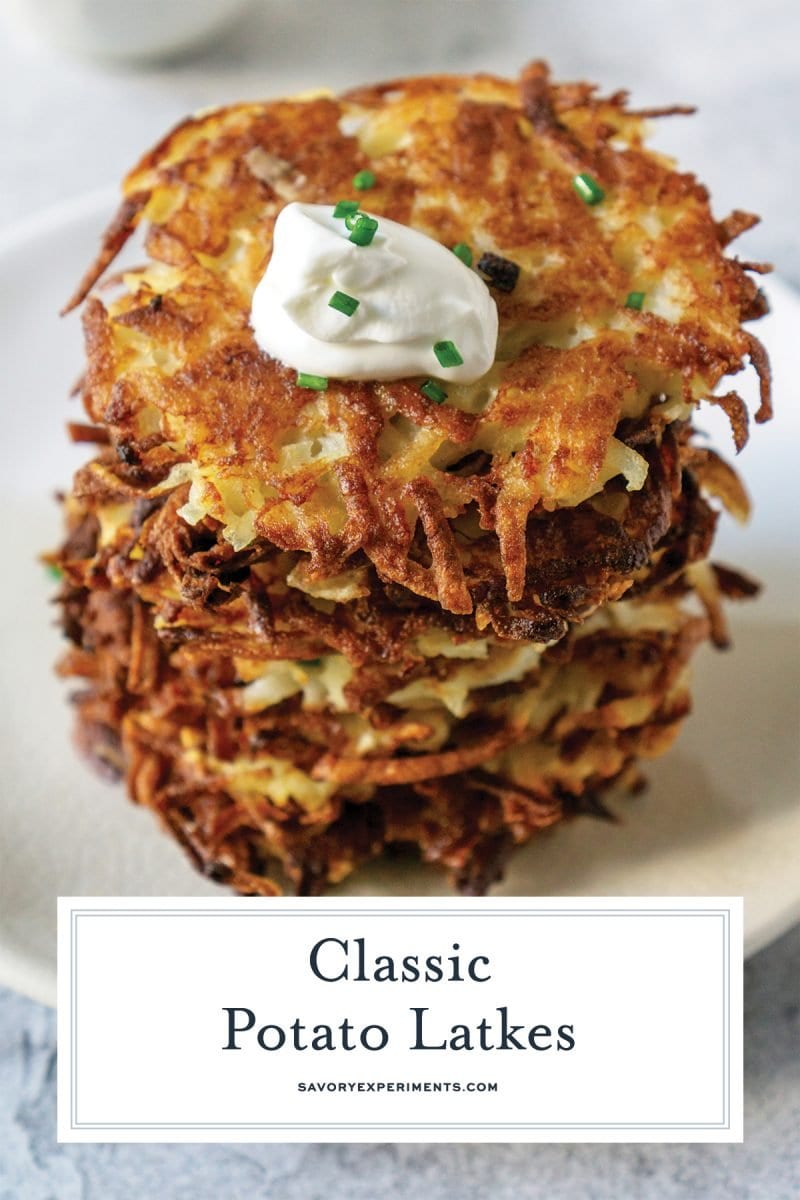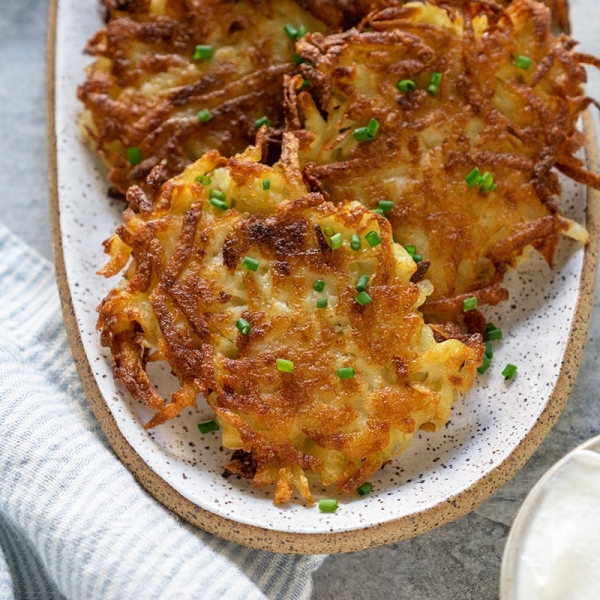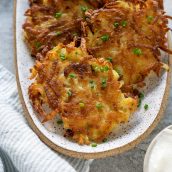 Potato Latkes
Classic potato latkes use only 6 ingredients- learn our tips for frying to a golden brown plus 5 easy variations.
Equipment
Heat Resistant Rubber Spatula
Instructions
Place a baking sheet lined with parchment paper in the oven and preheat to 300° F.

Using the medium grater attachment for your food processor, grate the potatoes and onion. Transfer to a large mixing bowl of ice cold water to keep potatoes from browning and remove some of the starch. Soak the grated potatoes for 15 minutes.*

When you are just about ready to fry, drain the potatoes and onions. Either blot them dry with a paper towels or wring them out in a tea towel to dry them as best as possible.

Transfer the dried potato mixture to a medium mixing bowl and toss with the flour, egg, garlic powder and salt.

Heat a large non-stick skillet over medium heat with about 1/8 inch of olive oil. When oil is shimmering, scoop 1/4 cup of the latke mixture into the pan, flatten with a spatula, and fry for 4-5 minutes, or until crispy, flip and fry 3-4 minutes on the other side. If they are frying faster, reduce the heat.

Place the latkes on the baking sheet in the oven to keep them warm while you finish frying the remaining latkes.

Garnish with fresh chives and serve with sour cream and applesauce.

If you've tried this recipe, come back and let us know how it was in the comments or ratings.
Notes
*soaking the potatoes is an optional step. It prevents them from turning brown and removes some starch, but honestly after you fry them up, no one will not if they oxidized a little.
Nutrition
Calories:
112
kcal
,
Carbohydrates:
11
g
,
Protein:
2
g
,
Fat:
7
g
,
Saturated Fat:
1
g
,
Polyunsaturated Fat:
1
g
,
Monounsaturated Fat:
5
g
,
Trans Fat:
1
g
,
Cholesterol:
10
mg
,
Sodium:
80
mg
,
Potassium:
239
mg
,
Fiber:
1
g
,
Sugar:
1
g
,
Vitamin A:
16
IU
,
Vitamin C:
4
mg
,
Calcium:
10
mg
,
Iron:
1
mg