Pancake mix isn't just for pancakes. It can make a slew of other delicious recipes, including this tasty Maple Coffee Cake recipe. Rich, tender and perfect for any occasion. Goes great with a cup of coffee!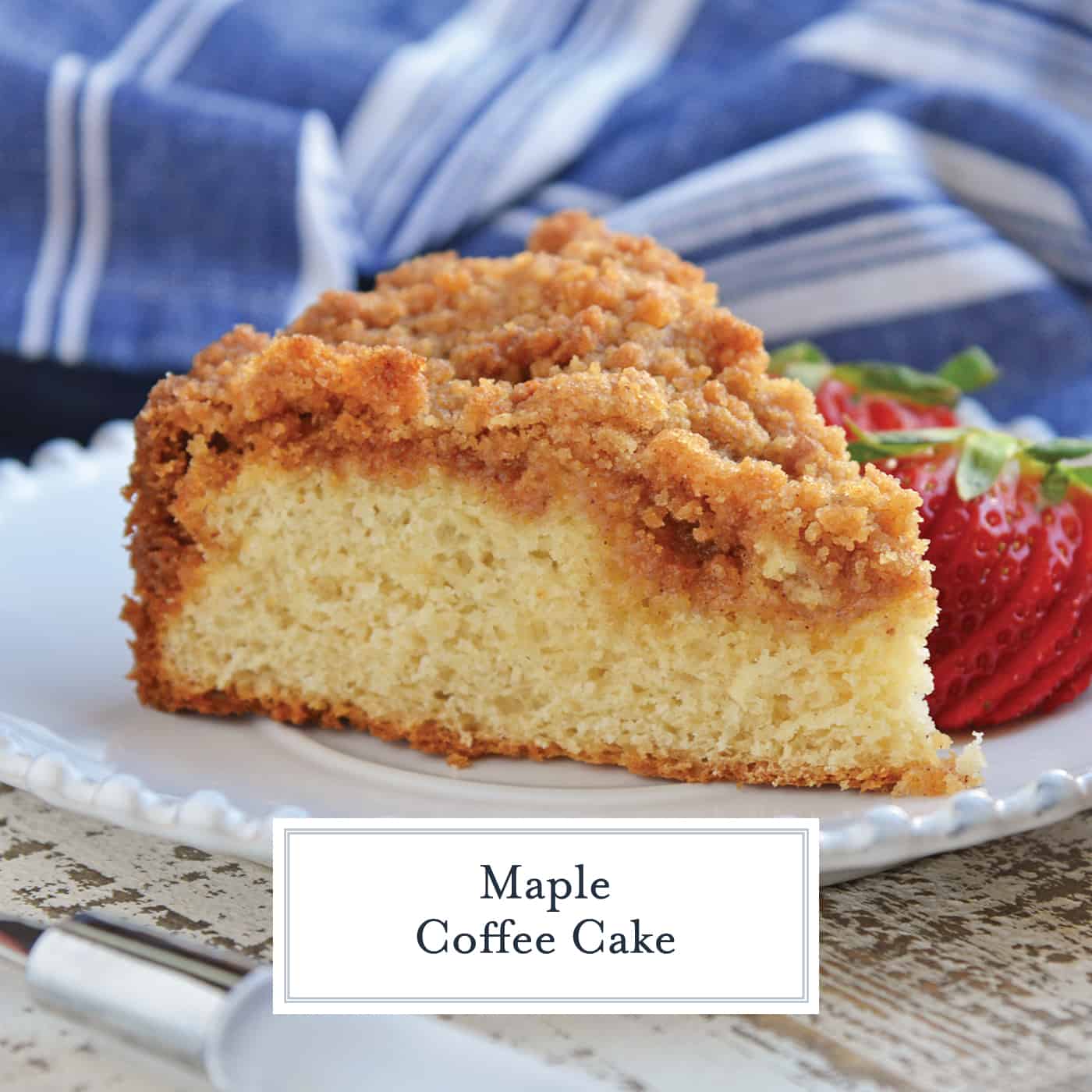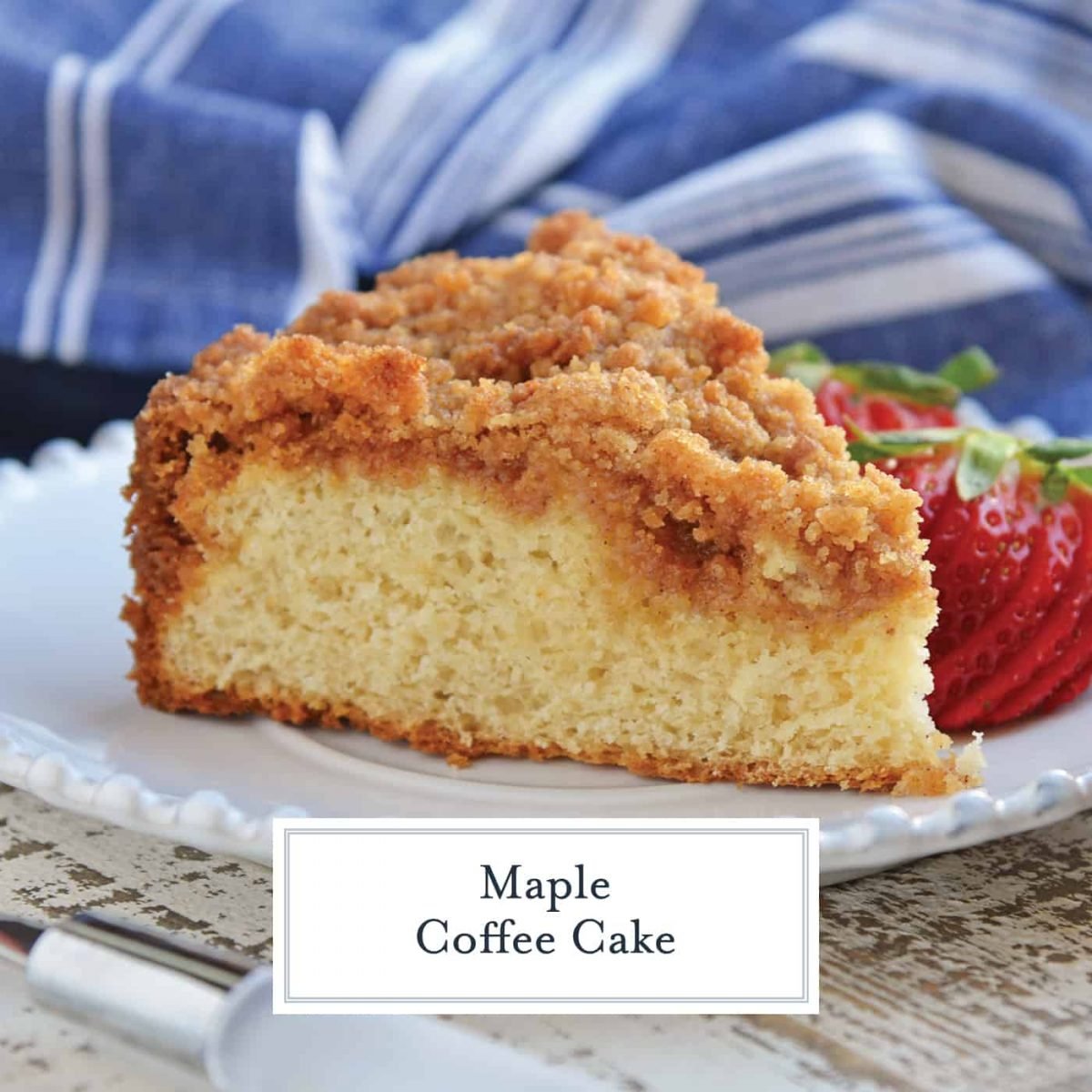 Maple Coffee Cake is an easy coffee cake recipe using real maple syrup and pancake mix for a quick and easy breakfast cake recipe.
Pancake mix can be used for so many things beyond pancakes and waffles. Bisquick, Aunt Jemima, Hungry Jack, Krusteaz will work and have the standard combination of flour, baking powder, baking soda, salt and sugar.
If you'd like to make your own, check out this homemade pancake mix recipe from Spend with Pennies.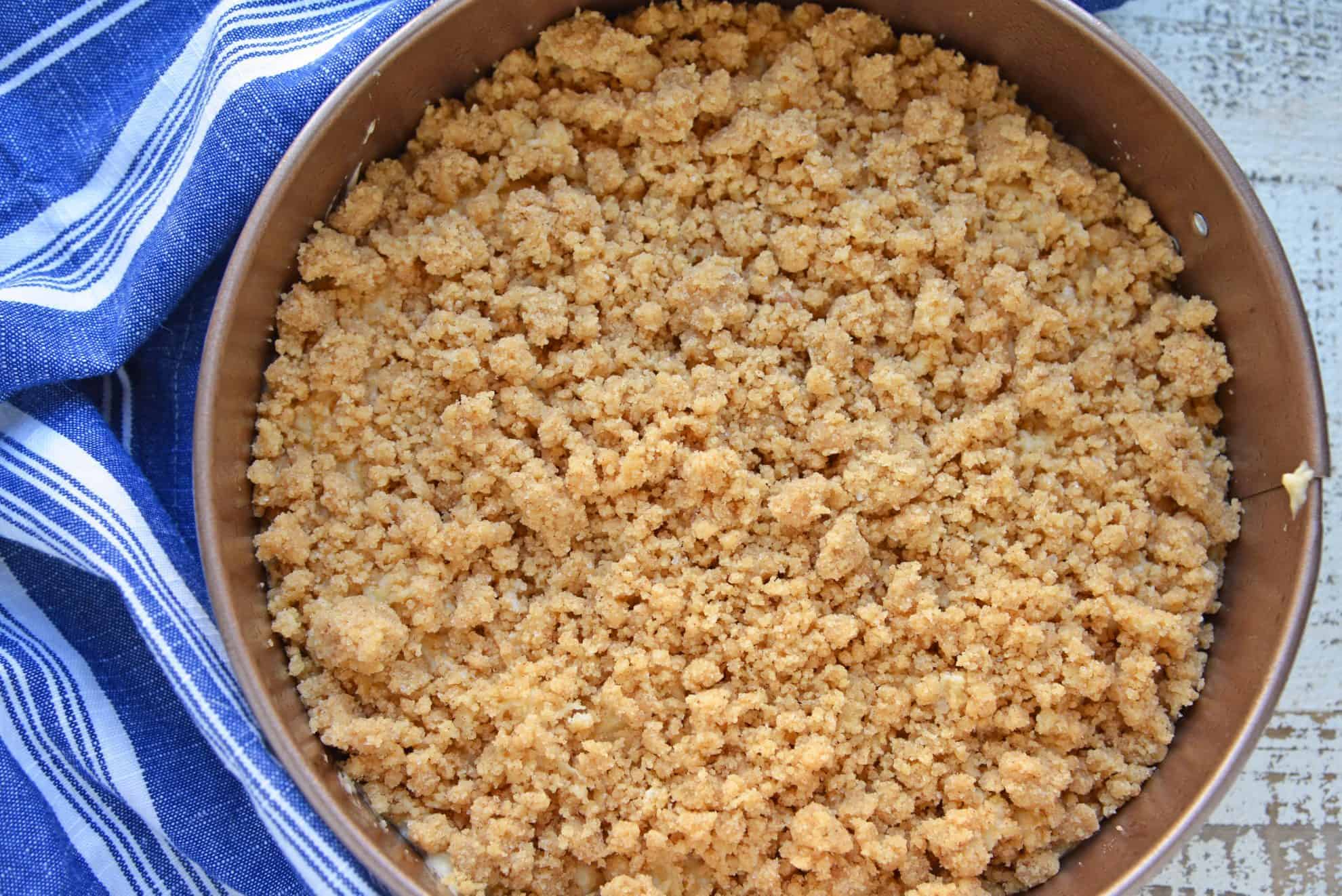 A coffee cake is perfect for breakfast, brunch or even dessert. Add a dollop of fresh whipped cream and scoop of vanilla bean ice cream for the perfect sweet treat.
I crave maple syrup and also crunchy cinnamon and sugar, so this cake really hits all of my bases.
One of the most common things I am asked is how to make the best, moist coffee cakes.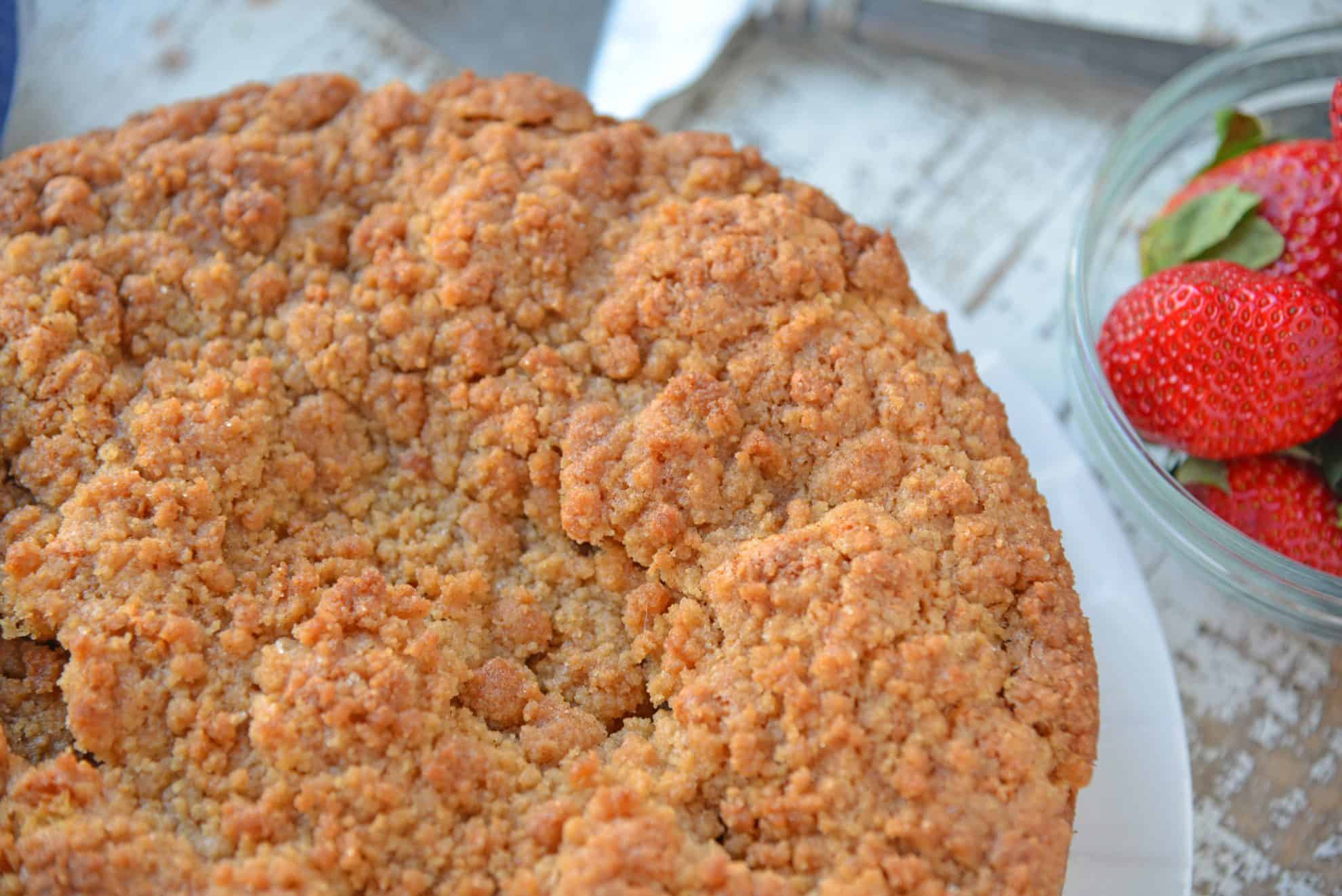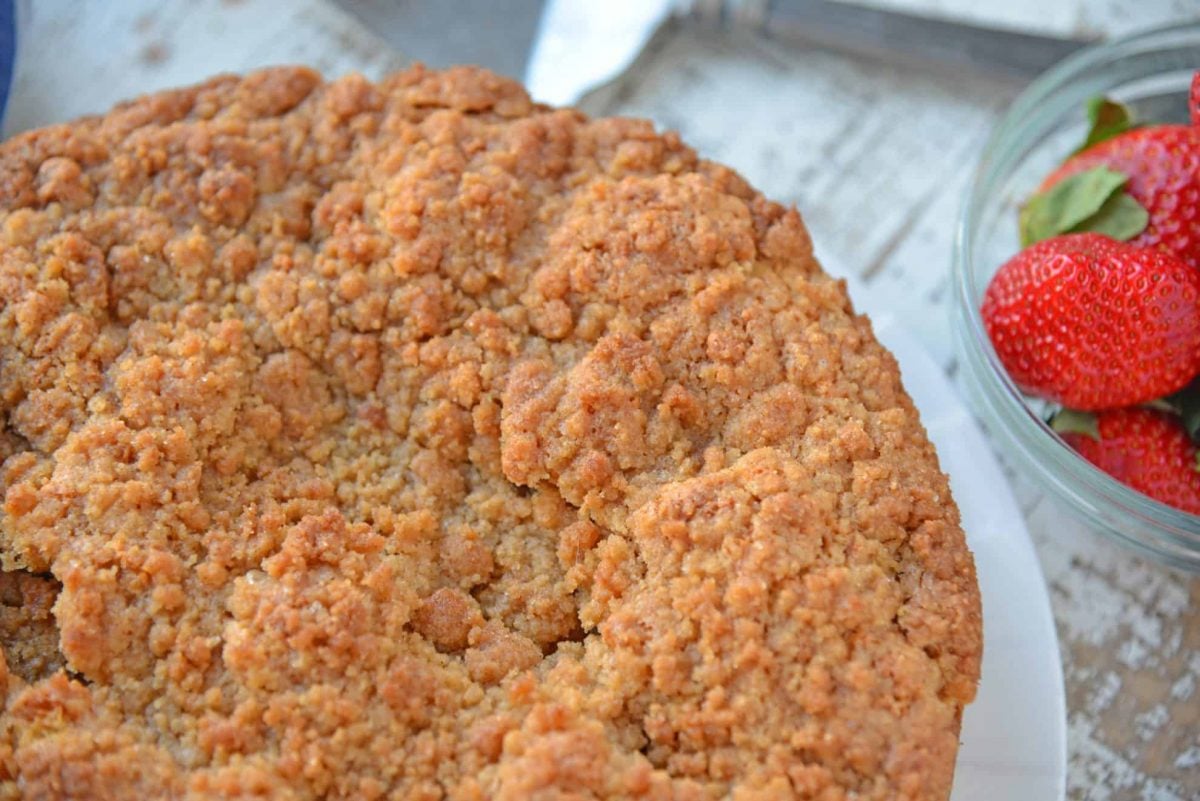 Tips for the best coffee cake:
ONE. Do not overmix the batter. The most commonly made mistake in making a cake is overworking the batter.
This is actually made easier when you are using a stand mixer because we overestimate how long the batter has been beaten. Pay attention!
TWO. Sift the dry ingredients. Even if you are using a boxed cake mix, sift the cake mix to get out any clumps. This will make it blend better, but also make it less likely that you will over mix.
THREE. Eggs. Eggs make a cake moist and yolks make them even more moist. Try adding one or two extra yolks to your favorite cake recipe and watch the crumb get even crumblier. Yes, I made that word up!
FOUR. Don't over bake your cake! This might seem like it is super apparent, but many folks wait too long before taking the cake out of the oven and presto, dry cake. Whomp, whomp.
FIVE. Measure your flour. You might think you measure your cup of flour, but are you doing it correct? Scoop flour into the measuring cup and level it off with a flat spatula or butter knife.
Don't pack it down, just let is sit how it did when you scooped it. Additional flour makes cake dry and even have a slight heap on your measuring cup could be the culprit.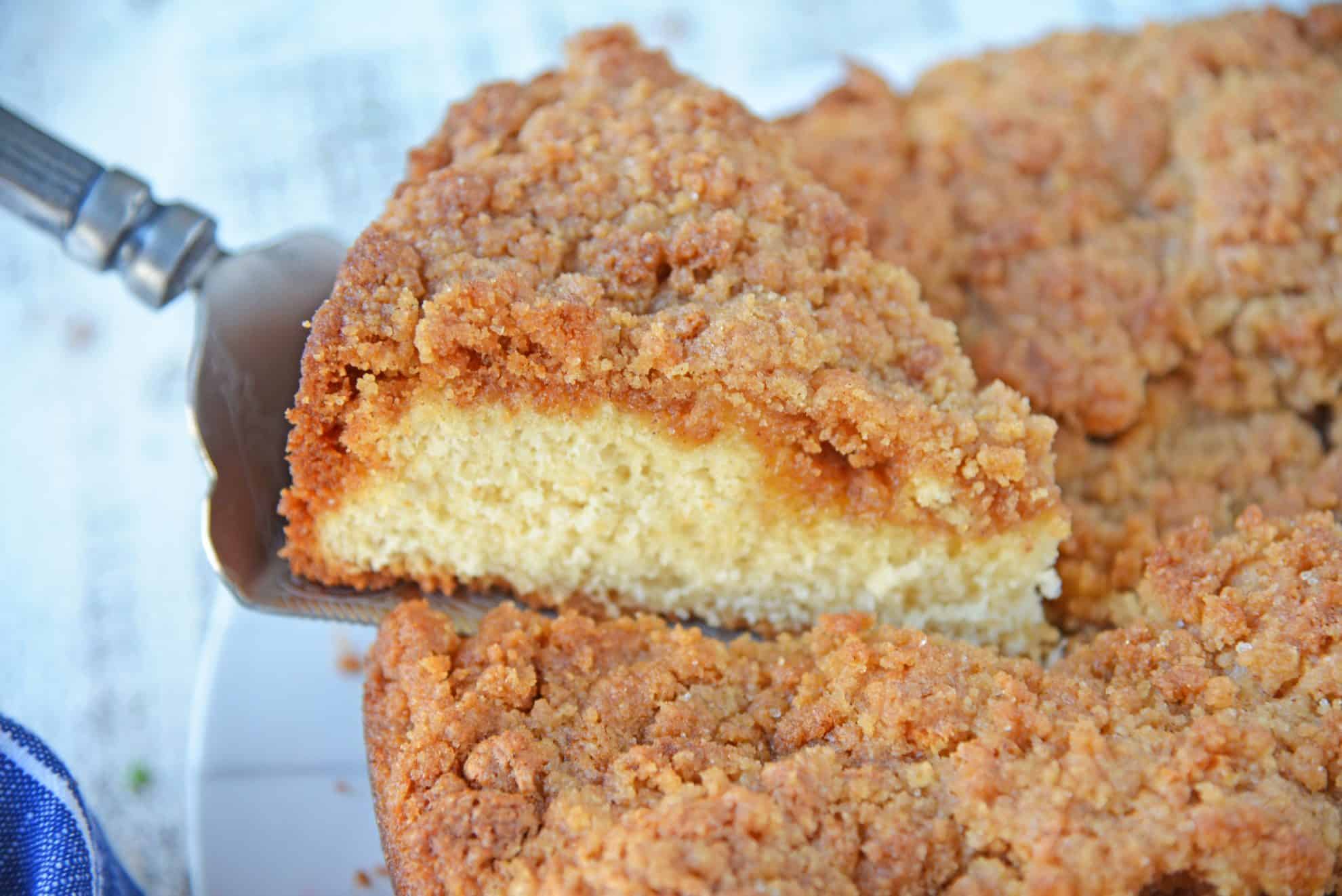 Specific to this maple coffee cake, make sure you use a real maple syrup and not maple extract. Many of the syrups on the market are just maple flavored and since maple is really the defining factor here, using the real stuff is imperative.
Real maple syrup is much thicker, has better flavor and will also be more expensive, but it is worth it! I have friends that even travel with their own syrup the way I travel with my own salt.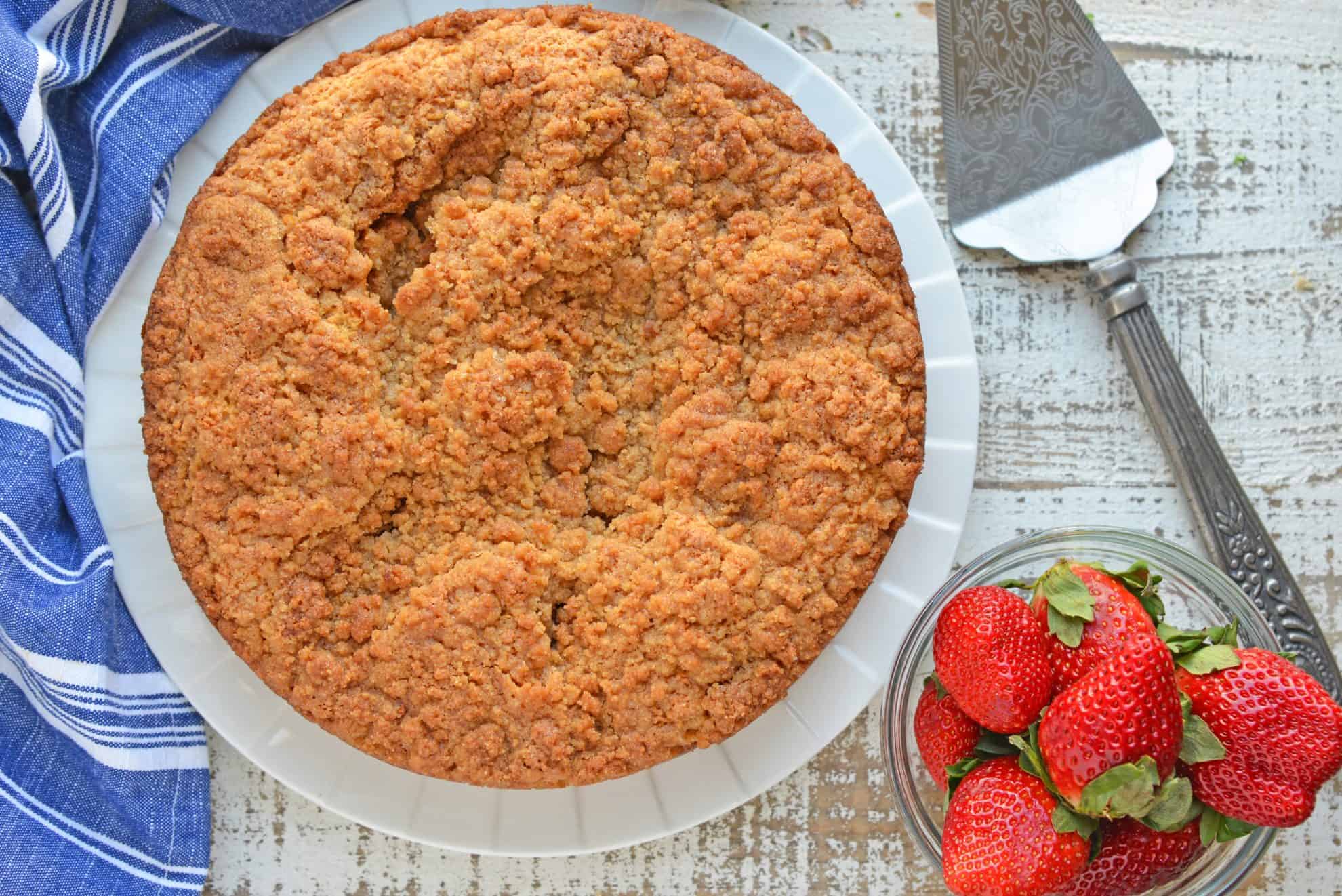 There are a few types of maple on the market, any will do and this is because they are all the same maple sugar content of 66.9%.
The grades only have to do with the color and unlike other graded foods, olive oil for instance, the color of the syrup is largely based on what time of the year the syrup was produced. The season does impact flavor as well.
Maple syrup ranges from pale golden to caramel brown. As the weather warms, the sap becomes darker in color, producing a darker syrup. Corresponding to color, the darker the syrup is, the stronger its flavor.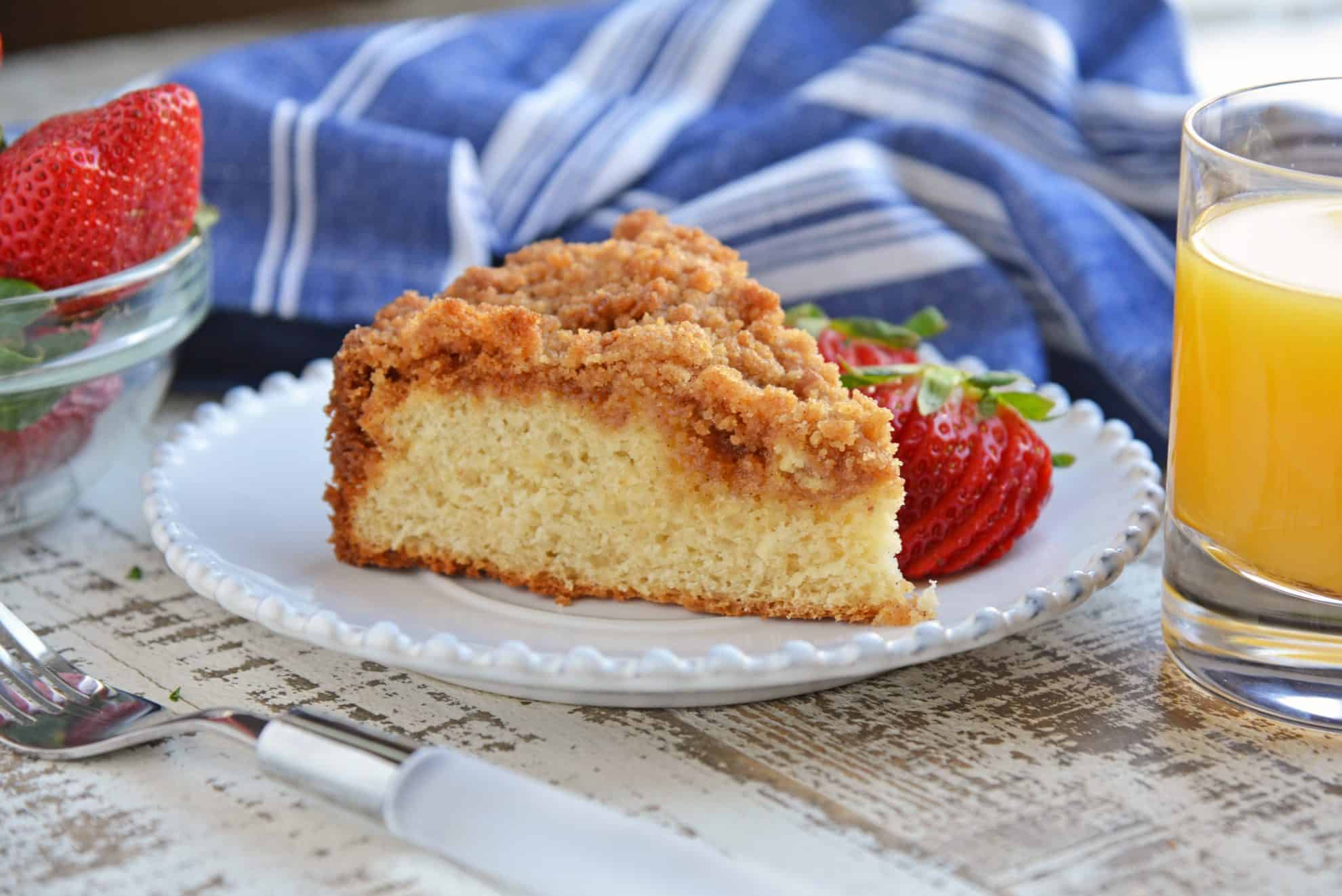 Maple Syrup
The State of Vermont, the maple syrup capital, distinguishes four maple syrup grades and colors. All of which are produced by the same process. They are:
Fancy
Grade A Medium Amber
Grade A Dark Amber
Grade B
Only you'll be able to tell which is your favorite, so have a taste test and check them out! My favorite is a Grade A Medium Amber followed by Fancy.
Make Coffee Cake
To make this maple coffee cake, you'll first want to preheat oven to 375 degrees. While the oven is preheating, line your spring form pan bottom with parchment paper, and spray nonstick spray over the paper and on the sides of the pan.
In a small bowl, cut together the pancake mix, brown sugar, ground cinnamon, fine sea salt, maple syrup and cold butter. The mixture should be a little crumbly. Set this aside to use later is your topping.
In a separate bowl (or bowl of a stand mixer,) combine the pancake mix, whole milk, maple syrup and lightly beaten egg. Pour that mixture into your prepared spring form pan.
Grab that topping from earlier and pour on top of the coffee cake batter. Swirl it into the batter with a knife or toothpick.
Then pop it into the oven for a cook time of 30-35 minutes, or until a toothpick comes out clean. Allow the cake to cool in the pan for about 20 minutes before removing.
And there you have it! You can serve with warm cake topped with a little powdered sugar, whipped cream, or just as is!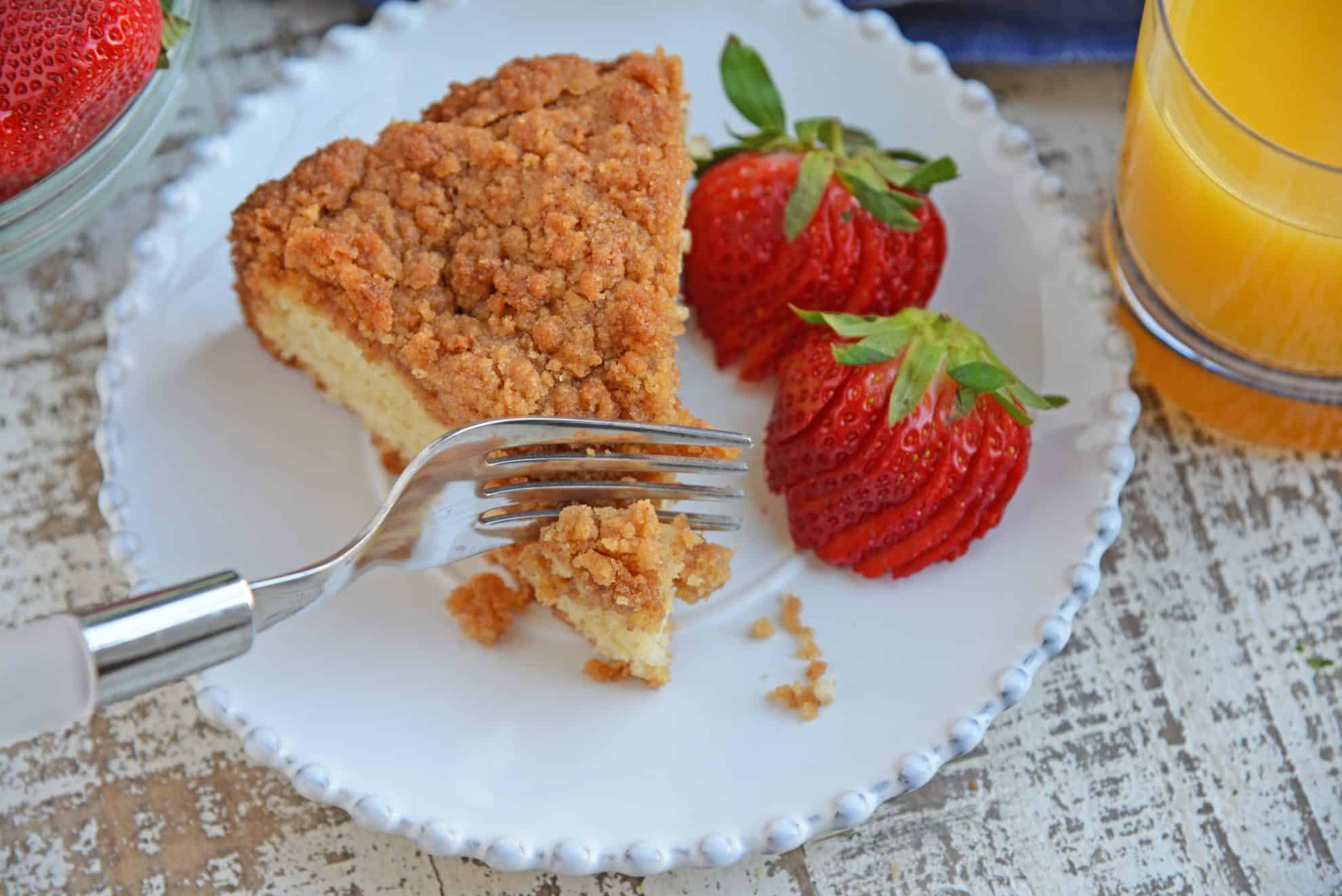 Coffee cakes are great for holidays and when you have guests visiting. You can also make it ahead of time, like the night before.
Read on below for instructions on how to freeze coffee cake.
Tools for making Maple Coffee Cake:
Spring Form Cake Pan– great for baking cakes, cheesecakes and also making coffee cake!
Stand Mixer– I lived for years without one and I can tell you with 100% confidence that life with one is easier and it is worth the investment.
Sifter– Sifting makes all of your baked goods smooth and fluffy. No more lumps! I prefer a hand crank so I can switch directions and get more sifted through faster.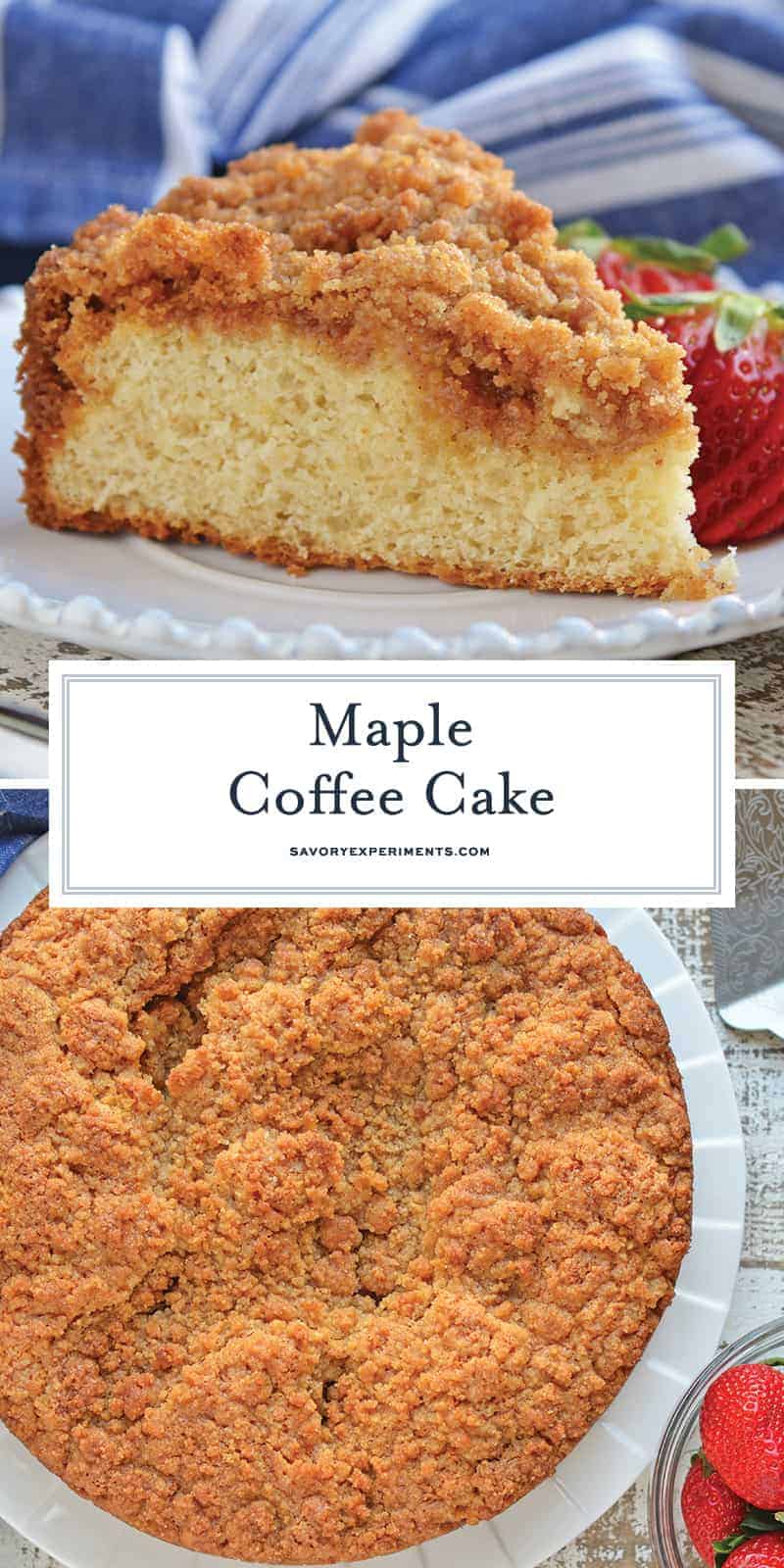 Questions you might have about how to make Coffee Cake:
Can I freeze cinnamon coffee cake? Package your cake well, wrapped in plastic wrap with little to no air getting in there and freeze for up to 4 months.
Can I make this coffee cake without strudel? You sure can! But, man, the strudel makes the coffee cake! You can even double the streusel topping if you'd like.
Does coffee cake need to be refrigerated? Not this cake. I would keep it well covered at room temperature. It should stay fresh and soft for up to 4 days.
Does coffee cake have coffee in it? Some coffee cakes have coffee in them, but mostly they are made to be served with coffee. This one has no coffee in it.
Do I have to use whole milk? I prefer whole milk for baking. Let's be honest, if you are making this cake, I am not sure you are too worried about calories and fat.
Whole milk gives a richer taste. If you use skim or 1% you might want to add a tablespoon of melted butter or vegetable oil to balance it out.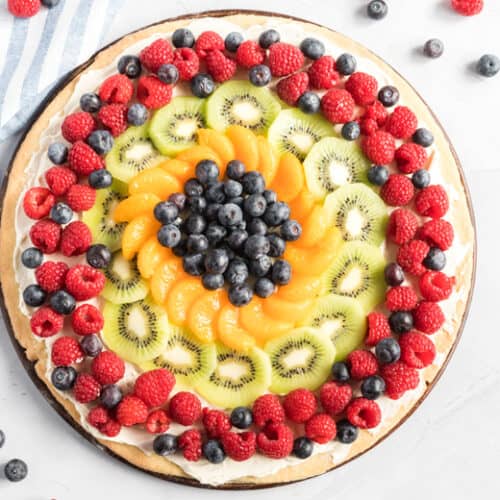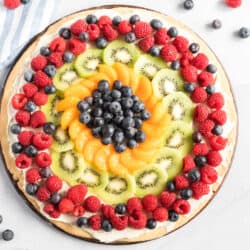 EASY Fruit Pizza
This Dessert Pizza with fresh fruit, cream cheese frosting and a crispy cookie base is a fun and tasty treat the whole family will go crazy for!
See The Recipe!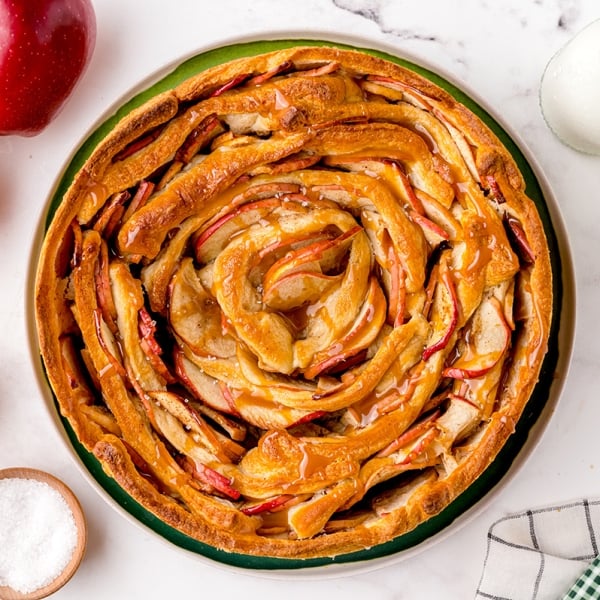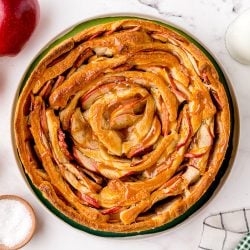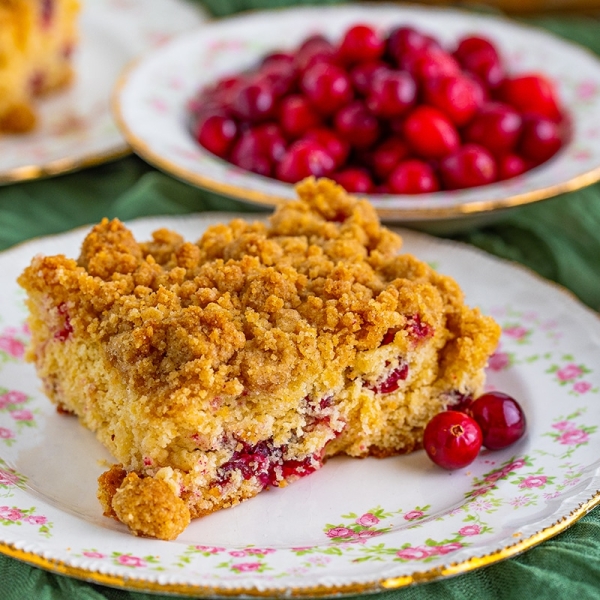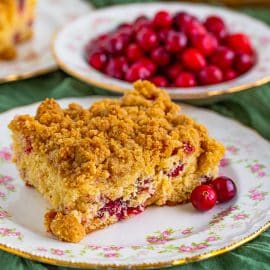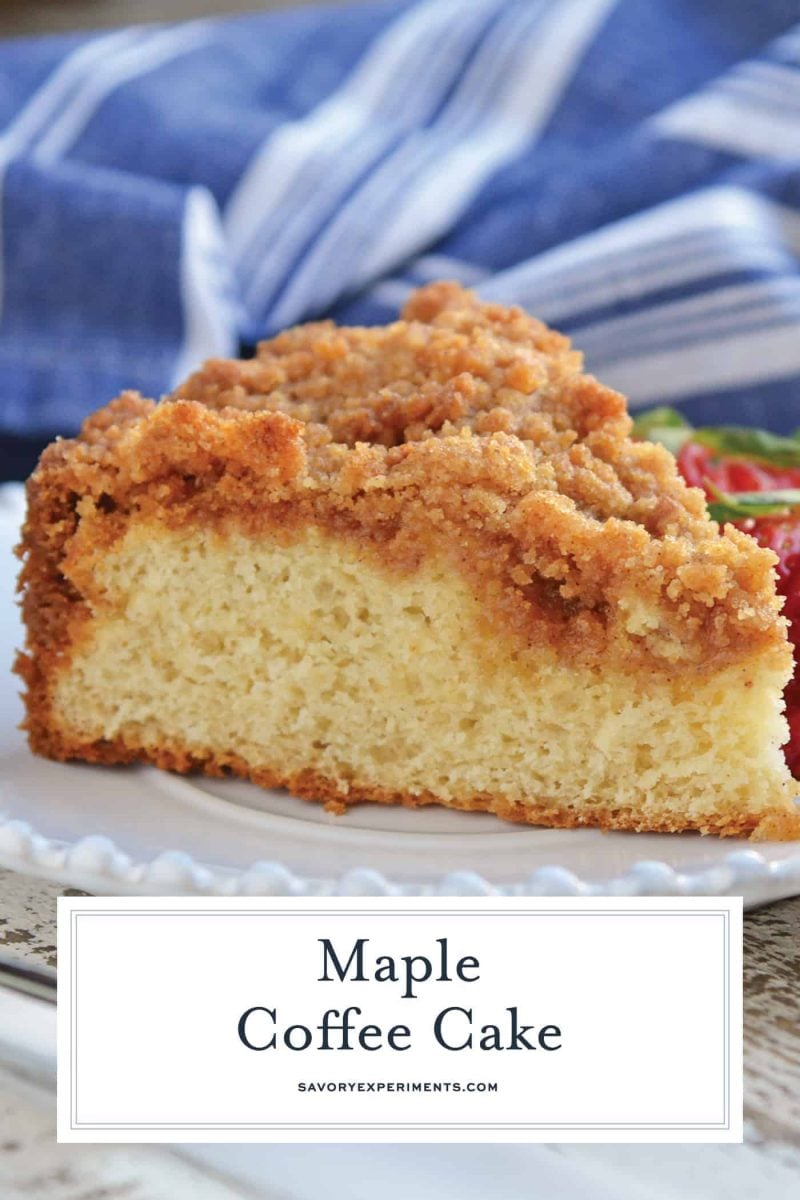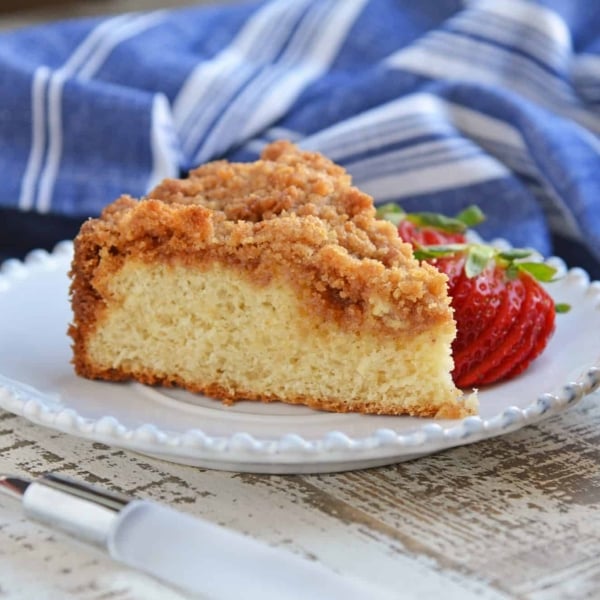 Maple Coffee Cake
Maple Coffee Cake is an easy cake recipe using real maple syrup and pancake mix for a quick and easy breakfast cake recipe.
Instructions
Heat oven to 375 degrees. Line the bottom of a 9-inch springform pan with parchment paper, coating the parchment paper and insides of the pan with cooking spray. Set aside.

In a small bowl, cut together pancake mix, brown sugar, ground cinnamon, fine sea salt, maple syrup and cold butter. Mixture will be crumbly and resemble brown sugar when complete. Set aside.

In a large mixing bowl, combine pancake mix, whole milk, maple syrup and lightly beaten egg.

Transfer coffee cake batter to prepared springform pan. Top with streusel and using a knife or toothpick, swirl streusel mixture into cake batter.

Bake for 30-35 minutes, or until it passes a toothpick test.

Remove and allow to cool for 15-20 minutes before removing from pan and serving warm.

If you've tried this recipe, come back and let us know how it was!
Nutrition
Calories:
182
kcal
,
Carbohydrates:
24
g
,
Protein:
3
g
,
Fat:
7
g
,
Saturated Fat:
4
g
,
Cholesterol:
48
mg
,
Sodium:
302
mg
,
Potassium:
116
mg
,
Sugar:
15
g
,
Vitamin A:
270
IU
,
Vitamin C:
0.2
mg
,
Calcium:
106
mg
,
Iron:
0.5
mg