Crunchy toasted pecans smothered in smooth, creamy caramel and topped with a layer of milk chocolate, these Chocolate Turtles are a classic holiday favorite and are so easy to make!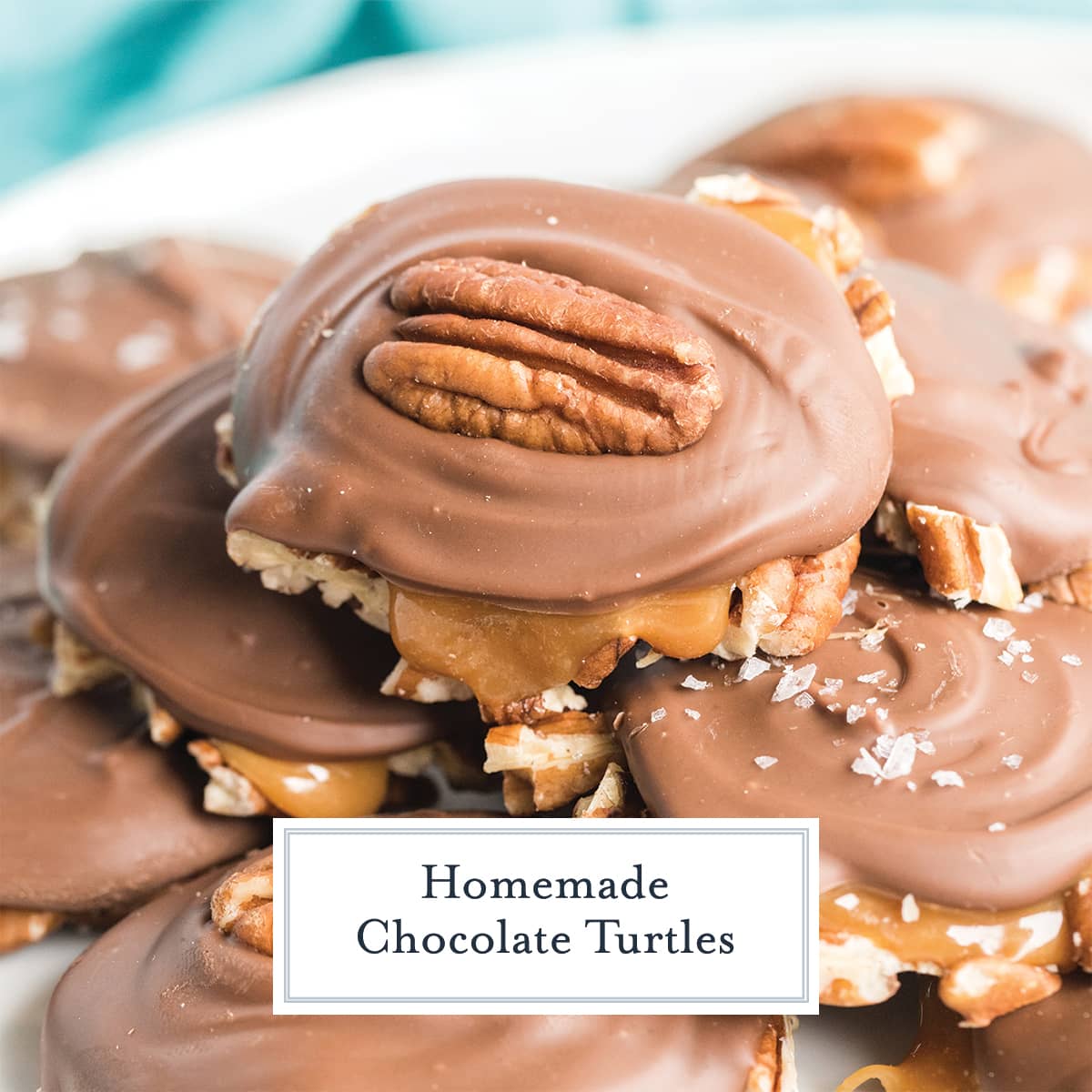 Chocolate Pecan Turtles
There are a few treats that I look forward to every year for Christmas. Chocolate turtles, sometimes called pecan clusters, are one of them.
Turtles are a classic Christmas candy made of nuts, creamy caramel and chocolate chips. I mean, how does it get any better than that?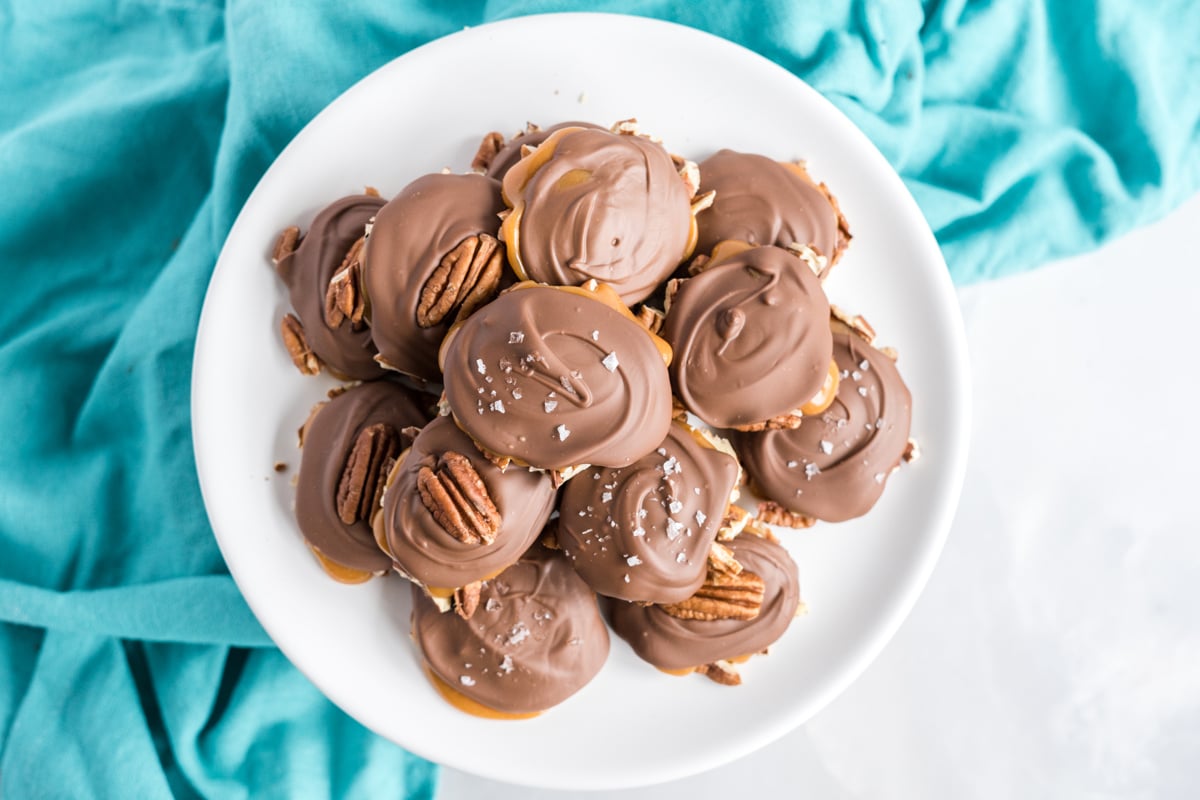 You can find them at almost any store during the holidays in a wide range of varieties.
But as much as I love the store-bought turtles, and would never turn them down, nothing beats making them yourself.
Homemade is Better!
This homemade turtles candy recipe as actually easier than you might think. They come together quickly with just a few ingredients and when you make them at home the flavor combinations are endless.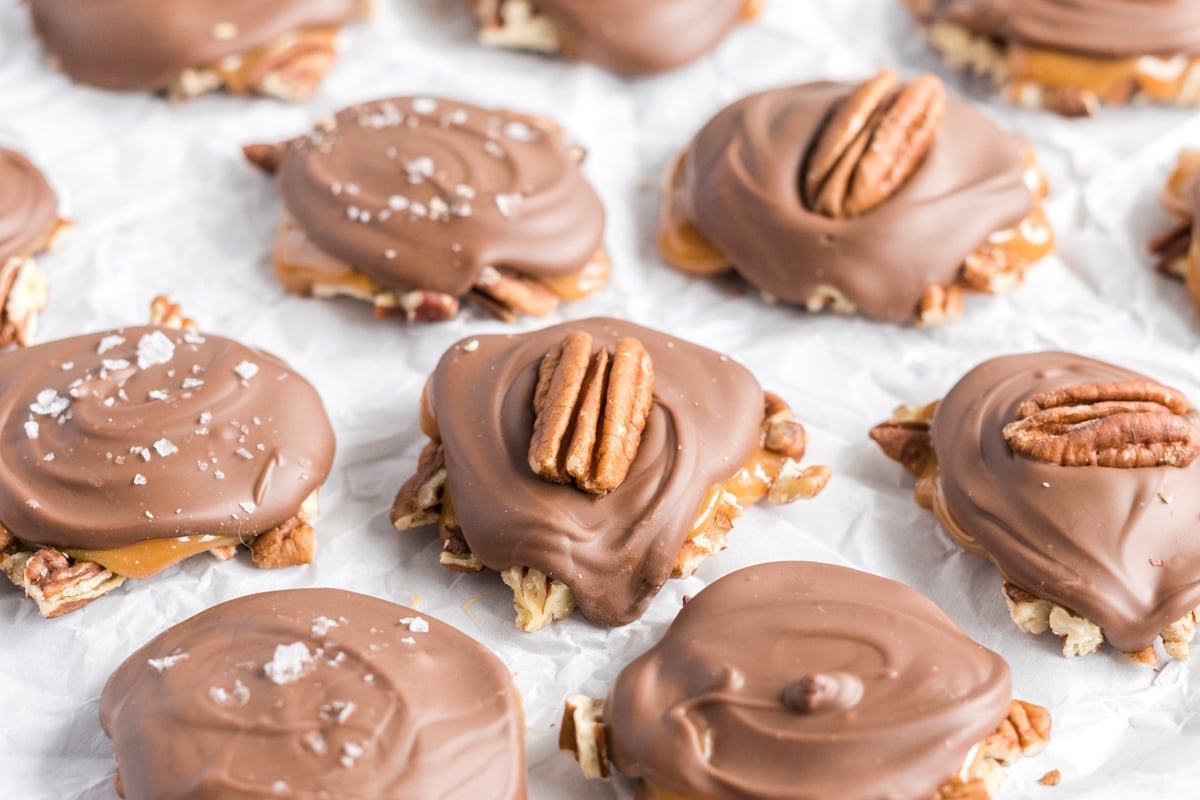 Generally, they are made with pecans, but you can make them with hazelnuts, walnuts or almonds as well. And if you are allergic to nuts, then pretzels are a great option.
I'm actually not too picky when it comes to turtle chocolate candies. I will take them no matter what they are made with.
I am known for making a few quick swaps as long as it doesn't hurt the integrity of the recipe and not making homemade caramel is one of them. Just use the caramel squares and be done with it. This time of year is busy enough!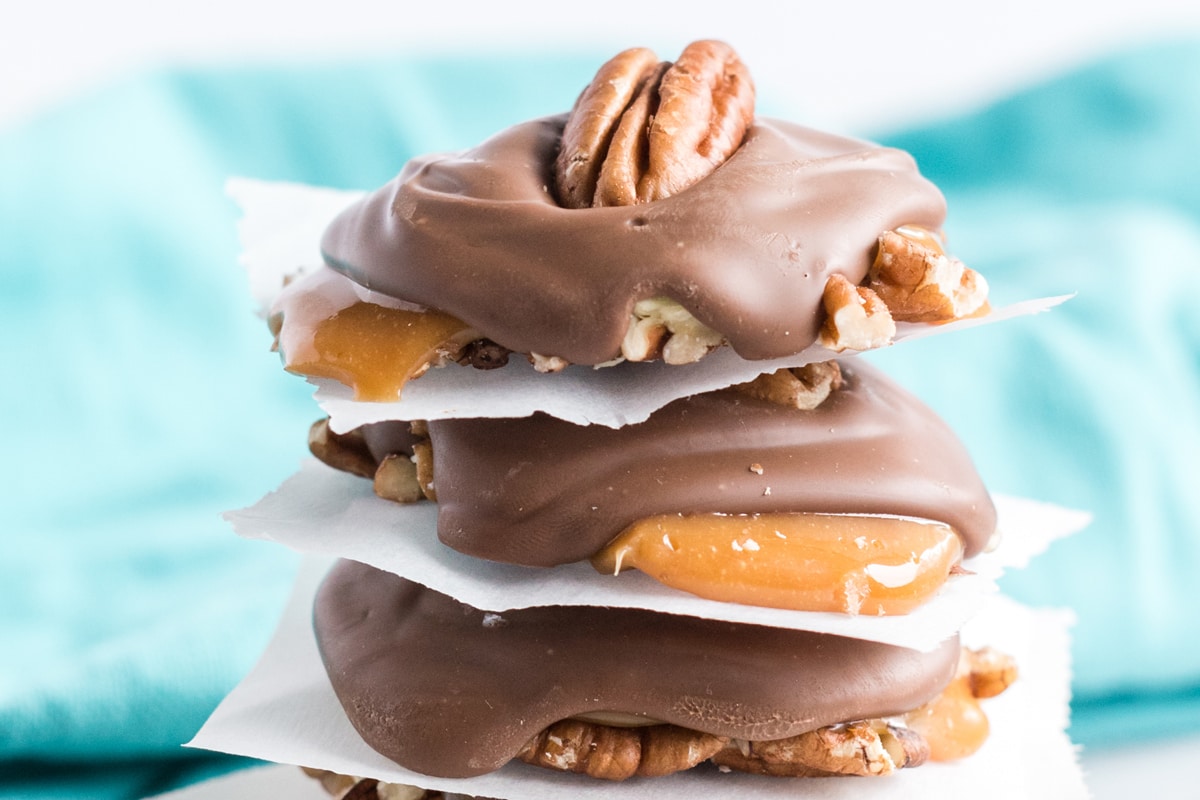 How to Make Chocolate Turtles
The hardest part is melting the caramel, and even that really isn't hard. It just takes a bit of muscle power to stir it until it gets to that nice, creamy consistency.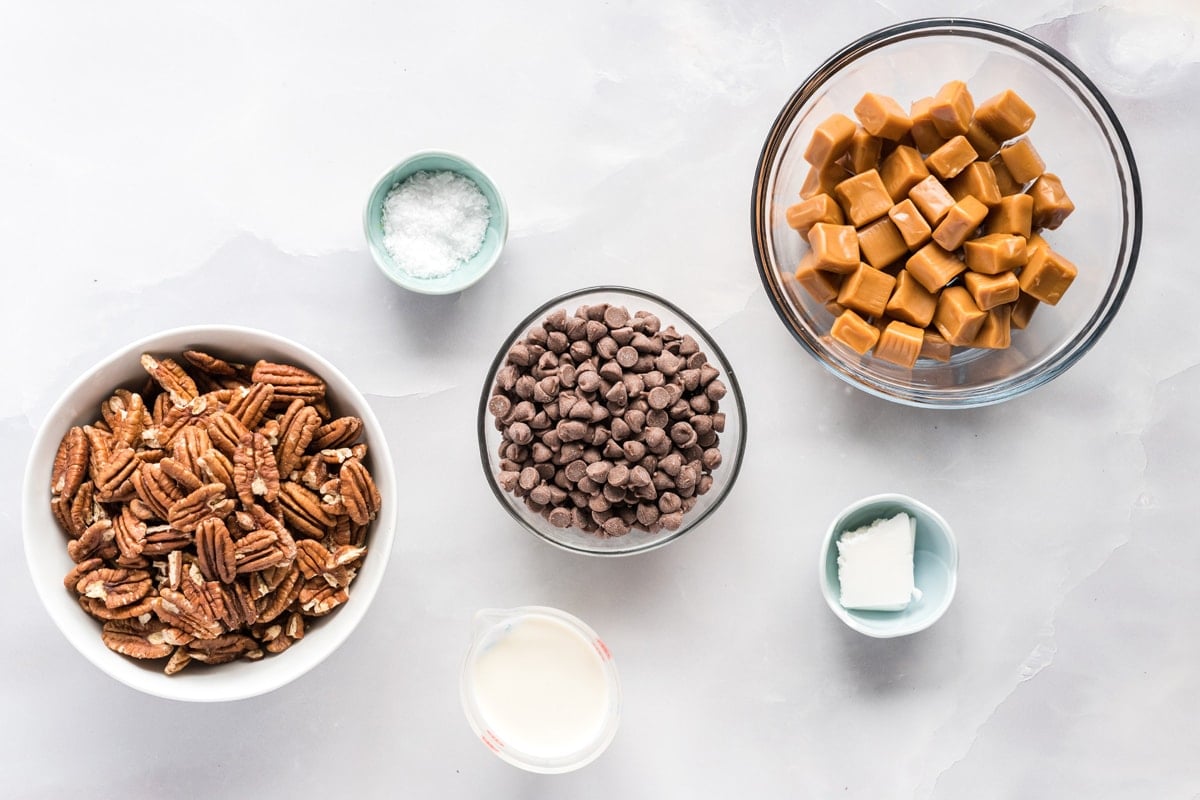 ONE. Toast the pecans. Place the pecans in a single layer on a baking sheet and pop them in the oven at 350 degrees. Toast them for five minutes then stir and toast 5 minutes longer. Then remove from the oven to cool.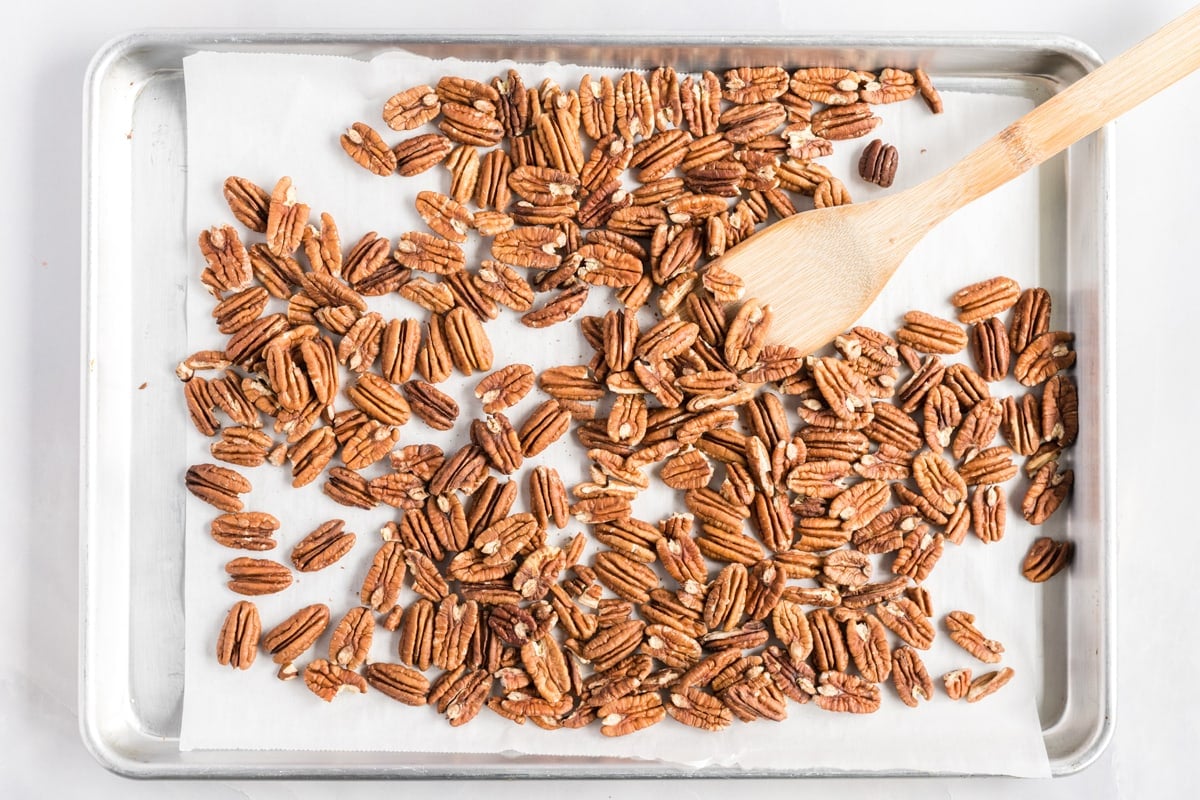 TWO. Chop the pecans. This is optional, you can leave them whole if you like, but I prefer the texture of the chocolate turtles when the pecans have been chopped.
No need to get precise or fancy with this. Just dump them on a cutting board and chop them up a bit. Reserve enough to top the turtles, if desired.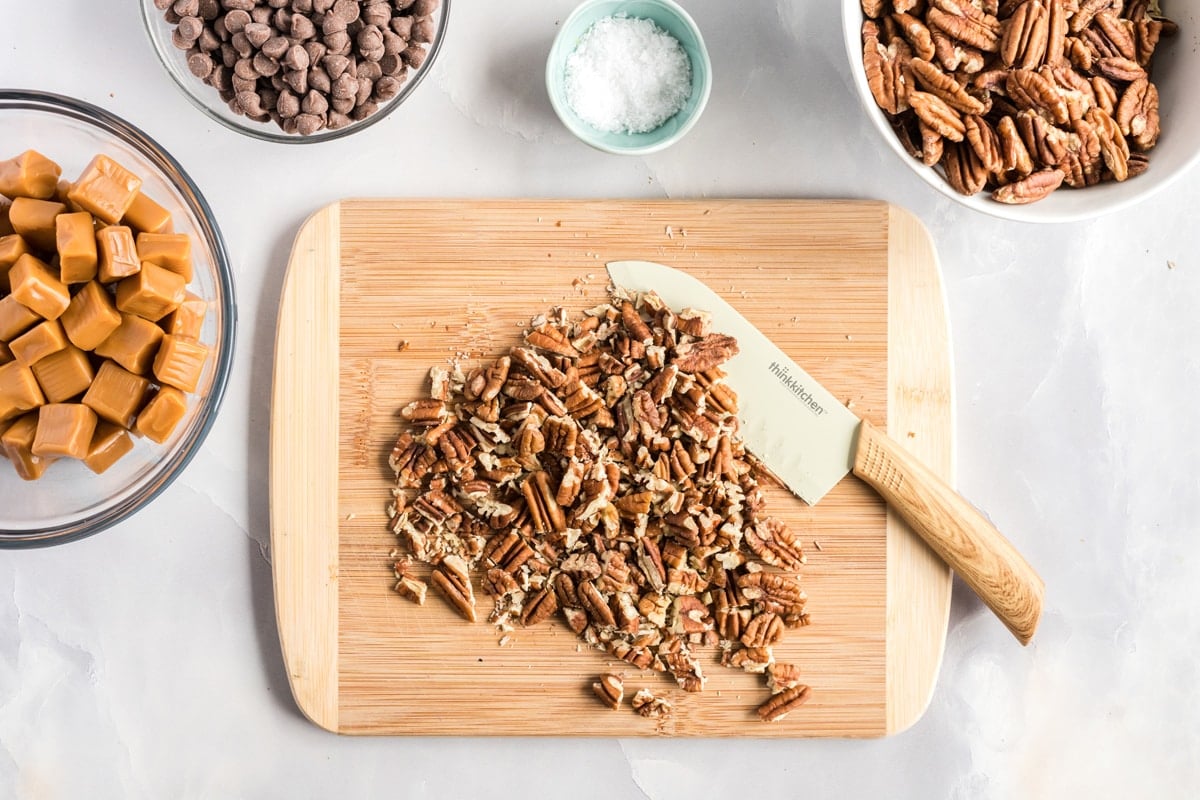 THREE. Place the pecans in little piles on a baking sheet lined with parchment or a silicone liner. This is very important. Do not use tin foil. I like to use about 1 tablespoon of chopped nuts per pile.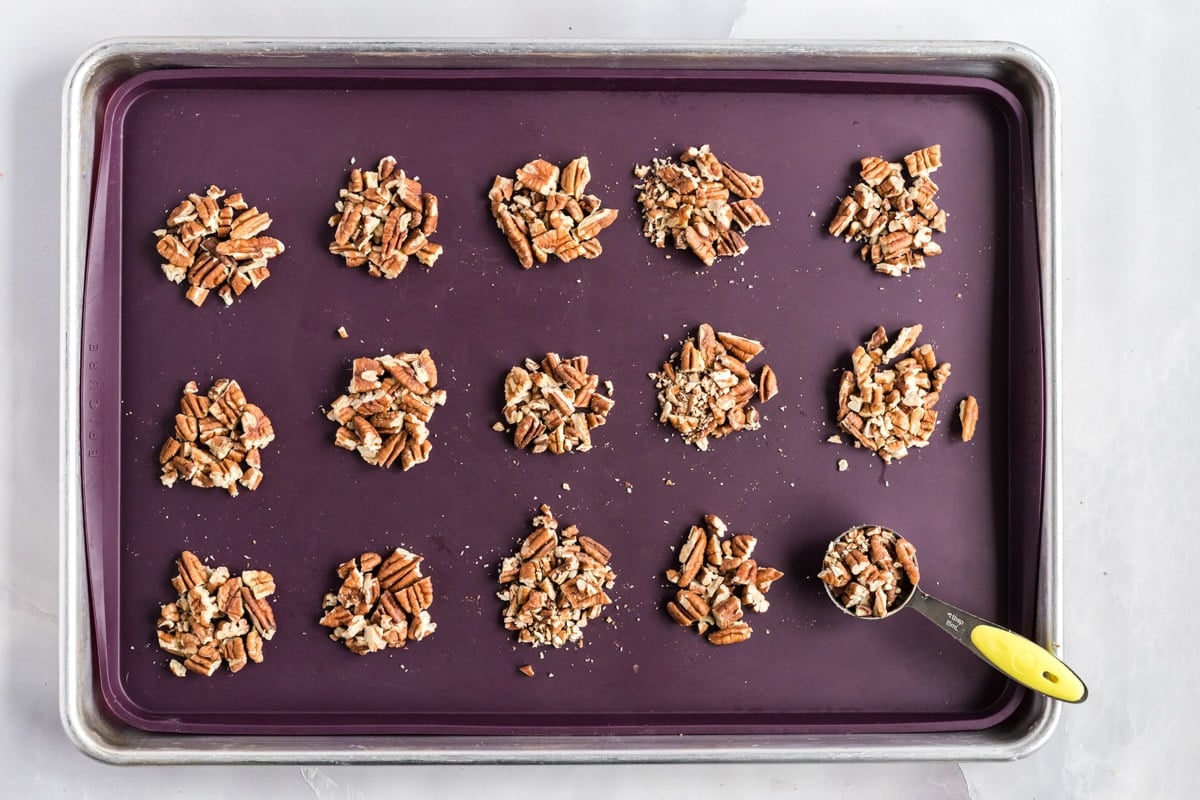 FOUR. Place the caramels and heavy cream in a medium size bowl. Make sure there is enough room to stir the caramels. Melt the caramels in the microwave or over a pot of simmering water on the stove.
As the caramels warm, stir them occasionally. You will begin to notice the cream starts changing color as the caramels start to melt. Keep stirring, eventually the caramels will start to come together in a big sticky ball.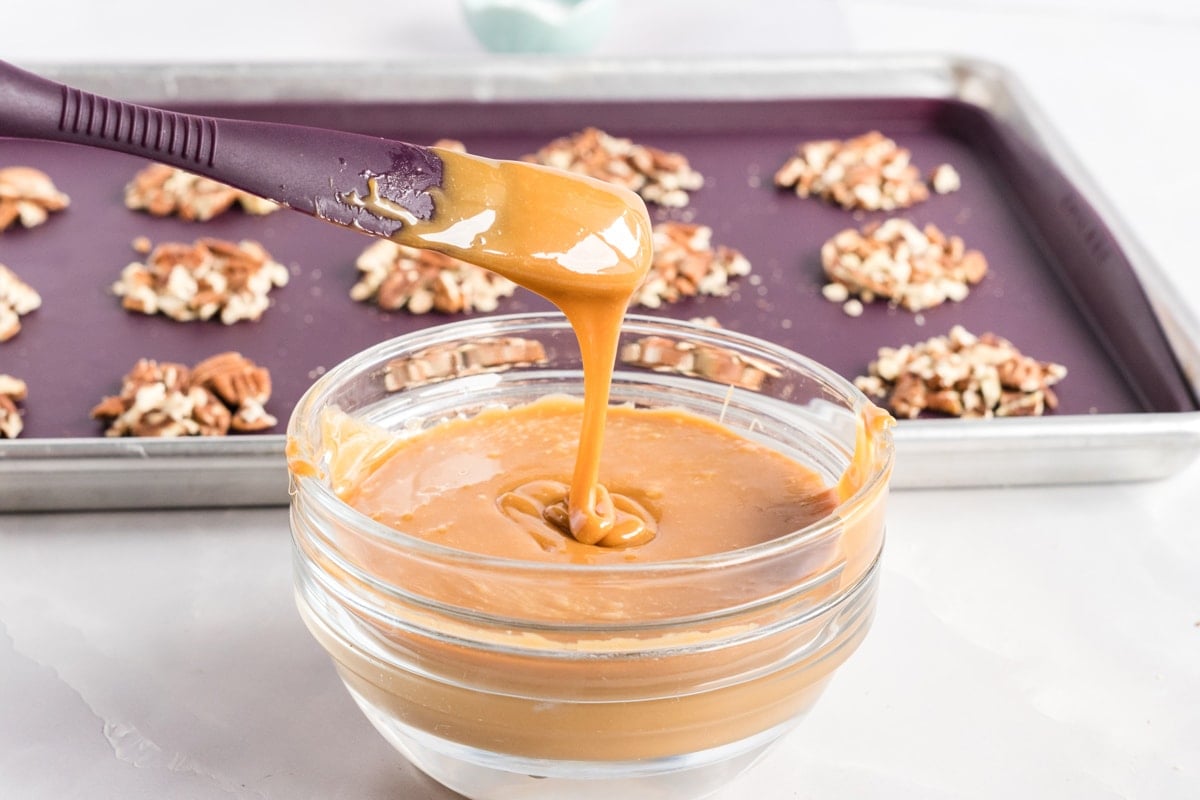 As you continue to heat and stir you will notice that the ball starts to separate and get stringy, this is when you know they are almost done. Keep stirring until the caramel has completely melted and is smooth and creamy for the perfect chocolate turtles!
FIVE. While the caramel is still warm, pour about one tablespoon over the top of the pecans. I like to pour it right on the middle of the pile and slowly swirl the spoon outward toward the edge.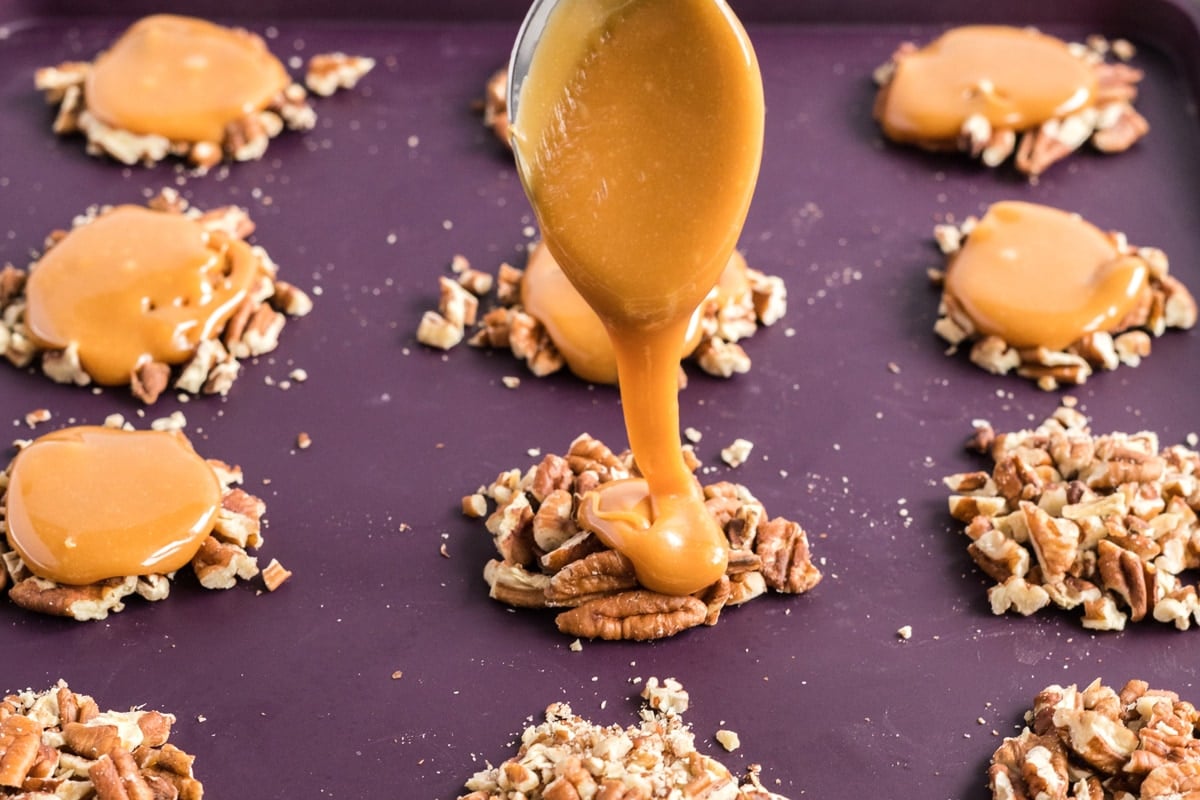 Place the tray in the freezer for about 5 minutes to let the caramel set.
SIX. Melt the chocolate with the vegetable shortening. You can do this over a simmering double boiler on the stove or in the microwave on 10 second bursts stirring between each interval until it is melted and smooth.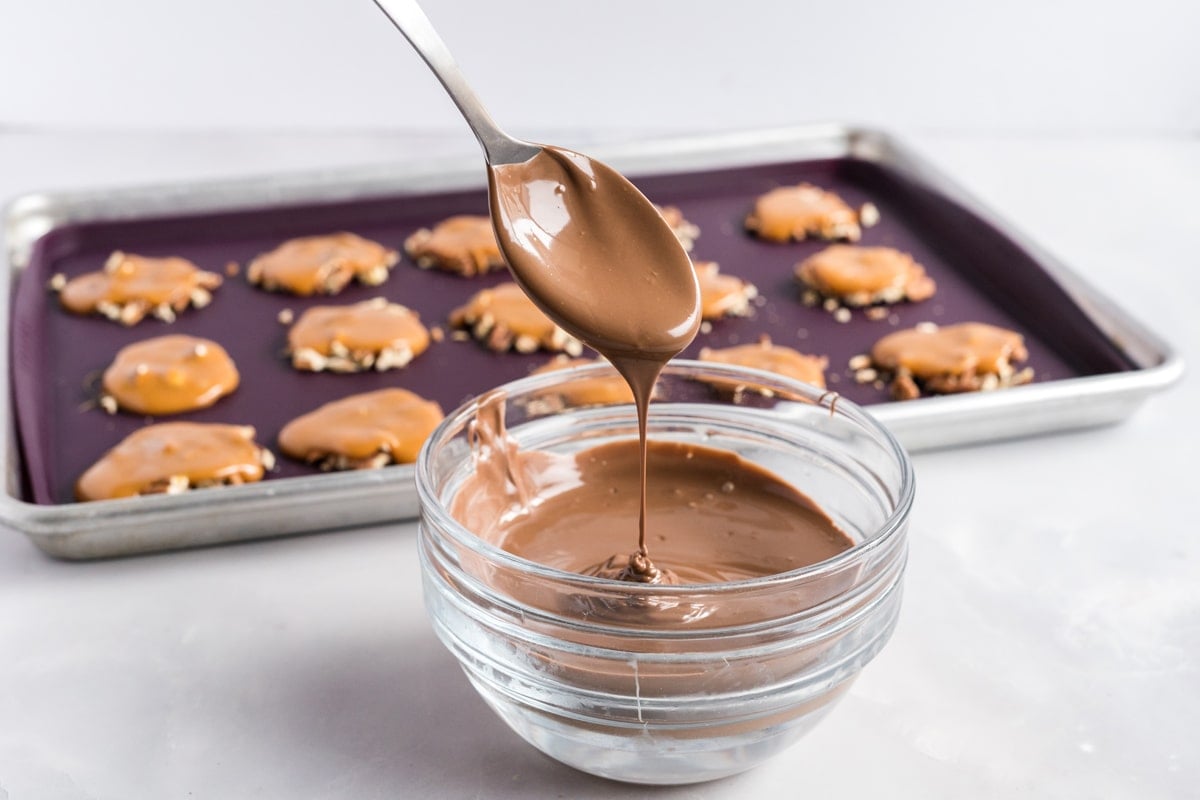 SEVEN. Pour a spoonful of chocolate over each caramel cluster. Before the chocolate sets you can press half a pecan on the top or sprinkle with sea salt.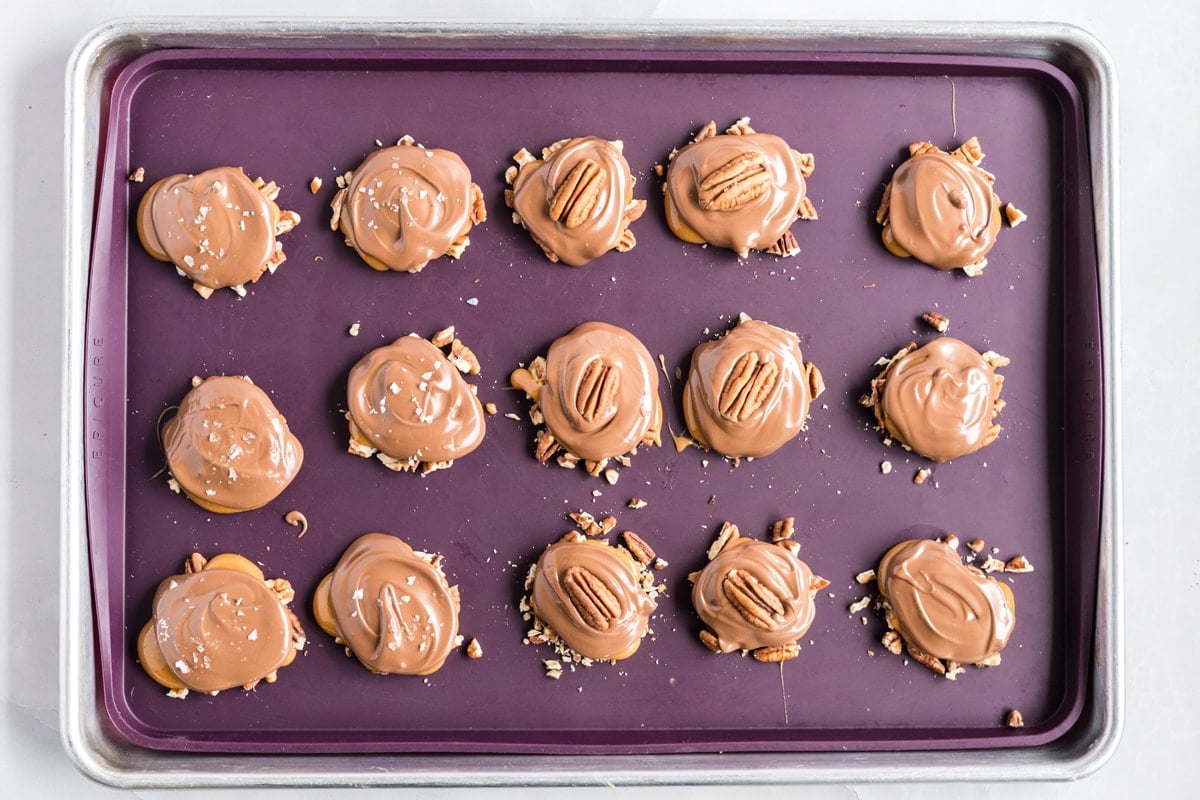 Let the chocolate turtles set then package up for storage.
Pro Tip : If you are in a hurry you can skip toasting the nuts. However, toasting them will give them a deeper, better flavor.
Storage & Freezing
Freezing turtle candy is quite easy and it's actually the best way to store them.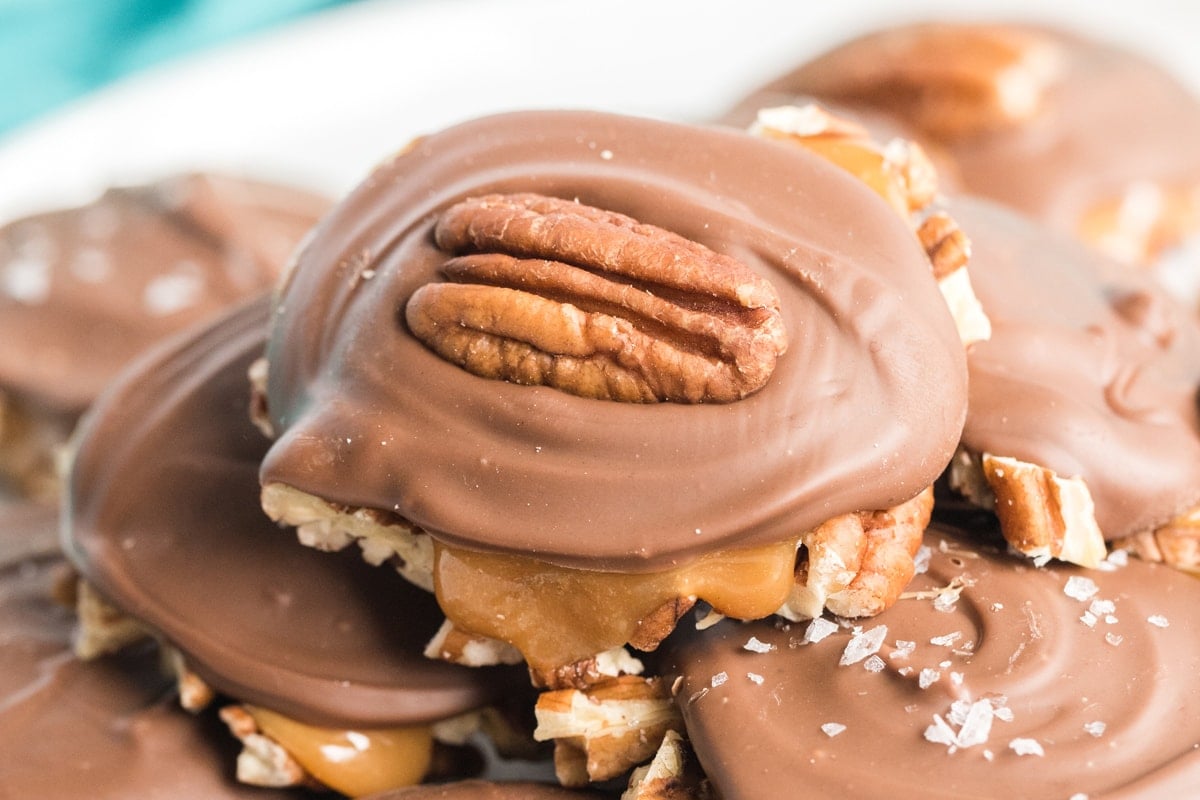 Simply place them in an air-tight container with a layer of parchment or wax paper between each layer.
When ready to eat just take out as many as you like, let them thaw for a few minutes and enjoy.
Pro tip : Be sure not to skip lining the baking sheet with parchment paper or a silicone baking sheet otherwise the turtles will stick to the pan. Do not use tinfoil as it will also stick to the caramel.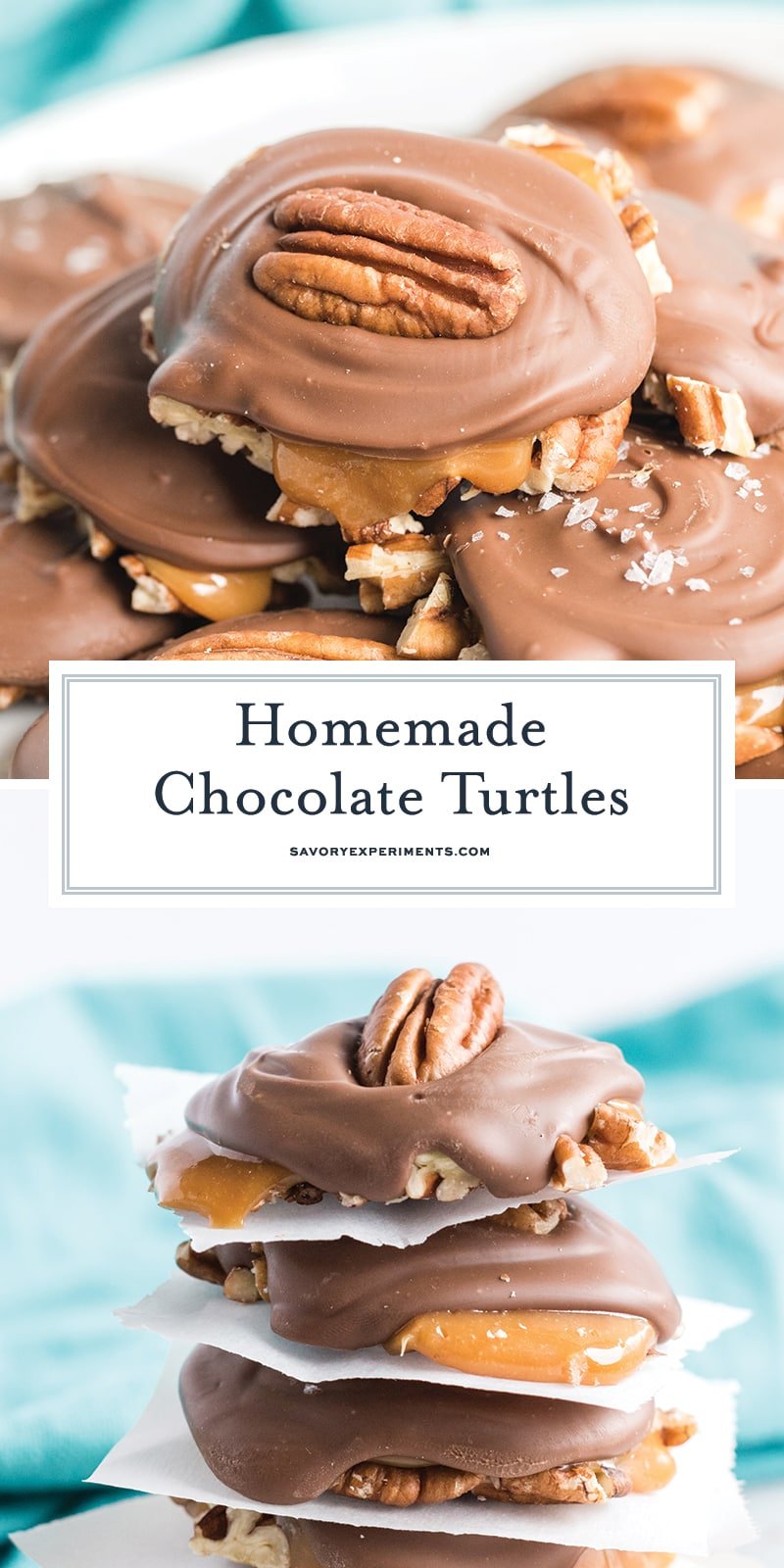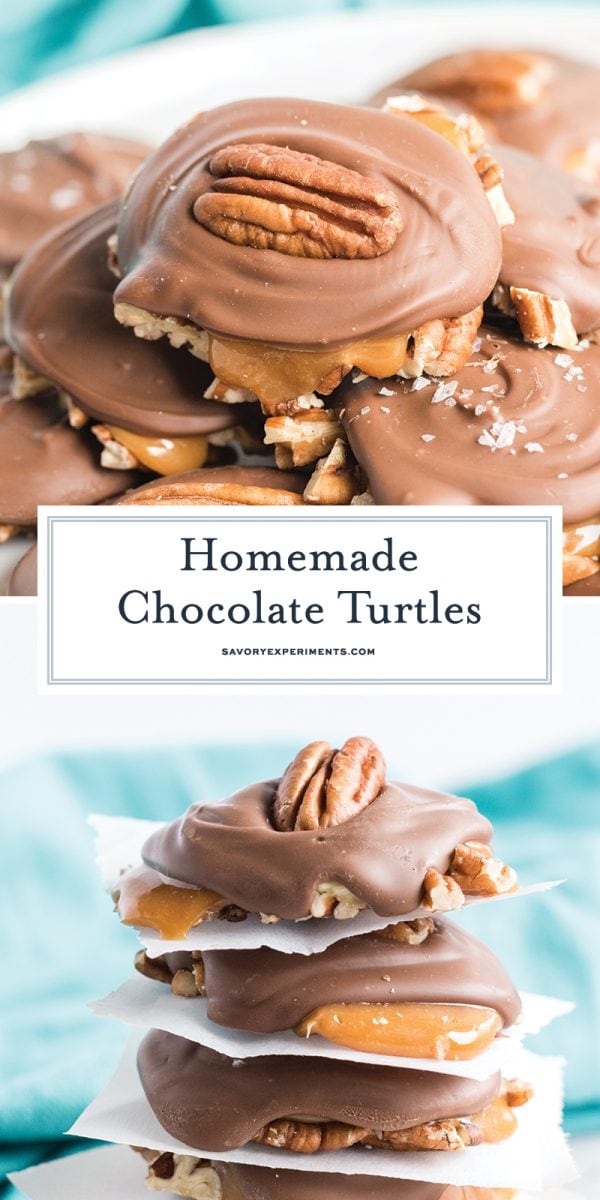 More Christmas treats: