Has there ever been a better match than chocolate with peanut butter? Most of us are likely grateful that Harry Reese and Milton Hershey crossed paths – where would we be without peanut butter cups?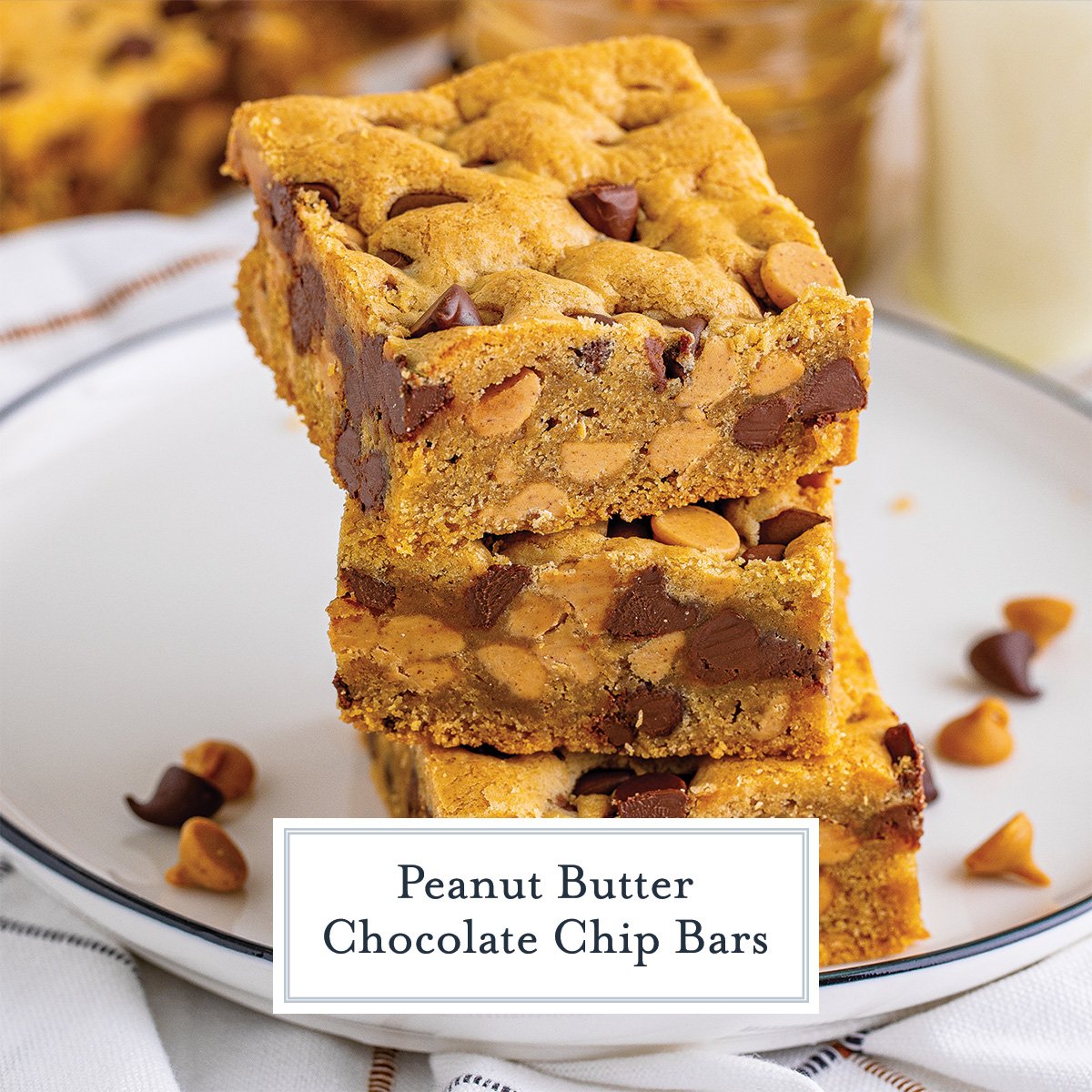 These peanut butter chocolate chip bars have the potential to garner the same appreciation.
Peanut Butter Chocolate Chip Bars
The peanut butter cookie base is loaded with both peanut butter chips and chocolate chips yet this quick recipe is oh-so-much easier than making a swath of small cookies.
Mix, bake, cut and voila! You have cookie bars that are thick, slightly crisp on the outside, and soft and chewy on the inside.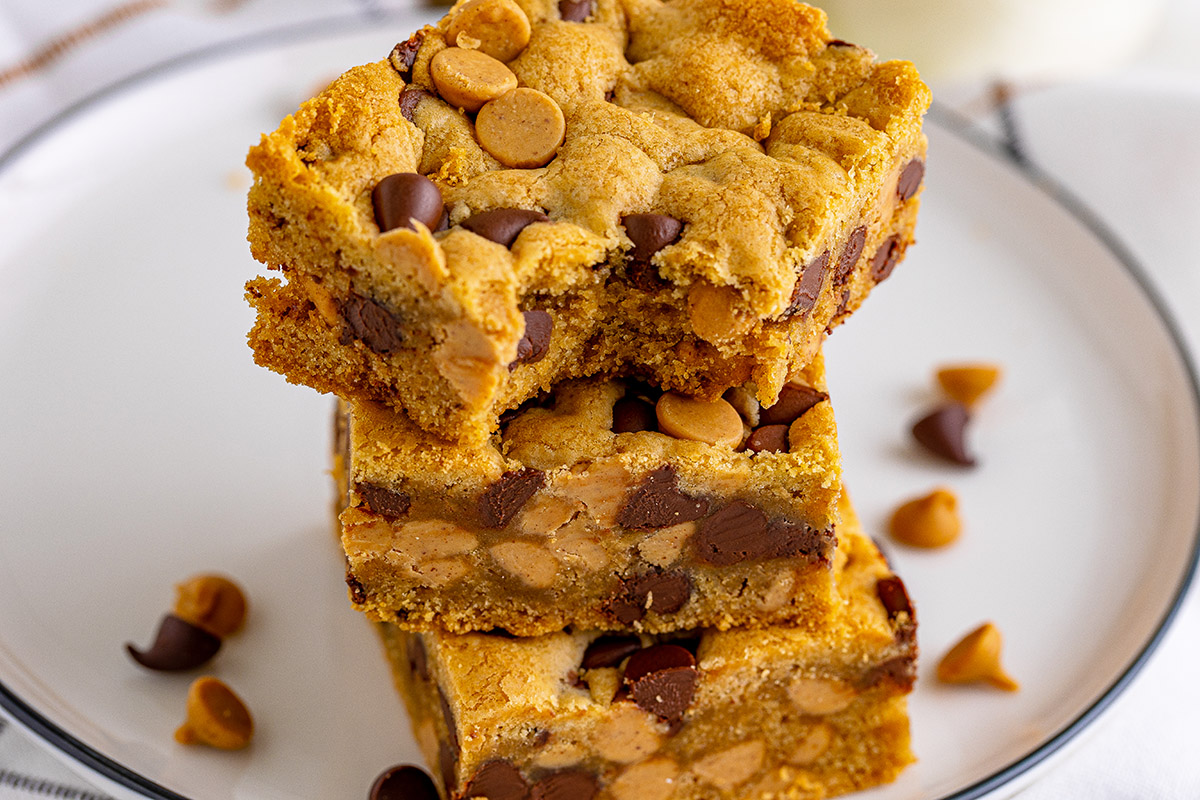 Pro-tip: If you prefer a more ooey-gooey center, under-cook the bars for about 5 minutes.
The best thing about these bars is that they're so easily adaptable. Substitute the chips in the bars for all peanut butter chips or for all chocolate chips of any flavor. You can even add your favorite candies as additions. Think: Reese's pieces, chopped up peanut butter chips, or chopped nuts.
For those who love the idea of a chocolate chip bar, but prefer to not use nut butter, easily replace it with an equal amount of more butter.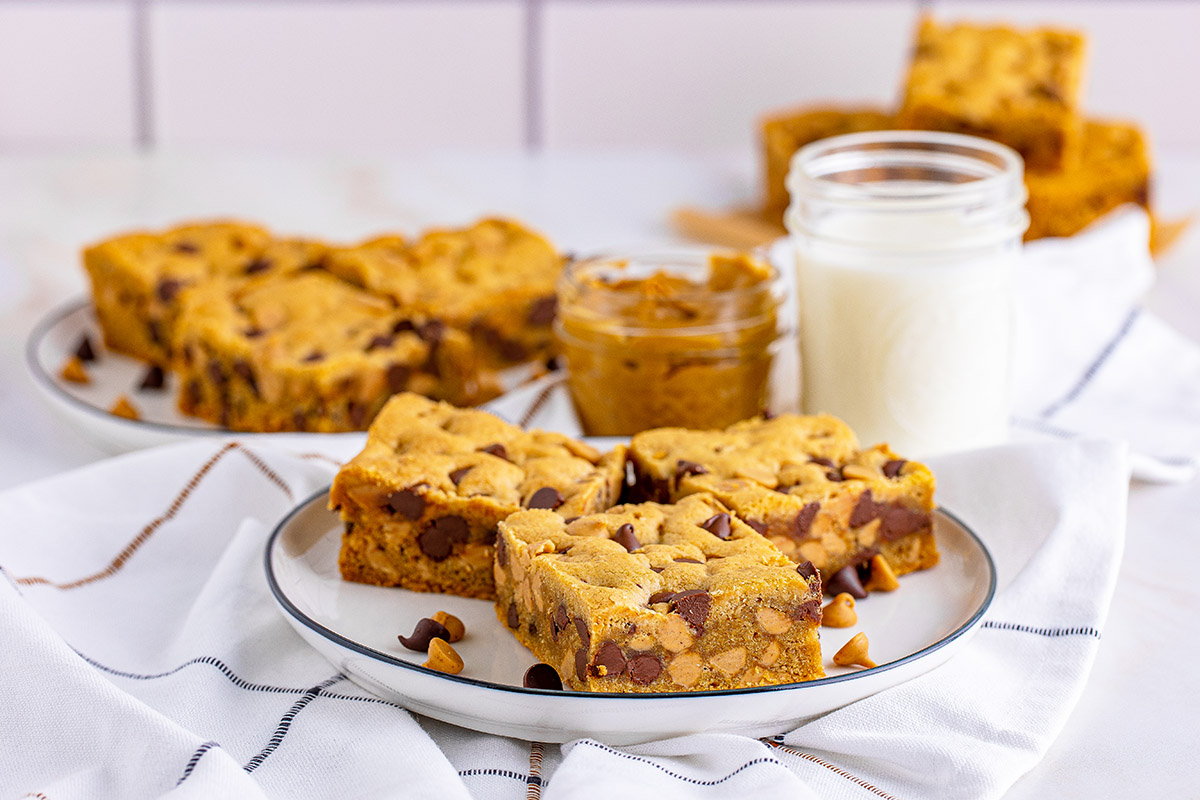 What You'll Need
The ingredient list is pretty simple and consists mostly of pantry staples.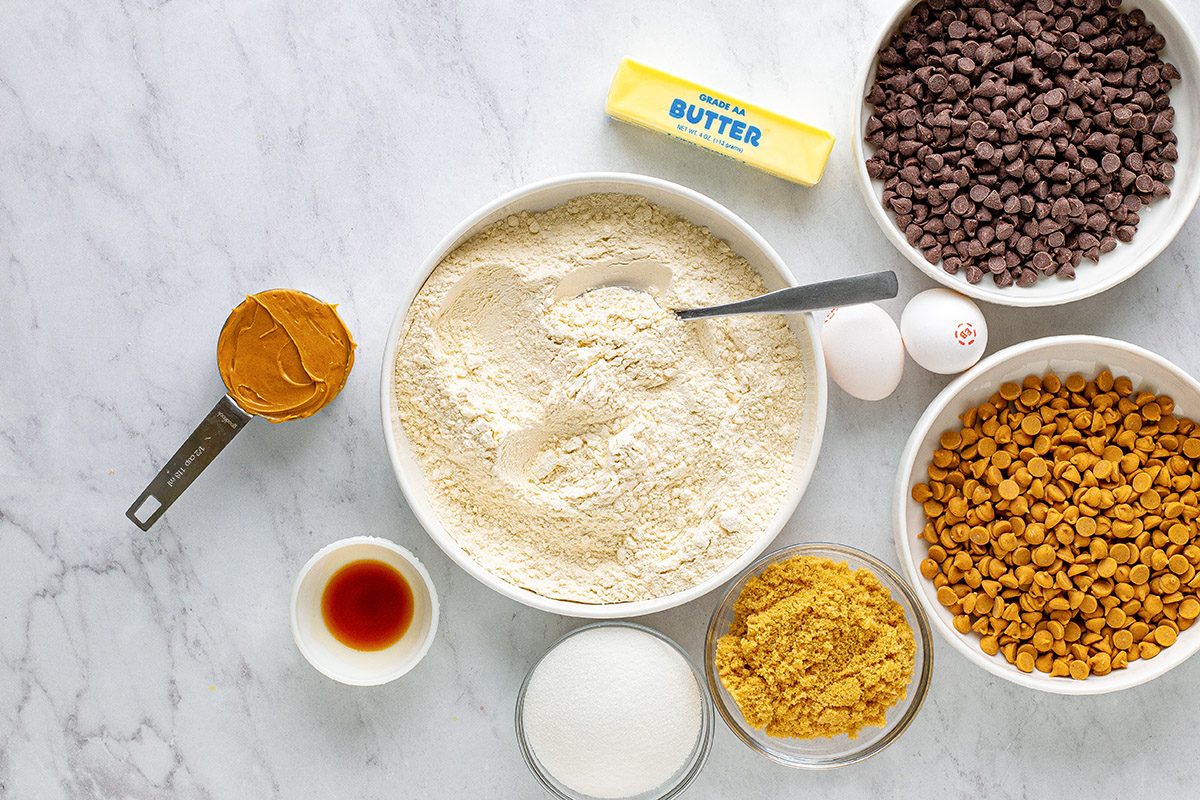 All-purpose flour– all-purpose flour is aptly named since it can be used for such a wide variety of baked goods from sweets to breads and pizza crust to pie crust.
Baking powder– baking soda might be that great tool to keep your fridge smelling fine, but baking powder is the essential ingredient here that will keep your bars nice and light. Be sure not to mistake them as interchangeable.
Fine sea salt- hailing from ocean water, the grains of this salt are just a bit larger than typical table salt.
Unsalted butter, softened– if you don't have time to wait for butter to soften on the counter for an hour or so, use a quick trick to soften. Microwave water for about 2 minutes, then remove. Next, place the butter in the microwave for 10 minutes (without the microwave on). The heat remaining from the microwaved water will work to slowly soften the butter. Here are a few more tricks to soften butter fast!
Creamy peanut butter- while creamy peanut butter is the choice in this recipe, for added texture you can use chunky peanut butter as a substitute.
Granulated sugar– this sweet treat is probably already in your pantry. However, if you've been trying a low-carb diet there are lots of options that you can use on a 1:1 ratio if you have them handy.
Light brown sugar– with less molasses, this brown sugar version keeps your baked goods a little lighter.
Large eggs- for eggs in baking, size matters. Make sure to use the appropriate sized eggs because changing the size can make baked goods either cakier or fudgier.
Vanilla extract– according to WebMD, vanilla is the only fruit-bearing member of the orchid family. We had no idea that vanilla was a part of the orchid family, but we do know that it rounds out just about any baking recipe.
Peanut butter chips- you could make your own peanut butter chips, or you could just substitute peanuts (which would result in more crunch and less creaminess), but these chips are easily accessible at most grocery stores.
Semi-sweet chocolate chips– with its balance of bitter and sweet, semi-sweet chocolate is the ideal addition to this recipe in which you want chocolate flavor but it needn't steal the show.
Any blend of peanut butter chips and chocolate chips can be used as well as all of one. Caramel chips, Reese's pieces and even M&M candies are also delicious in this recipe.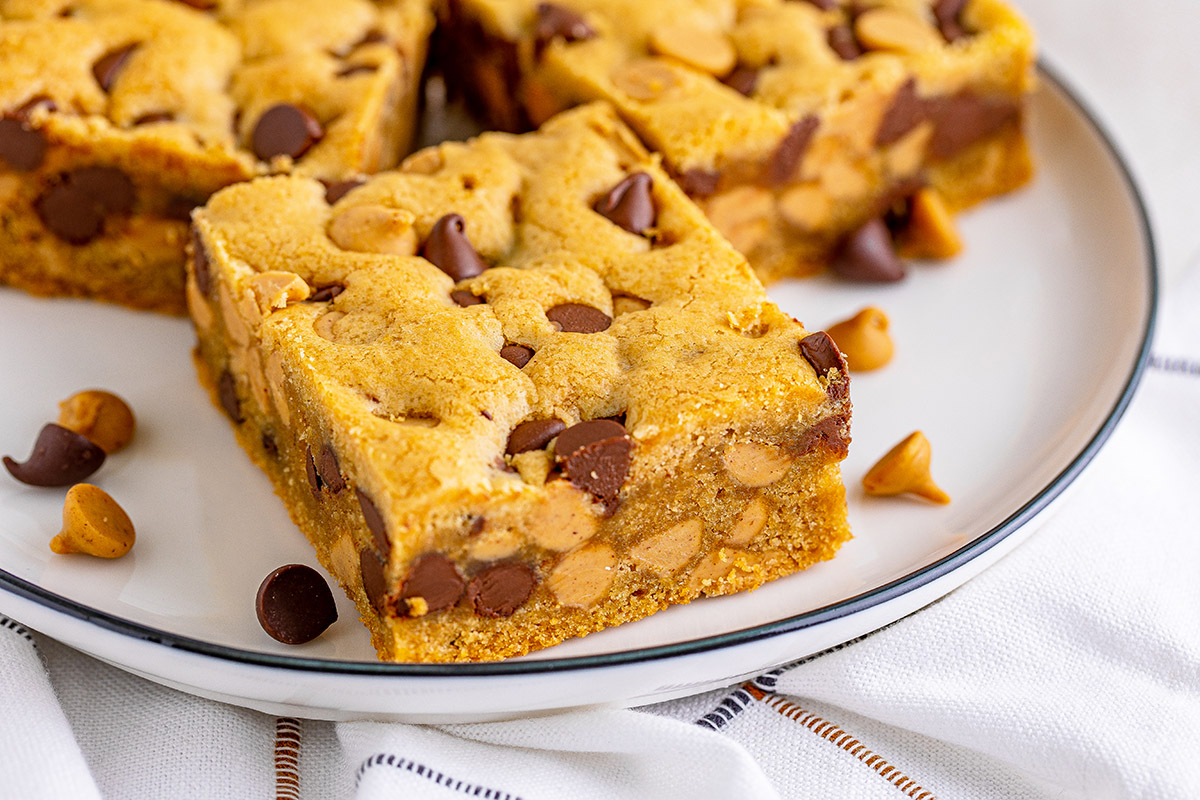 How To Make Chocolate Chip Peanut Butter Bars
Line a 9×13 baking pan with parchment paper and set aside. To ensure easy removal after baking, leave a bit of parchment paper extended beyond the edges of the baking pan. Caution: do not leave so much parchment paper that it is possible for it to touch hot surfaces within the oven.
Sift together the flour, baking powder, and salt, and then set aside. It's always important to mix dry ingredients separately from wet ingredients in order to ensure that all elements of the recipe are equally dispersed. If you don't have a sifter, then whisk together.
In the body of a stand mixer with the paddle attachment, or in a large bowl with an electric hand mixer, cream the butter with the peanut butter until smooth. It should have a creamy consistency with the same coloration throughout the mixture. This adds air and helps the mixture become light and airy.
Add the granulated and brown sugar to the bowl and mix it in until combined.
Incorporate the eggs one at a time until fully mixed in before pouring in the vanilla extract.
Sprinkle in the flour mixture, just a bit at a time, until fully combined. Do not overmix.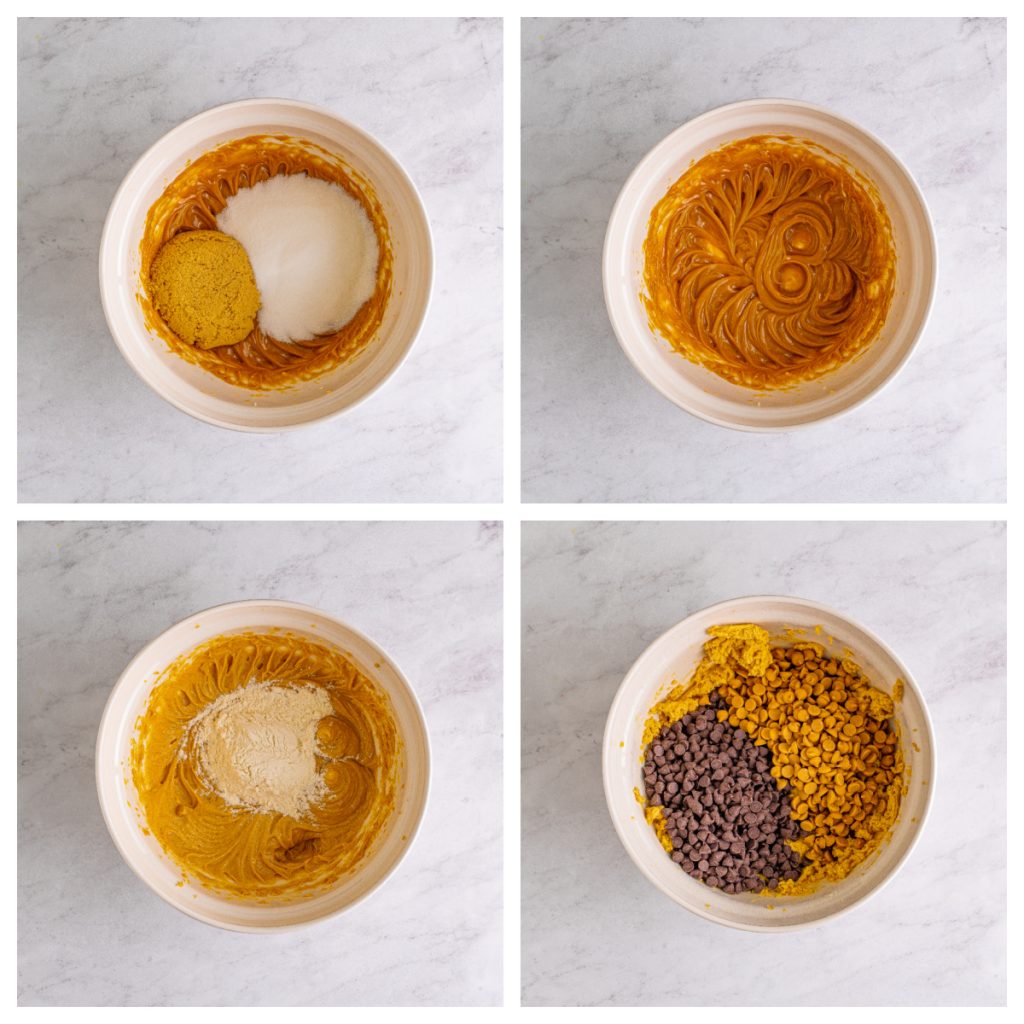 Add the peanut butter chips and chocolate chips and then gently stir (are we still using the mixer, or are we stirring by hand here? If by hand, I'd use the phrase: gently fold until fully mixed) until just combined.
Press the cookie dough into the prepared baking pan. Bake for 25-30 minutes until a toothpick inserted into the center comes out clean.
Let the bars cool completely (about 1 hour), then lift the bars out using the edges of the parchment paper to remove all at once.
Cut into bars and serve. The size of the bars is up to you, but we estimate that this recipe makes about 15 bars.

What To Serve With Chocolate Chip Peanut Butter Bars
Chocolate Chip Peanut Butter Bars make for a great snack to tuck into a lunchbox or to nosh on after work or school. That said, they're equally amazing for serving at a party or taking to a cookout. Some ideas for simple pairing options when serving: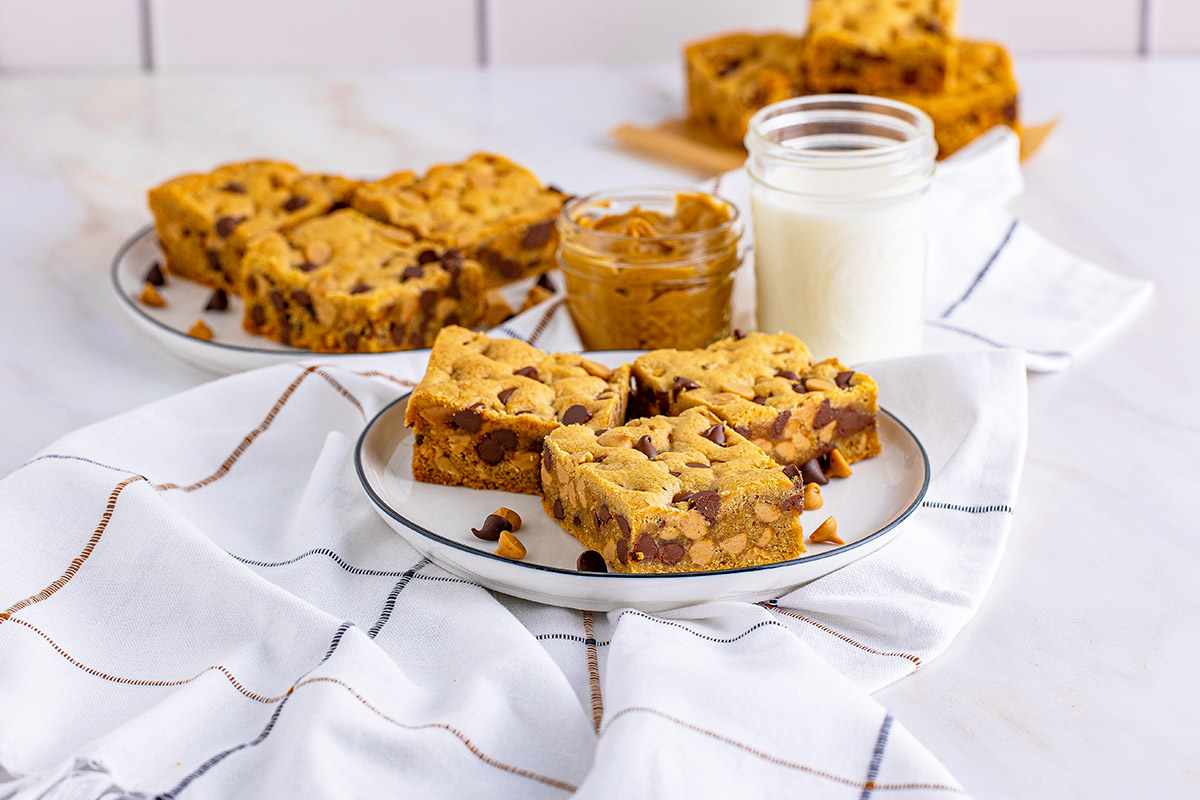 Storage and Freezing
While it's unlikely you'll have leftovers, if you do, Chocolate Chip Peanut Butter Bars can be stored for up to 5 days in an airtight container at room temperature. These bars can also be frozen for up to 3 months.
They can be enjoyed at room temperature, but I also like mine a little gooey and reheated in the microwave. They are also amazing served brownie fudge sundae style.