When it comes to favorite martini recipes, the indulgent Chocolate Martini tends to be at the top of everyone's list, not just chocolate lovers. The good news is you don't have to go out to a fancy bar or restaurant to have one.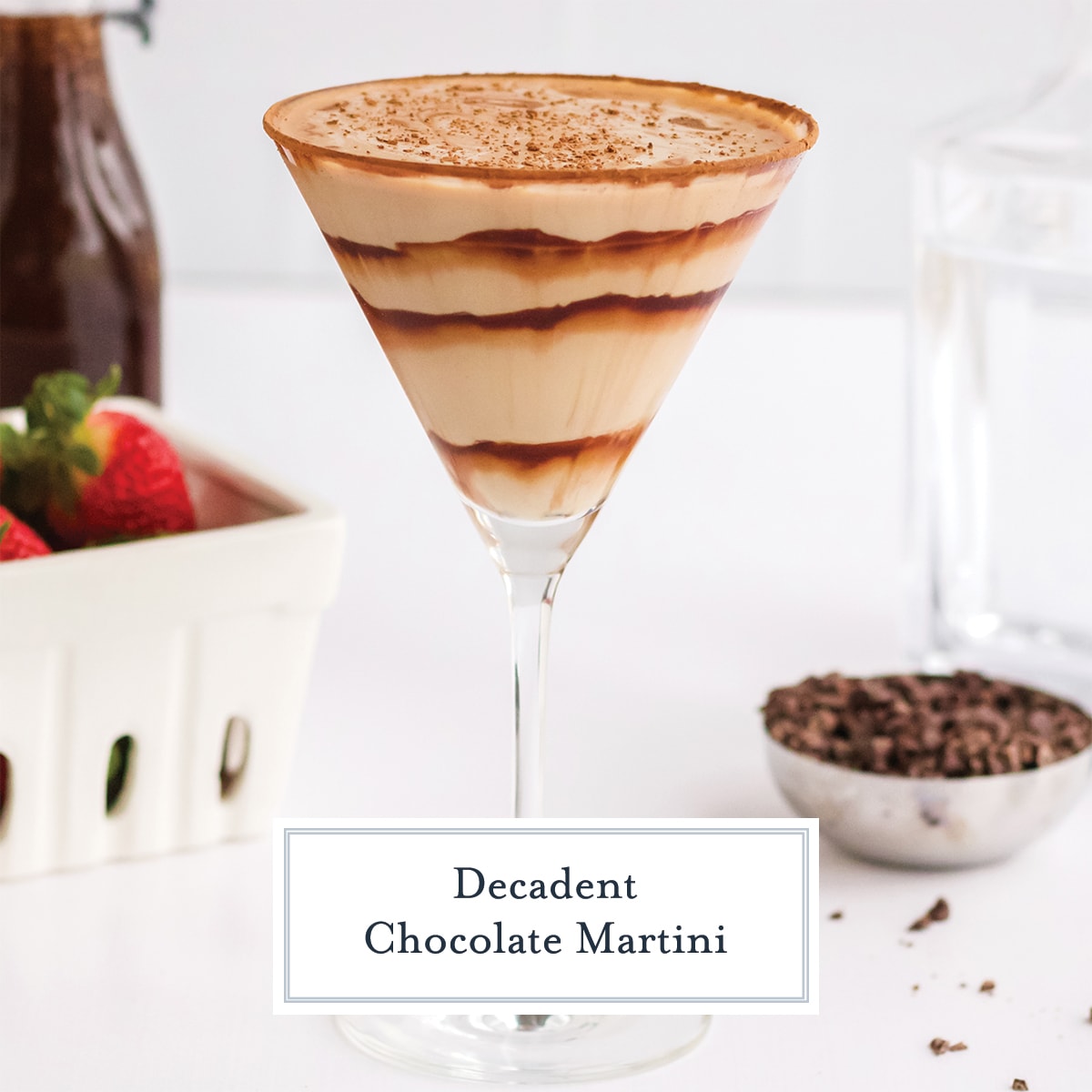 I can't wait to show you how quick and easy it is to make a chocolate martini at home!
What is a Chocolate Martini?
There are many opinions out there about what makes an authentic, classic chocolate martini recipe. Traditionally, a chocolate martini is made up of vodka, chocolate liqueur, a cream liqueur or creme de cocoa.
You can also use a vanilla vodka for a chocolate and vanilla flavor. Or add mini chocolate chips to the bottom of the glass for a fun surprise.
Chocolate Liquor vs. Chocolate Liqueur vs. Liquor
You may be wondering what is the difference between chocolate liquor and chocolate liqueur.
Despite the name, chocolate liquor has no alcohol. It is actually a thick, dark paste which is a product of grinding cocoa beans after they are roasted and hulled.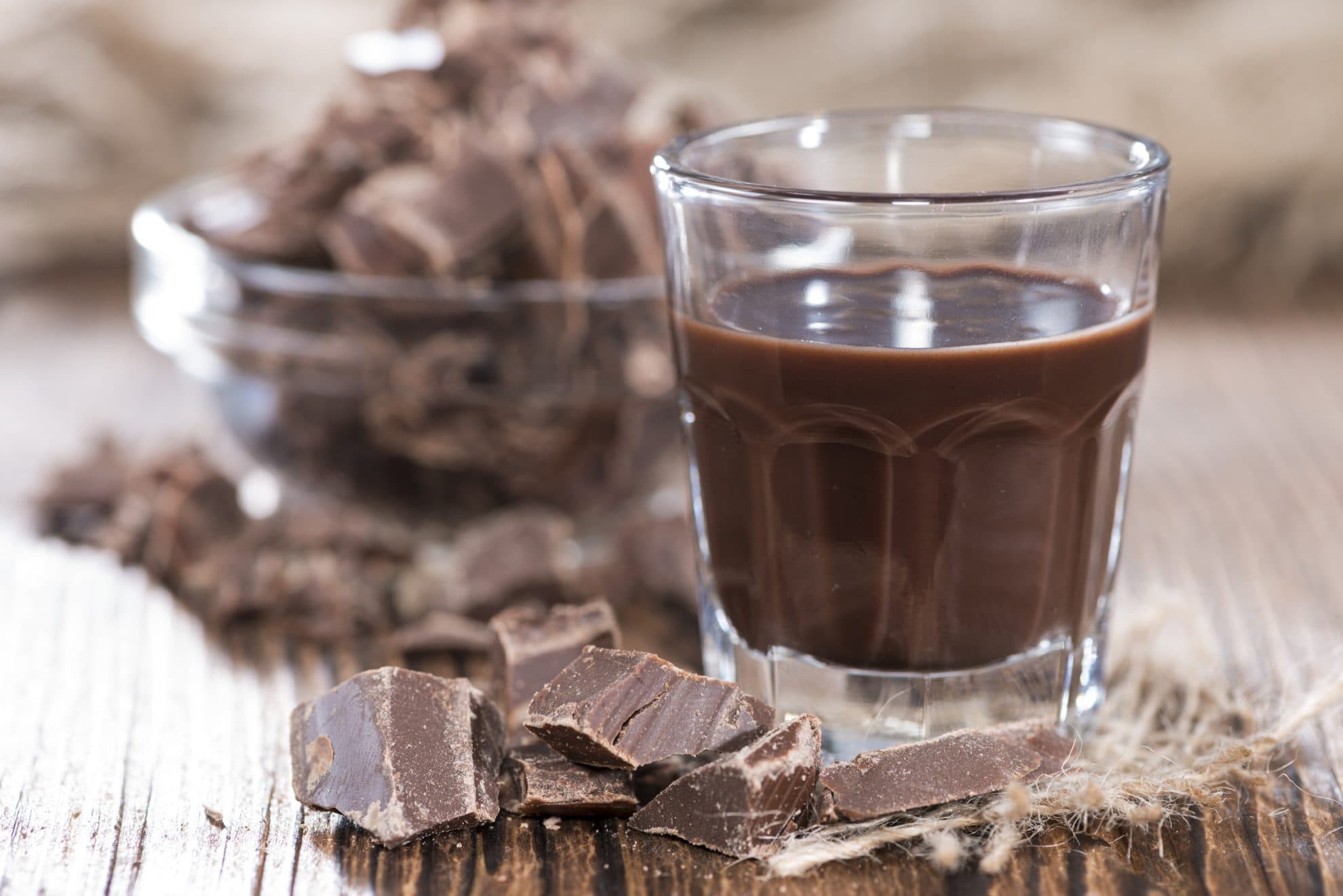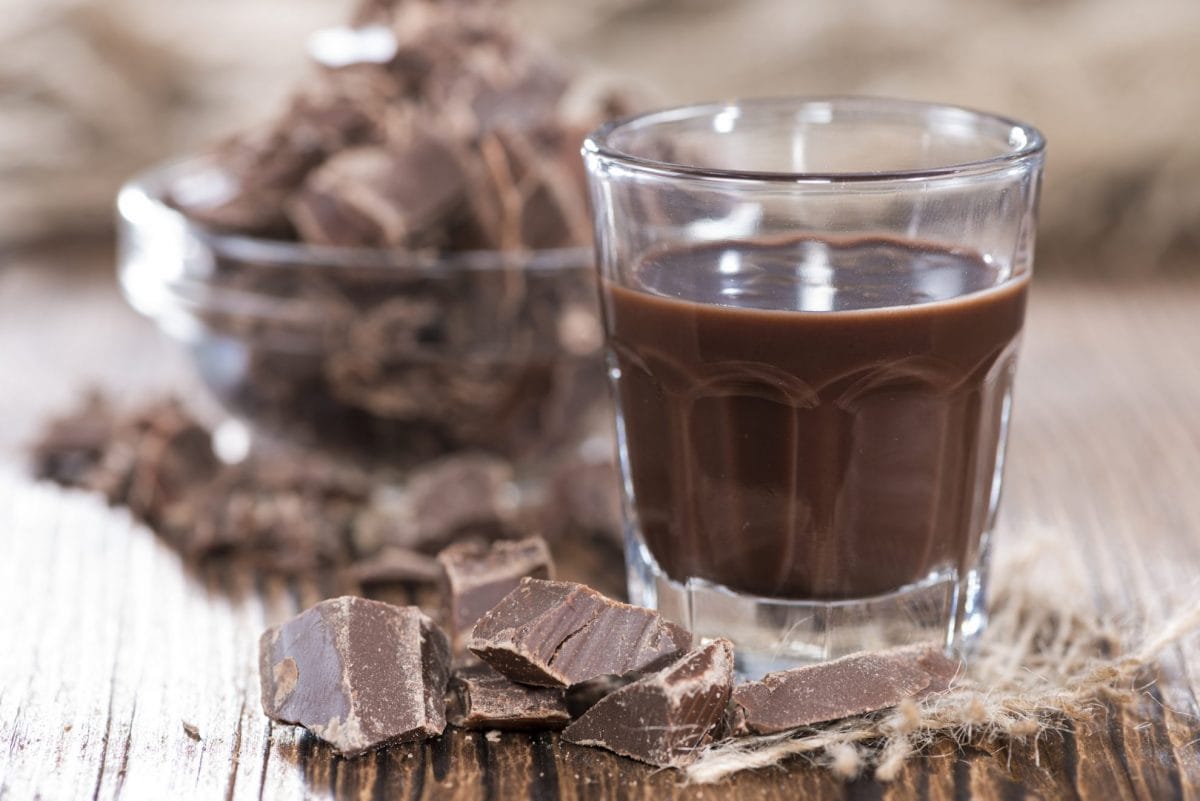 Chocolate liqueur is a distilled spirit made with cocoa beans and contains flavors of chocolate and often vanilla.
Liquor is a distilled spirit made from grains or plants. Think brandy, gin, rum, vodka and whisky.
PRO TIP Quick Guide : Chocolate Liquor: Thick Dark Paste – no alcohol
Chocolate Liqueur: Distilled spirit with cocoa bean and chocolate flavor – contains alcohol
Liquor: Distilled Spirit made from grains or plants – contains alcohol
Best Chocolate liqueur
The best chocolate liqueur for a chocolate martini recipe is hands down Godiva.
Godiva makes three versions of their chocolate liqueur. They make regular chocolate, dark chocolate and white chocolate.
If you are already a chocolate martini pro and want to change things up, give their other flavors a try! But my favorite for this recipe is the standard chocolate.
Once you open your brand new bottle of Godiva chocolate liqueur, it should be kept in a cool and dark place.
You do not need to keep it in the refrigerator, but many people prefer it well chilled.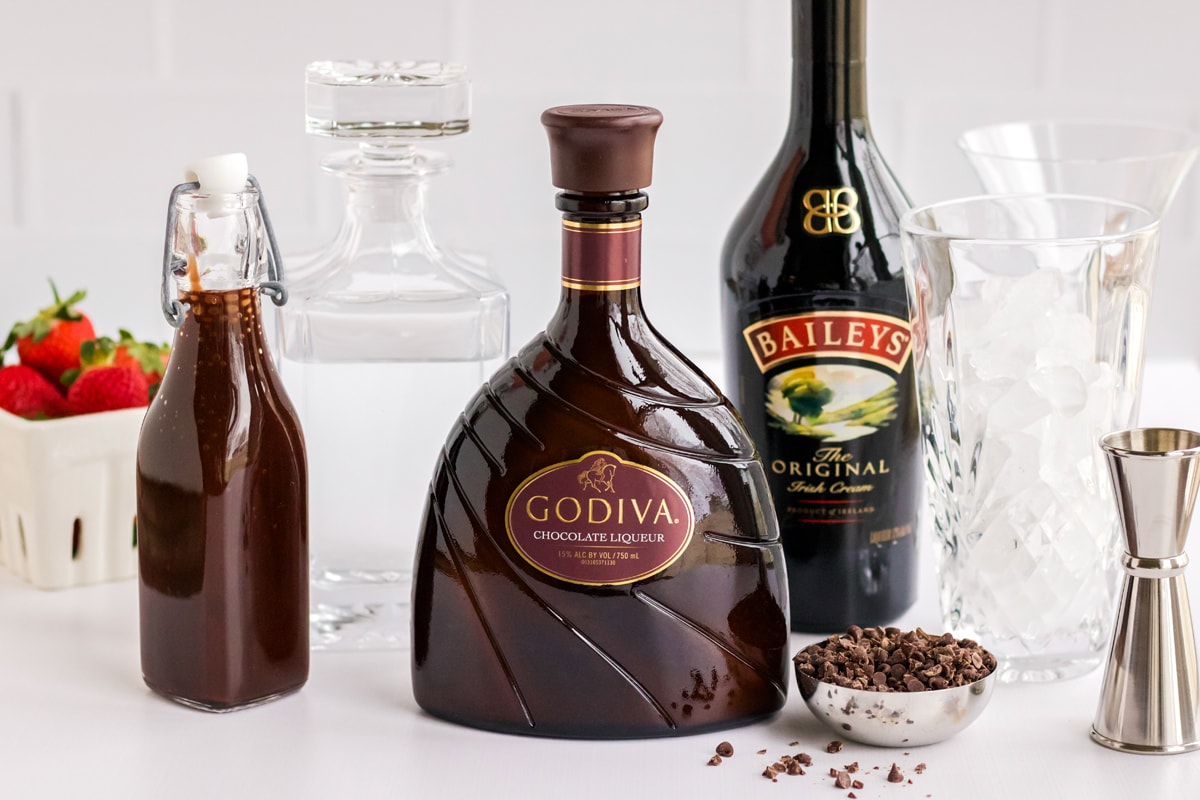 Chocolate Martini Garnishes
If you want to take the presentation up a notch, you can get fancy with your garnishes. You can add whatever you'd like to, but here are some of my suggestions:
Chocolate shavings
Extra chocolate syrup
Sliced strawberries
Fresh raspberries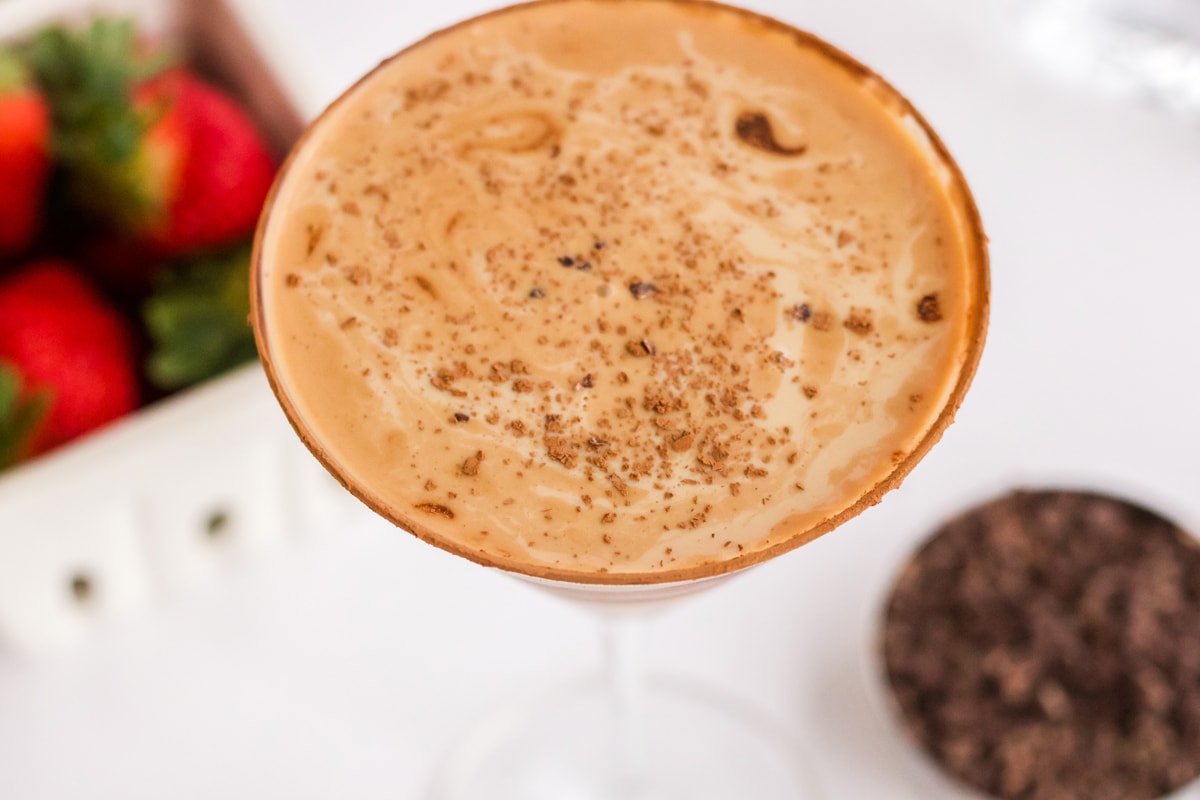 Chocolate Martini Pairing Suggestions
This cocktail is such a treat on it's own, and typically served at the completion of a meal. If you are looking to serve this with dessert, I would concentrate on fruit forward desserts that would naturally pair well with chocolate.
Think about recipes that contain strawberries and raspberries. Here are some suggestions: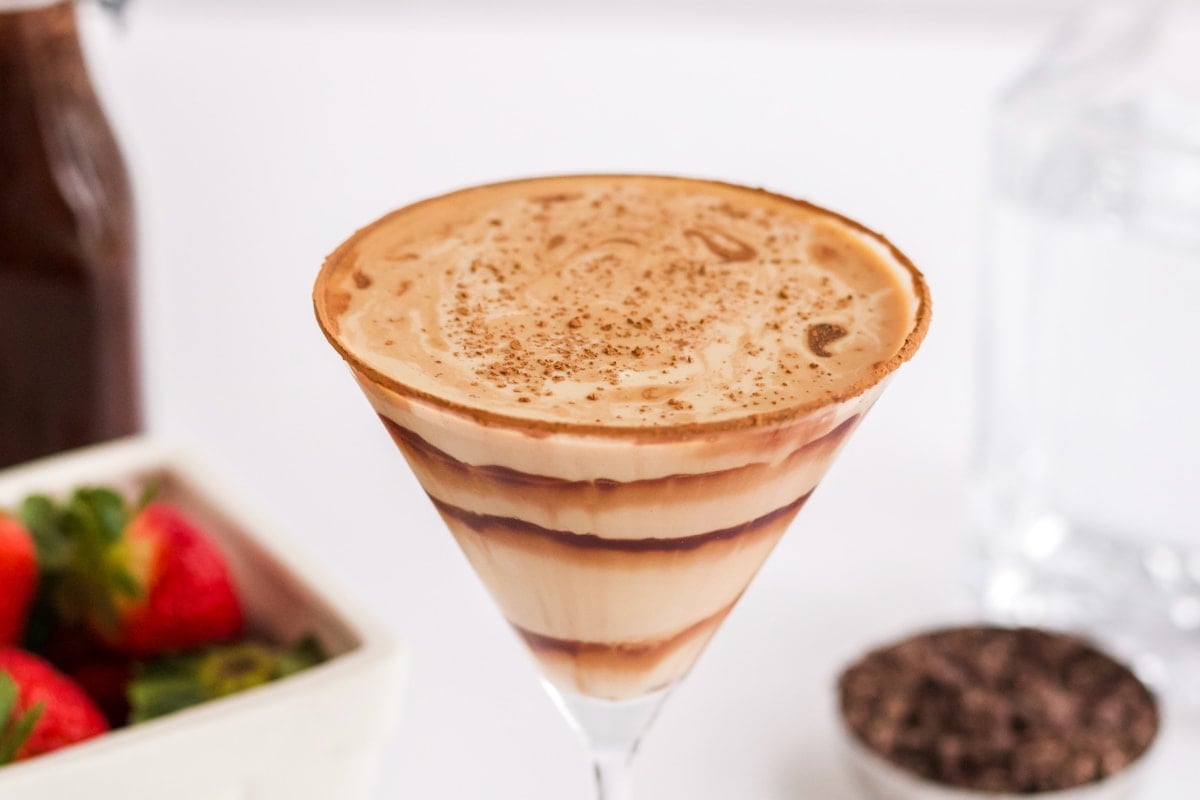 Ingredients
The ingredient list for this chocolate vodka martini is quite simple. Check the recipe card below for exact measurements.
Chocolate syrup – Use your favorite brand of chocolate sauce here. Hershey's is my personal favorite.
Cocoa powder – We use this for coating the rim of the glass. It sticks to the chocolate syrup, and enhances each sip of this easy cocktail.
Vodka – I like to use regular Tito's here, but you can also use a specialty liquor like vanilla or espresso vodka to take it up a notch.
Chocolate liqueur – My favorite chocolate liqueur to use is the Godiva brand. I'm sure each person has their own version of best chocolate liqueurs, so just use your favorite.
Bailey's Irish Cream – Not only does this add delicious flavor, but it also adds a creamy, velvety texture that makes this a truly decadent martini.
Ice – A handful of ice is crucial to making all classic martinis. When shaken in a martini shaker, it chills the simple ingredients for the perfect refreshing temperature.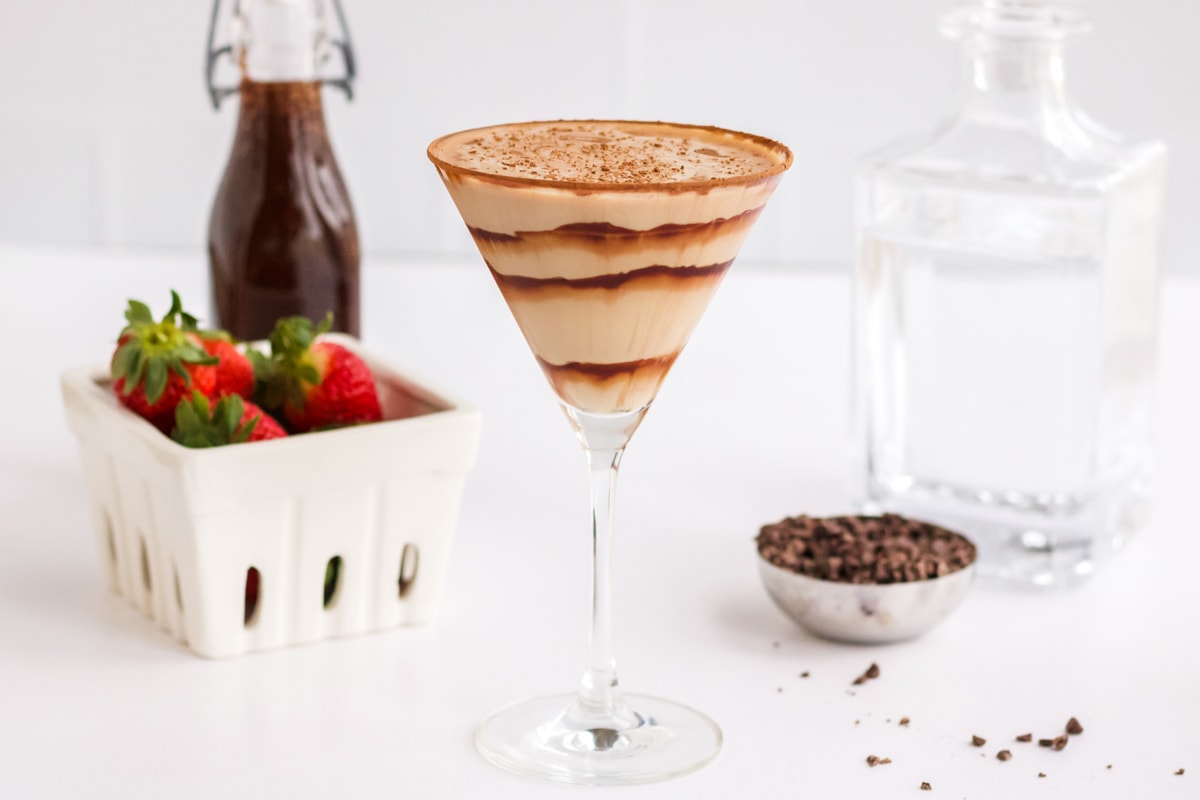 How to Make a Chocolate Martini
Chocolate syrup. Prepare the martini glasses by adding a swirl of chocolate syrup inside of the martini glass and coating the rim.
Coat rim. Dip the chocolate coated rim into cocoa powder that is poured out on a small plate.
Add liquor. Fill an ice-filled cocktail shaker with ice and add the vodka, chocolate liqueur and Irish Cream.
Shake. Give it a vigorous shake for 30 seconds and pour into prepared glass.
Garnish. Top with additional cocoa powder if desired.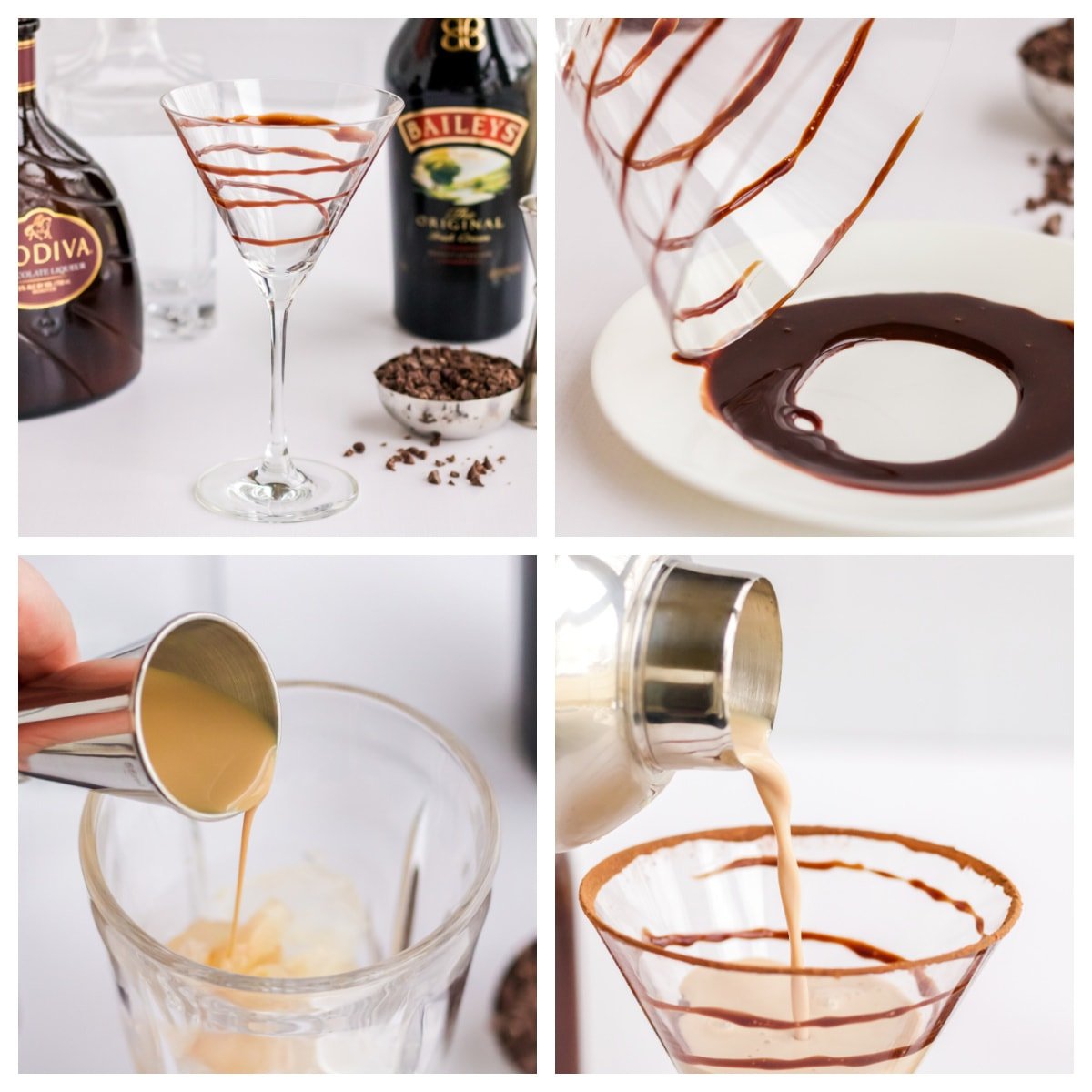 Variations
There is no one right way to make a good chocolate martini. Here are a few suggestions to make it your own:
Make it creamier – Although I think the Bailey's does the trick, you can also add a splash of heavy cream to take the creamy factor up a notch.
Garnish – Make up some chocolate covered strawberries and serve them on the side as a garnish for special occasions like Valentine's Day.
Make it an espresso martini – Substitute the regular vodka for espresso vodka instead to give this simple chocolate martini a real kick.
Rim – Instead of rimming with cocoa powder, try dipping the rim in shaved chocolate pieces.
White chocolate – Swap out the chocolate liqueur for white chocolate liqueur instead. Godiva makes a great one.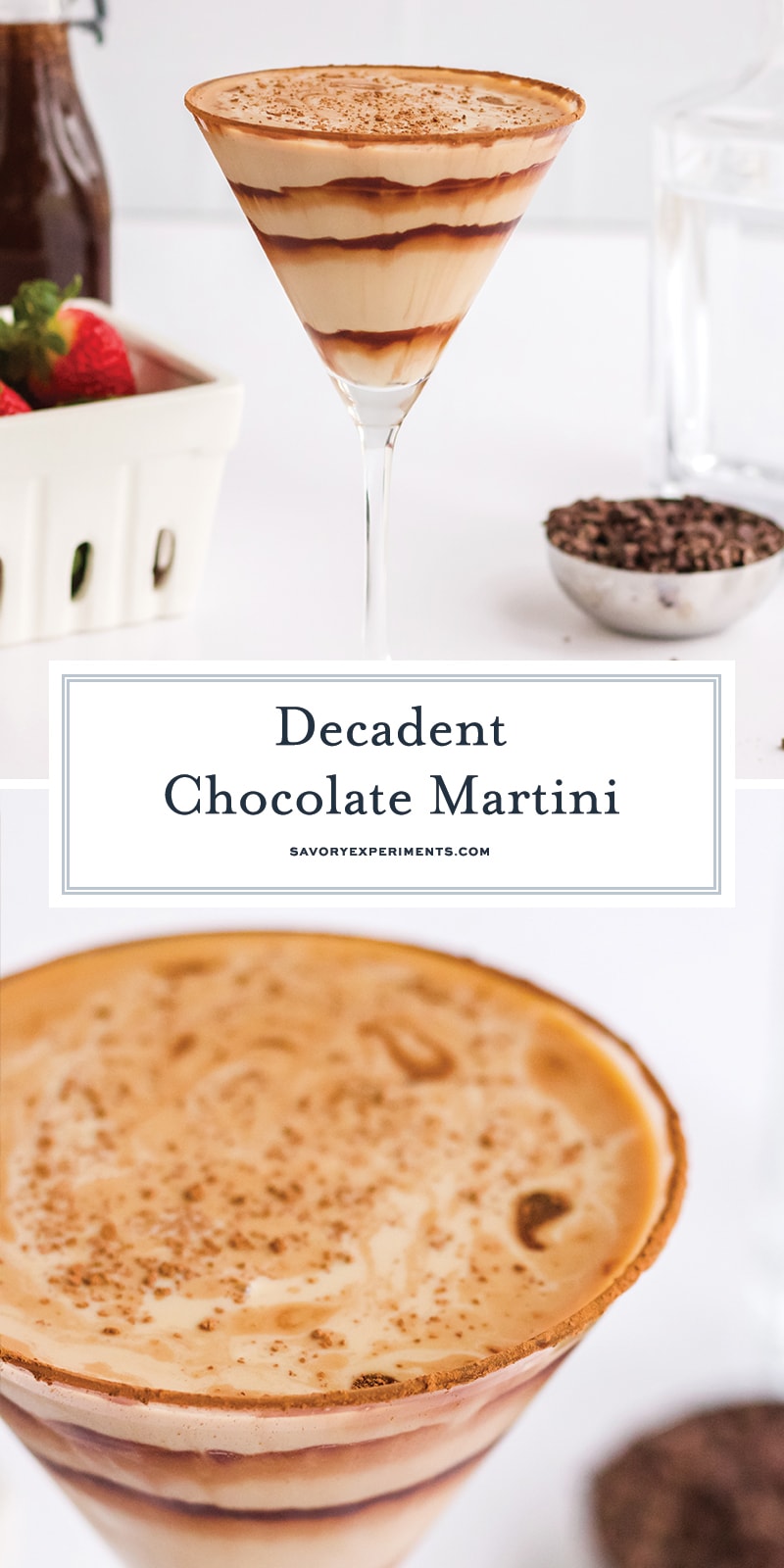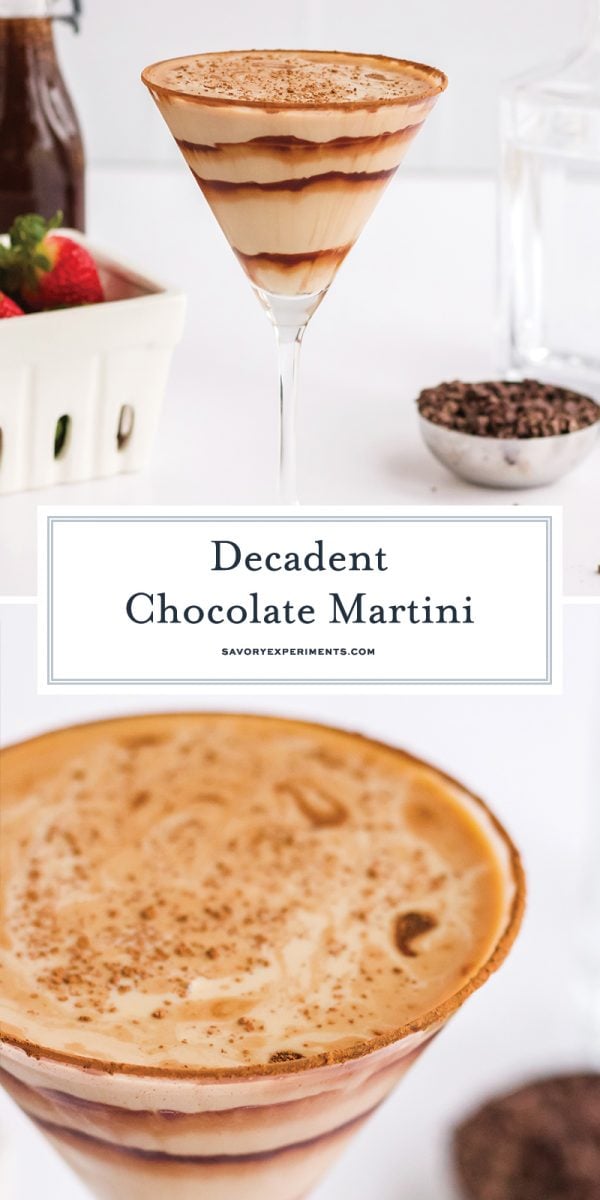 More Chocolate Recipes to try
If you are still craving chocolate after this recipe, check these out!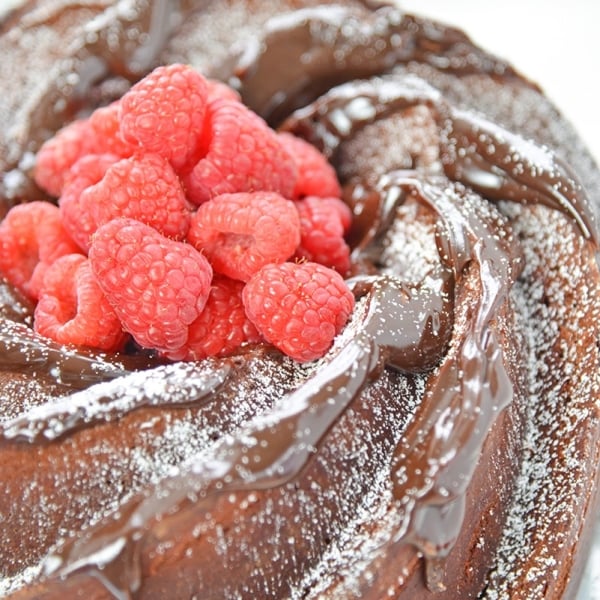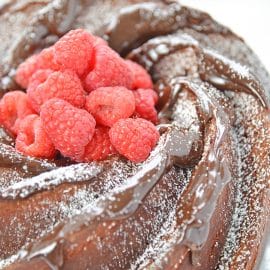 Chocolate Bundt Cake
This super moist and rich Chocolate Bundt Cake has one secret ingredient that makes it super chocolatey and delicious!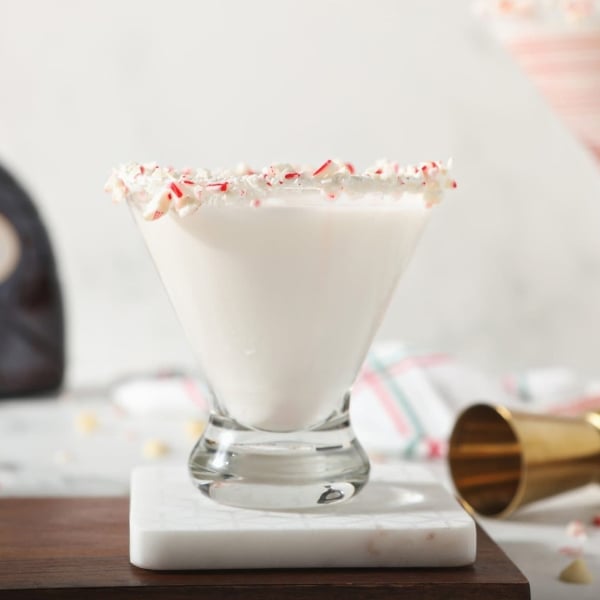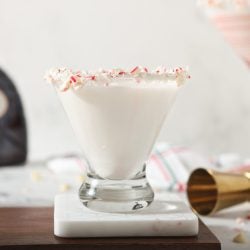 White Chocolate Martini
Need the perfect festive cocktail to serve this holiday season? A White Chocolate Martini, rimmed with candy canes is the perfect holiday dessert drink! Learn how to make this simple cocktail recipe for easy entertaining and more!
See The Recipe!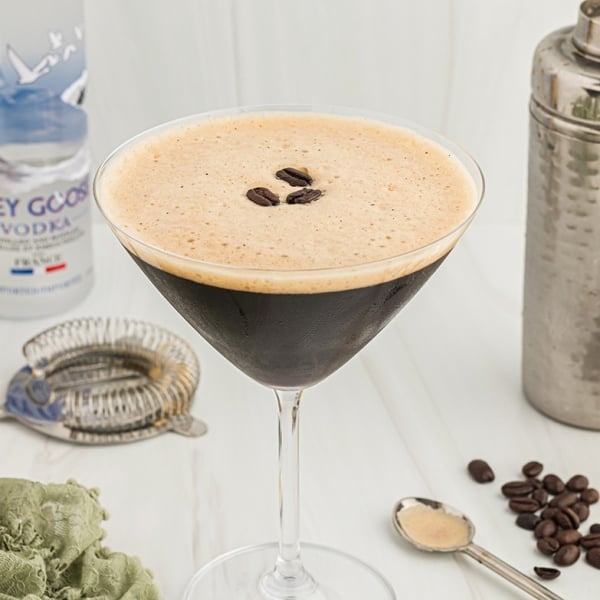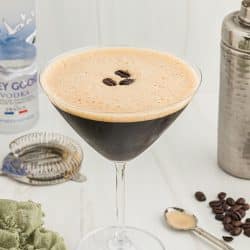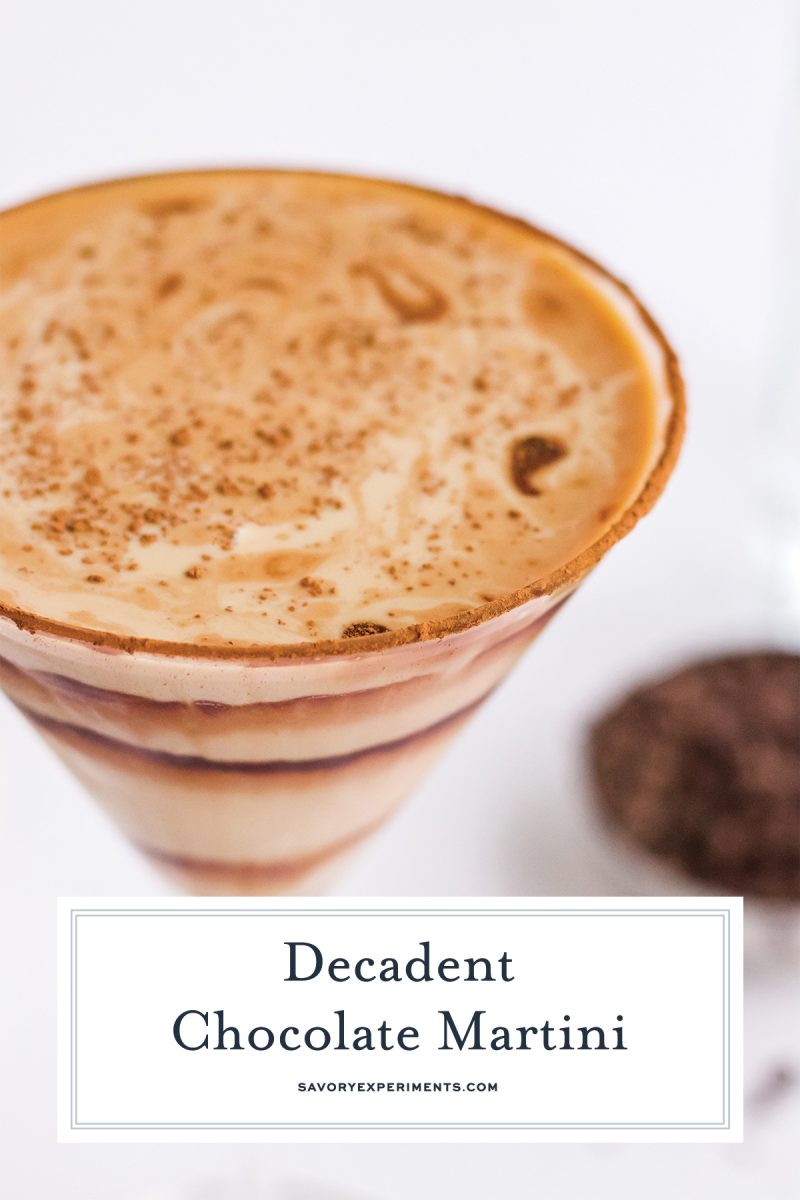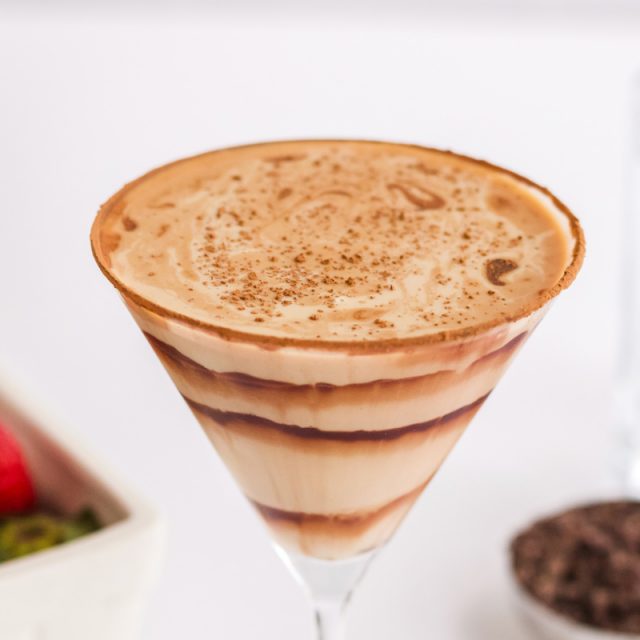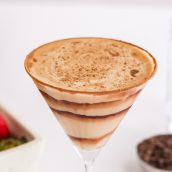 Chocolate Martini
This EASY Chocolate Martini recipe is the perfect after dinner drink! It's creamy, indulgent and only requires 5 ingredients to make!
Instructions
Prepare the martini glasses by swirling each glass with 1 tablespoon of chocolate syrup and coating the rim of the glass.

Dip the chocolate coated rim into cocoa powder.

Shake for 30 seconds and pour into prepared glasses.

Top with additional cocoa powder if desired.

If you tried this recipe, let us know how it went in the comments or ratings!
Nutrition
Calories:
380
kcal
,
Carbohydrates:
54
g
,
Protein:
4
g
,
Fat:
7
g
,
Saturated Fat:
4
g
,
Cholesterol:
1
mg
,
Sodium:
128
mg
,
Potassium:
247
mg
,
Fiber:
3
g
,
Sugar:
35
g
,
Vitamin A:
1
IU
,
Vitamin C:
1
mg
,
Calcium:
26
mg
,
Iron:
2
mg