Vanilla Sweet Cream Cold Brew is a simple, delicious coffee drink that will satisfy any coffee lover. This easy recipe is so much better than what you would get at the grocery store, or even Starbucks!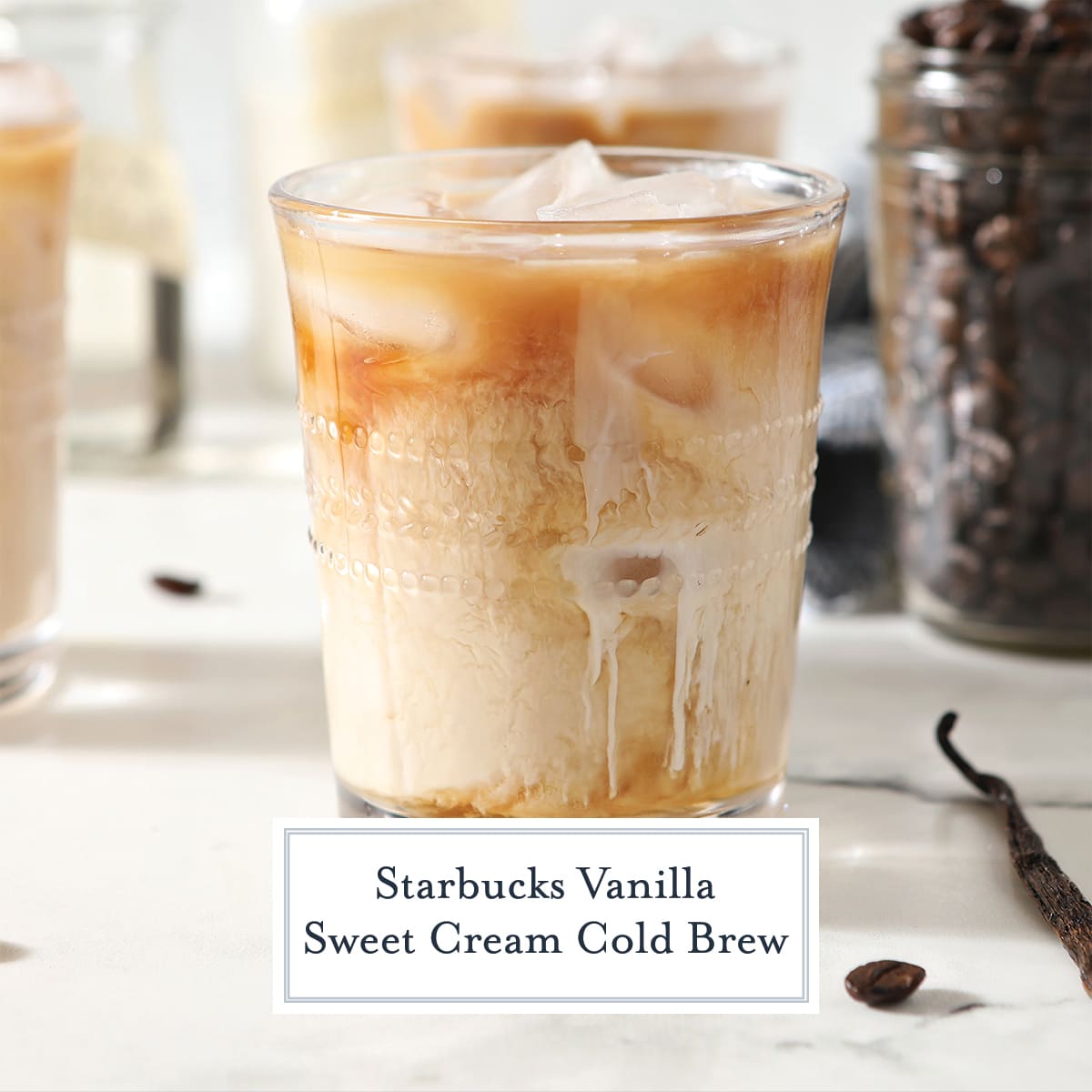 Vanilla Sweet Cream Cold Brew Recipe
Nothing says summer to me like a fancy iced coffee drink, and this Vanilla Sweet Cream Cold Brew is the copycat recipe we've all been longing for.
Instead of waiting in the drive-through line for your favorite Starbucks drink, you can make this goodness at home for yourself with just a handful of simple ingredients. Chances are, you've probably got most of them already!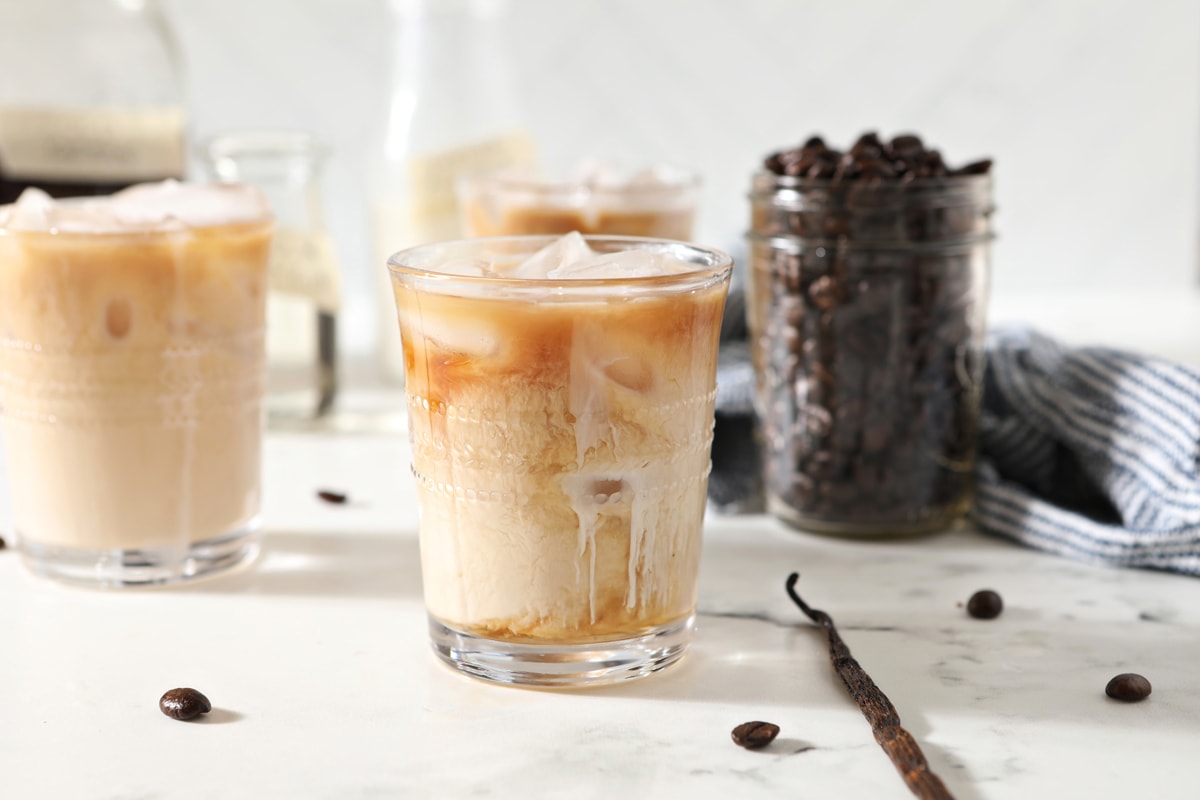 The beauty of this coffee recipe is that you can customize it to your taste buds. Since I'm not a sweet drink person, I tend to add less vanilla syrup and more of the vanilla sweet cream, but you can do whatever satisfies your craving. Play around with it and have some fun!
Additionally, you can serve this cold brew coffee recipe as hot coffee or cold coffee drink, which is a win in my book, too!
Vanilla Sweet Cream Cold Brew ingredients
This cold brew recipe is actually quite simple to make if you've got the ingredients on hand…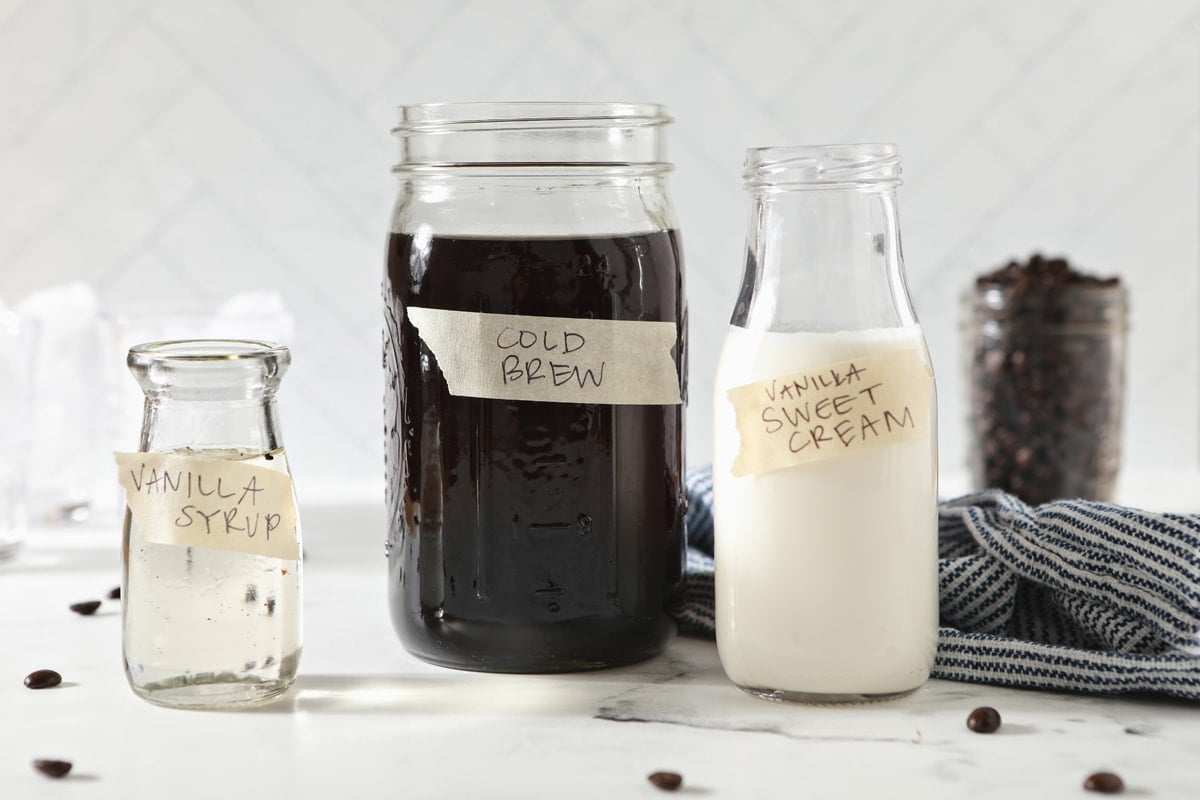 Coffee beans or ground coffee—we're going to use these to make our cold brew… or you can simply purchase a cold brew kit from the store. These kits tend to have a bag of coffee grounds that you steep overnight in the refrigerator, which makes the clean up portion a lot easier. There are also bottles of cold brew (and cold brew concentrate) sold in the refrigerated aisles of the grocery store, too.
Granulated sugar—this is going to serve as the sweetness in our coffee drink
Vanilla bean—yes, the real kind. I know they're a hassle to come by and they can be expensive, but it's worth the splurge, in my opinion. (You can also purchase a pack of them if you're into this drink and toss them in the freezer for safe keeping.) Some recipes call for vanilla extract, but I much prefer using the whole beans as it really amps up the vanilla flavor.
Water
Half-and-half—our vanilla sweet cream is going to be decadent and wonderful, which is why it involves half-and-half and heavy whipping cream
Heavy whipping cream
This Starbucks copycat recipe has a few parts—the cold brew itself, the vanilla syrup and the vanilla sweet cream. We'll make them in increments.
Pro Tip: If you don't want to take the 12+ hours to steep homemade cold brew, there are a lot of kits and pre-made cold brews on the market. I tend to go with these because while they cost more than the coffee grounds you'd need to make homemade cold brew, they're basically ready to go.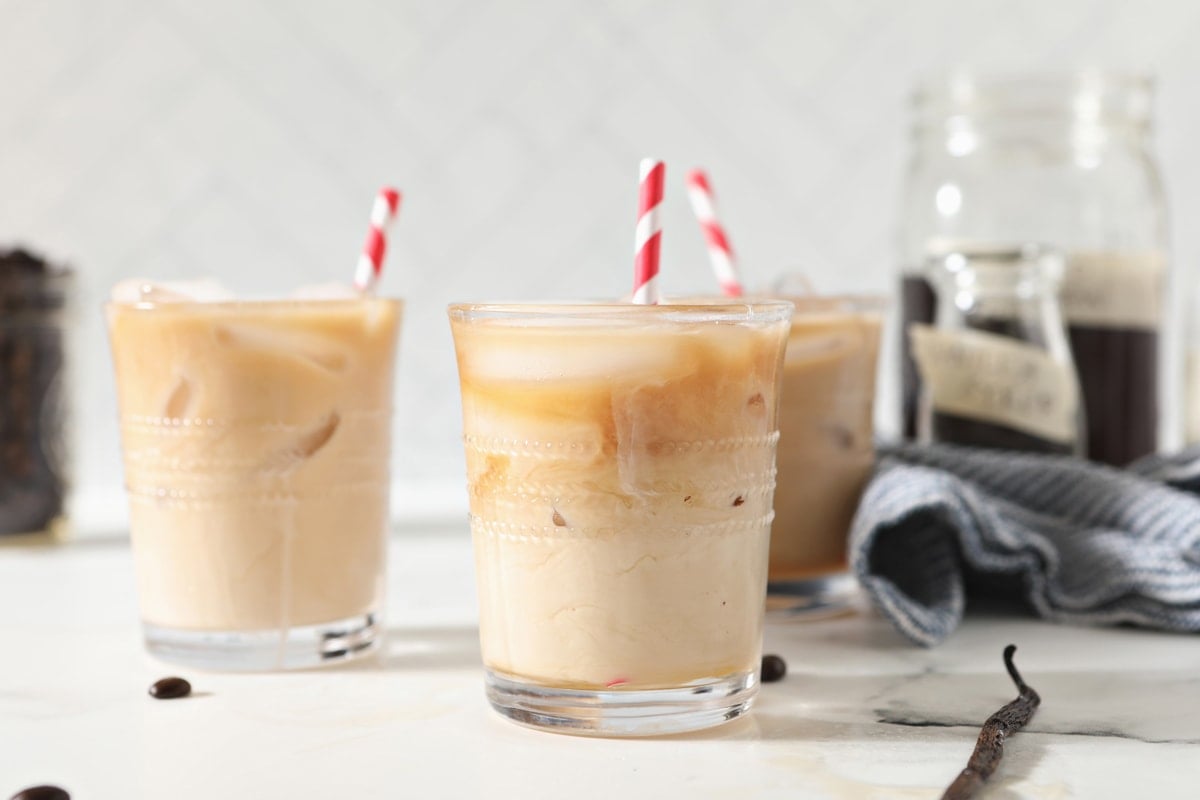 How to Make Vanilla Sweet Cream Cold Brew
Step 1. You've got to make your cold brew… or purchase your favorite brand of pre-made cold brew from the store.
If you want to make homemade cold brew, combine the coffee beans with water in a large container or tall glass (I like to use a mason jar), and let them soak on the countertop overnight. The next morning, pour through cheesecloth (or a nut milk bag) to strain. Do this twice—or you can use a coffee filter, too, over a fine mesh strainer. Once the grounds are out of the liquid, store in a mason jar, and refrigerate.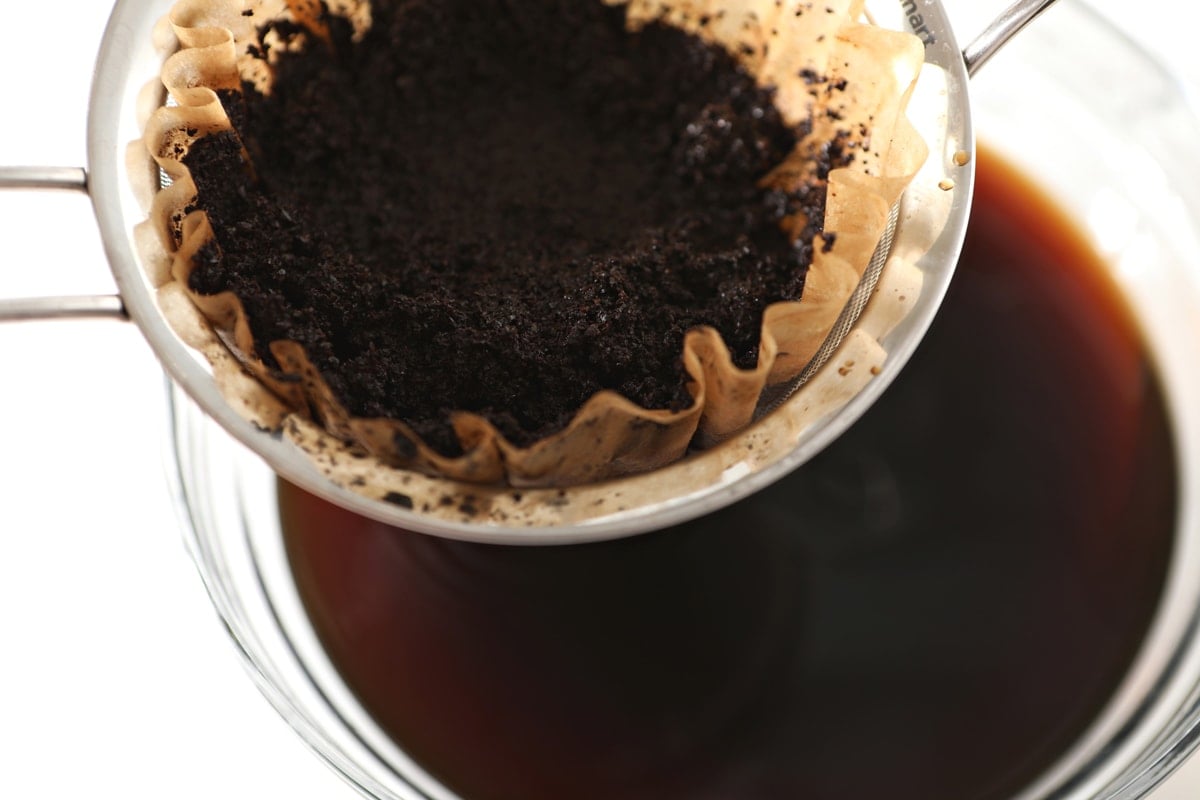 Fun Fact: Cold brew is different than regular 'ol coffee because it's prepared differently. Instead of water dripping over it, the medium-ground coffee beans are submerged in water for 12 hours.
Step 2. Make the homemade vanilla syrup.
In a small saucepan, combine the sugar and water. Heat over high heat until the sugar dissolves completely, stirring occasionally. Turn off the heat, and add the split vanilla bean. Let steep for 2 hours before transferring to a mason jar and refrigerating.
Of course you can always buy a bottle of vanilla coffee syrup at the store or your local coffee shop, but I much prefer making my own vanilla syrup!
Step 3. Make the vanilla sweet cream.
In a medium-sized bowl, combine the half-and-half and heavy whipping cream. Pour in the vanilla syrup, and whisk until combined. Transfer to a mason jar, and store in the refrigerator until time to make your coffee.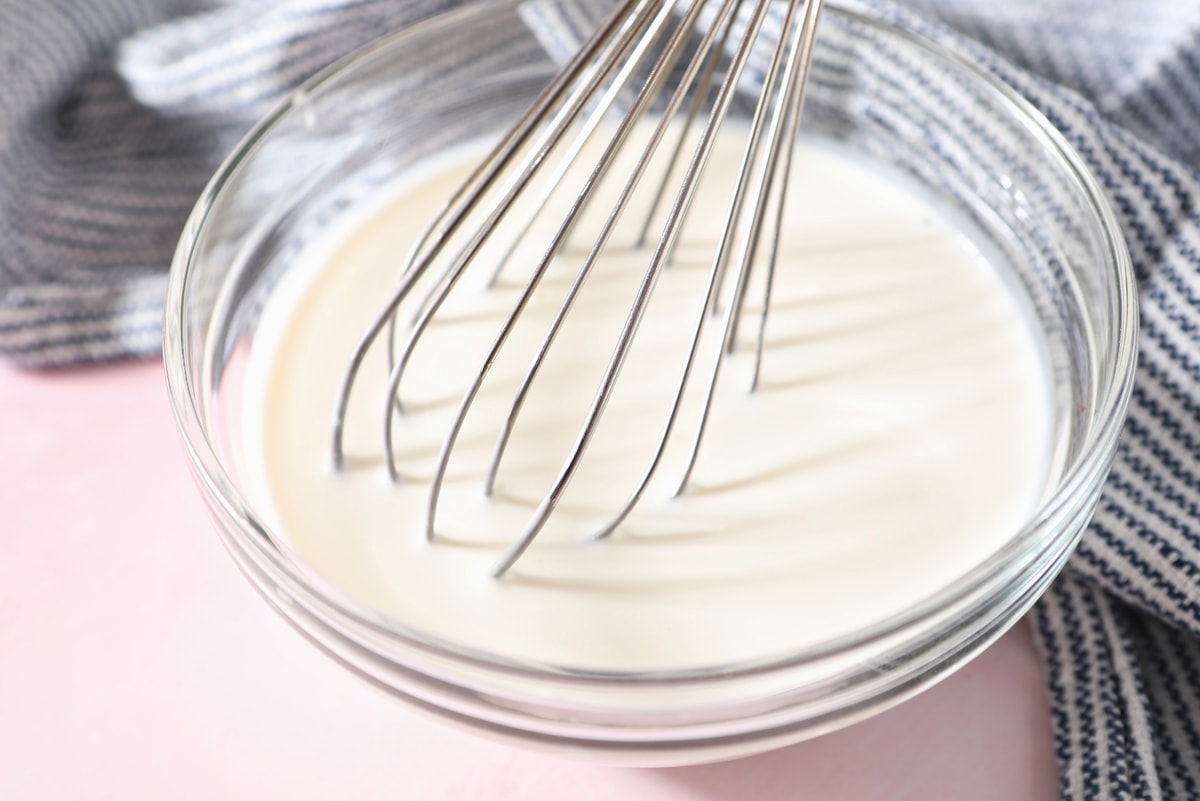 Step 4. Make the Vanilla Sweet Cream Cold Brew.
Add ice to a glass, and pour in the cold brew. (Alternately, you could heat up the cold brew in a mug in the microwave if you'd rather that.) Pour in the vanilla syrup, and stir. Then pour the vanilla sweet cream on top and stir. Enjoy immediately!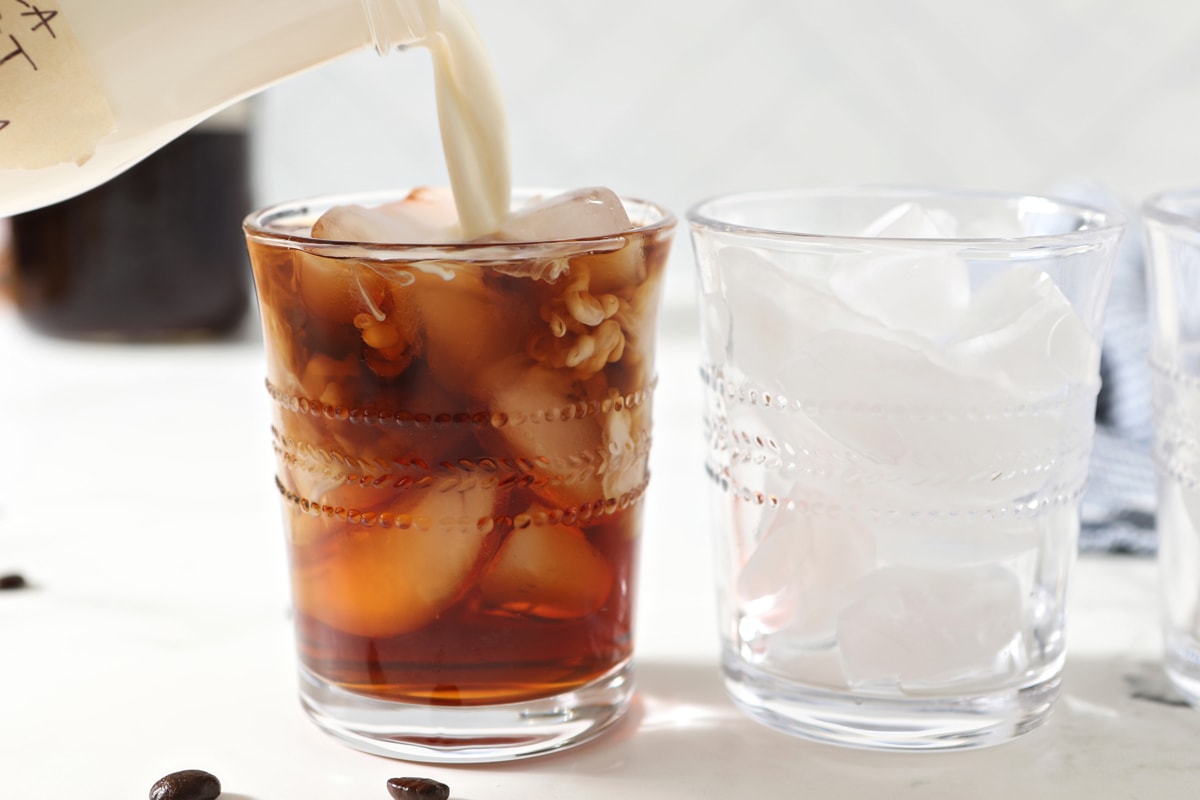 Cold Foam vs Sweet Cream
If you've ever ordered a Starbucks vanilla sweet cream cold brew, you might have also used the words "cold foam" with your order. But is cold foam the same thing as sweet cream?
Not necessarily. To create cold foam, you need to whip sweet cream with a milk frother that has a cold foam function or use a handheld frother or an immersion blender to create some bubbles. You could also froth this cream in a regular blender, but you don't want to blend it too much.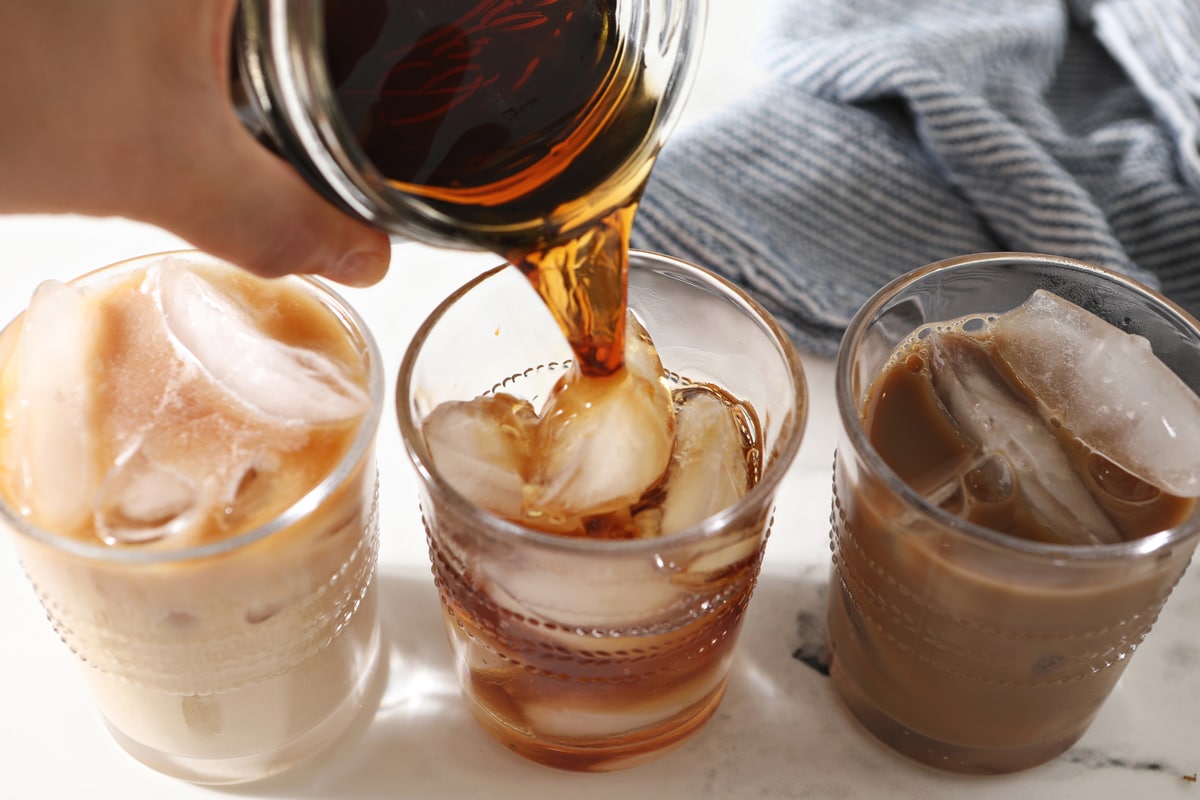 If you've ever made dalgona whipped coffee, the process to make cold foam is very similar. You're just whipping up the sweet cream instead of the actual coffee.
Storage and Tips
Once these have been made, transfer all of the components to separate containers and store in the refrigerator for up to 2 weeks. The syrup will last longer, but the sweet cream will not last as long. Make sure they're sealed tightly.
If you need your iced coffee fix more instantly, I've got a solution for you. Instead of making your own cold brew coffee at home, purchase pre-made cold brew. Grocery stores have a lot of options these days, and you can find regular cold brew or cold brew concentrate, which you'll dilute with water.
Sweet cream is simply sweetened cream while vanilla is its own flavor profile. We're sweetening ours with the vanilla syrup in this recipe, which makes it vanilla sweet cream.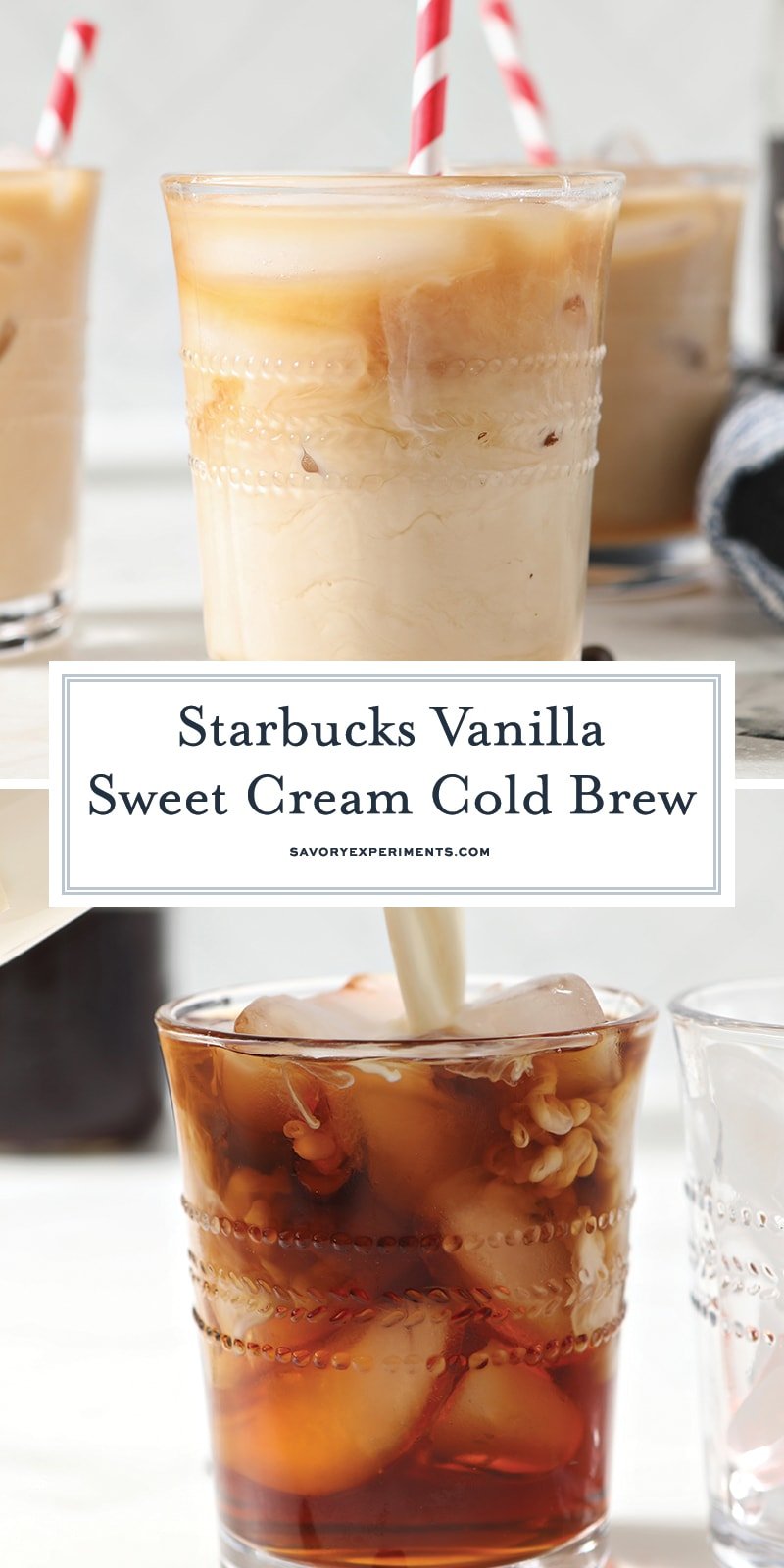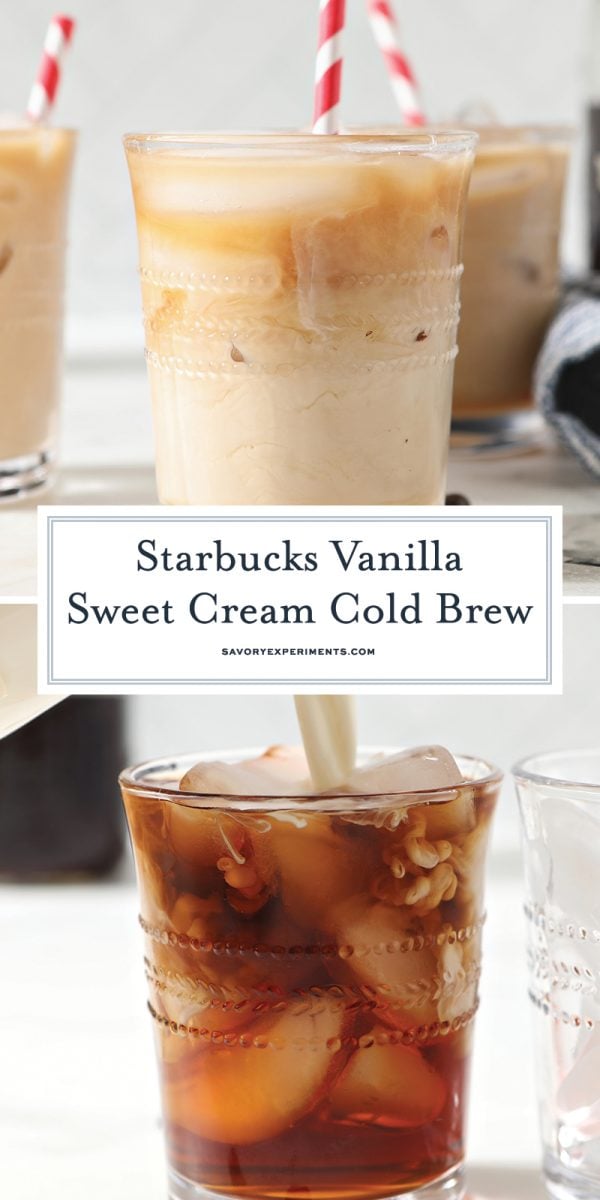 More drink recipes: