No-bake and no-cook desserts are the perfect summer solution. Take a classic strawberry shortcake dessert and transform it into this stunning, showstopping cake.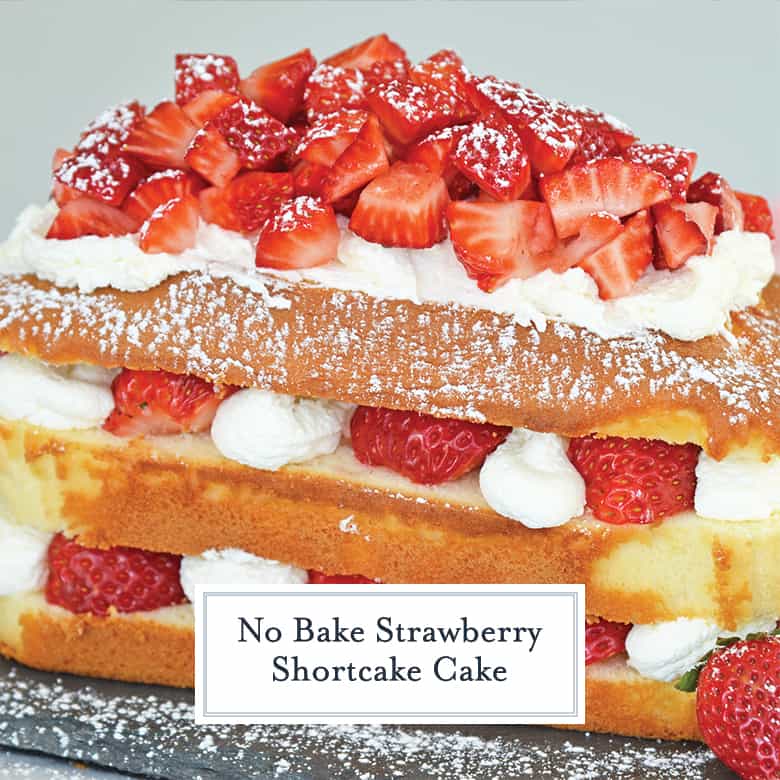 Strawberry Shortcake
One of the most iconic summer desserts has to be strawberry shortcake. Fresh, lush berries with cool, frothy whipped cream and light airy cake.
Both my husband and I have fond memories of our mother's buying the little sponge cake cups and topping them with chopped fruit. Some people use Angel Food Cake, but I have always been partial to a buttery and rich pound cake.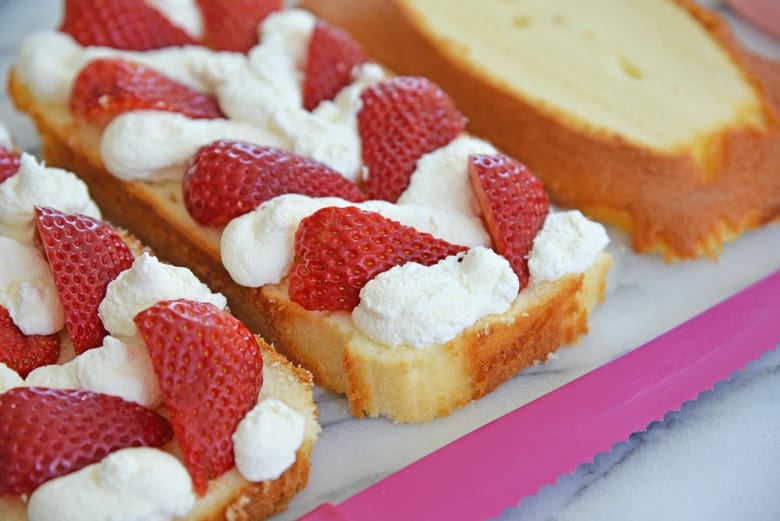 Strawberry Shortcake is only made from these things:
Cake
Whipped Cream
Strawberries
No Bake Strawberry Cake
While I love my pound cake recipe (and it happens to be an award winning recipe) I generally pick up an all-butter loaf at the store. Afterall, this is a recipe I use when I am short on time.
I do, however, make my own whipped cream. The whipped toppings found at the store are commonly made with hydrogenated oil and not real cream. Most also don't have a stabilizer to help the cream stay stiff.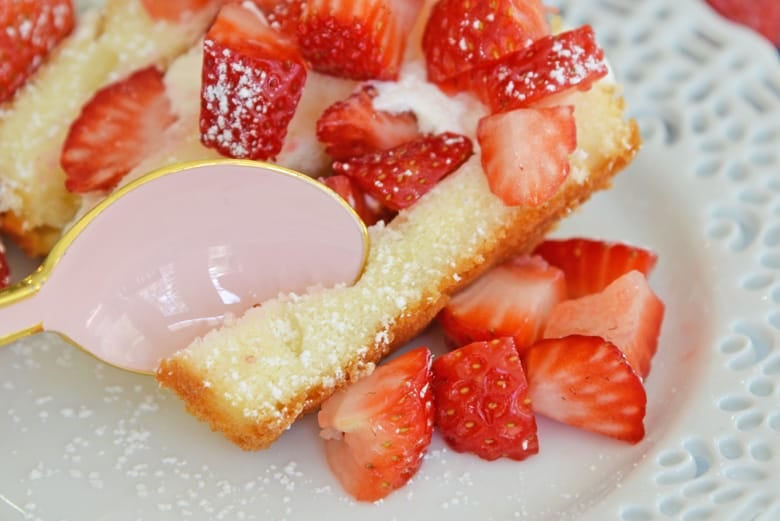 So if you make it ahead of time it just goes drag and saggy. Not very appealing.
Lastly, the strawberries! I use about 1 pound. The layers are quartered and dry, but the topping is made with macerated strawberries, which just means they have been tossed in sugar.
After sitting, the natural juices will dissolve your sugar so it doesn't stay all grainy.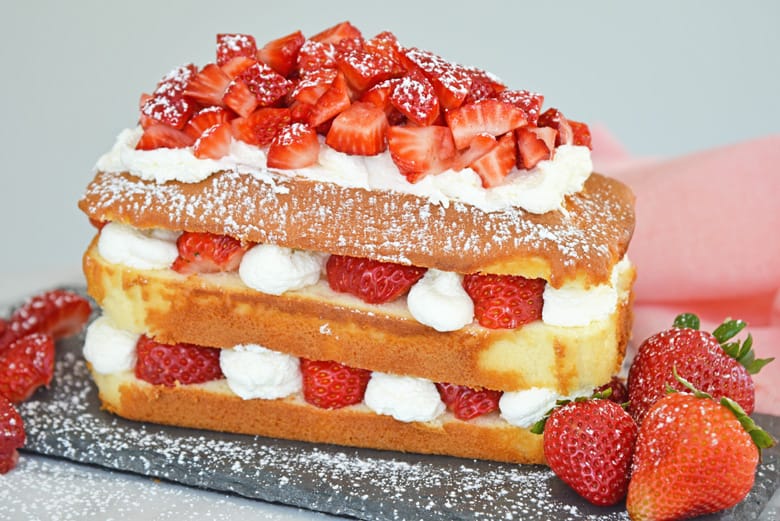 How to Make No Bake Strawberry Shortcake Cake
Start by cutting your pound cake into 3 equal layers. It is easiest to use a long serrated bread knife or a cake slicer to get even layers.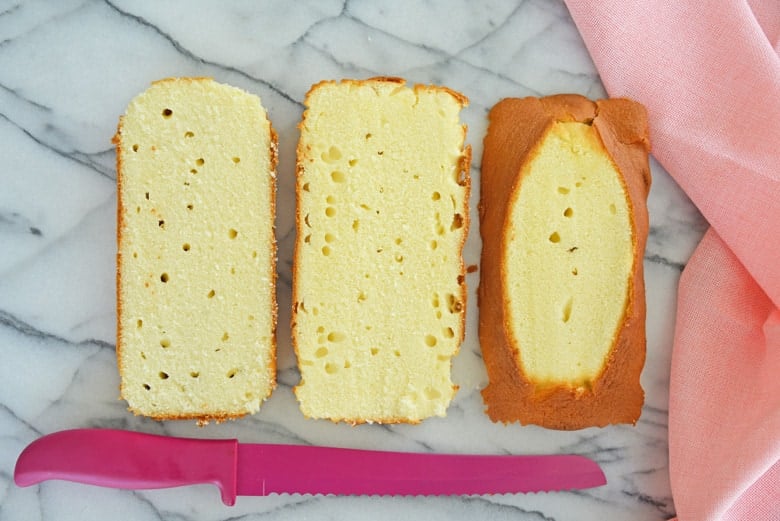 The exact height of each layer will depend on your cake. I used a small Entenmann's pound cake for this one and my layers were a scant 1 inch each.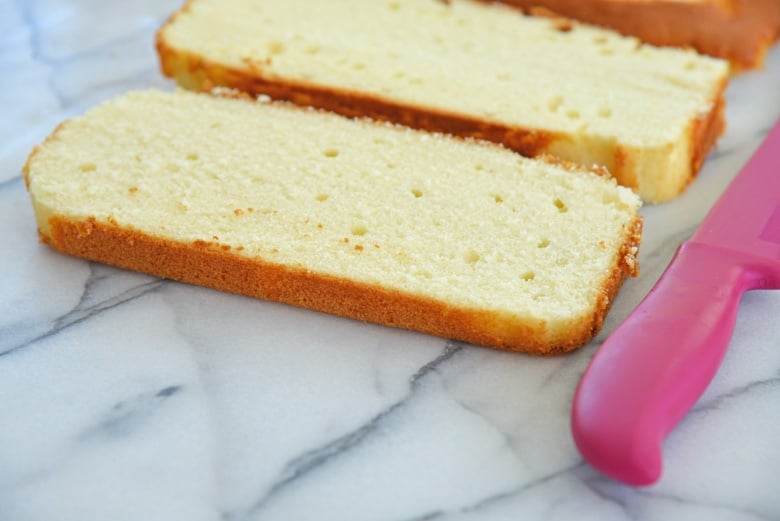 Divide your strawberries and then quarter half of them and roughly chop the other half. Toss chunked strawberries with sugar and set aside, these are your macerated strawberries.
On the two bottom layers, place quartered strawberries in a criss cross fashion with the large end facing outwards so it looks pretty from all angles. Leave spaces around the strawberries for whipped cream.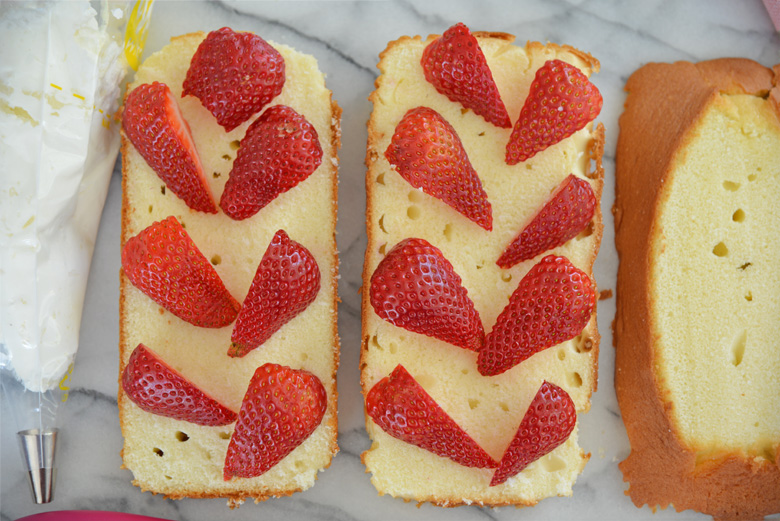 If you are using a larger pound cake you might need a line of strawberries going up the middle as well. Use your best judgement.
Next comes the whipped cream. I highly, HIGHLY recommend making your own stabilized whipped cream. It takes 3 minutes, literally. It won't fall so your cake will stay pretty as long as it stays chilled or at a reasonably temperature.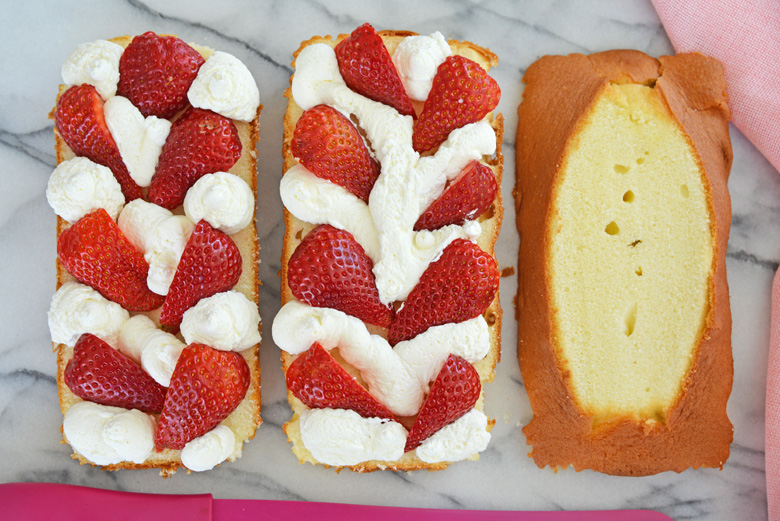 Fill spaces with whipped cream. I find this easiest to do using whipped cream in a piping bag or a plastic sandwich bag with one corner snipped off.
Place middle layer on to of bottom layer. Do not press down, gravity will do its job. I find that using the bread knife to center in the middle helps, the strawberries and cream are heavy and can easily break it in half without assistance.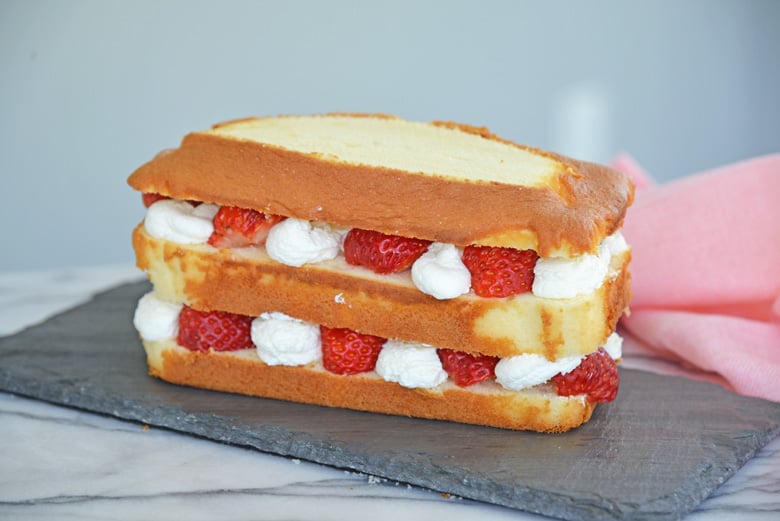 Try to trim a little off the top piece, if necessary, to make it flat, the strawberries will sit better this way. Slather a good portion of whipped cream on top.
Wait until you are ready to serve, then spoon macerated strawberries on top and dust with powdered sugar. If you do this part too soon, the juices from your strawberries will melt the top whipped cream layer.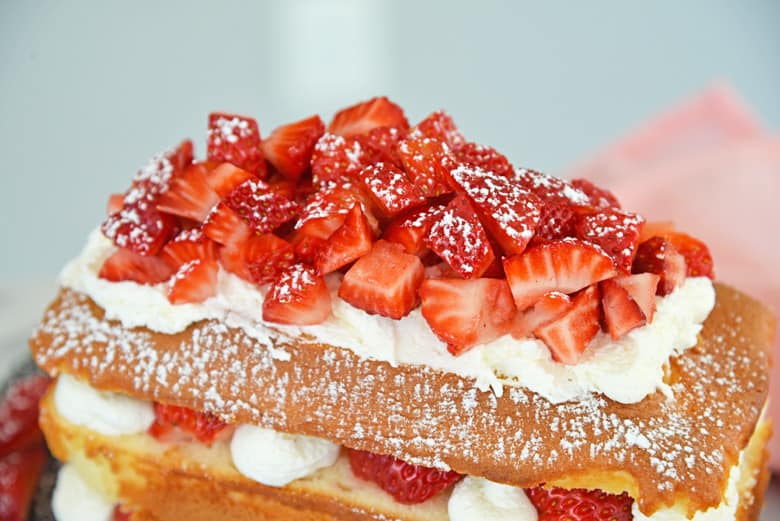 Serving your Cake
This cake is pretty amazing as-is and doesn't need anything else to spruce it up, but if you feel the need to be "extra" as the kids say, try these ideas:
Fudge Sauce Drizzle
Garnish with fresh mint leaves
Serve with a side of vanilla custard
Shaved chocolate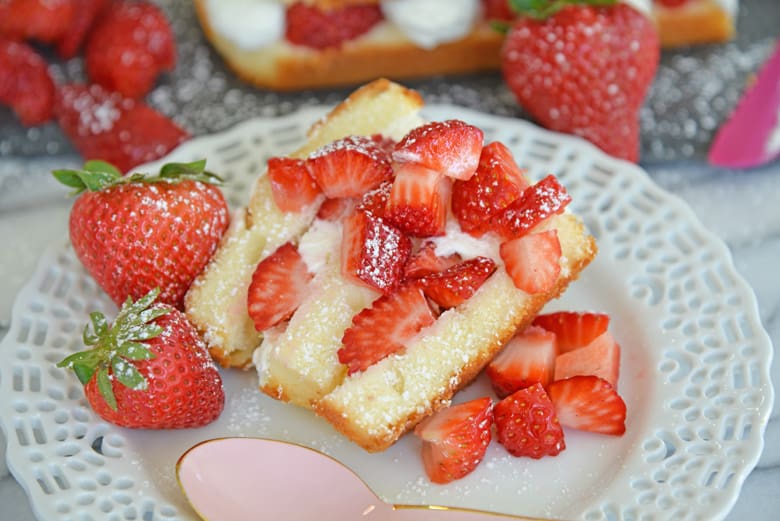 Make Ahead & Storage
You can surely make this cake ahead of time up to 24 hours (mine from yesterday is still sitting pretty in the fridge), but only if you use stabilized whipped cream. If not, the whipped cream (or whipped topping) melts.
Also avoid hot temperatures- they taste won't be impacted, but the whipped cream will melt.
Storage this cake covered and chilled. You can allow it to sit at room temperature for 10-15 minutes before serving.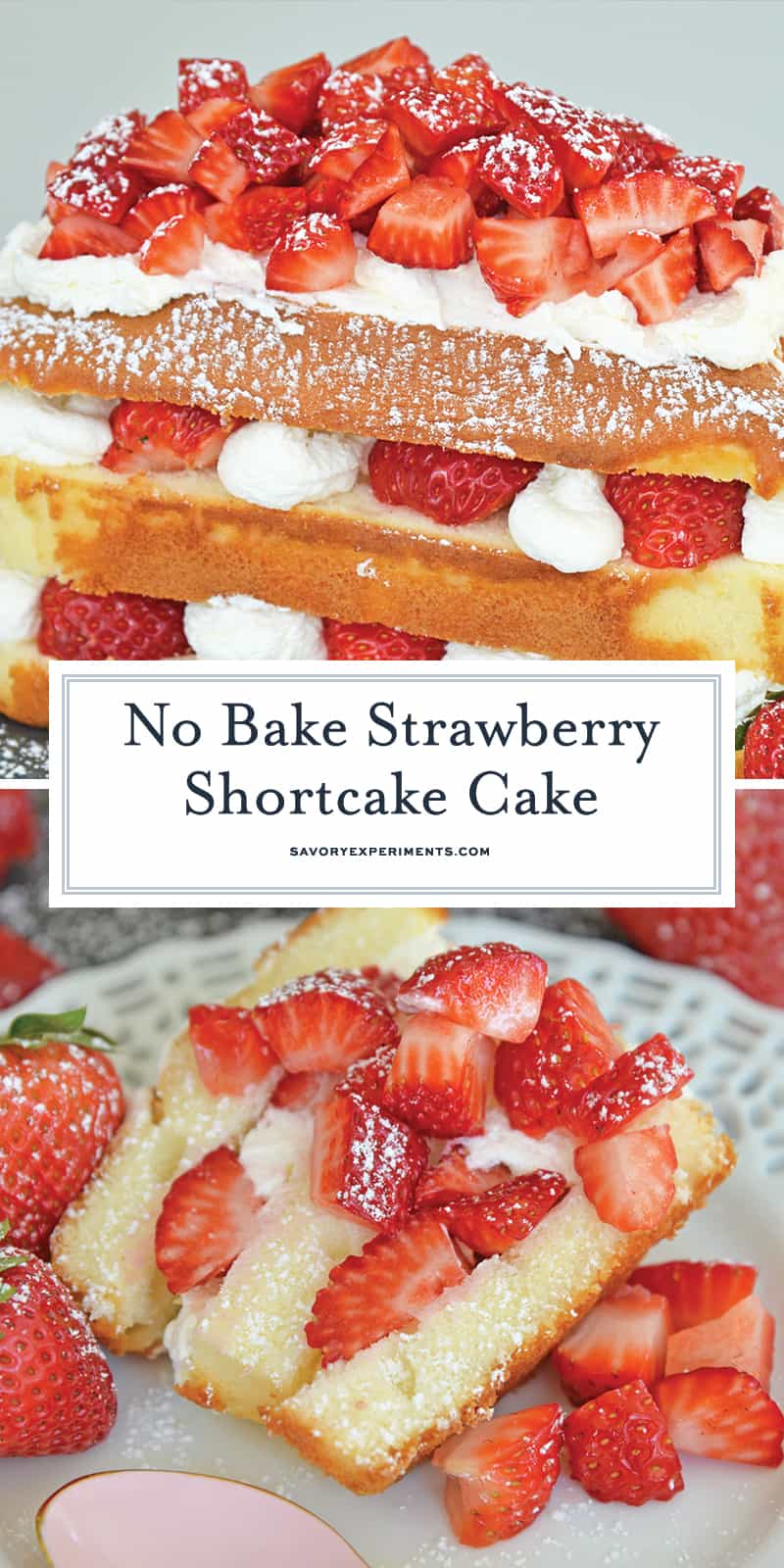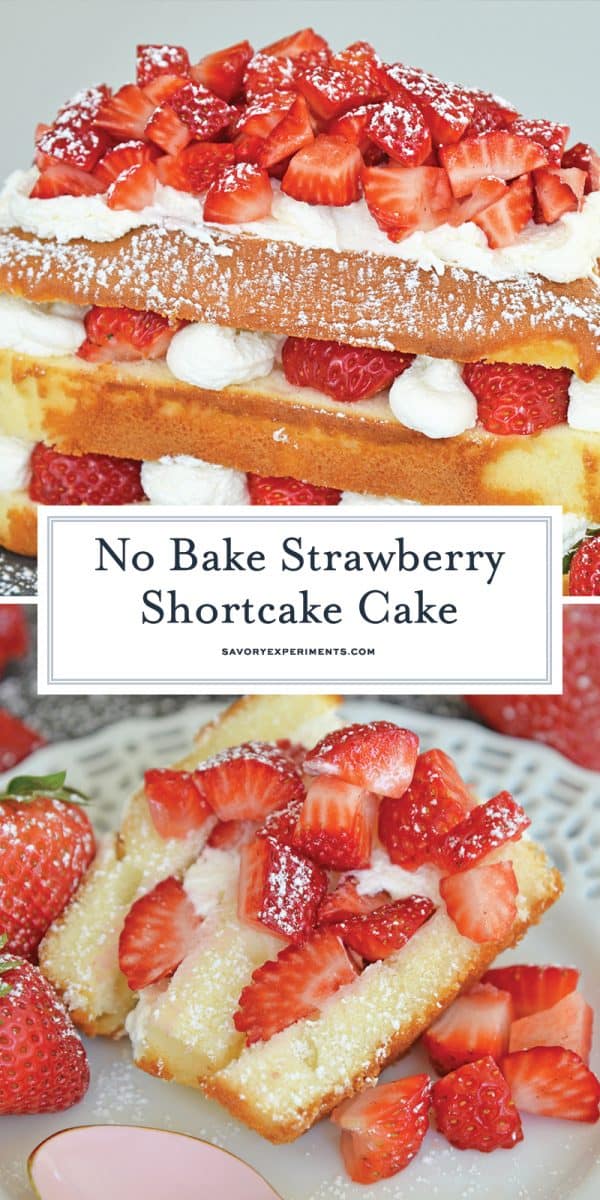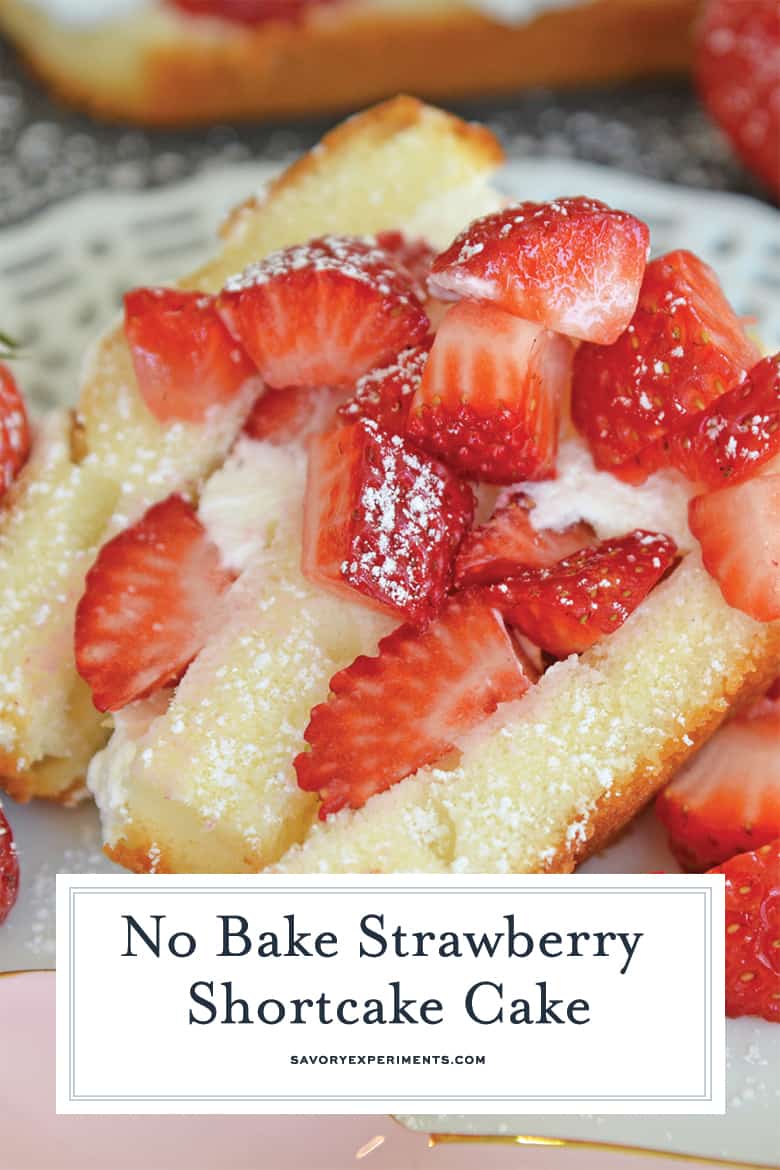 CONNECT WITH SAVORY EXPERIMENTS!

Be sure to follow me on social media, so you never miss a post!

Facebook | Twitter | Youtube
Pinterest | Instagram

Get our FREE 8 Day E-Course on How to Be a Better Home Cook. Sign up HERE!