No-bake and no-cook desserts are the perfect summer solution. You'll be amazed at how easy my No-Bake Strawberry Chocolate is!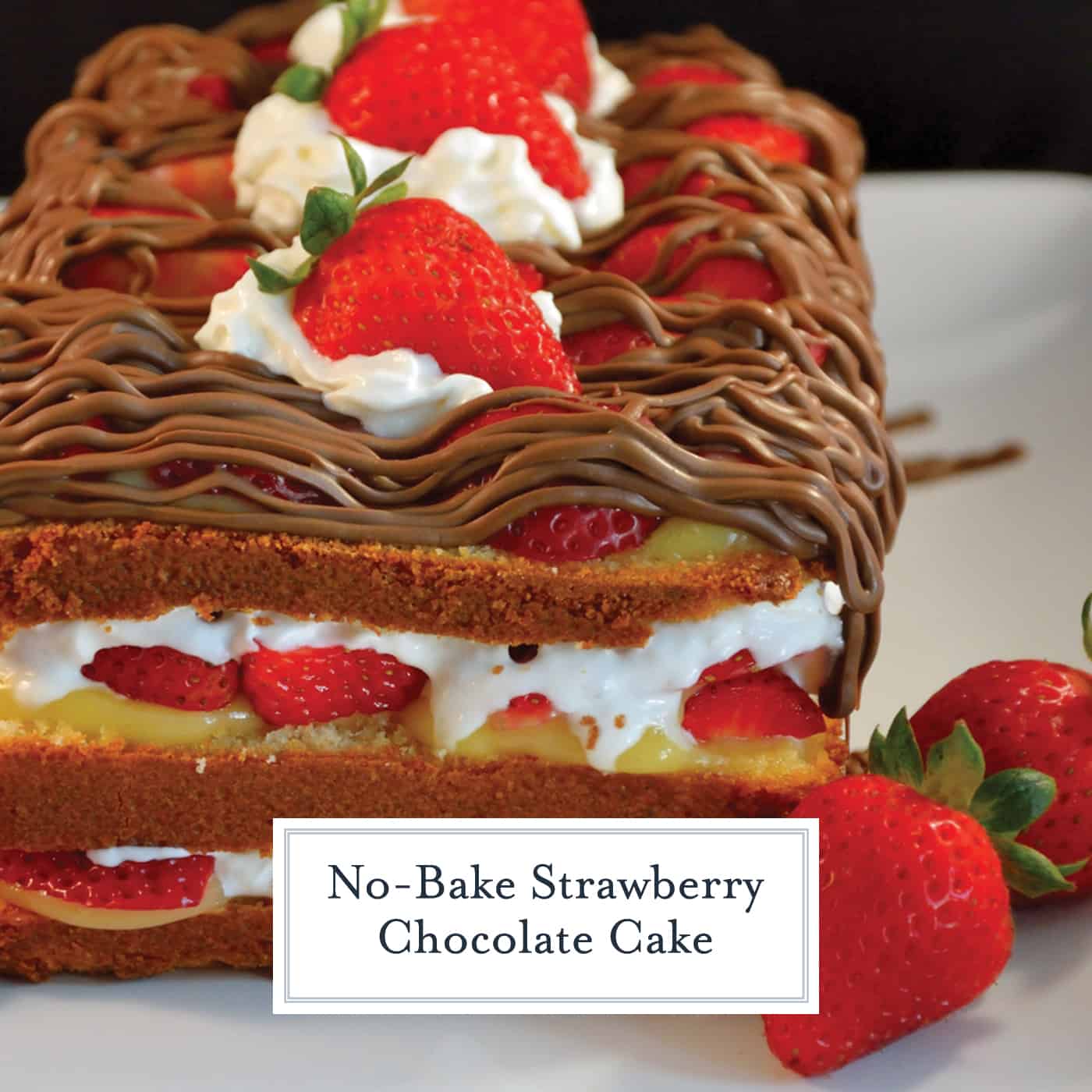 No-Bake Chocolate Strawberry Cake combines layers of pound cake with fresh strawberries, milk chocolate and whipped cream. It can be made ahead and is perfect for parties!
It might be time for back to school, but the summer isn't over yet and that means it is still berry season! What do I look for in a summer dessert?
Fresh fruits, limited cooking and ease, because I don't want to miss a minute of fun times in the sun. No-Bake Strawberry Chocolate Cake creates layer after layer of cool and creamy whipped cream, custard and fresh strawberries.
What fun things have you done this summer? We spent a few days at the beach with my in-laws, niece and nephew and are now leaving for a foodie extravaganza in Las Vegas.
I just checked the weather and it is going to be 109 degrees… but the good news is it only feels like 102- dry heat (please note sarcasm). Certainly no weather for heating up the kitchen with baking, not that I'll be cooking.
If you care to follow along, I'll be chronicling my journey of 29 restaurants in 4 days on Instagram!
No-Bake Strawberry Chocolate Cake meets all my criteria… although I cheated the whole "no-bake" part by making my own vanilla custard, whipped cream and pound cake. Just because I did, doesn't mean you have to.
Pick up instant vanilla pudding, whipped cream and a premade pound cake and you are ready to go! Also feel free to use blackberries, raspberries or any other fresh fruit you desire.
Lastly, I also also melted down milk chocolate wafers because I had some left over, but a "magic shell" chocolate that sets hard will do fine too. Add a scoop of Vanilla Bean Ice Cream to complete the plate!
If you like this recipe, you'll like these other easy dessert recipes: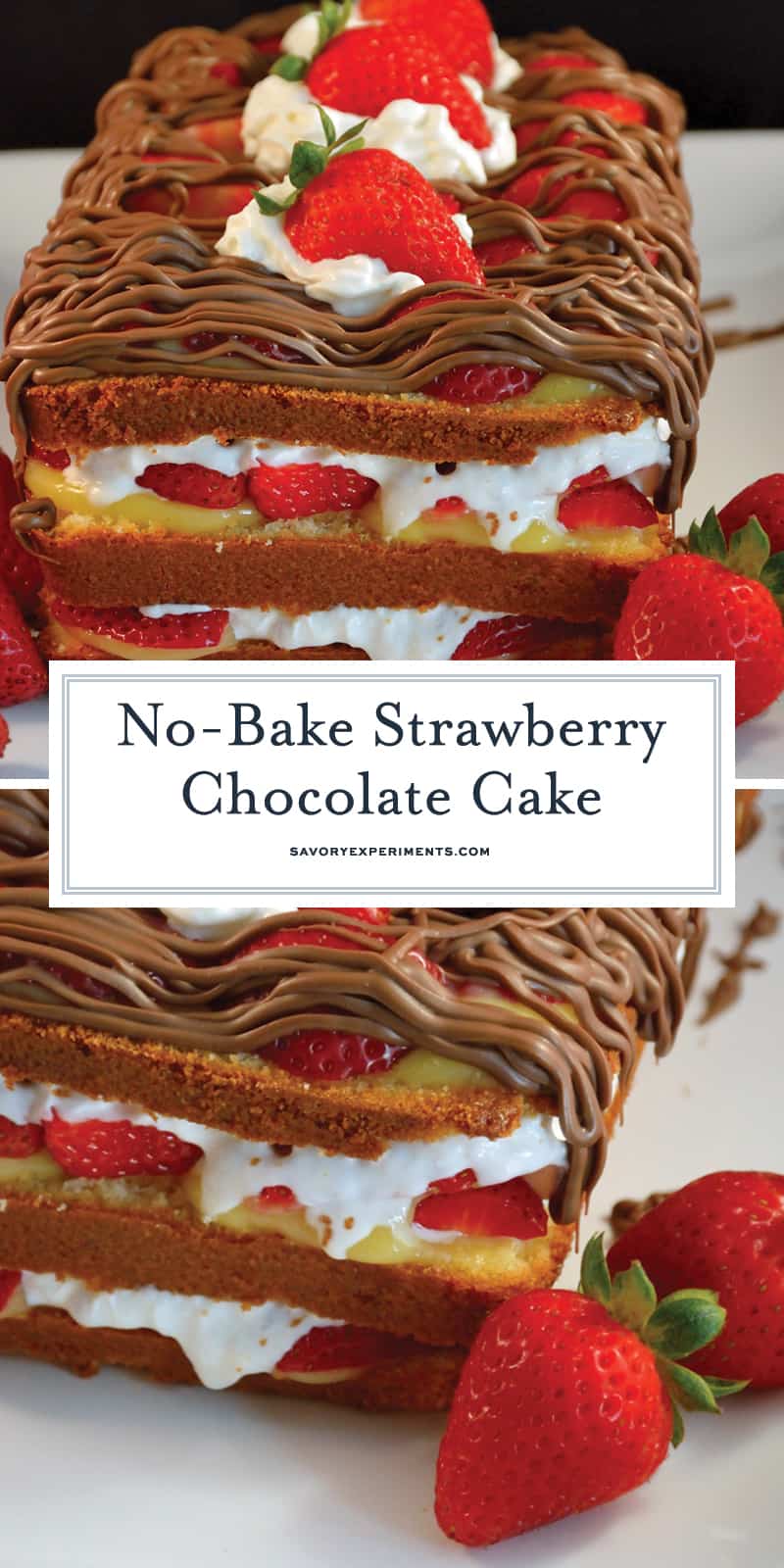 If you are looking for even more dessert recipes, snag a copy of my Easy Dessert Recipes Mini-Cookbook. Available here for only $0.99, these easy dessert recipes are ready with less than 30 minutes hands-on time and are sure to please all your family friends. From no-bake to make-ahead, you are sure to find something you love!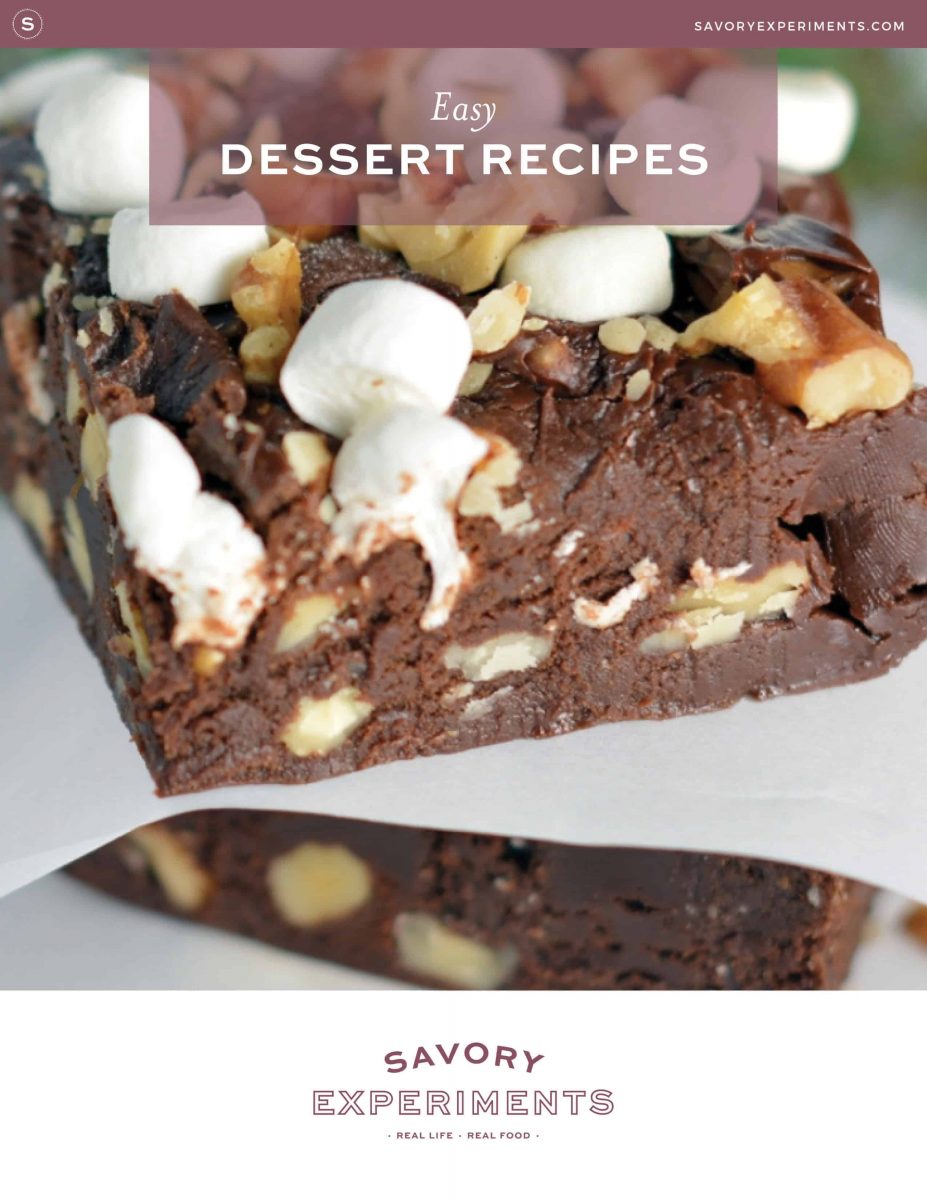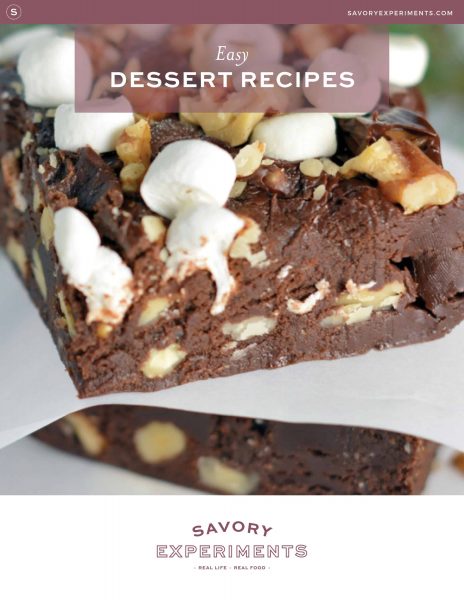 Print Recipe
No-Bake Strawberry Chocolate Cake
Layer after layer of buttery pound cake, whipped cream, custard, fresh berries and milk chocolate.
Instructions
Place bottom piece of pound cake on serving platter. Spread on a generous layer of vanilla custard, top with a layer of strawberry slices and lastly, whipped cream. Top with next layer of pound cake. Repeat with remaining ingredients and layers.

Melt milk chocolate and drizzle over the top. Refrigerate until ready to serve.

If you've tried this recipe, come back and let us know how it was!
Nutrition
Calories:
230
kcal
|
Carbohydrates:
41
g
|
Protein:
3
g
|
Fat:
6
g
|
Saturated Fat:
3
g
|
Cholesterol:
50
mg
|
Sodium:
242
mg
|
Potassium:
189
mg
|
Fiber:
2
g
|
Sugar:
27
g
|
Vitamin A:
185
IU
|
Vitamin C:
50
mg
|
Calcium:
63
mg
|
Iron:
1.5
mg