Perfect in their imperfection, these Vanilla Meringue Ice Cream Cups are an ideal project for little hands or clumsy bakers, like me.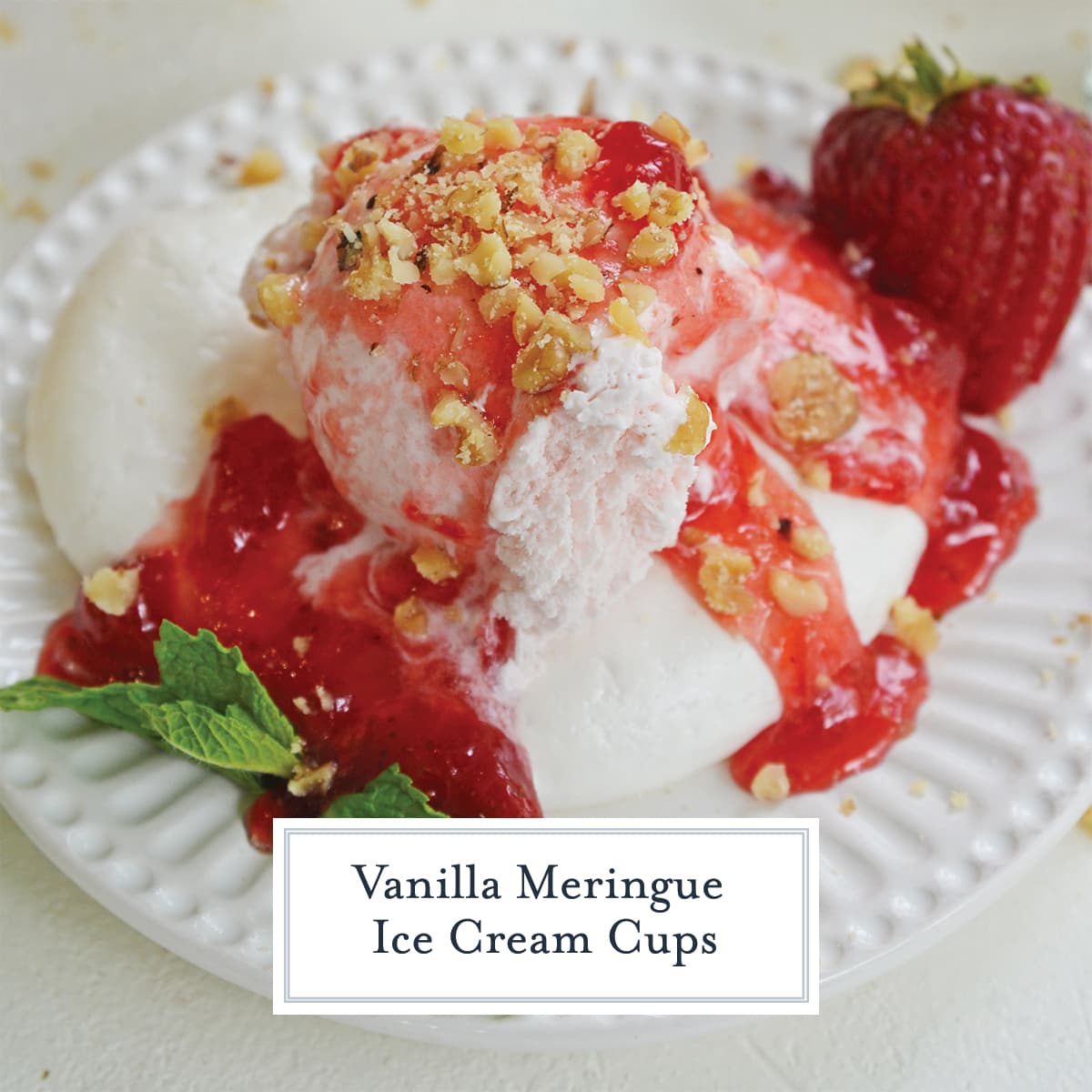 I'm always trying to come up with new ways to have fun with the kids in the kitchen. Making memories like that with my kids is something I know we will both cherish forever.
Making Meringue
So when thinking up recipes, (especially desserts) I try to think about something relatively easy and fun that I can include them in.
And what could be more fun than ice cream, right??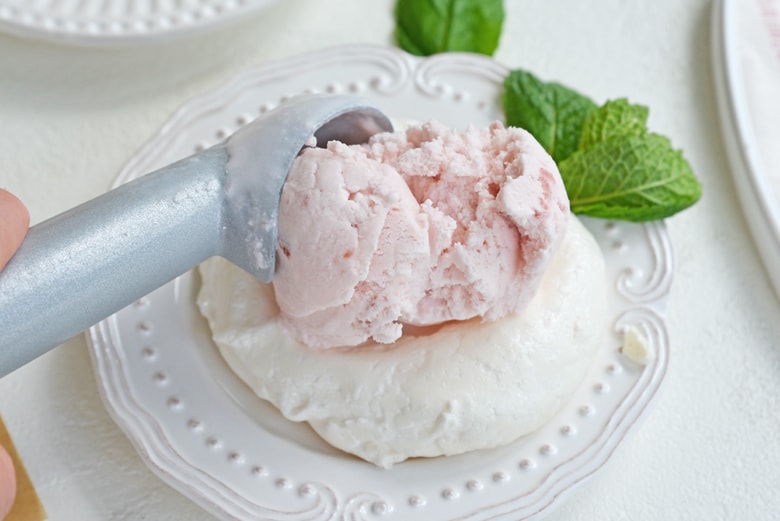 These Vanilla Meringue Ice Cream Cups are a great alternative to an ice cream cone. They are light and fluffy but also crunchy, and you will be surprised at how easy they are to make.
The kids can help you with the whipping process, because trust me it takes a lot of whipping to make these babies!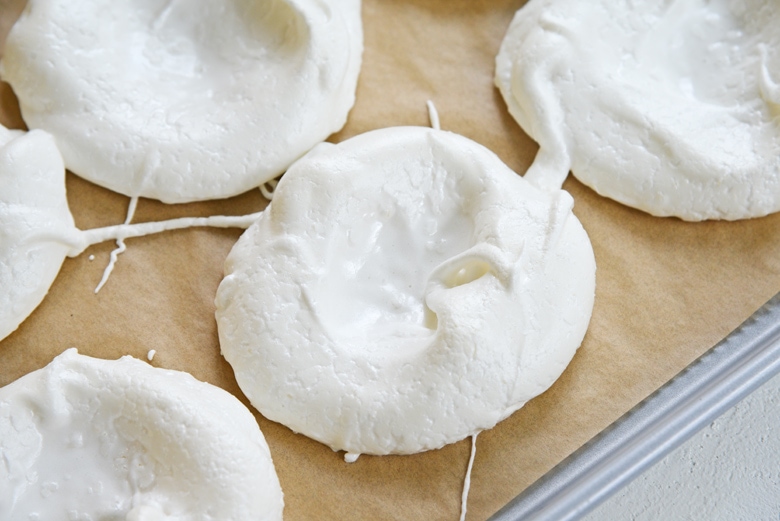 Toppings
Let the kids choose their favorite ice cream to scoop into the bowl! Because these are made with vanilla flavoring, they match a wide variety of ice cream or gelato flavors. But here are some of my favorites:
Strawberry
Chocolate
Sherbet
Mint chocolate chip
And once you scoop in the ice cream, feel free to load up on toppings! These are some that we like to use: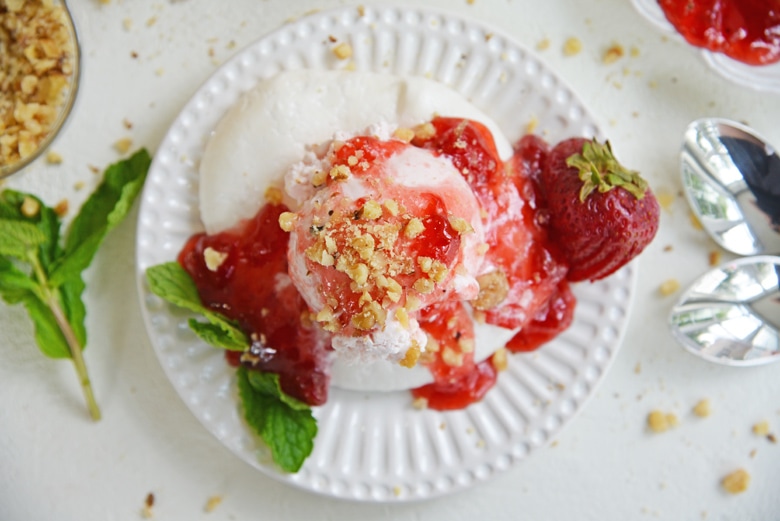 How to Make Vanilla Meringue Ice Cream Cups
The batter for meringue can be a little tricky, but as soon as you understand the basics, it all makes sense and you will have perfect meringue every time! It is the same as for meringue cookies.
First, make sure your bowl is super dry. Even a small droplet of water will mess with the consistency of the whipped eggs. In fact, I don't even make meringue on humid or rainy days.
Also, metal bowls work much better than glass for any egg white mixture, especially these vanilla meringue ice cream cups. Knowing how to pick your mixing bowls is key to being a great home cook! Cream of tartar also helps to stabilize. And lastly, don't wimp out of the whipping.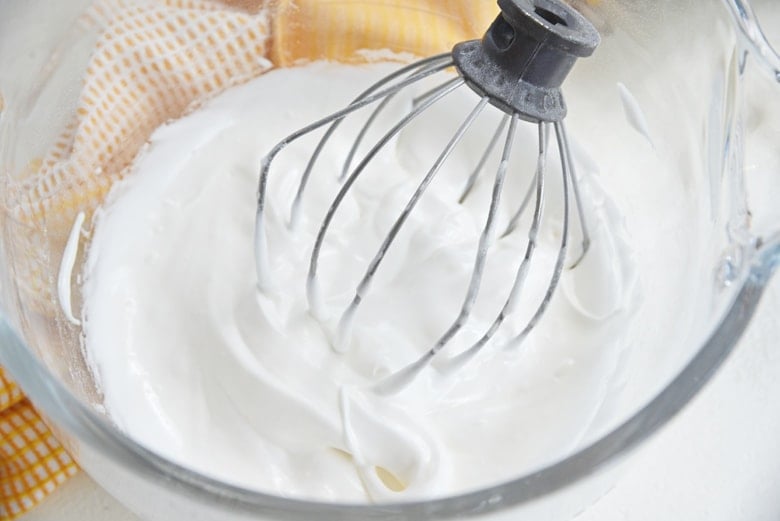 It takes a lot of whipping to get a stiff meringue, so just hang in there. Having a stand mixer, or at the very least an electric hand mixer, makes life a whole lot easier.
Low and slow is the name of the game for the cooking process and tada: easy vanilla meringue ice cream cups. After you master the basics of meringue, the possibilities are endless!
Now, spoon into 6 mounds on a lined cookie sheet. Parchment works best.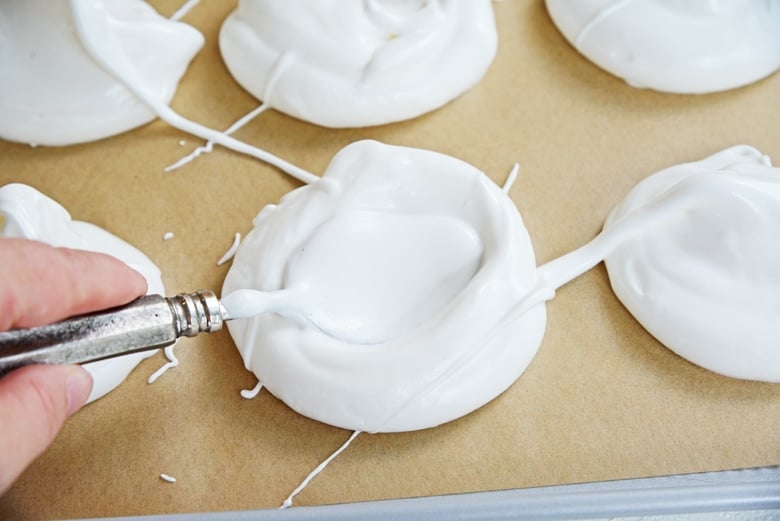 Then using the back of a spoon to make a well in each mound.
Bake at a low temperature until crunchy and crispy. When cooling, just crack the oven door instead of opening fully, which can shock the meringue and cause it to crack.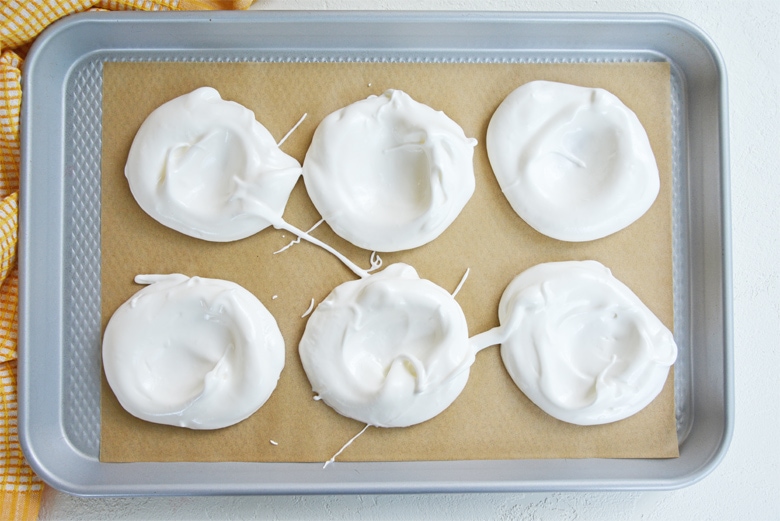 Allow them to cool and then fill them with whatever your heart desires!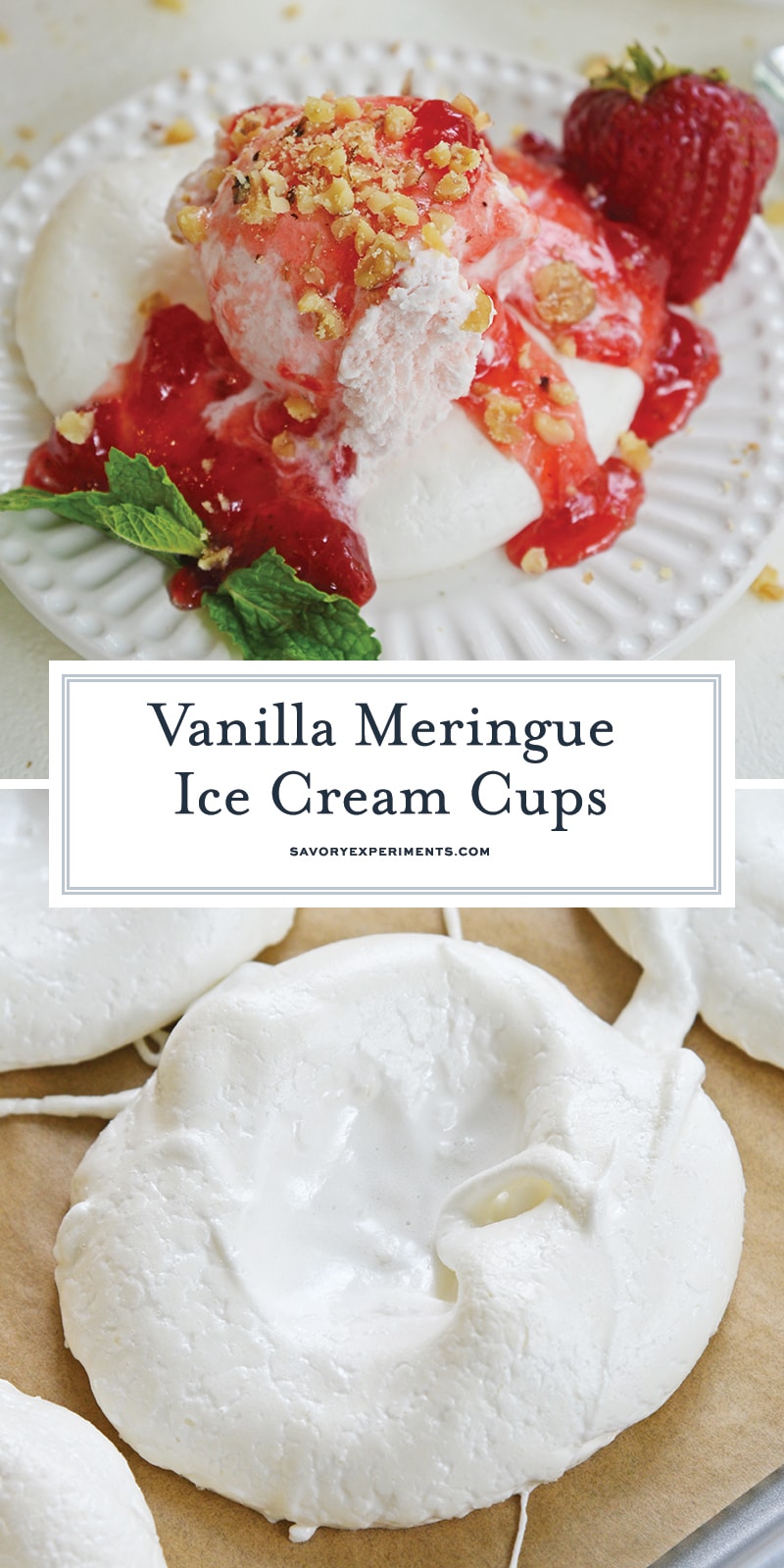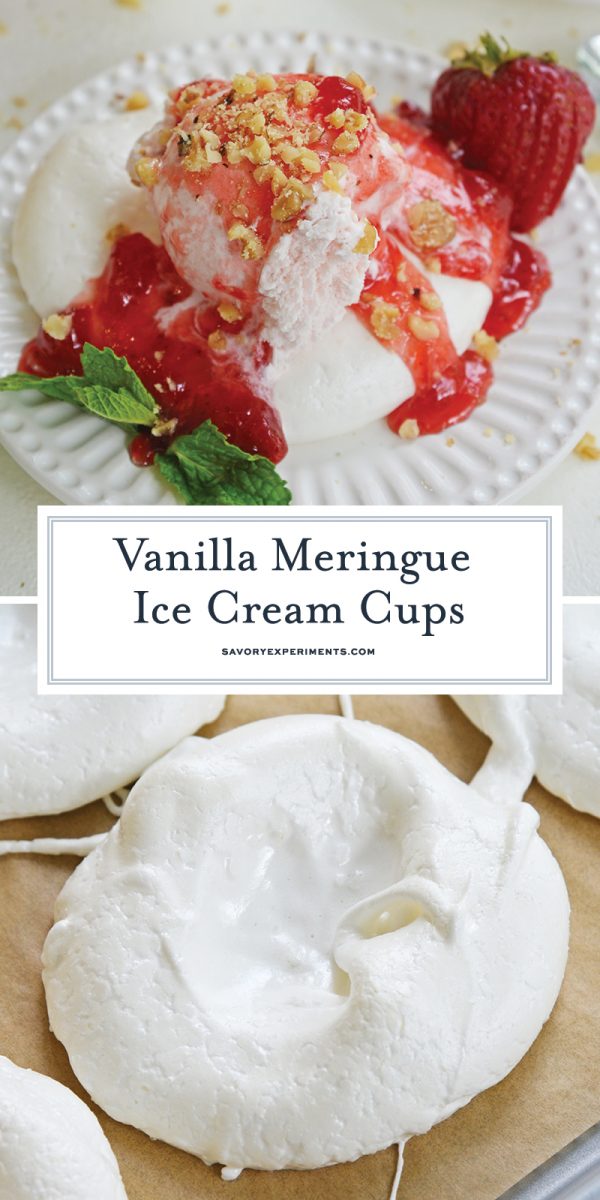 More ice cream treats to enjoy:
Piña Colada Ice Cream
Make your favorite frozen drink into tropical Piña Colada Ice Cream! Loads of coconut and pineapple will have you feeling like you are on vacation.
See The Recipe!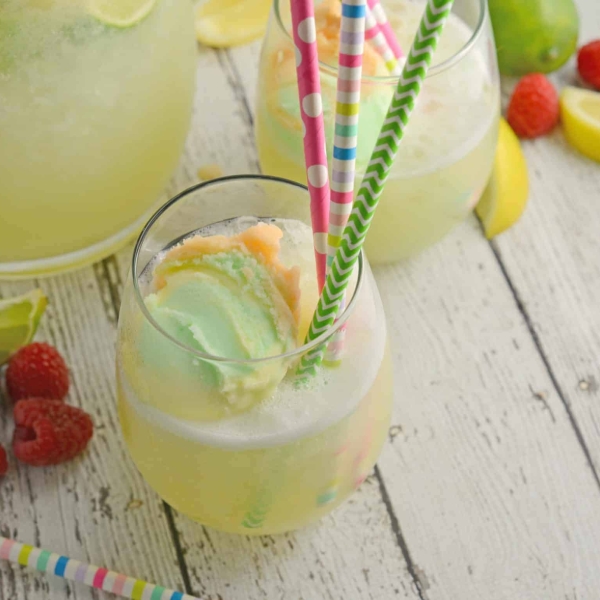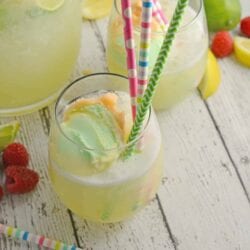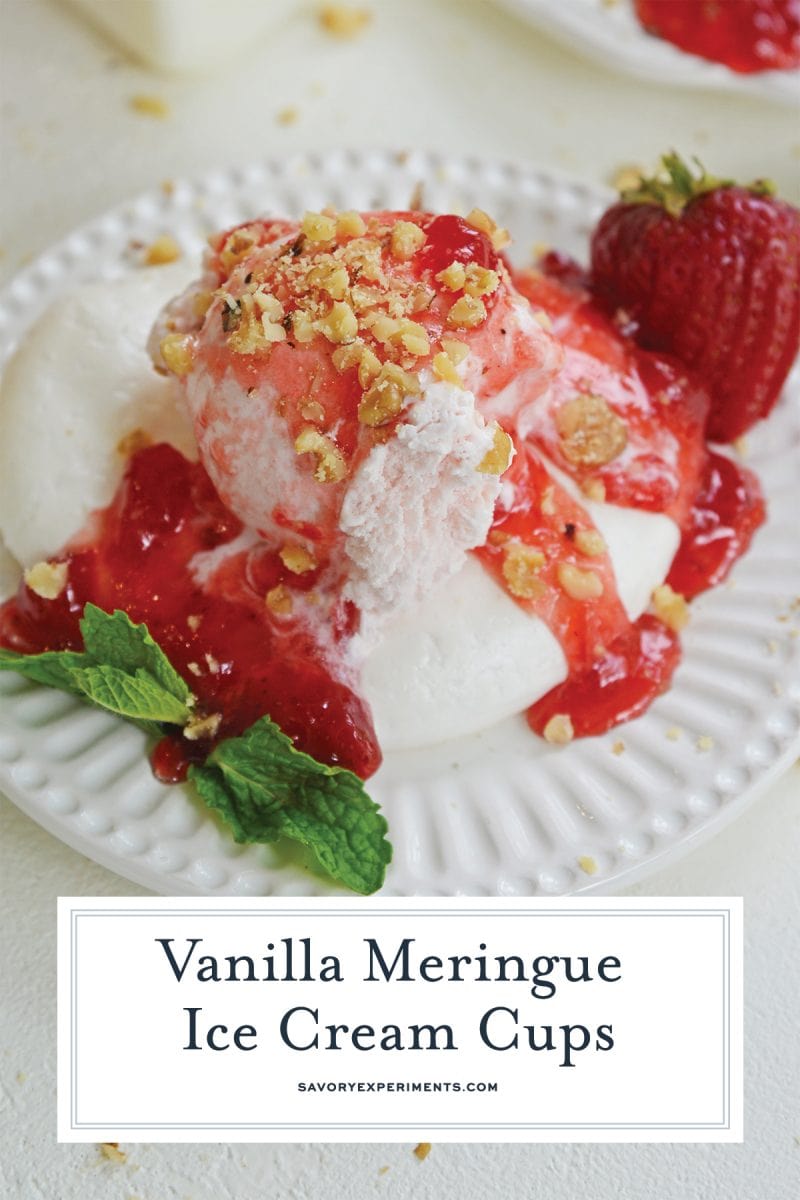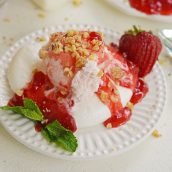 Vanilla Meringue Ice Cream Cups
With only 4 basic ingredients, these EASY Vanilla Meringue Ice Cream Cups make the perfect dessert for any occasion! Pretty, fun & delicious!
Instructions
Preheat oven to 200 degrees. Line a baking sheet with parchment paper.

In large bowl, beat egg whites and cream of tartar with electric mixer until foamy.

Spoon 6 large scoops of meringue onto parchment paper. Using a spoon, create a deep bowl in each, being careful not to go all the way down to the baking sheet.

Bake for 1 hour, then turn off oven, but allow meringue to cool completely in the oven. This usually takes 1 hour or more.

Remove from oven and store in an airtight container until ready to use. Fill with ice cream and top with your favorite sauce!

If you've tried this recipe, come back and let us know how it was in the comments or ratings.
Nutrition
Calories:
106
kcal
,
Carbohydrates:
25
g
,
Protein:
2
g
,
Fat:
1
g
,
Sodium:
25
mg
,
Potassium:
45
mg
,
Sugar:
25
g