Winter and tomato are two words that generally do not go together. The reason being, tomatoes are not in season that time of year. With that in mind, let me explain the reasoning behind my Winter Tomato Salad.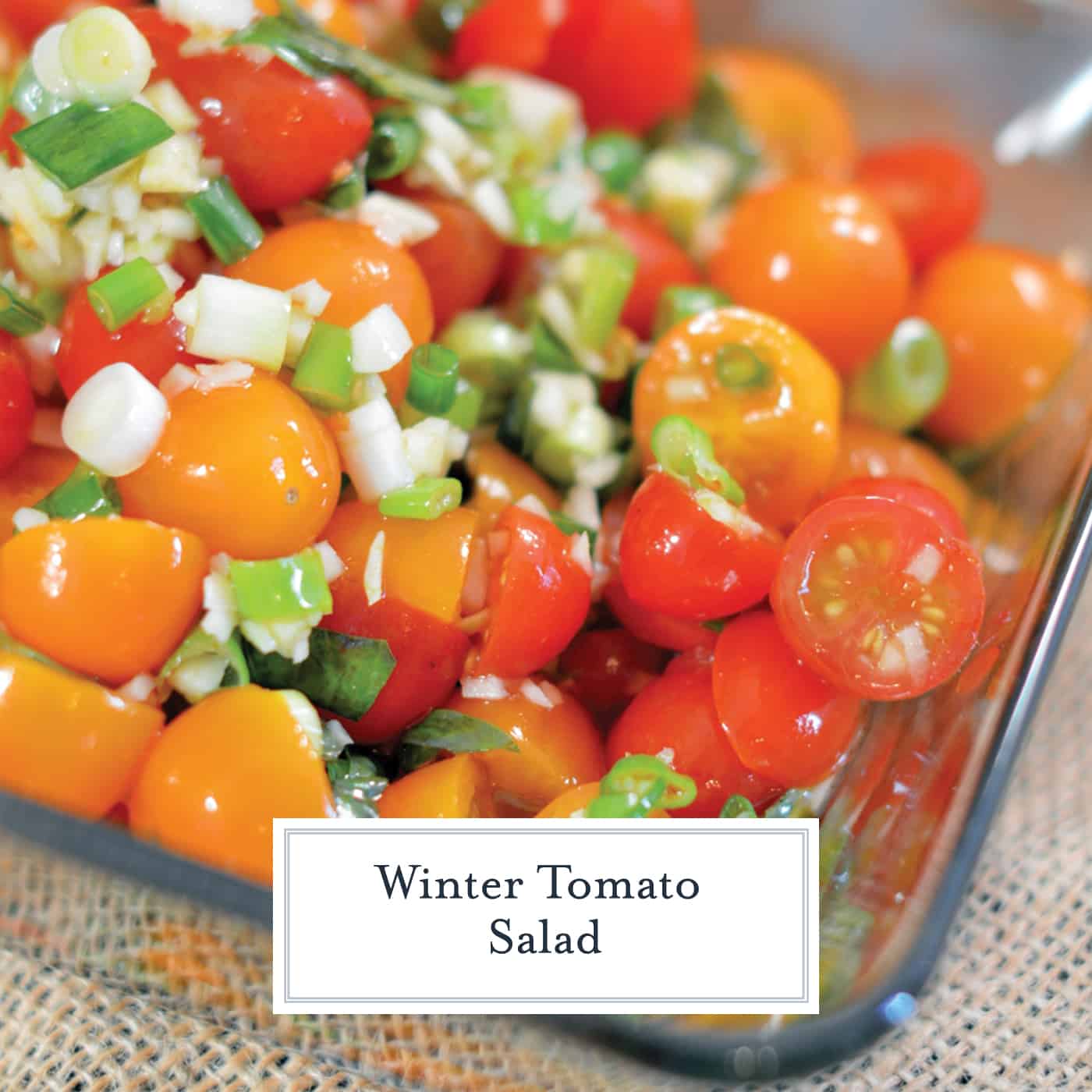 Winter Tomato Salad uses multi-colored cherry tomatoes, lots of garlic, good olive oil, and basil to make a tasty side dish recipe perfect for the winter months.
Florida and California are the largest US growers of tomatoes and while during the winter months, they are still grown domestically, they don't seem to have the flavor as those that are coming out of the ground in the extreme heat of the summer.
Fun fact that a lot of people don't know: Tomatoes have a very specific growing season. They are typically in their prime in mid-late summer.
The ones you see in the winter are most often grown in hothouses that replicate the heat and environment they would normally grow in.
It could be my nostalgia for summer, but I can't get around the flavor these hothouse tomatoes have. I am sure I am not the only that feels this way.
Perhaps it is nostalgia for the summer, but I have a sneaking suspicion my tastebuds are to be trusted.
It seems my tummy doesn't know the difference because regardless of the time of year, I crave tomatoes. During the summer I can venture out to the farmer's market and take a bite of tomato just like an apple, but the winter variety needs are little more attention.
To doctor the winter varietal up a bit, I add flavors that really make emphasize their…well…tomato-y-ness. Yes, that is now a word. I add fresh garlic and basil. Lots of it. Way more than I would if I had a fresh summer tomato, that is for sure!
Fair warning for those with a hot date, this Winter Tomato Salad will keep vampires away. I think of it as an added bonus because of how good garlic is for you in terms of regulating blood sugar and blood pressure as well as helping to lower cholesterol levels.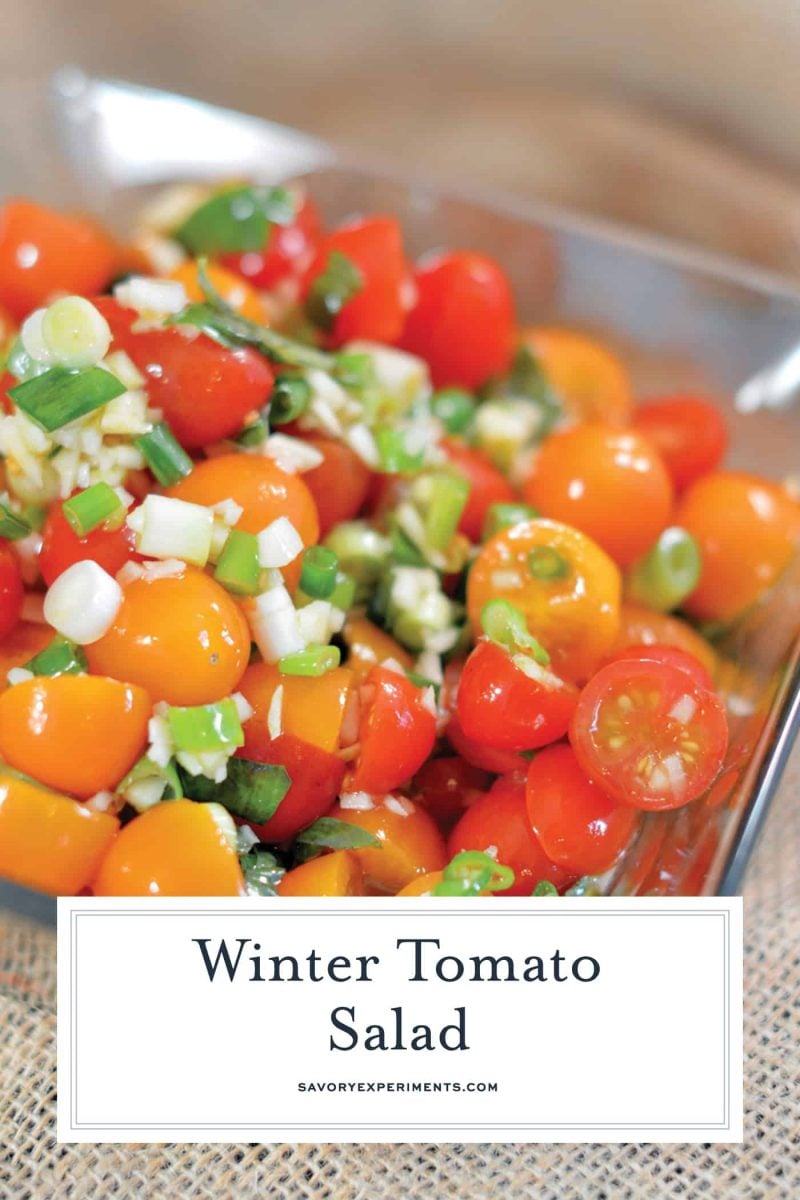 Another tip for the best winter tomato salad is to use a variety of colors and types. Each type of tomato will have a different sweetness and acidity level, so using a blend creates intrigue and balance.
Winter Tomato Salad also has enough vinegar and olive oil to add flavor, while still getting my tomato fix. Come summer, this recipe will go back to the cupboard so I can enjoy the ripe tomatoes of the season, but for now, it is a weekly affair.
I would suggest allowing this Winter Tomato Salad to marinate for a few hours for maximum flavor benefits. It is perfect for make-ahead lunches. that said, you can also serve it immediately. Another bonus? This is a no-cook recipe. Yippee!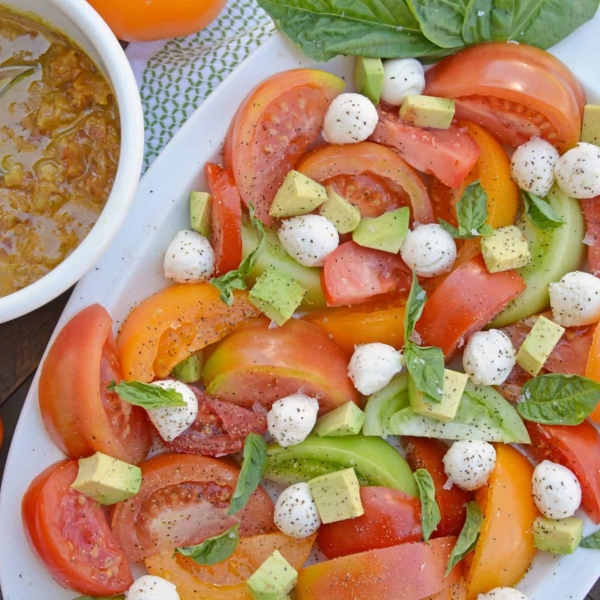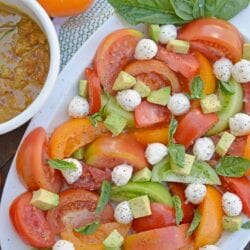 Tomato Salad with Bacon Mustard Dressing
Tomato Salad with Mustard Bacon Dressing is the ultimate summer side dish using lush tomatoes, avocado mozzarella basil. Make it ahead for any party or BBQ.

View this recipe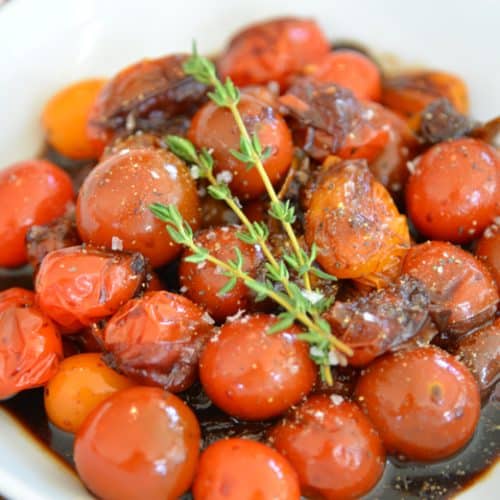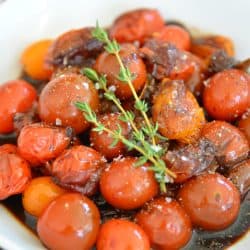 Balsamic Stewed Tomatoes
A salad of sorts, this EASY roasted Balsamic Tomatoes recipe makes the perfect side dish! With only 6 ingredients, this recipe is simple yet delicious!
View this recipe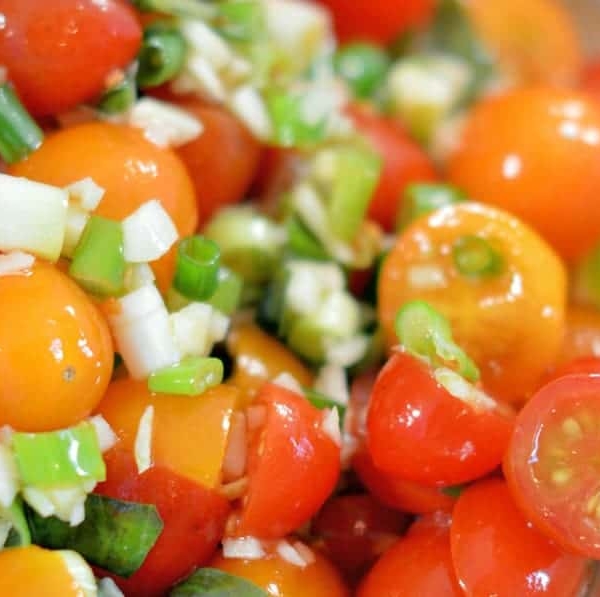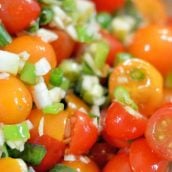 Winter Tomato Salad
Winter Tomato Salad uses multi-colored cherry tomatoes, lots of garlic, good olive oil and basil to make a tasty side dish recipe perfect for the winter months.
Instructions
Combine all ingredients in a bowl, toss, cover and chill for a minimum of 4 hours or up to 3 days.

Drain excess liquid before serving. Enjoy your winter tomato salad!

If you've tried this recipe, come back and let us know how it was!
Nutrition
Calories:
95
kcal
,
Carbohydrates:
2
g
,
Fat:
9
g
,
Saturated Fat:
1
g
,
Sodium:
198
mg
,
Potassium:
142
mg
,
Sugar:
1
g
,
Vitamin A:
490
IU
,
Vitamin C:
8
mg
,
Calcium:
11
mg
,
Iron:
0.3
mg