If you are a ranch fanatic but are looking for something a little lighter, try this easy Healthy Ranch Dressing recipe!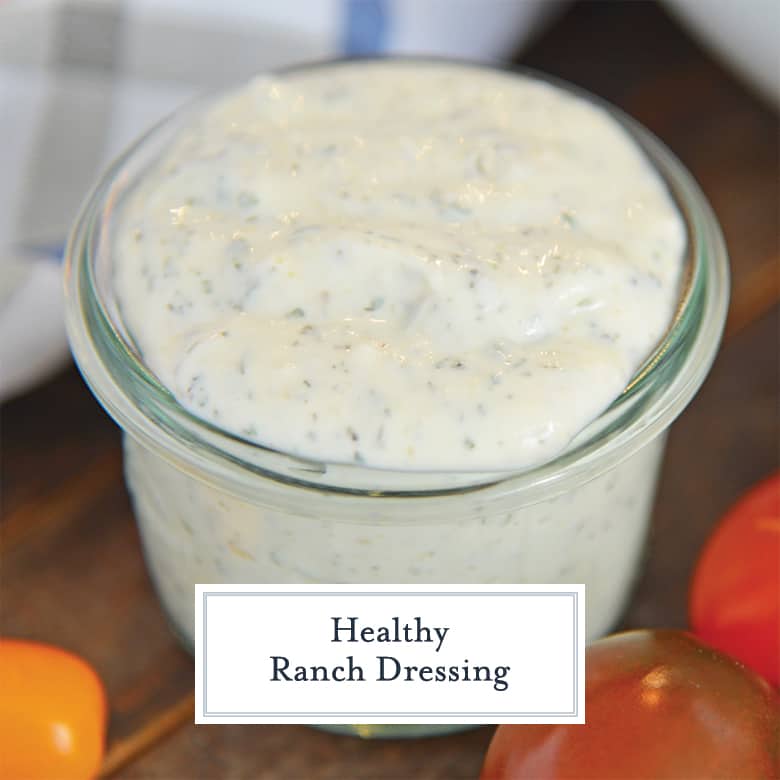 No need to worry about the extra calories when enjoying this Healthy Ranch Dressing. Made with Greek yogurt and avocado!
Aw, ranch dressing. America's favorite buttermilk dressing that tastes like heaven and is perfect for everything from salads to fries.
But what if you want to cut a few calories? You can make our light ranch dressing!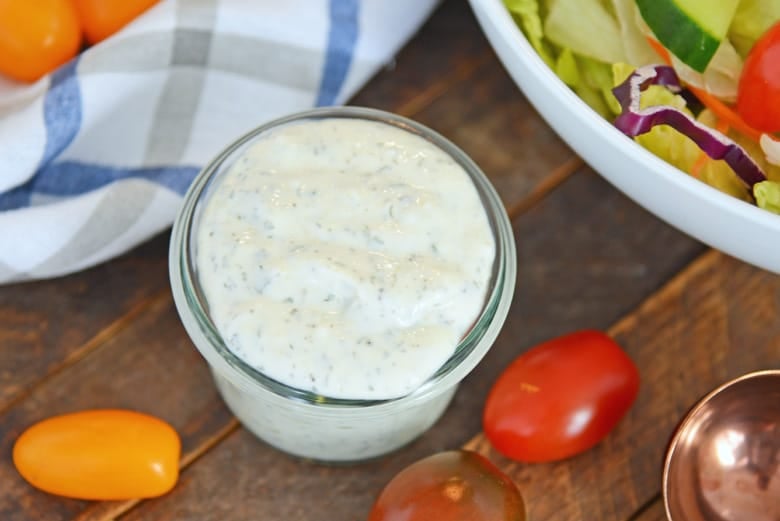 The first thing we need to get out of the way is that healthy ranch dressing is just a lighter original ranch dressing. Because buttermilk is a key component and it isn't really ranch dressing without it, it wouldn't make sense to omit it.
However, you can substitute skim milk or whole milk and plain Greek yogurt for mayonnaise and give yourself one delicious skinny ranch option.
Make sure to use Greek yogurt and not just regular yogurt. Greek is strained for longer and therefore is thicker. You need that thickness to make the healthy ranch dressing have a little body.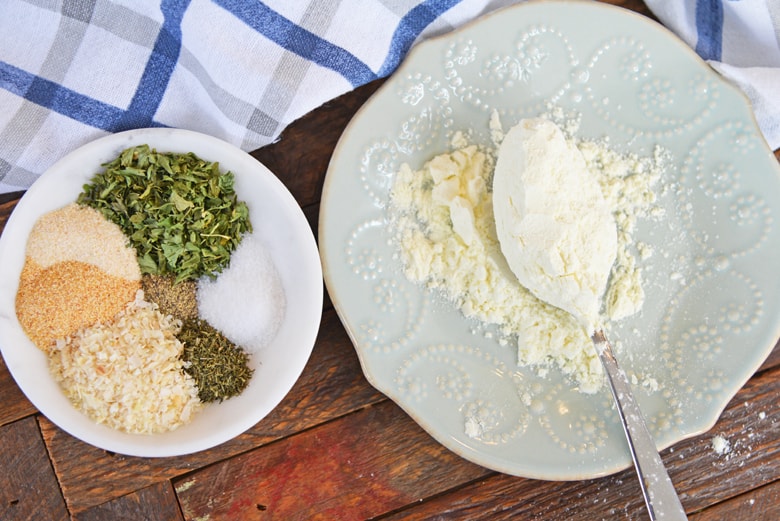 Adding avocado to the healthy ranch dressing mix is also very popular to give it more thickness, but this is optional.
What is in my homemade ranch dressing?
dry powdered buttermilk
dried parsley flakes
dried dill
garlic powder
onion powder
dried onion flakes
ground black pepper
dried chives
fine sea salt
skim milk
plain Greek yogurt
You are probably familiar with all of the ingredients with the exception of maybe one: dry powdered buttermilk.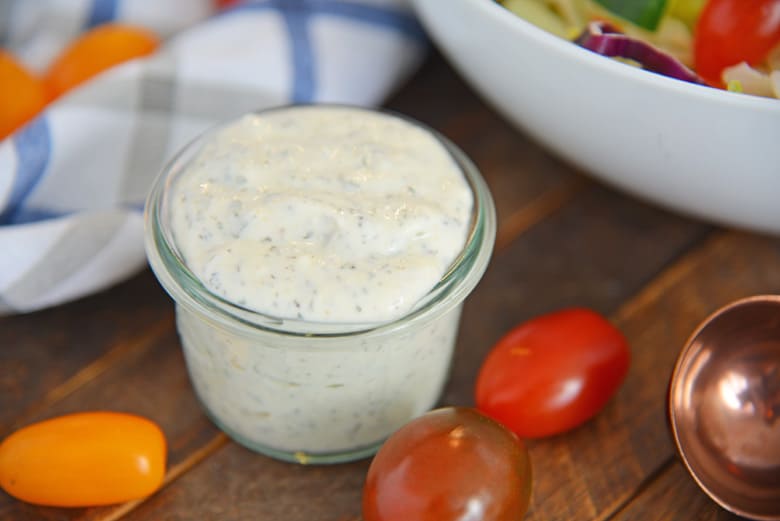 Dry powdered buttermilk is just like any other dry powdered milk. It is made from actual buttermilk, which is the liquid left behind after churning to milk butter, but fermented so it is a little funky.
But then dehydrated so it has a much longer shelf life. Let's be honest, I don't use that much buttermilk. Maybe here and there for fried chicken, pancakes and waffles, but not on the regular.
So keeping a canister of buttermilk powder in the pantry is my solution for a last minute breakfast or homemade ranch dressing.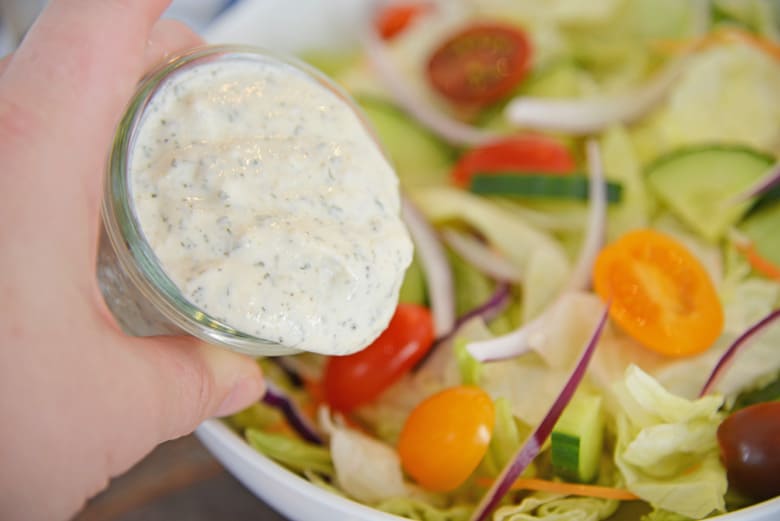 What can I use Skinny Ranch Dressing on?
I have one friend who is a self-proclaimed Ranch fanatic who would tell you there isn't anything that Ranch dressing shouldn't go on. She'd probably also tell you that using a healthy ranch dressing with yogurt is against her beliefs, but I digress…
But the most common uses for healthy ranch dressing are:
Salad, of course
Grilled or roasted vegetables
Dipping sauce for French fries and tater tots
On sandwiches
For buffalo wings
On burgers and hot dogs
As a marinade for chicken or pork
Dipping raw veggies like carrots or celery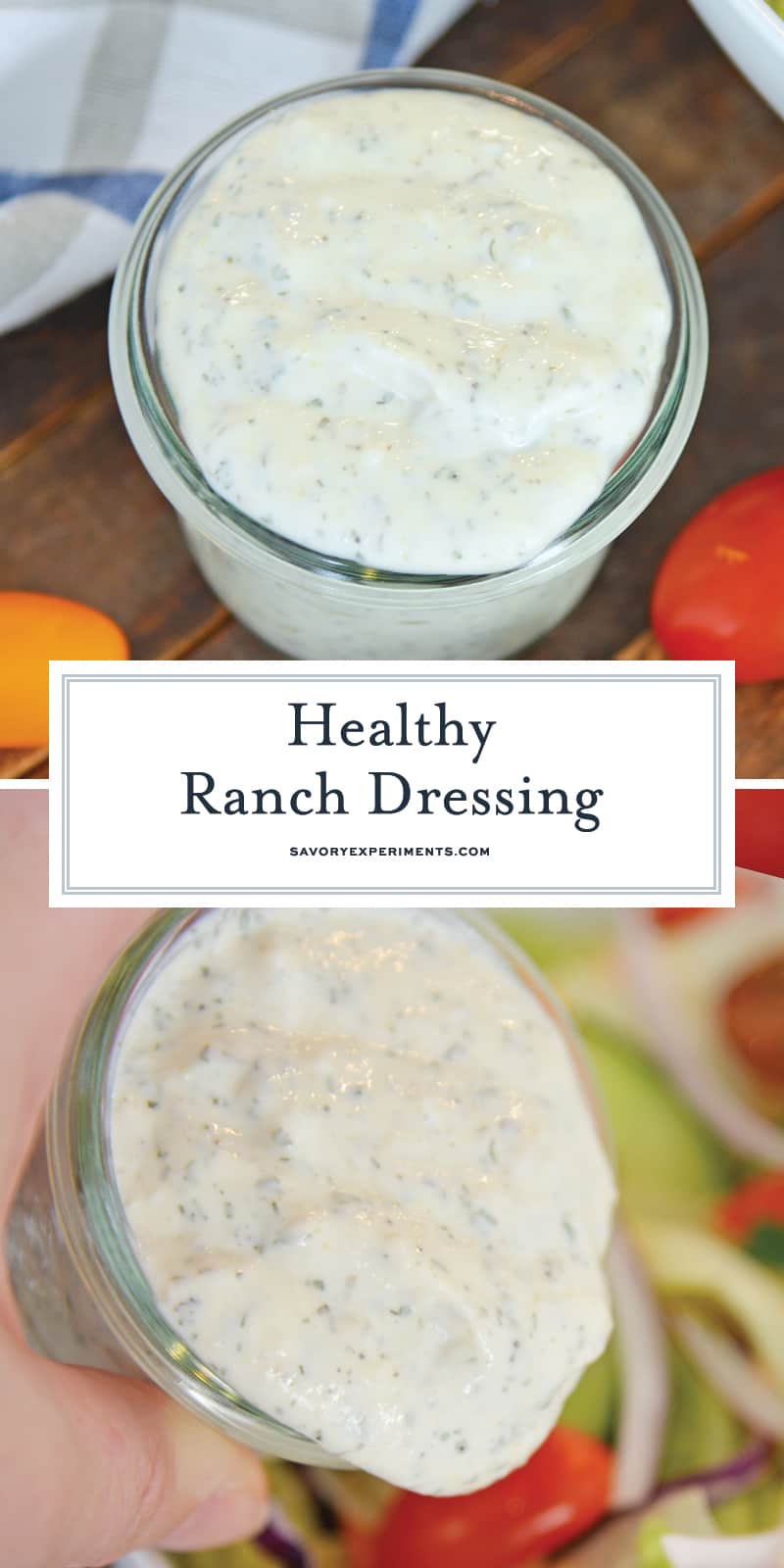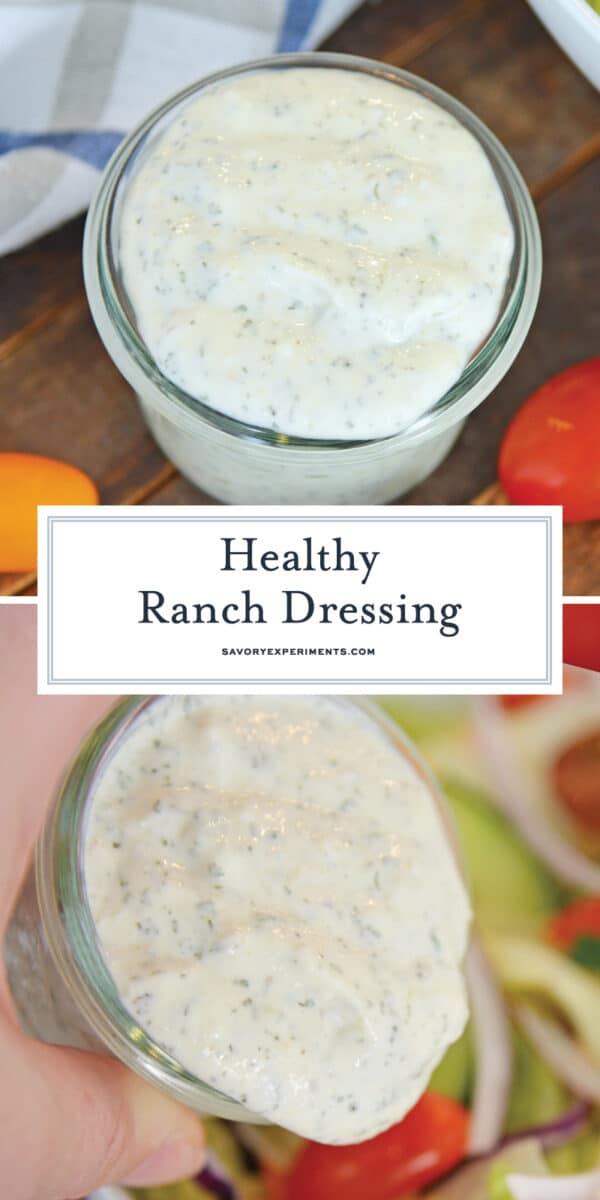 What is the history of ranch dressing?
Ranch dressing was created by Steve Henson as his signature buttermilk dressing. He made it for friends and family until later in life he purchased a ranch with his wife, Gayle.
They started calling it the dressing of the Ranch and then mass marketed. Hidden Valley Ranch is the name of their ranch and the rest is history.
Light Ranch Dressing came on down the line when folks started to pay more attention to their health and lifestyle.
How do I store healthy ranch dressing from scratch?
All salad dressings are best stored in an airtight container- either plastic or a mason jar with a tight lid. Since it is homemade and doesn't have any preservatives other than salt, a natural preservative, it only last about a week.
You can make a large batch of the dry ranch seasoning and then make fresh dressing every night though. I doubt it will last a whole week since it is so good!
Tools for making homemade healthy ranch dressing:
Mini Food Processor– I use this thing daily! It is by far my most used kitchen appliance, it is small and I throw all the parts into the dishwasher, well except the base and cord, of course!
I love it for salad dressings so they are equally blended with no chunks of herbs and spices. Unless you are into that sort of thing, which is fine too.
Measuring Utensils– While I like to eyeball it, most folks prefer to measure. Suit yourself ?
Whisks– I buy whisks in multiple sizes. You never know which one you will need. If you don't have a food processor, I recommend using a whisk.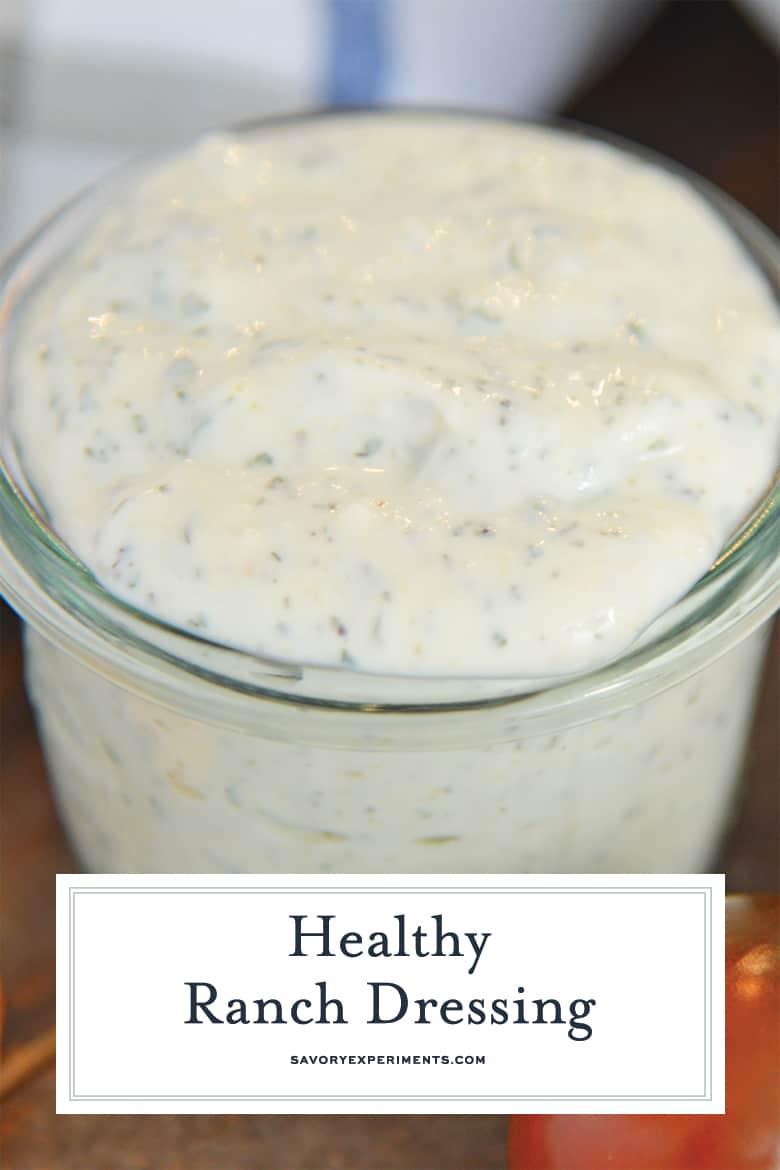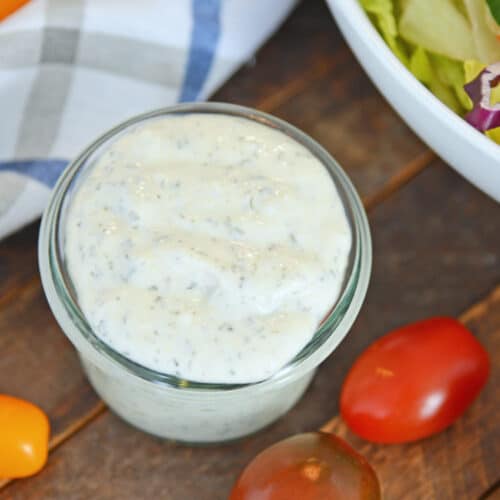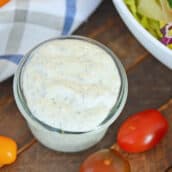 Healthy Ranch Dressing
No need to worry about the extra calories when enjoying this Healthy Ranch Dressing. Made with Greek yogurt and avocado!
Instructions
Combine all three ingredients in a bowl and whisk or in a small food processor. Mix until combined.

Cover and chill for 30 minutes for best results.

If you've tried this recipe, come back and let us know how it was!
Nutrition
Calories:
50
kcal
,
Carbohydrates:
5
g
,
Protein:
3
g
,
Fat:
2
g
,
Saturated Fat:
1
g
,
Cholesterol:
2
mg
,
Sodium:
298
mg
,
Potassium:
120
mg
,
Fiber:
1
g
,
Sugar:
2
g
,
Vitamin A:
50
IU
,
Vitamin C:
1
mg
,
Calcium:
48
mg
,
Iron:
1
mg