Filled with fresh ingredients like corn, peppers, black beans and spinach, these Air Fryer Southwest Egg Rolls are crispy, delicious and finger-licking good!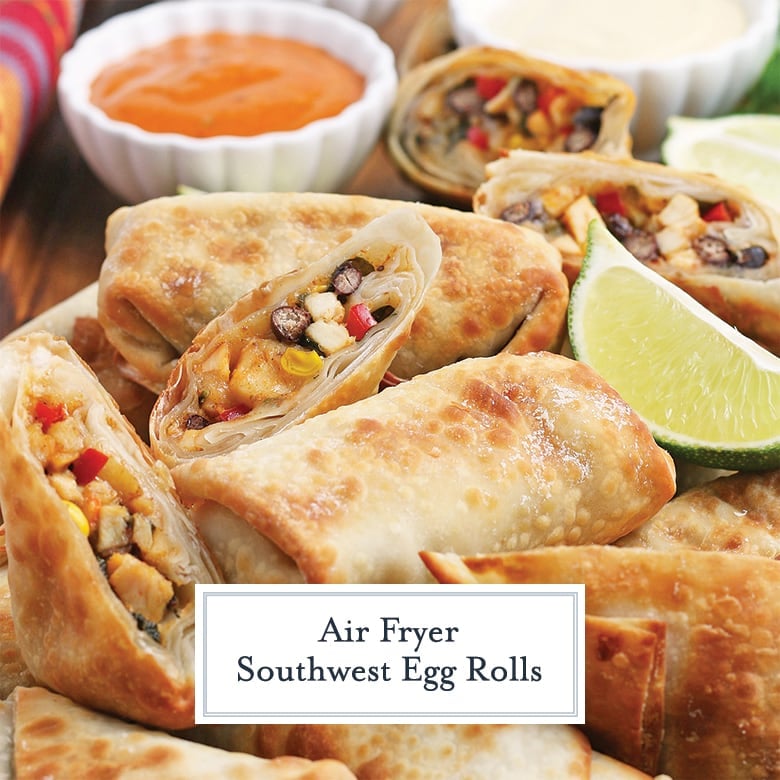 I am a huge fan of appetizers and when Southwest Egg Rolls from Chilis came on the scene about 2 decades ago, I was all about these crunchy, stuffed pieces of heaven.
Southwest Egg Rolls
Most people have heard of these gems, but in case you haven't, here is the scoop.
A southwest egg roll is a large egg roll wrapper filled with chicken, corn, onion, beans, spinach, cheese and seasonings. Traditionally, they are deep fried to a golden brown and served with creamy dipping sauce.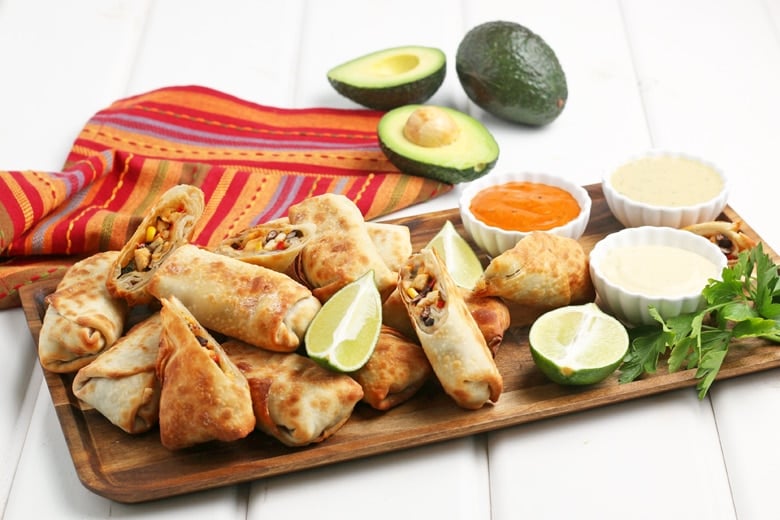 I've seen them baked (instructions below) but when air fryers made their debut, it seemed like a match made in heaven. I could make them without the freezing step and also without the all the oil, grease and mess. Truely a foodie blessing.
What You'll Need
I know, I know, you are looking at this ingredient list and like WHAT? It is a little long, but all of these items are common. They are also super verstile and the amounts and ingredients can be customized to meet your tastes.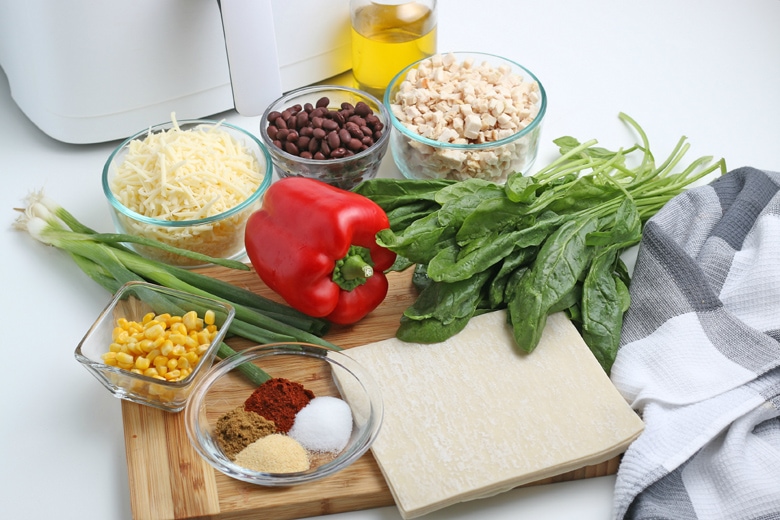 Chicken , cooked and diced small or shredded
Corn
Bell pepper
Scallions
Black beans
Spinach
Seasonings: chili powder, garlic powder, coarse kosher salt, ground cumin
CHEESE!
Egg roll wrappers
Olive oil- for basting to make them crispy!
Egg wash- the glue that holds it all together.
Next, mix the filling and then start to stuffing egg rolls wrappers. We are doing something a little different here and using a double wrap instead of single.
You have the option to use one or two, up to you. Two is more durable but a little chewy while one will give you the most crunch.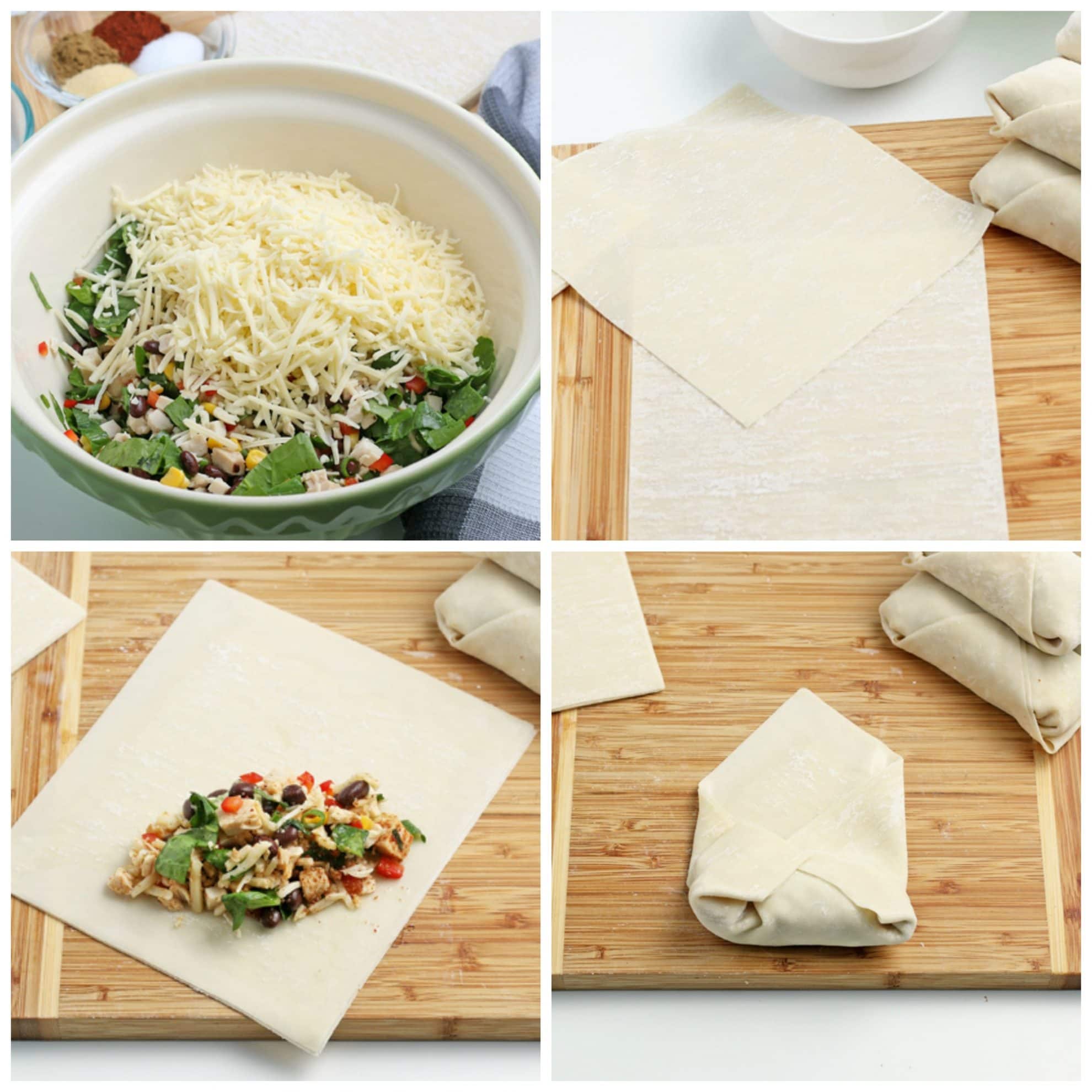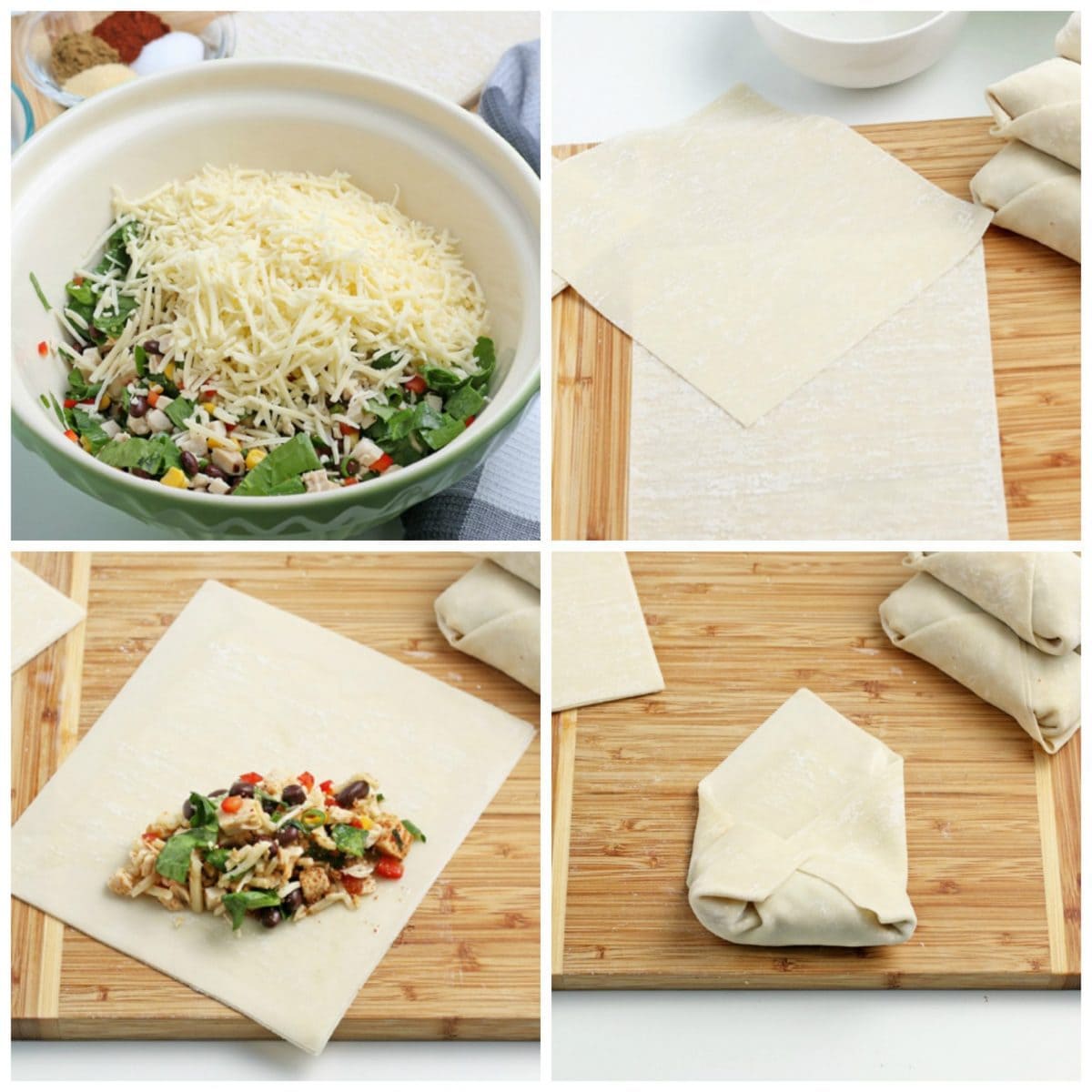 You fold them kind of like an envelope. Place filling in the center, baste edges with egg wash and then fold the bottom, sides and finally roll to form an egg roll.
Baste with olive oil and then fry for a total of 10-12 minutes, flipping half way through.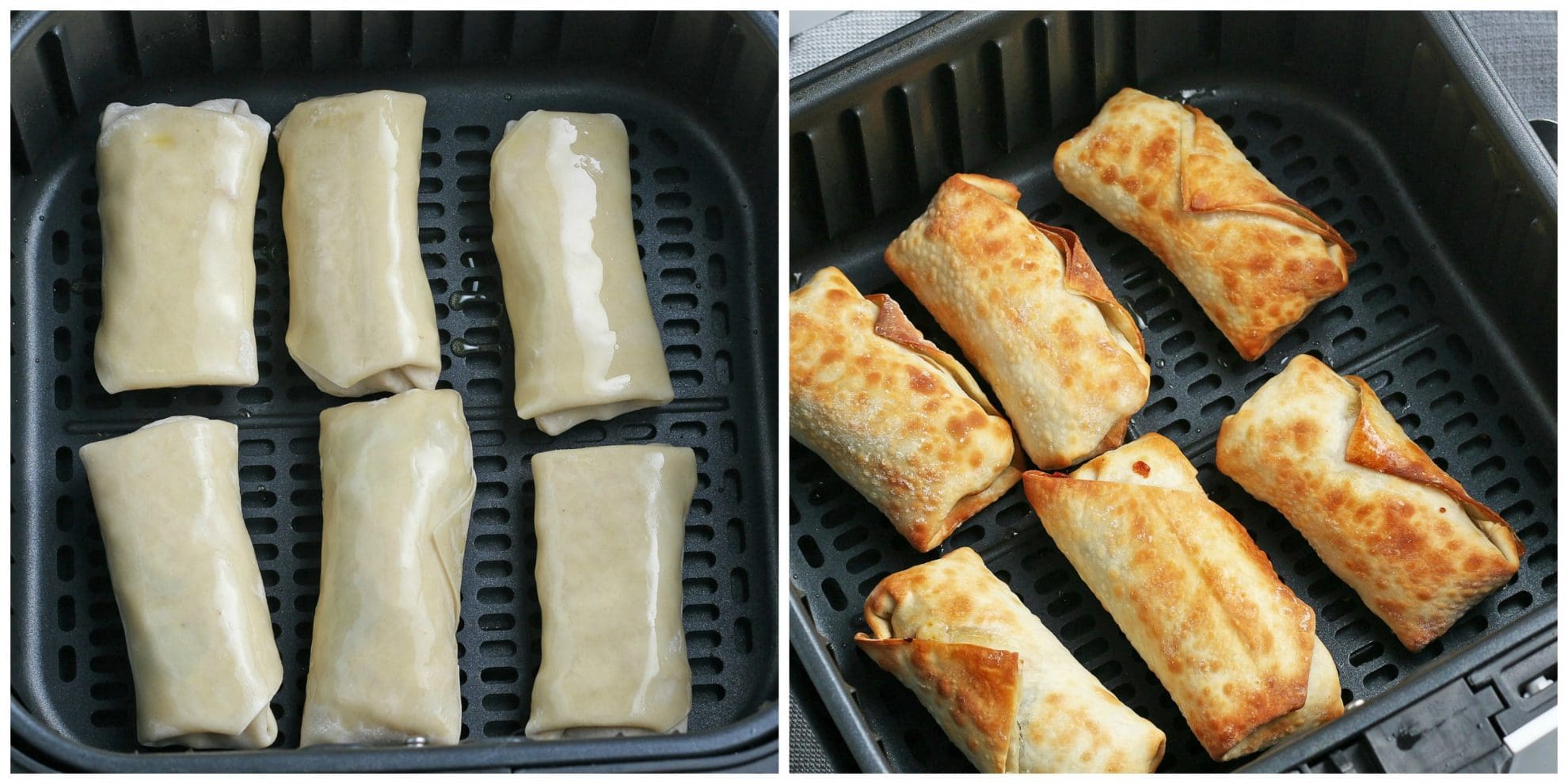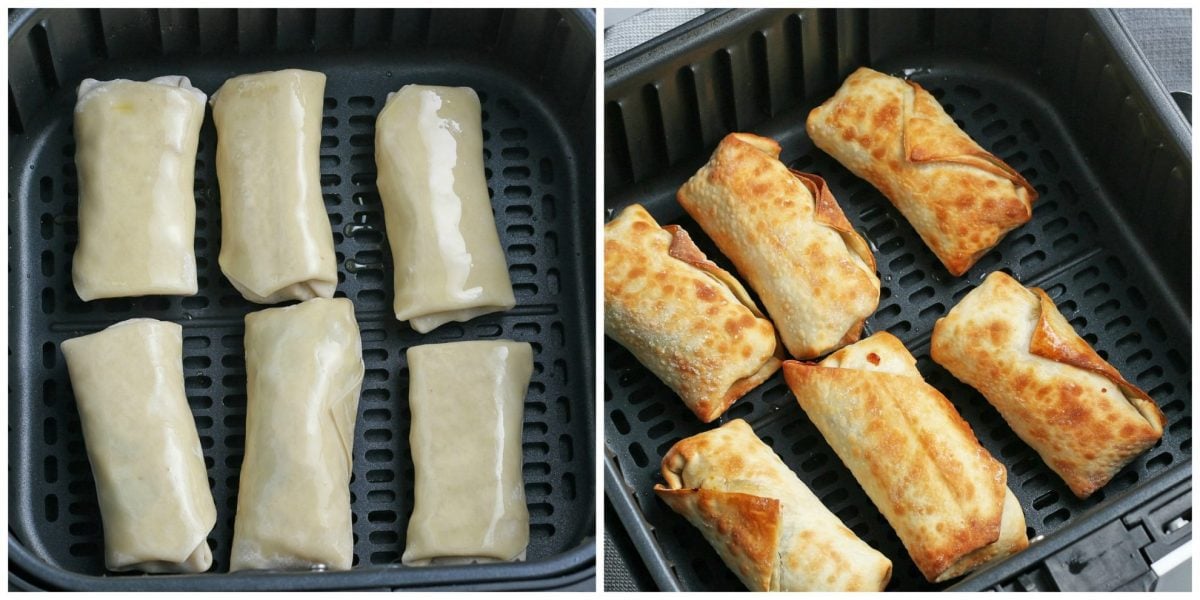 Variations
Southwest egg rolls are easily customizable whether it be stuffing ingredients or seasonings. Here are a few of our favorites.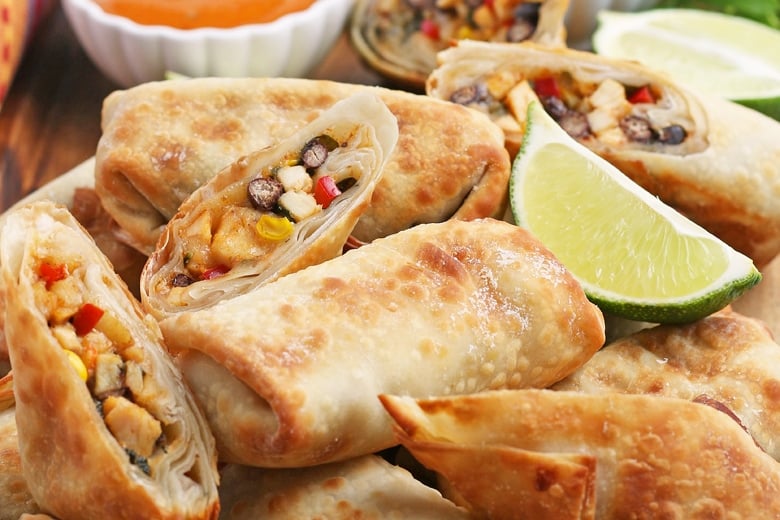 Vegetarian– make them vegetarian by doubling the veggies and omitting chicken.
Cheese– we used a Mexican cheese blend of Monterey Jack and Cheddar, but you can take these up a notch with pepper jack or even a habanero laced cheese. Colby jack and white American are also favorites.
HEAT– If you like it hot, add 2 tablespoons diced hot peppers like jalapeno or habanero to the stuffing mix. A few shakes of crushed red peppers or aleppo will also do the trick.
Avocado– get a hard, not-yet-ripe avocado, then dice it and add to stuffing mix.
Dipping Sauces
While you'll get loads of flavor with just these ingredients, feel free to serve with dipping sauce. Here our our favorites: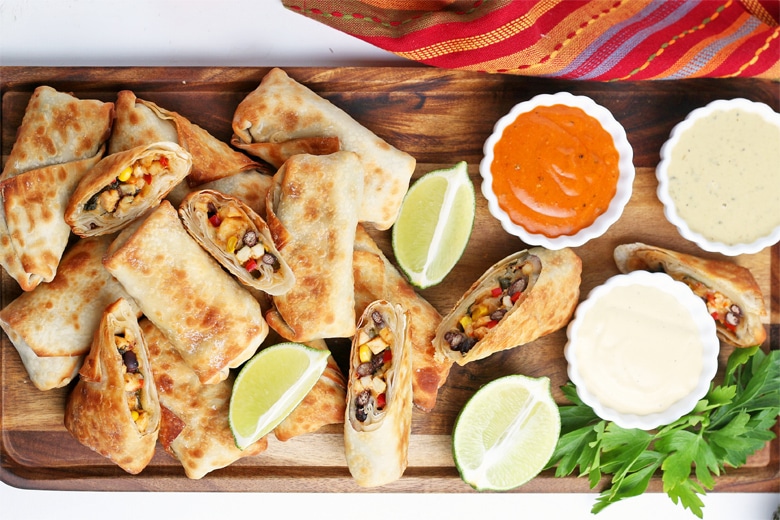 Baking & Frying
You can use this same recipe for baked or fried versions. Follow the same instructions through making the stuffing and rolling the egg rolls. The biggest difference will be that you need to freeze them.
Without freezing them, the cheese will melt, explode and escape well before the egg roll browns and crunches.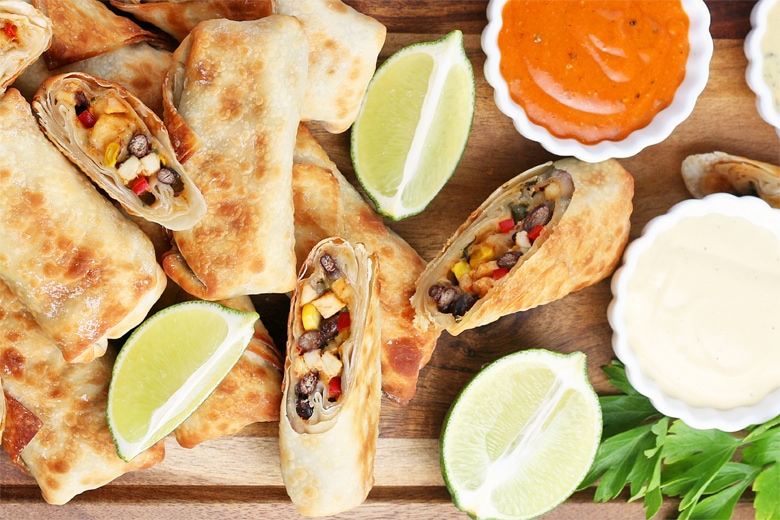 Baked Southwest Egg Rolls- Preheat oven to 400 degrees. Arrange frozen egg rolls on a baking sheet lined with parchment paper to prevent sticking.
Bake for 15-17 minutes, turning half way through baking. They will get a nice golden brown, but will not be super crunchy like they would be fried.
Fried Southwest Egg Rolls– Fill a large pot or Dutch oven with 2-3 inches of peanut or vegetable oil, brining to 450 degrees. Add frozen egg rolls, 3-4 at a time, being careful to not crowd the pan.
Frozen egg rolls will drastically reduce the oil cooking temperature so pay attention and adjust accordingly.
Fry for 3-4 minutes per side until a golden brown. Remove to a wire rack over a paper towel lined platter or baking sheet. Allow to cool for 3-4 minutes before eating. They are HOT!!!!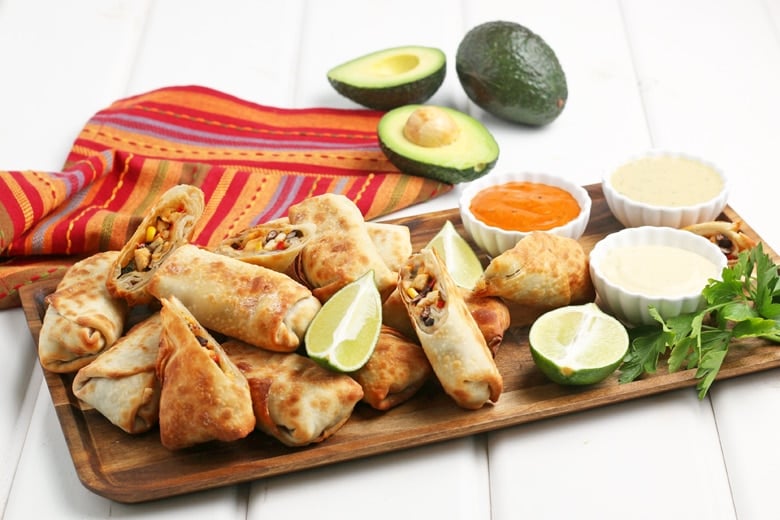 Tips for Making Air Fryer Southwest Egg Rolls
While these are pretty easy to make, here are a couple of tips and tricks.
Don't crowd the basket. To get the best fried crunch, give your rolls space for the air to circulate. This means you'll need to make several batches.
If keeping warm, place egg rolls on a wire rack over a paper towel lined baking sheet. Keep oven on warm setting. Setting directly on paper towels can make the bottoms soggy.
Cover wrappers with a damp tea towel or paper towel while wrapping. They tend to dry out fast and if they get brittle, you'll lose your filling!
Double or single wrap- to make them extra durable, use two wrappers instead of one. But for uber crunchy egg rolls, use only one wrapper.
Air fryer cooking times vary greatly based on brand and type (basket versus toaster oven type). If you've made this recipe, come back and let us know which one you used and how long it took in the comments for other readers.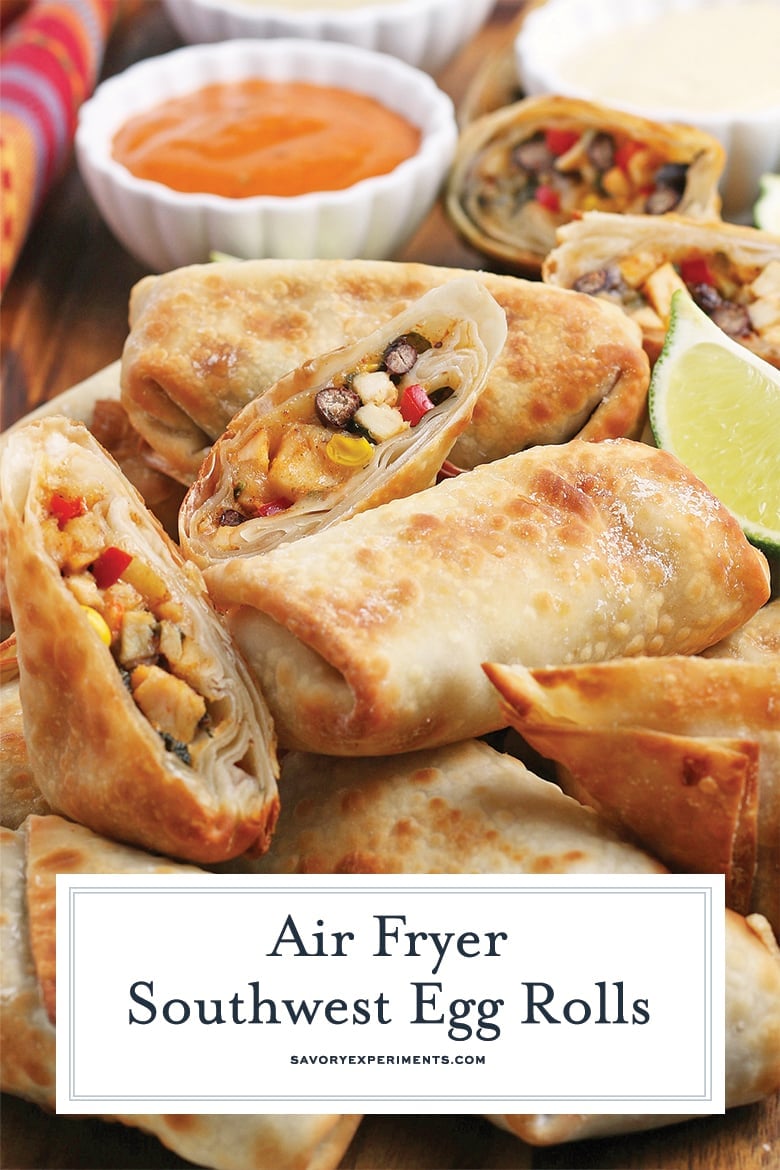 Storage & Freezing of Air Fryer Southwest Egg Rolls
Southwest egg rolls taste best hot and fresh out of the air fryer, but if you do have leftovers, store in an airtight container in the fridge for up to 5 days.
They can be reheated in the air fryer at 350 degrees for 3 minutes or in the oven at 350 degrees for 10 minutes. I don't recommend microwaving, they get rubbery.
They are freezer friendly. Place in a plastic bag or airtight container and freeze for up to 3 months. If cooking from frozen, add 3-4 minutes to the cooking time.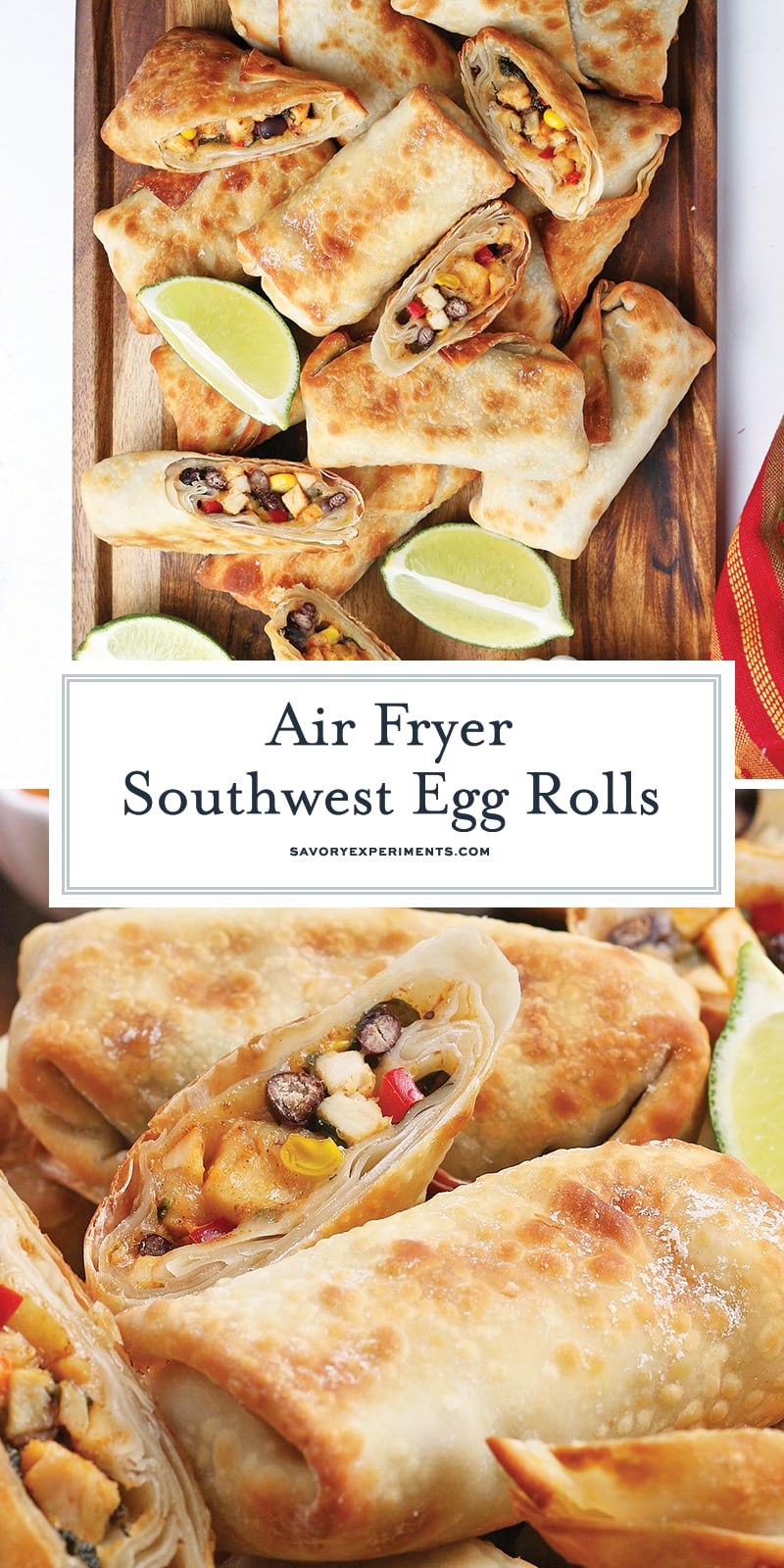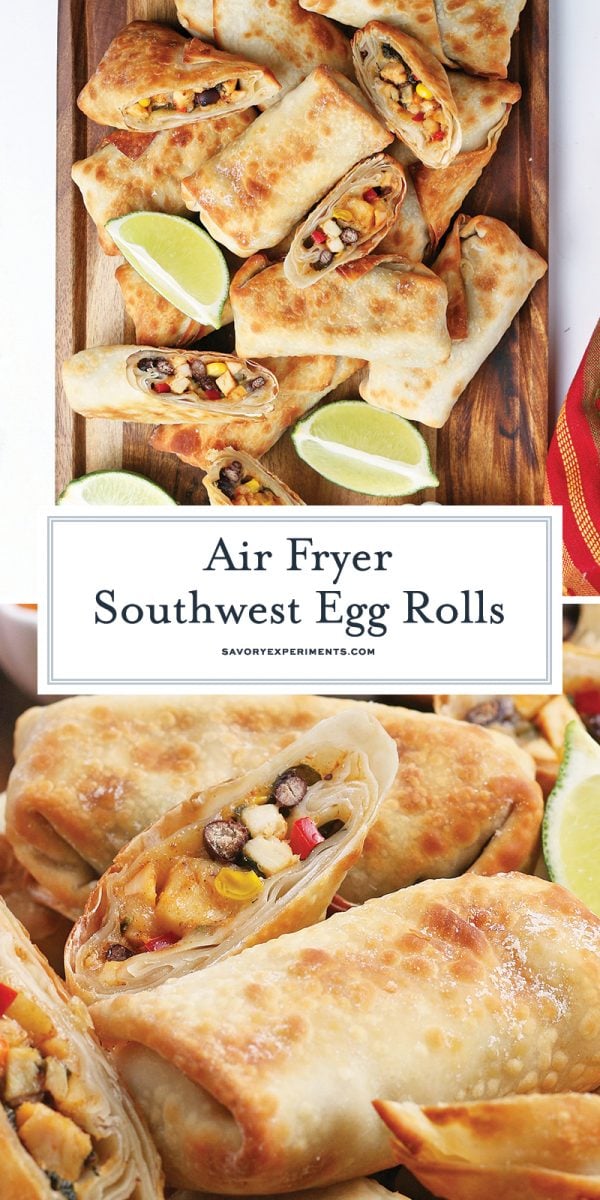 More recipes that use egg roll wrappers:
Authentic Chinese Dumplings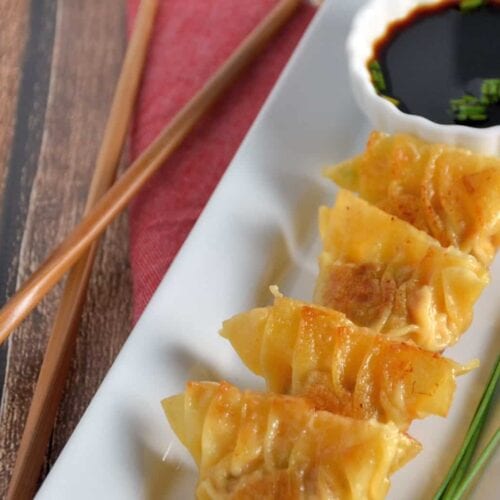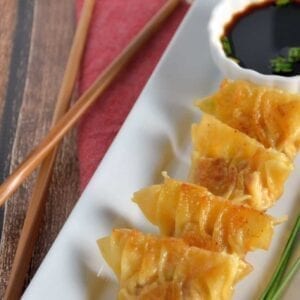 Authentic Chinese Dumplings is a recipe straight from a Chinese restaurant owner. Learn how to make perfect little folds and the fry and steam techinque of cooking.
Pulled Pork and Smoked Gouda Egg Rolls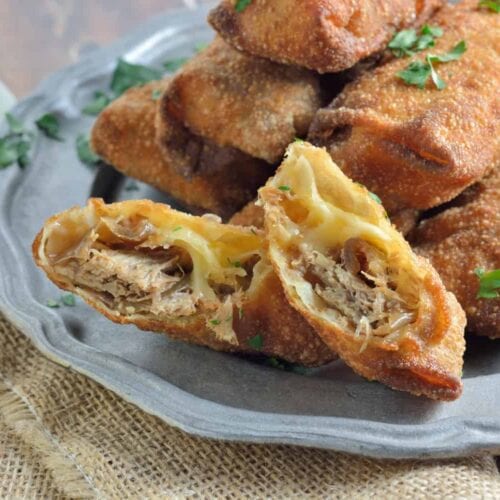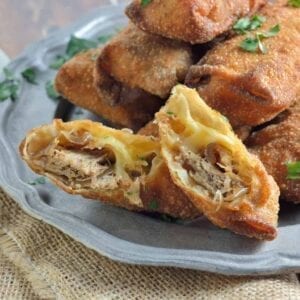 Succulent, sweet and zesty pulled pork wrapped in a crispy egg roll with silky smoked gouda cheese and served alongside Avocado Green Goddess Dressing.
CONNECT WITH SAVORY EXPERIMENTS!

Be sure to follow me on social media, so you never miss a post!

Facebook | Twitter | Youtube
Pinterest | Instagram
Get our FREE 8 Day E-Course on How to Be a Better Home Cook. Sign up HERE!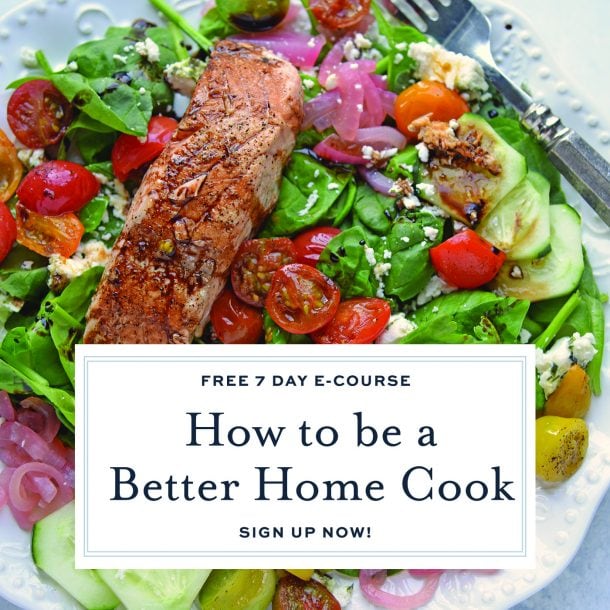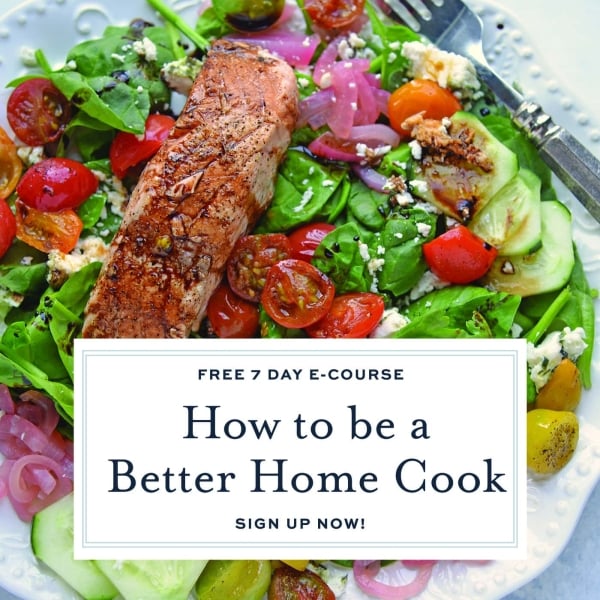 Air Fryer Southwest Egg Rolls
Filled with fresh ingredients like corn, peppers, black beans and spinach, these Air Fryer Southwest Egg Rolls are crispy, delicious and finger-licking good!
Instructions
In a small bowl, whisk together egg and 1 tablespoon water.

In a large mixing bowl, combine cooked chicken, corn, black beans, bell pepper, scallions, and spinach.

Whisk together chili powder, garlic powder, onion powder, coarse Kosher salt and ground cumin. Toss veggie and chicken mixture with grated cheese and seasonings.

Lay egg roll wrapper onto working surface, brush edges with egg wash and lay another wrapper on top to make a double thickness. Doubling is optional. Brush edges again.

Fold up the bottom of the wrapper then the two sides of the wrapper so the points almost touch. Then fold the top in and tightly roll up the egg roll and place on a sheet pan lined with waxed or parchment paper. Repeat with the remainder of the chicken mixture in egg roll wrappers.

Do not crowd the basket, make in 2-3 batches.

Lightly brush the top of each egg roll with olive oil. Place egg rolls in an air fryer and cook at 380°F for 10 minutes, flipping halfway through and basting again with olive oil. Cook until lightly golden brown.

Remove and cool for 5 minutes before serving with your favorite dipping sauces.

If you've tried this recipe, come back and let us know how it was in the comments or ratings!
Notes
Air fryer cooking times vary greatly based on brand and type (basket versus toaster oven type). If you've made this recipe, come back and let us know which one you used and how long it took in the comments for other readers.
Southwest egg rolls can be made with double egg roll wrappers or single. Single will be crisper and double will be a little chewy. 
Nutrition
Calories:
195
kcal
|
Carbohydrates:
12
g
|
Protein:
16
g
|
Fat:
9
g
|
Saturated Fat:
5
g
|
Cholesterol:
59
mg
|
Sodium:
592
mg
|
Potassium:
265
mg
|
Fiber:
2
g
|
Sugar:
1
g
|
Vitamin A:
665
IU
|
Vitamin C:
7
mg
|
Calcium:
156
mg
|
Iron:
1
mg