If you enjoy fried green tomatoes, you will LOVE the Whistle Stop Sandwich. Combining fried green tomatoes, avocado, bacon, white cheddar and an egg makes the perfect ratios of savory and salty.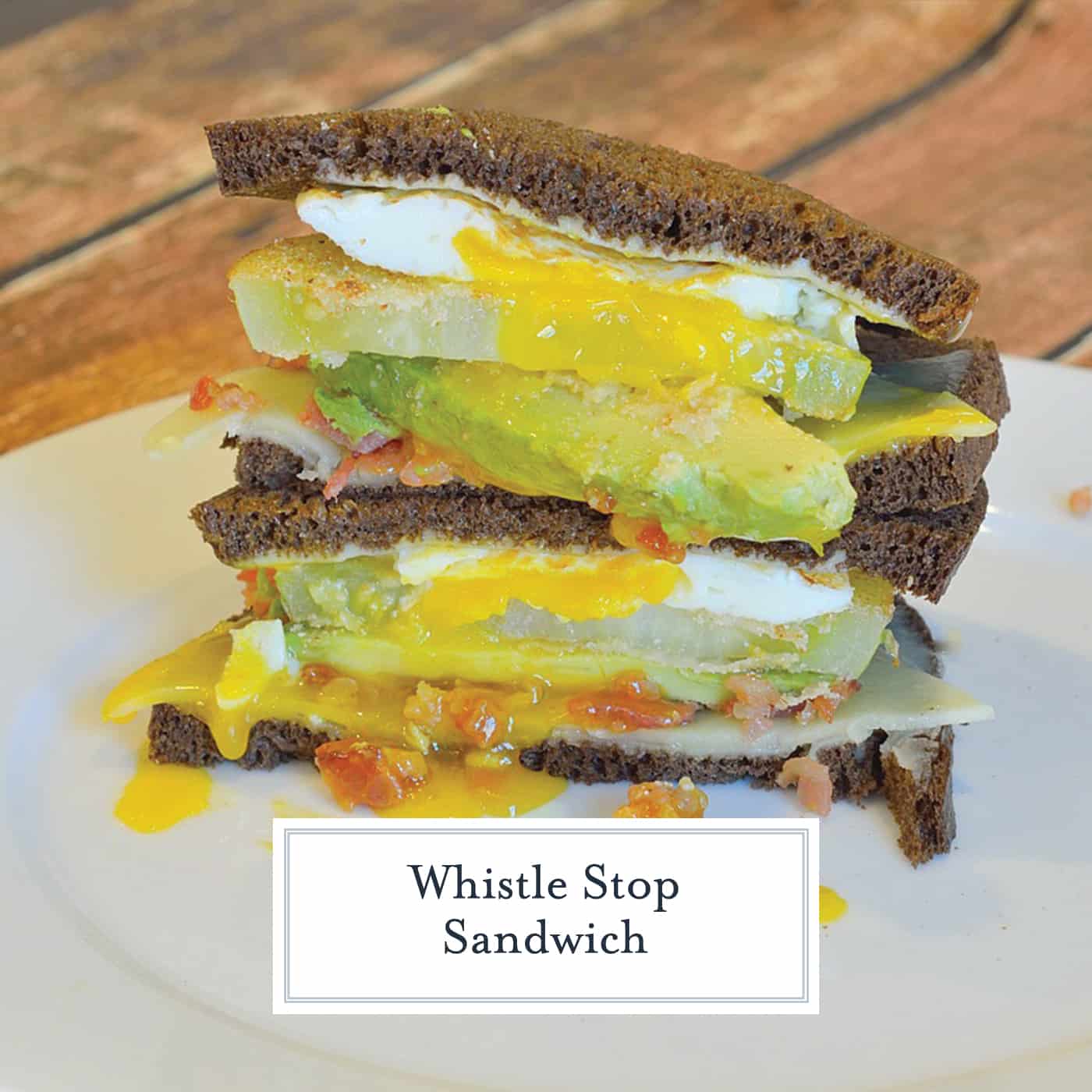 The Whistle Stop Sandwich is awarded the best sandwich of the year! Fried green tomatoes, avocado, white cheddar, bacon and fried egg on pumpernickel bread.
Creamy, yet crunchy. Cooling, yet hot. Crunchy, yet smooth. It is an interesting mix smashed between soft pumpernickel that will awaken your taste buds.
My fried green tomato sandwich is modeled after a local eatery called Miss Shirley's. If you are ever in the Baltimore/Washington DC area, I highly recommend making a trip.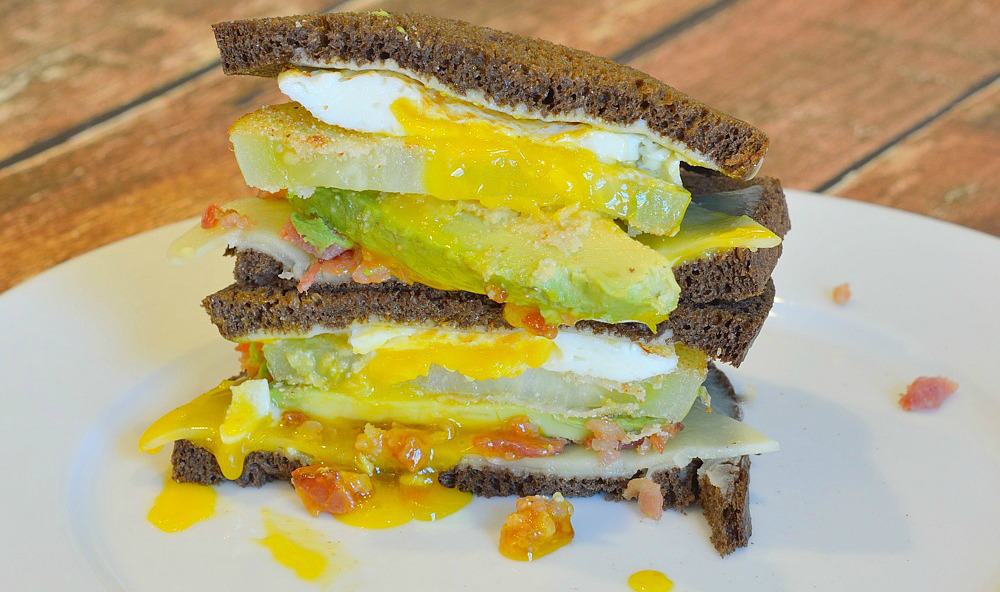 I love it so much, we ate there (together, gasp) on the morning of our wedding! It was a special treat to escape to Miss Shirley's for lunch when I used to work a desk job too.
Although I've never had a bad meal there and I try to order something new different, I always come back to a few of my old favorites. The Southern Slammer, after which my Whistle Stop Sandwich is modeled, and the shrimp and grits. Both have Miss Shirley's delicious fried green tomatoes.
Fried green tomatoes are where it's at and you can't get them many places. Even less, get them done right. Here they are also crunchy on the outside and juicy on the inside. Just perfect. I was craving them so much and Miss Shirley's isn't open for dinner, that I started to make them myself!
I initially made the Whistle Stop Sandwich for lunch, but ate it again the next morning for breakfast… and then brinner (breakfast for dinner). Packed with the superfood avocado, protein, carbs and vegetables, it is a power sandwich to get any busy day started, keep it going or put the perfect ending on.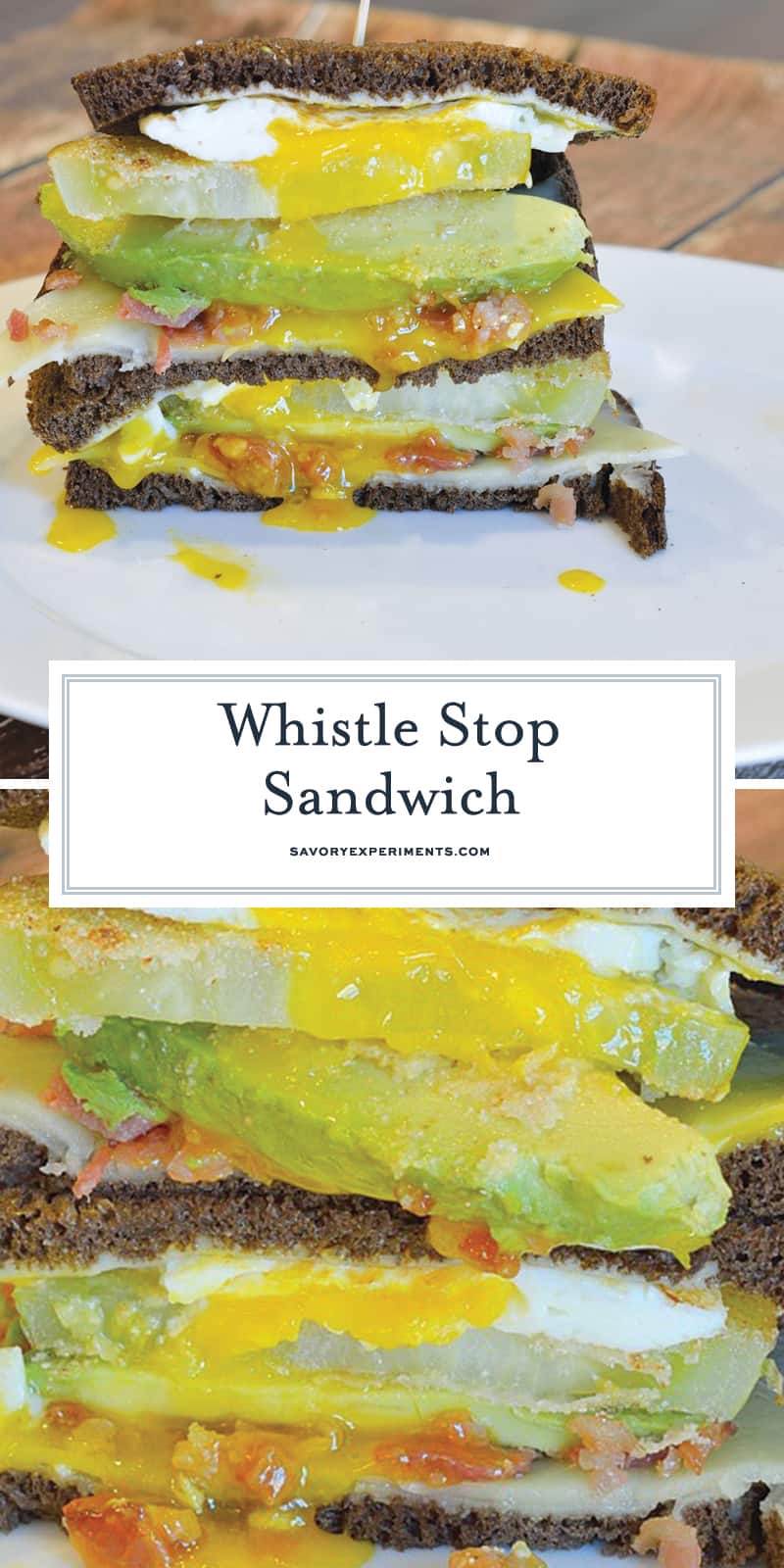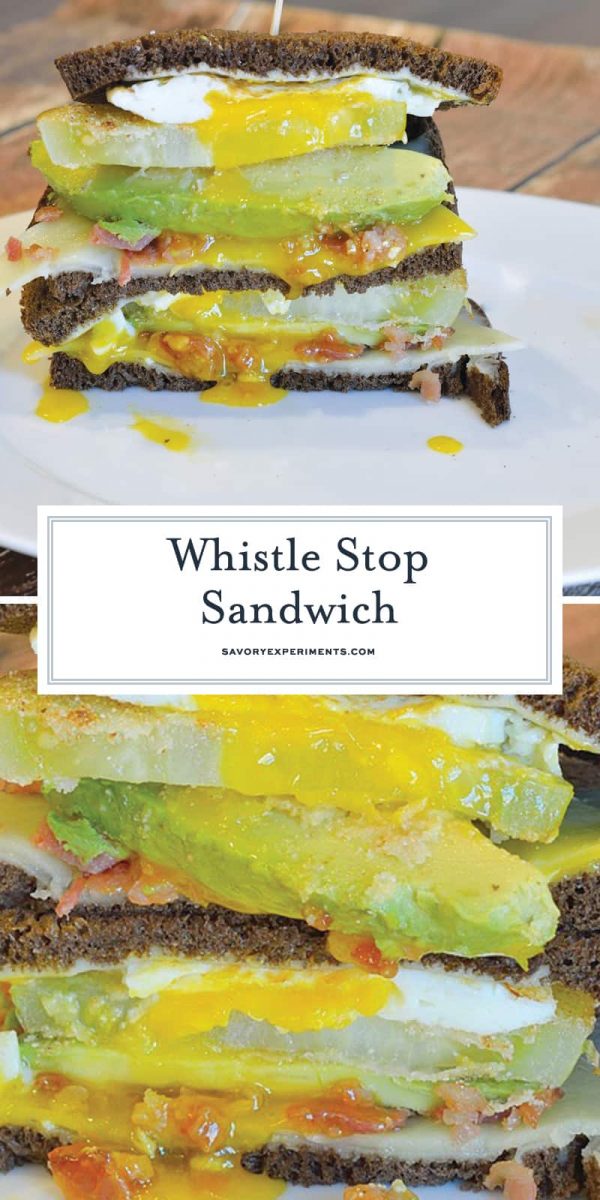 If you love sandwich recipes, here are some of my other favorites: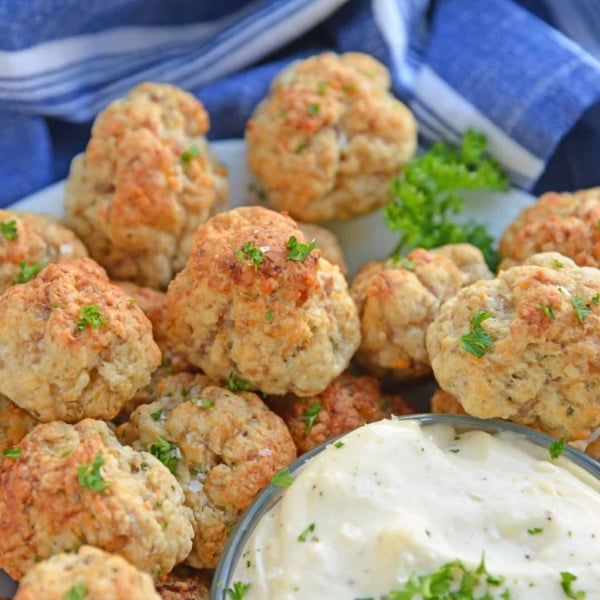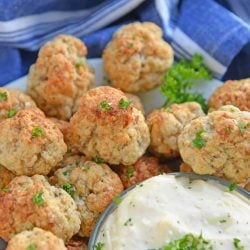 Easy Sausage Balls
If you're looking for the best sausage ball recipe, look no further than these Easy Sausage Balls! You won't be able to have just one!
See The Recipe!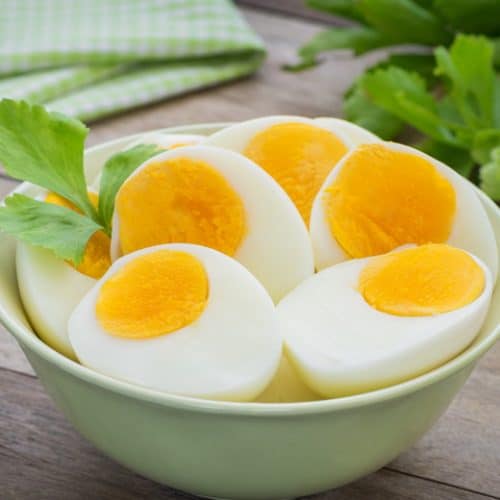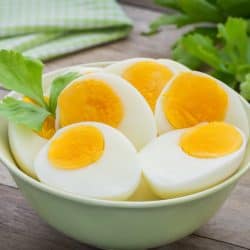 Air Fryer Eggs
Making eggs in the air fryer was never so easy! Perfect soft boiled, medium boiled and hard boiled eggs every time!
See The Recipe!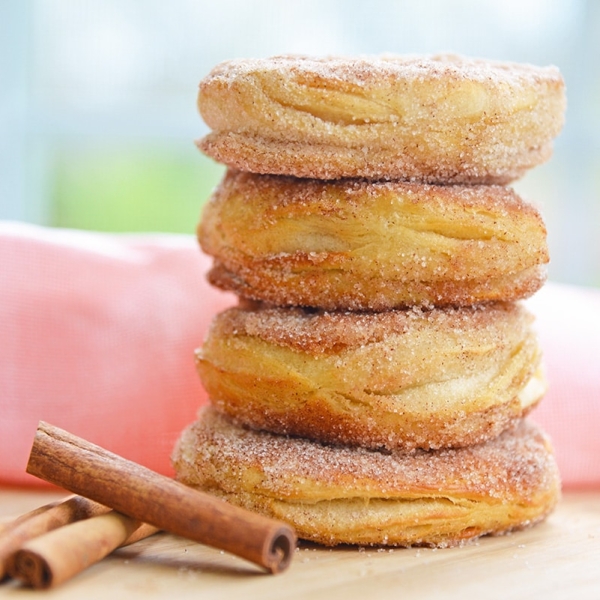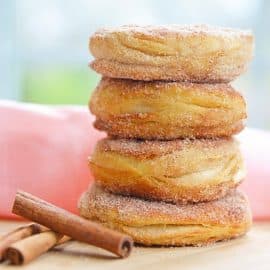 Air Fryer Donut Recipe
Buttery and delicious Air Fryer Donuts in just 10 minutes and using only 4 ingredients. Coated in cinnamon sugar, these are going to be your new favorite!
See The Recipe!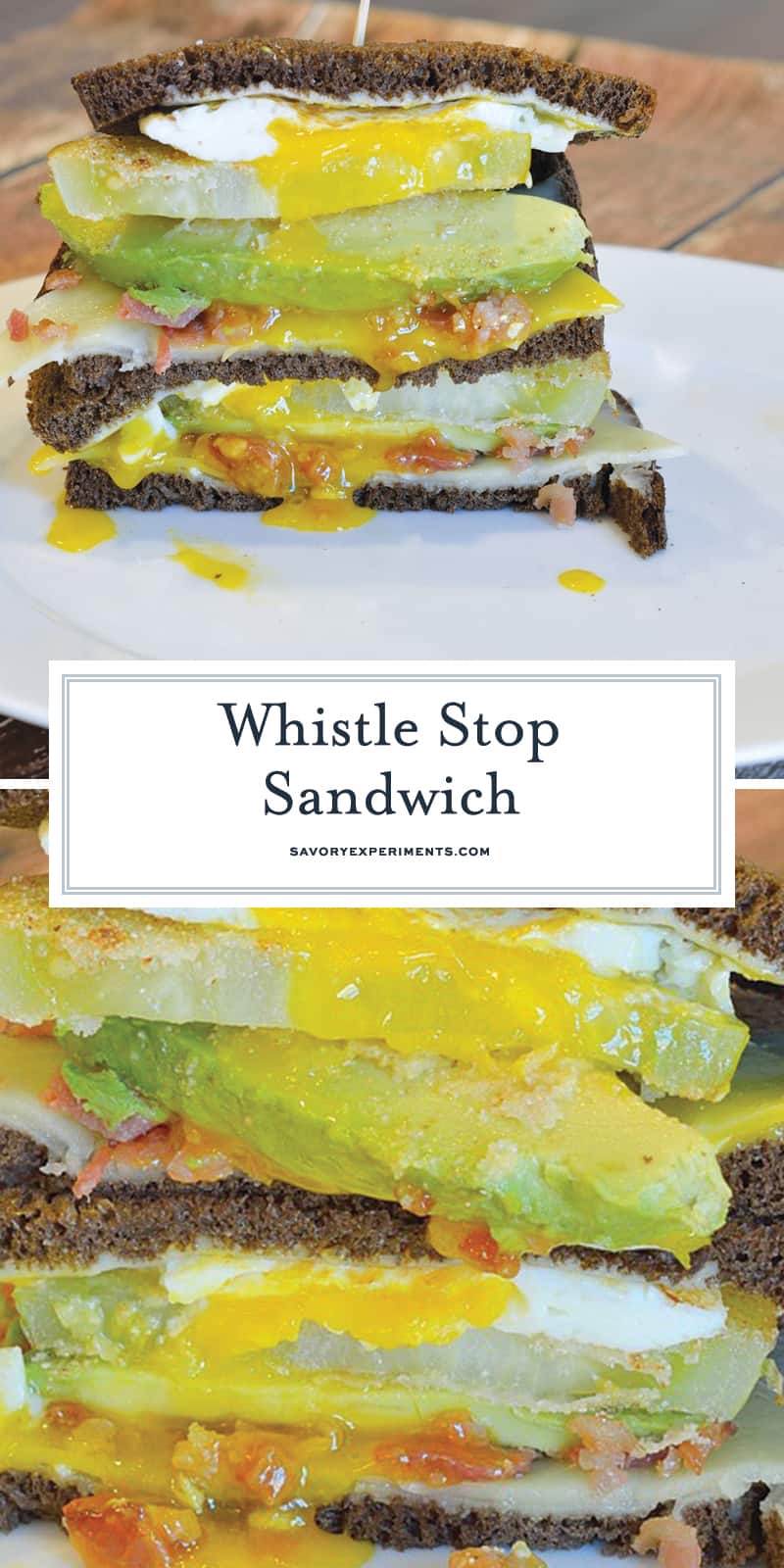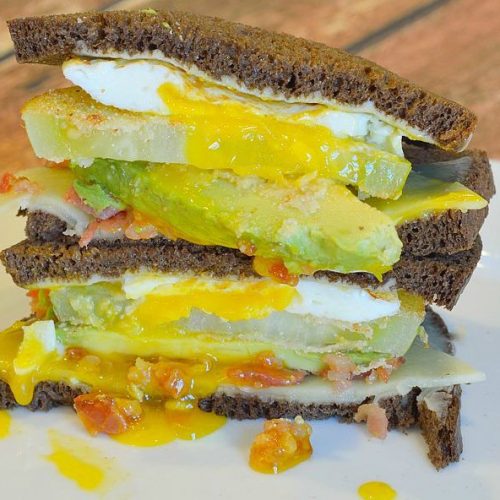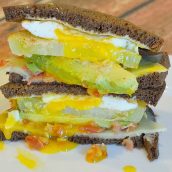 Whistle Stop Sandwich (Fried Green Tomato, Bacon, Avocado, Fried Egg and Cheddar Sandwich)
The Whistle Stop Sandwich is a fried drippy egg, avocado, cornmeal crusted green tomato, cheddar and bacon on soft pumpernickel. Crunchy, creamy, sweet and savory.

Ingredients
4

slices

fried green tomato

4

slices

pumpernickel bread

4

slices

sharp white cheddar cheese

1

avocado

pitted and thinly sliced

4

strips of bacon

halved cooked to desired crispiness

2

fried eggs

cooked as desired
Instructions
Heat oven to 350 degrees. Place pumpernickel slices on a baking sheet with 1 slice of white cheddar on each slice. Bake for 2-3 minutes or until bread is warm and cheese is turning opaque and starting to melt.

Add 2 slices of fried green tomato, 1/2 avocado, 4 strips of bacon and an egg to each sandwich.

"Tighten it up" as my nephew says….. meaning smoosh down all fillers to a height appropriate to stuff in your mouth. Enjoy!

If you tried this recipe, come back and let us know how it went!
Notes
** To make a perfect round egg for a sandwich, use a biscuit cutter or round cookie cutter. Hold down tight with a spatula or tongs (I couldn't because I had to take a picture!) When whites have set, flip and cook as desired.
Nutrition
Calories:
854
kcal
,
Carbohydrates:
36
g
,
Protein:
32
g
,
Fat:
64
g
,
Saturated Fat:
21
g
,
Cholesterol:
251
mg
,
Sodium:
1023
mg
,
Potassium:
879
mg
,
Fiber:
10
g
,
Sugar:
2
g
,
Vitamin A:
1200
IU
,
Vitamin C:
19.4
mg
,
Calcium:
481
mg
,
Iron:
3.6
mg