If you're looking for an easy chocolate fudge recipe chock full of rich chocolate flavor, you've found it! With only a few minutes of cooking time but tons of classic fudge flavor, this Fantasy Fudge may just be the perfect fudge recipe.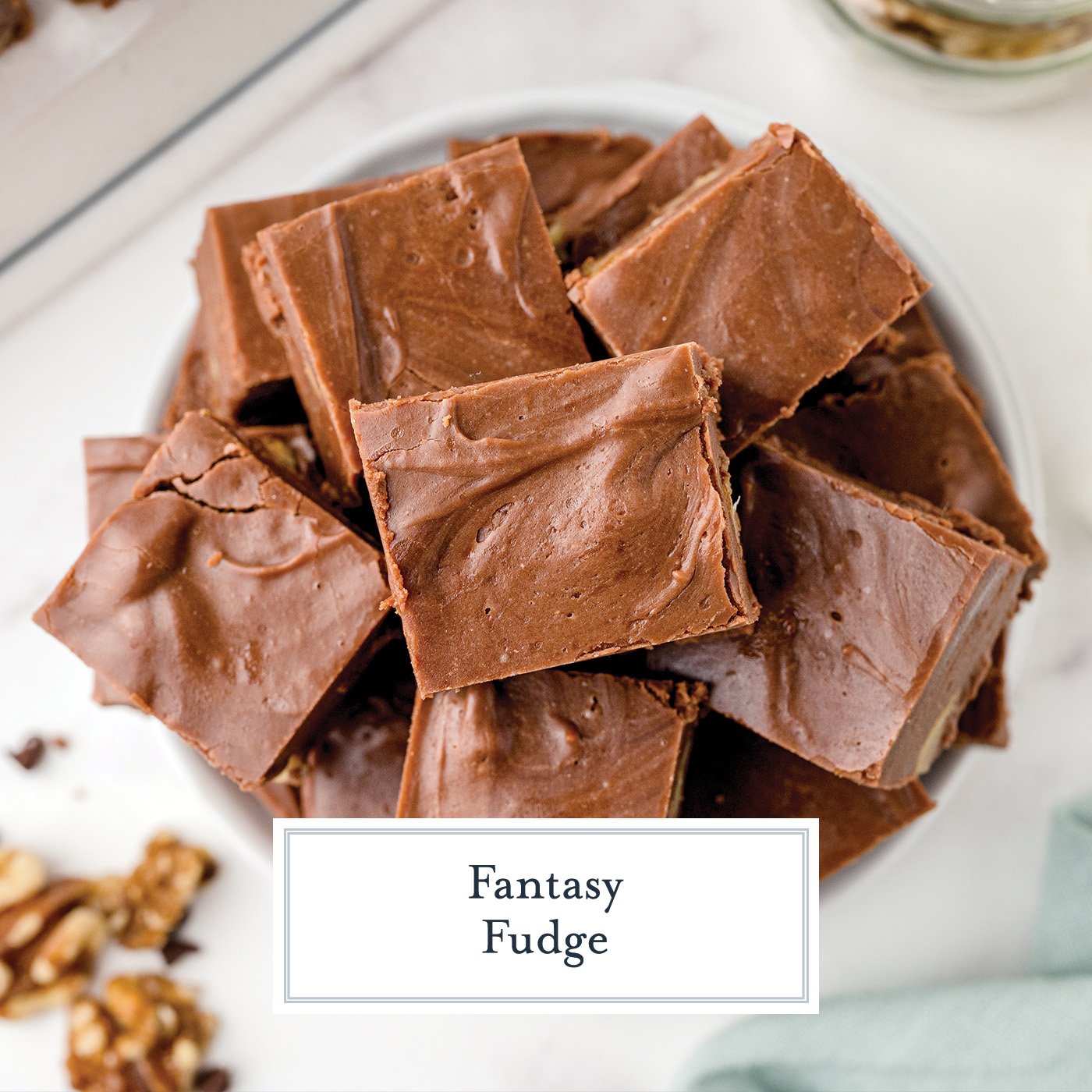 The best part of this recipe is that there are no fancy techniques or equipment needed. Just a few basic supplies and a candy thermometer are all you need.
The next time you need a quick recipe to take to holiday parties, or you just want a fudgy snack any time of year, try this super simple fudge recipe.
What is Fantasy Fudge?
While many fudge bases are made from sweetened condensed milk or cream and sugar, this special fudge uses marshmallow creme (marshmallow fluff). Thus, it is sometimes called marshmallow fudge or even marshmallow creme fudge.
It was developed by Kraft when they were trying to find more recipes that used their signature marshmallow creme. It creates a smooth and lighter texture than sometimes dense fudge, but still is smooth and velvety.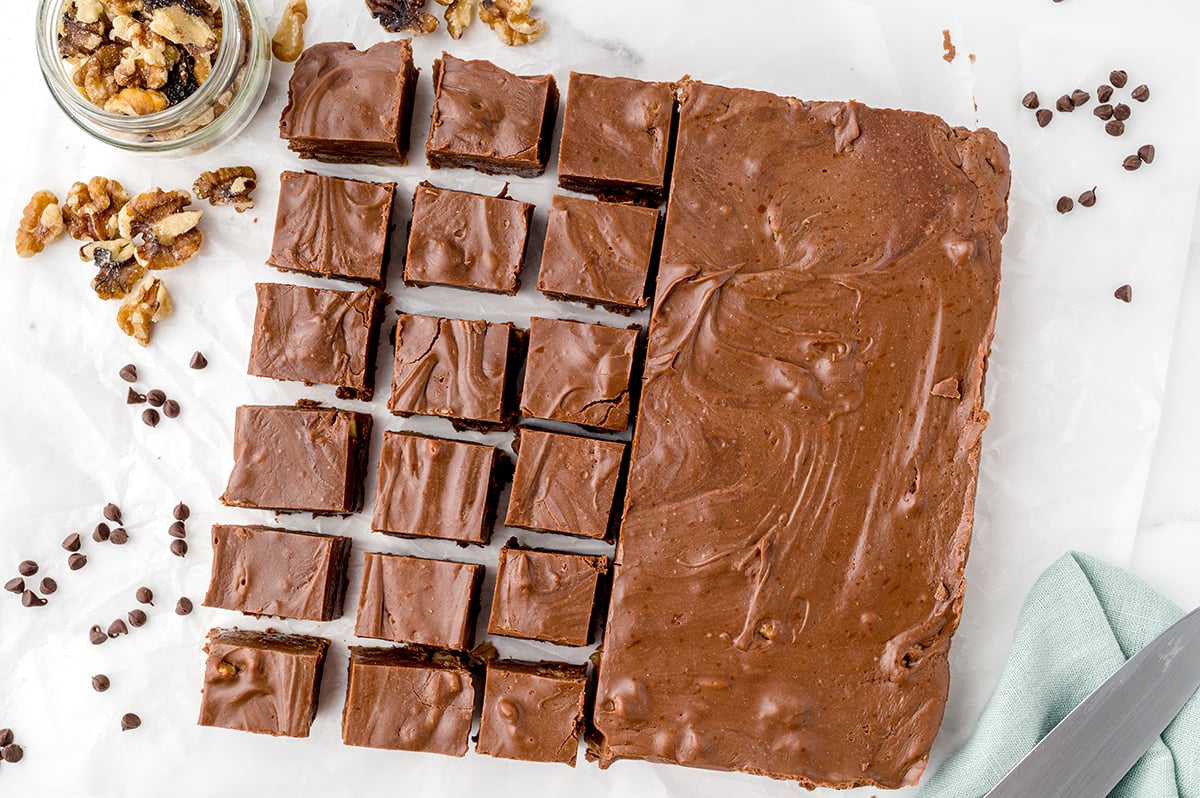 Why You'll Love Original Fantasy Fudge Recipe
If your house is full of chocolate lovers like mine, you'll love this easy version of a classic fudge recipe.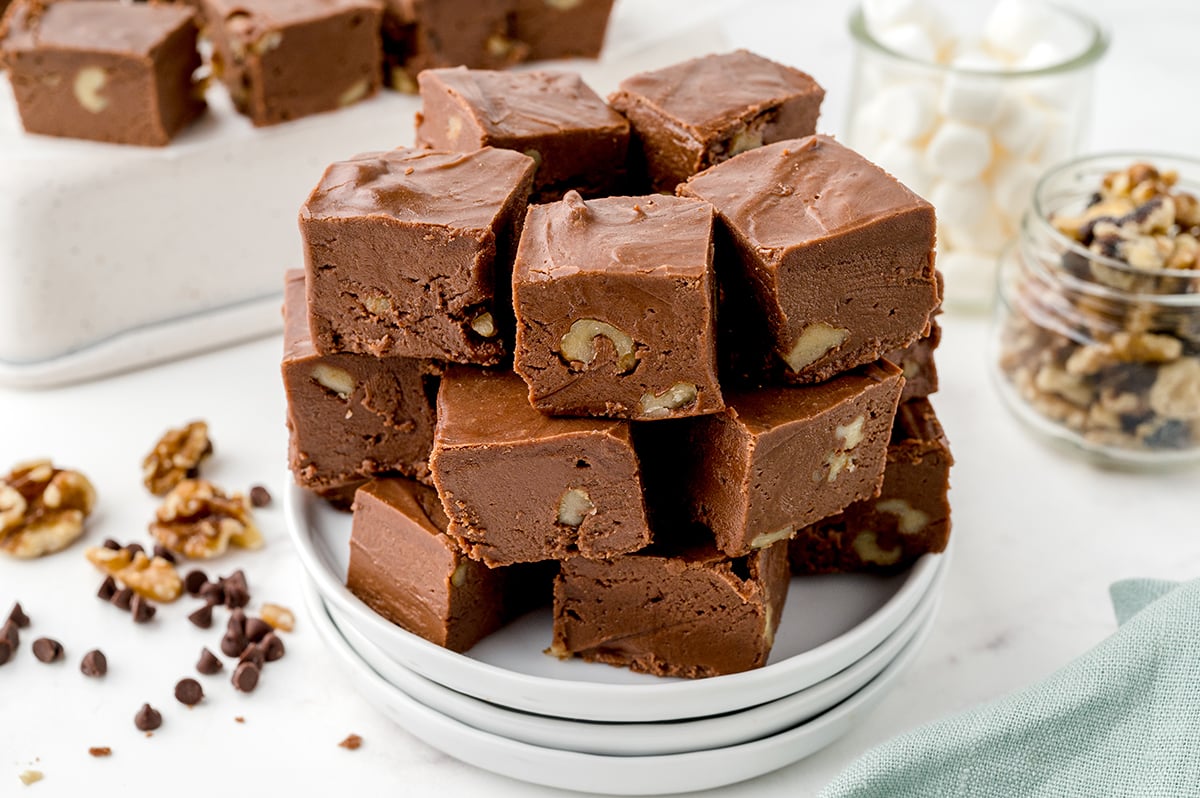 Ingredients for Easy Chocolate Fudge?
One of the best things about this easy fudge recipe is that the simple ingredients are easy to find at any grocery store.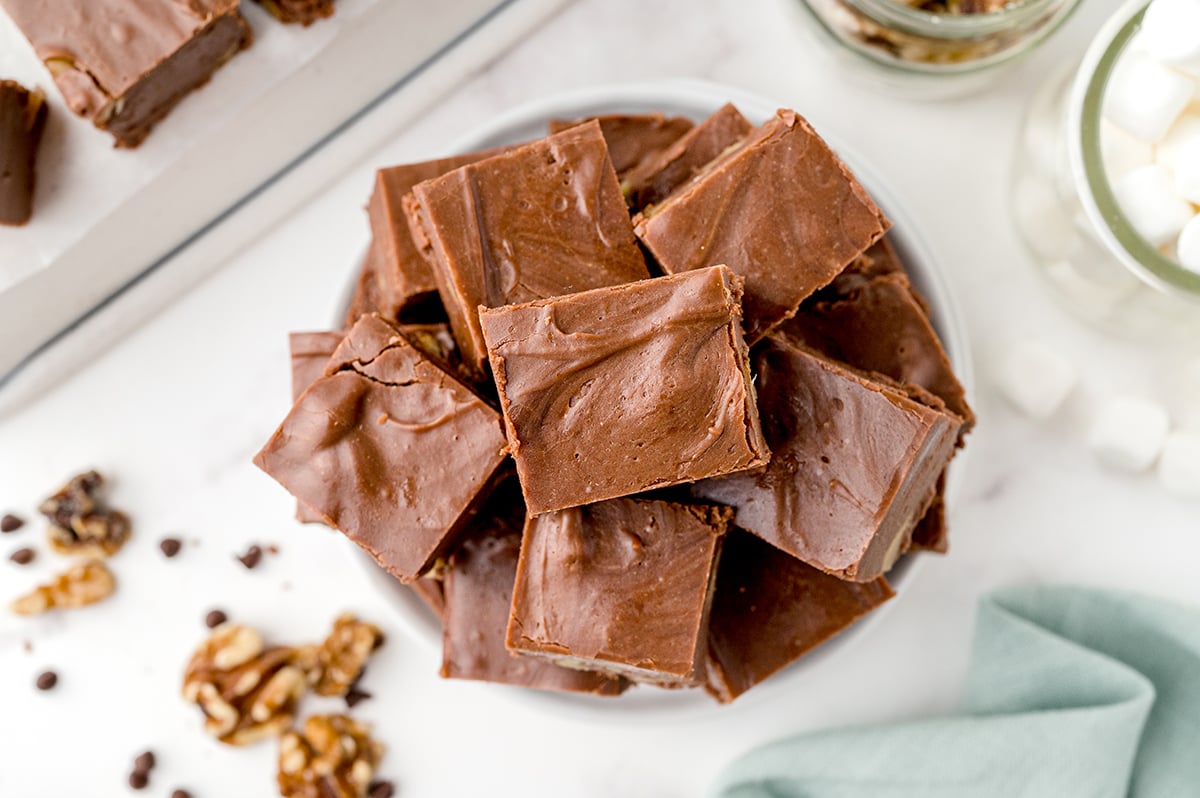 How To Make Fantasy Fudge
This may become your go-to chocolate fudge recipe — it's that easy!
Boil sugar, butter and evaporated milk. Add sugar, butter, and evaporated milk to a medium saucepan. Bring it to medium heat, stirring the ingredients constantly with a wooden spoon while they are at a full rolling boil.
Remove from heat. Once the mixture reaches the recommended temperature on the candy thermometer of 234°F, take it off the heat. This is the temperature is needs to be to reach the soft ball stage of candy making which means enough of the water has evaporated and the sugar has concentrated.
Add the remainder of the ingredients to the hot mixture and stir until the marshmallow creme is melted and the walnuts and vanilla are fully incorporated.
Add to pan. Pour the fudge mixture into the prepared pan lined with aluminum foil or parchment paper. Use a rubber spatula to create an even layer.
Allow to cool. Allow the finished fudge to come to room temperature before removing it from the pan and slicing.
What to Serve with Fantasy Fudge
Easy chocolate fudge is a great sweet treat all by itself, but you can also use it to garnish ice cream or put it on a seasonal cookie tray. It's also delicious dunked in homemade whipped cream or drizzled with caramel sauce.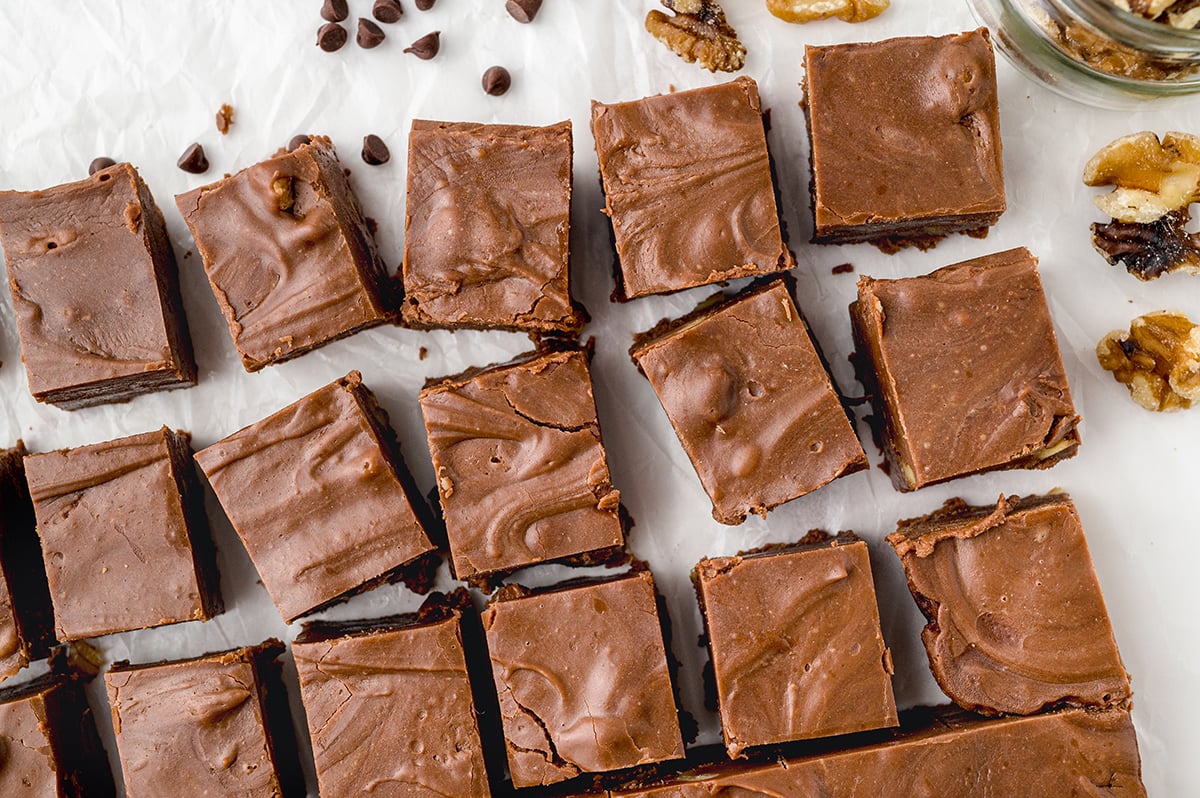 Variations
There are lots of different ways you can take the original recipe for this fantasy fudge and make it your own.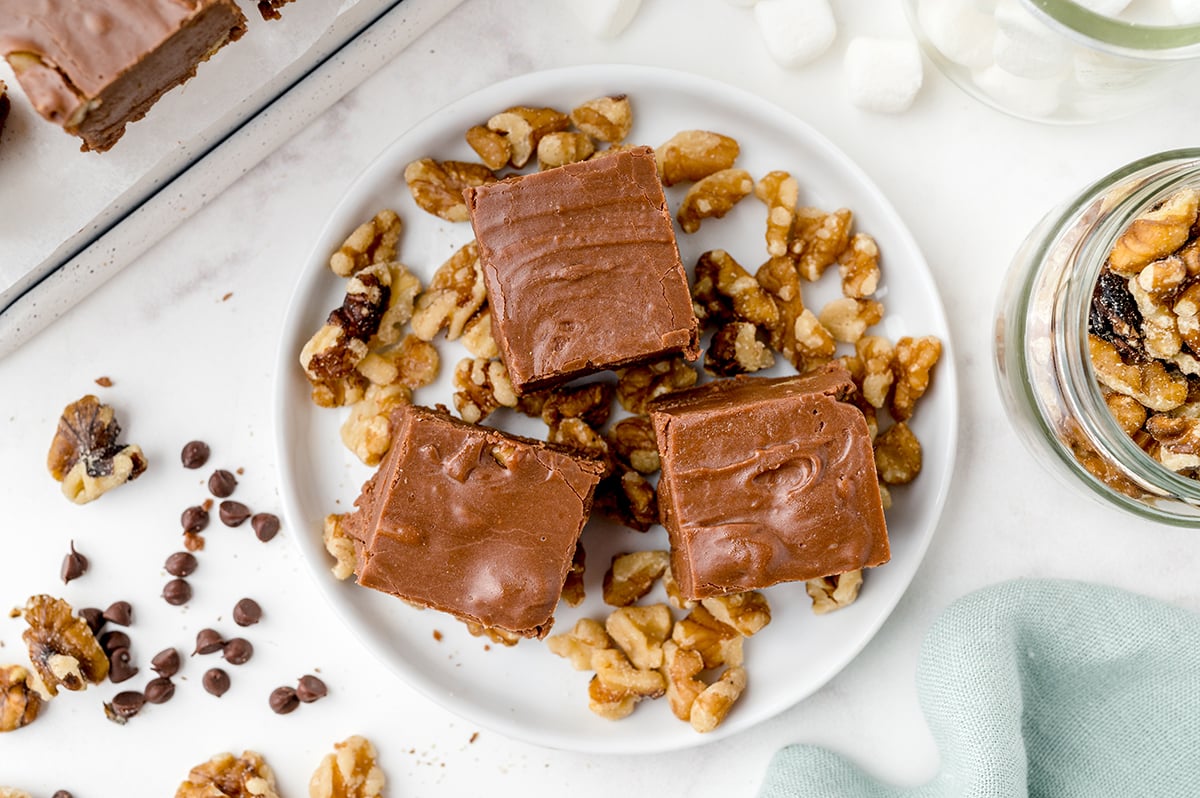 Storage and Freezing
Storage: Store fudge in an airtight container or wrapped in plastic wrap at room temperature for 2-3 weeks. Be sure to keep the fudge in a dry, cool place and avoid refrigerating because it will dry out.
Freezer: This classic recipe can also be frozen. Freeze it for up to three months in a freezer bag, but keep in mind it will be a little drier when thawed. Also, place wax paper in between fudge pieces to prevent them from sticking.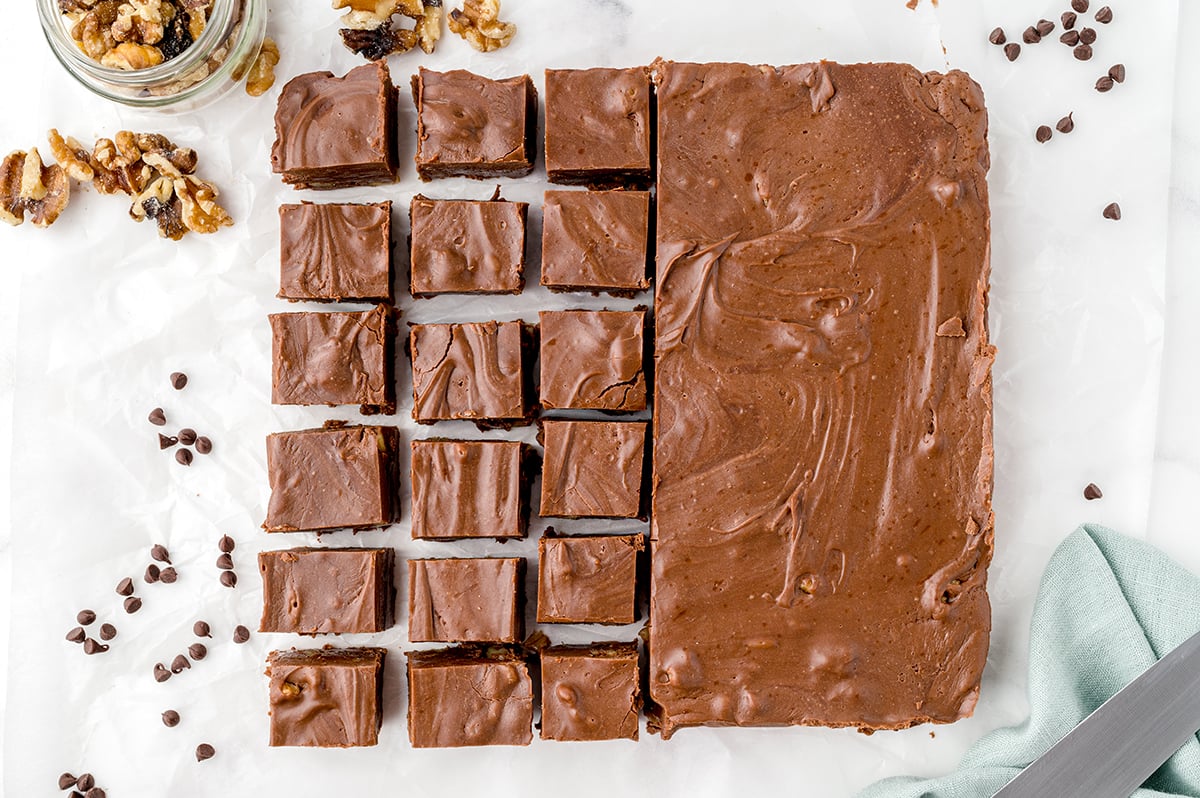 Frequently Asked Questions
What is the secret to making fudge?
The number one key to making the best fantasy fudge is to pay close attention to your candy thermometer so you know exactly when it has reached the right temperature.
What makes high-quality fudge?
High-quality fudge is the result of attention to detail in terms of timing. Avoid overcooking fudge because it will be hard and dry, and don't overcook it — then it will be too soft.
Why is my homemade fudge not hardening?
You need to cook your fudge to just the right temperature in order for it to harden. Make sure you use a candy thermometer to be precise.
What if my fudge doesn't reach 234°F?
If the mixture does not reach the intended temperature, it will be soft with too much liquid remaining and likely gritty from the sugar not fully dissolving.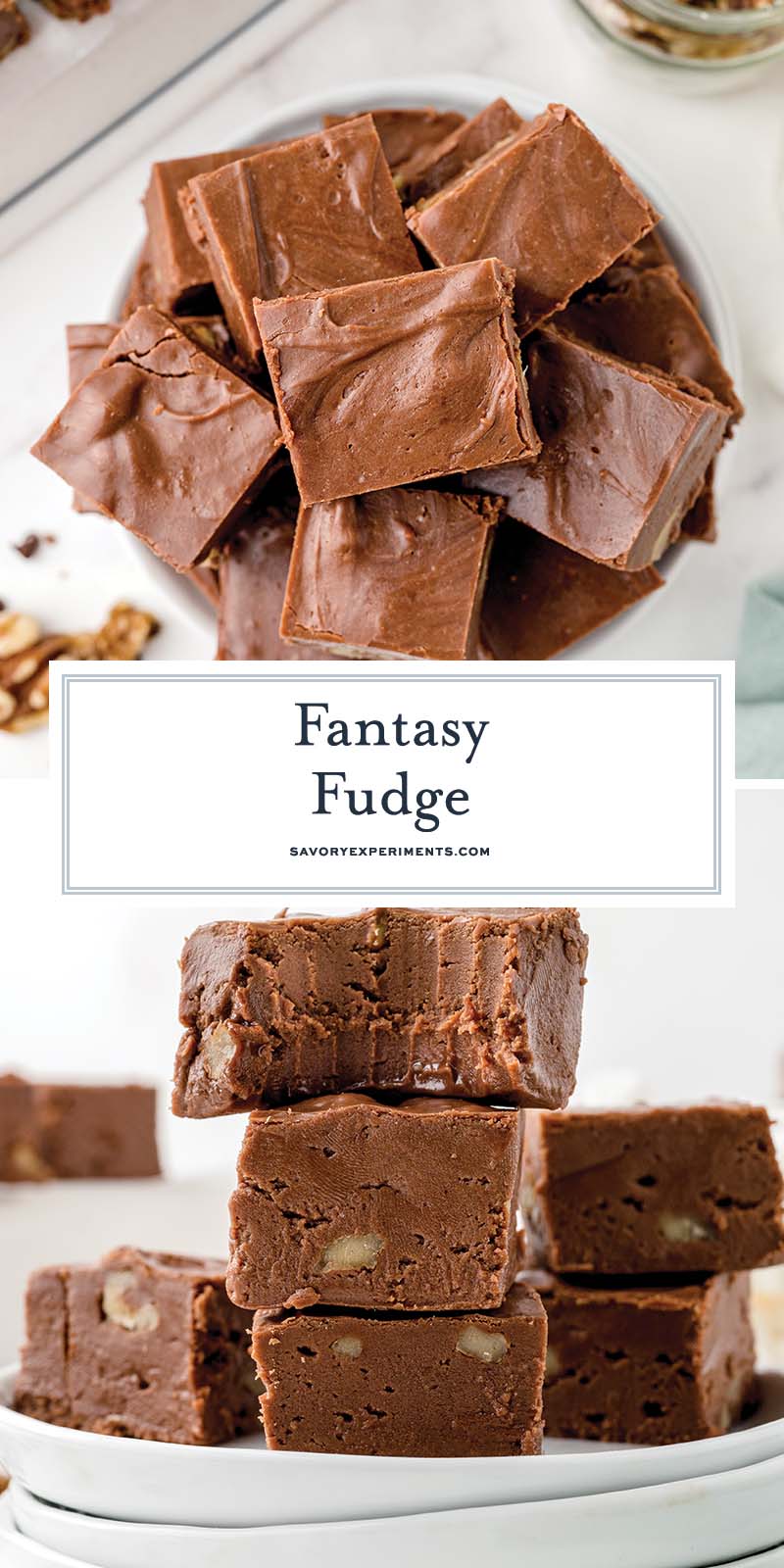 Other Sweet Treats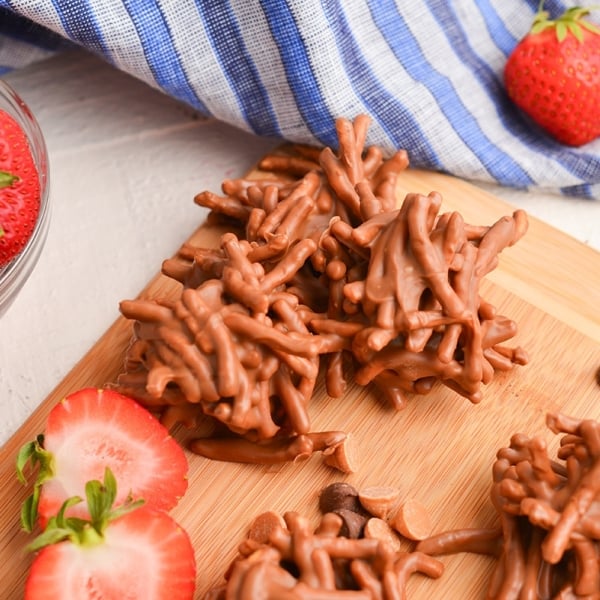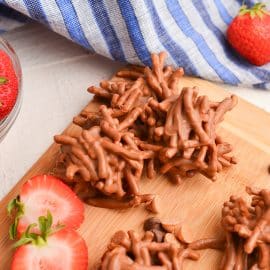 Haystack Cookies
These EASY Haystack Cookies are a luscious mixture of sweet chocolate, butterscotch, and peanut butter with crunchy chow mein noodles!
See The Recipe!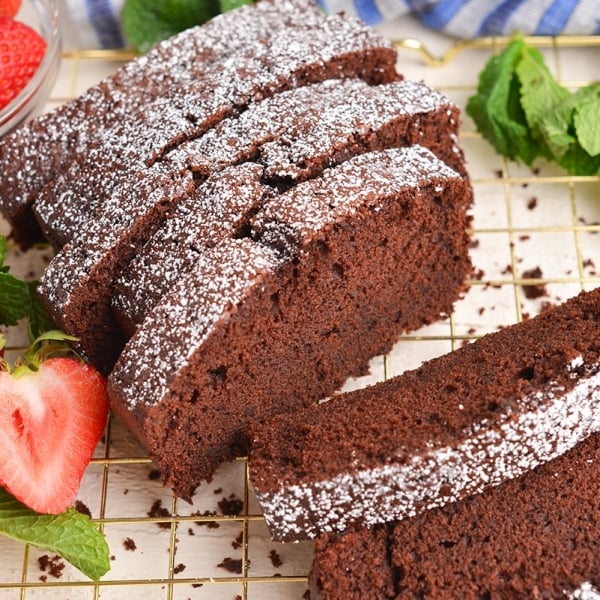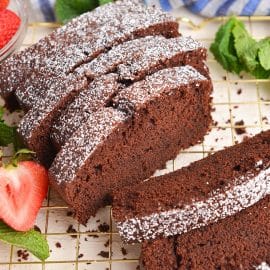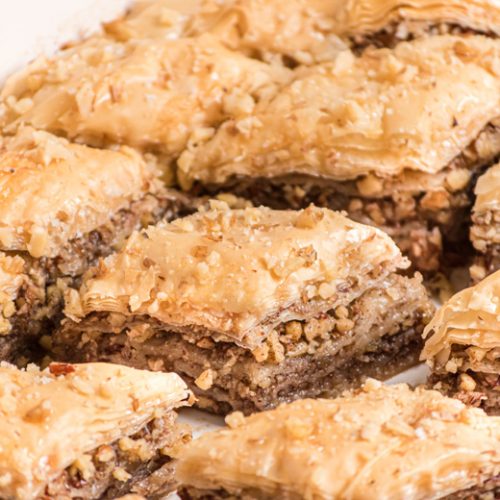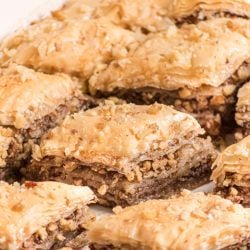 Honey Nut Baklava
With delicate layers of pastry, a slightly crunchy nutty filling and a sweet honey sauce, this is the BEST traditional Baklava recipe!
See The Recipe!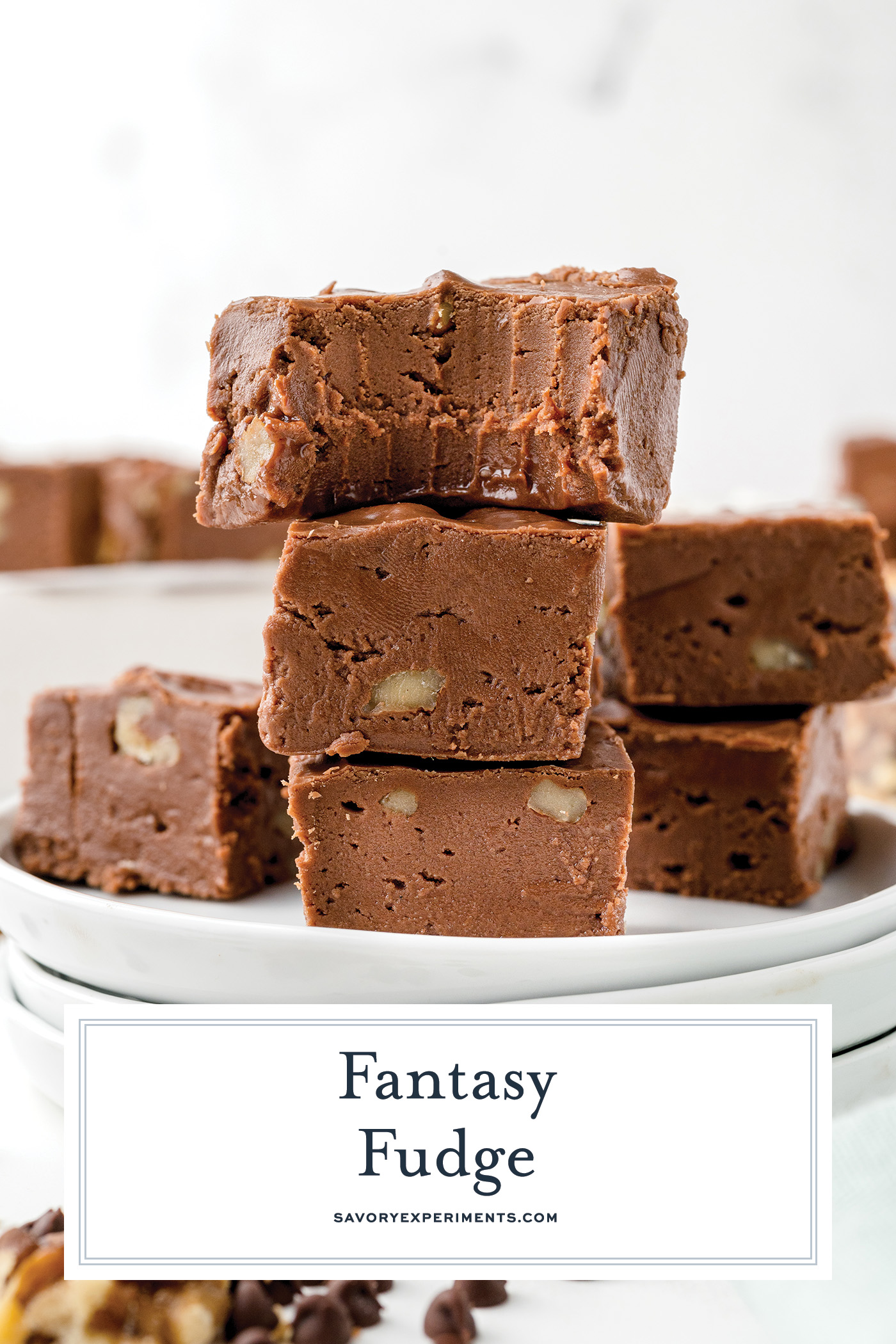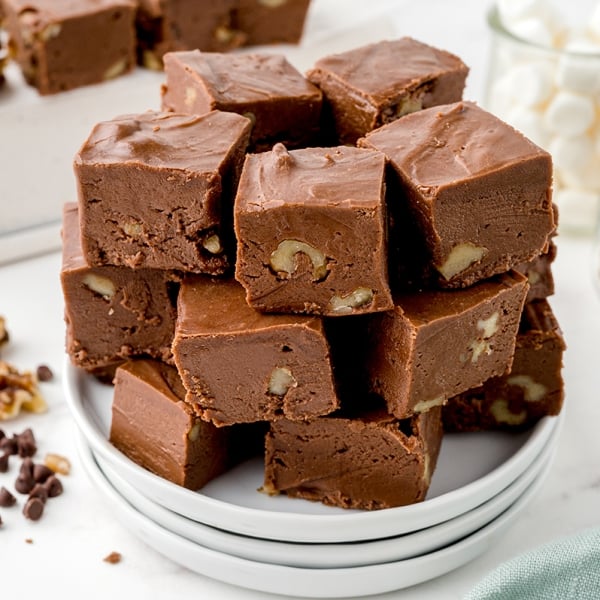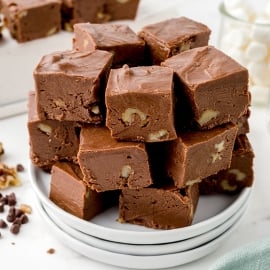 Fantasy Fudge Recipe
With only a handful of ingredients, you can have this Fantasy Fudge recipe with under 20 minutes of work! Full of nuts and chocolate!
Instructions
Line 9-inch square pan with aluminum foil or parchment paper, crisscrossing to make a sling.

Combine the sugar, butter and evaporated milk in a heavy-bottom saucepan. Bring to a rolling boil over medium heat, stirring constantly. Simmer and stir for 5-10 minutes or until it registers at 234°F on a candy thermometer. Remove from the heat.

Add the chocolate and marshmallow creme to the hot mixture; stir until melted. Add the nuts and vanilla.

Pour the hot fudge into the prepared pan; spreading evenly. Cool completely. Use foil handles to lift fudge from pan before cutting into 1-inch squares.

If you've tried this recipe, come back and let us know how it was in the comments or star ratings.
Nutrition
Calories:
575
kcal
,
Carbohydrates:
76
g
,
Protein:
4
g
,
Fat:
30
g
,
Saturated Fat:
15
g
,
Polyunsaturated Fat:
5
g
,
Monounsaturated Fat:
7
g
,
Trans Fat:
0.5
g
,
Cholesterol:
36
mg
,
Sodium:
20
mg
,
Potassium:
251
mg
,
Fiber:
3
g
,
Sugar:
69
g
,
Vitamin A:
404
IU
,
Vitamin C:
0.4
mg
,
Calcium:
68
mg
,
Iron:
2
mg