This haystack cookies recipe combines a luscious mixture of sweet chocolate, butterscotch, and peanut butter with crunchy chow mein noodles for an easy treat that takes nearly no time to make.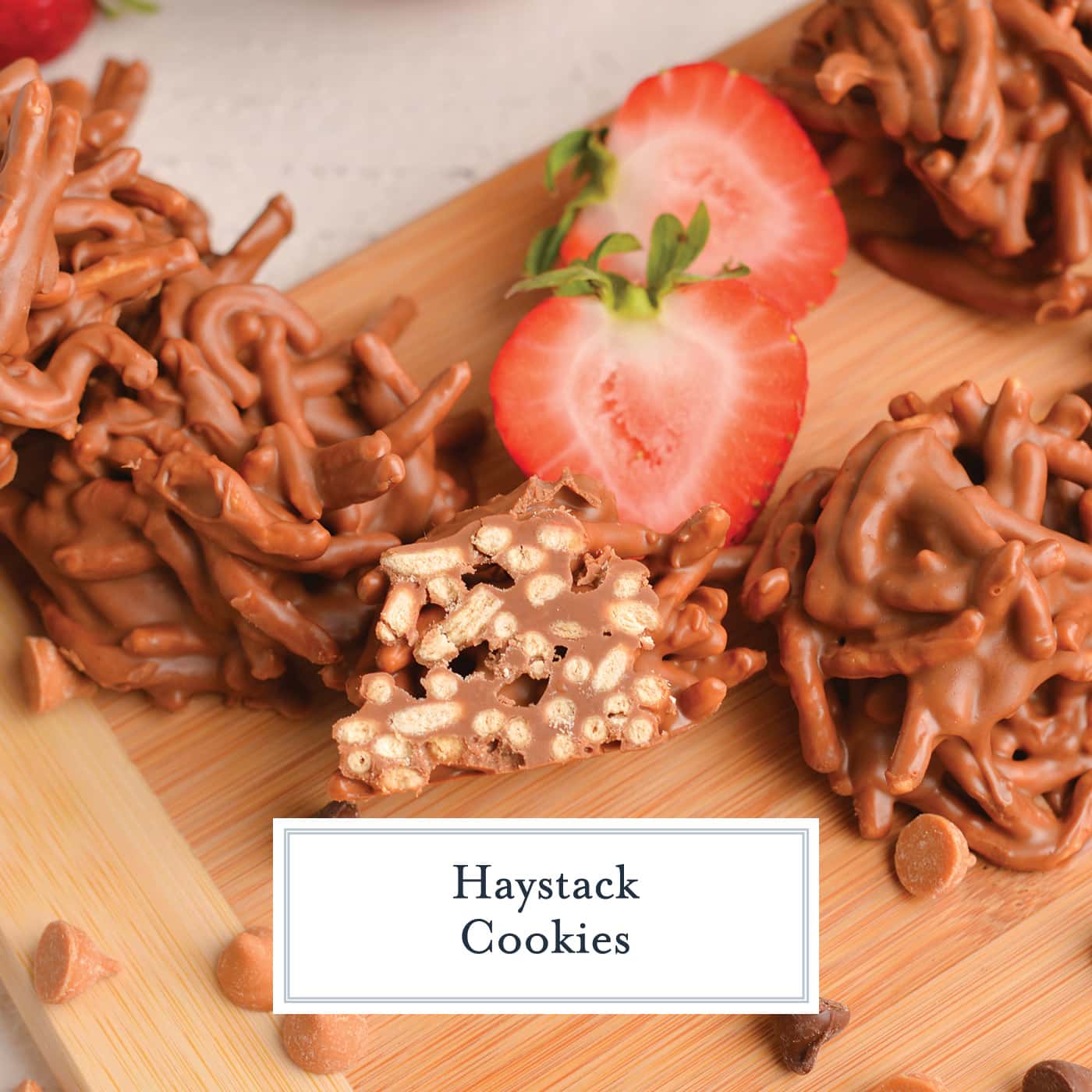 These very well may be the easiest cookies you'll ever make. There's no baking involved, and forming them is simple, too.
The next time you're looking for no-bake recipes, give this one a try. They may just become your new favorite cookie.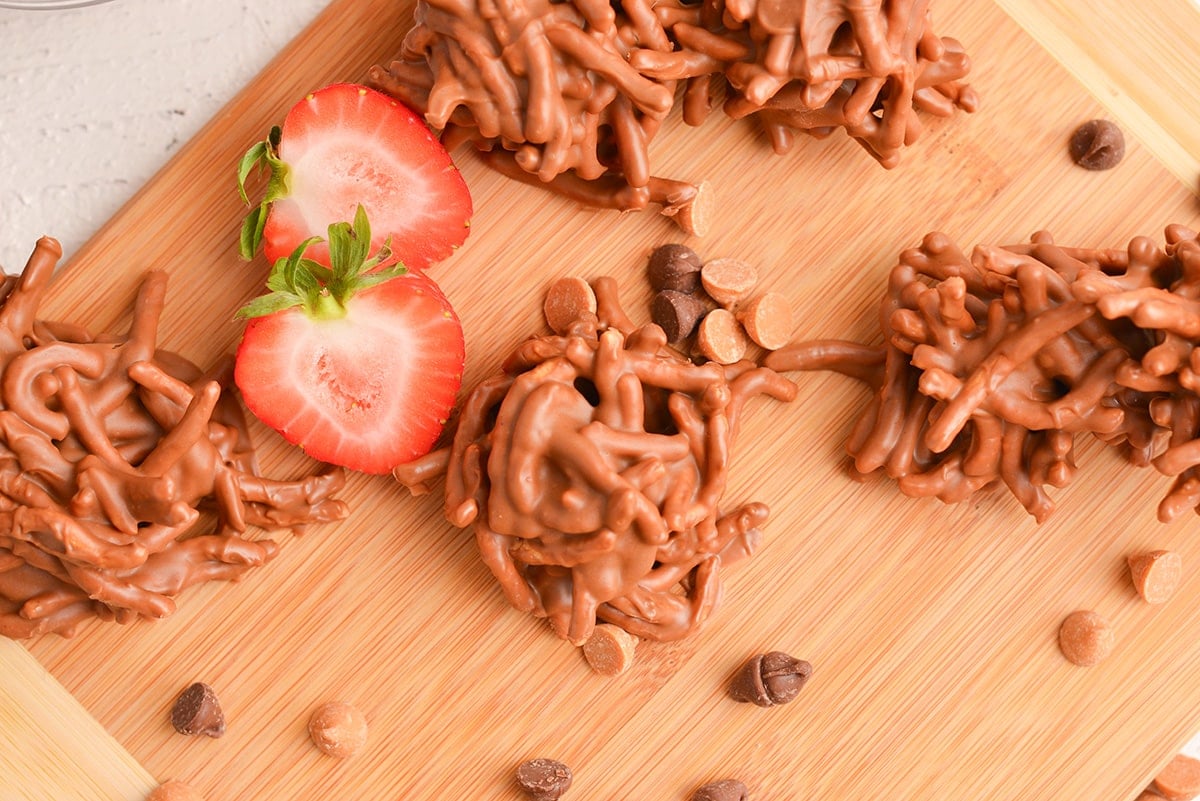 Why You'll Love Haystack Cookies
A crunchy no bake cookie that only requires 5 ingredients– what's not to love!
Easy – These no bake haystack cookies couldn't be any easier! Just a couple minutes of microwaving is all you need before tossing the noodles and forming the cookies.
Convenient – You can easily find the ingredients at the grocery store, and you can keep them on hand in the cabinet until you're ready to make them.
Versatile – These cookies are always a huge hit, so they're as perfect for parties and holiday cookie trays as they are for casual events or slipping into lunchboxes.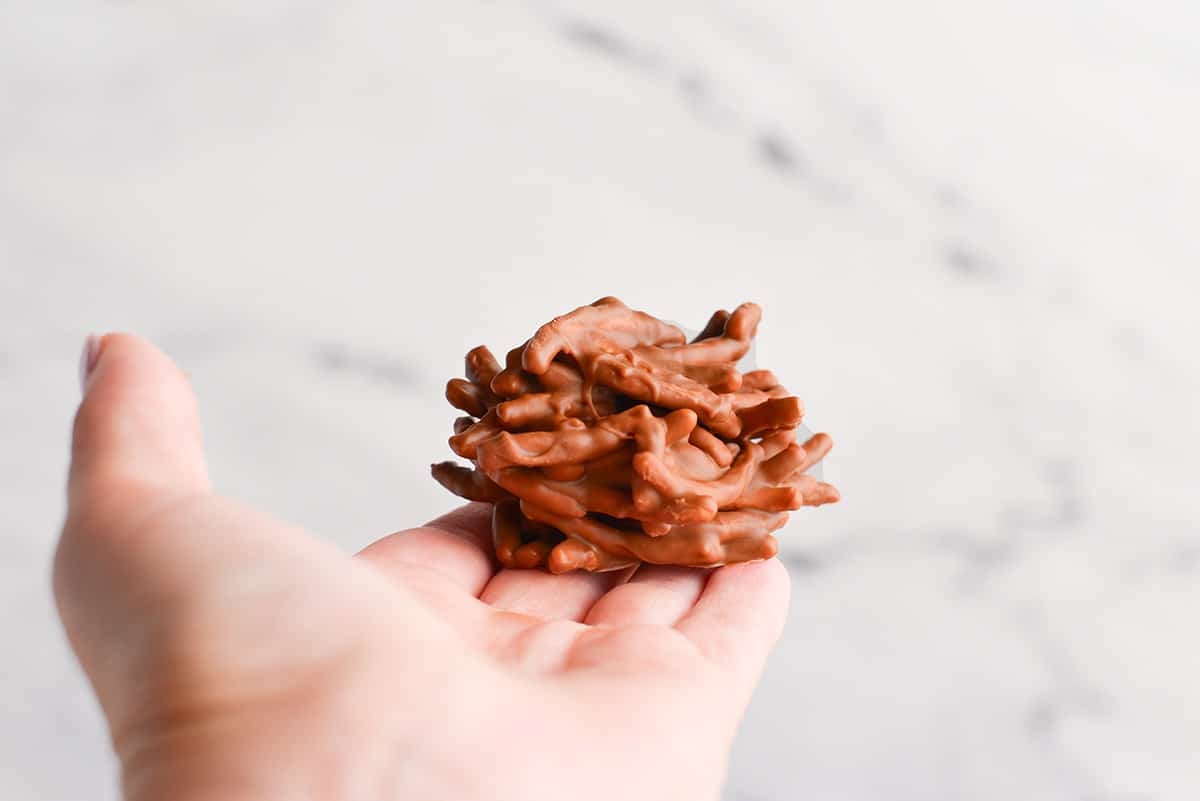 Ingredients
A handful of super simple ingredients is all you need to make this incredibly easy sweet treat.
Semi-sweet chocolate chips – While I prefer this type of chocolate, you can use any kind of chocolate that you like — dark chocolate or milk chocolate chips will work well, too.
Butterscotch chips – You can find these in the baking aisle near the chocolate chips.
Peanut butter – I prefer to use creamy peanut butter, but you can use crunchy peanut butter if you like. If you use natural peanut butter, be sure to stir it well so that the oil is evenly dispersed.
Vegetable shortening – This helps to create the creamy and silky texture of the mixture.
Chow mein noodles – These noodles give the cookies their crunchiness.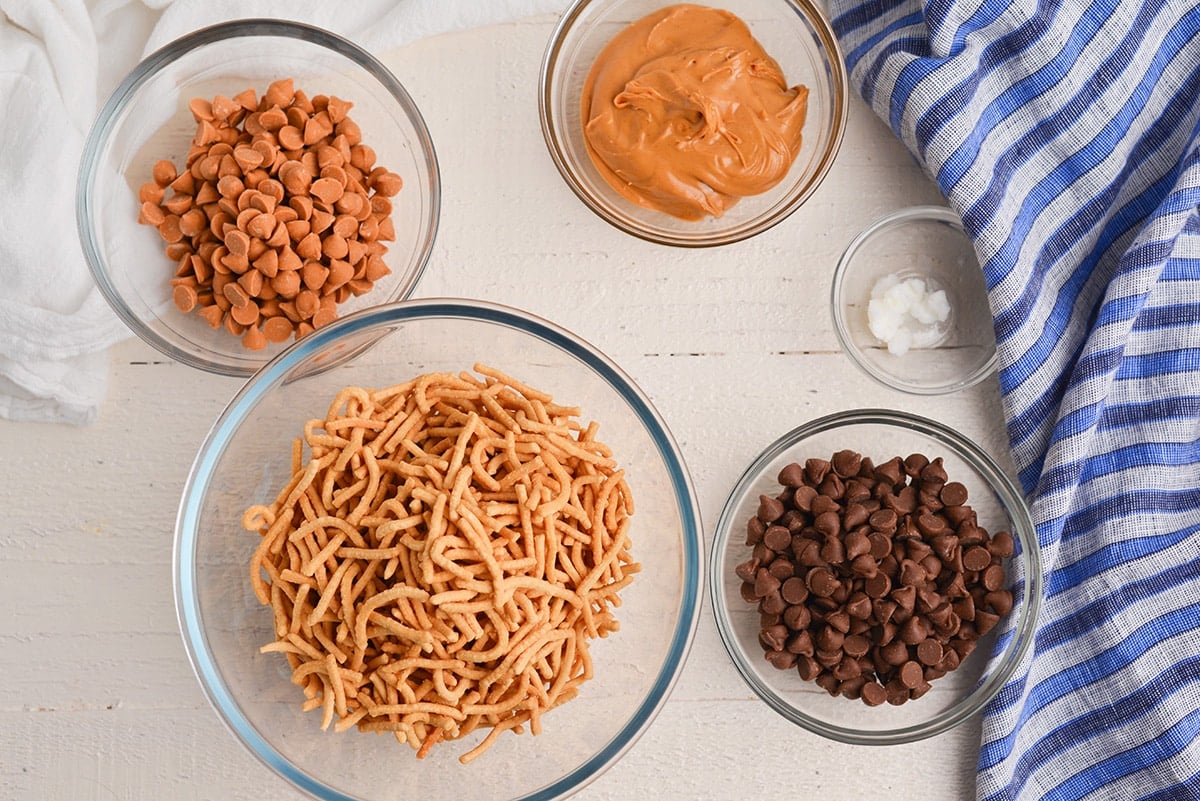 How to Make Haystacks
You are going to love how easy it is to make these no bake cookies!
Melt. Combine butterscotch chips, chocolate chips, peanut butter, and shortening in a large microwave-safe bowl. (Alternatively, you can melt the chocolate chips and peanut butter chips using a double boiler and then mix in the other ingredients.) Microwave the ingredients in intervals of 30 seconds, stirring after each.
Add Crunchies. When the melted chocolate mixture is silky smooth, gently fold in the chow mein noodles, covering them completely.
Form. Then, create the haystacks by making even-sized mounds with two spoons. You can also use a medium cookie scoop. Place each mound on a prepared baking sheet lined with parchment paper or wax paper.
Chill. Refrigerate the haystacks so that they can set.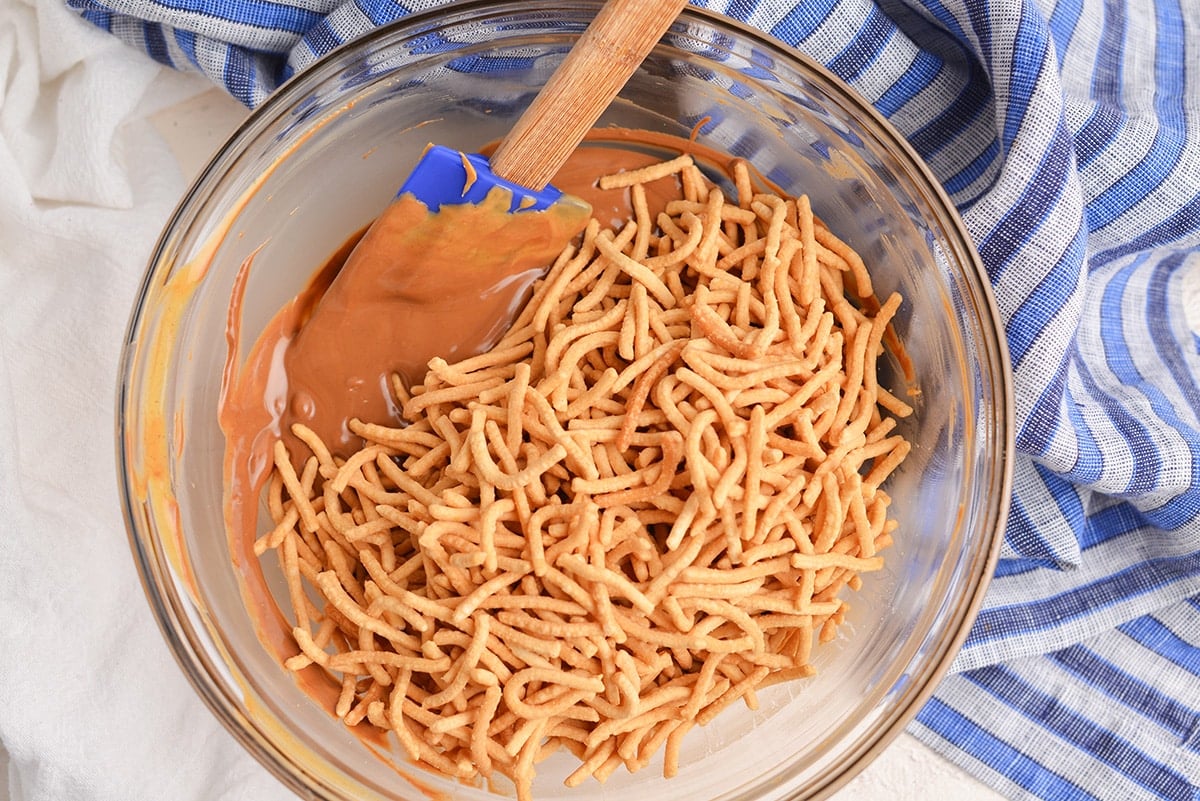 What to Serve with Haystack Cookies
These cookies are perfect for a holiday spread with other easy cookies like no bake avalanche cookies, butterscotch no bake cookies, or classic no-bake cookies. They're also good any time of year with a steamy cup of coffee, a whipped dalgona coffee, or a cold glass of milk.
You can also dip these sweet cookies into whipped cream or use them to garnish a bowl of ice cream.
Variations
This recipe is a great base that you can get creative with!
Spices – Add cinnamon or nutmeg for warm flavor, or sprinkle in some cayenne for some fiery little haystacks.
Pretzels – For a sweet and salty treat, substitute pretzels for the chow mein noodles.
Dried fruit – Fold in some raisins or craisins.
S'mores – Add crushed graham crackers and mini marshmallows.
White chocolate – Swap out the semi-sweet chips for white chocolate chips.
Other flavors – Eliminate the chocolate and butterscotch to make peanut butter haystacks or take out the peanut butter and chocolate to make butterscotch haystack cookies. Just increase the chips as needed.
Sprinkles – Add some festive sprinkles on top before refrigerating. At Christmas time, add holiday sprinkles! For Halloween, use orange and brown, or use green for St. Patrick's Day.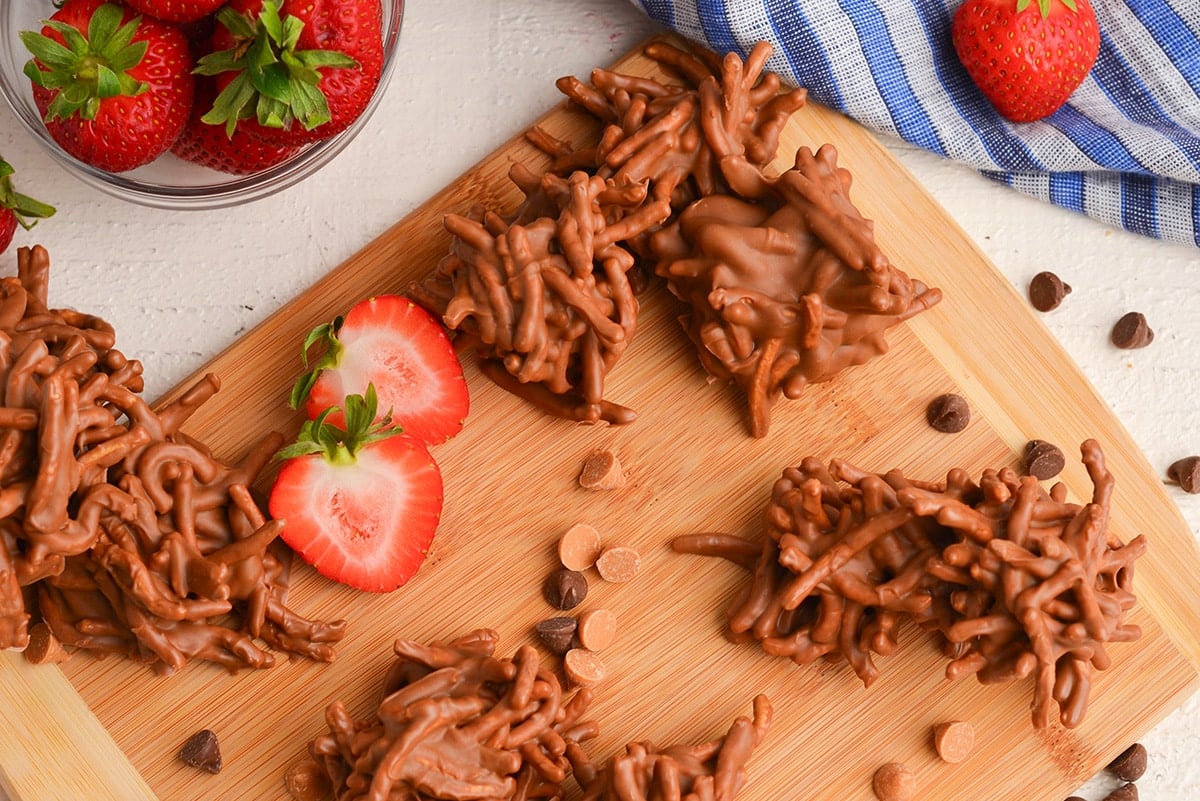 Storage
After they have set in the refrigerator, you can store these in an airtight container at room temperature for up to 2 weeks.
Can you make haystack cookies ahead of time? These are a great make-ahead cookie since they need time to set in the fridge.
How do you store haystack cookies? Place the cookies in an airtight container and store in the fridge for up to 2 weeks. They can be left at room temperature, but in a cool, dry place out of the sunlight.
Can you freeze haystack cookies? Freeze these cookies in resealable plastic bags for up to 3 months. Thaw at room temperature. Take out the whole batch or just one at a time.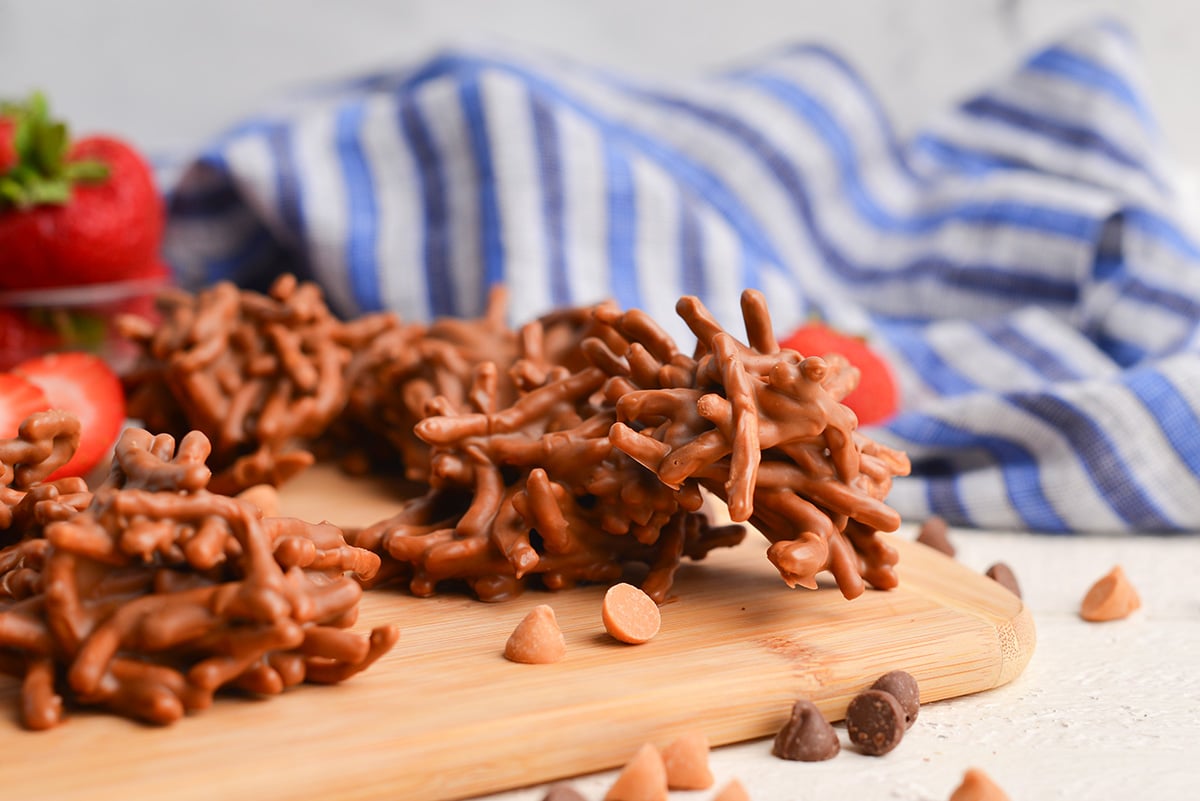 Common Questions About Haystack Cookies
Why are they called haystack cookies?
These sweet treats are called haystack cookies because they look like just that — little stacks of hay.
What are haystacks made of?
Haystacks are a simple no-bake treat made with a variety of chips like chocolate and butterscotch, as well as a scoop of peanut butter and lots of crunchy noodles.
Why are my haystack cookies sticky?
One reason that haystack cookies may be sticky is that the mixture of the sweet chips was not fully melted. Be sure to microwave the chips enough so that they are completely melted before adding the noodles.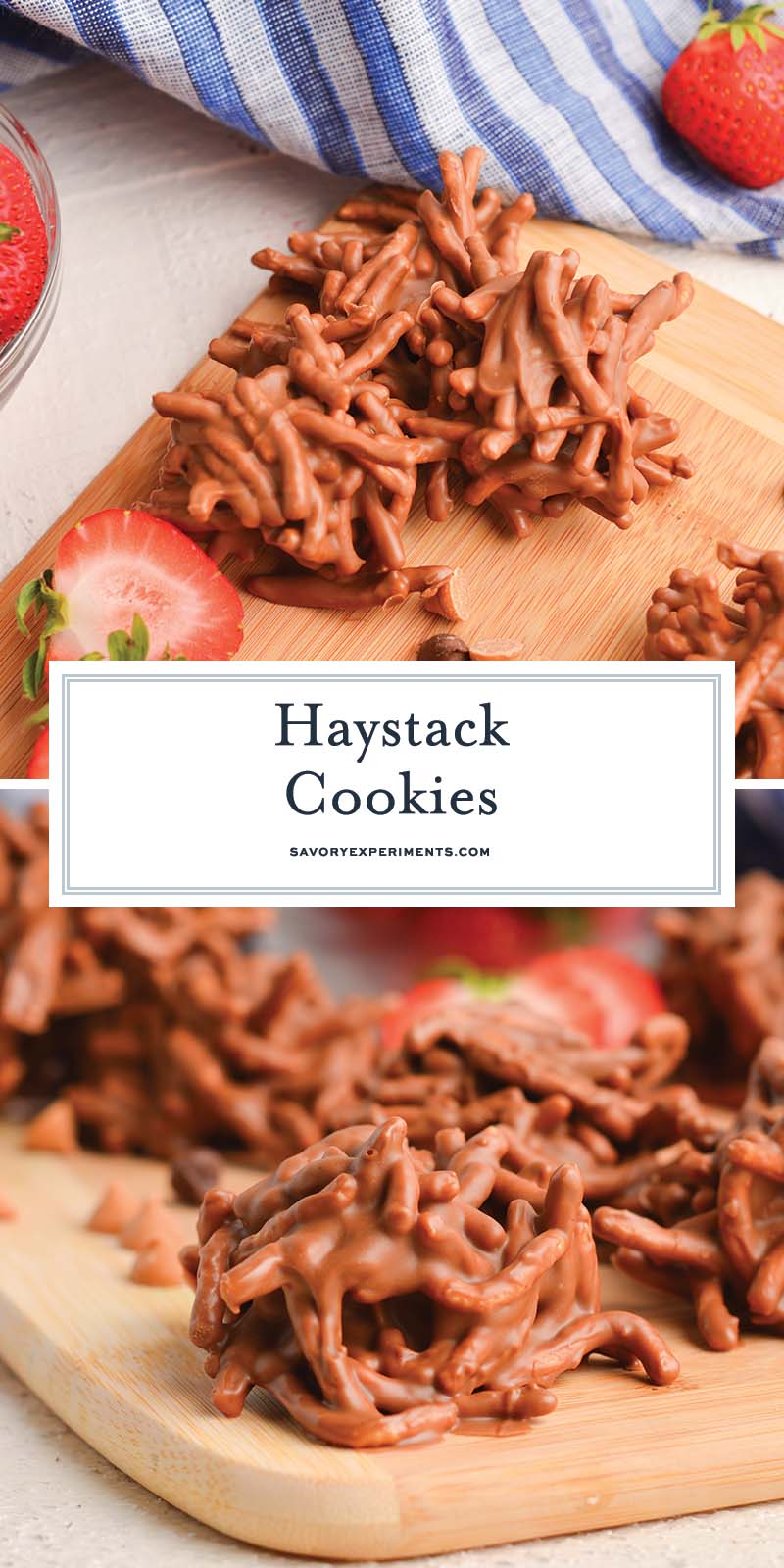 Other Easy Cookies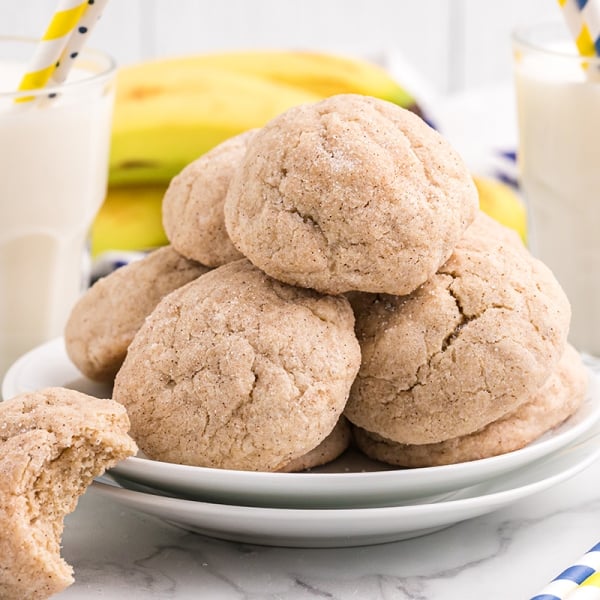 Banana Cookies
This soft banana cookie recipe is the perfect way to use up overripe bananas. Cinnamon and sugar crusted with a soft center.
See The Recipe!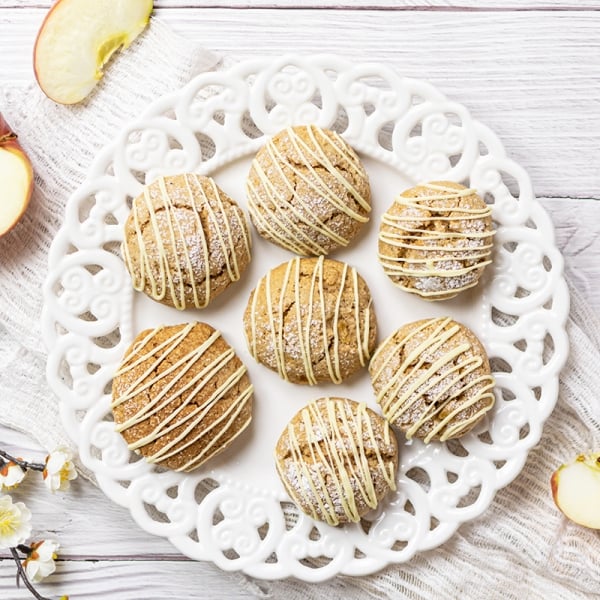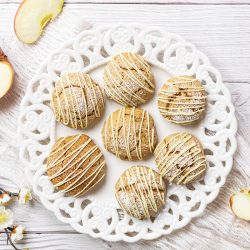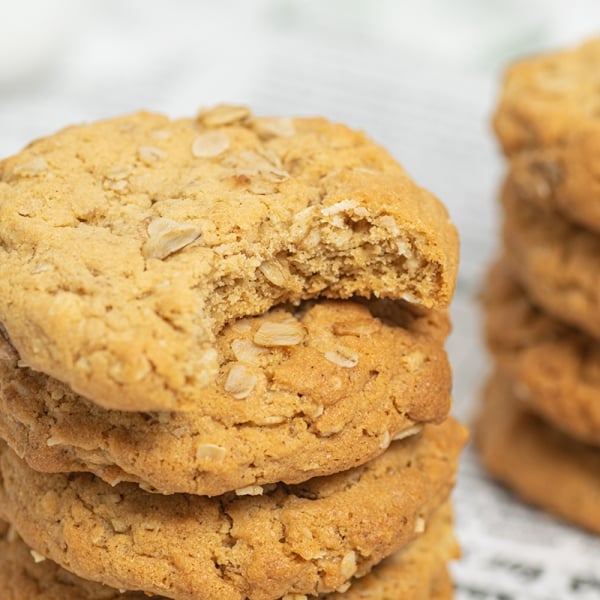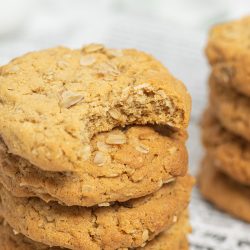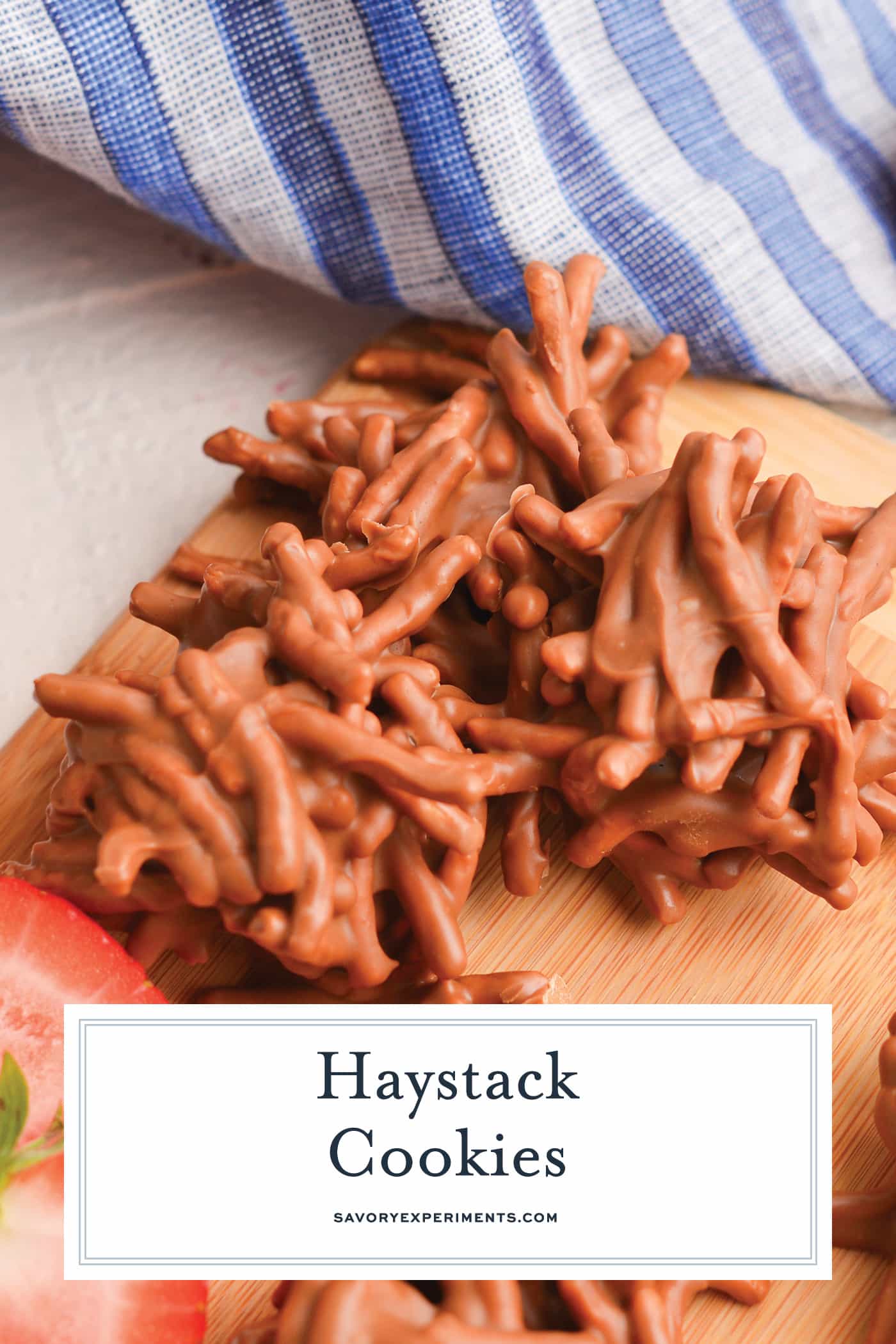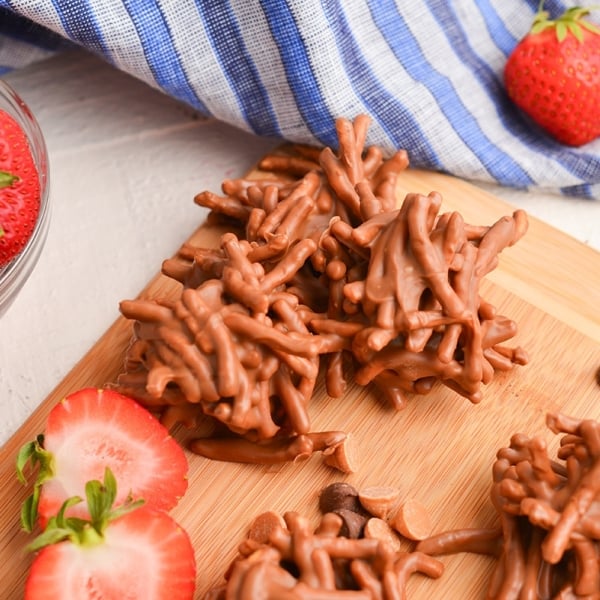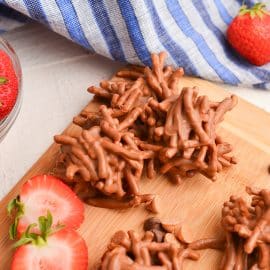 Haystack Cookies
These EASY Haystack Cookies are a luscious mixture of sweet chocolate, butterscotch, and peanut butter with crunchy chow mein noodles!
Instructions
In a large microwave-safe bowl, heat the chocolate chips, butterscotch chips, peanut butter and shortening in 30 second increments, stirring between each until smooth.

When smooth, add the chow mein noodles, folding until fully covered.

Using two spoons, make small mounds of noodles on a parchment or wax paper lined baking sheet.

Place haystack cookies in the fridge to set.

If you have tried this recipe, come back and let us know how they were in the comments or star ratings.