Creamy, sweet and delicious red velvet cheesecake bites that take only minutes to make. This recipe is easy, fun and ideal for making ahead.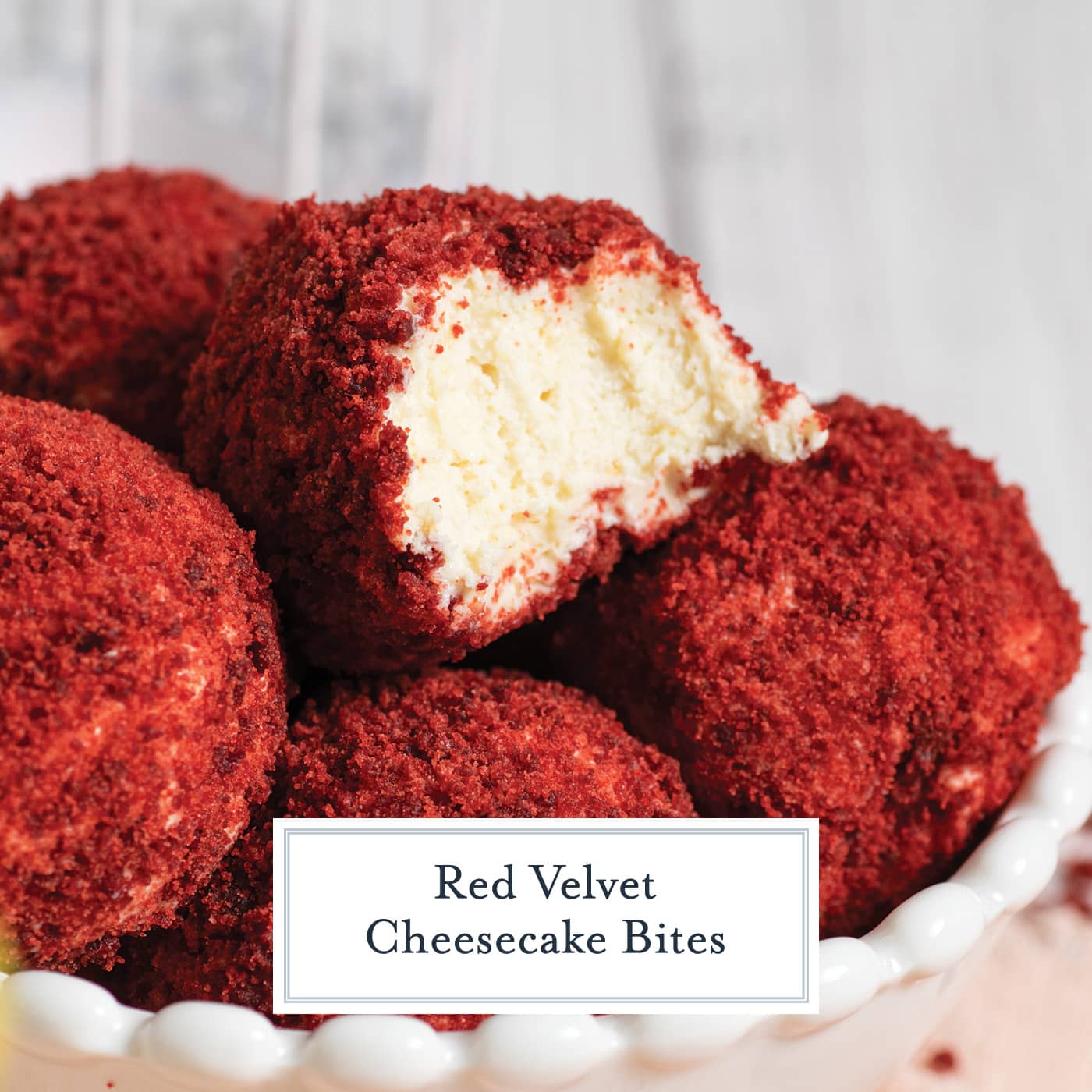 Cheesecake is hands down one of the best inventions ever created. Okay, I might be exaggerating, but it's just so good! I'm a sucker for simple recipes that also taste amazing, and no bake cheesecake balls are exactly that!
Cheesecake Balls
This red velvet variation is a playful twist on plain cheesecake balls, which adds extra fluffiness and texture. Red velvet cheesecake bites are the perfect balance of tangy cheesecake and pillowy soft red velvet cake crumb.
With only a few minutes preparation and plain ingredients, this recipe is suitable even for beginner bakers. These little treats have a silky smooth no bake cheesecake filling, which is then rolled through a fluffy red velvet cake crumb.
The red velvet cheesecake bites are great for making ahead or bringing to parties, picnics or adding to lunchboxes. I sometimes pair it with a Mini Carrot Cake.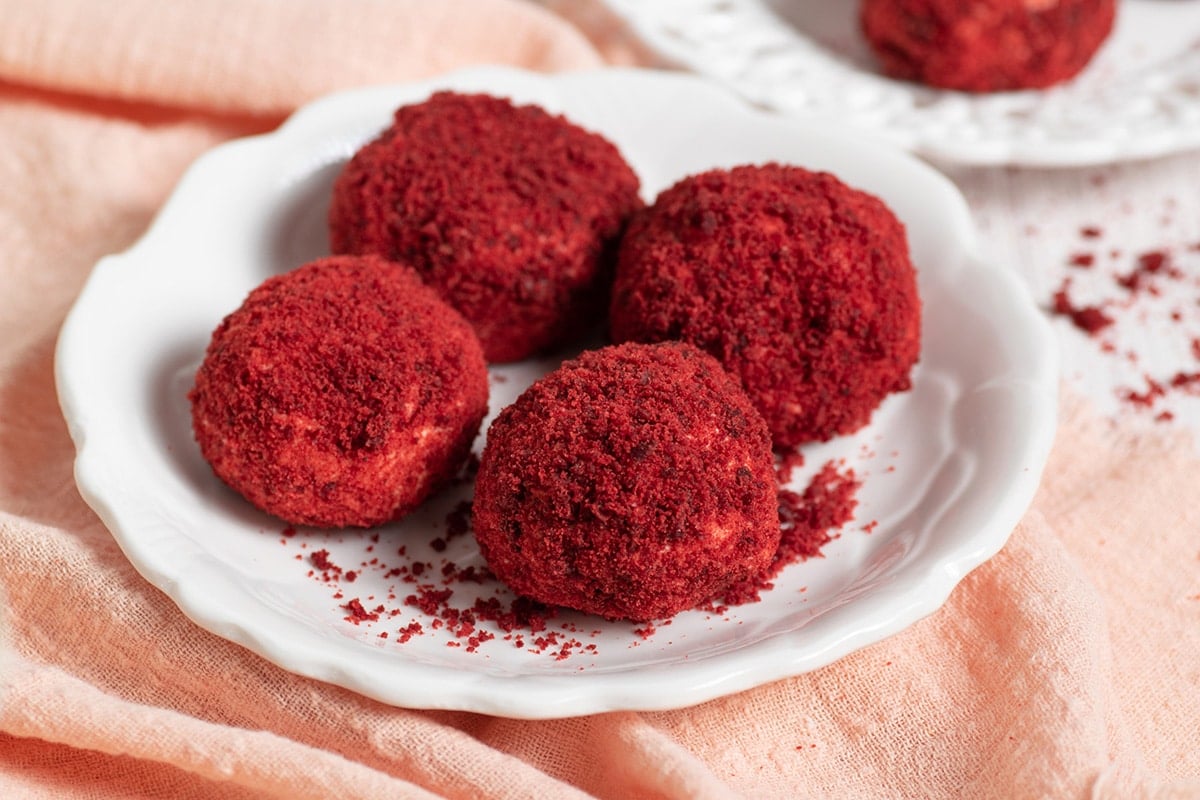 History of Red Velvet
Red velvet cake is a classic American dessert that has been enjoyed since Victorian times in the 1800s. Known for its deep red color, red velvet is widely known and loved all across the globe.
Although the exact origin of this decadent cake is unknown, historians believe it comes from Maryland in the 19th century. It's believed that a chemical reaction holds the blame for the red color of red velvet. When vinegar is added to cocoa powder, the batter turns a deep red color, which is how red velvet came to be.
Other theories are that during WWII, with food rationing being in effect, people started using whatever they had. Some bakers began using beet juice in their chocolate cakes, which could have turned the cake into a deep red velvet color.
Regardless of its origin, red velvet is nowadays a popular choice on bakeries everywhere. Typically made with layers of cream cheese frosting or buttercream, this deep red cake is definitely a decadent and extra tasty treat.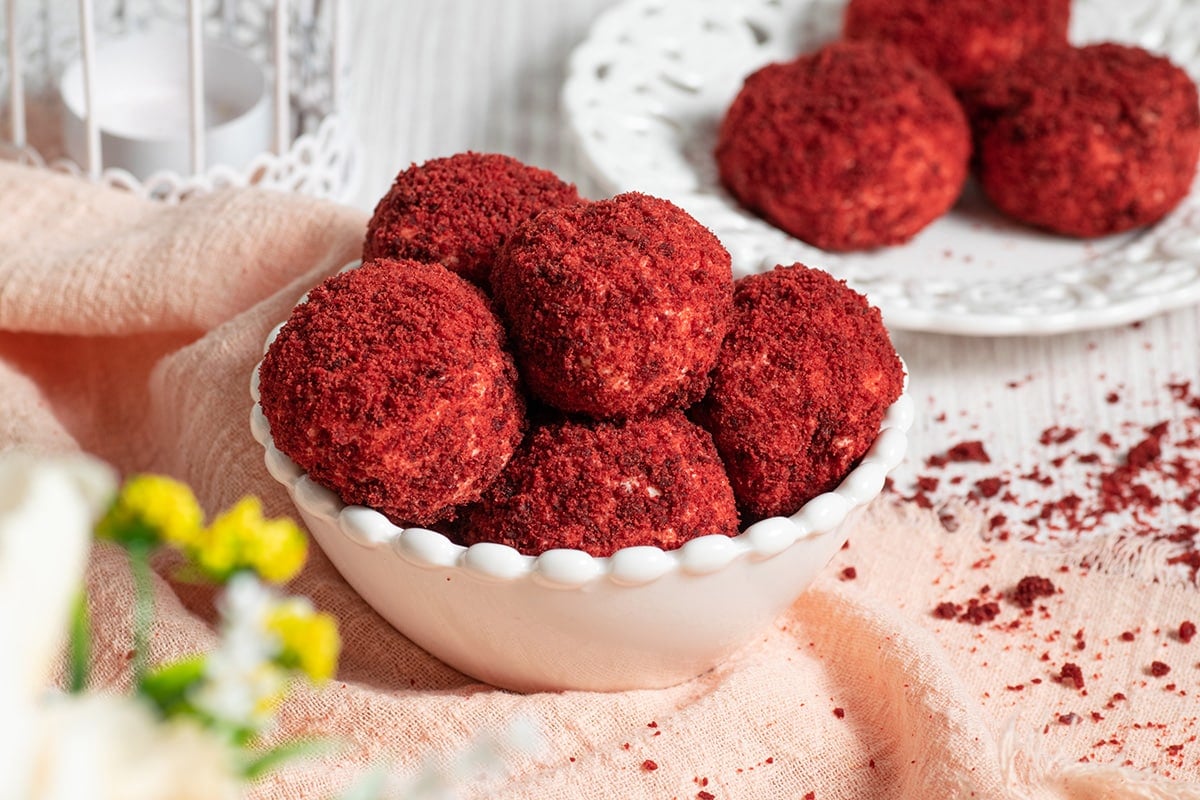 Why You'll Love These Red Velvet Cheesecake Bites
There are many reasons why this simple dessert is so loved, but here are a few:
Easy to make: This red velvet cheesecake balls recipe is so easy to follow that even beginners can join in on the fun. There is minimal baking included and the recipe is pretty much failproof!
Simple ingredients: All ingredients needed for this recipe can be found in your pantry or at your local grocery store. It's also a budget-friendly recipe that required no special ingredients.
Delicious taste: These red velvet cheesecake bites taste just like a no bake cheesecake and red velvet cake combined. The cheesecake balls are so simple to make, yet they taste rich and complex. They are sweet, tangy and fluffy, making them the perfect snack!
Customizable: This recipe is really easy to customize to your taste by adding extra ingredients. Have some fun and play around with extra toppings, fillings or crunchy textures.
Easy to pack: Because of their size, these no bake cheesecake balls are really easy to carry or transport. Pack them for parties, picnics, road trips or lunchboxes!
Great for making ahead: The best part about this dessert is that it can be made ahead and stored for when you need it. They can be refrigerated or even frozen for longer term storage.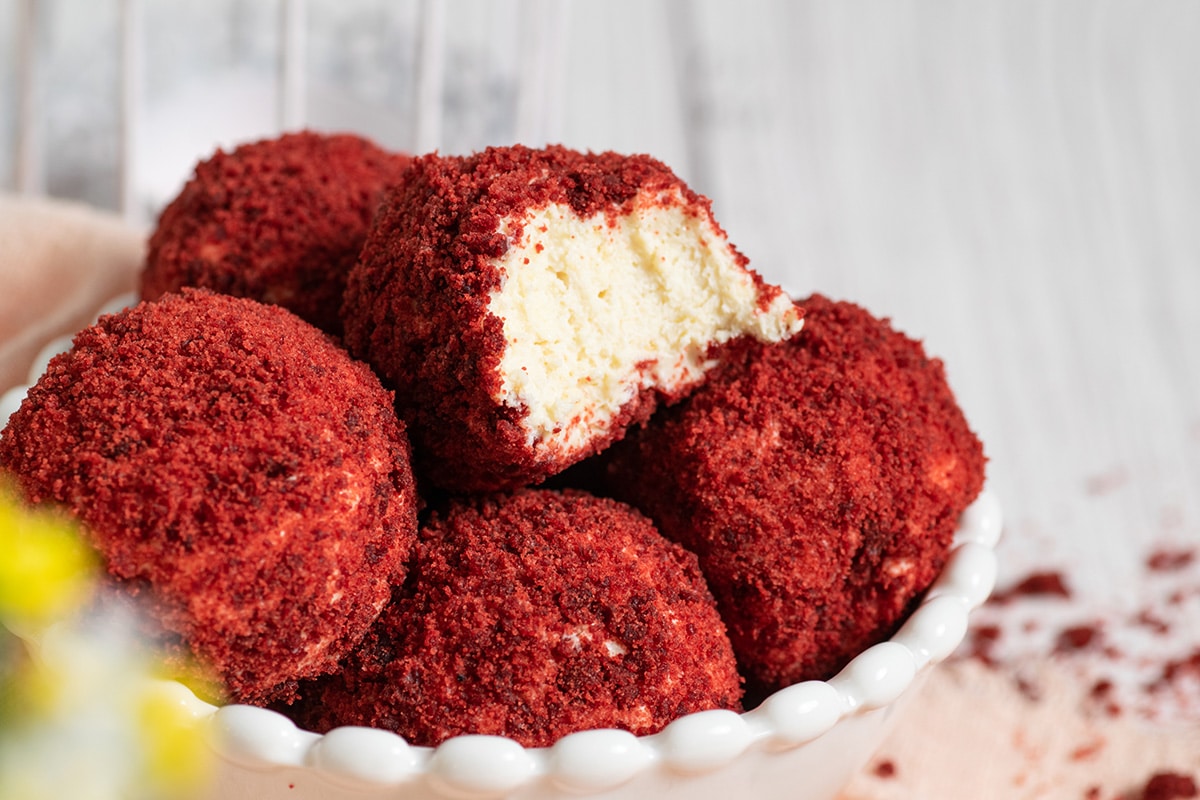 Red Velvet Cheesecake Bites Ingredients
Some of these ingredients you might already have on hand. If not, they're easily found at the grocery store.
Red velvet cake mix: any type of red velvet cake mix can be used. You can also replace it for any other type of cake mix you like, including spiced cake, vanilla, chocolate or carrot cake. The liquid ingredients for the cake mix might be different on the packaging, so make sure you follow the instructions.
Milk: any type of milk can be used. You can also replace it with water or even buttermilk. Feel free to use plant-based alternatives too if needed, such as almond, soy or oat milk.
Vegetable oil: use a flavorless and odorless vegetable oil, such as sunflower or canola oil.
Eggs: one large egg is needed, ensure it's at room temperature before use.
Cream cheese: I recommend using full fat cream cheese if possible. Low fat varieties have a higher water content, so the cheesecake mixture can come out too runny.
Butter: Plain or salted butter can be used. Leave it at room temperature for 1 hour before use, so it's nice and pliable.
Sugar: I recommend using powdered sugar for the smoothest texture. Feel free to adjust the level of sweetness by adding more sugar if needed.
Graham crackers: are used to make the no bake cheesecake filling thicker and less runny. Crush them really well into a thin powder for an extra smooth texture. If your cream comes out too runny, add more crushed crackers!
Vanilla extract: Although optional, I highly recommend using it. Vanilla extract adds flavor and a lovely sweet aroma. You can also use vanilla bean paste for a more natural and intense flavor.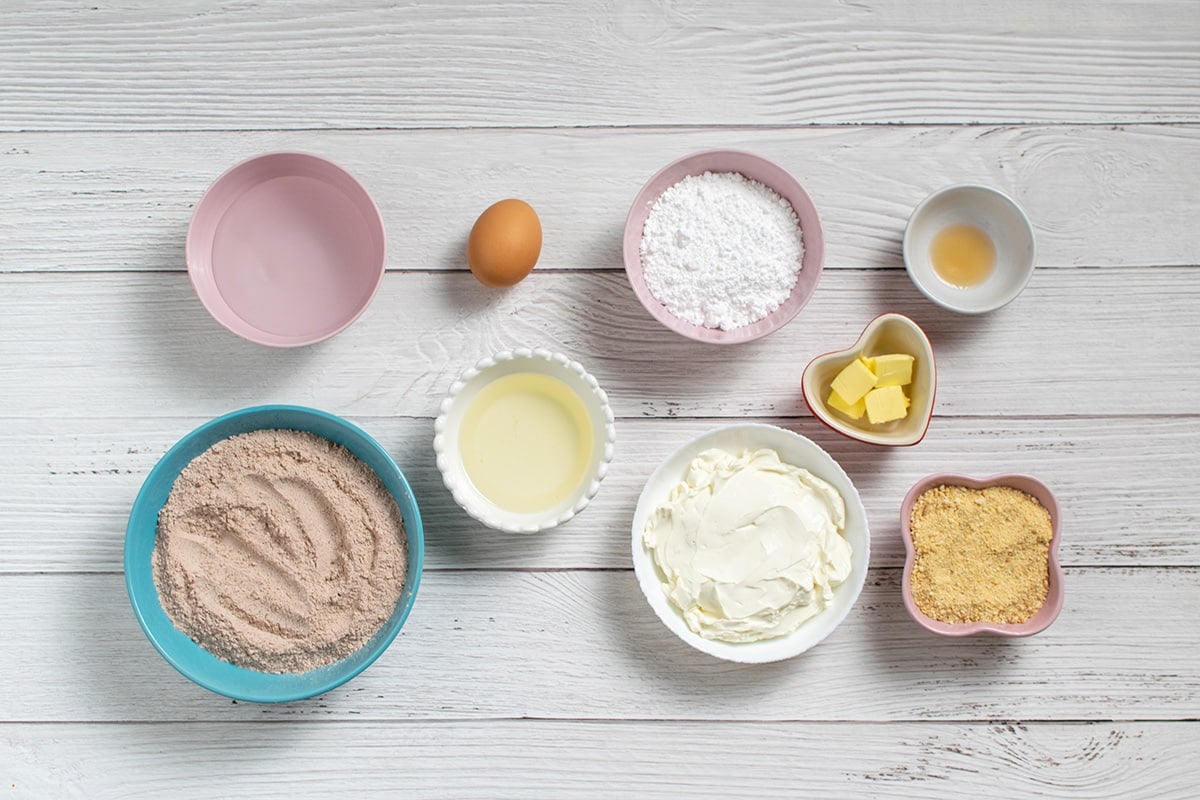 How to Make Red Velvet Cheesecake Bites
These little bites are surprisingly easy to make. Check out the steps below to see just how easy.
Bake cake. Prepare and bake red velvet cake as indicated on the packaging. Let it cool down completely, then crush into a fine crumb.
Combine ingredients. Separately, combine all the ingredients for the no bake cheesecake filling. Mix well to combine.
Make scoops. Scoop out small scoops of cheesecake, then chill to harden.
Roll in crumb. Roll through the red velvet crumb and enjoy!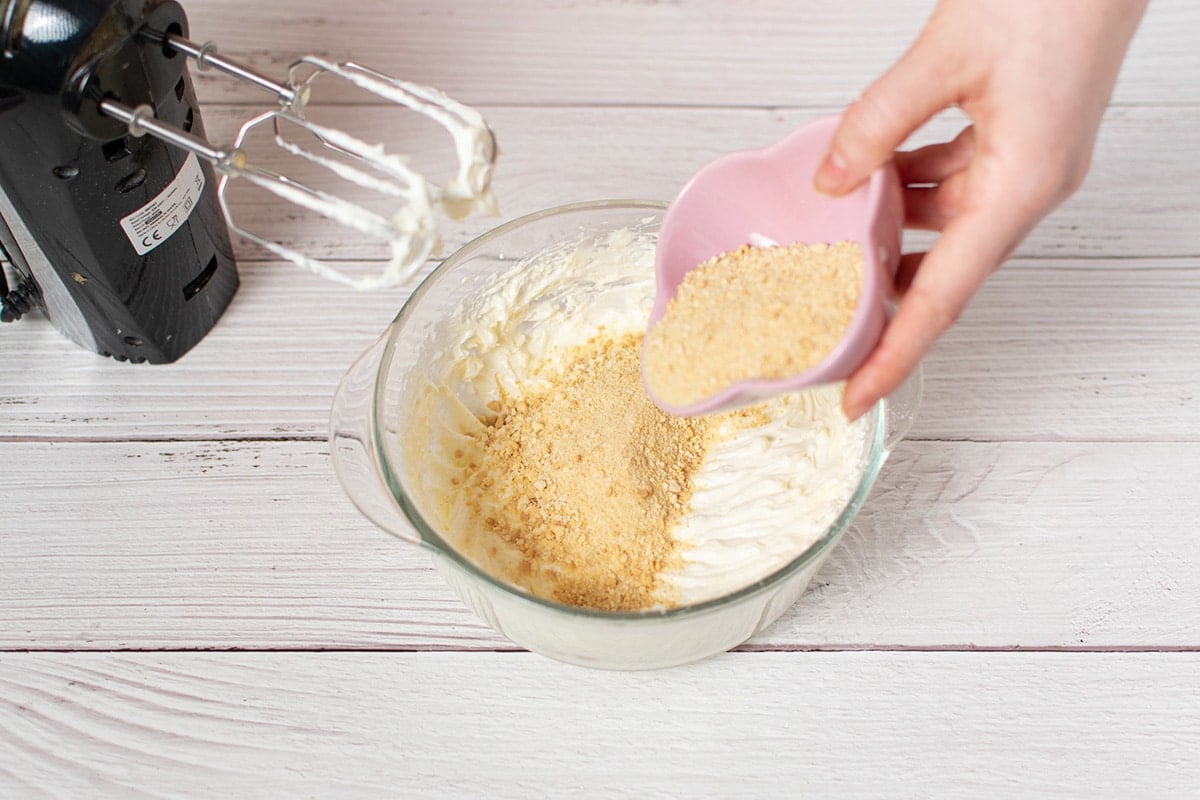 Variations
We like this red velvet cheesecake bites recipe exactly as written, but here are a few ways to make it your own.
Crumb – switch up this recipe by adding nuts, chocolate shavings or sprinkles to the coating. You can also use red velvet Oreo cookies instead of the red velvet cake crumb.
Filling – add flavorings to the cheesecake for an extra kick. A little orange or lemon zest, fresh fruit or chocolate chips can completely change the flavor!
Chocolate – If you're feeling extra, you can drizzle melted chocolate or candy melts over the finished red velvet cheesecake bites. This will give them a very high end and luxurious feel!
Core – add a surprise in the middle of your no bake cheesecake balls! Place a piece of fresh or dried fruit, a piece of chocolate or nuts in the middle for extra texture and flavor.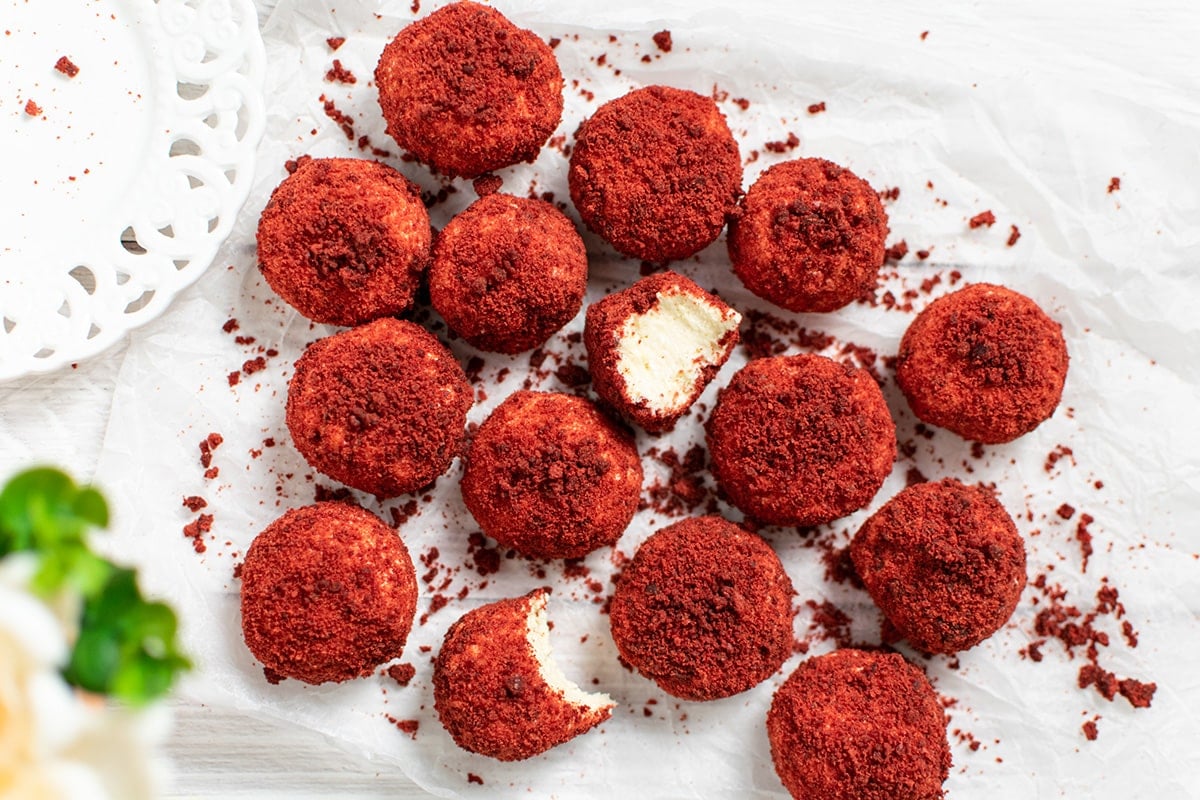 Storing & Freezing
How To Store Red Velvet Cheesecake Bites
Red velvet cheesecake balls cannot be left at room temperature because they contain dairy and can spoil easily. Also, the cheesecake filling can become too runny and lose its shape.
I recommend storing these cheesecake bites in an airtight container in the fridge for up to 4-5 days.
Can You Freeze Cheesecake Bites?
For longer term storage, freeze in an airtight container for up to 3-4 months. You can also wrap them individually in plastic wrap or aluminum foil. Thaw in the fridge overnight.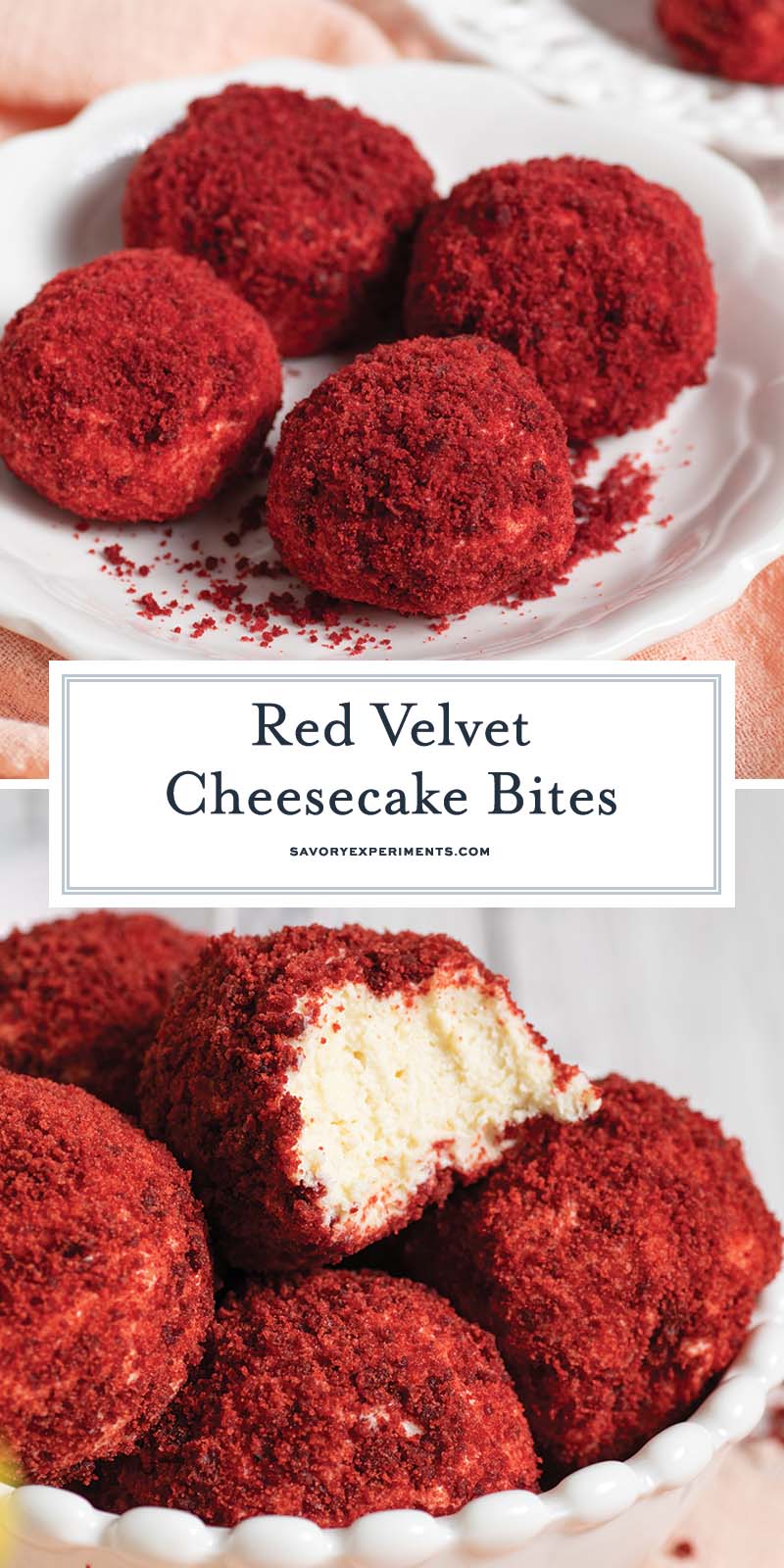 More Red Velvet Recipes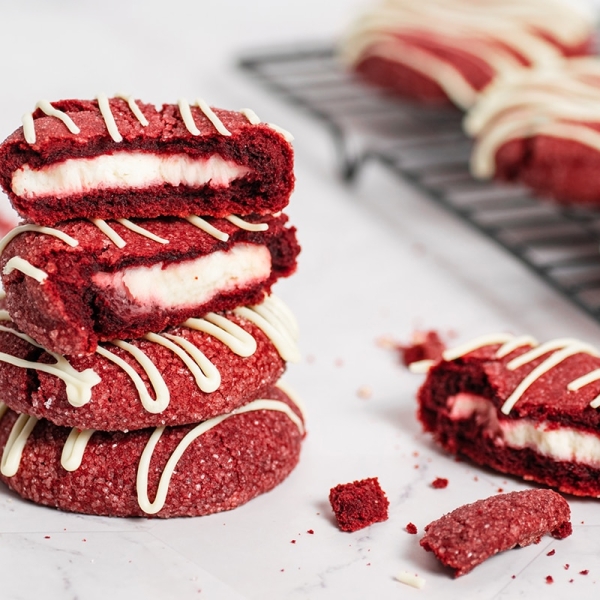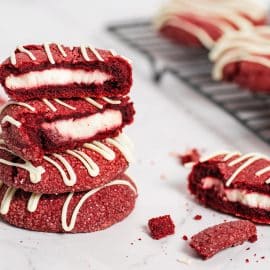 Red Velvet Cookies
Moist Red Velvet Cookies stuffed with a tangy cream cheese filling. These cookies melt in your mouth and are perfect for Valentine's day!
View this recipe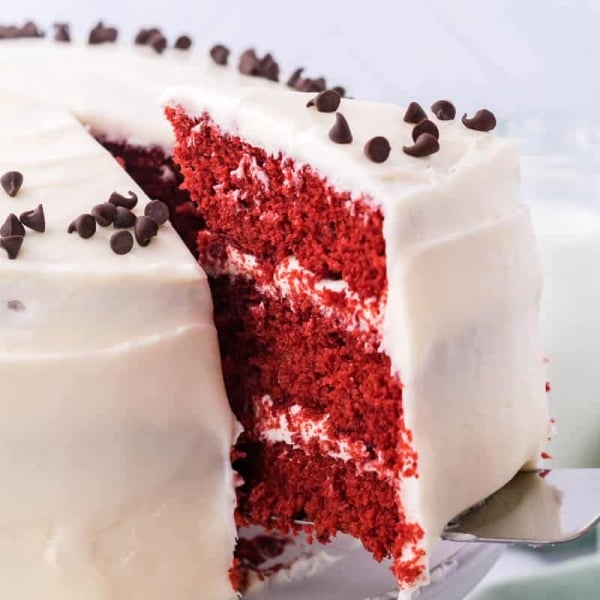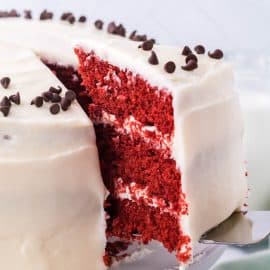 Red Velvet Cake
If you're looking to impress guests with a dessert that is equally as delicious as it is pretty, this red velvet cake is for you.
View this recipe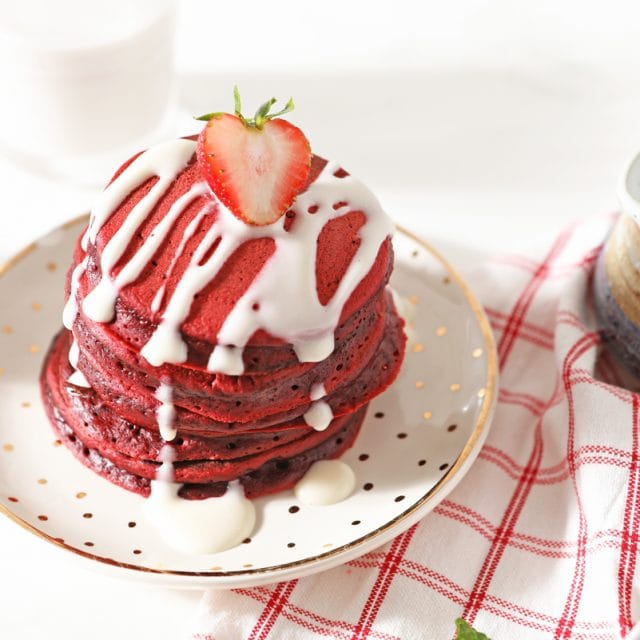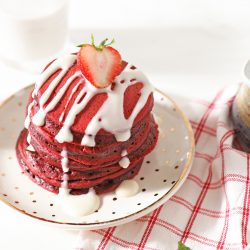 Red Velvet Pancakes
Make breakfast colorful and sweet with Red Velvet Pancakes! They are drizzled with a cream cheese glaze and perfect for weekends and holidays!
View this recipe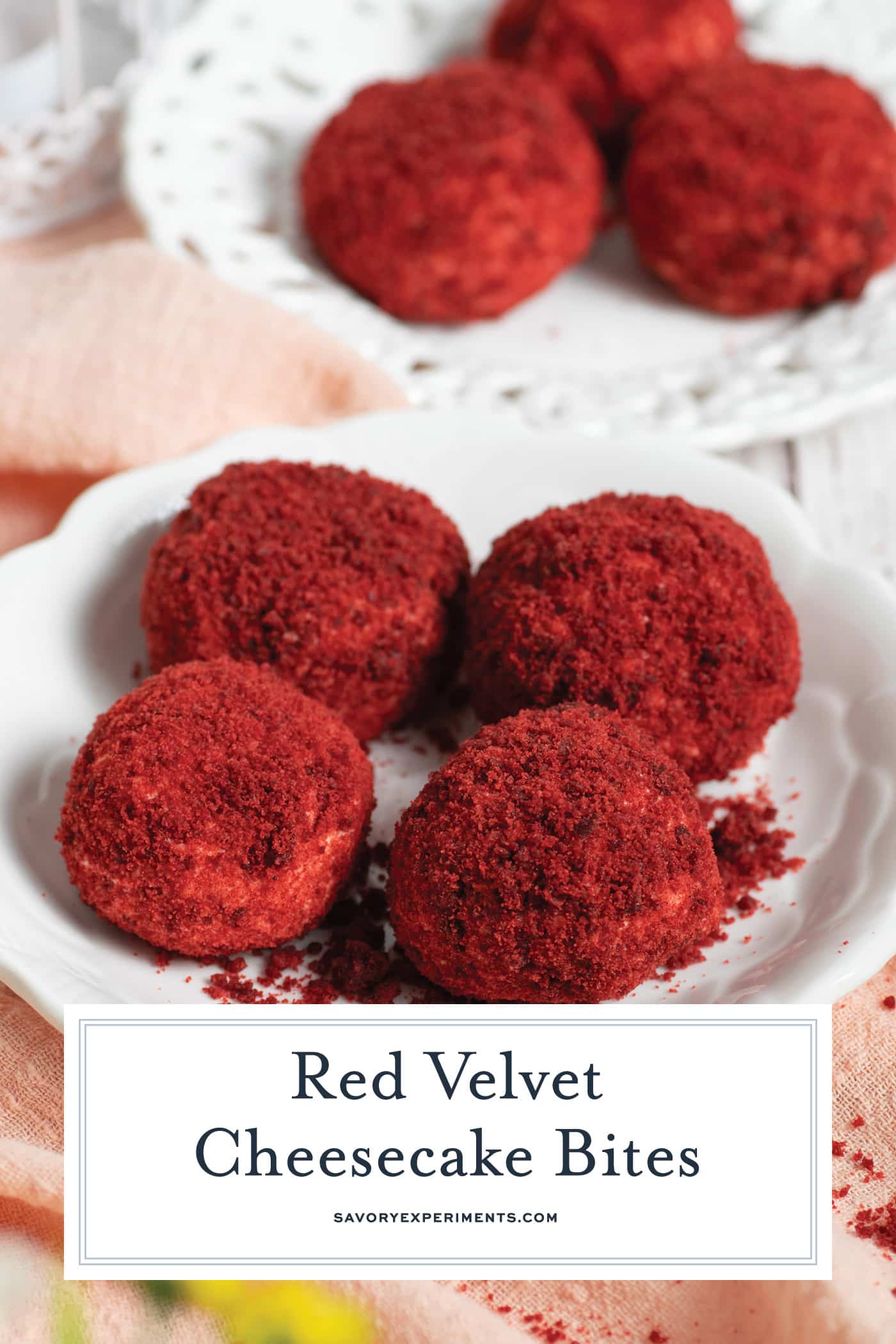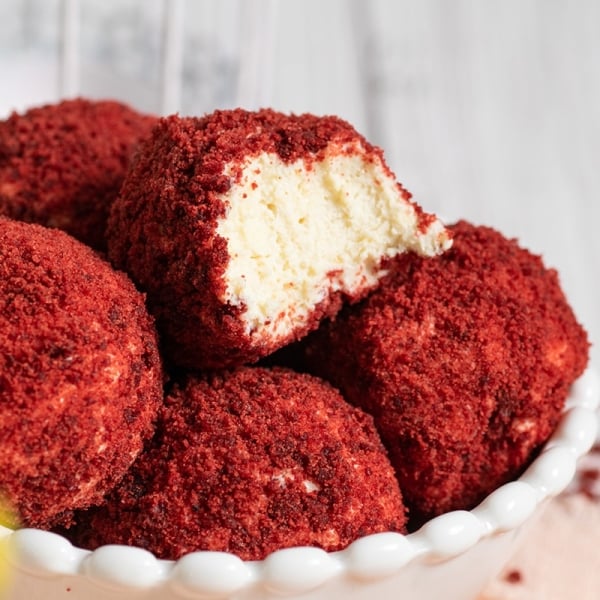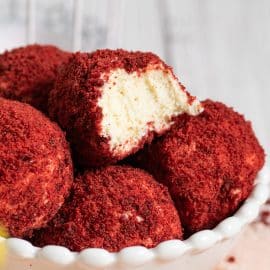 Red Velvet Cheesecake Bites
Creamy, sweet and delicious Red Velvet Cheesecake Bites take only minutes to make. This recipe is easy, fun and ideal for making ahead!
Ingredients
For the red velvet crumb
1

box red velvet cake mix

1

ingredients on cake mix packaging
For the cream cheese filling
Instructions
Preheat the oven to 350°F and line or grease 2 8-inch cake pans.

Prepare the cake as indicated on packaging. Bake, then let cool down completely.

Once cool, crumble the cake with your hands until it looks like coarse sand. If the cake is too moist, break it into small chunks, then place on a lined baking sheet. Dry it out in the oven at 350°F for 5-6 minutes.

Separately, in a large mixing bowl combine the cream cheese, butter and sugar. Cream with an electric mixer until fluffy and aerated.

Place the graham crackers in a ziplock bag and crush them into a fine powder using a rolling pin. Add the crushed graham crackers and vanilla extract into the cream cheese mixture and mix well until fully combined.

Use a 2 teaspoon cookie scoop to scoop out cream cheese balls. Roll them with your hands until fully round, then place them on a lined baking sheet or large plate. Refrigerate for 1 hour to harden.

Once chilled, roll the cream cheese balls through the red velvet cake crumbs. Ensure all sides are fully coated in the cake crumb. Use your hands to make the bites more round if needed.

Enjoy immediately or refrigerate until ready to consume.

If you've tried this recipe, come back and let us know how it was in the comments or star ratings.
Notes
Adjust sweetness levels by adding more sugar. You can go up to 2 cups of sugar for a really sweet flavor.
Nutrition
Calories:
151
kcal
,
Carbohydrates:
17
g
,
Protein:
2
g
,
Fat:
9
g
,
Saturated Fat:
4
g
,
Polyunsaturated Fat:
1
g
,
Monounsaturated Fat:
3
g
,
Trans Fat:
0.1
g
,
Cholesterol:
18
mg
,
Sodium:
204
mg
,
Potassium:
74
mg
,
Fiber:
1
g
,
Sugar:
9
g
,
Vitamin A:
235
IU
,
Calcium:
39
mg
,
Iron:
1
mg