Avocado anything makes me one happy camper, so adding crab made me all excited! This avocado salad recipe is packed full of jumbo lump blue crab crab meat, red bell pepper, spicy jalapenos, red onion and greens, but the dressing takes it to another level.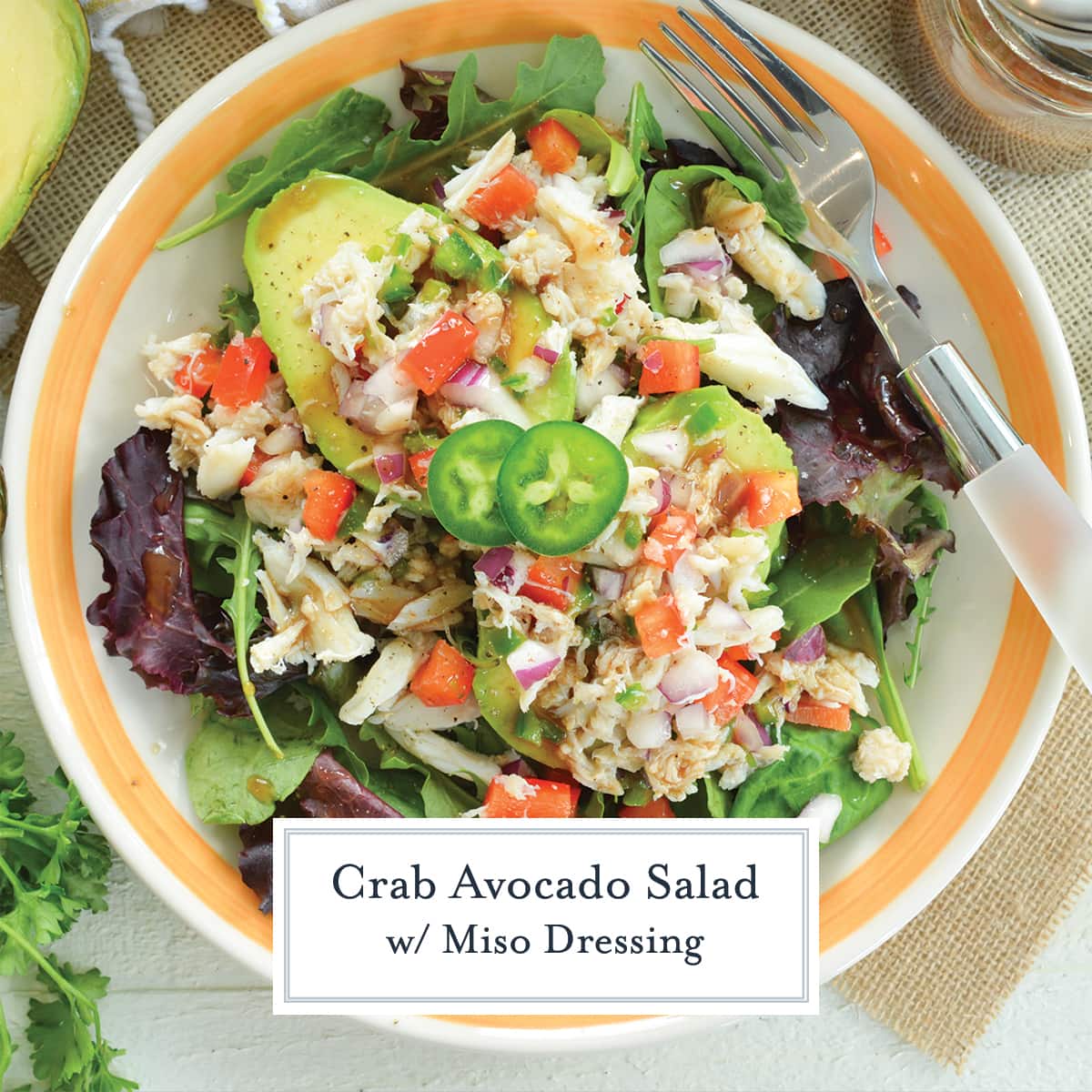 A simple crab salad that is seriously one of my main meals and although you can also serve it as an appetizer, it is satisfying enough for a whole meal. Trust me, it'll fill you up and leave your tummy happy! It is naturally gluten free and dairy free too!
Miso Dressing
Miso dressing. Yep, kinda like that fabulous soup that serve at Hibachi restaurants, miso dressing brings an umami flavor to the mix, toning down the spicer flavors.
If you don't care for miso, feel free to swap out with your favorite salad topping, although I do highly suggest something with equally umami flavors or even something slightly sweet for balance. You know I am a sucker for homemade dressings.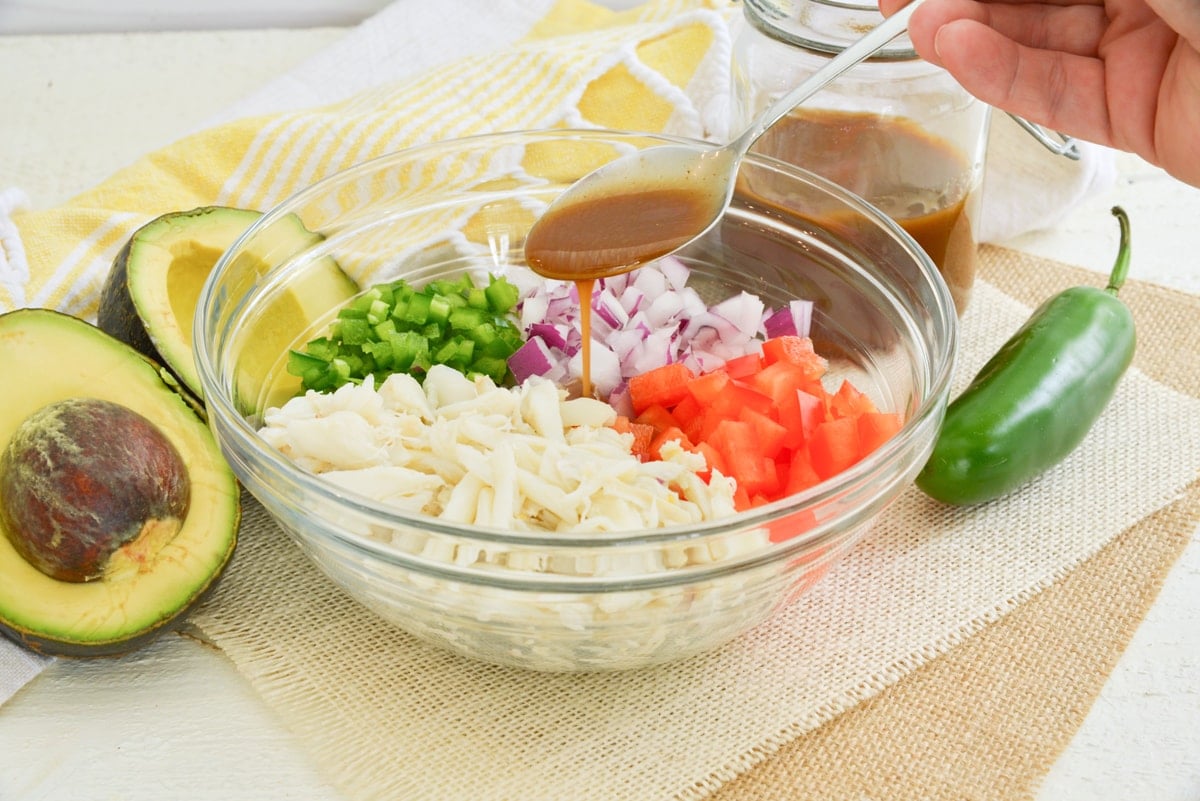 My ginger dressing works well too, as does garlic balsamic vinaigrette for when you aren't craving Asian flavors.
What You'll Need
Like any simple salad, there really isn't much you can do it hurt this creation except having aging produce.
Avocados– cheese a ripe avocado that is dark green, then feel the flesh, you should be able to press it without leaving an indentation.
Lump Blue Crab– Backfin or claw meat can also be used. Try to get unpasteurized, but for the love of Jesus, do not use imitation crab meat. Imitation is made to mimic king crab and will not flake or taste like a blue crab.
Red Bell Pepper- I prefer red to add color. Yellow works well too, and of course, feel free to use green, it just won't be the same festival of colors.
Red Onion– Also for color, feel free to swap in a sweet, yellow or white onion.
Jalapeno- If you can't stand the heat…. just omit the jalapeno. It adds pizazz, but isn't necessary. After seeding, mincing and combining with the dressing isn't all too spicy. I promise. Poblano peppers will also work.
Greens- I usually grab a bag of spring mix, but any bed of leafy greens is acceptable. In fact, the place I used to get this salad at didn't even use greens, it was just avocado and stuffing.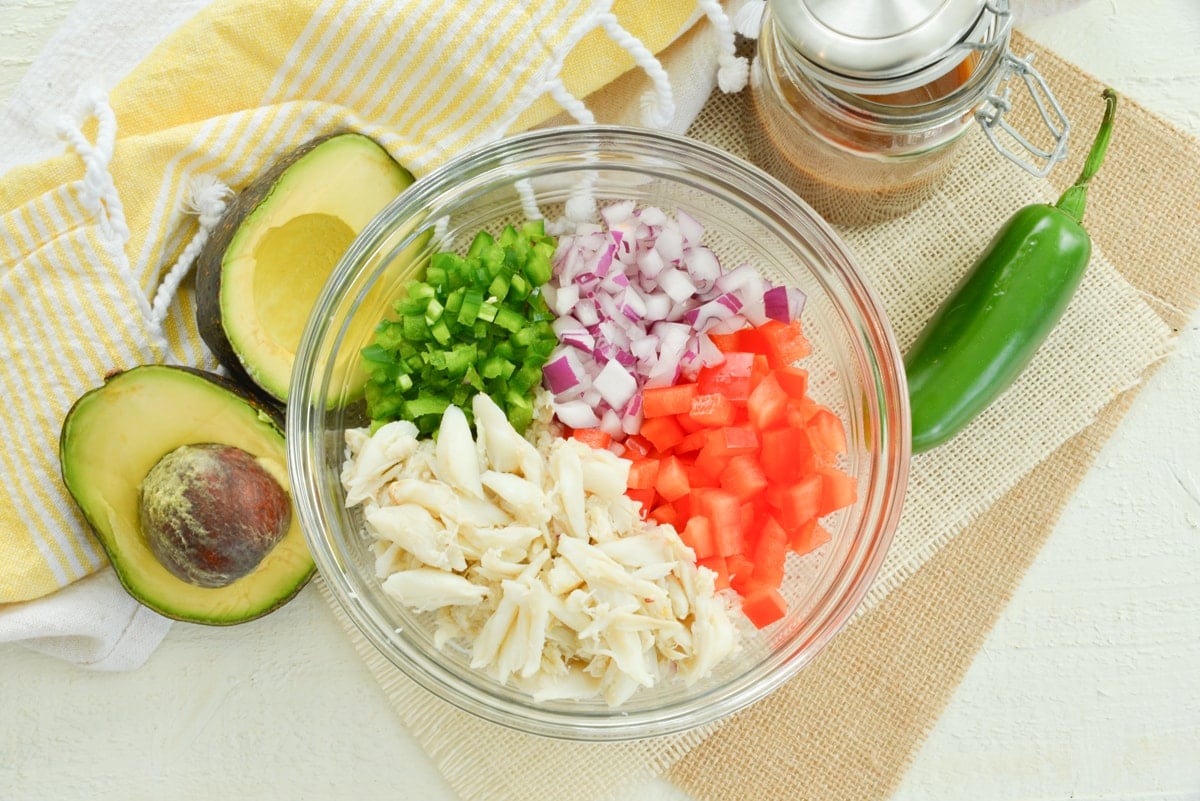 Make It
The chopping might take a few minutes, but there is literally no cooking involved so it is super easy to throw together!
Combine the crab meat with minced veggies. Aim for a fine mince so you get a sampling of each flavor in every bite. Gently fold to avoid breaking up any of the lump crab meat.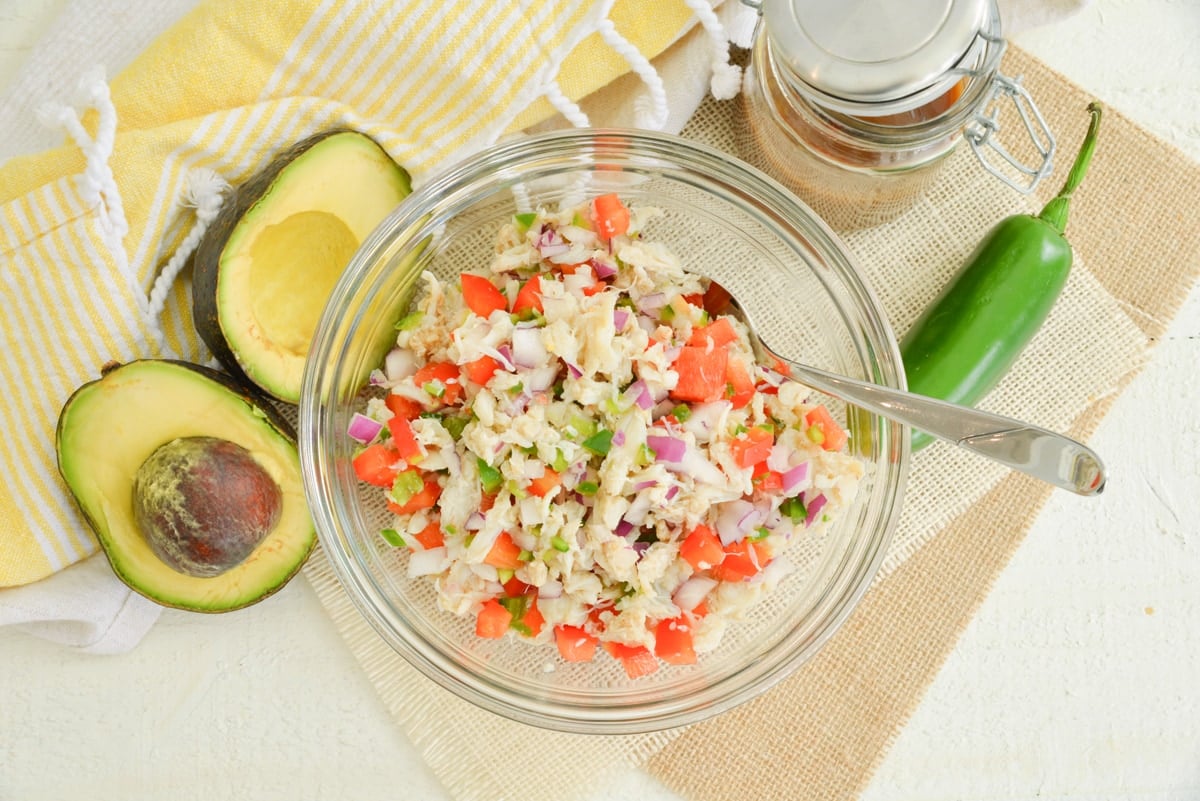 Cut the avocados in half and remove from skins. If you are prepping ahead of time, spritz them with lemon or lime juice or a fruit saver to prevent oxidation (browning). You can also use avocado slices, I just like the look of an avocado boat.
Arrange lettuce leaves on each plate, top with an avocado halve, then spoon the crab mixture into the wells of the avocados.
Drizzle with sweet miso dressing and sit back and enjoy!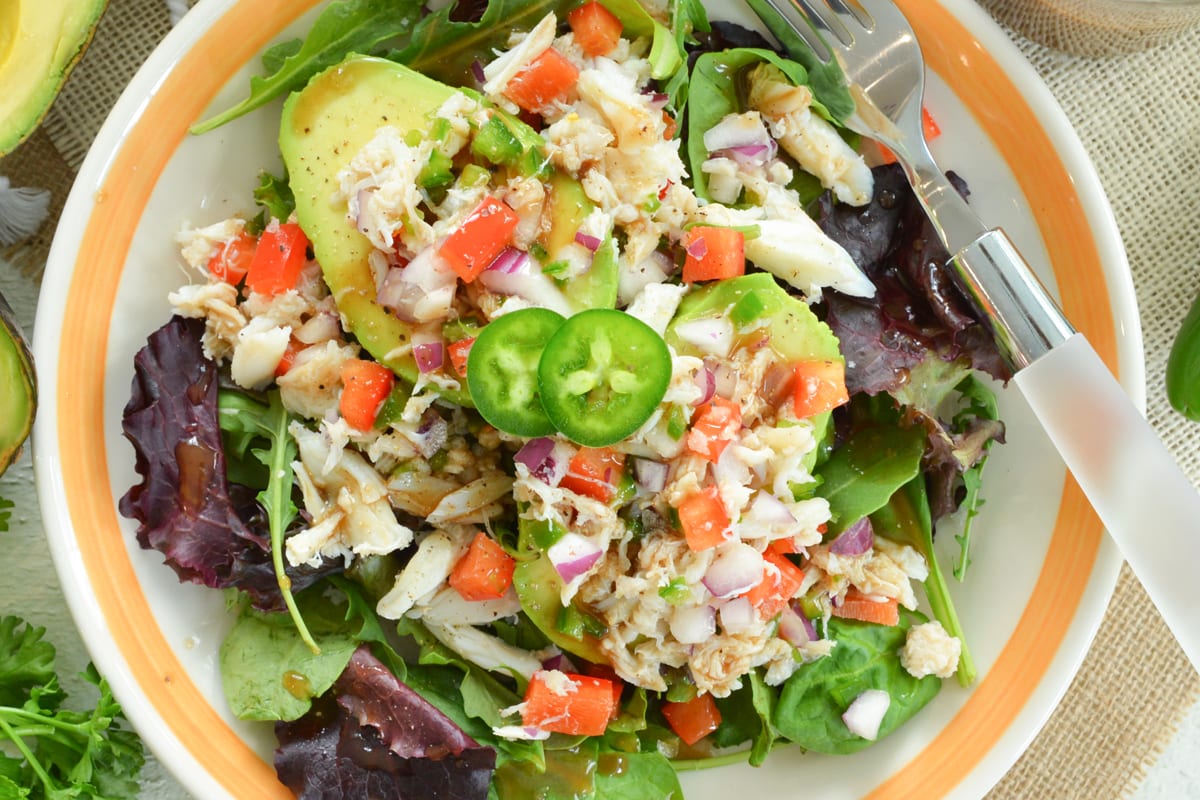 This is one that isn't great made ahead. If you do want to prep, lay your bed of greens mix the crab with veggies and make the dressing, but don't put it all together until you are ready to serve.
Instead of making two large salads you can make 4 small salads as an appetizer. It's a great dish to serve as a first course when you're having people over or even better for packing up and taking for lunch!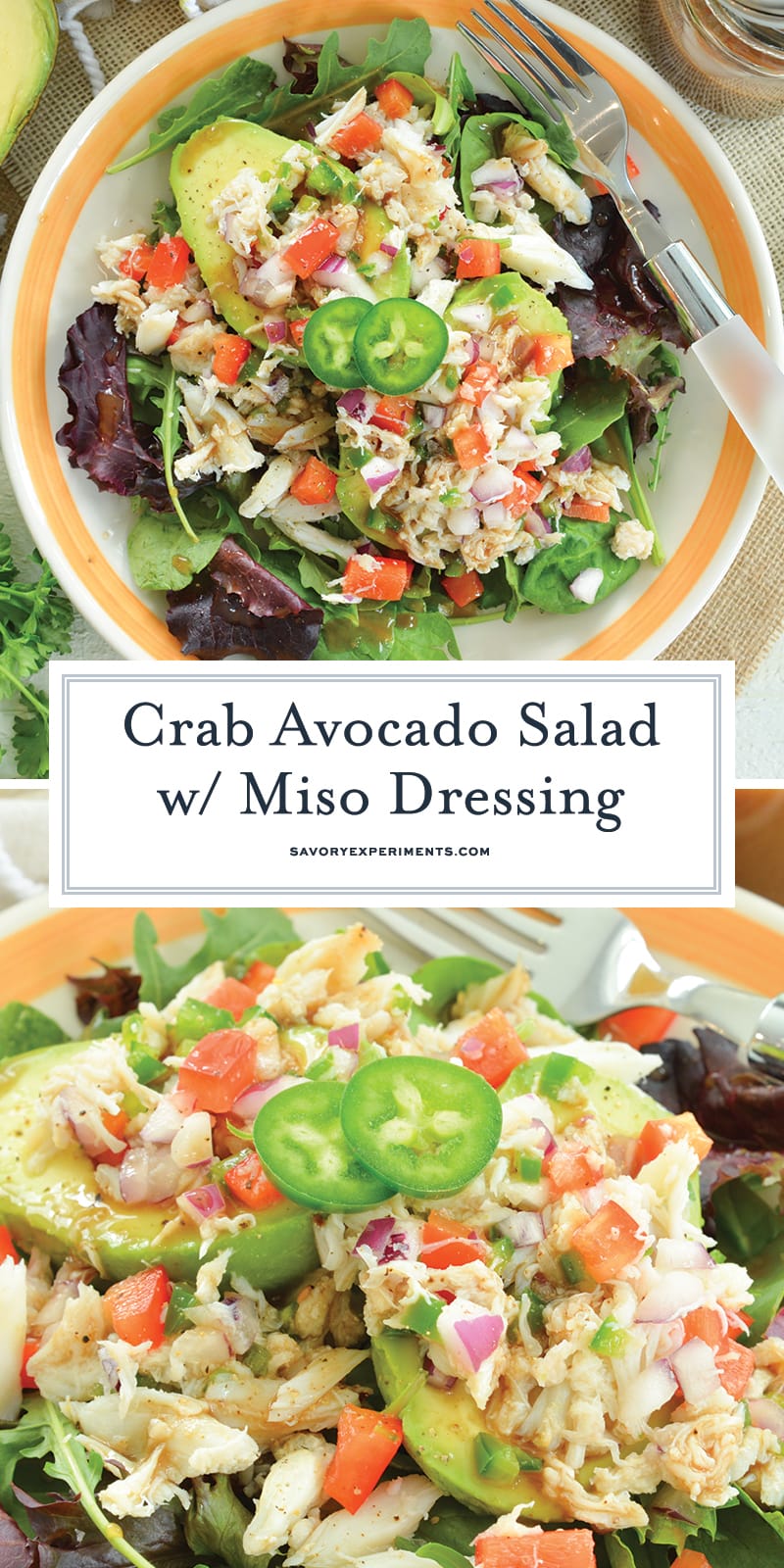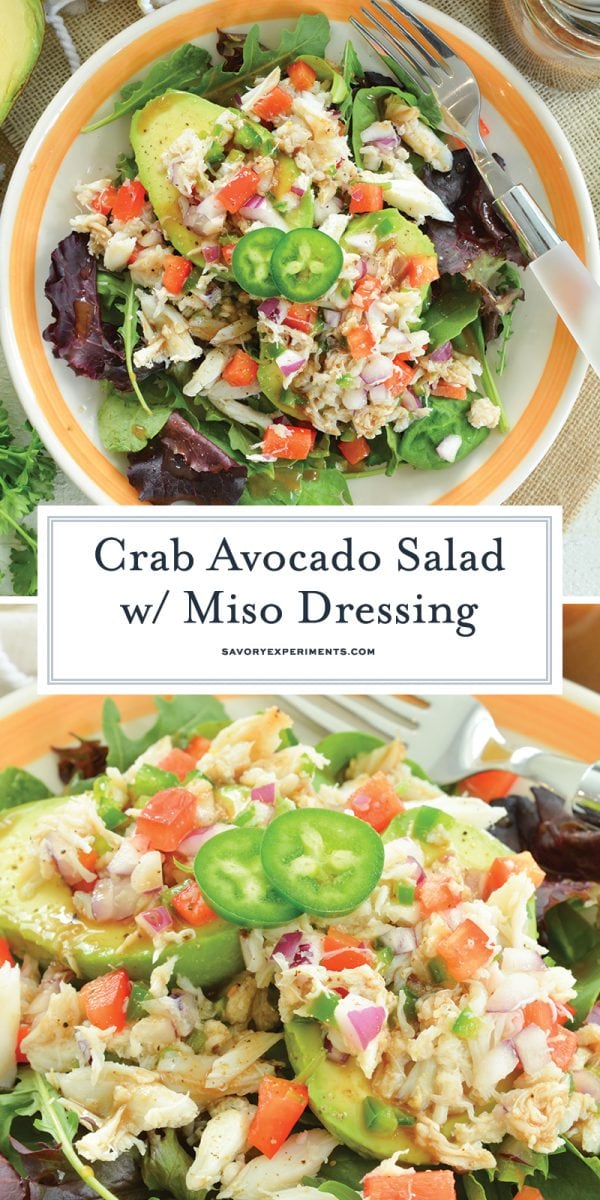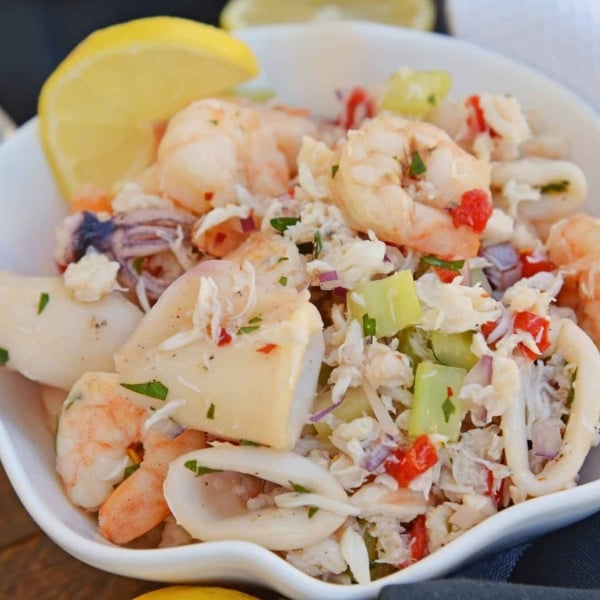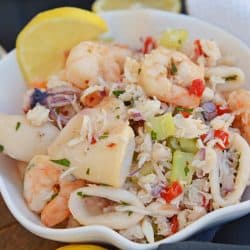 Italian Seafood Salad
Made with shrimp, calamari and lump blue crab meat, this Italian Seafood Salad is one of the easiest but most delicious seafood salad recipes you'll ever make. Perfect as an appetizer or light meal!
See The Recipe!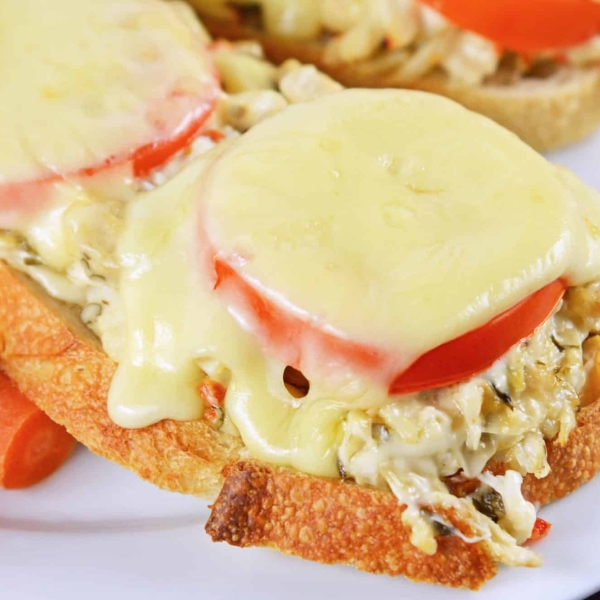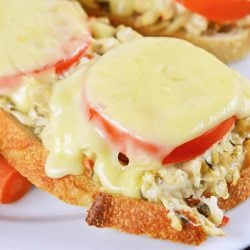 Crab Melt
This Crab Melt will become your favorite open faced sandwich recipe! Deliciously cheesy and easy to make!
See The Recipe!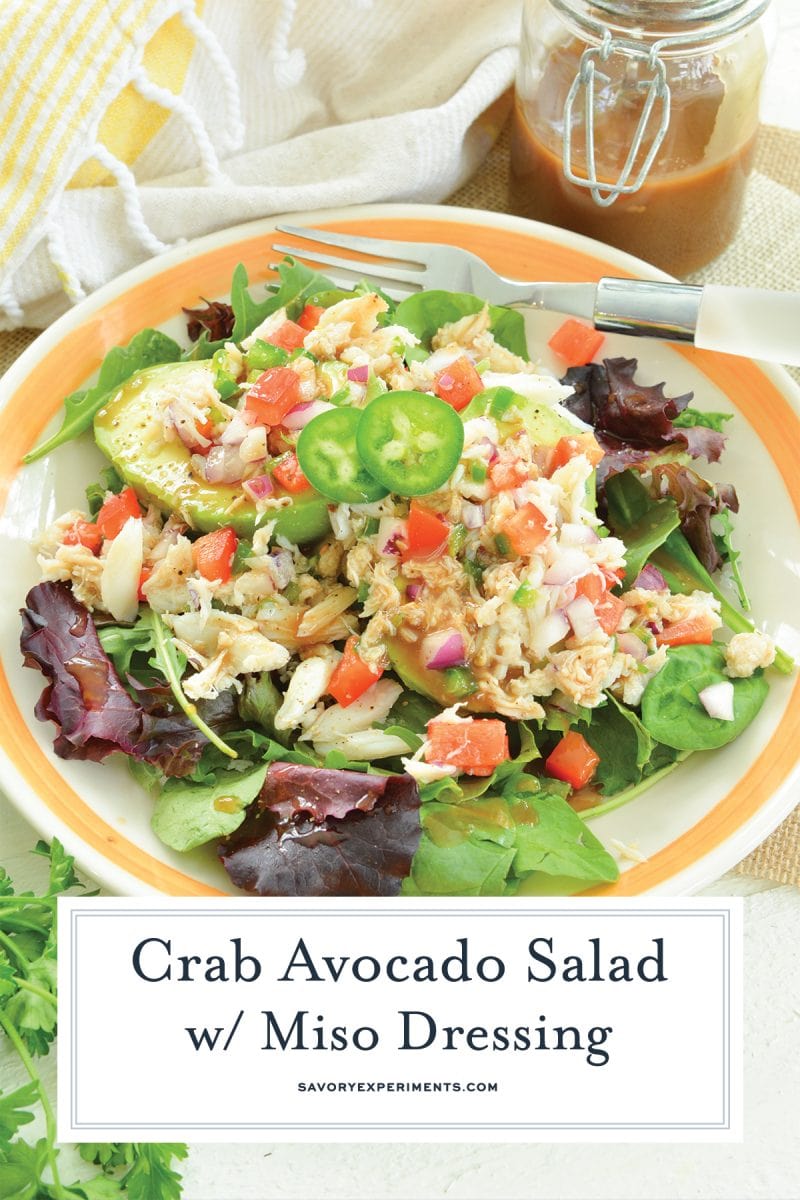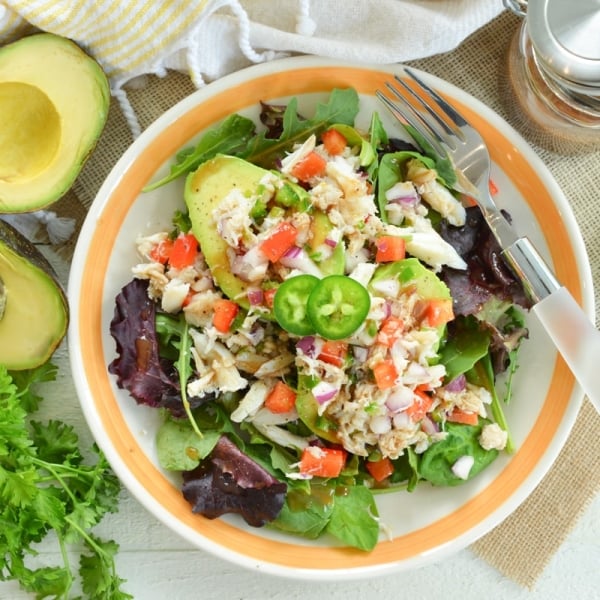 Crab Avocado Salad Recipe
Crab Avocado Salad is a simple and healthy salad. Buttery lump crab with creamy avocado, red onion, jalapeno and bell peppers topped with Miso Dressing.
Instructions
In a medium bowl combine the crab meat, bell pepper, jalapenos and red onion. Mix gently to avoid breaking up any of the lump crab meat.

Cut the avocado down the center and halve. Using a large spoon, gently scoop out the avocado halve from the skin in one piece. Repeat for 4 halves.

Arrange a bed of spring mix lettuce on each plate, top with an avocado halve, then spoon the crab mixture into the wells of the avocados.

Drizzle with sweet miso dressing.

If you've tried this recipe, come back and leave us a comment or star rating!
Nutrition
Calories:
225
kcal
,
Carbohydrates:
17
g
,
Protein:
7
g
,
Fat:
16
g
,
Saturated Fat:
2
g
,
Polyunsaturated Fat:
2
g
,
Monounsaturated Fat:
10
g
,
Cholesterol:
6
mg
,
Sodium:
766
mg
,
Potassium:
664
mg
,
Fiber:
8
g
,
Sugar:
3
g
,
Vitamin A:
1013
IU
,
Vitamin C:
45
mg
,
Calcium:
37
mg
,
Iron:
1
mg