This easy beef and broccoli recipe only takes 10 minutes of prep time from the fridge to the slow cooker! Better than take-out and I bet you'll agree.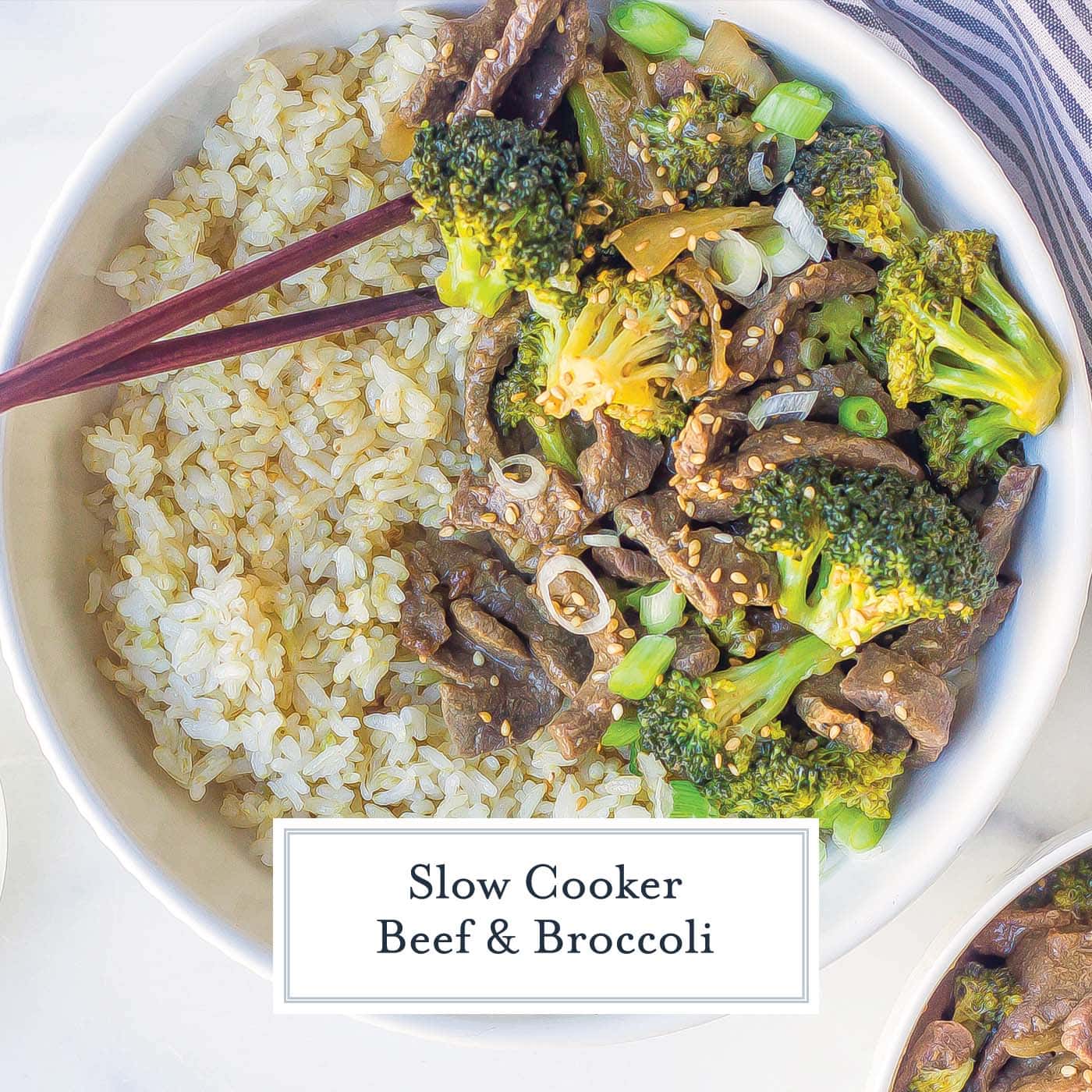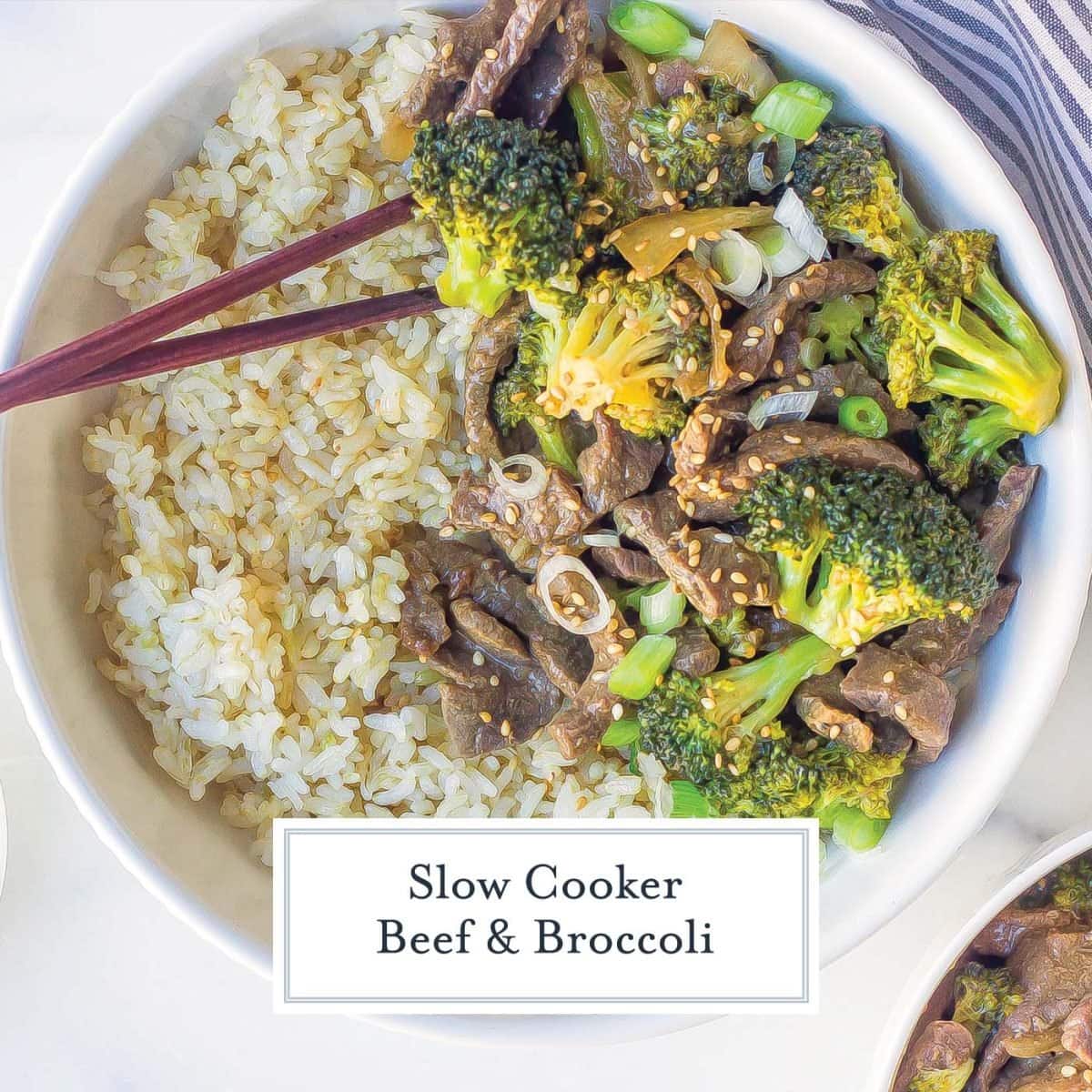 Crockpot beef and broccoli is one our family favorites. I've even made it for house guests who raved and demanded that I make it the next time they visited. An easy slow cooker recipe being the "craveable" dish Can you believe that?
Slow Cooker Beef and Broccoli
The first thing to note is that beef and broccoli is not authentic Chinese food. It is an American fusion dish. Slow cookers are absolutely amazing for several reasons. When you need reduced hands-on time, set it and forget it. But also for super tender and moist meat.
Some cuts of beef demand long, moist cooking at lower temperatures so the fibers break down and tenderize. Beef chuck roast, sometimes labeled tender chuck roast or even pot roast, is one of those cuts. This dish made in a wok or skillet uses other cuts that are better at a quick high heat like flank steak or flat iron steak.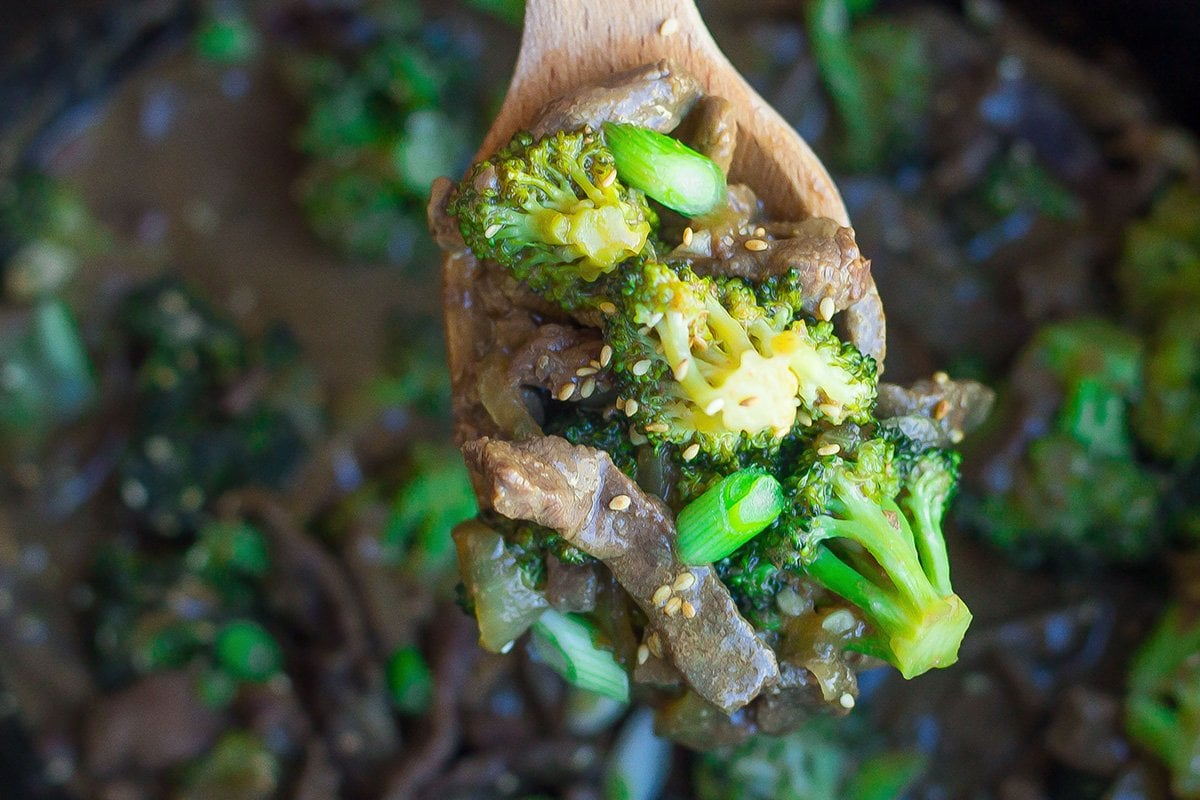 Crockpots can also bring out all the flavors. While it's stewing, the flavors are mixing and the delicious beef will be falling apart by the time you eat it! The only issue is that while the savory flavors are marrying, the sauce doesn't reduce so many recipes, like this one, will require a slurry to thicken the sauce.
Slurry is simply a thickening agent commonly made from flour, cornstarch or arrowroot combined with water. Make it into a paste and then whisk in to the sauce to prevent lumps. It should thicken within 10 minutes and will continue to do so as it cools.
What You'll Need
The ingredients for beef and broccoli seem like a lot, but rest assured, many are kitchen staples. Some can be swapped, omitted on increase based on personal preference. This is a truly easy recipe.
Beef– chuck roast is used for this dish, it is meant for low, slow moist heat and this will be fork-tender by the end of cooking. It can be labeled many things at the store, so ask your butcher. Flank steak can also be used for tender beef.
White Onion– yellow onion will also suffice. I don't suggest red onion for this one.
Soy sauce- whenever possible, use low-sodium so you can control the saltiness of the dish. I also sometimes use a full bodied mushroom flavored soy sauce that is less salty and more unami- it is thick, almost syrupy, and is more authentic than American soy sauces.
Brown sugar– light or dark works, the hint of molasses and sweet balances the other salty and acidic ingredients.
Sesame oil – Sesame oil certainly adds a unique Asian taste, but if you don't have any, substitute for any neutral oil or omit the ingredient.
Apple cider vinegar– My secret to a lot of sauces to brighten the natural flavors is a splash of some sort of vinegar, this recipe is no exception!
Garlic- Fresh garlic is always better for actual garlicky flavor, but the bottled stuff, which is sweet, is acceptable for this recipe too.
Beef broth- I also recommend low-sodium broths, whenever possible. Adding more salt is easy, taking it away is much more challenging!
Broccoli – Fresh or frozen can work. My family loves broccoli florets, but feel free to use whichever cut you want including stalks. Both will be added at the same time of cooking, frozen needs to thaw and fresh needs to cook.
Cornstarch – for thickening.
Ginger- Fresh ginger is the gold standard, either freshly grated or in the little jar. This is a crockpot recipe, so I totally understand if you are going for ease. Ground ginger can also work, but only use 1 teaspoon and make sure it is fresh.
Rice – brown rice, white rice, jasmine rice, whatever your preference. Since this is an easy recipe, I generally just pick up a few 90-second rice packets at the grocery store.
Scallions (green onions)- Optional, but provide a nice fresh crunch and color.
Sesame seeds– also optional, toasted is best- use white or black.
The list looks extensive, but honestly, it is really easy to put together because nothing requires prep work or chopping. Other variations include a splash of oyster sauce or fish sauce, adding cauliflower, carrots or sugar snap peas.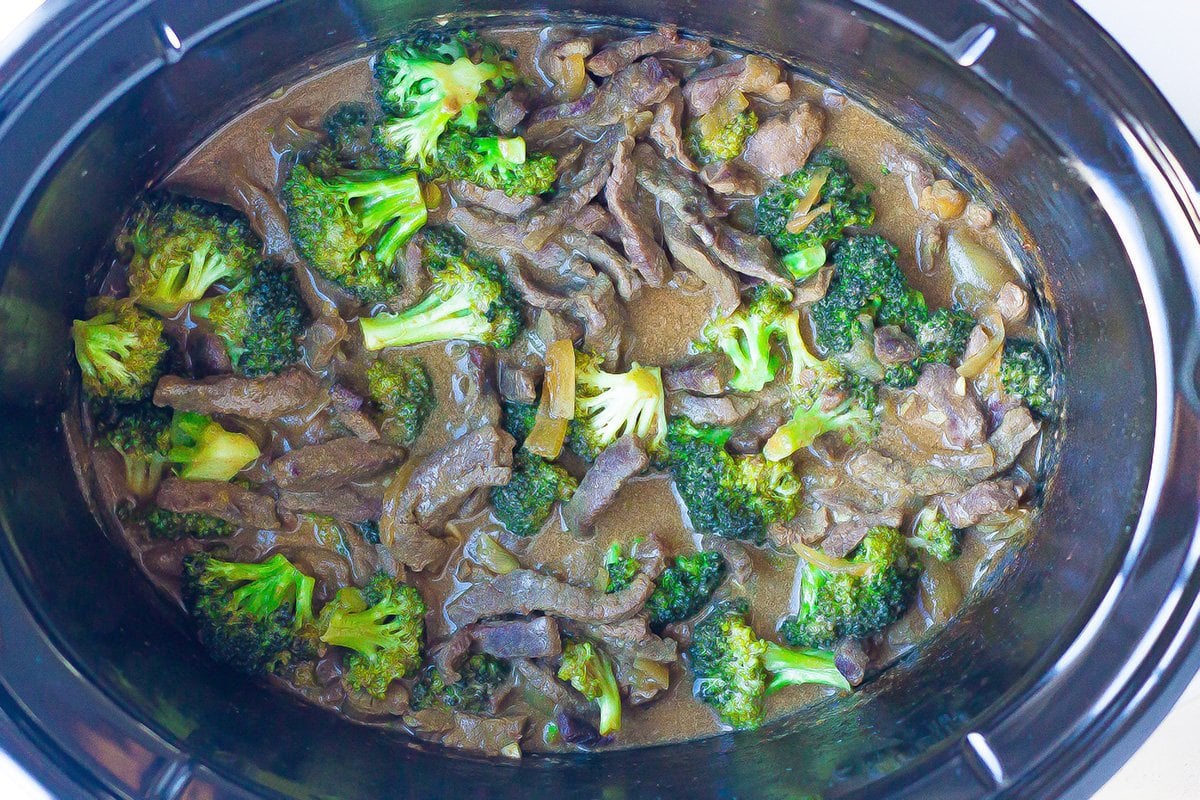 And as for rice, you can also make fried or ginger rice from scratch. You can even make cauliflower rice!
How to Make Beef and Broccoli in the Crockpot
It is honestly super easy. The main ingredient get loaded into the slow cooker and you set it and forget it. But you have to YELL that like they do in the in the infomercials.
Prepare the roast by slicing it thin. This is easiest when the roast is super cold, sometimes I even put it in the freezer for 30 minutes beforehand. To get the most tender slices, cut against the grain. It cuts through fibers making it easier to chew; a trick that works for any cut of meat!
Combine the beef with onions and sauce ingredients and give it a quick stir. It shouldn't take more than 10 minutes.
Place on high heat for 3 hours or until you have tender beef.
Make the cornstarch slurry in a small bowl.
Add the broccoli and slurry mix to thicken the sauce and continue to cook for 15 minutes on low heat. If you are using fresh broccoli, it might need closer to 30 minutes to get them soft.
Serve it with your favorite rice recipe!

Beef and Broccoli Sauce
The sauce is key for any Chinese beef recipe. Not only for flavor but also to tenderize the beef. Like lo mein, acid and salt will help break down the beef fibers.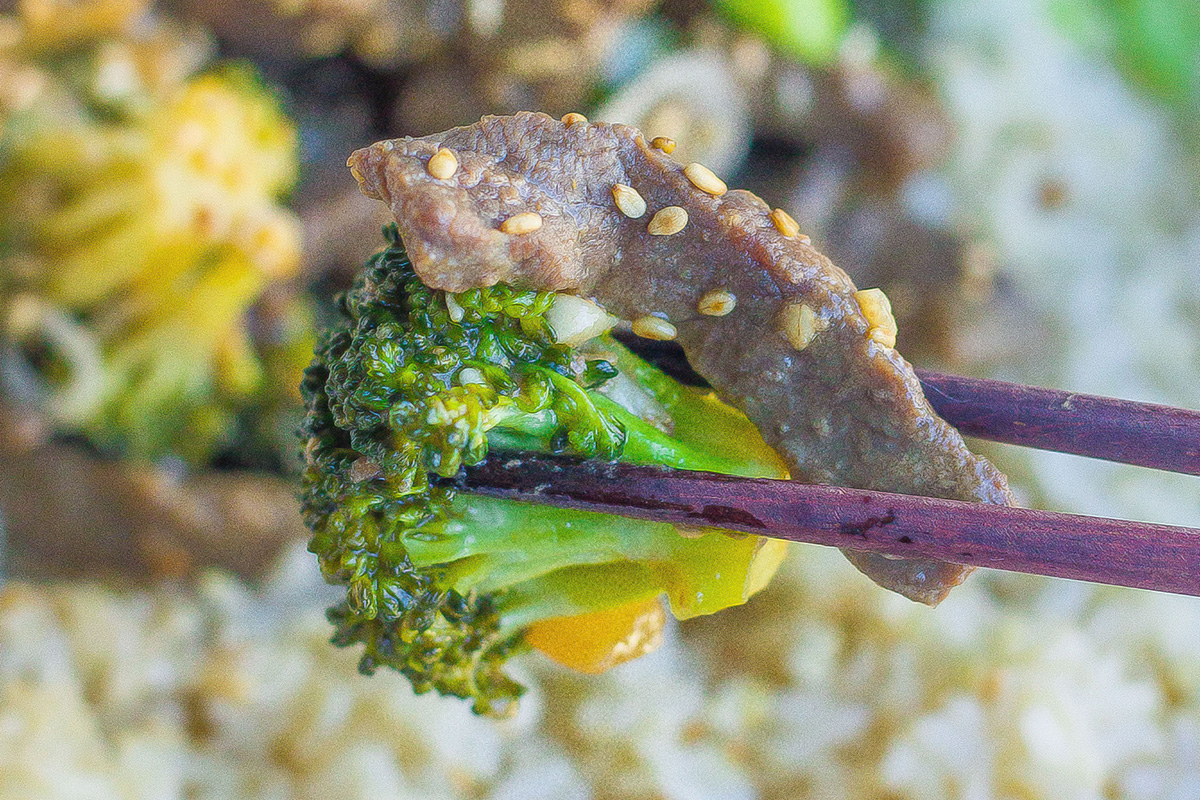 Brown sugar balances out the acidity and also gives a hint of molasses. You can cut the amount in half, but be informed that your sauce will be a little more soy and a little less sweet.
I recommend using a low-sodium soy sauce and beef broth. You can always add more salt if needed, but you can't take it away unless you dilute the sauce and then all the ratios will be off.
Make-Ahead, Storage & Freezing
Beef and broccoli actually tastes better the longer it sits, so making it ahead of time and reheating can be beneficial. It can be reheated in the slow cooker again, the stovetop or even the microwave, but be mindful that microwaving has the tendency to make all meats slightly rubbery.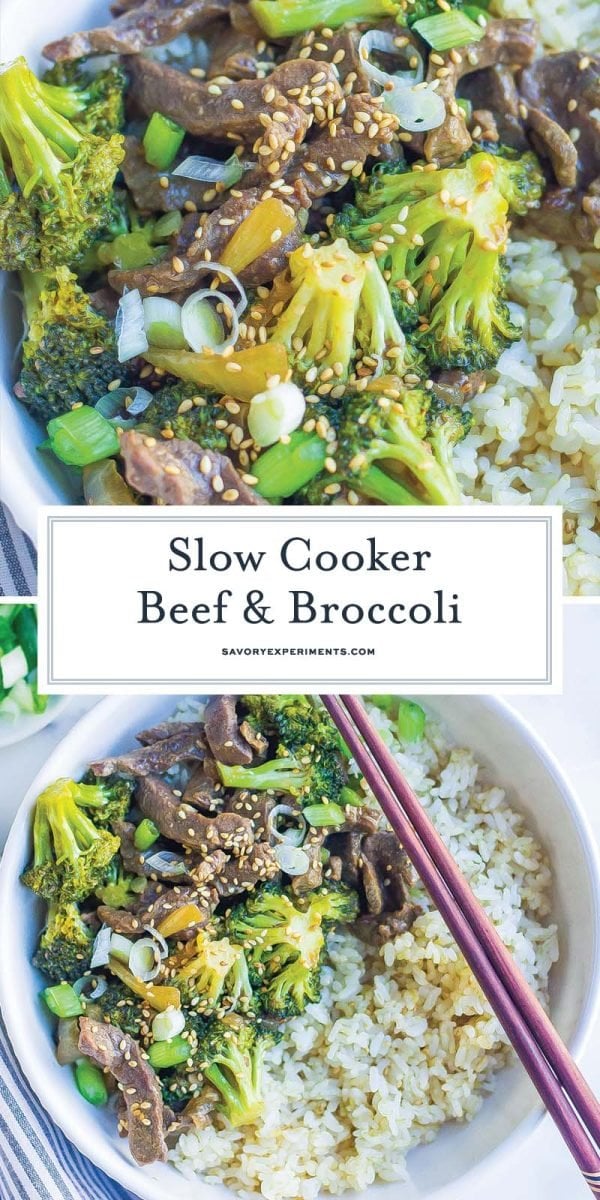 The sauce might be a little thick or gelatinous, but it will loosen as it heats. You can always add a small amount of water or beef broth to thin it out.
It can also be frozen in an airtight container for up to 6 months.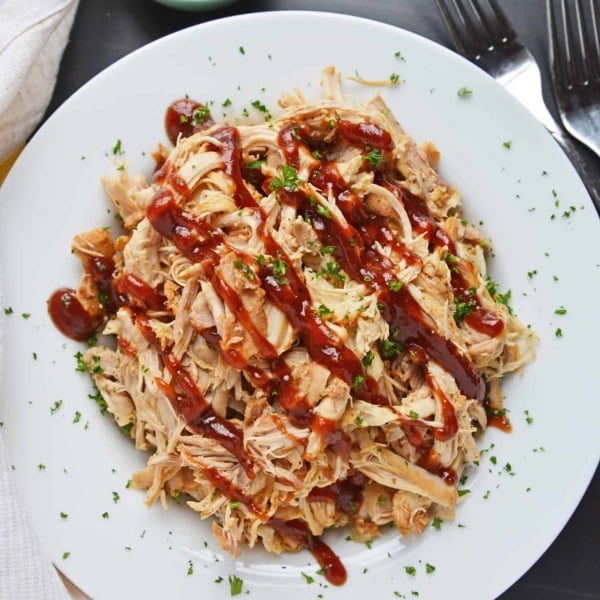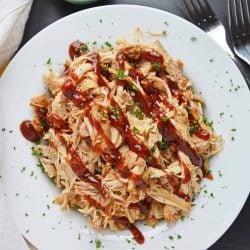 Crockpot BBQ Chicken
Crockpot BBQ Chicken take just minutes to get into the slow cooker. Hours later you have flavorful, fork tender chicken perfect for sandwiches, salads or even quesadillas!
See The Recipe!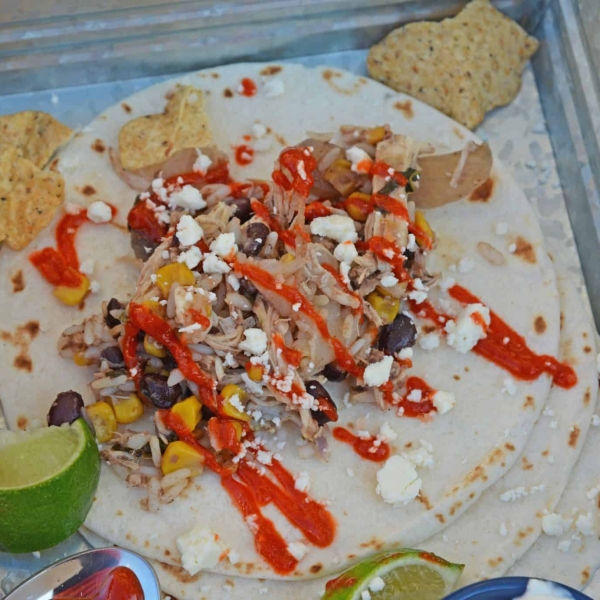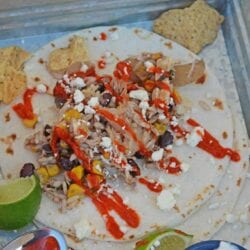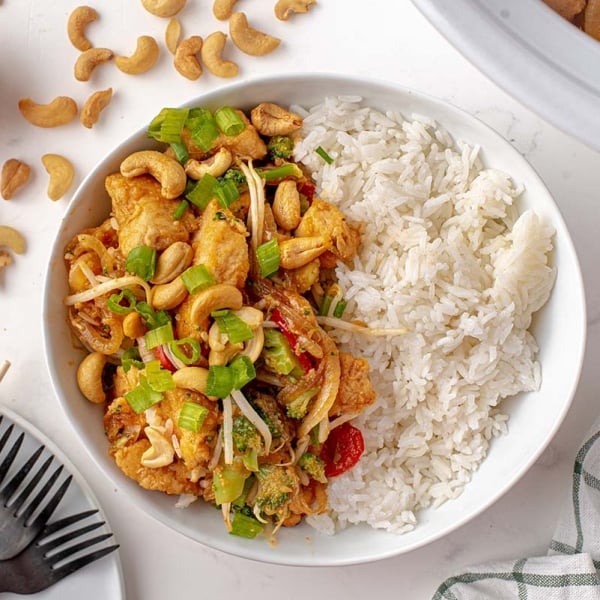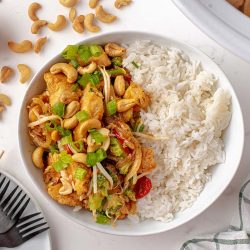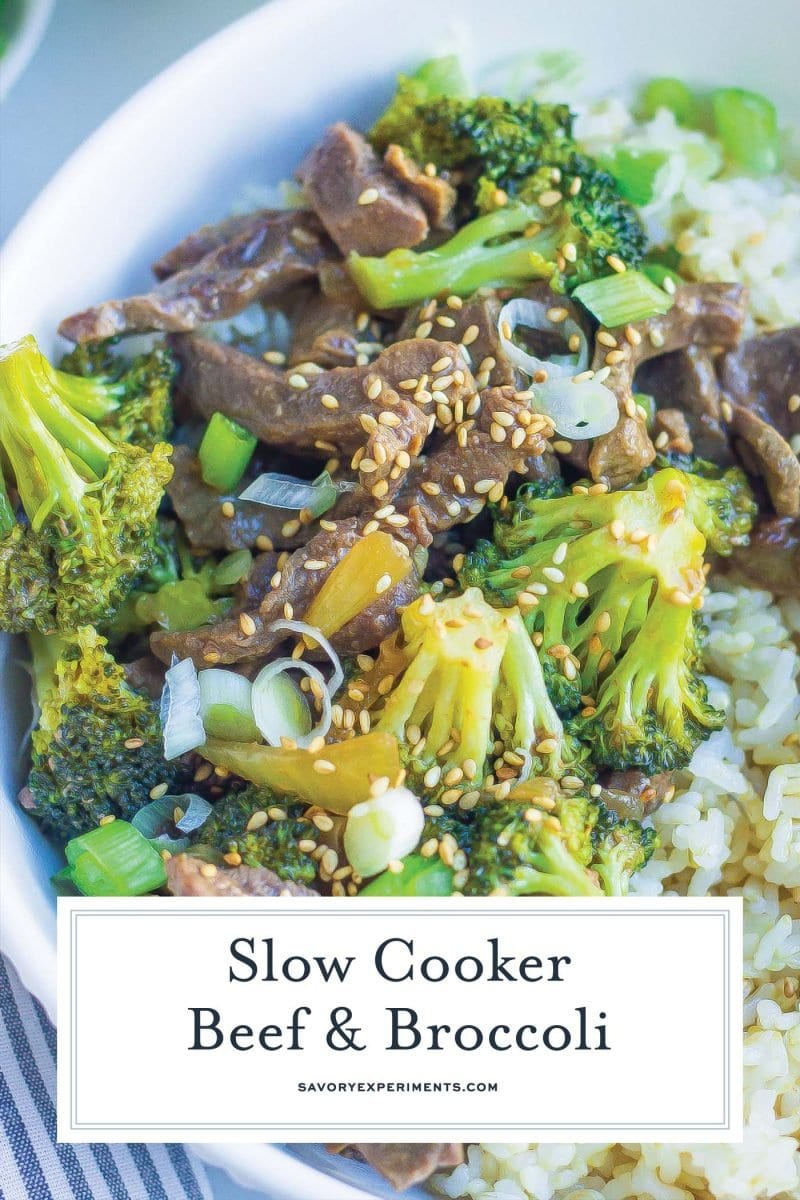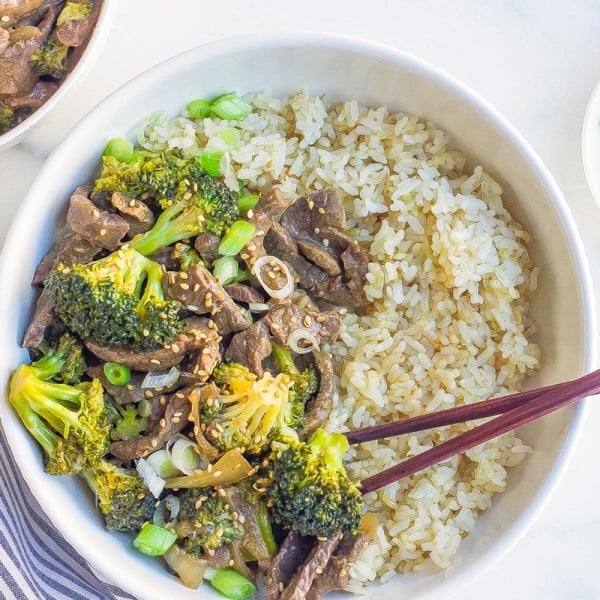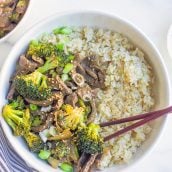 Slow Cooker Beef and Broccoli
Slow Cooker Beef and Broccoli- better than take-out, beef and broccoli only takes 10 minutes from fridge to slow cooker.
Instructions
Slice the beef into 1/2 inch strips against the grain.

Place the in slow cooker along with the onion, beef broth, soy sauce, brown sugar, oil, vinegar, garlic and ginger . Give it a quick a stir.

Place on high heat for 3 hours.

Add the frozen broccoli. Spoon out 1/2 cup of liquid and whisk with the cornstarch, return to the sauce to thicken. Continue to cook for 15 minutes on low heat.

Serve over preferred rice and garnish with sesame seeds and scallions, if desired.

If you've tried this recipe, come back, leave a rating and let us know how it was in the comments!
Notes
If using fresh broccoli, cooking time might increase to 30 minutes.
Nutrition
Calories:
493
kcal
,
Carbohydrates:
39
g
,
Protein:
35
g
,
Fat:
23
g
,
Saturated Fat:
8
g
,
Cholesterol:
104
mg
,
Sodium:
1714
mg
,
Potassium:
1001
mg
,
Fiber:
2
g
,
Sugar:
26
g
,
Vitamin A:
414
IU
,
Vitamin C:
53
mg
,
Calcium:
103
mg
,
Iron:
5
mg