If you're looking for a delicious blend of flavor combination then you've come to the right place. This salad isn't just your typical basic greens and barely any toppings kind of salad.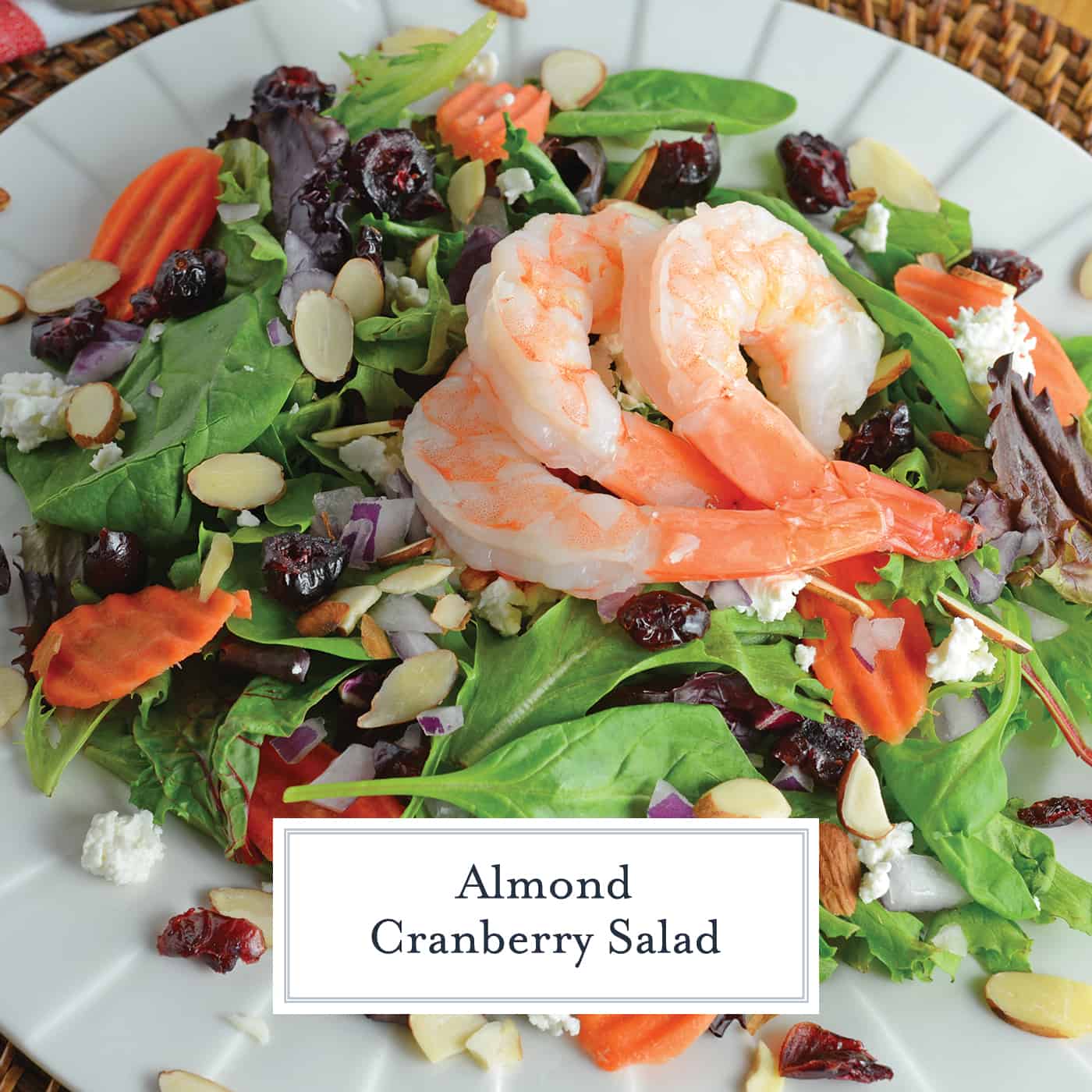 Oh no, it is loaded with onions, carrots, tomatoes, cranberries, mozzarella, slivered almonds, and drizzled in a delicious homemade dijon vinaigrette dressing!
Summer Salads
I commonly throw whatever is in the vegetable drawer into an airtight container for lunches. About a year ago, the combination for Almond Cranberry Salad ended up being lunch and it has become one of my favorite flavor combinations.
While most would think of this flavor combination being fall, I think it is more of a summer salad. Light and flavorful, not heavy and dull. And I absolutely love that it as a random assortment of ingredients that came together.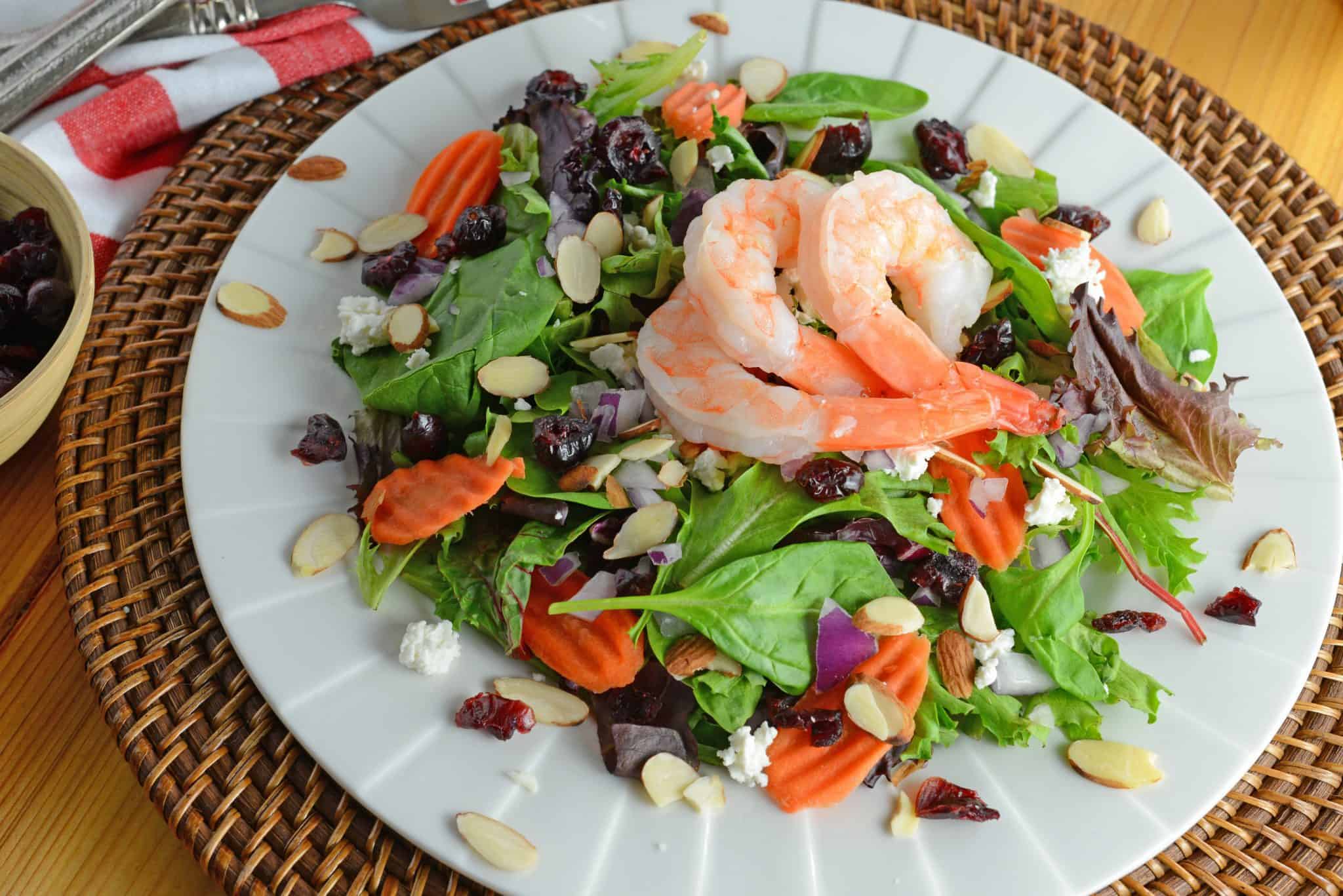 Salads tend to get boring and I'm on a mission to make sure they never do! I also put together my 7 Tips for Better Salads, make sure to give it a read to amp your own leafy greens.
Homemade Salad Dressing
I pair my Almond Cranberry Salad with Dijon Vinaigrette, a slight tart and sweet homemade salad dressing that pairs well just about any salad. I also love the texture of it. Not too heavy and not too light.
Some people hear the word salad and immediately say no thanks. Well, I'm here to change your mind about them by sharing this tasty Almond Cranberry Salad with you. I'm telling you this summer salad is a game changer!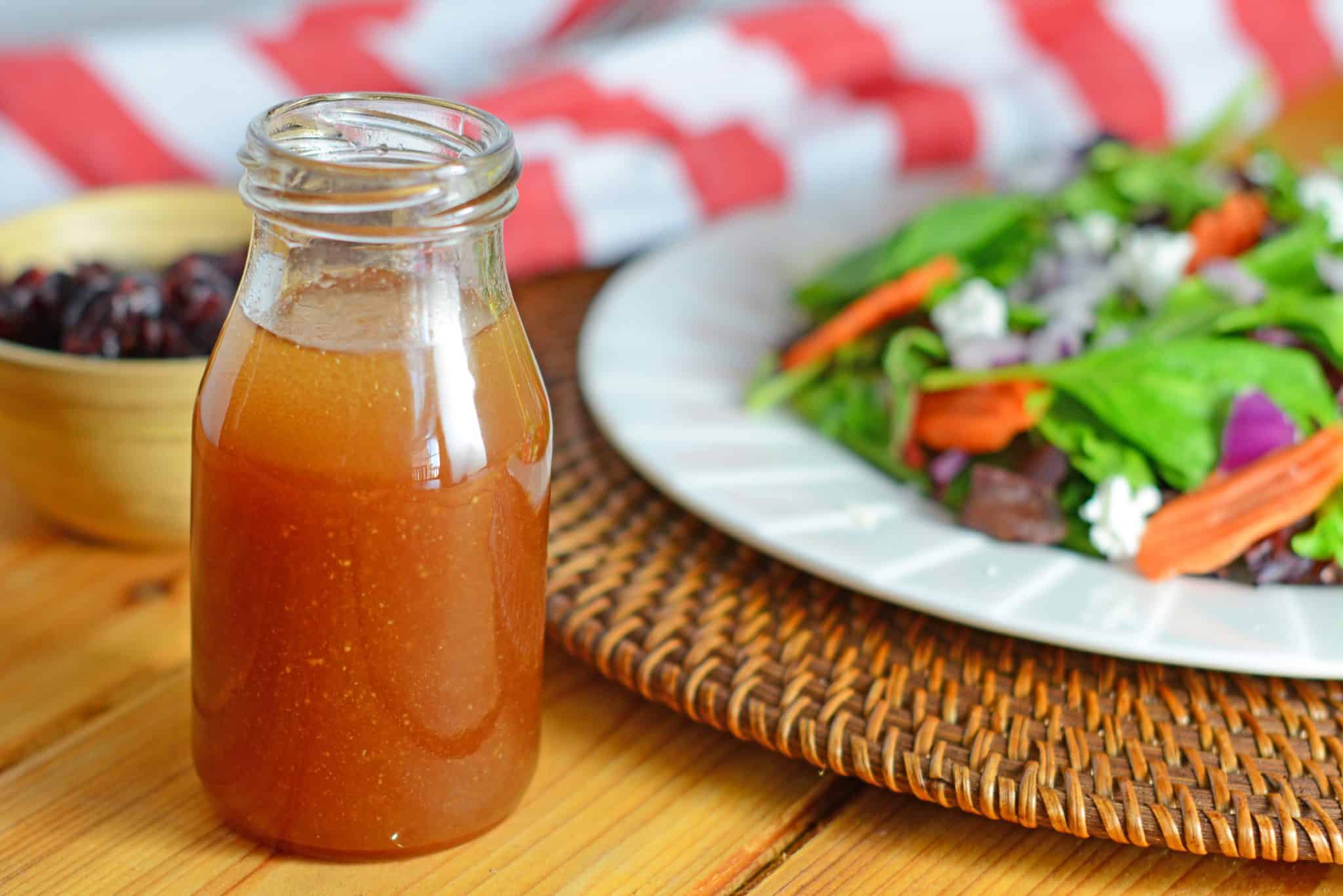 Salad Meal Prep
To make Almond Cranberry Salad for lunches I line up 5 airtight containers and go down the line adding each ingredient. I put the dressing in a smaller airtight container separate (to not mush up the salad) and then I have lunch for the week all ready to go.
It's the perfect salad for meal prepping because it takes no time at all and it will stay fresh throughout the week.
This means you can have a carefree week not worrying about what to eat or having to create a meal the next day, because you've already prepared yourself a healthy delicious meal!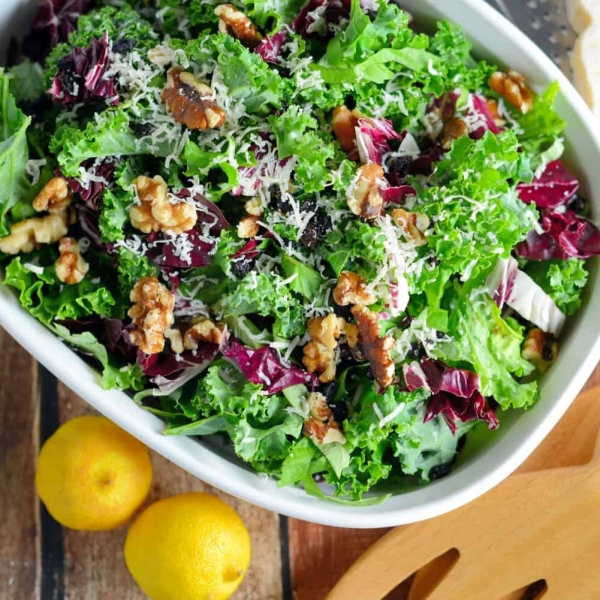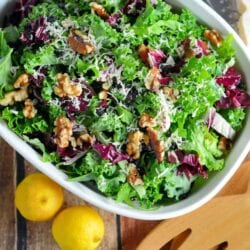 Kale Salad Recipe
Kale Salad with Lemon Dressing is tossed with currants, radicchio, walnuts and a lemon dressing. Learn how to massage kale salad and make a delicious salad!
View this recipe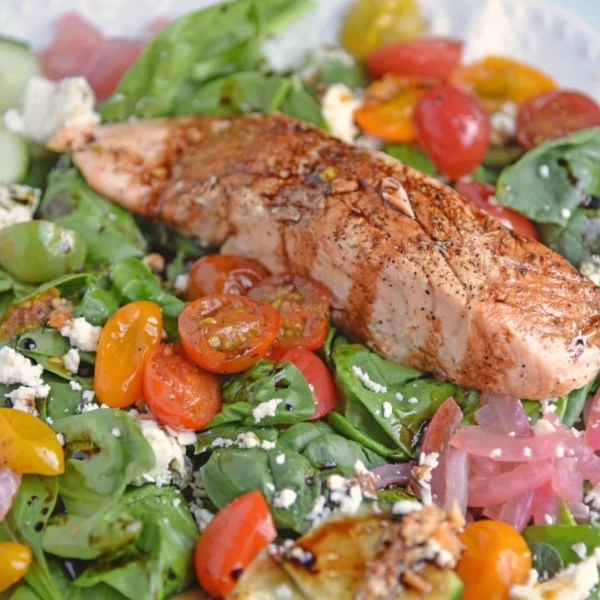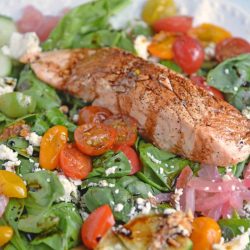 Balsamic Salmon Salad Recipe
Balsamic Salmon Salad is an easy salad recipe that can be made for dinner, or even an on the go lunch! Serve with chèvre bread for a delicious combination!
View this recipe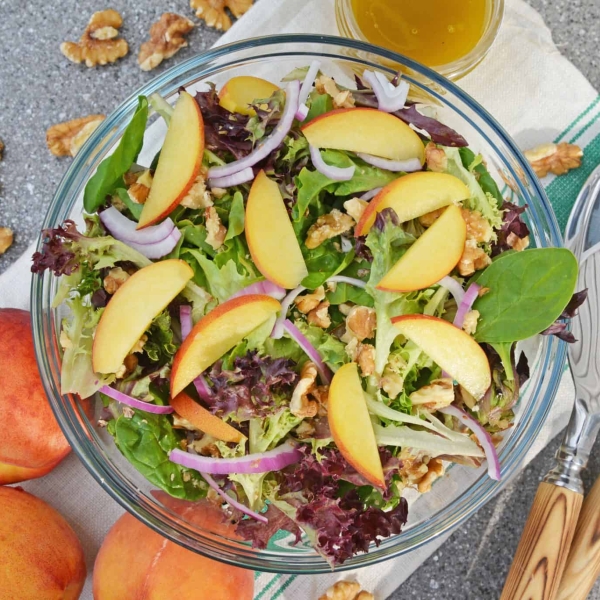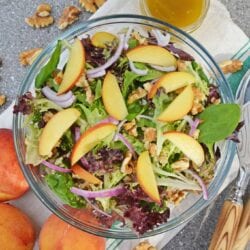 Peach Salad Recipe
Peach Salad is a scrumptious summer salad filled with delicious peaches, gorgonzola cheese, shallots, candied walnuts and a tangy peach dressing. The perfect summer salad!
View this recipe
Tools:
Wood cutting board – wood won't dull your knives like plastic and if treated properly, has natural antimicrobial properties.
Good knife – Global is my favorite! They are worth the price, I promise. I am kind of obsessed with them and store them tucked away so no one else can use them. Including hubby. Hands off my good stuff!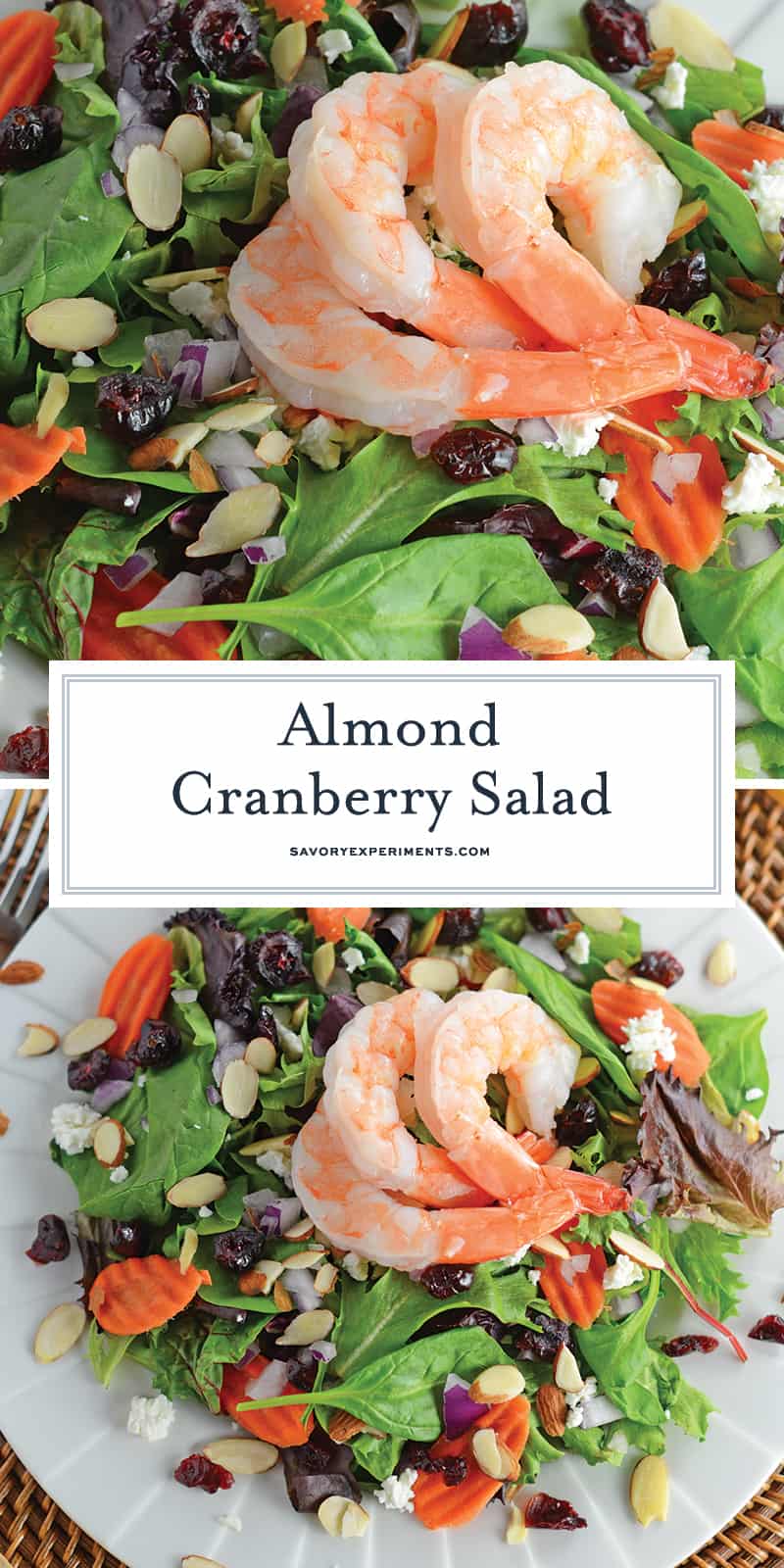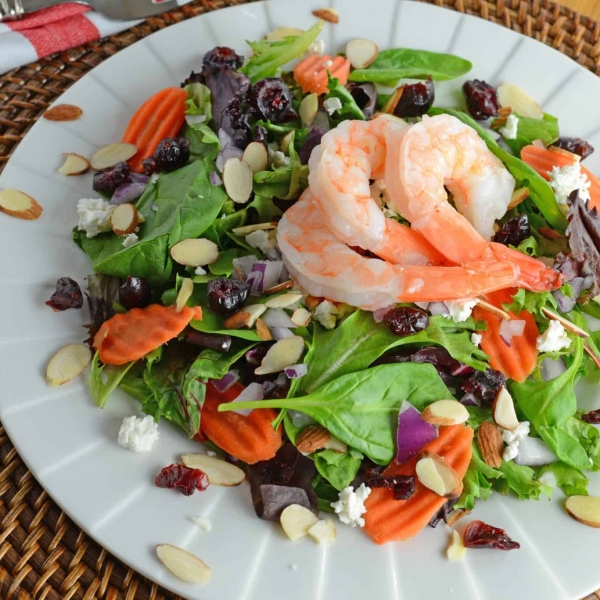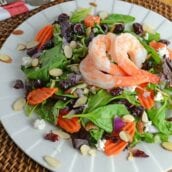 Cranberry Almond Salad Recipe
Cranberry Almond Salad with Dijon Vinaigrette is a quick yet tasty meal solution. Throw it together for a healthy quick dinner or lunch.
Instructions
Evenly divide all salad ingredients between four salad bowls, lettuce through shrimp.

Serve! I highly encourage you to get a bite of dried cranberry, cheese and almond in almost every bite, it is heaven!

If you've tried this recipe, make sure to come back and let us know how it was!
Nutrition
Calories:
231
kcal
,
Carbohydrates:
29
g
,
Protein:
11
g
,
Fat:
8
g
,
Saturated Fat:
2
g
,
Cholesterol:
86
mg
,
Sodium:
323
mg
,
Potassium:
198
mg
,
Fiber:
3
g
,
Sugar:
21
g
,
Vitamin A:
325
IU
,
Vitamin C:
5.8
mg
,
Calcium:
146
mg
,
Iron:
1.3
mg