Summer has finally arrived and with it all of my favorite summer foods! This year I am on a mission to put new twists on old classics.
Zesty Shrimp Salad Avocados are an easy, no-cook recipe for your next BBQ. Shrimp, corn, tomatoes and bell pepper with a zesty yogurt sauce served in creamy avocado halves.
On this date, I decided to take shrimp salad to the next level using RO*TEL® Original Diced Tomatoes & Green Chilies to put a southwestern flare and zesty spice to the traditional picnic favorite.
Traditional shrimp salad uses a mayonnaise base with salt and pepper, pre cooked shrimp, fresh dill, red onion and sometimes even pasta shells, celery or other minced vegetables. Some even include Old Bay seasoning.
I happen to be obsessed with avocados, so making a little zestier shrimp salad seemed like a fabulous idea and now I just love this recipe! Like I am putting them on nearly everything and will eat avocado toast for my whole meal, obsessed.
So it was only natural that instead of serving my shrimp salad on a buttery brioche bun, that I would serve it in a cool avocado halve. This not only makes it an avocado salad, but a light shrimp salad.
All of these delicious and colorful flavors needed a binding agent and mayonnaise just seemed too heavy and a little too flavorful.
For a healthy shrimp salad, I used a plain Greek yogurt, not only cutting down on calories for my bathing suit bod (just kidding!) but adding it's own little tartness to cut through a dash of chili powder.
The best part?
Shrimp Salad Avocados are easy to make and easy to assemble, making them perfect for serving large groups of people, taking for your work potluck or even bringing to a friends BBQ for Memorial Day!
You can assemble them ahead of time, place in an airtight plastic container and tote them on over or prepare them them after you arrive.
Pair them with chicken salad avocados for some variation.
Good Extra Virgin Olive Oil will taste like, well, olives, while a poorly made one will taste like vegetable oil. Gross. While people tend to favor Italian and Greek olive oils, I prefer to buy mine domestically.

There are some great ones out there from all over the world, but the reporting of ingredients isn't always the same and you could find that your super expensive olive oil was actually cut with vegetable oil.
Basting the avocado halves with lemon juice and olive oil will reduce the speed at which they oxidize (start browning) while also adding flavor. Keeping them in their skin serves as a natural dish, making it easy to grab a fork or spoon and eat your Shrimp Salad Avocado while socializing.
Tips for picking the best avocados:
ONE. Don't judge by color, judge by texture. Avocados will vary in the hue of green, so don't rely solely on the color. A deep green doesn't necessarily mean that it is overly ripe or bad.
TWO. Do judge by texture. Take it in the palm of our hand and gently squeeze. Ripe, ready-to-eat fruit will be firm but will yield to gentle pressure. If you are planning to eat your avocado the next day (or days after) pick a fruit that it is a little more firm.
THREE. While you shouldn't judge on overall color, do look for blemishes or discoloration on some spots.
FOUR. Even taking these steps, sometimes you still cut into an avocado and see brown. This is unavoidable and just part of the avocado game.
FIVE. If you do pick an overly ripe fruit, you can ripen it faster by putting it in a brown paper bag. They release a gas called ethylene, a natural hormone that promotes ripening.
PRO TIP: To ripen even faster, add more to the same bag. More fruit = more ethylene.
Recipes for large groups!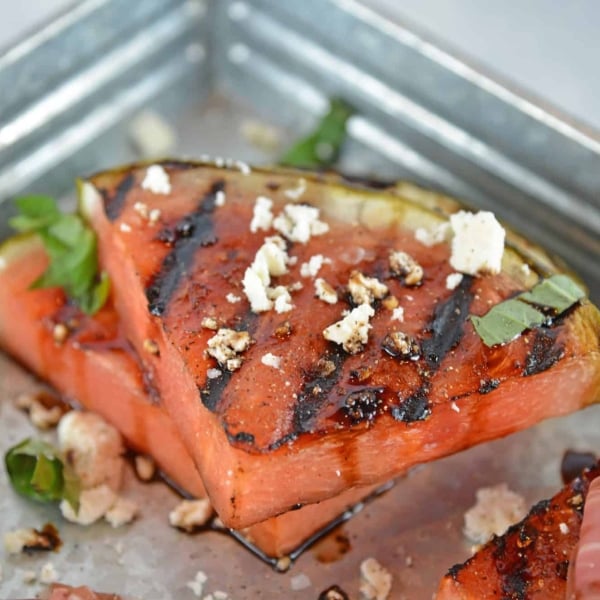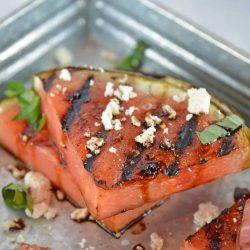 Grilled Watermelon Steaks
Grilled Watermelon Steaks with balsamic reduction and feta cheese are an easy BBQ side dish. Caramelized, juicy watermelon with savory cheese and sticky reduction is delicious!
See The Recipe!
Tools for making Shrimp Salad Avocados:
Wood cutting board – wood won't dull your knives like plastic and if treated properly, has natural antimicrobial properties.
Good knife – Global is my favorite! They are worth the price, I promise. I am kind of obsessed with them and store them tucked away so no one else can use them. Including hubby. Hands off my good stuff!•
Mixing Bowls
– make sure to check out my article on Using the Right Mixing Bowl, you'd be surprised how many people aren't!
Whisks– I buy whisks in multiple sizes. You never know which one you will need.
Questions you might have about how to make healthy shrimp salad:
Are salad shrimp cooked? Yes. PLEASE COOK YOUR SHRIMP!!!! The recipe calls for cooked shrimp.
What size shrimp should I use? You can use whatever size shrimp you'd like, as long as it equals 1 cup. Large shrimp or super small shrimp (that won't really require chopping) are all fine. I advise getting whatever is on sale.
Can I use frozen shrimp for shrimp salad? Frozen shrimp are totally acceptable, just make sure they are thawed, drained and blot them well with a paper towel so they don't have any excess water.
Can I make shrimp salad in advance? You sure can, but I wouldn't advise making it more than a few hours in advance and keeping it in the refrigerator until ready to serve.
Do I have to serve this healthy shrimp salad in avocados? Nope! You can serve it on anything you want. As a shrimp salad sandwich, on top of a leafy green salad, sliders or any other ways you think it.
I don't like Greek yogurt, can I use mayonnaise? You can surely use mayonnaise or Miracle Whip, but it will no longer be a light shrimp salad recipe.
How long can shrimp salad be left out? CDC recommendations suggest no longer than 2 hours. Since it is made with yogurt and seafood.
PRO TIP: Place a bowl of shrimp salad inside a larger bowl filled with ice to keep it chilled longer.
How long does shrimp salad stay good? I would say no longer than 3 days in refrigerator due to the yogurt and seafood ingredients.
Is this a low carb shrimp salad recipe? Yes! This is a gluten free shrimp salad that is also low carb.
Can shrimp salad by frozen? No. I don't suggest freezing this recipe.
Shrimp Salad Avocados
Zesty Shrimp Salad Avocados are an easy, no-cook recipe for your next BBQ. Shrimp, corn, tomatoes and bell pepper with a zesty yogurt sauce served in creamy avocado halves.
Instructions
Whisk together lemon juice and olive oil. Baste onto avocado halves.

In a medium bowl, combine shrimp, RO*TEL Original Diced Tomatoes & Green Chilies, corn, green bell pepper, Greek yogurt, fine sea salt, black pepper and chile powder. Stir to combine.

Spoon into avocado halves. Top with chopped cilantro and hot pepper slices.

If you've tried this recipe, come back and let us know how it was!
Nutrition
Calories:
219
kcal
,
Carbohydrates:
13
g
,
Protein:
7
g
,
Fat:
16
g
,
Saturated Fat:
2
g
,
Cholesterol:
41
mg
,
Sodium:
324
mg
,
Potassium:
601
mg
,
Fiber:
7
g
,
Sugar:
2
g
,
Vitamin A:
255
IU
,
Vitamin C:
21.2
mg
,
Calcium:
61
mg
,
Iron:
1.2
mg
To find even more summer cookout inspiration AND summer recipe tastings in your area, click HERE!