This post is sponsored by the Certified Angus Beef® brand in conjunction with a social media campaign through Sunday Supper LLC. All opinions are my own.
This steak salad is a fusion of many cuisines. Green curry dressing is a nod to Thai or Indian culture and peanut saute vegetables other Asian cuisines. Seared beef is all-American and of course I only use Certified Angus Beef® brand for my beef.
Green Curry Steak Salad uses a seared steak with a sweet and mildly spicy green curry sauce over Romaine lettuce and charred bell pepper and carrots. The perfect summer salad recipe!
I added cashews because I like their velvety crunch and Maldon salt because, well, I add it everything. It is a mild salt with a lot of texture that just accentuates flavors without making a dish overly salty.
You don't want to overpower the other flavors, especially that glorious beef!
Salads can be super boring, so for Green Curry Steak Salad I added appeal in a variety of ways. The first is cooking some of the vegetables.
Salads are typically thought of as being raw, but adding heat can dramatically change the flavor profile and texture of any vegetable.
I used a smoking hot peanut oil to add a bit of char, a techinque I learned from famous Texas chef Tim Love, the master of cooking with fire and artfully burning food.
Oil is heated to smoking in a cast iron pan, then add the vegetables and let them sit until a light char is formed. It won't taste like burned food, but more of a layered, sophisticated profile.
The outside will be soft, but the inside still crunchy. The perfect mix.
This particular recipe can be served as a hot steak salad or a cold steak salad. Same with the green curry sauce and dressing. If you do chill it, taste for seasoning before serving.
PRO TIP: All sauces and soup become slightly muted when chilled. Taste and correct seasoning with citrus, salt and pepper after chilling, but before serving.
Romaine lettuce adds crunch and texture. You can swap this out for any type of leafy green you'd like. I've even made this salad with shredded cabbage and kale with great results.
If you do use kale, remember to massage it well so it isn't as difficult to chew.
PRO TIP: Always dress dry lettuce. Dressings stick better and dry seasoning like salt and pepper won't stick in clumps. Use a salad spinner or allow to air dry for best results.
You can also add even more delicious salad ingredients to my Green Curry Steak Salad. Try some of these:
Chickpeas
Cooked rice noodles or bean thread noodles, cold and chopped
Roast Cauliflower
Almonds
Minced mint
Scallions (green onions)
And of course, make sure you only use the best beef. Certified Angus Beef® brand guarantees beef that has already undergone a rigorous 10 point quality check including marbling and maturity, consistent sizing and quality appearance and tenderness.
Check out their website for even more beefy recipes.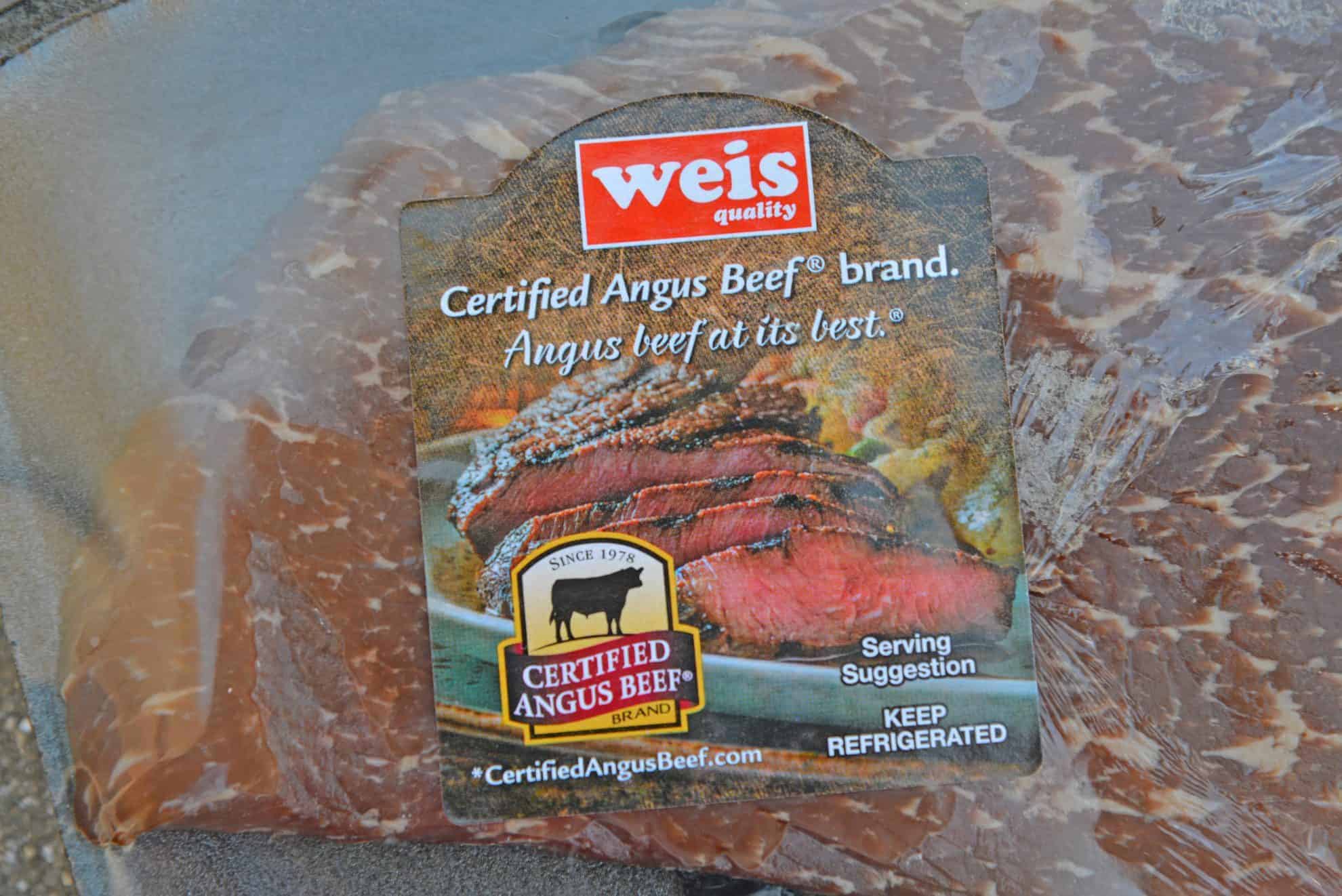 PRO TIP: Slice beef against the grain. This shortens fibers making it easier to chew.
If you love eating beef like I do, then you'll also like these delicious recipes:
Questions you might have about how to make steak salad:
Can I skip cooking the vegetables? Sure! I just like some textural and temperature variety in my salads. Feel free to make yours with raw onions, carrots and bell pepper.
Can I use another color of bell pepper? Use any color of bell pepper your heart desires. I used a red bell pepper because I love adding loads of color to me salad and the grocery store was out of yellow. The salad had enough green.
Can I substitute the peanut oil? You can use any oil you prefer. I used peanut oil because it adds more flavor than other oils like vegetable oil. You can use olive oil, coconut oil or even just a quick spray of nonstick cooking spray.
Can I make this salad nut free? Sure! Just omit the the cashews and peanut oil. If you still want some crunch, try adding pepitas (small salty roasted pumpkin seeds) or sunflower seeds.
Can I omit the cilantro? Yes. It is a known fact that 50% of the population has a gene that makes cilantro taste like dirt or soap. If you have a cilantro-hater in your midst, omit it. The green curry paste alone will have a lot of flavor, but you can also add flat leaf parsley to boost the herb factor.
What is fish sauce and do I really need it? Fish sauce is a Thai sauce used as a flavoring or condiment, prepared from fermented anchovies and salt.
Okay, I get it, that sounds gross, but I guarantee you that much like Caesar dressing, you probably have had it in countless Asian dishes and never noticed anything other than the mild salty flavor it provides. Leave it out if you wish.
Can I make this ahead of time? You can make elements of Green Curry Steak Salad ahead of time. It can be served cold or hot. The green sauce can certainly be made up to a day ahead of time.
Is green curry spicy? No! It is a myth that all curries are spicy. In fact, this green curry sauce it a little sweet. If you'd like a spicy version try adding 1/2 teaspoon crushed red pepper flakes while it is in the food processor.
Green Curry Steak Salad
Green Curry Steak Salad uses a seared steak with a sweet and mildly spicy green curry sauce over Romaine lettuce and charred bell pepper and carrots. The perfect summer salad recipe!
Instructions
Beef:
Heat peanut oil in a medium cast iron skillet. Season both sides of beef with Kosher salt and ground black pepper.

Add to the skillet and sear on both sides. Since this cut of beef is fairly thin, you'll need 2-4 minutes on each side for rare to well done (respectively).

Remove beef and set aside, keeping the cast iron skillet over heat.
Salad:
Add additional peanut oil to the skillet and heat over medium-high heat until at smoking.

Add carrots, red bell pepper, red onion, stir and then allow to sit so it can char a little. Flip and char again. Remove and set side and remove cast iron.
Green Curry Dressing:
Heat peanut oil in a small saucepan. Add freshly grated ginger and green curry paste. Saute for 1-2 minutes or until fragrant.

Add coconut milk, fish sauce, lime zest, lime juice, sugar and pinch of Kosher salt. Whisk well and bring to a low simmer to allow flavors to meld.

Remove from heat and transfer to a small food processor. Blend well with cilantro and plain Greek yogurt until smooth.
Assemble the salad:
Slice beef against the grain.

Divide Romaine lettuce between 2 large salad bowls. Top with sliced steak. Evenly divide the carrots mixture between both salads.

Top with cashews, Maldon sea salt and chives.

Finally, dress with green curry salad dressing. Enjoy!

If you've tried this recipe, come back and let us know how it was!
Nutrition
Calories:
443
kcal
,
Carbohydrates:
20
g
,
Protein:
33
g
,
Fat:
26
g
,
Saturated Fat:
14
g
,
Cholesterol:
70
mg
,
Sodium:
640
mg
,
Potassium:
878
mg
,
Fiber:
2
g
,
Sugar:
11
g
,
Vitamin A:
8095
IU
,
Vitamin C:
57.2
mg
,
Calcium:
110
mg
,
Iron:
4.7
mg