Peach Salad is a sweet and savory salad with a tangy homemade salad dressing. The perfect summer salad for the hot months.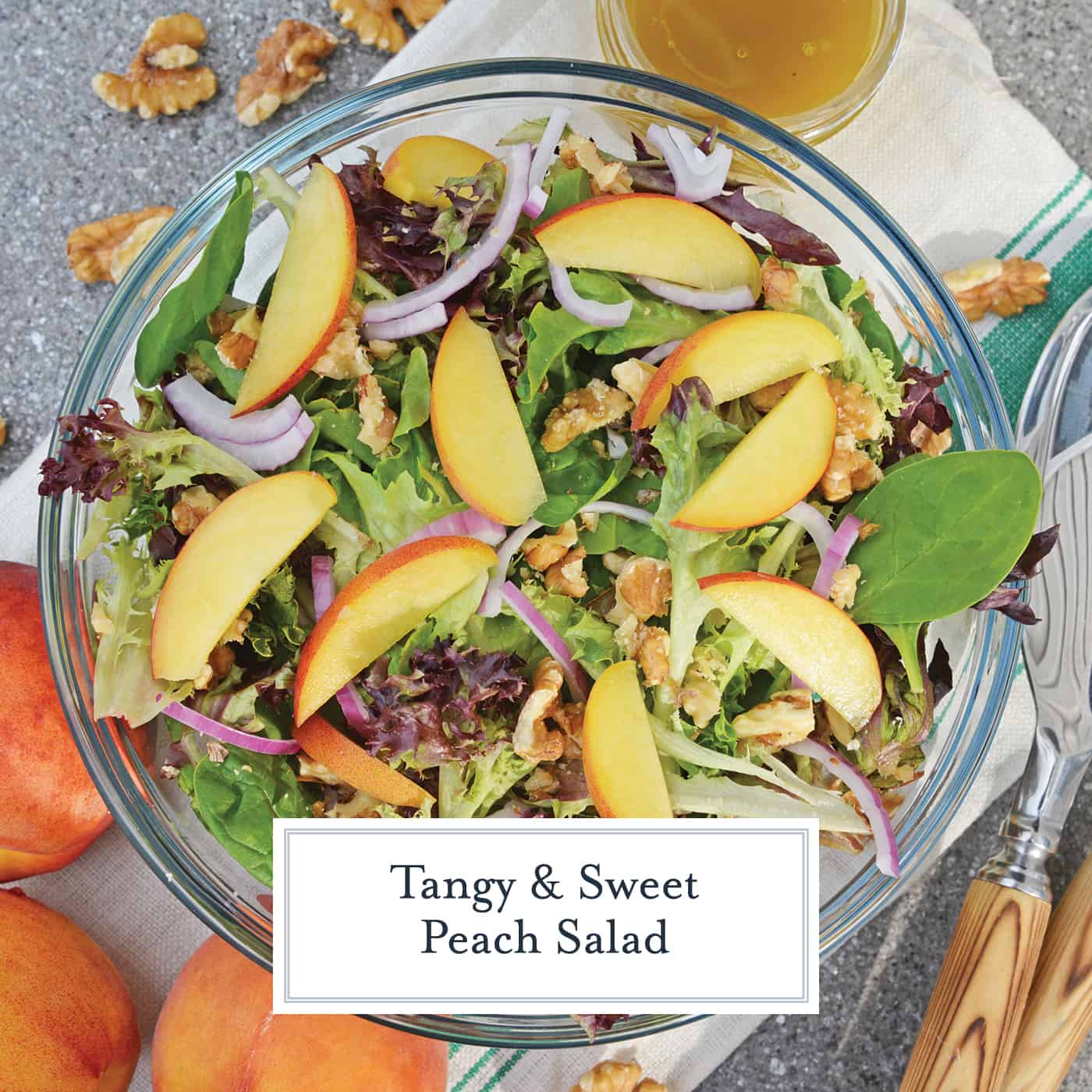 Peach Salad is a scrumptious summer salad filled with delicious peaches, gorgonzola cheese, shallots, candied walnuts and a tangy peach salad dressing. A new take on fruit salad.
First, let me say, I realize it is not yet peach season, but I made this salad last summer and have been waiting to post it all winter! I got backed up and by the time it was ready to post it was well beyond peach season.
The good news is that even if you want to make this salad off season, you can use canned peaches instead of fresh peaches.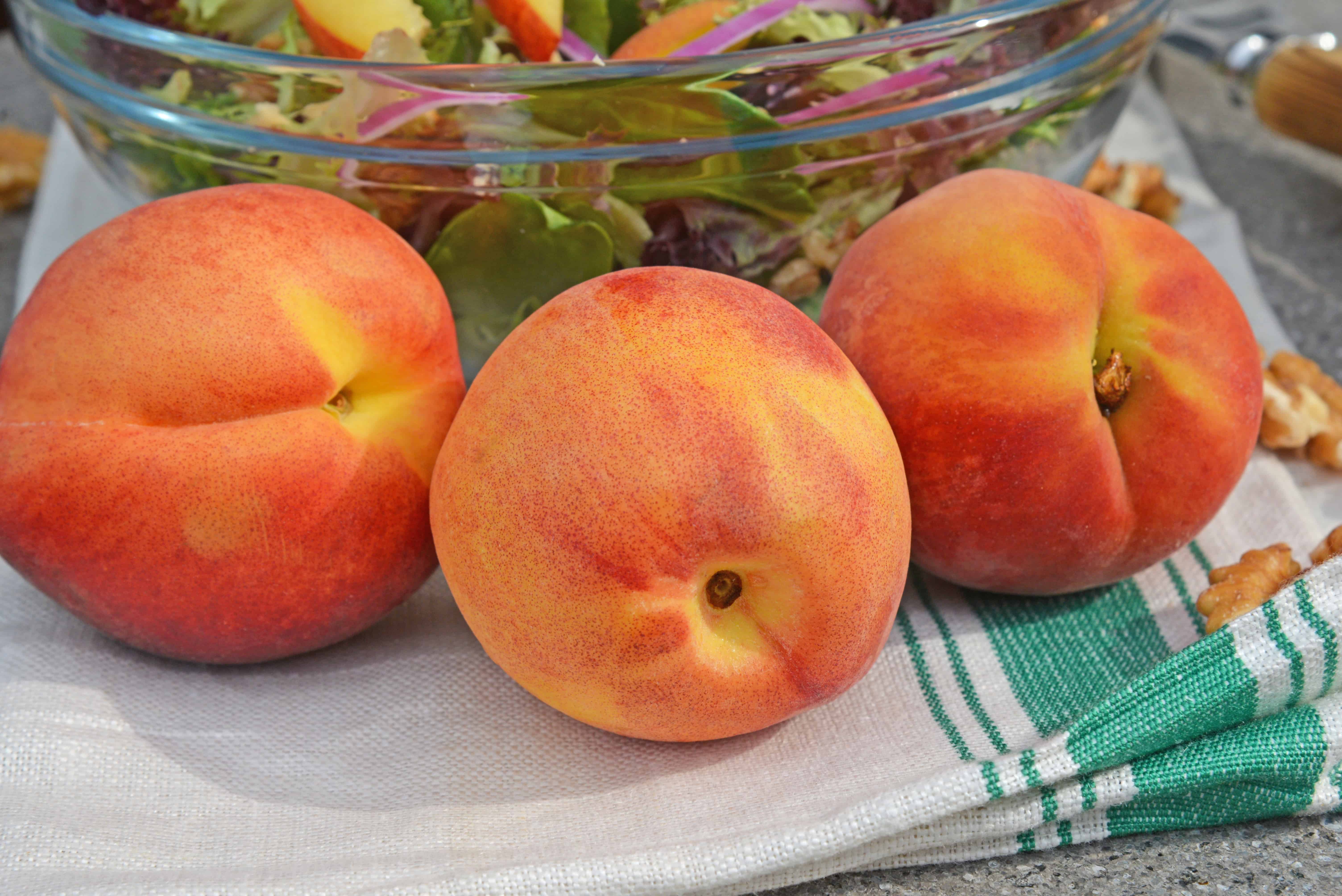 But now I am obsessing over the sweet smell and juicy flesh of a delicious fresh peach. What I would give for one right now!!!!
So here is the story: I bought Gorgonzola cheese and peaches galore to experiment with making Peach and Gorgonzola Pizza, but was then left with a half a brick of Gorgonzola cheese and 2 large peaches.
PEACH FACT: There are 300+ varieties of peaches, so changes the type of peach you use will change the flavor profile of the whole salad.
Gorgonzola salad is all the rage right now, but the peaches ended up stealing the show, so now it is a peach salad.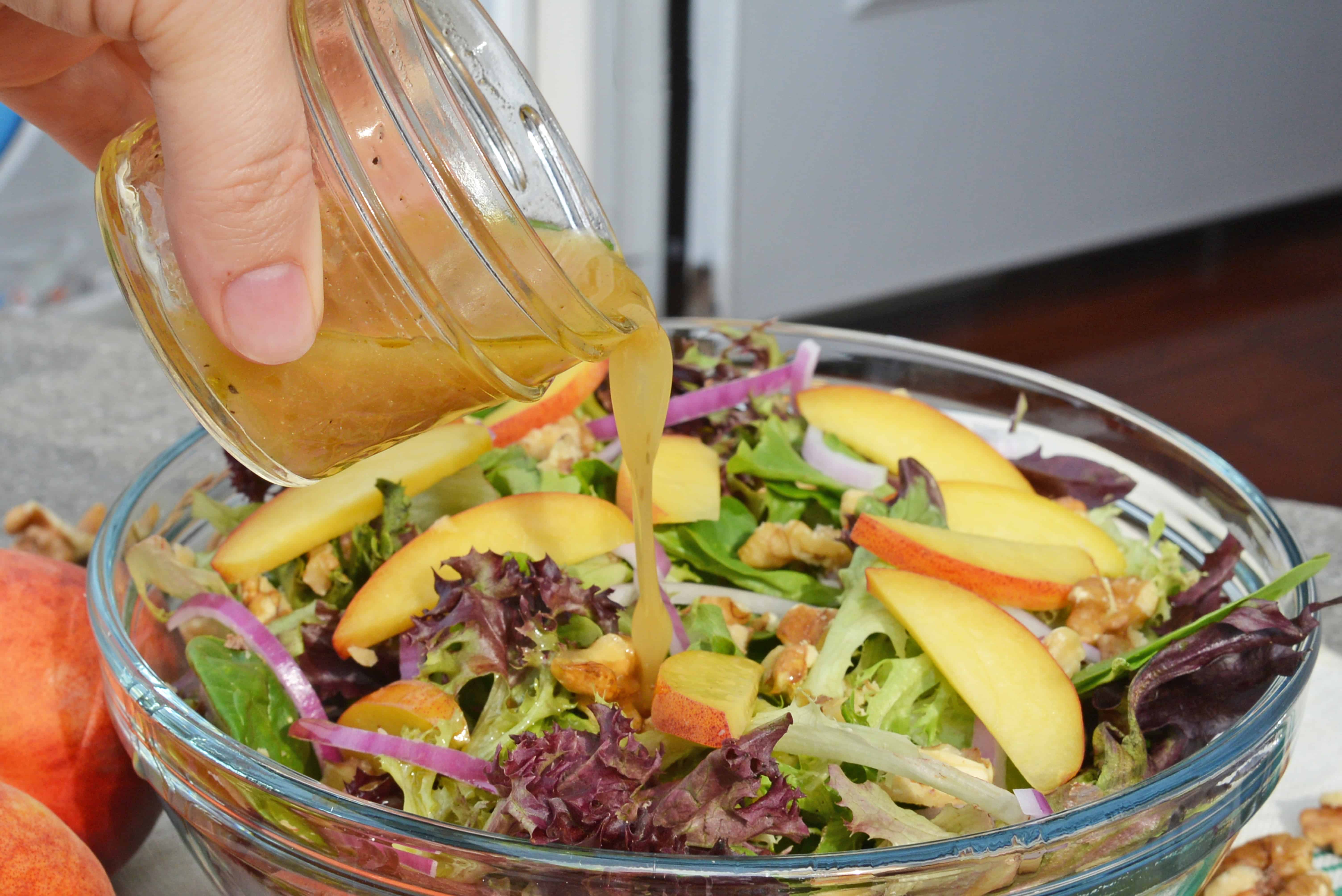 What to do, what to do…. MAKE PEACH SALAD! I also had leftover candied walnuts from Apple Pie French Toast and some champagne vinegar from a smashing salad dressing I made the night before.
Sometimes recipes developed out of all the little leftover pieces are the best. Peach Salad was basically making itself at this point.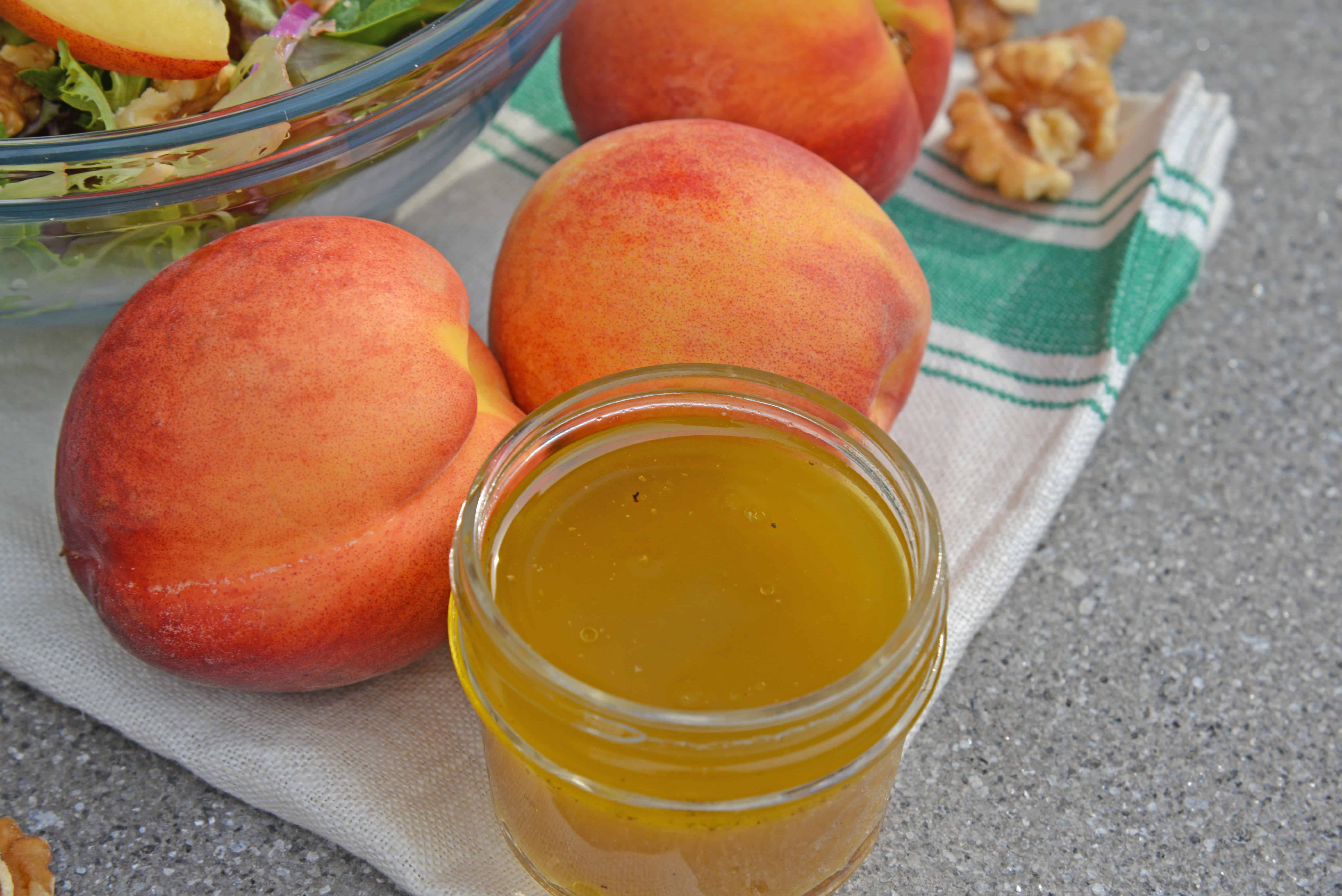 This recipe works great as summer salads go. A light salad, but full of flavor, not your boring regular salad. It is actually refreshing. Serve with a glass of iced tea for the ideal summer lunch.
What is champagne vinegar? Like white wine vinegar, it is derived from wine (sparkling in this case) and is lower in acidity with a milder flavor than other vinegars.
This makes it ideal for salad dressings seeing it adds flavor and bite without being overwhelming.

Here are some tips for picking the best peaches:
ONE. If you can buy local, do! Local peaches don't travel as far and are thus, fresher. It is scientifically proven that fruits and vegetables start to lose nutritional potency the moment they are picked, so these will also pack the most nutrient punch.
TWO. Taste test! Chances are if you are buying local at a produce stand or farmer's market, they will be happy to give a sample slice.
THREE. Smell it! A fragrant peach is a good peach.
FOUR. Look for color. Vibrantly colored peaches tend to have the best and most robust flavor. Shy away from peaches with any strains of green.
FIVE. Give it a good squeeze. Peaches get juicier as they ripen. Using two fingers, give it a little squeeze near the stem and if it starts to give with a little resistance, it is good to go. Avoid overly mushy or overly hard peaches.
SIX. Avoid bruising. Carry your peaches likes they are eggs…. carefully.
This salad also pairs nicely with my Balsamic Whiskey Sirloin to make it an entree. Before you get chopping, make sure to check out my 7 Tips for Better Salads!

If you want even more peach recipes, check these out:
Tools for making this summer salad:
Good Extra Virgin Olive Oil– A good olive oil will taste like, well, olives, while a poorly made one will taste like vegetable oil. Gross. While people tend to favor Italian and Greek olive oils, I prefer to buy mine domestically.
There are some great ones out there from all over the world, but the reporting of ingredients isn't always the same and you could find that your super expensive olive oil was actually cut with vegetable oil.
Wood cutting board – wood won't dull your knives like plastic and if treated properly, has natural antimicrobial properties.
Good knife – Global is my favorite! They are worth the price, I promise. I am kind of obsessed with them and store them tucked away so no one else can use them. Including hubby. Hands off my good stuff!
Salad Spinner
– I used to not use one, but having dry lettuce is a game changer!
Salad Dressing Shaker
– I make all my own salad dressing from scratch. I love that I can change the flavors every week depending on what I have around the house. Making it and storing in a dressing shaker is so easy!
Questions about how to make peach salad:
Can I use canned peaches instead of fresh peaches? Canned peaches can be substituted for fresh peaches, but an even better option is frozen peach slices. If you do use canned peaches, make sure they are packed in juice and not syrup and then drain them well.
Can I make peach salad ahead of time? You can make the salad, peach salad dressing and candied walnuts ahead of time, but don't actually dress the salad until you are ready to serve.
What can I substitute for peach preserves? You can also use chopped up fresh peaches or canned peaches. If can also omit the peaches altogether, but it will just be a vinaigrette instead of a peach salad dressing.
What can I substitute for champagne vinegar dressing? You can use any type of vinegar you want. A white wine vinegar would be the best though.
Can I use grilled peaches? You sure can! Grilling peaches uses their natural sugars to caramelize the outside, adds smokey flavor and of course, variation in temperature. You can find more on how to grill peaches here.
I don't like peach skin, can I peel my peaches? Yep! Here are easy instructions on how to peel a peach!
What can I substitute for gorgonzola cheese? Blue cheese is an excellent substitute, but also goat cheese or another soft, crumbly cheese. You can also just omit the cheese.
Can I use another type of fruit? Any stonefruit will work well in this salad.