This post was brought to you by the makers of French's®. I received compensation to write this post. All opinions expressed are my own.
The sun is shining, pools are open, school is closed and it is finally SUMMER! Nothing screams hot summer fun more than a classic tomato salad.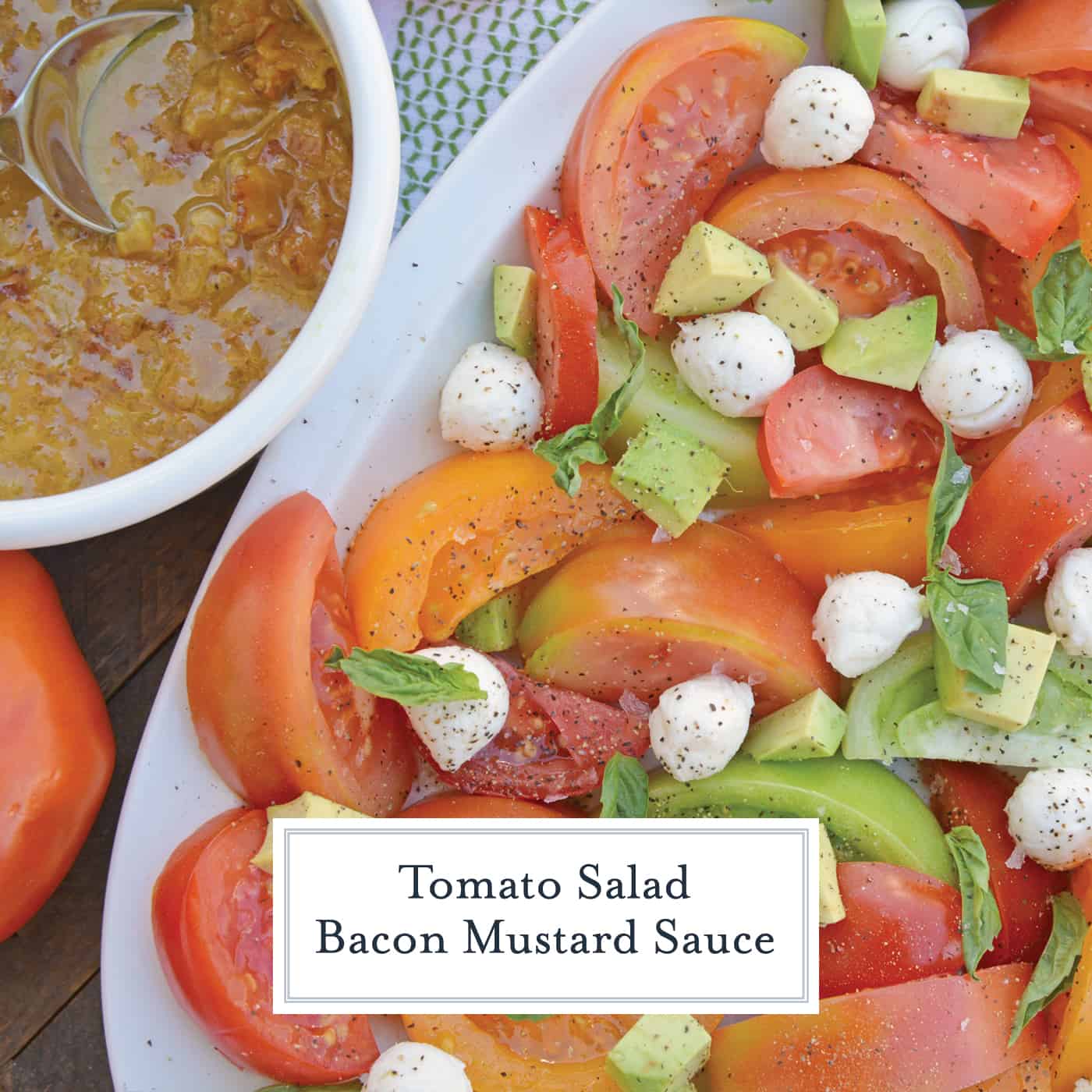 Tomato Salad with Mustard Bacon Dressing is the ultimate summer side dish. Make it ahead in a snap for any summer party or BBQ.
Tomato salad is amplified with the addition of mozzarella, avocado and… MUSTARD! All my foodie friends know about my obsession with salt, well, I also have an obsession with mustard. I'd call it my secret weapon, but it really isn't that secret.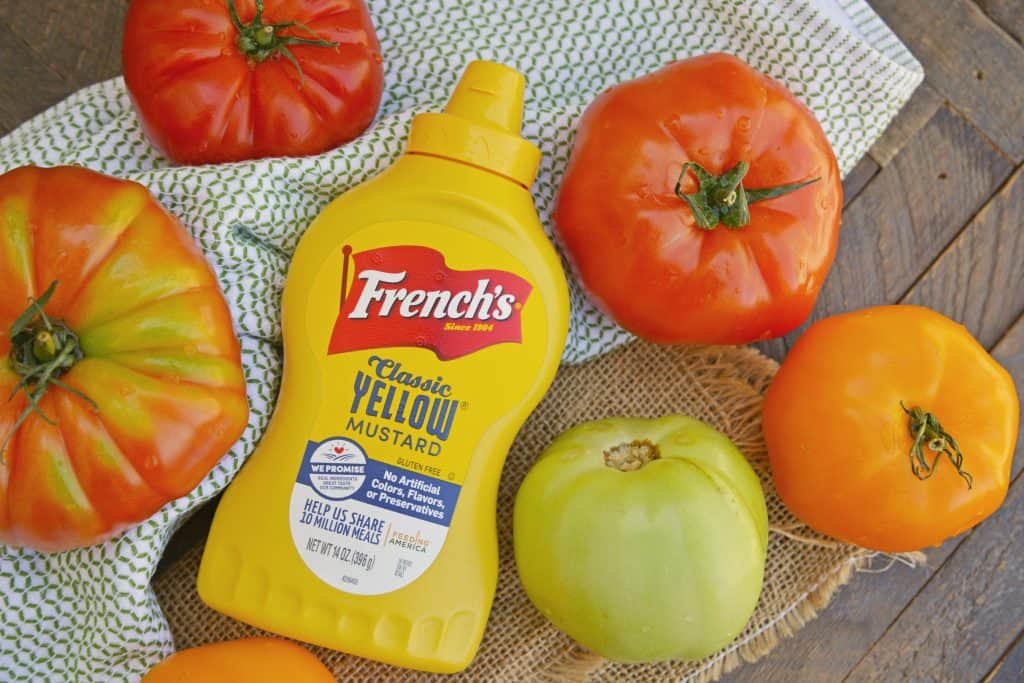 Regardless of the season, you'll always find "yellow" in my fridge. During the hot summer months, French's® Classic Yellow Mustard is used in nearly every meal.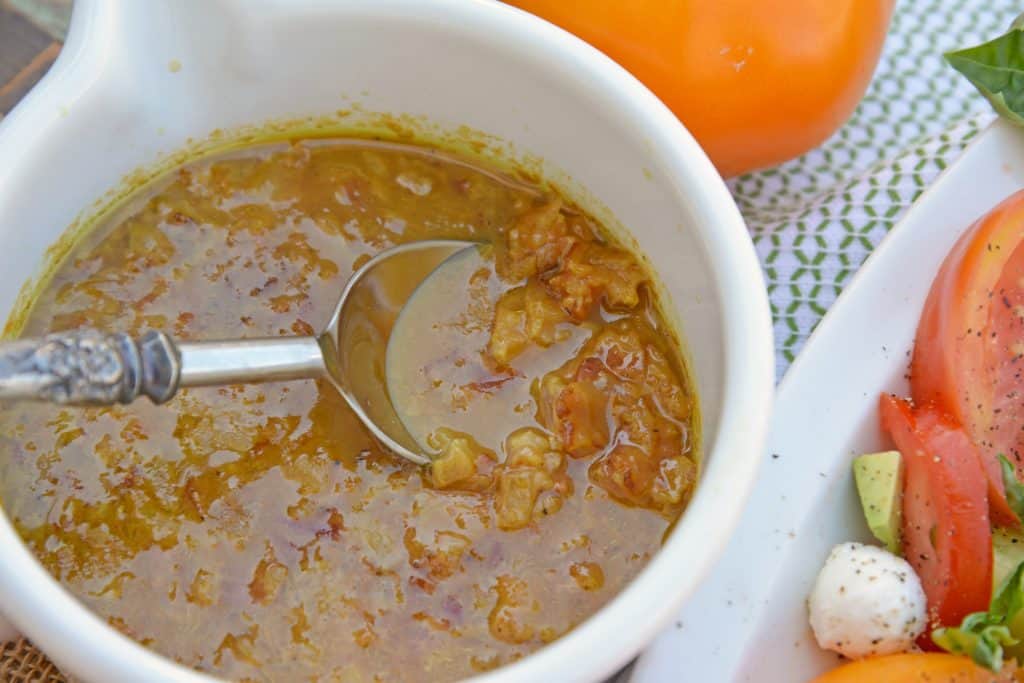 Not just for hamburgers and hot dogs, yellow mustard can be used to punch up sauces, dressings, marinades and more.
French's® Classic Yellow Mustard is made with better-for-you ingredients so you can feel good about using its smooth, tangy flavor for everyday dishes, especially summer dishes!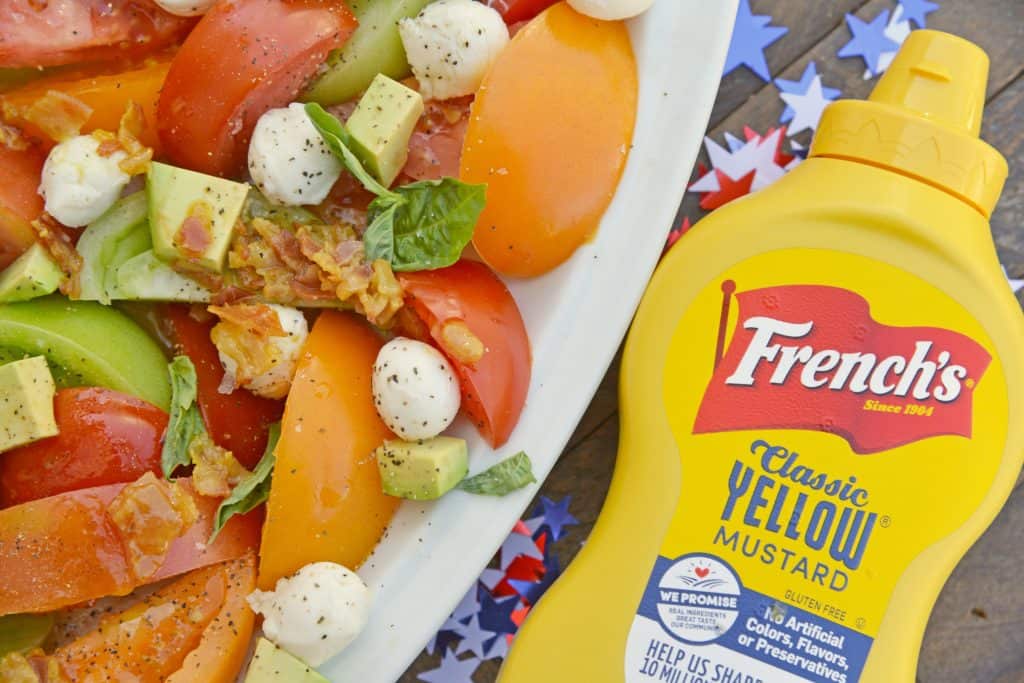 All your friends and family will rave over your entertaining gravitas. Don't worry, you can tell them the secret to your zesty dishes. It's French's®.
In addition to mustard and BBQs, sweet ripe tomatoes also embody the summer months. I live in a city and small container gardens aren't large enough to produce the volume of tomatoes I tend to go through.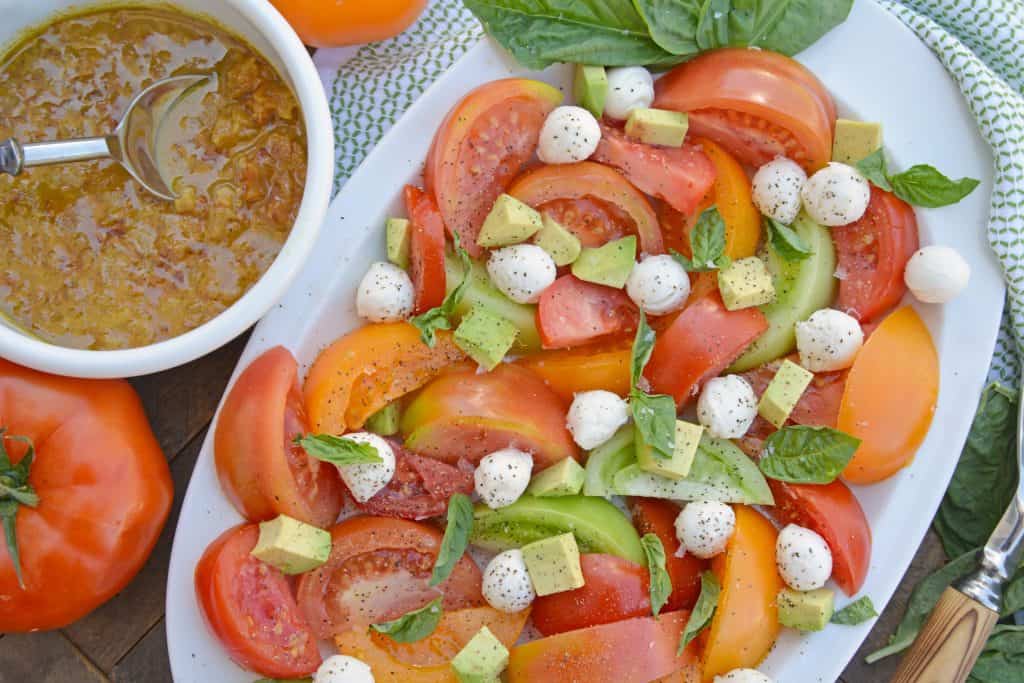 I have to smell the sweet scent of summer tomatoes at the farmer's market. I buy a giant bag of topsy, curvy, misshapen and multicolored heirloom tomatoes every week. I love tomato recipes!
And every week I make some variation of tomato salad. For my Mustard Bacon dressing, tomatoes with ripe avocado, juicy mozzarella balls and fragrant basil pair perfectly. Complimentary flavors for any summer BBQ or party, especially 4th of July!
Whether you are hosting a party, attending one, preparing a meal for the family or a whole crew, this simple recipe is for you. This summer salad can be served chilled or room temperature.
The salad itself, and the zesty mustard dressing, can be made ahead of time and assembled before serving.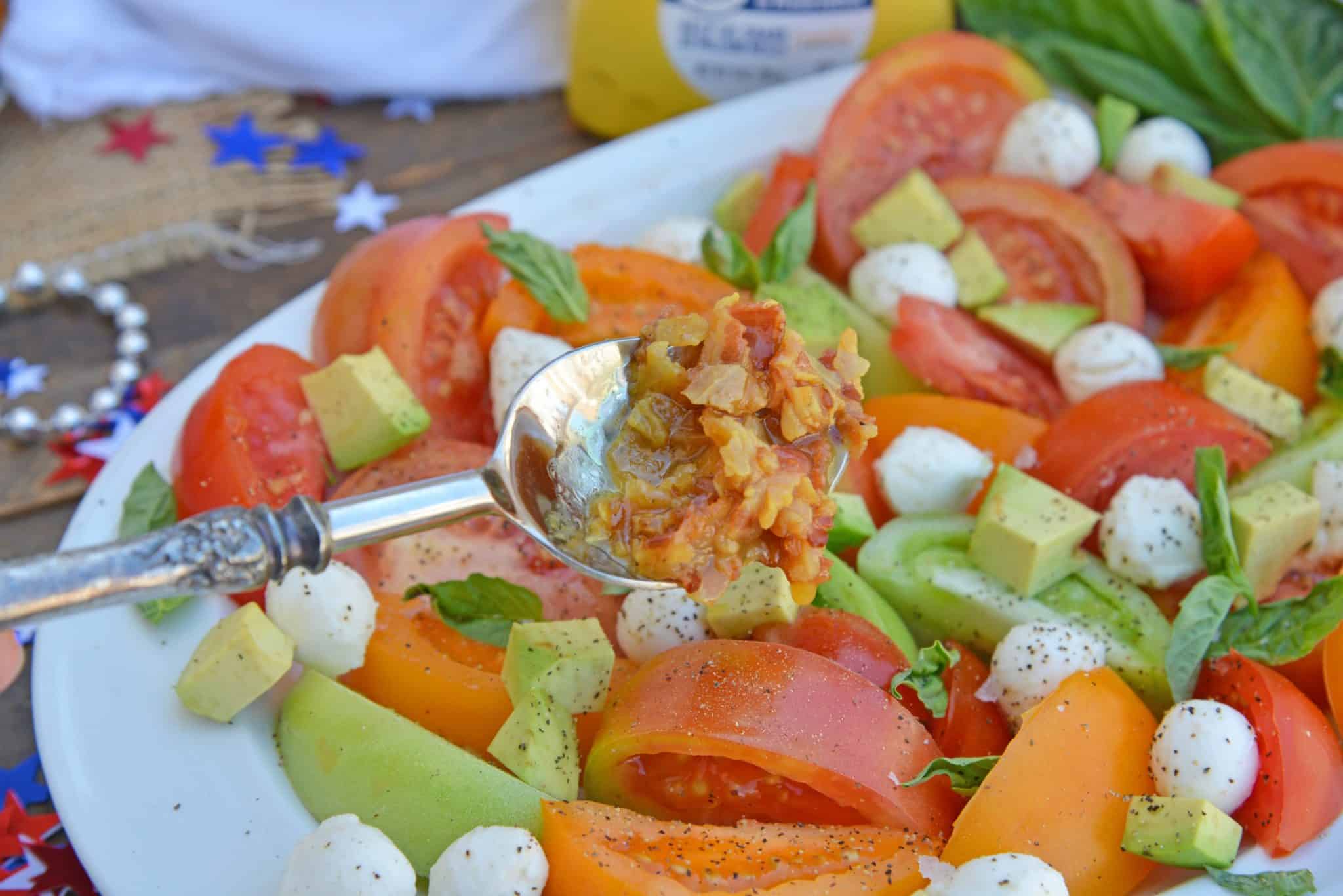 Make sure to use a variety of tomatoes and colors. Each has a different acidity and sweet level, making the flavors change even though it is all tomatoes.
How to pick a ripe tomato:
LOOK. Look for bruises, blemishes or splits. Color alone isn't a good indicator. For instance, heirloom tomatoes can be multiple colors, lumpy or even small despite being ripe. All tomatoes should be shiny, not matte or brown.
TOUCH. Juicier tomatoes are denser, while unripe tomatoes feel a little too light. You don't want them to be too hard tough, they should have a little give.
SMELL. Smell the tomato up by the stem. It should have a sweet and earthy odor.

Pair your summer Heirloom Tomato Salad with these grilled recipes, all perfect for your holiday BBQ menu!
Tools for making the best tomato salad:
Wood cutting board – Wood won't dull your knives like plastic and if treated properly, has natural antimicrobial properties.
Serrated Knife
– Serrated knives are the best for cutting tomatoes.
Good Extra Virgin Olive Oil– A good olive oil will taste like, well, olives, while a poorly made one will taste like vegetable oil. Gross. While people tend to favor Italian and Greek olive oils, I prefer to buy mine domestically.
They are some great ones out there from all over the world, but the reporting of ingredients isn't always the same and you could find that your super expensive olive oil was actually cut with vegetable oil.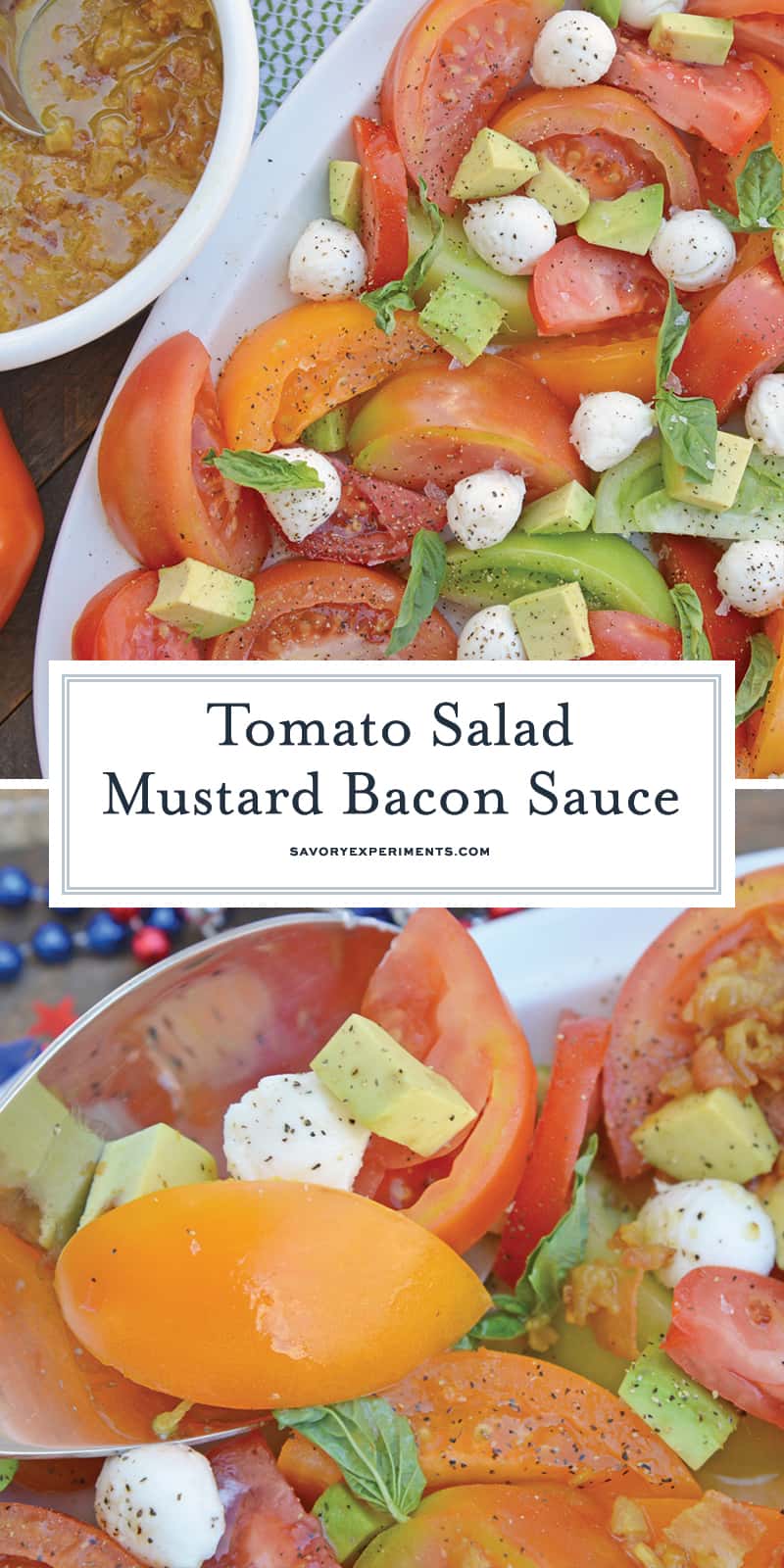 Questions you might have about how to make a tomato salad:
Should I refrigerate tomatoes? This seems to be a point of conflict even among professionals, at least food bloggers. I do NOT refrigerate tomatoes, unless they are prepared and I am trying to marinate. But if I am merely storing them, I keep them at room temperture.
Refrigerating tomatoes can impact the texture making them slimy, gritty and mealy. Others disagree.
Can I make tomato salad ahead of time? You can, but don't make it too far in advance, otherwise it will get watery and need to be reseasoned.
Is tomato salad healthy? Healthy is such a difficult term and I am not going to answer the question. Scroll on down and check out the nutritional value and make your own judgement call.
Can I freeze tomato salad? I do not recommend freezing tomato salad. Fresh tomatoes, in general, don't freeze well.
However, cooked tomatoes in salsas or fresh tomato sauce, do freeze well.
Do I have to use mozzarella cheese? Nope. This is technically a variation of a caprese salad, which would use just balsamic vinegar and olive oil.
You can omit the cheese or use another soft cheese like goat cheese, feta cheese or even a marinated provolone.
What other variations are there for this salad? I've used the leftover on grilled chicken, in salads as both the veggies and the dressing and also tossed the same ingredients with rotini to make a caprese pasta salad.
You can also use different types of tomatoes. I find heirloom tomatoes best for summer tomato salads, but feel free to also use plum tomatoes, cherry tomatoes or even green zebras.
Other fun additions are red onion and red pepper, or other colors of bell pepper.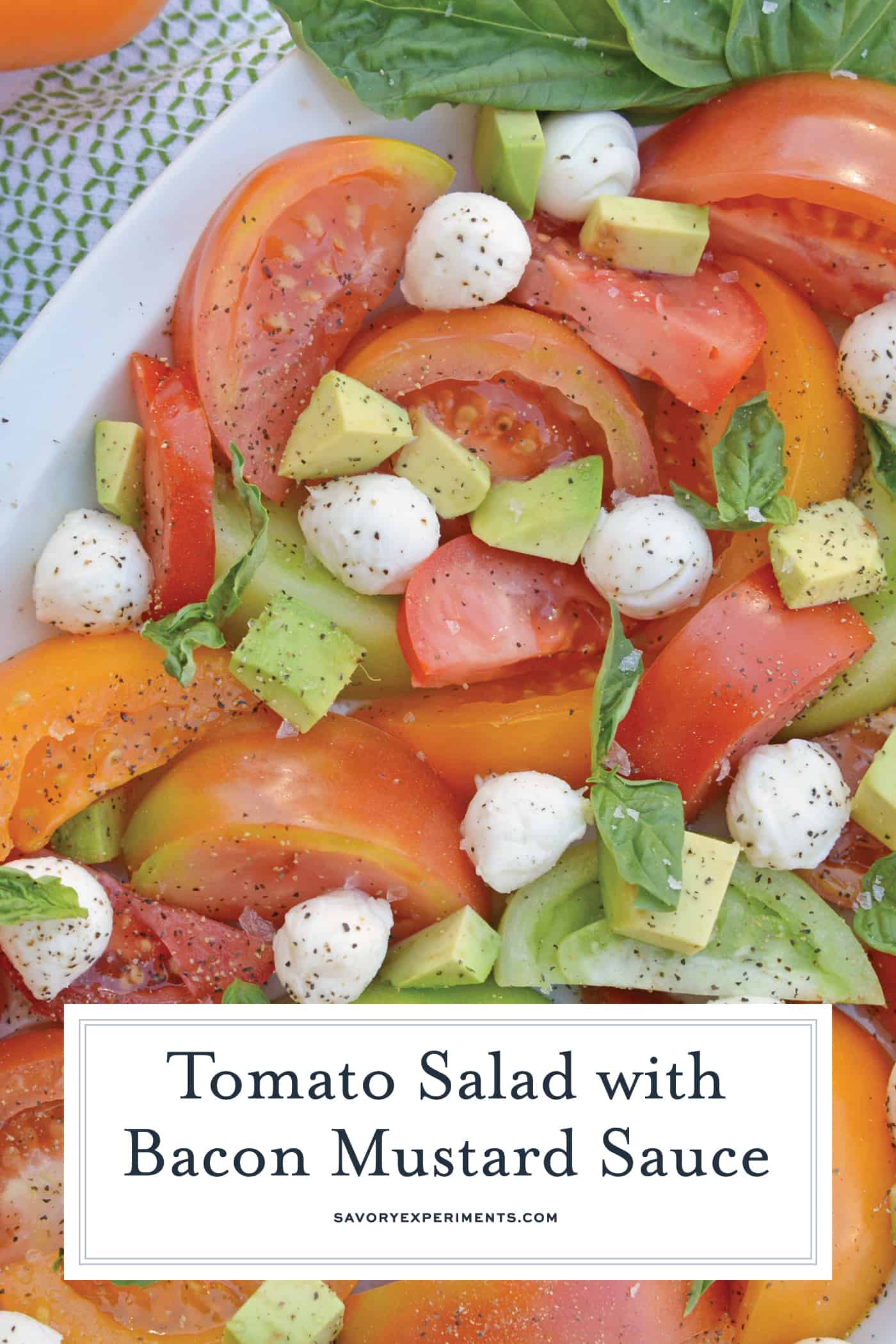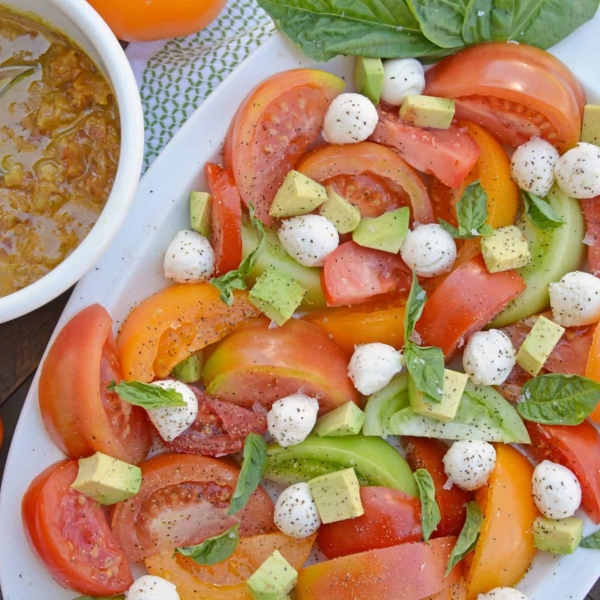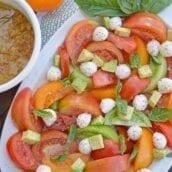 Tomato Salad with Bacon Mustard Dressing
Tomato Salad with Mustard Bacon Dressing is the ultimate summer side dish using lush tomatoes, avocado mozzarella basil. Make it ahead for any party or BBQ.

Instructions
Toss together cut heirloom tomatoes, avocado and mozzarella balls. Top with basil leaves, black pepper and Maldon sea salt. Refrigerate until ready to serve.

In a small saucepan, combine cooked bacon, red wine vinegar, French's® Classic Yellow Mustard, brown sugar and fine sea salt. Bring to a low simmer, stirring until sugar has dissolved and all ingredients incorporate. Whisk in extra virgin olive oil.

Remove and place in an airtight container until ready to serve. If longer than an hour, refrigerate. Remove from the refrigerator 15-20 minutes before serving to come to temperature.

When ready to serve, spoon mustard bacon dressing over tomato salad. Serve.

Make sure to come back and leave us a comment and rating after you've tried this recipe!
Nutrition
Calories:
193
kcal
,
Carbohydrates:
17
g
,
Protein:
5
g
,
Fat:
12
g
,
Saturated Fat:
2
g
,
Cholesterol:
6
mg
,
Sodium:
715
mg
,
Potassium:
702
mg
,
Fiber:
5
g
,
Sugar:
11
g
,
Vitamin A:
1690
IU
,
Vitamin C:
30.6
mg
,
Calcium:
81
mg
,
Iron:
1.1
mg
For more information on how to incorporate French's® Classic Yellow Mustard into your summer cooking, visit www.frenchs.com and follow the #frenchs hashtag on social media.