This Holiday Cranberry Punch has your name written all over it! It's the perfect party punch, and only requires 4 ingredients!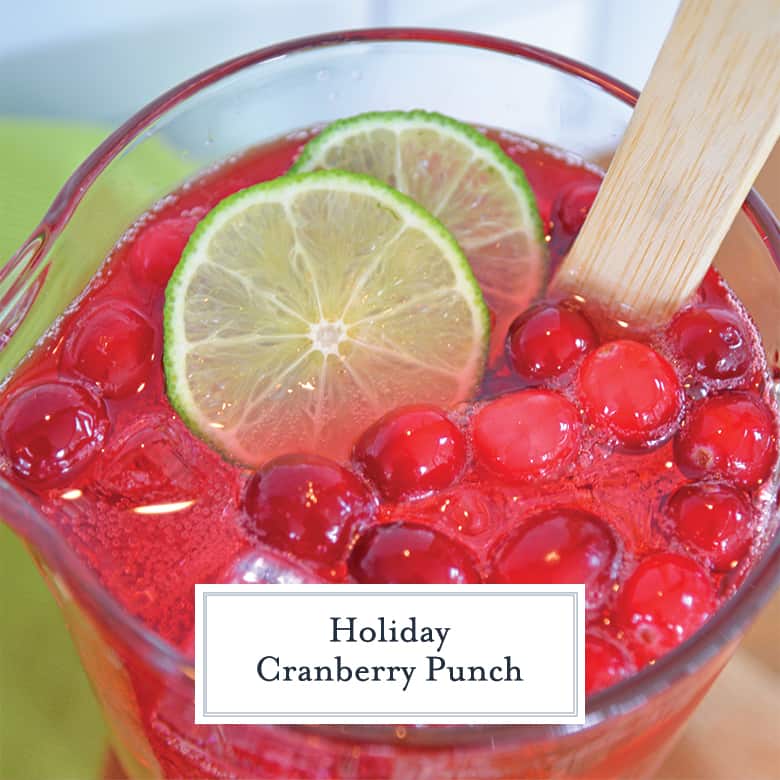 Holiday cocktails don't get any better than this Holiday Cranberry Punch! Garnished with rosemary sprigs and cranberries, it's super festive and fun.
I love hosting at the holidays. Everyone is in a delightful mood, no one is worried about their fad diets and everyone partakes in libations.
The Cranberry Ginger Ale punch has been a family favorite for years. Whether I am serving a large crowd and making it in a punch bowl or just a few refreshing glasses for friends, it is always a winner.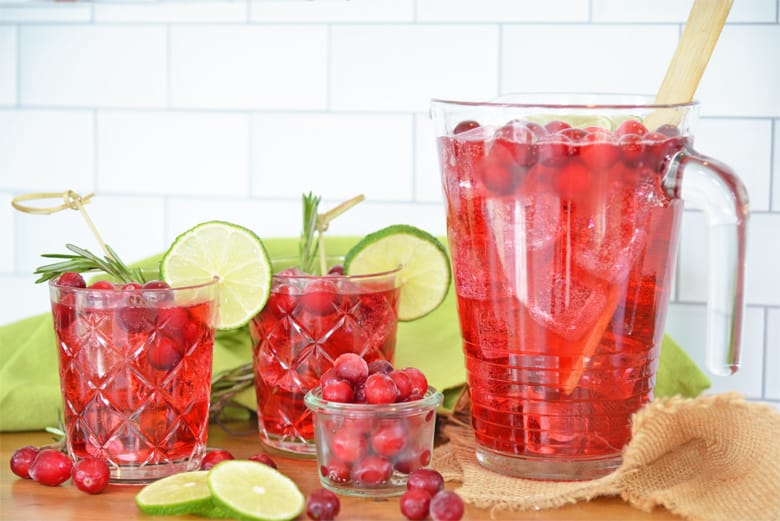 How can it not be if it boosts two of the seasons most popular flavors: cranberry and ginger? Add rosemary and you've hit the trifecta.
Rosemary garnish is a trick I learned from one of my master mixologist friends. Truth be told, I would order wine if given my druthers.
Mixed drinks aren't my go-to, but he opened my eyes to well-balanced cocktails that I do enjoy.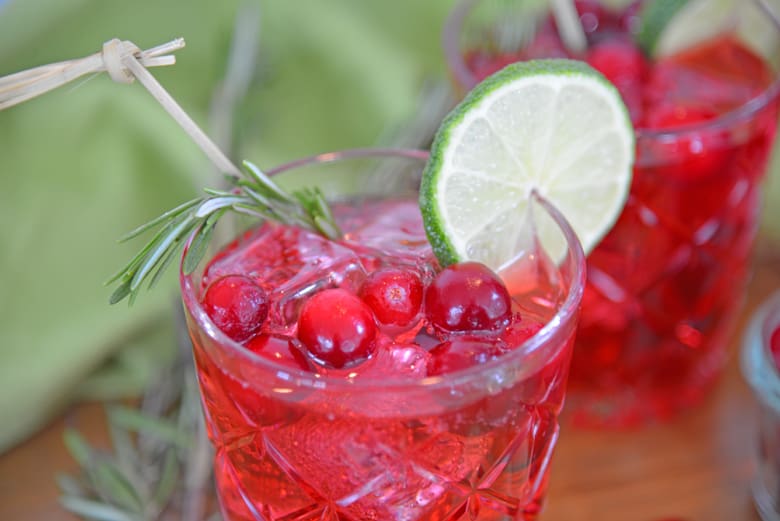 And one of his tricks is about teasing the palate and the nose. You don't want to drink something that immediately makes your face pucker.
By placing an aromatic, like fresh rosemary, in the glass, it will presumably be near your nose and you'll get the essence and scent of rosemary without having to flavor the whole cocktail.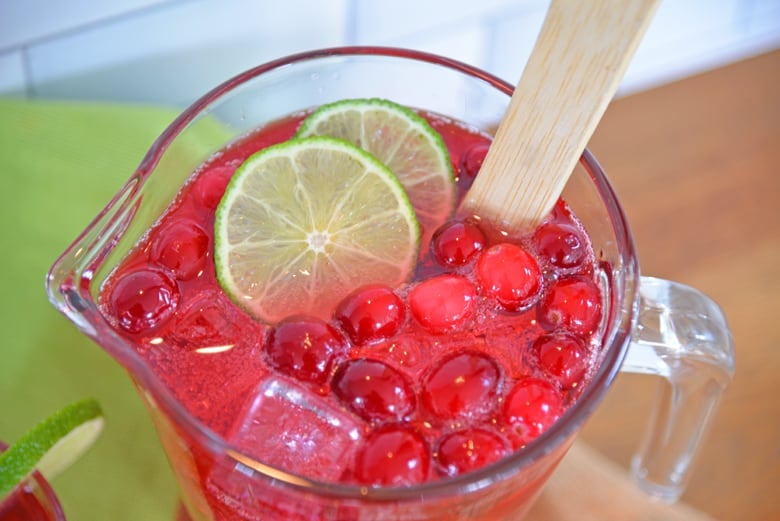 Another bartender trick is to whack the rosemary against the side of your hand or a table before placing it in the glass. This releases natural oils that further amplify the fragrance.
PRO TIP: Freeze cranberry juice and fresh cranberries in an ice cube tray for gorgeous presentation but also to prevent watering down your beverage!
One more pro tip is to skip the refrigerator made ice cubes and make your own in an old fashioned ice cube tray… from cranberry juice!
Cranberry juice ice cubes won't water down your punch like water will! You can even freeze fresh cranberries and cranberry juice in a bundt pan and make a giant ring ice cube or large lunch bowls.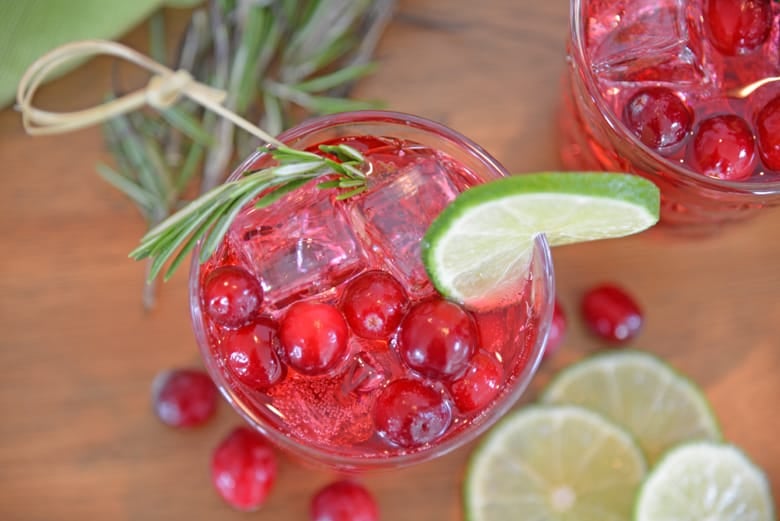 Garnish your Cranberry Punch Cocktail with any seasonal fruit. My favorites are limes, oranges, lemons, pomegranate seeds and of course, fresh (or frozen) cranberries.
Not only is this Holiday Cranberry Punch perfect as a Thanksgiving or Christmas cocktail, you could even serve it at birthday parties, or any other holiday parties. Just leave out the vodka to make it kid friendly.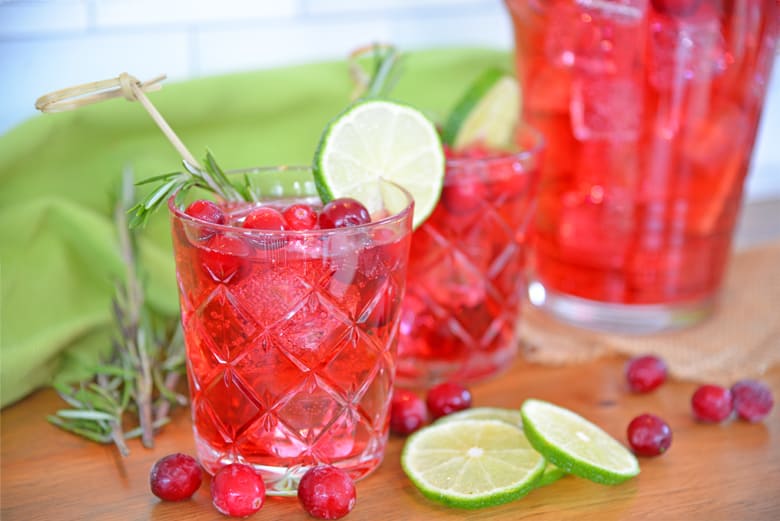 Making this cocktail is super easy, too. Simply combine the cranberry juice, ginger ale, lime juice and vodka (if you're adding it,) in a large pitcher and stir.
That's it! No need to make simple syrup or anything fancy, the juice and ginger ale are plenty sweet enough.
So whether you are making this Holiday Cranberry Punch for the holiday season, or just a regular get together, everyone is sure to love it. The best flavors of winter in a glass!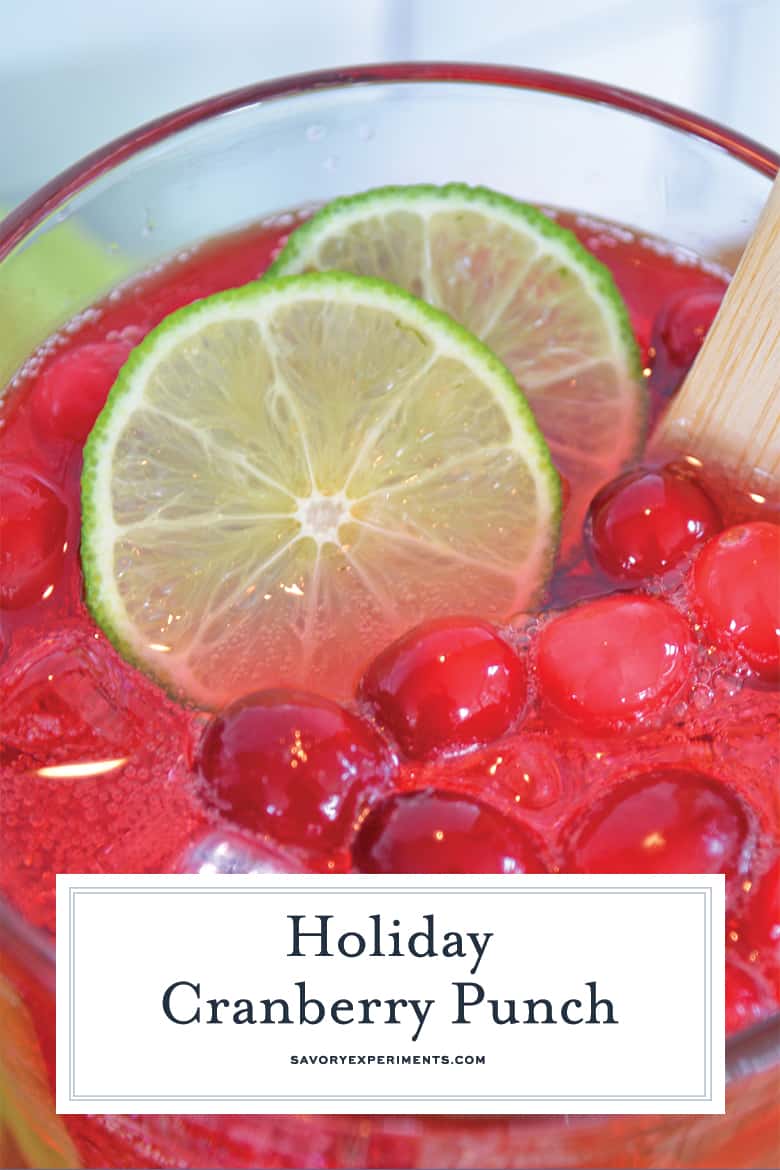 And the last reason why you should make this holiday punch, cranberries have a lot of nutritional value. So you are drinking something kinda good for you. (I am rationalizing here, I am not a professional and being totally sarcastic….)
But for real, cranberries have been linked to:
Prevention of urinary tract infections
Prevention of certain types of cancer
Improved immune function
Decreased blood pressure
High antioxidants
Low calories (25 calories for 1/2 cup)
Check out these other delicious drink recipes: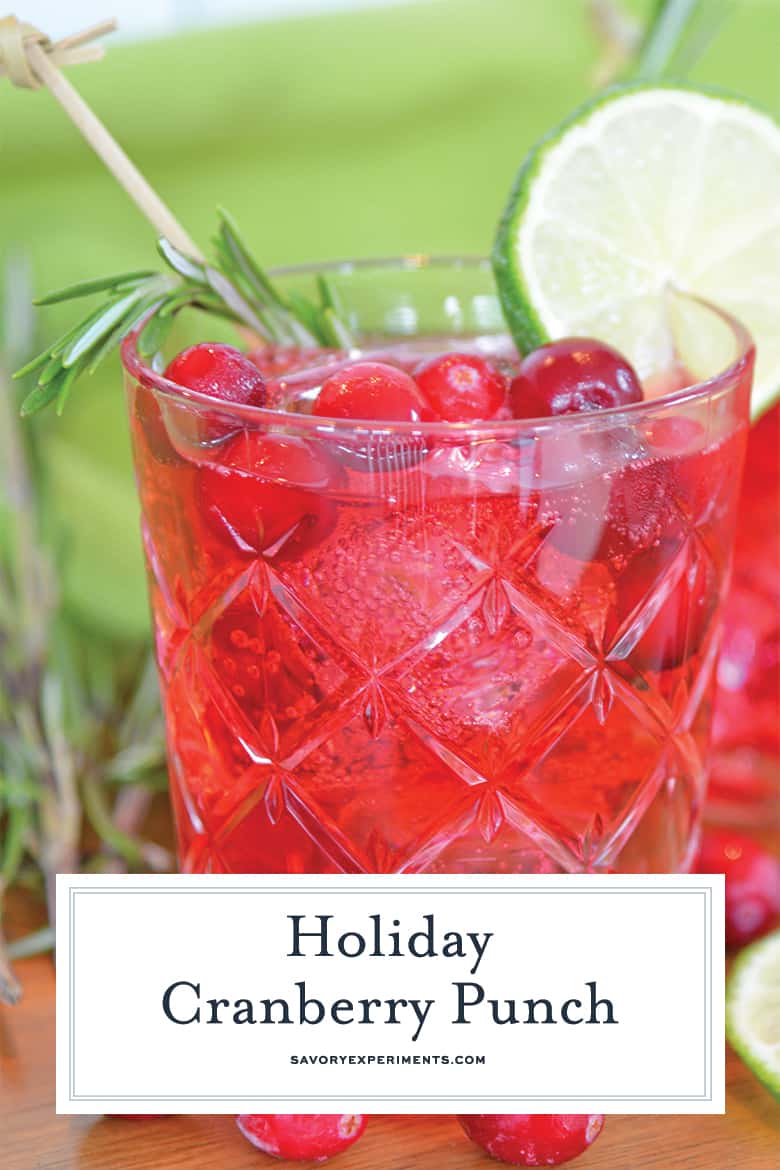 Questions you might have about how to make this party punch:
Can I make this in advance? I do not recommend making this punch recipe in advance because the carbonation (bubbles) from the ginger ale will go flat.
I don't like vodka, what else can I use? Cranberry pairs well with many flavors, so pick your favorite liquor and use it! I've heard of people using rum and whiskey.
Can I use a flavored vodka? If you prefer to use a flavored vodka, be my guest! Just choose your flavors wisely, I would think a nice vanilla would be delicious.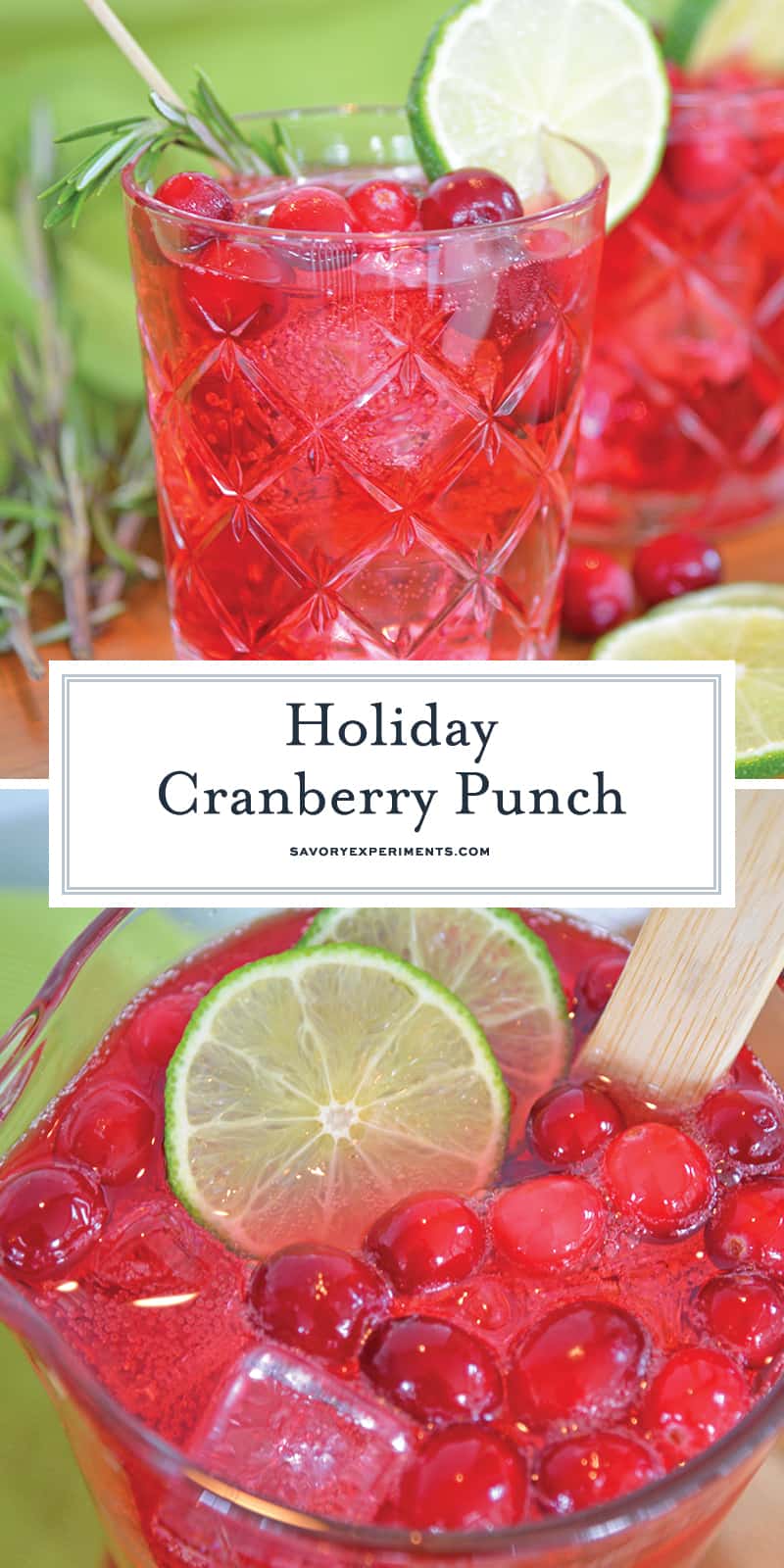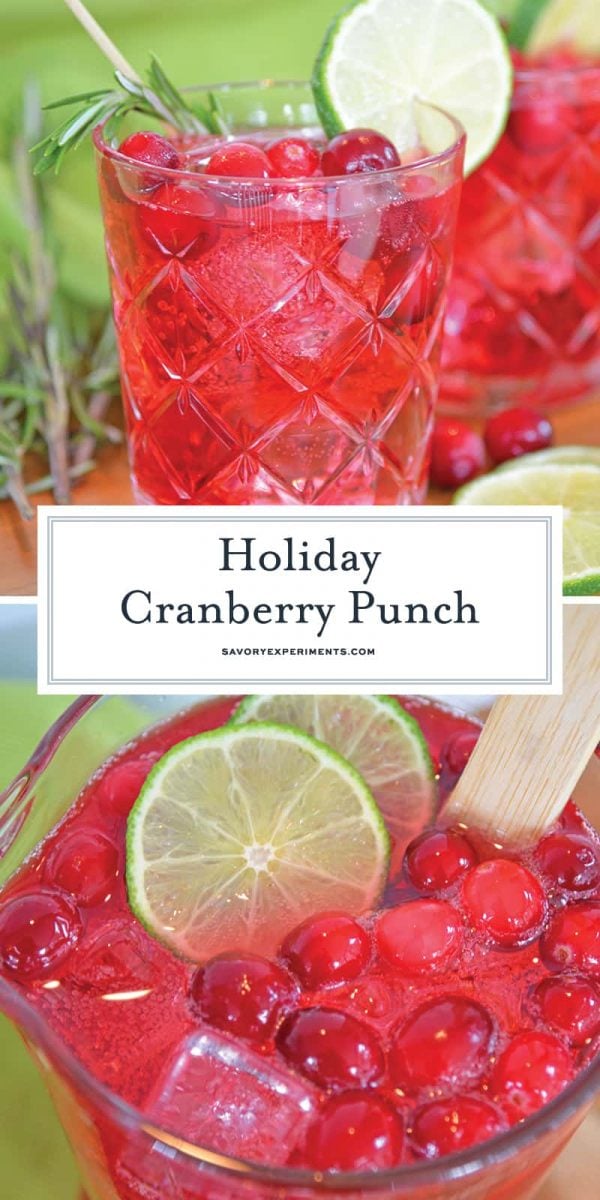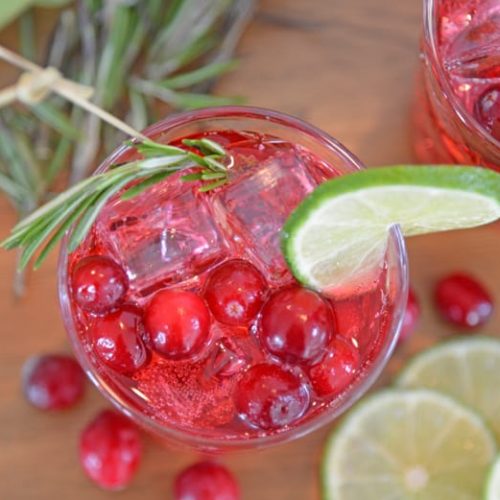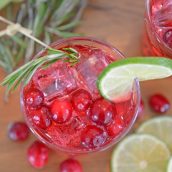 Holiday Cranberry Punch
Holiday cocktails don't get any better than this Holiday Cranberry Punch! Garnished with rosemary sprigs and cranberries, it's super festive and fun.
Instructions
Combine cranberry juice, ginger ale, lime juice and vodka in a large pitcher, stir to combine. Add ice to fill the pitcher. See my notes on ice above!

Pour into serving glasses and garnish with fresh rosemary and cranberries.

If you've tried this recipe, come back and let us know how it was!
Nutrition
Calories:
101.04
kcal
,
Carbohydrates:
18.08
g
,
Protein:
0.5
g
,
Fat:
0.17
g
,
Saturated Fat:
0.01
g
,
Sodium:
4.69
mg
,
Potassium:
97.41
mg
,
Fiber:
0.13
g
,
Sugar:
17.8
g
,
Vitamin A:
56.92
IU
,
Vitamin C:
12.33
mg
,
Calcium:
10.12
mg
,
Iron:
0.37
mg