Prepare yourself for the best bruschetta recipe on the internet! It is a simple recipe that will deliver you an amazing appetizer.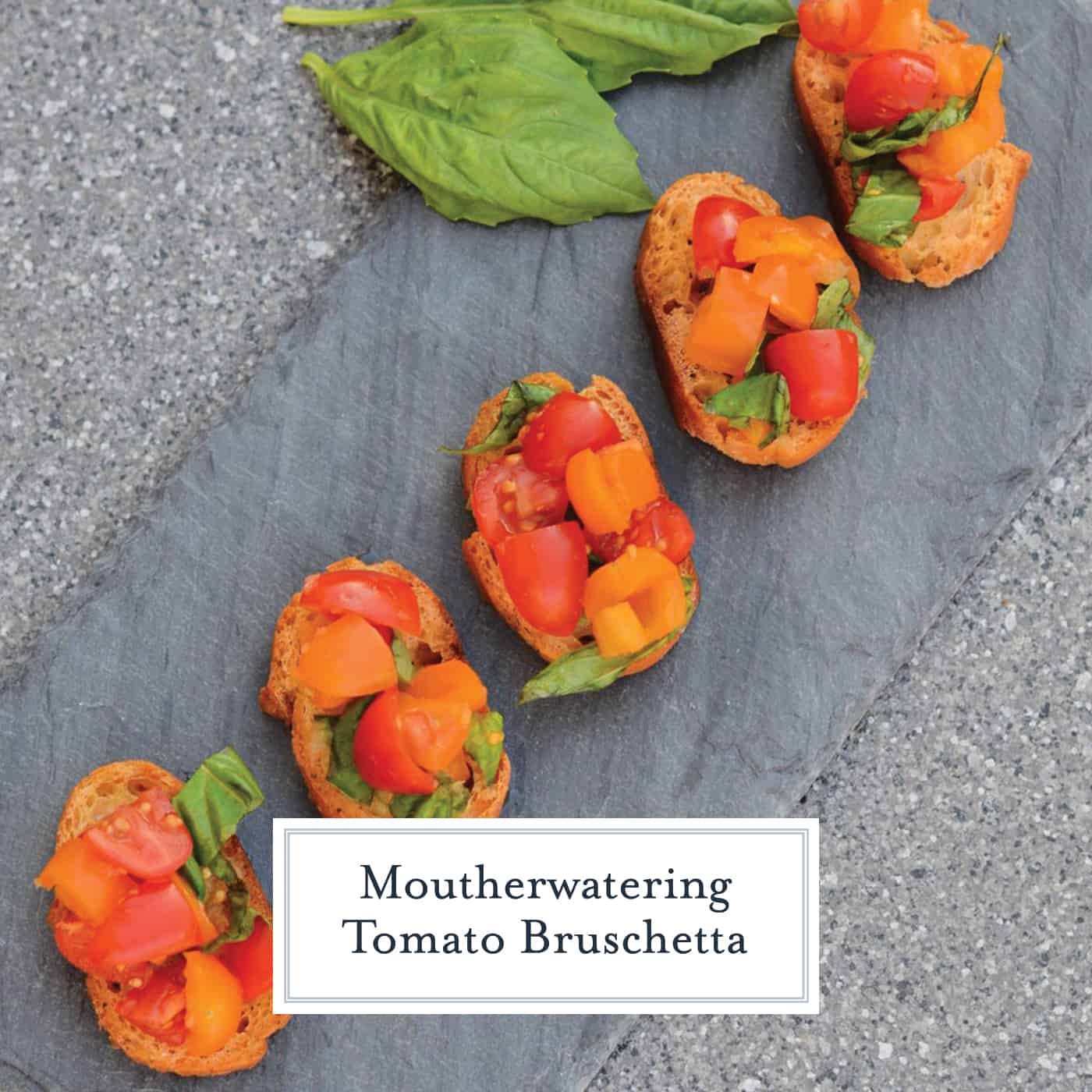 This Tomato Bruschetta recipe is a classic no cook appetizer that can be ready in as little as 20 minutes using fresh tomatoes, basil and garlic.
Tomato Bruschetta! I can just picture hubby and I sitting at a little metal table in Tuscany sipping wine, gazing at the rolling hills and crunching on vine ripened tomatoes and crusty bread.
I've never been to Tuscany, but this is what I picture. Until then, my deck overlooking the city alley and neighbors will have to do. (Update: we've now been to Tuscany and it was everything we imagined!)
Bruschetta
What is bruschetta?
Bruschetta is a Italian appetizer made up of a grilled piece of bread with a garlic spread, topped with olive oil and salt. Bruschetta can also be topped with meats, vegetables, beans and cheese. In the states, it is usually tomatoes.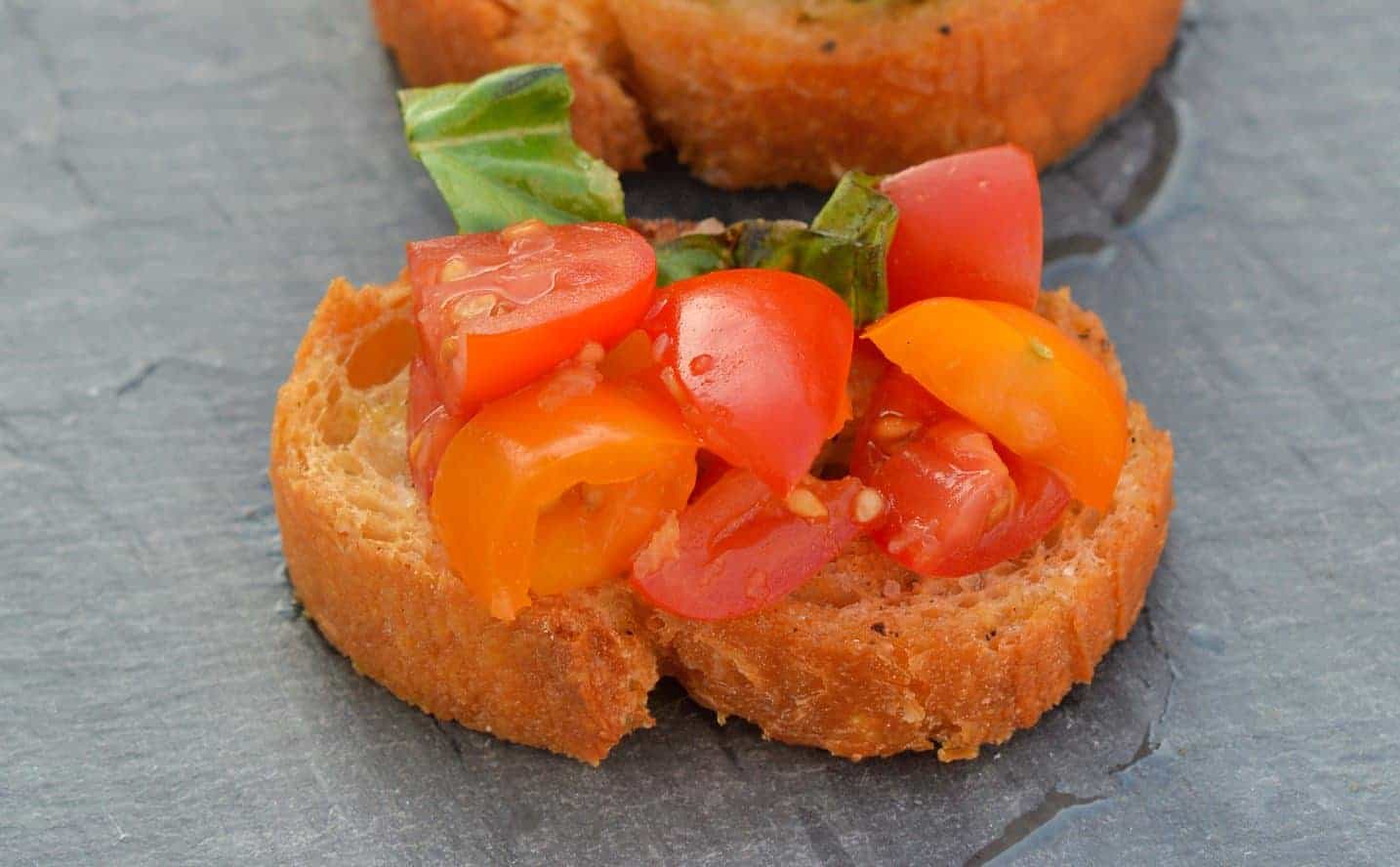 It is believed that bruschetta originated in Italy during 16th century, however, the dish can be traced back to Ancient Rome. Olive growers would bring their olives to a local olive press and taste a sample of their freshly pressed oil using a slice of bread. Tomatoes became a variation of bruschetta and now the most commonly accepted form.
Tomato Bruschetta is my go-to summer time appetizer. Cool and fresh with everything (except for the bread) being found in my little deck garden.
Perfect with a glass of wine or to munch on while grilling up some juicy steaks. Simple and perfect in every way.
Pro Tip: After cutting your tomatoes, push out any seeds or juice to prevent your bruschetta from being too liquidy. You can also place them all on a paper towel to let the juices drain.
Tomato Bruschetta can be made ahead of time. Store bruschetta mixture in an airtight container in the refrigerator and crostini in an airtight container or plastic bag in the pantry for up to 2-3 days.
Most grocers will sell pre-made crostini, a baguette drizzled with olive oil and spices, then baked to a crispy brown, but you can also easily make your own.
Pro tip: Tomatoes shouldn't be refrigerated. They get a grainy texture. Keep at room temperature and out of direct sunlight.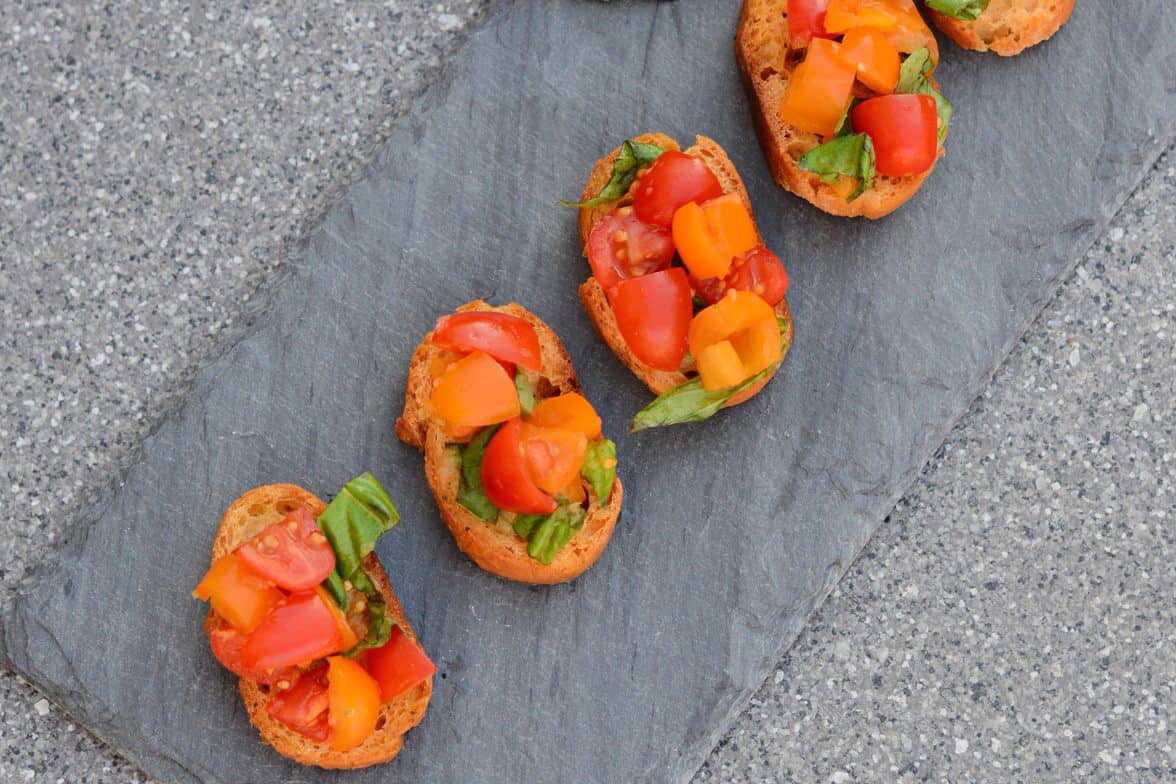 If you loved this easy bruschetta recipe be sure to check out these other easy appetizer recipes: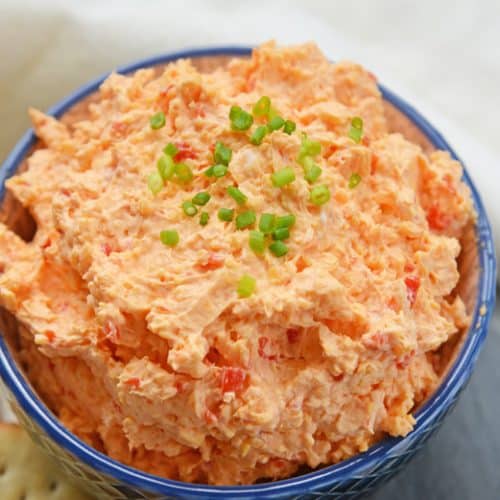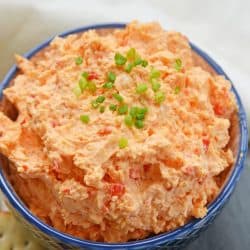 Pimento Cheese Spread
A popular southern dish, this EASY Pimento Cheese recipe is made with only 6 ingredients and tastes great spread onto crackers or in a grilled cheese!
See The Recipe!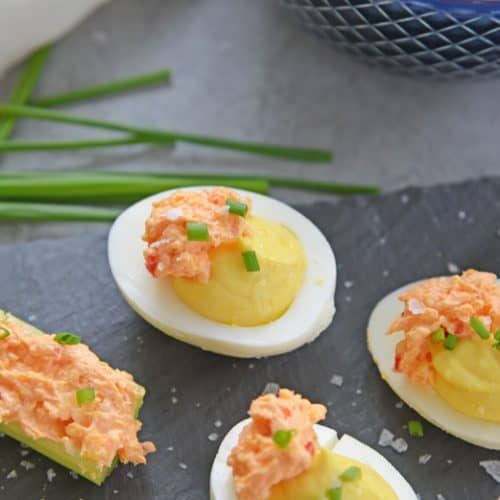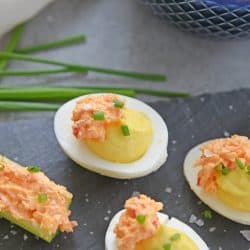 Tools for making bruschetta recipes:
Wood cutting board
– wood won't dull your knives like plastic and if treated properly, has natural antimicrobial properties.
Good knife
– Global is my favorite! They are worth the price, I promise. I am kind of obsessed with them and store them tucked away so no one else can use them. Including hubby. Hands off my good stuff!
Good Extra Virgin Olive Oil
– A good olive oil will taste like, well, olives, while a poorly made one will taste like vegetable oil. Gross. While people tend to favor Italian and Greek olive oils, I prefer to buy mine domestically.
These are some great ones out there from all over the world, but the reporting of ingredients isn't always the same and you could find that your super expensive olive oil was actually cut with vegetable oil.
Mixing Bowl
s – make sure to check out my article on Using the Right Mixing Bowl, you'd be surprised how many people aren't!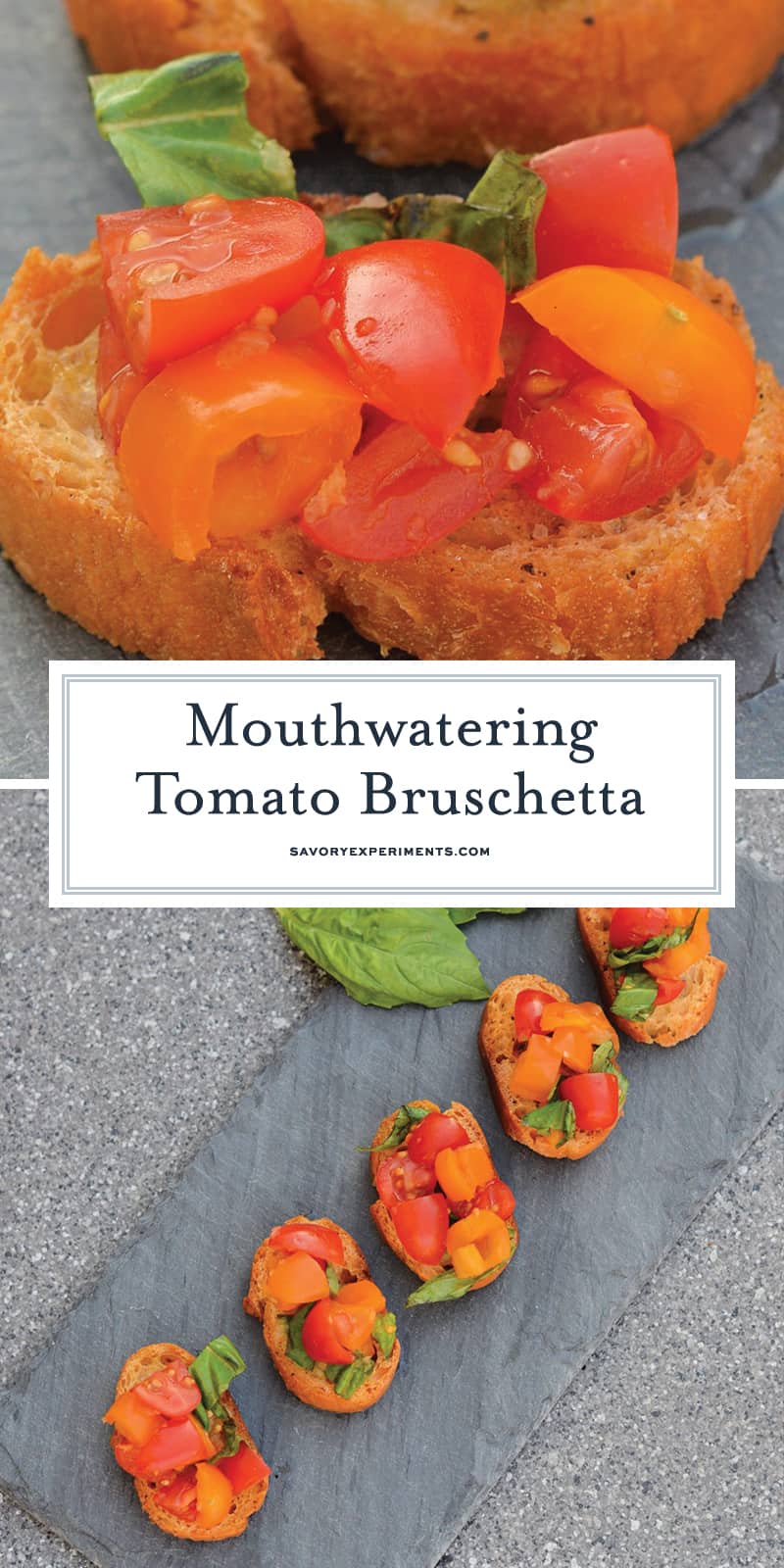 Questions you might have about how to make bruschetta:
Can you freeze bruschetta? No, tomatoes don't freeze well.
Can I add cheese to my bruschetta? You sure can! A nicely aged Parmesan or fresh mozzarella pair nicely. You can even make your own mozzarella! It isn't nearly as hard as you might think.
Do you need to use a specific type of tomato for bruschetta? I like using plum tomatoes, heirloom tomatoes or even cherry tomatoes. Sometimes I try to use carrying colors for vibrancy.
Is bruschetta best served cold or room temperature? It is really a matter of preference.
Can I make bruschetta in advance? You sure can! But I would suggest keeping the bruschetta topping separate from the crostini until ready to serve.
How long does bruschetta topping stay good? I wouldn't keep it in the fridge for more than a day or two. It doesn't go bad, but it starts to get grainy and mushy.
Is bruschetta healthy? It depends on your definition of healthy and all these fad diets are different. I believe it to be healthy because it is high in vegetables and healthy oils with low calories and fat, but my definition and yours might be totally different.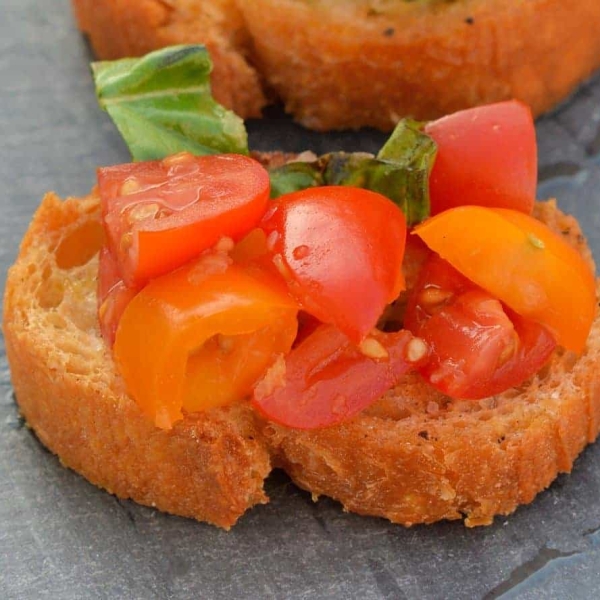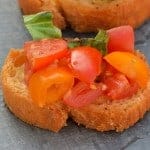 Tomato Bruschetta Recipe
This Tomato Bruschetta recipe is a classic no cook appetizer that can be ready in as little as 20 minutes using fresh tomatoes, basil and garlic.
Ingredients
1

thin baguette

2

tablespoons

olive oil

2

cups

grape/cherry tomatoes

red, yellow or an assortment

1/4

cup

basil

shredded

4

cloves

garlic

grated on a microplane
Instructions
Preheat oven to 350 degrees. Cut baguette into thin slices, approximately 1/2 inch or thinner. Lay in a single layer on a rimmed baking sheet. Brush with olive oil. Sprinkle with fine sea salt and pepper. Bake for 15 minutes, or until crispy and lightly browned.

Meanwhile, start making your bruschetta. Cut grape or cherry tomatoes into fourths or eighths, depending on size.

Place tomatoes, shredded basil, garlic and sprinkle of fine sea salt into a bowl. Toss to combine. Set aside until your crostini are complete.

Spoon bruschetta onto each slice, serve and enjoy!

If you've tried this recipe, come back and let us know how it was!
Nutrition
Calories:
249
kcal
,
Carbohydrates:
35
g
,
Protein:
6
g
,
Fat:
9
g
,
Saturated Fat:
1
g
,
Sodium:
392
mg
,
Potassium:
243
mg
,
Fiber:
2
g
,
Sugar:
2
g
,
Vitamin A:
445
IU
,
Vitamin C:
18.2
mg
,
Calcium:
65
mg
,
Iron:
2.4
mg