"What is a buckle? Isn't it just a coffee cake?" asks my darling husband. My response: "I don't know what makes them different actually!" Which of course made me curious to do a little research to bring you while also showing off my Blackberry Buckle.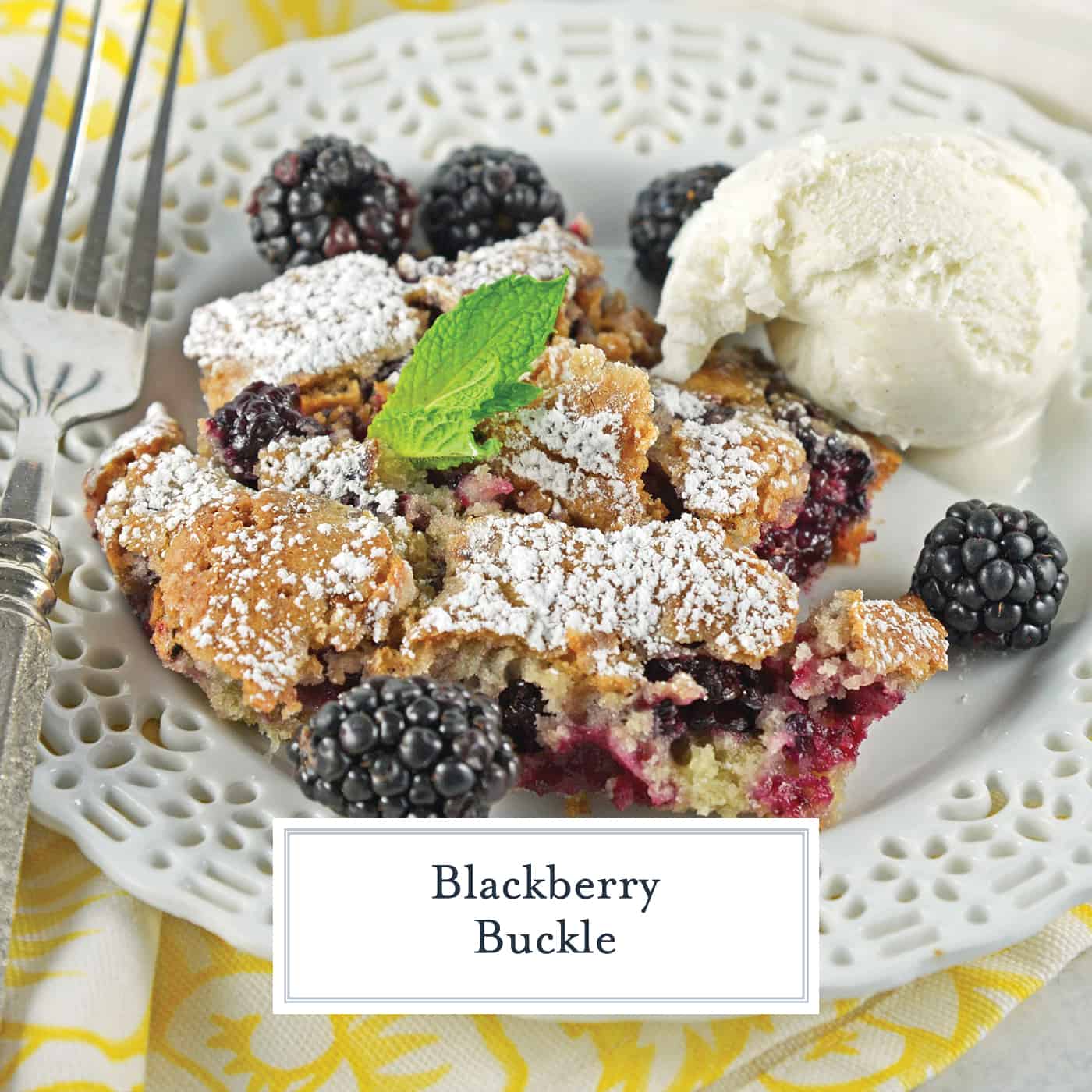 A Blackberry Buckle is the perfect way to kick off spring with your favorite berries. Perfect for breakfast, brunch and dessert!
I've always thought of a buckle as a southern tradition made in cast iron and simple. Turns out, I'm not the only person who asked this question. Apparently folks also want to know what a crisp, cobbler, crumble and Brown Betty is! Well, Huff Post had us covered, here we go:
Crisp and Crumbles: are the same thing! Most notably because they have a crispy, crumbly streusel on top. Sometimes with nuts, other times with oats, but always something crunchy.

Cobbler: A cobbler has batter on both the bottom and top, usually resembling some sort of biscuit consistency. Apparently named after "cobblestone" streets because that is what is resembles after baking. Check out my Peach and Cherry Cobbler or Cherry Pie Cobbler Bars!

Buckle: A cake-like dish using fruit on top, as it bakes, the cake comes up the sides creating a "buckling" in the center.

Brown Betty: I had never heard of this one before, but apparently it is exactly like a crisp or a crumble, but has TWO layers of streusel, one on top and one in the middle for double crunchies.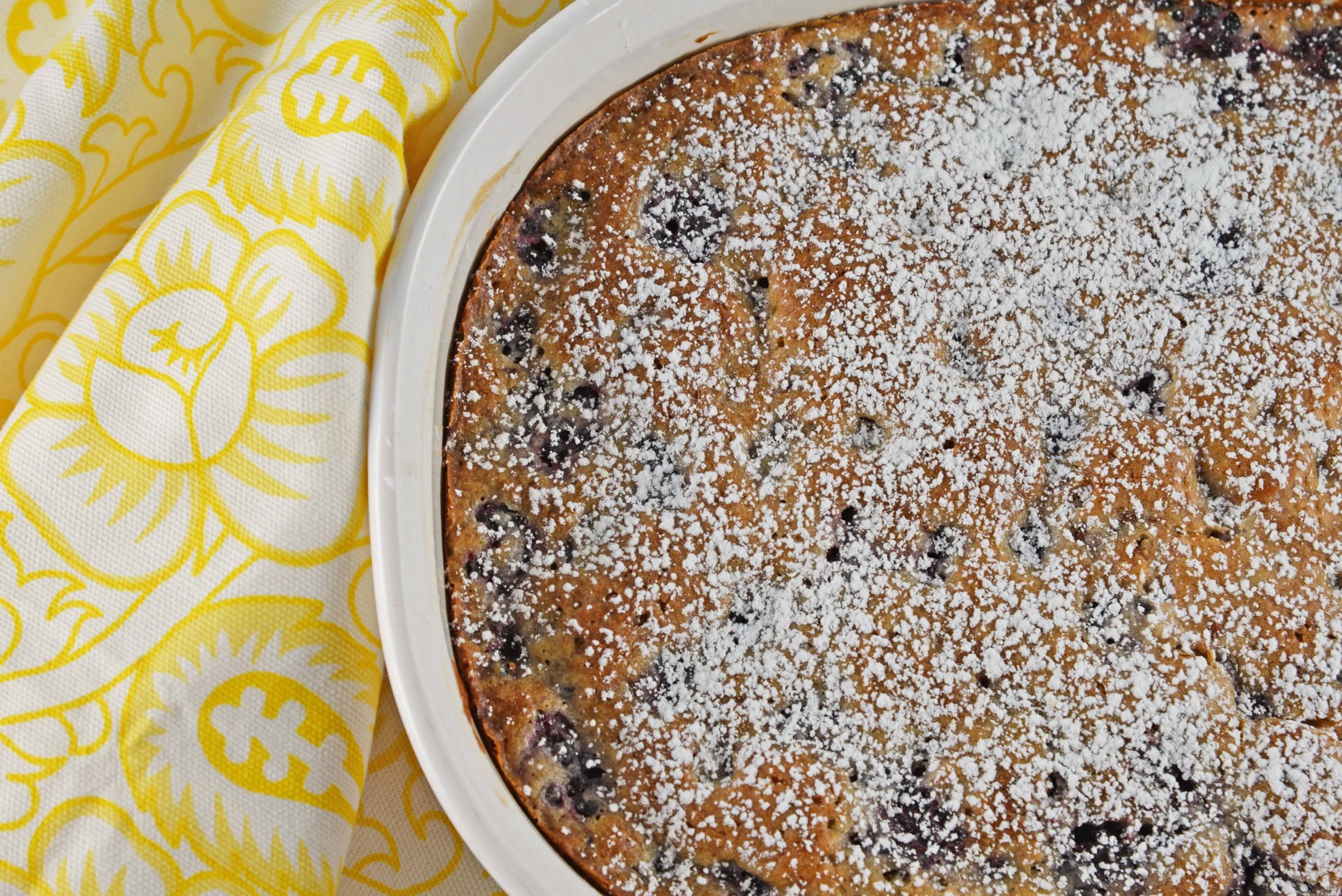 Truth be told, I've never had a buckle and that actually buckled. And this one certianly didn't either. Maybe if I just set the blackberries on top instead of folding them in, it would, but hey: my buckle, my rules.
So here it is, my blackberry buckle. I opted to make it in a shallow 1 quart casserole dish instead of my trusty cast iron skillet because the skillet was a little bigger than I needed and I want to make sure I got some height.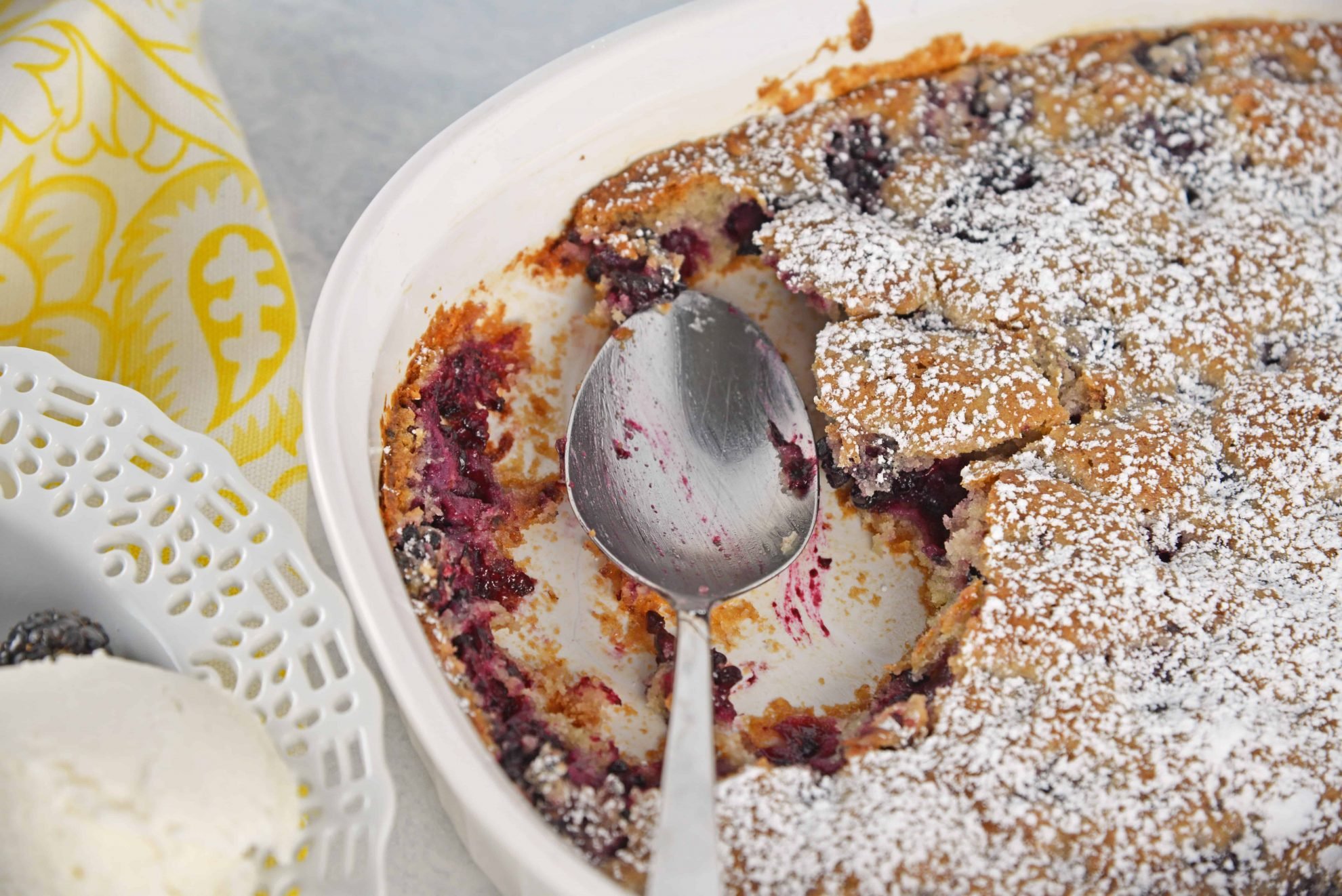 Buckles are typically served with spoon, as opposed to cutting a "slice". The cake-like texture is still a little too moist for easy cutting. Batters aren't terribly sweet and usually lack any type of extract, letting the berry of choice flavor and color the dish. You can use one berry or a mixture!
I like to coat my berries in sugar to help them caramelize while baking, but you can omit this if you are watching your sugar intake. I like to serve mine with homemade vanilla bean ice cream.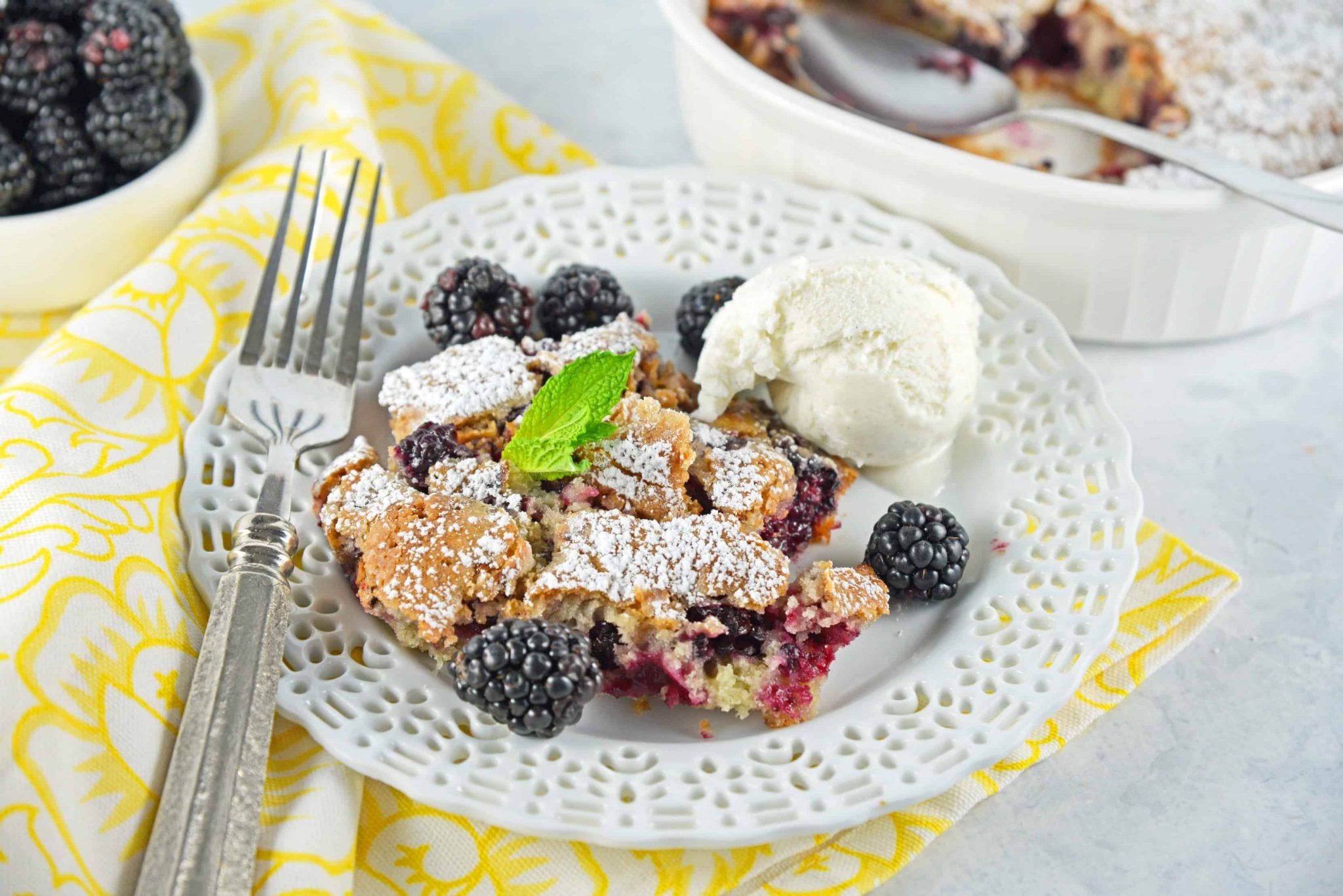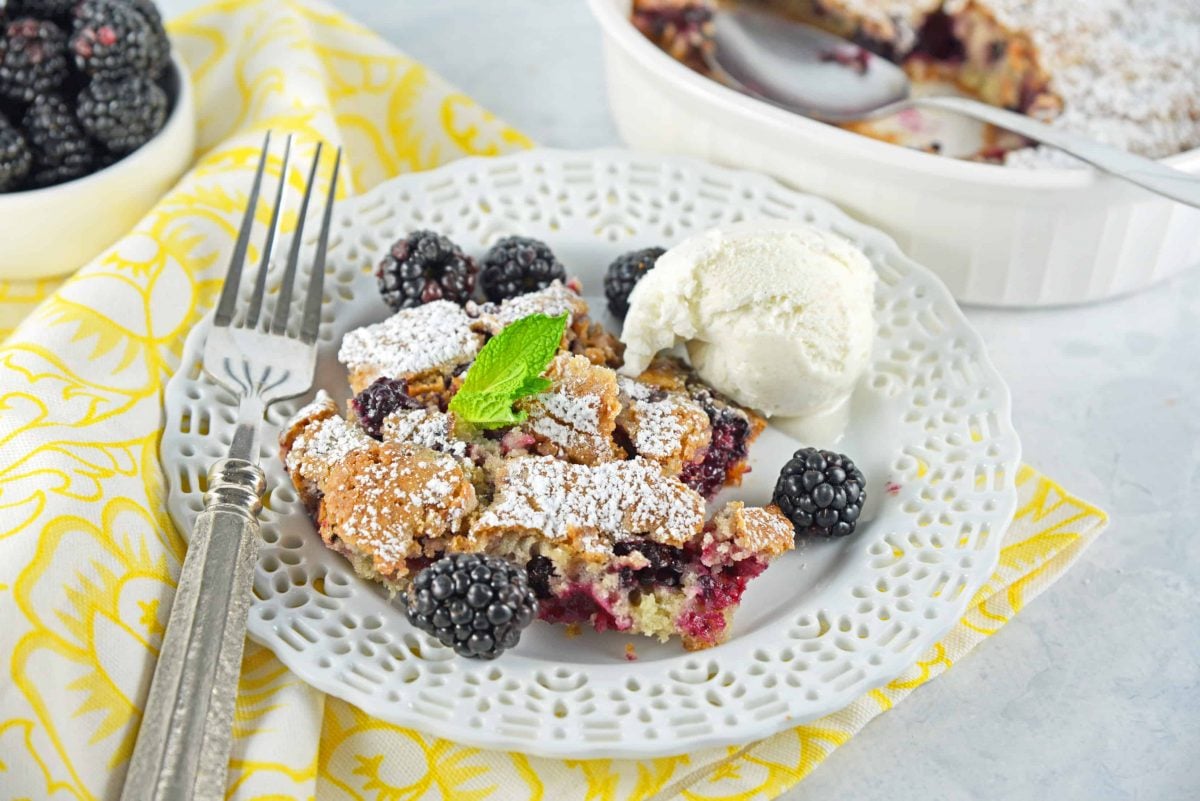 See some of my other fabulous berry recipes and scroll on down for a few from my favorite blogger friends!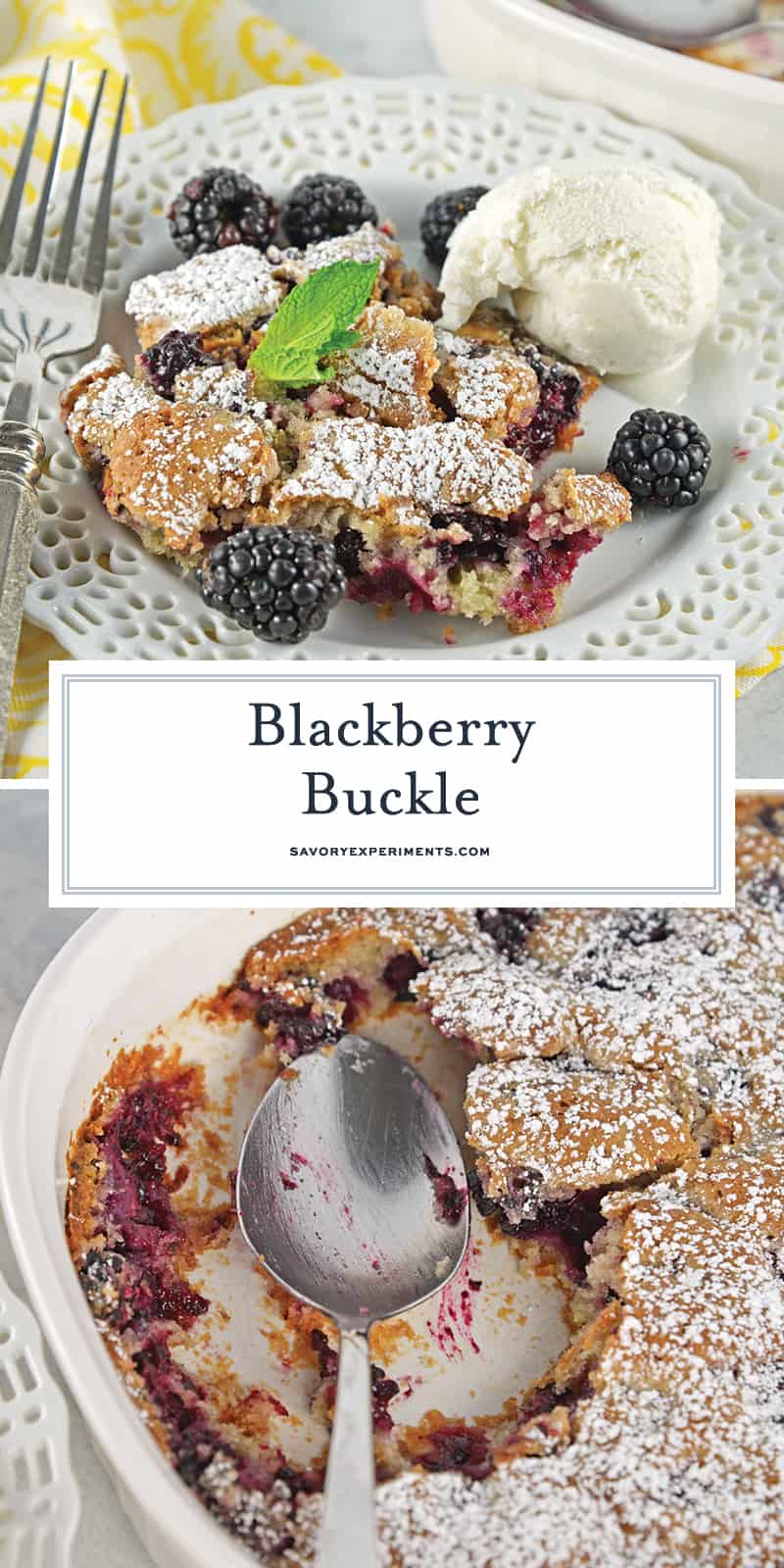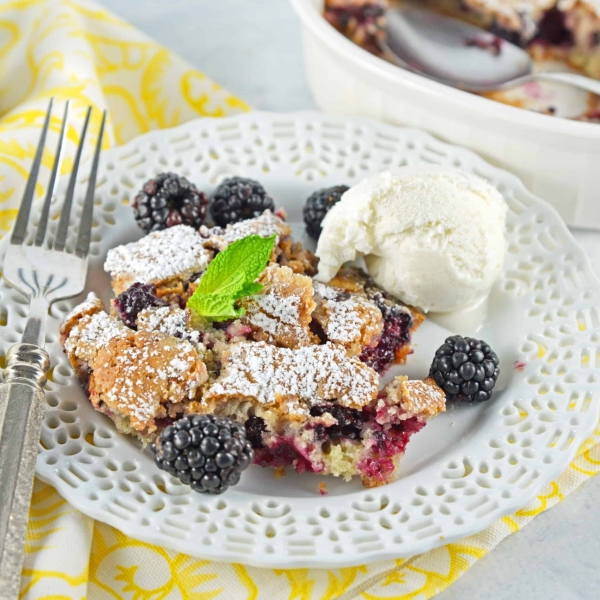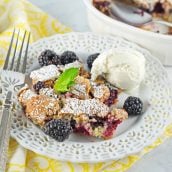 Blackberry Buckle
A Blackberry Buckle is the perfect way to kick off spring with your favorite berries. Perfect for breakfast, brunch and dessert!
Instructions
Preheat oven to 350 degrees. Butter a 1-quart oval or square baking dish.

In the bowl of a stand mixer fitted with the paddle attachment or a large mixing bowl using an electric handheld mixer, cream together butter and 1/2 cup sugar.

Add egg and egg yolk, combining fully. Add salt and baking powder, combining fully. Finally add flour, scraping down the sides of the bowl as you mix.

In a small bowl, toss halved blackberries with 2 tablespoons sugar.

Gently fold sugared blackberries into batter, discard any leftover sugar.

Spread into baking dish evenly.

Bake for 35-45 minutes or until your buckle passes the toothpick test. Allow to rest for 10-20 minutes. Serve with ice cream.

If you've tried this recipe, please come back and let us know how it was!
Notes
Adapted from Martha Stewart.
Nutrition
Calories:
135
kcal
,
Carbohydrates:
20
g
,
Protein:
1
g
,
Fat:
5
g
,
Saturated Fat:
3
g
,
Cholesterol:
15
mg
,
Sodium:
74
mg
,
Potassium:
50
mg
,
Fiber:
1
g
,
Sugar:
13
g
,
Vitamin A:
215
IU
,
Vitamin C:
3.8
mg
,
Calcium:
12
mg
,
Iron:
0.5
mg
Check out The Best Berry Recipes recipes below from bloggers who took part in our 30 Day Berry Recipe Challenge