This is a sponsored conversation written by me on behalf of Oregon Chai®. The opinions and text are all mine.
It might be a billion degrees outside, but the kids are back in school. My calendar clearly says September, and that means I am in total FALL mode.
Fall mode also comes with taking time out for me and some of the best comfort meals around, like Chai Tea Oven Roasted Chicken.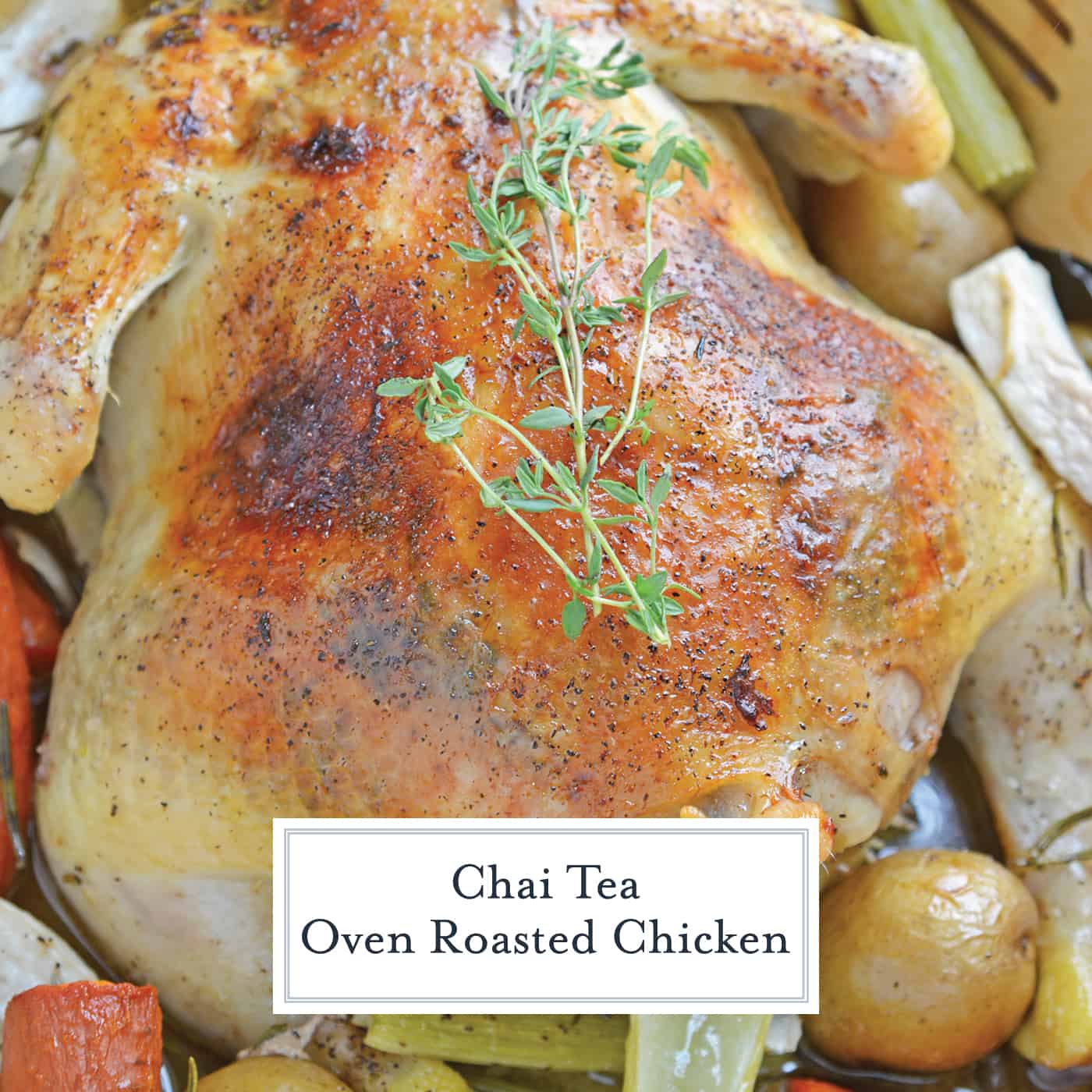 Chai Tea Oven Roasted Chicken is a baked whole chicken rubbed with spiced herb butter, root vegetables and the earthy fall flavors of Chai tea.
Spending time in the kitchen is my favorite fall activity. I can have the doors and windows open allowing the crisp air to flow through while heat from the oven keeps it toasty.
Snuggled up in an oversized sweater with football on in the background, I am in my element.
Cooking is cathartic for me. It is my me time, so I don't mind giving my fall dishes a little tender, loving care. It helps to relax me before the bustle of holiday chaos arrives.
Besides chili, perhaps, my ultimate fall dish is a whole roasted chicken. While this can be made plenty of ways, baking it with Oregon Chai® Tea Latte Concentrate is my favorite.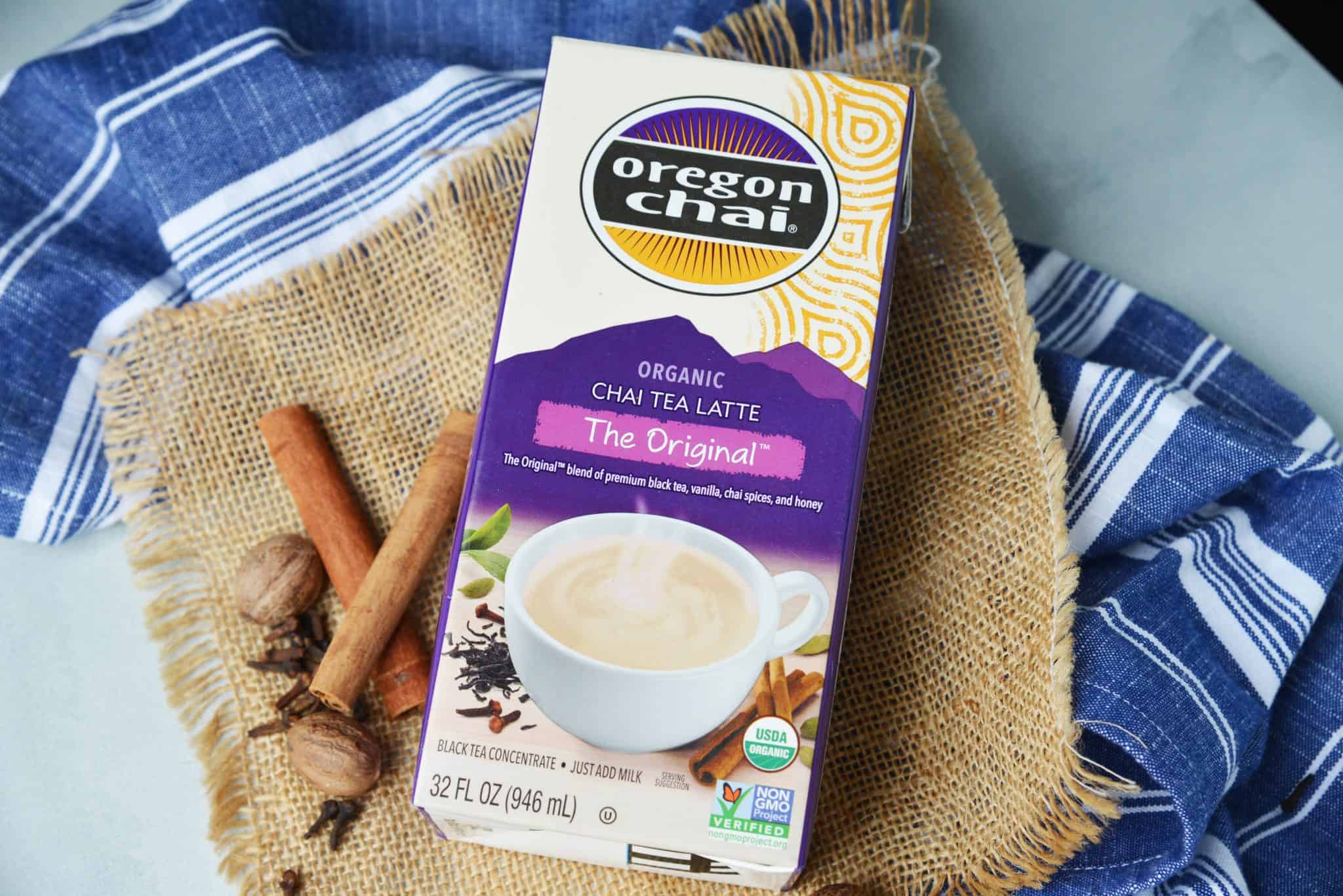 Using Chai Tea Latte Concentrate, I whip myself up a cup of the perfect, rich, soothing mix of sweet and spicy bliss and start chopping. Soon, my whole kitchen is engulfed with the aroma of black tea, honey, vanilla and spices.
Oregon Chai can be prepared in many ways, depending on your mood, but make sure to incorporate it into your fall cooking and baking as well. With sweet and spicy base flavors, it is perfect for breads, cookies and even sauces and dressings.
Make your life even more easy by using Walmart's Online Grocery Pick Up. Simply log into their phone app or use a desktop computer, enter your order, select a time for pick up and arrive following the orange signs.
A welcoming member of the team will greet you at the car and even load your groceries. No muss, no fuss! Make sure to add on some fudge brownies for dessert.
Now, let's talk a little about my Chai Tea Oven Roasted Chicken. Many are intimidated by a whole roasted chicken, but I'm here to tell you, it is one of the easiest meals you can make. A true one-dish dinner.
Butter under the skin will ensure you get a lovely browned skin with loads of flavor, and the chicken drippings combined with Chai tea and herbed butter will naturally season the root vegetables.
There is a lot of debate over whether to roast a chicken breast side up or down, and both have pros. Roasting breast side up will give you glorious, golden skin on the most succulent cuts. However, it can also lead to drier meat even with attention spent on basting.
Roasting breast side down will still give you beautifully browned skin, but on the underside where you won't be doing as much carving.
The flip side is that all those flavorful juices will be running down into the breasts, essentially self-basting throughout the whole cooking process, resulting in the most tender meat you've ever tasted.
Ultimately, the choice is yours! The whole roasted chicken pictured was cooked breast side down.
I serve mine with a side of wild grain rice so I can really soak up all of the juices. I also use those juices to make a quick easy chicken gravy while my chicken rests.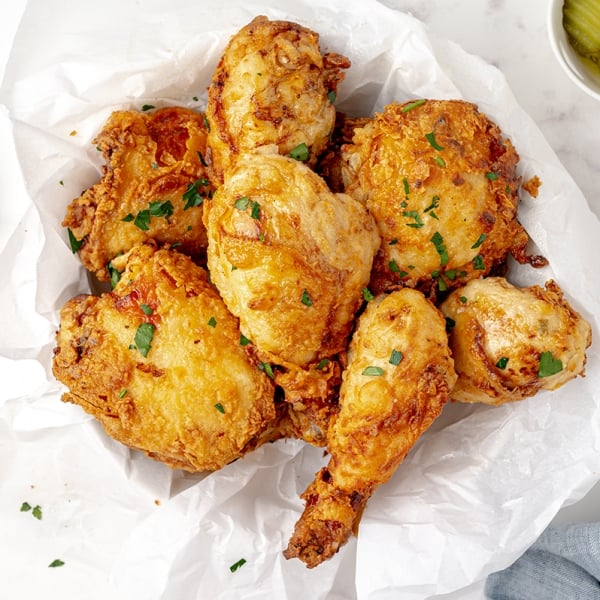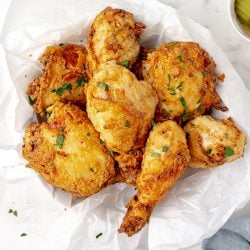 Buttermilk Fried Chicken
This is the best Buttermilk Fried Chicken recipe! Brined chicken with fresh herbs, buttermilk and seasoned flour makes for a crispy and flavorful southern fried chicken.
See The Recipe!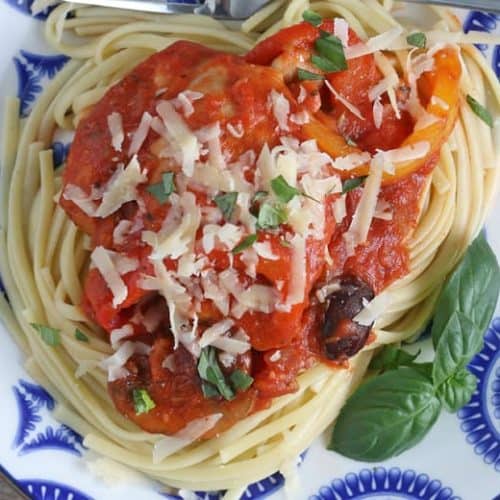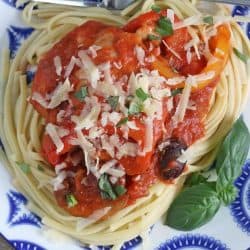 Chicken Cacciatore
Easy Chicken Cacciatore uses tender chicken in a tomato sauce with mushrooms, bell peppers, olives and herbs. Only takes 30 minutes from stove to plate!
See The Recipe!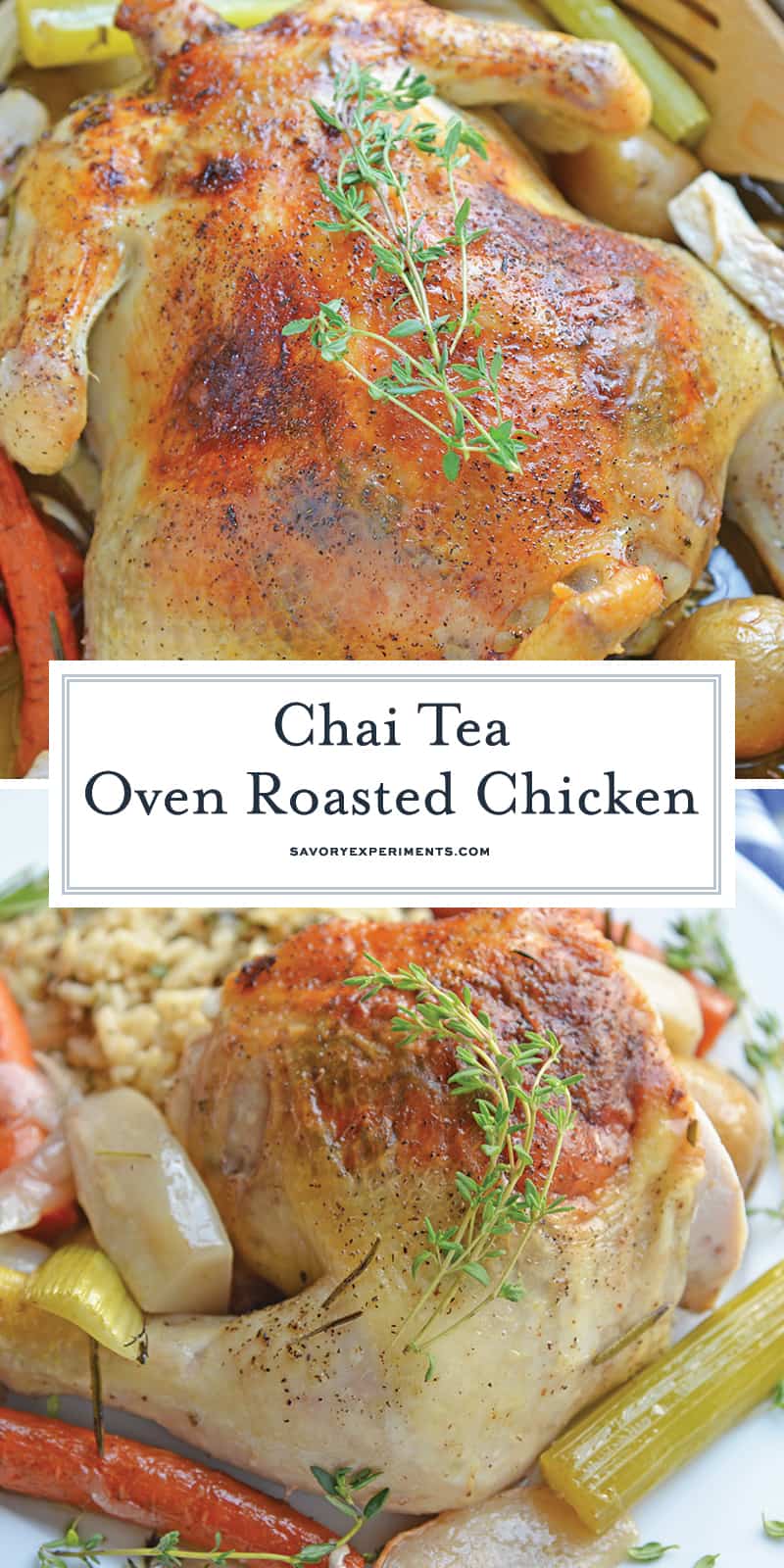 If you are looking for more tips and tricks on how to roast chicken, check out my chicken tutorial answering ALL of your burning chicken questions!
Chai Tea Oven Roasted Chicken
Chai Tea Oven Roasted Chicken is a baked whole chicken rubbed with spiced herb butter, root vegetables and the earthy fall flavors of Chai tea.
Instructions
Preheat oven to 350 degrees F.

In a small bowl, combine softened butter, fresh thyme, rosemary, ground ginger, ground cloves and ground nutmeg.

Using your fingers, loosen the skin from meat. Spread butter mixture evenly under the skin of your chicken.

Season the outside of the chicken with Kosher salt and ground pepper.

Place onion, celery and Oregon Chai Tea Latte Concentrate inside the cavity of the chicken.

Place in roasting pan and set aside.

Place baby potatoes, celery stalks, white onion, carrots, turnip and fresh thyme in a large mixing bowl. Toss with olive oil and Oregon Chai.

Spread vegetables around chicken.

Place in oven for 60 minutes, basting every 15 minutes using the juices pooled in the bottom of the roasting pan. Cook until juices run clear and chicken registers at an internal temperature of 165 degrees F. If chicken starts to brown too fast, loosely place a piece of aluminum foil over the top.

Remove and allow to rest for 10 minutes before carving. If you'd like, this is the best time to make a Quick Chicken Gravy to accompany your meal!
Nutrition
Calories:
699
kcal
,
Carbohydrates:
30
g
,
Protein:
37
g
,
Fat:
47
g
,
Saturated Fat:
18
g
,
Cholesterol:
176
mg
,
Sodium:
2526
mg
,
Potassium:
1134
mg
,
Fiber:
5
g
,
Sugar:
5
g
,
Vitamin A:
7670
IU
,
Vitamin C:
37.5
mg
,
Calcium:
76
mg
,
Iron:
3
mg