Make pizza night healthy! A parmesan cheese and cauliflower mixture makes the perfect base for an EASY Cauliflower Pizza Crust recipe!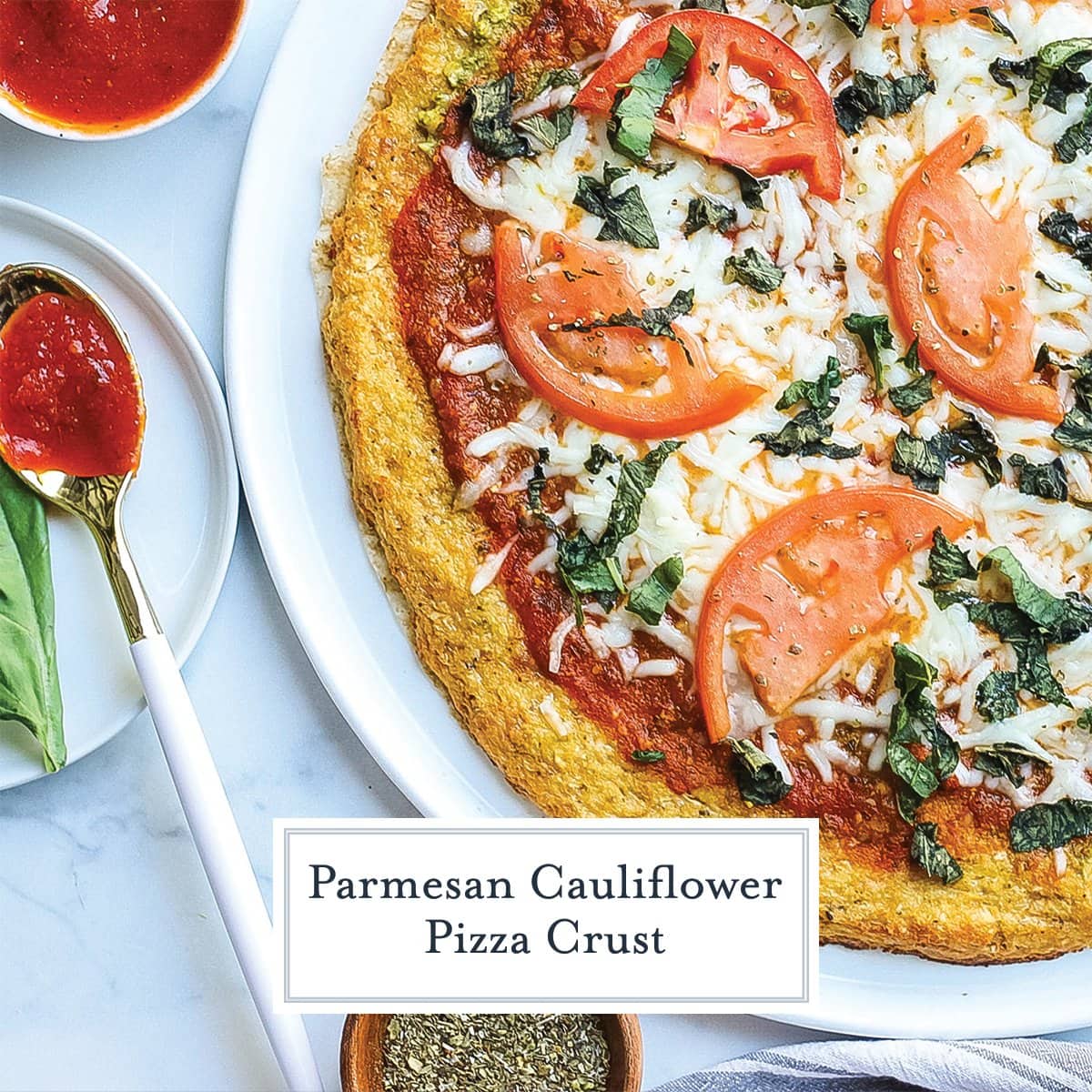 Who knew there was a way to make pizza healthy! I used to rationalize that as long as I had a hefty dose of veggies and didn't request extra cheese, that my pizza was healthy, but this takes it up a notch… even though it does use a healthy dose of Parmesan.
This Cauliflower Pizza Crust Recipe is the secret to getting a perfectly crispy edges, no-carb cauliflower crust- the number one issue with making them at home.
Cauliflower Crust
The newest craze in pizza has been using a delicious Cauliflower Pizza Crust. I did my homework and read comments, reviews and recipes and then did my own testing and jumped on the cauliflower pizza crust bandwagon. Foodie friends, making a good cauliflower pizza crust is difficult, and a little labor intensive.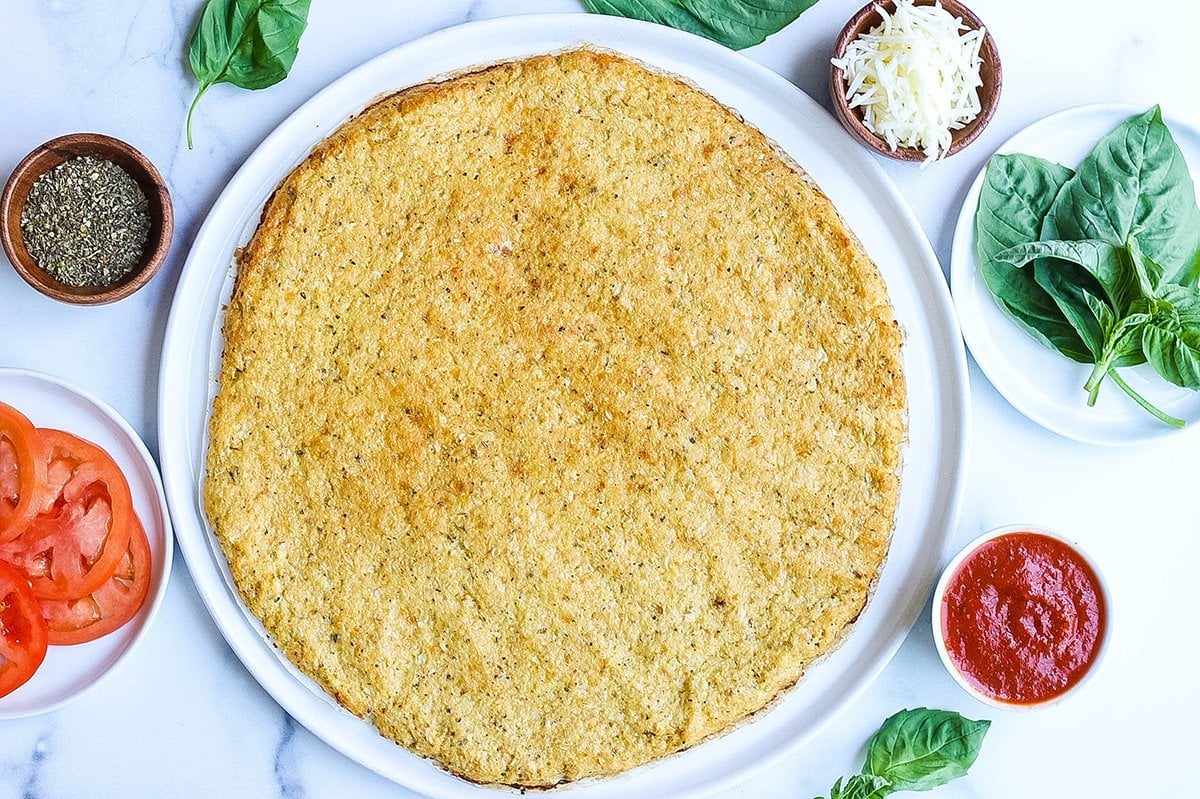 I am not here to discourage you. I am here to tell you that I've figured out the no-fail way to make your homemade pizza crust the best and avoid all of the issues others before you had.
What You'll Need
Fresh Cauliflower- you'll need a whole head of cauliflower.
Eggs- these are your binder.
Parmesan cheese- this crust works best with a dry, hard cheese with little moisture like parmesan.
Italian Seasoning- to add a little flavor. If we are being honest, riced cauliflower doesn't have much flavor.
Coarse sea salt & Freshly ground pepper
Nonstick Cooking Spray or piece of parchment paper to prevent sticking.
Can you grill cauliflower pizza crust? You can on a pizza stone
or pizza pan, but again, it is fairly delicate, so be mindful of that.
Do I have to use an egg in cauliflower pizza crust? I would strongly suggest you do as a binding mechanism. It is so hard to get it to stay together in the first place that not having that element would be crucial.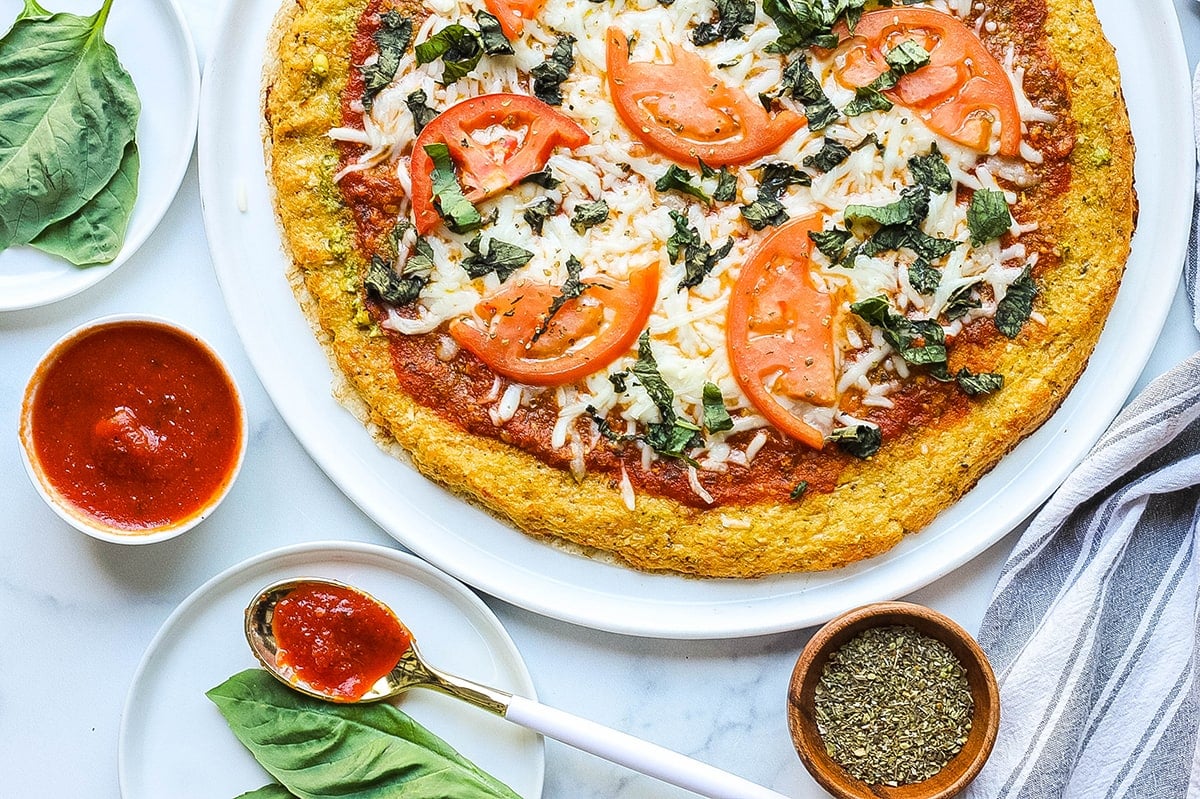 How to make a Cauliflower Pizza Crust
The main theme I saw was that cauliflower pizza crusts were soggy. Solution: squeezing out excess water in a tea towel or paper towels. This will ensure you get the best cauliflower crust. Other complaints included the crust not having any flavor or falling apart. Solution: Parmesan cheese and Italian seasoning.
I enjoy a nice crispy, thin crust with some flavor. How did I overcome my barriers to make the perfect Cauliflower Pizza Crust?
By roasting the cauliflower prior to removing the excess moisture, it brought out the natural flavors and then adding nutty Parmesan cheese. A hard cheese that bakes up nice and crispy and also works as binder. Some use Mozzarella, but this gets gooey, not crunchy because it has too much water.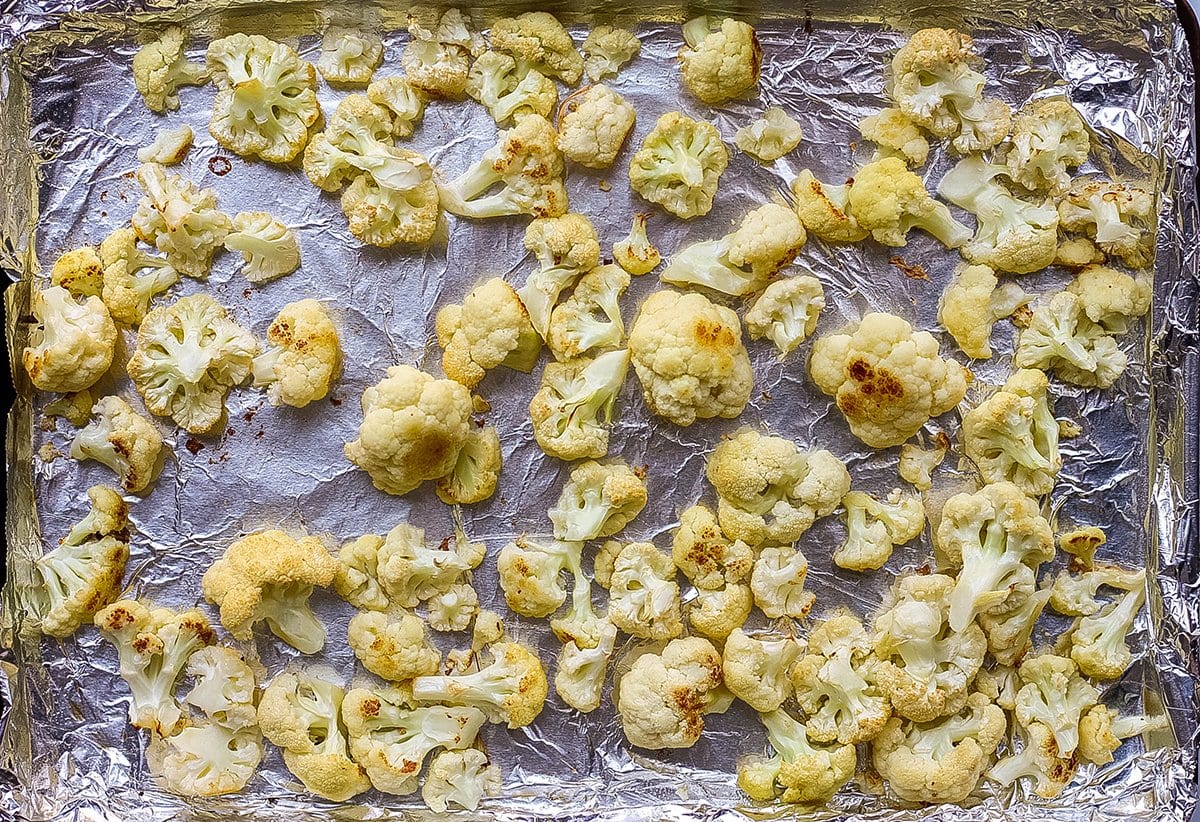 My first time making this cauliflower crust recipe, I used the KitchenAid juicer attachment, but I realize not many folks own this OR even if they do aren't going to haul it out just for a pizza.
To those who do not have a juicer or a Kitchen Aid, no worries. Simply run the cauliflower through a ricer or finely pulse it in a food processor (the same way you'd rice cauliflower to make cauliflower rice) and wring out as much moisture as possible in a tea towel. You can also use a clean dish towel, a kitchen towel or cheese cloth to do this. I'm telling you this is the mistake made by many a home cook- too much liquid left in the cauliflower!
I also used Parmesan cheese seeing it naturally has less moisture and oil and therefore will crisp up well. Double whammy. Because no one likes a soggy crust!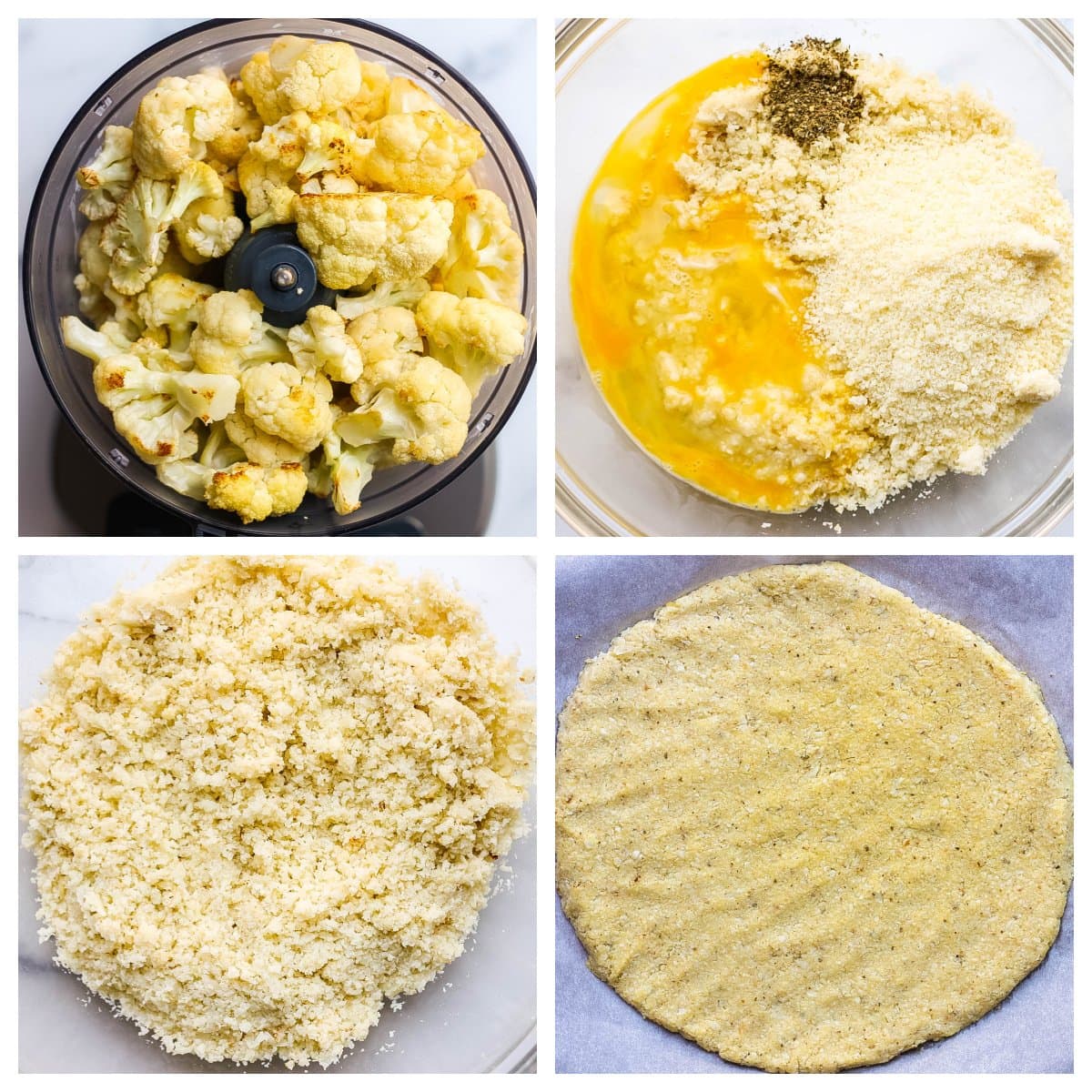 Cauliflower Pizza Crust Toppings
Use any toppings that float your boat and don't feel like you need to stick with the traditional. Instead of the traditional Italian toppings, I made my veggie pizza into a Butternut Squash Pizza complete with caramelized onions, shaved zucchini, fresh mozzarella cheese and butternut cream sauce.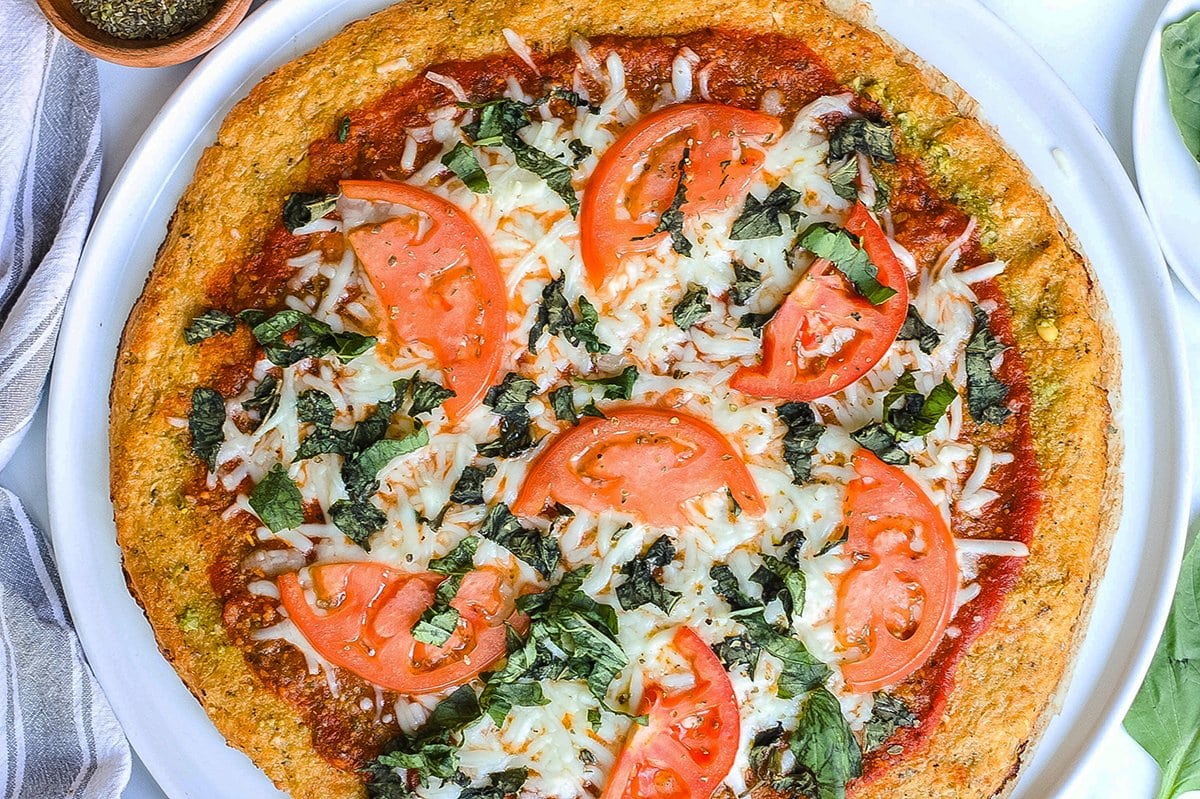 However, you can totally use this as a low carb version of a traditional pizza crust too. Top your cauliflower crust with pizza sauce, Italian seasoning, mozzarella cheese and any other pizza ingredients you like. Some options include: red pepper flakes, bell peppers or cherry tomatoes. I promise it will taste just like a regular pizza!
Here is a list of popular pizza toppings:
Pepperoni
Ricotta cheese
Fresh basil
Fresh tomatoes
Mushroom
Extra cheese
Sausage
Onion
Black olives
Green pepper
Fresh garlic
Artichokes
Sun dried tomatoes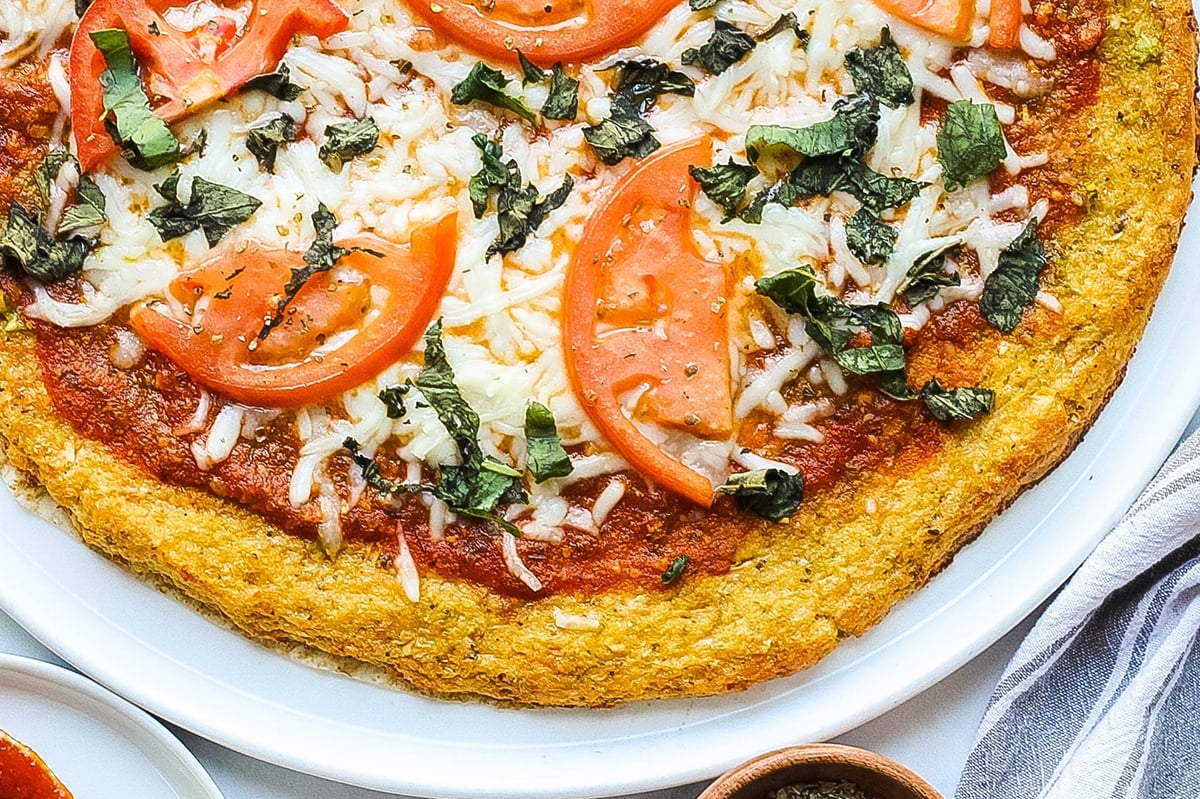 Lifestyle Questions
Is cauliflower pizza crust low carb? It is! By definition, this is a low carb pizza crust.
Is cauliflower pizza crust keto friendly? I beleive it is, but I am not a keto expert. If someone wants to chime in using the comments section, I'd love that !
Is cauliflower pizza crust healthy? It is healthier than a doughy original pizza crust, but the definition of "healthy" is different for every person, so I am not going to label anything as purely healthy.
Is cauliflower pizza crust vegan? My recipe is not vegan, it includes an egg and Parmesan cheese as binders. But I am sure there are vegan versions out there! You can omit the Parmesan cheese, but it isn't as sturdy of a base.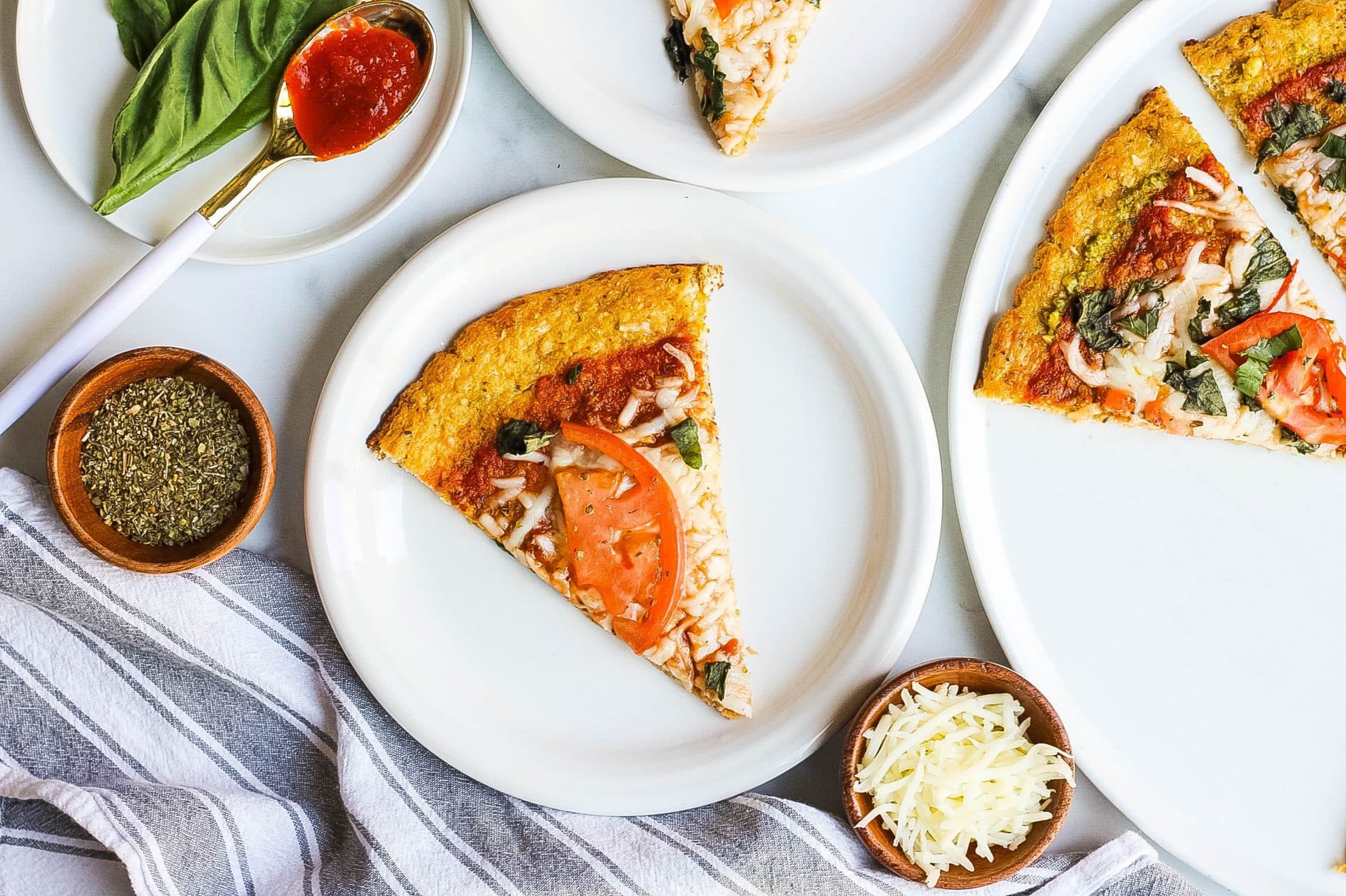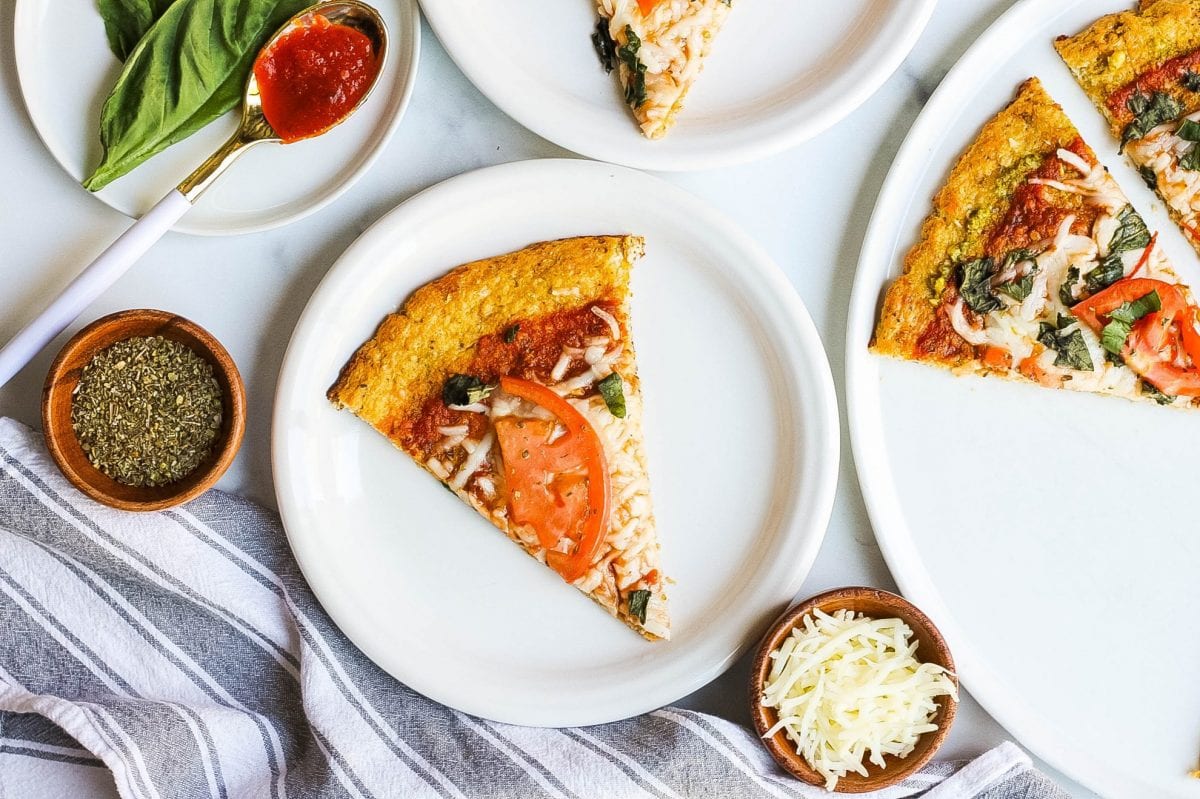 Make Ahead, Store & Freezing Cauliflower Pizza Crust
Can I freeze cauliflower pizza crust? I'm not sure I would suggest freezing it after baking. It is still pretty delicate and will likely break. You could, however, freeze the cauliflower pulp mixture until ready to use.
Can cauliflower pizza crust be made ahead of time? It can, but not too far ahead of time. I would suggest making the cauliflower pulp ahead and putting it in the fridge uncovered. In fact, this will help it dry out even more. Then form and bake when you are ready to make your pizza. The crust is the most time consuming piece of the process.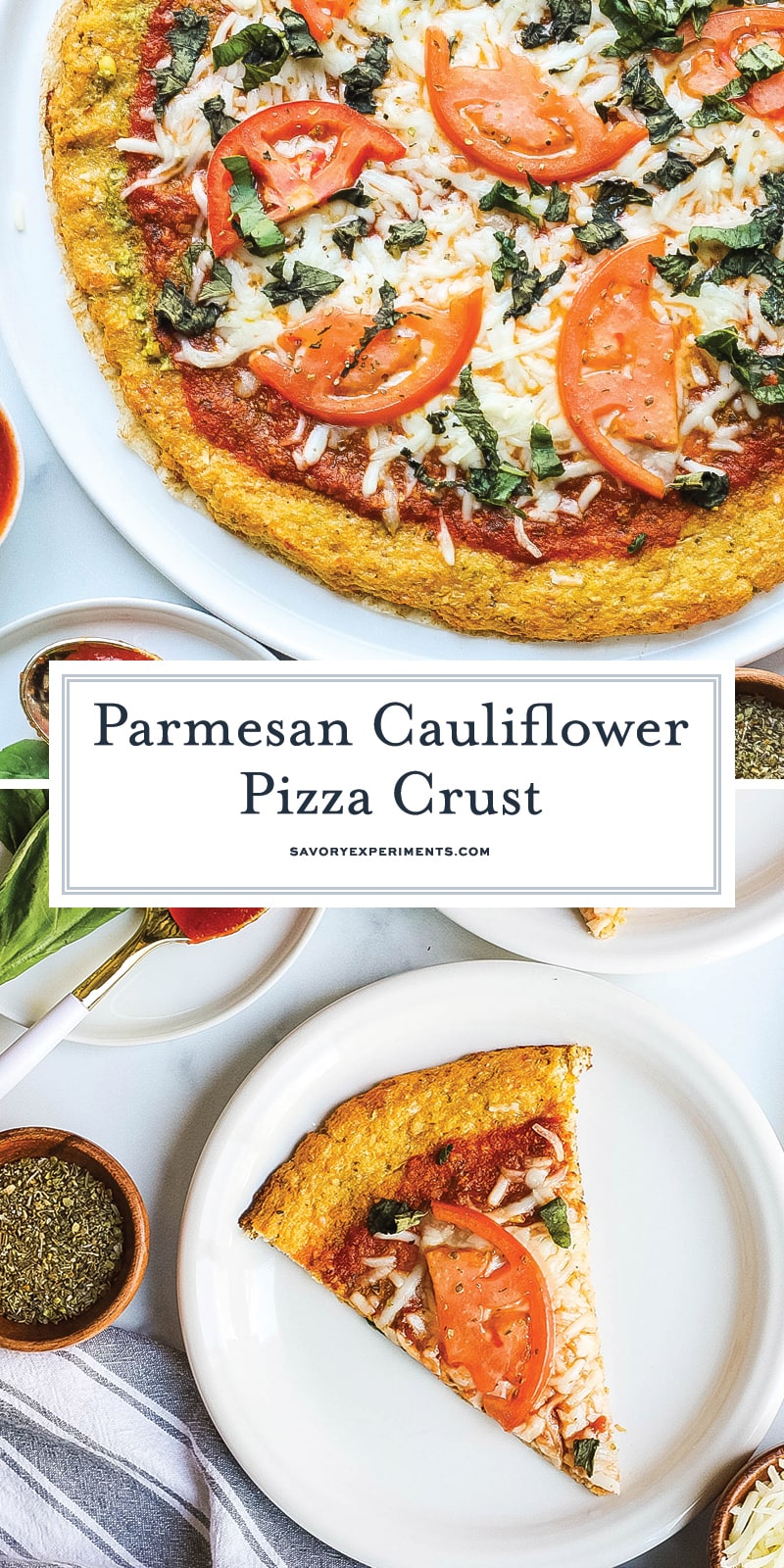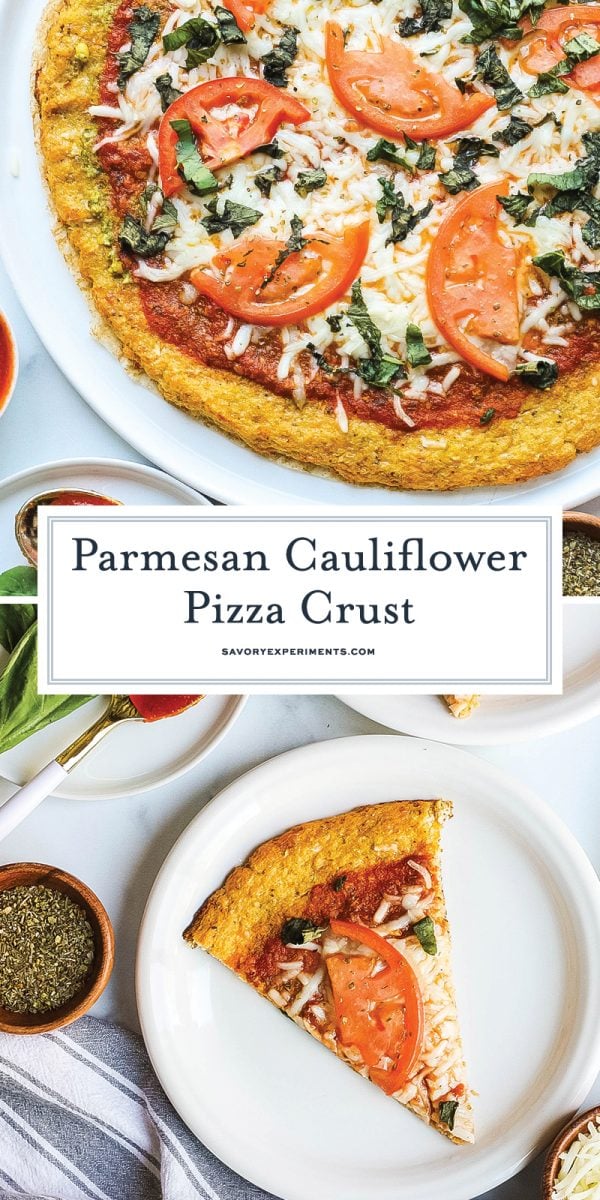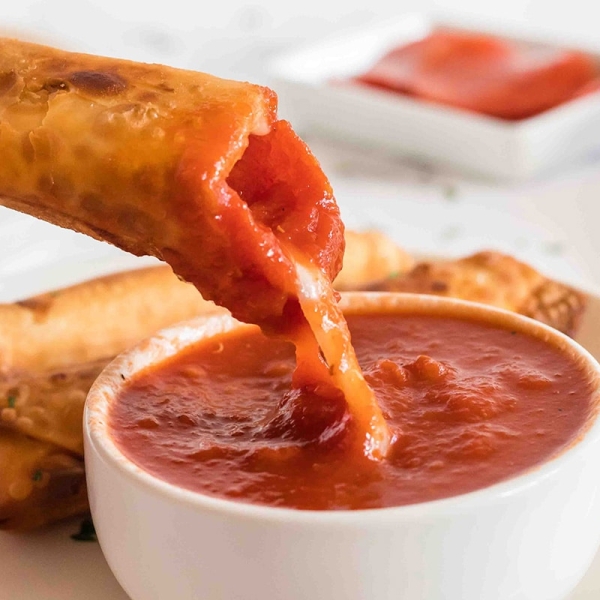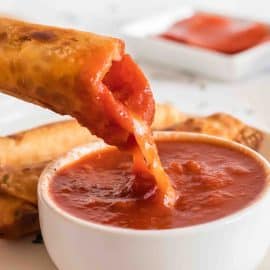 Pizza Logs
Crispy egg roll wrappers stuffed with gooey mozzarella cheese and zesty pepperoni, fried to a golden brown and dipped in marinara sauce.
See The Recipe!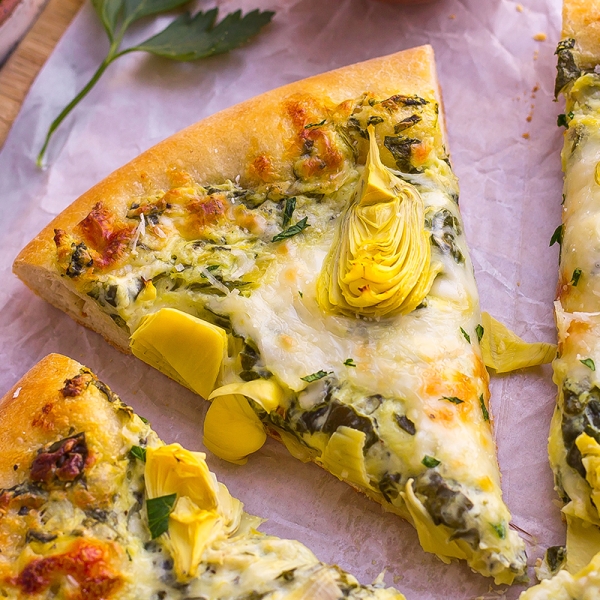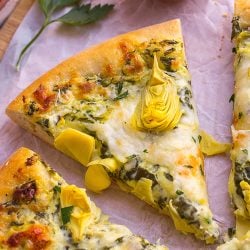 Artichoke Pizza
This is the ultimate artichoke pizza recipe! With a creamy spinach artichoke base and topped with plenty of cheese, it's the BEST!
See The Recipe!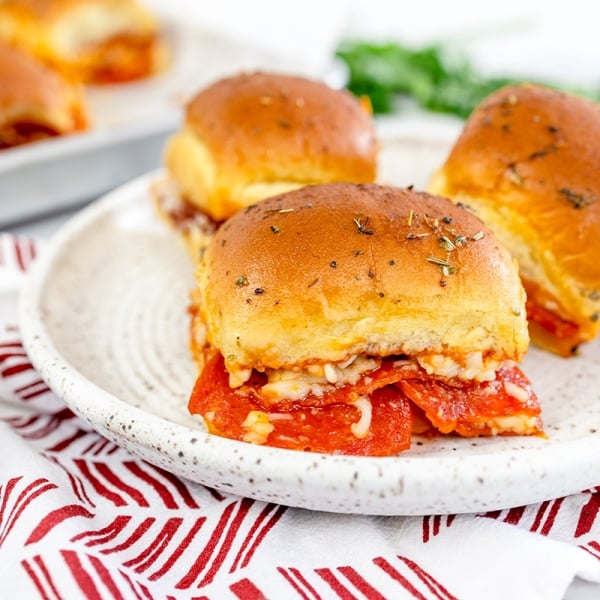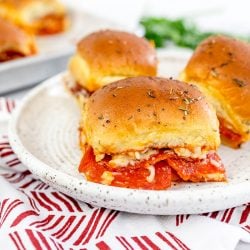 Pizza Sliders
Cheesy Pizza Sliders are easy to make with just 4 ingredients and the best for parties. Loved by kids and adults!
See The Recipe!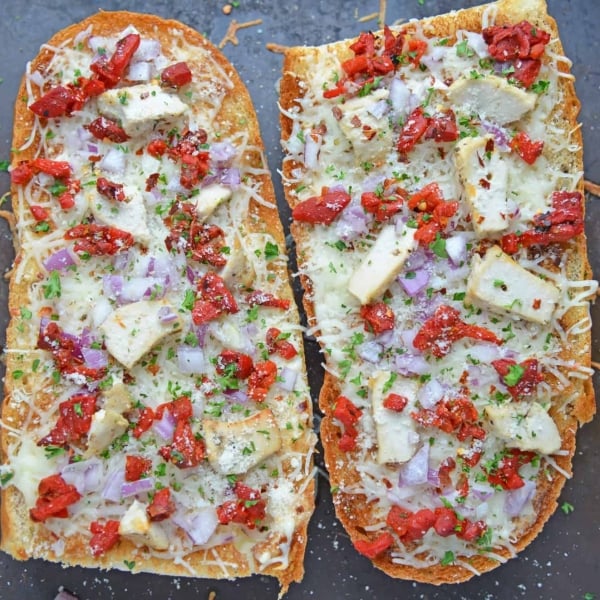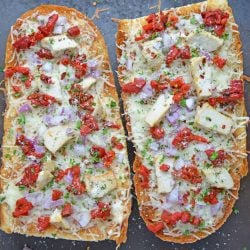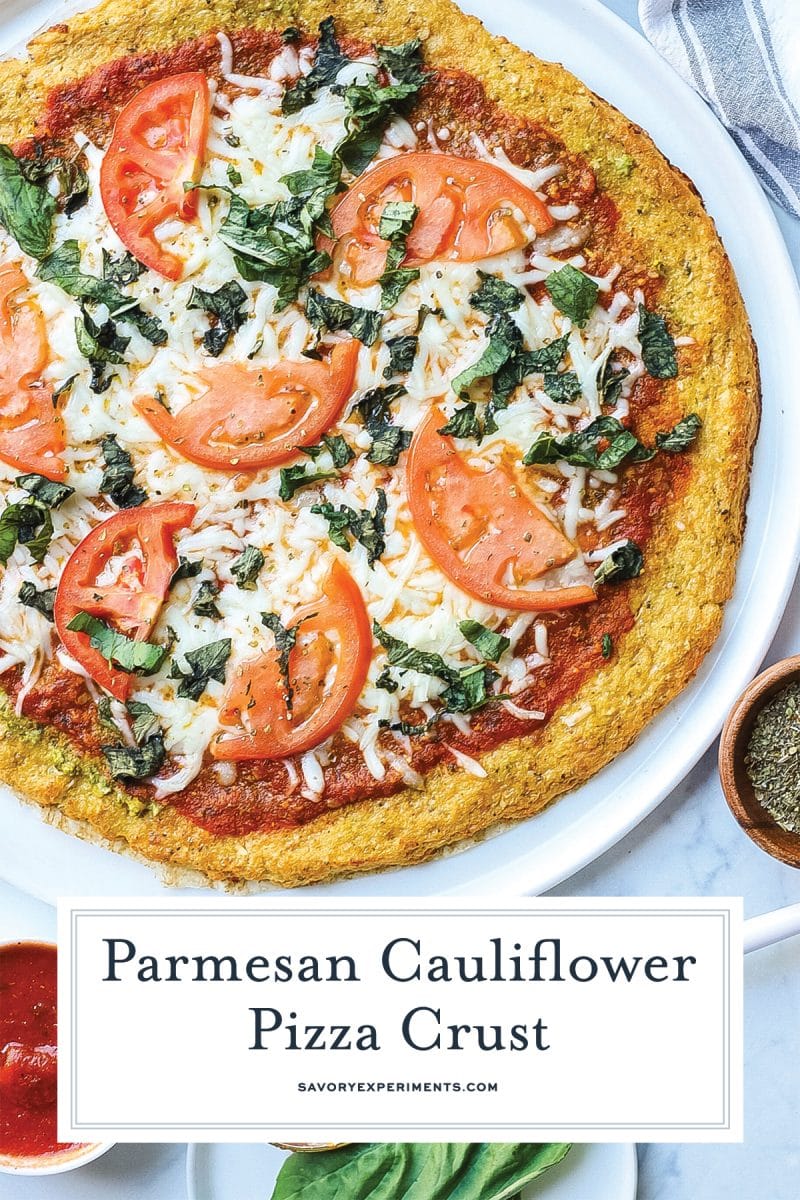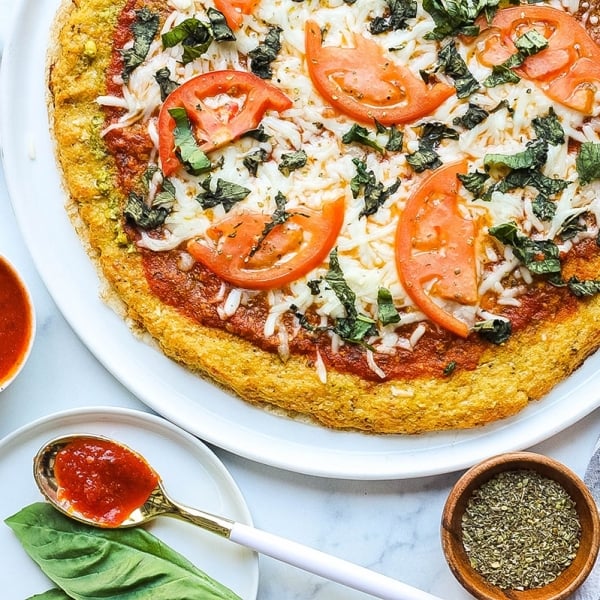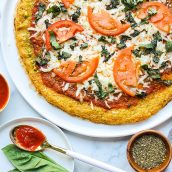 Parmesan Cauliflower Pizza Crust
This Parmesan Cauliflower Pizza Crust is the secret to getting a perfectly crispy no-carb cauliflower crust! A healthy alternative to the usual pizza crust!
Equipment
Heat Resistant Rubber Spatula
Instructions
Preheat oven to 350°F. Cover a large baking sheet with aluminum foil and lightly coat with cooking spray.

Arrange the cauliflower pieces in a single layer. Roast for 15 minutes. Remove and flip, return to oven for an additional 10 minutes. Remove and allow to cool.

Keep the oven on, but increase heat to 425°F. Finely chop, chop in a food processor or rice your cauliflower. Wring out extra moisture in a tea towel or several cheese clothes layered together. Discard the liquids and keep the solids.

In a medium mixing bowl, combine the cauliflower, cheese, eggs and Italian seasoning until well combined.

Lay a piece of parchment paper on a baking sheet. Turn the dough into the center of your baking sheet. Using a spatula or the backside of a spoon, spread mixture out to a 1/4 inch thickness. It doesn't have to be perfect in shape- imperfections give it character! Season with salt and pepper to taste.

Bake for 20 minutes. Crust should be brown and crunchy. Ovens and amounts of liquid vary, so your crust may need an additional 5-10 minutes to achieve the right texture.

Remove and add desired toppings. Lower heat to 350°F degrees. Place the crust with desired toppings back into the oven until cheese melts (8-10 minutes).

If you've tried this recipe, come back and let us know how it was in the comments or ratings!
Notes
Nutritional information is only for the pizza crust- not additional toppings!
Nutrition
Calories:
357
kcal
,
Carbohydrates:
2
g
,
Protein:
32
g
,
Fat:
23
g
,
Saturated Fat:
13
g
,
Cholesterol:
214
mg
,
Sodium:
1264
mg
,
Potassium:
129
mg
,
Vitamin A:
825
IU
,
Vitamin C:
1.2
mg
,
Calcium:
913
mg
,
Iron:
1.4
mg