Who knew there was a way to make pizza healthy! This healthy pizza crust changes the game on pizza crusts. It's so good your family won't even notice the difference!
This Parmesan Cauliflower Pizza Crust Recipe is the secret to getting a perfectly crispy no-carb cauliflower crust. A delicious, healthy pizza crust alternative to the usual pizza crust!
The newest craze in pizza has been using a Cauliflower Pizza Crust. I did my homework and read comments, reviews and recipes. The main theme I saw was the crusts were soggy and suggestions included squeezing out excess water in a tea towel. Other complaints included the crust not having any flavor or falling apart.
I enjoy a nice thin, crispy crust with some flavor. How did I overcome my barriers to make the perfect Cauliflower Pizza Crust? By roasting the cauliflower prior to removing the excess moisture, it brought out the natural flavors in the cauliflower.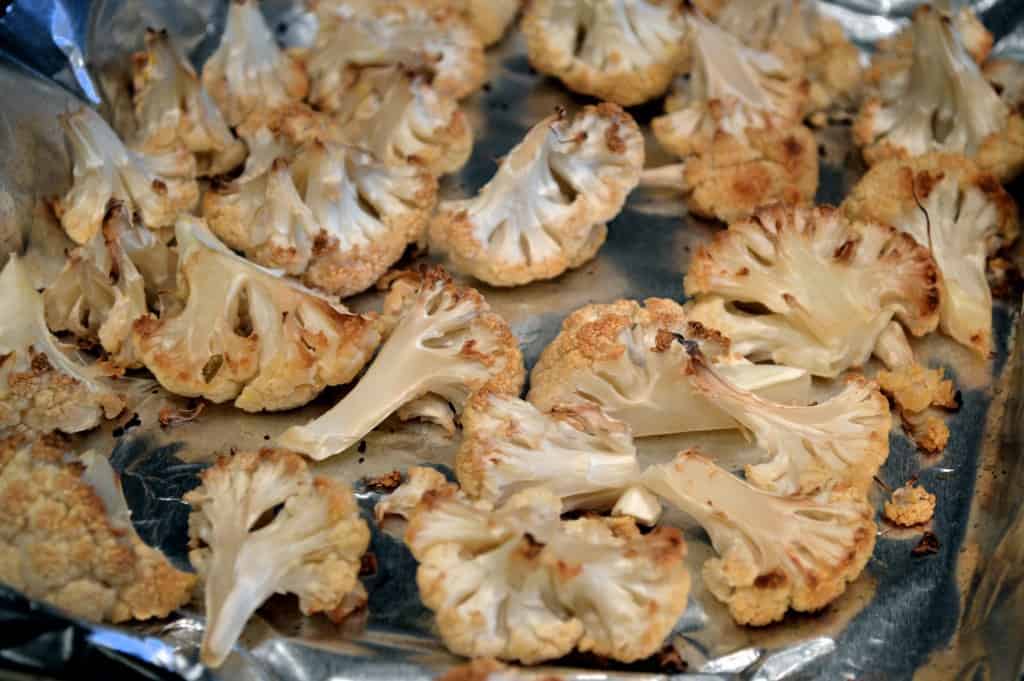 So how did I end up with a crispy cauliflower pizza crust? How did I remove the moisture? The juicer attachment to my Kitchen Aid!
To those who do not have a juicer or a Kitchenaid, no worries, just wring out as much liquid as possible in a tea towel. I also used Parmesan cheese seeing it naturally has less moisture and oil and therefore will crisp up well.
Instead of the traditional Italian toppings, I used a butternut cream sauce as a base, zucchini shreds, caramelized onions and fresh mozzarella cheese.
I didn't tell my husband about the crust and he didn't notice; so my Parmesan Cauliflower Pizza Crust passed the ultimate test!

If you liked this crispy cauliflower pizza crust, check out these other easy pizza recipes:
Parmesan Cauliflower Pizza Crust
This Parmesan Cauliflower Pizza Crust is the secret to getting a perfectly crispy no-carb cauliflower crust! A healthy alternative to the usual pizza crust!
Keyword:
cauliflower pizza crust
Ingredients
1

inch

large head cauliflower

cut into 2-3pieces

1

egg

room temperature and lightly beaten

3/4

cup

Parmesan cheese

fresh and finely shredded (I'm not sure if this will work with the bottled kind)

Salt and Pepper

Cooking Spray
Instructions
Preheat oven to 350 degrees. Cover a large baking sheet with aluminum foil and lightly coat with Cooking Spray. Arrange cauliflower pieces in a single layer. Roast for 15 minutes. Remove and flip, return to oven for an additional 10 minutes. Remove and allow to cool.

Keep the oven on, but increase heat to 450 degrees. At this junction you can put cauliflower through a juicer, use Kitchen Aid with juicing attachment or put cauliflower through a potato ricer and then squeeze out moisture in a tea towel. Discard the liquids and keep the solids.

In a medium mixing bowl, combine cauliflower, Parmesan cheese and egg until well combined.

Lay a piece of parchment paper across a baking, rectangular or round will work. Turn cauliflower crust dough into the center of your baking sheet. Using a spatula or the back side of a spoon, spread mixture out to a 1/4 inch thickness. It doesn't have to be perfect in shape- imperfections give it character!

When all spread into your desired shape, season with table salt and freshly ground pepper. Pop into the oven for 15 minutes. Crust should be brown and crunchy. Ovens and amounts of liquid vary, so your crust may need an additional 5-10 minutes to achieve the right consistency.

Remove and add desired toppings. Lower heat to 350 degrees. Place Cauliflower Pizza crust with desired toppings back into the oven until chosen cheese melts (8-10 minutes).

If you've tried this recipe, come back and let us know how it was!
Nutrition Facts
Parmesan Cauliflower Pizza Crust
Amount Per Serving
Calories 357
Calories from Fat 207
% Daily Value*
Total Fat 23g 35%
Cholesterol 214mg 71%
Sodium 1264mg 53%
Potassium 129mg 4%
Total Carbohydrates 2g 1%
Protein 32g 64%
* Percent Daily Values are based on a 2000 calorie diet.