Who knew there was a way to make pizza healthy! I used to rationalize that as long as I had a hefty dose of veggies and didn't request extra cheese, that my pizza was healthy, but this takes it up a notch.
This Parmesan Cauliflower Pizza Crust Recipe is the secret to getting a perfectly crispy no-carb cauliflower crust. A delicious, healthy pizza crust alternative!
The newest craze in pizza has been using a Cauliflower Pizza Crust. I did my homework and read comments, reviews and recipes and then did my own testing. Foodie friends, making a good cauliflower pizza crust is difficult!
I am not here to discourage you. I am here to tell you that I've figured out the no-fail way to make your homemade pizza crust the best and avoid all of the issues others before you had.
The main theme I saw was that cauliflower pizza crusts were soggy. Solution: squeezing out excess water in a tea towel. Other complaints included the crust not having any flavor or falling apart. Solution: Parmesan cheese.
I enjoy a nice thin, crispy crust with some flavor. How did I overcome my barriers to make the perfect Cauliflower Pizza Crust?
By roasting the cauliflower prior to removing the excess moisture, it brought out the natural flavors in the cauliflower and then adding nutty Parmesan cheese. A hard cheese that bakes up nice and crispy and also works as binder.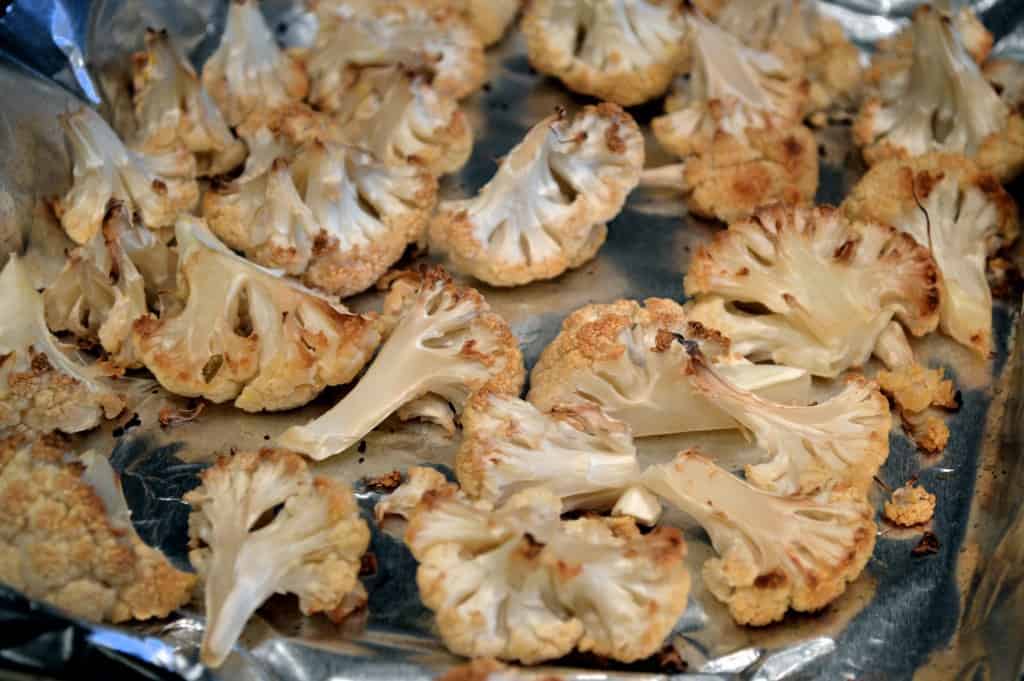 So how did I end up with a crispy cauliflower pizza crust? How did I remove the moisture? The juicer attachment
to my Kitchen Aid
!
To those who do not have a juicer or a Kitchen Aid, no worries. Simply run the cauliflower through a ricer
and wring out as much liquid as possible in a tea towel.
I also used Parmesan cheese seeing it naturally has less moisture and oil and therefore will crisp up well. Double whammy. 
Instead of the traditional Italian toppings, I made my veggie pizza into a Butternut Squash Pizza complete with caramelized onions, shaved zucchini, fresh mozzarella cheese and butternut cream sauce.
I didn't tell my husband about the crust and he didn't notice; so my Parmesan Cauliflower Pizza Crust passed the ultimate test!

Tools for making no-carb pizza crust:
Rimmed Baking Sheet– another kitchen staple! You'll use this for prep work, roasting and much more. I have 7 at my house.
Stand Mixer– I lived for a long time without one. My life was changed when I finally bit the bullet and bought one. Just do it and thank yourself later.
Ricer
– This is one of those items I only use a few times a year for mashed potatoes, gnocchi and cauliflower pizza crust, but I am sure glad I have it when I dig it out! I also works well for smoothing out the yolks in Deviled Egg recipes!
Pizza Stone
– great for pizzas in the oven, calzones or even making grilled pizza! It is also essential for reheating pizza and making it taste fresh!
Questions you might have about how to make cauliflower pizza crust:
Is cauliflower pizza crust low carb? It is! By definition, this is a low carb pizza crust.
Is cauliflower pizza crust keto friendly? I beleive it is, but I am not a keto expert. If someone wants to chime in using the comments section, I'd love that !
Can I freeze cauliflower pizza crust? I'm not sure I would suggest freezing it after baking. It is still pretty delicate and will likely break. You could, however, freeze the cauliflower pulp mixture until ready to use.
Is cauliflower pizza crust healthy? It is healthier than a doughy original pizza crust, but the definition of "healthy" is different for every person, so I am not going to label anything as purely healthy.
Can cauliflower pizza crust be made ahead of time? It can, but not too far ahead of time. I would suggest making the cauliflower pulp ahead and putting it in the fridge uncovered. In fact, this will help it dry out even more. Then form and bake when you are ready to make your pizza. The crust is the most time consuming piece of the process.
Can you grill cauliflower pizza crust? You can on a pizza stone
, but again, it is fairly delicate, so be mindful of that.
Is cauliflower pizza crust vegan? My recipe is not vegan, it includes an egg and Parmesan cheese as binders. But I am sure there are vegan versions out there!
Do I have to use an egg in cauliflower pizza crust? I would strongly suggest you do as a binding mechanism. It is so hard to get it to stay together in the first place that not having that element would be crucial.
Why is my cauliflower pizza crust soggy? SCroll up- there are several paragraphs on how to prevent soggy cauliflower pizza crust!
This Parmesan Cauliflower Pizza Crust is the secret to getting a perfectly crispy no-carb cauliflower crust! A healthy alternative to the usual pizza crust! Click to Tweet
CONNECT WITH SAVORY EXPERIMENTS!

Be sure to follow me on social media, so you never miss a post!

Facebook | Twitter | Youtube
Pinterest | Instagram

Get our FREE 8 Day E-Course on How to Be a Better Home Cook. Sign up HERE!