St. Patrick's Day Dunkaroo Dip has become my instant go-to for every party or holiday, so it comes as no surprise that I decided to whip up a green batch for St. Patrick's Day!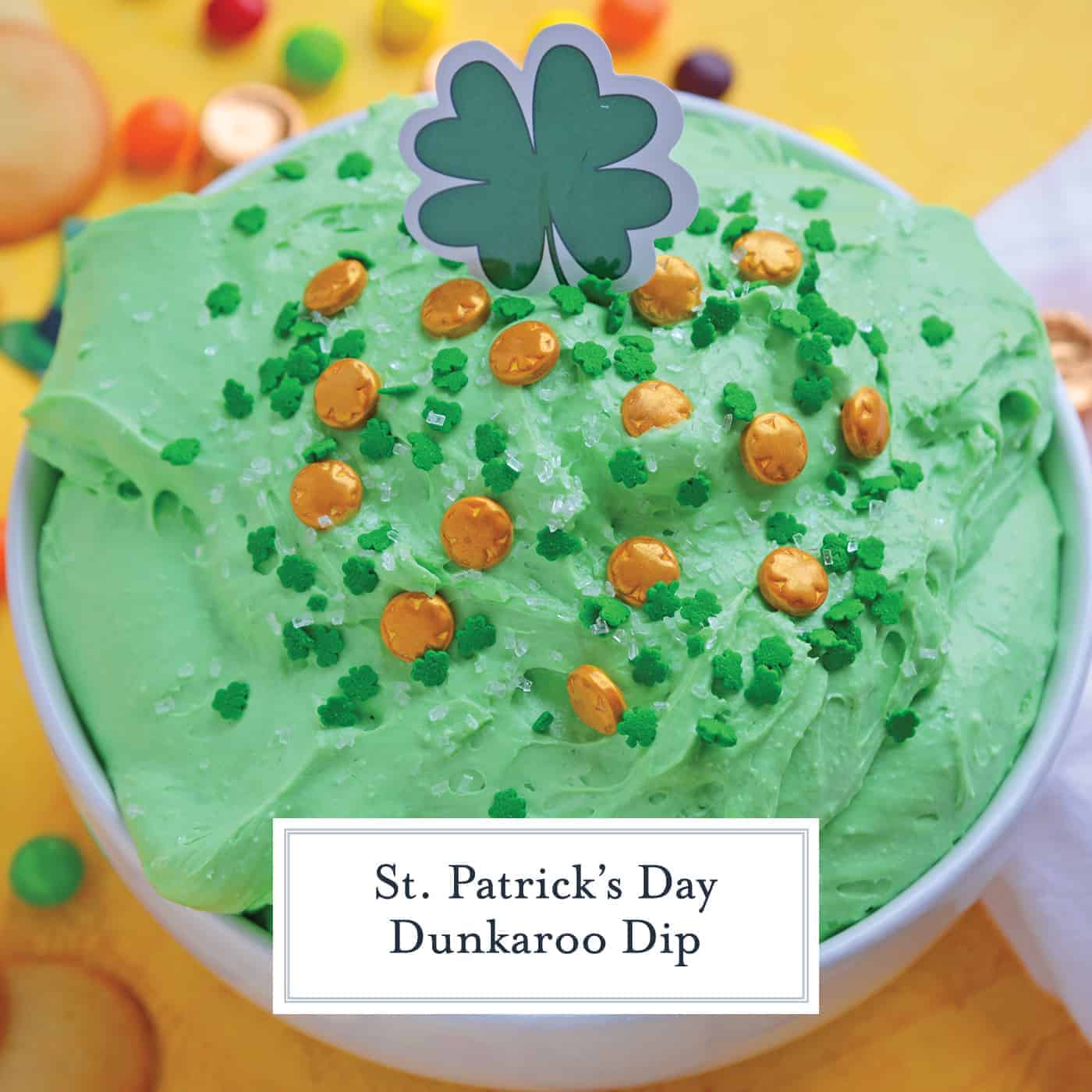 St. Patrick's Day Dunkaroo Dip is a festive green color and served with Nilla Wafers, perfect for any St. Patrick's Day party for kids or adults!
Do you remember Dunkaroo Dip? I think it hit the peak of popularity in the 90's, but honestly I was never allowed to have it.
I had one of those healthy moms. No Twinkies. No HoHos. No Ding Dongs. Once a year on our birthday we were able to select one special treat for school lunch. I also wouldn't eat the school lunch, but that was of my own volition, not my mother's doing.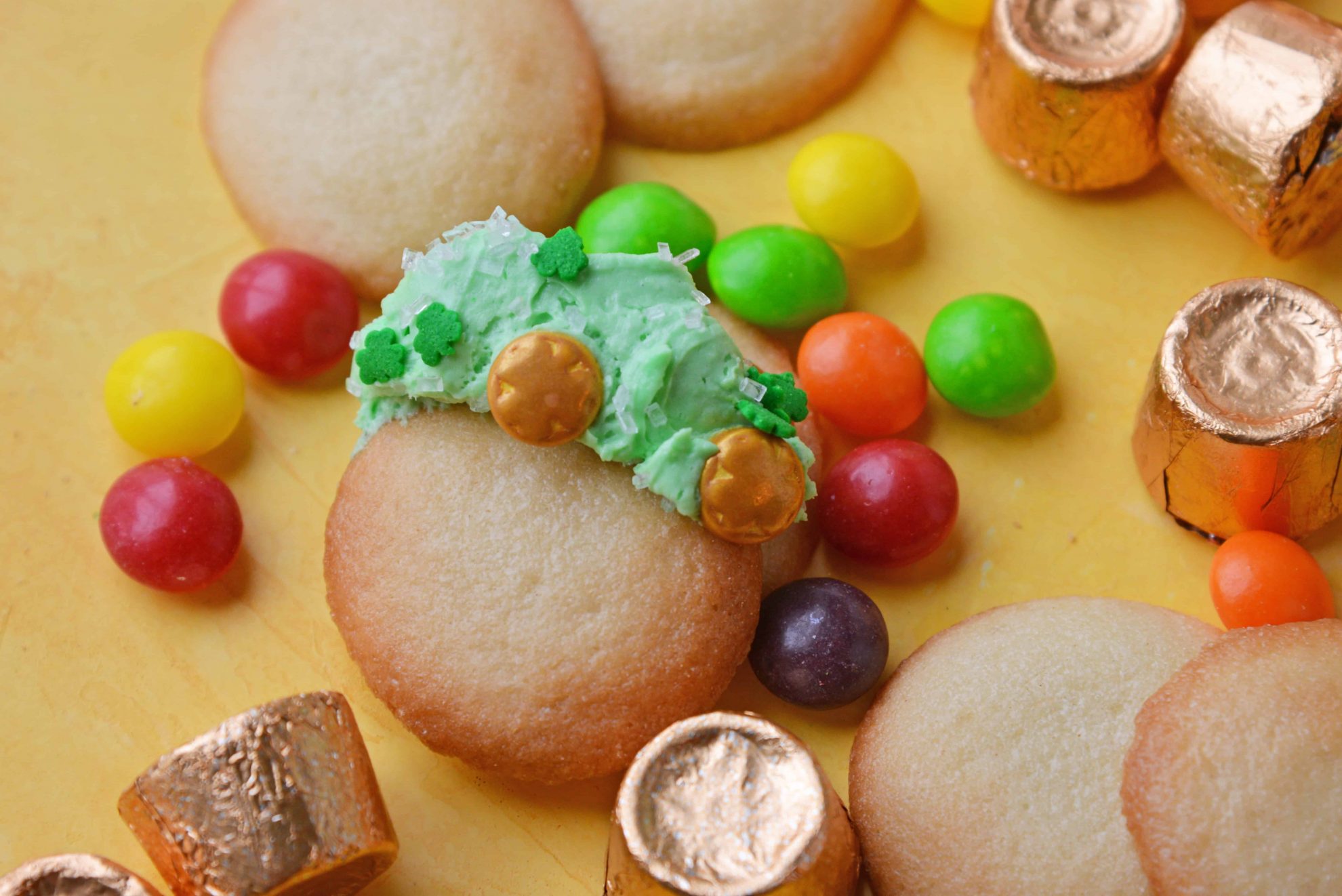 As an adult, I have discovered that some of these treats and delicious and some might have just been perceived as delicious due to my fantasizing about having them. Dunkaroo Dip falls into the "this is DELICIOUS" category.
Unfortunately, they don't make Dunkaroo Dip anymore! I have no idea why, this stuff is tasty.
But I guess I don't need to be eating little packets of creamy deliciousness all the time and neither do my kids.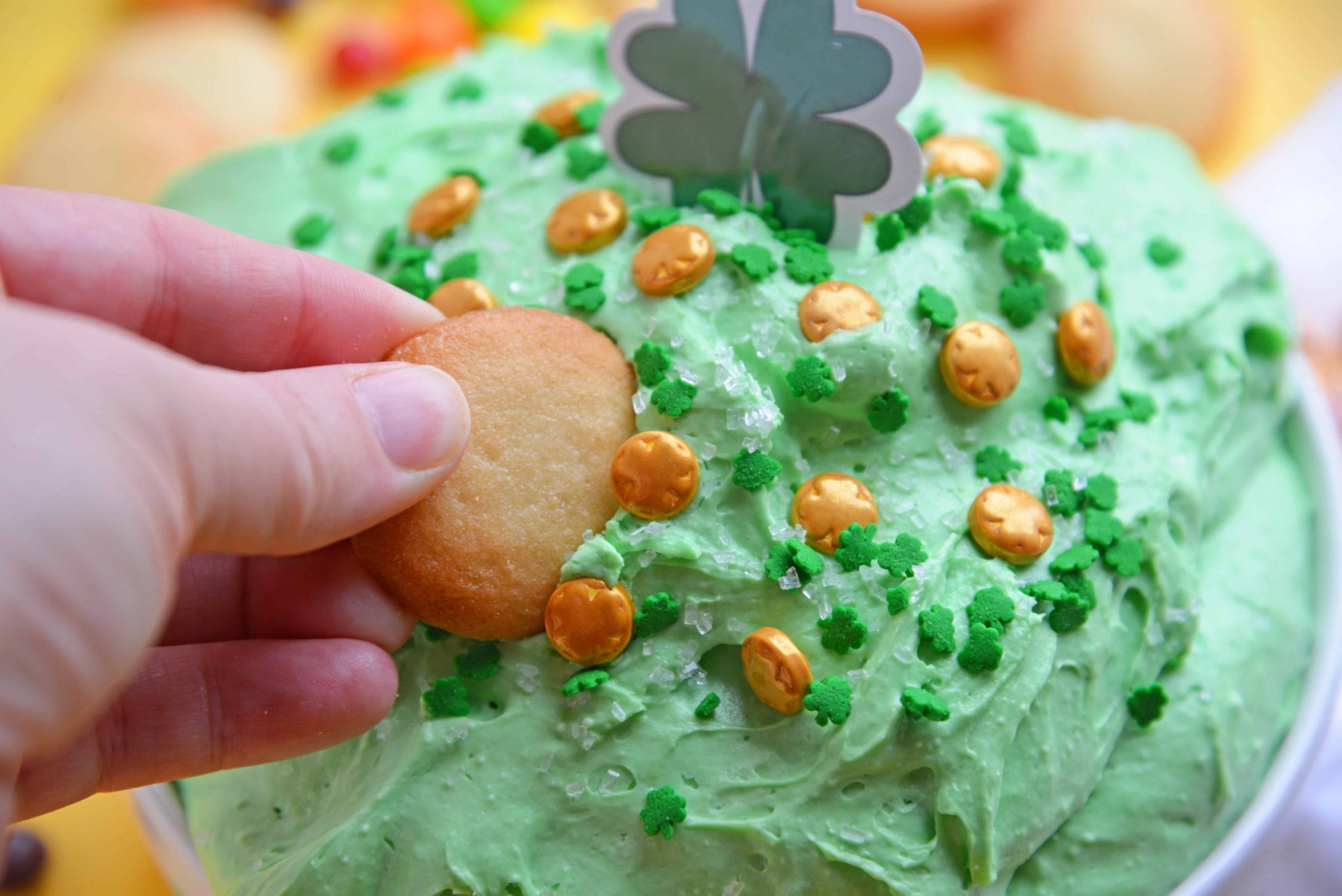 Now we just make Dunkaroo Dip on special occassions. The recipe is simple and it is easy to customize to any occasions or holiday. You can also check out my Halloween Dunkaroo Dip and tri-colored Christmas Dunkaroo Dip. Or just classic chocolate.
How to make Dunkaroo Dip?
Just 3 ingredients and food coloring is all it takes to make your childhood come alive. One of those ingredients is nonfat Greek yogurt… so I rationalize these aren't as bad for you as the old school favorite.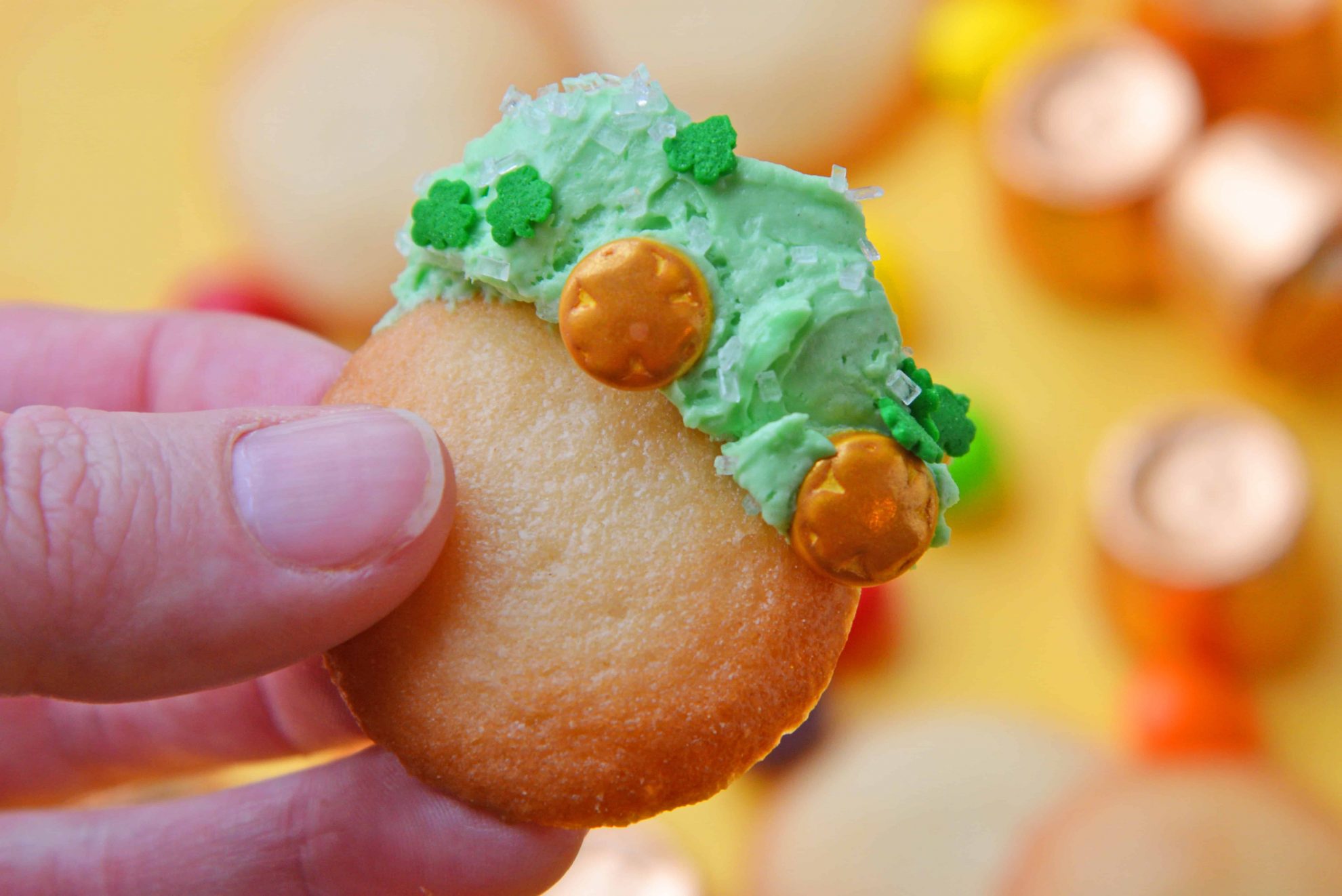 White cake mix, vanilla Greek yogurt and whipped cream is all it takes! You'll be amazed at how easily it comes together and what a hit it is at your next party.
I like to serve my cake batter dip with different types of cookies. They used to come with Teddy Grahams, but I like this version with Nilla Wafers for Animal Crackers. Mini crispy chocolate chip cookies or even pretzels work well.
You can use anything you want.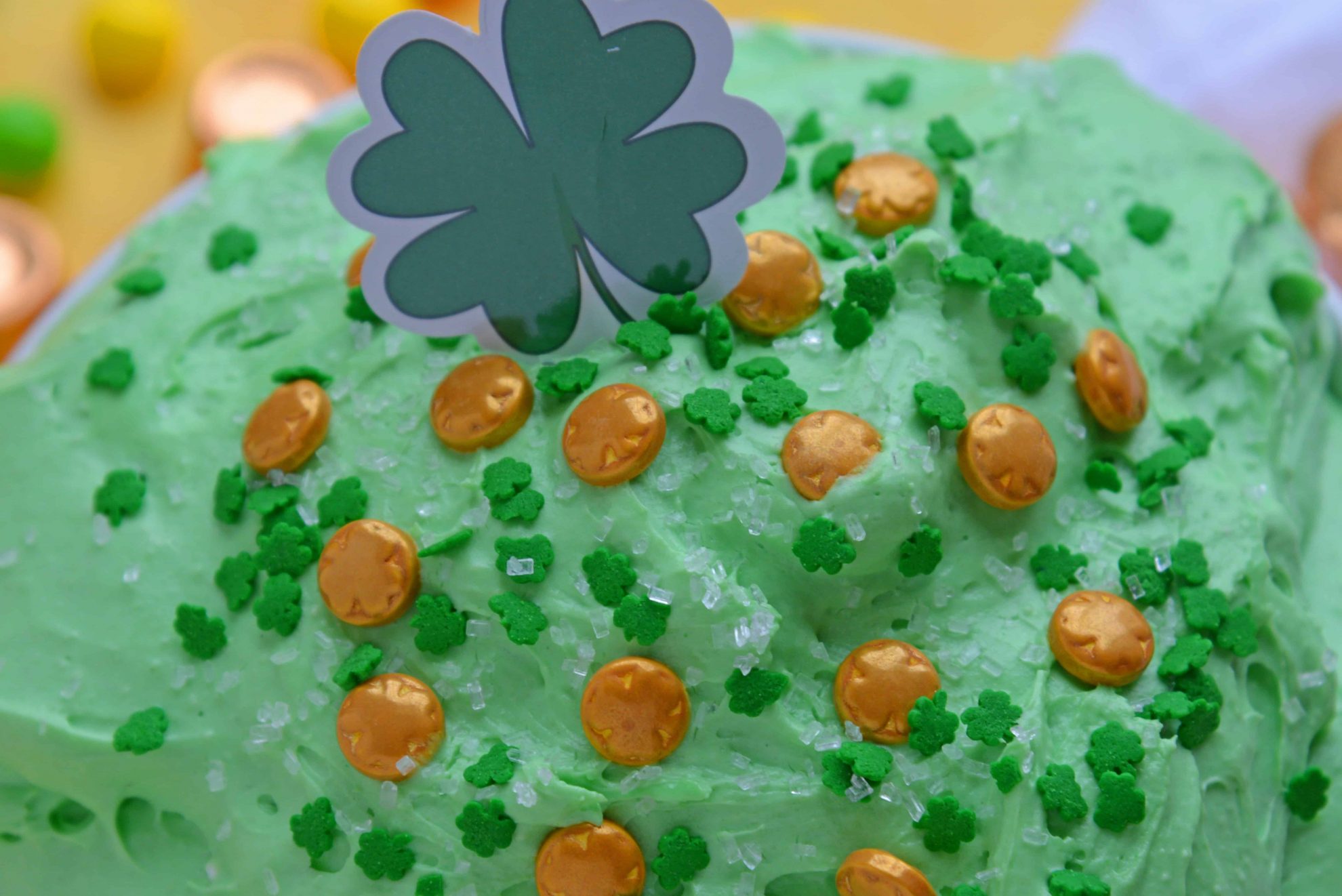 More St. Patrick's Day inspired desserts: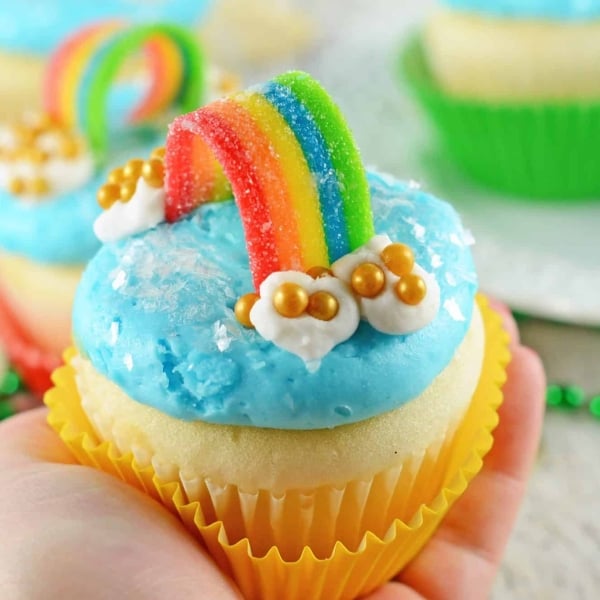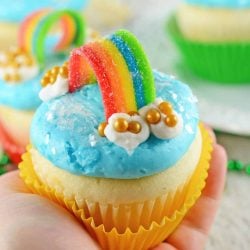 Rainbow Cupcakes
Rainbow Cupcakes are super easy and cute. The perfect cupcake for St. Patrick's Day, children's birthday parties or any random day of the week!
See The Recipe!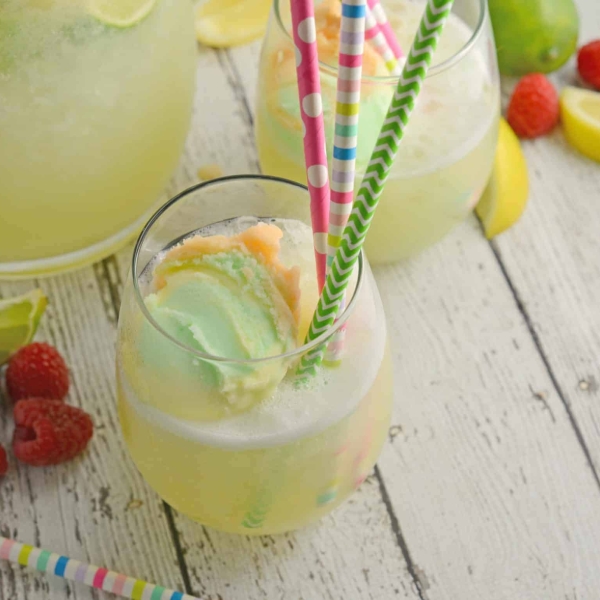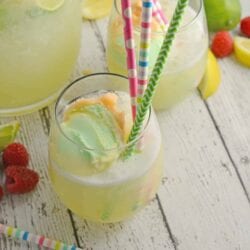 Tools for making this Dunkaroo Dip recipe:
Mixing Bowls– make sure to check out my article on Using the Right Mixing Bowl, you'd be surprised how many people aren't!
Airtight Plastic Containers– Great for store any leftovers. Make sure you have a large enough set.
Rubber Spatulas– another kitchen essential you should have in a variety of sizes.
St. Patrick's Day Baking Decorations– the Shamrock Sprinkles, gold coin candy and shamrock toothpick were all part of this festive package. Perfect for decorating cookies, Dunkaroo Dip and cupcakes!

Questions you might have about how to make Dunkaroo Dip:
Do I have to use white cake mix? You can use other flavors, but if you plan to add food coloring be mindful of the color of the cake mix and the colors you are adding. White cake mix is the perfect base to make any hue you desire.
Chocolate, of course, will be delicious, but won't be green.
Can you freeze Dunkaroo Dip? I haven't tried it and I don't see why it wouldn't work, but it is also so speedy to make, why would you need to make it ahead?
How long does Dunkaroo Dip last? If kept refrigerated and in an airtight container, probably about a week, but it is best on the first day. Keep covered while chilling.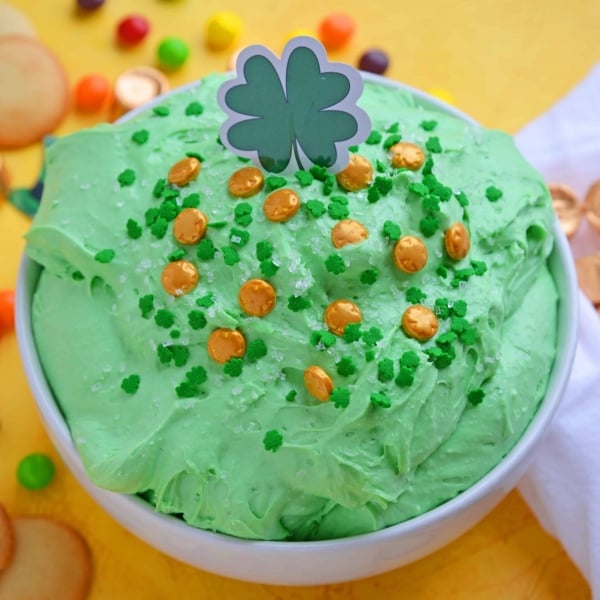 St. Patrick's Day Dunkaroo Dip
St. Patrick's Day Dunkaroo Dip is a festive green color and served with Nilla Wafers, perfect for any St. Patrick's Day party for kids or adults!
Instructions
n a large mixing bowl, combine white cake mix, whipped topping and vanilla Greek yogurt. Mix until combined.

Add green food coloring until it reaches your desired hue of orange.

Top with festive St. Patrick's Day sprinkles.

Serve with Nilla wafers.

If you've tried this recipe, make sure to come back and let us know how you liked it!
Nutrition
Calories:
191
kcal
,
Carbohydrates:
36
g
,
Protein:
3
g
,
Fat:
3
g
,
Saturated Fat:
2
g
,
Cholesterol:
1
mg
,
Sodium:
268
mg
,
Potassium:
58
mg
,
Sugar:
21
g
,
Vitamin A:
15
IU
,
Calcium:
92
mg
,
Iron:
0.7
mg