Chocolate cupcakes are nearly always on my list of things I am craving. Pair that with the deep flavors of Guinness stout and Bailey's spiked buttercream frosting and you've got the ultimate cupcake, St. Patrick's Day or not.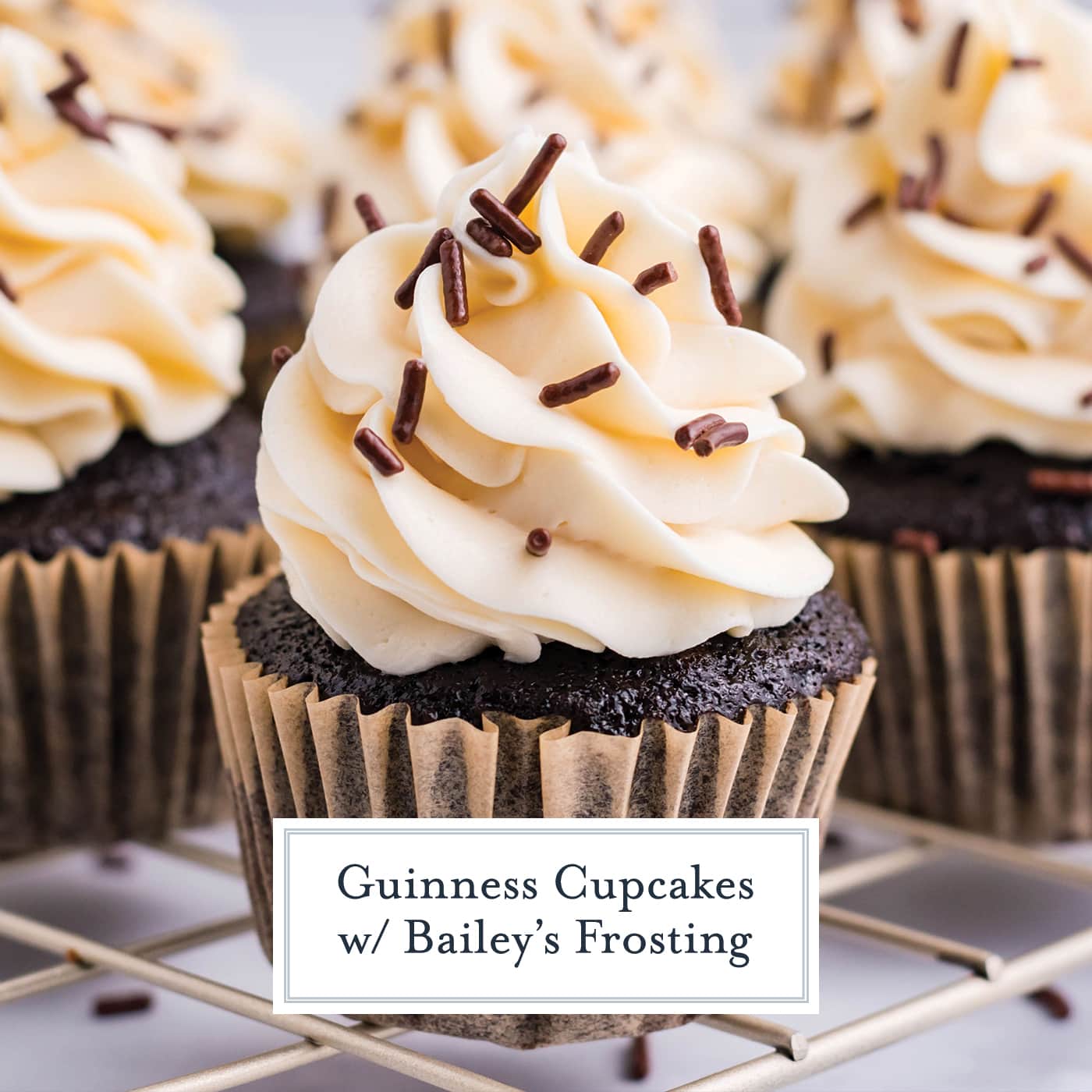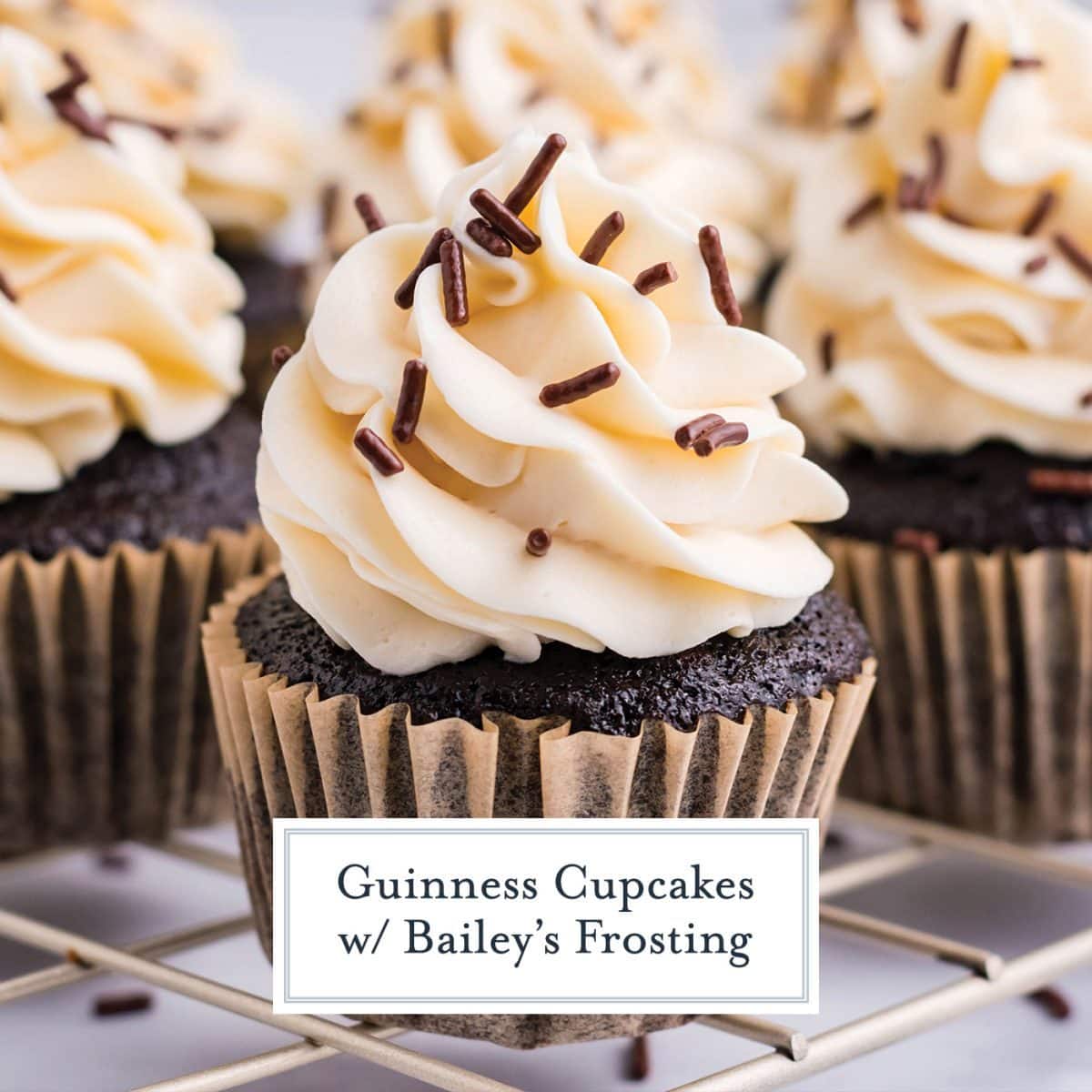 Guinness in Cupcakes?
At first the thought of beer in cupcakes sounds a little odd, but Guinness is in a league all its own. It has notes of coffee and chocolate, slightly sweet and malty and also a tiny bit bitter from hops. Many describe it as creamy, smooth and velvety.
We all know that coffee notes accentuate chocolate. Sounds like the perfect pair for chocolate, doesn't it?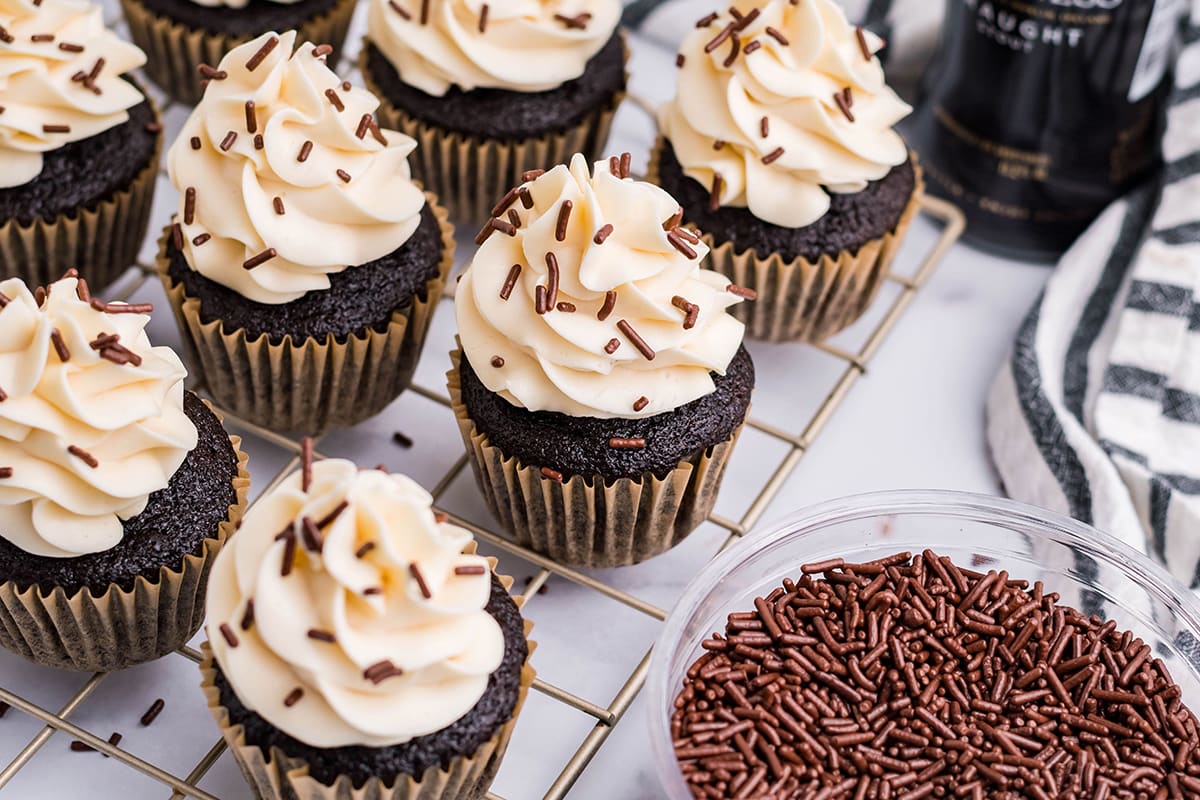 Add that sweet cream frosting and you've got a match made in flavor heaven that is ideal for any time of the year, not just St. Patrick's Day.
Ingredients
The ingredient list is pretty standard with the exception of Guinness and Baileys. Although both of these items are generally in my liquor cabinet. No judgement, please!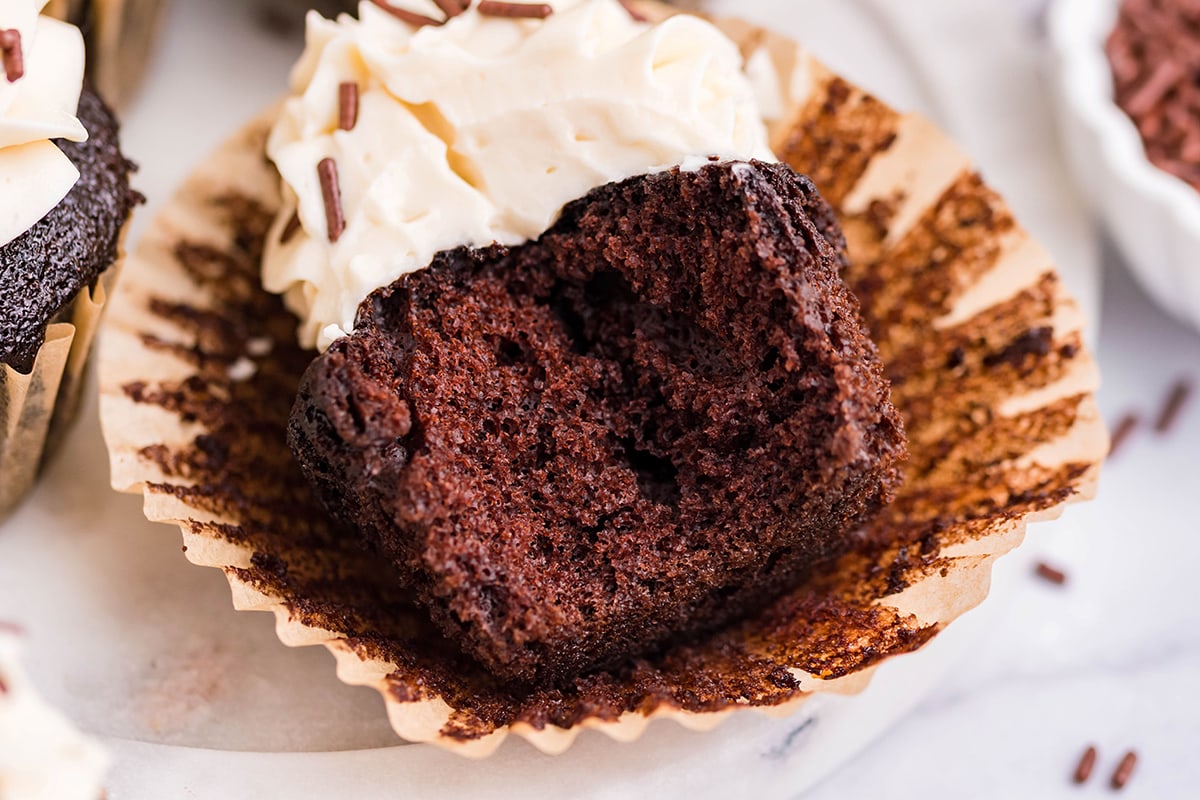 Dry ingredients: all-purpose flour, sugar, unsweetened cocoa powder, baking powder, baking soda and fine sea salt
Espresso powder- Many folks are surprised to see a coffee product, but espresso is actually a common ingredient in many chocolate desserts. It enhances the chocolate flavor. If you don't want to risk the caffeine for the love of chocolate, feel free to omit it completely.
Milk- Whole milk is best for the richest cupcakes, but lower fat contents will work.
Guinness beer – Guinness makes several types of beers, but for this version we used the classic stout. It is dark in color, creamy, rich and slightly malty which makes is perfect to pair with chocolate… and Bailey's.
Vegetable oil- or any neutral oil.
Eggs – provides richness and structure.
Vanilla extract- the most classic, but coffee extract or even almond can be swapped out. It is used in both the cake batter and the frosting.
Salted butter- You've gotta have butter for buttercream frosting! While we typically don't use salted butter, we did for these. If you use unsalted butter, add a small dash of fine sea salt.
Powdered sugar– to provide structure and sweetness to the frosting.
Bailey's Irish Cream- For the frosting! Irish creams are decadent and rich with notes of vanilla and chocolate. There is a very small amount in the frosting, but it is there. If you want non-alcoholic frosting, swap out with heavy cream.
Decorate your cupcakes with anything you'd like: chocolate sprinkles, a drizzle of chocolate syrup, an airplane size bottle of Bailey's sticking out of the frosting.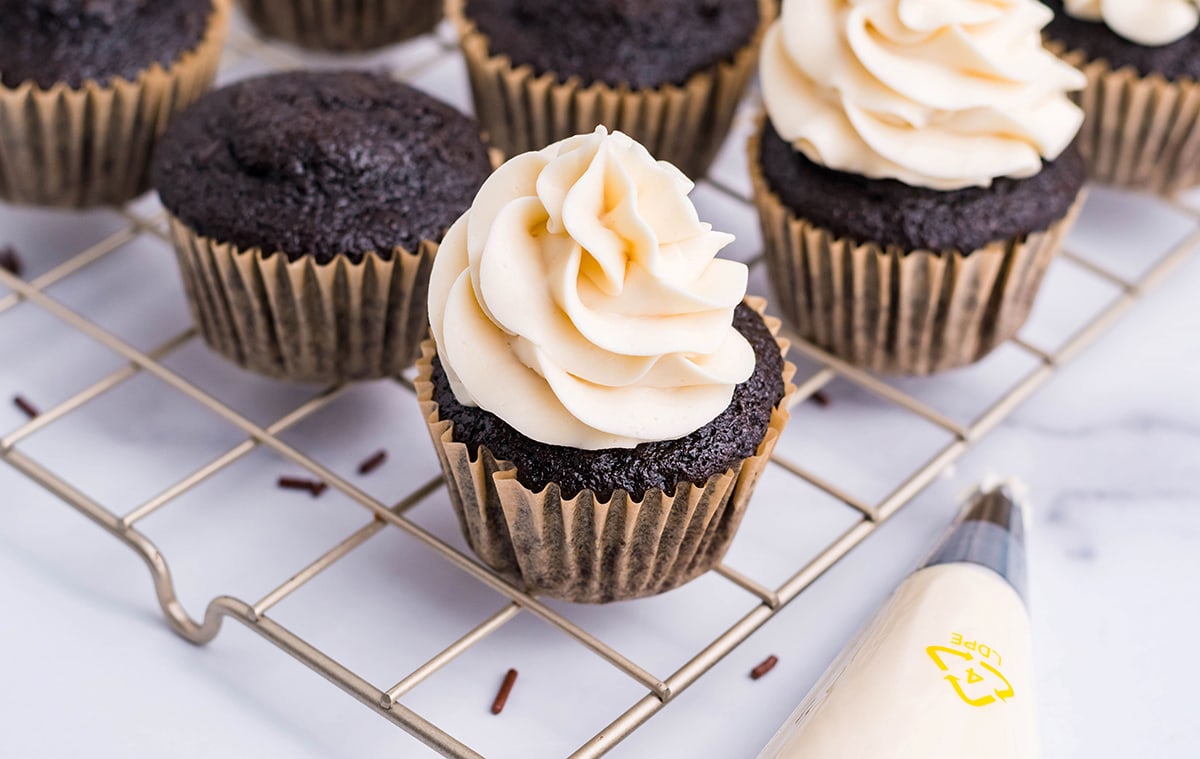 How to Make
Making these is super simple and quite honestly, just like making any other chocolate cupcake and buttercream frosting.
Make the cupcake batter by preparing the dry and wet ingredients and then combining together, making sure you don't overmix.
Fill cupcake tins and bake until springy to the touch, which will only be about 15 minutes.
Allow them to cool fully.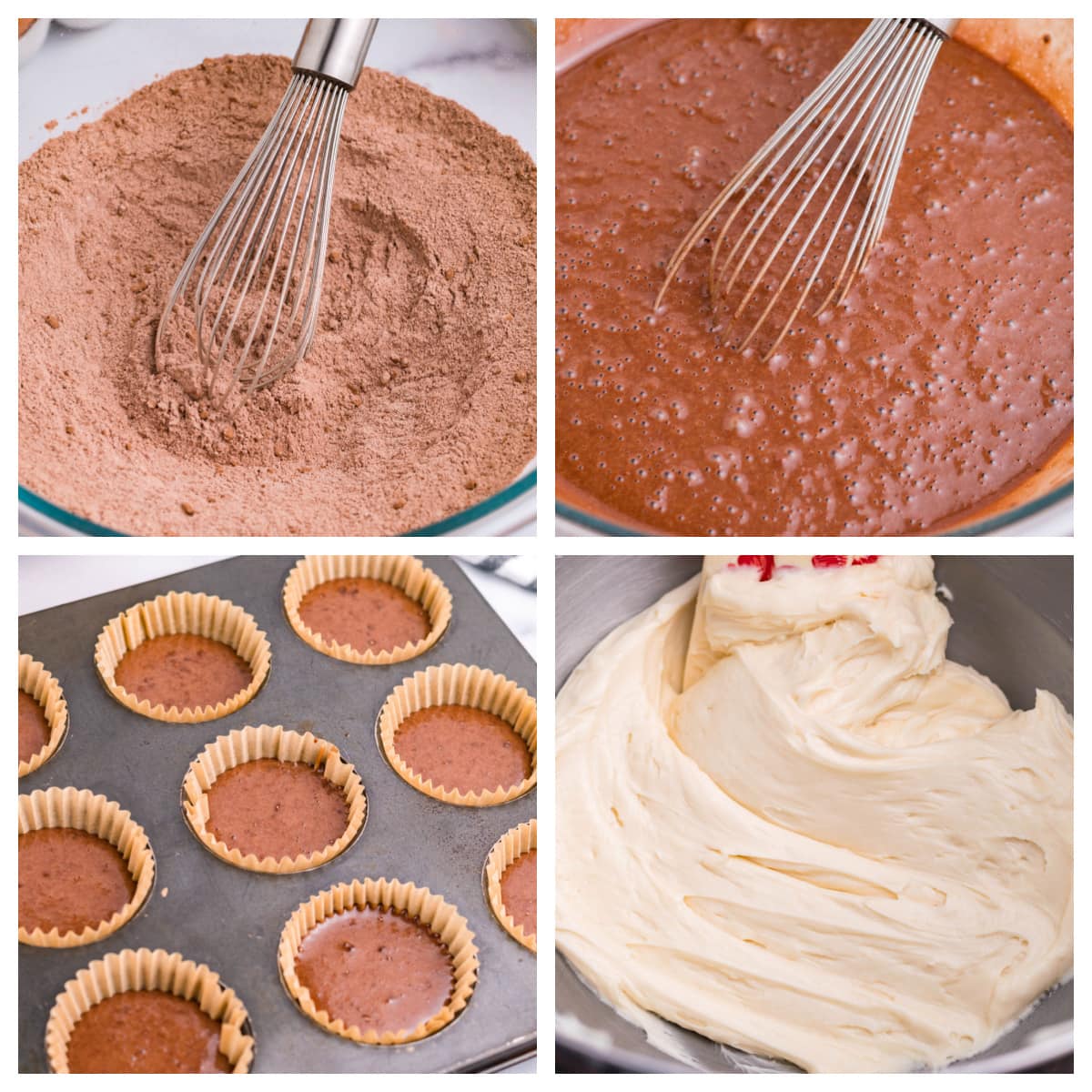 Meanwhile, make the buttercream frosting.
Frost using an offset spatula or a 1M star frosting tip to make fluffy peaks.
Decorate as you desire. Sometimes I even drizzle with Chocolate Ganache!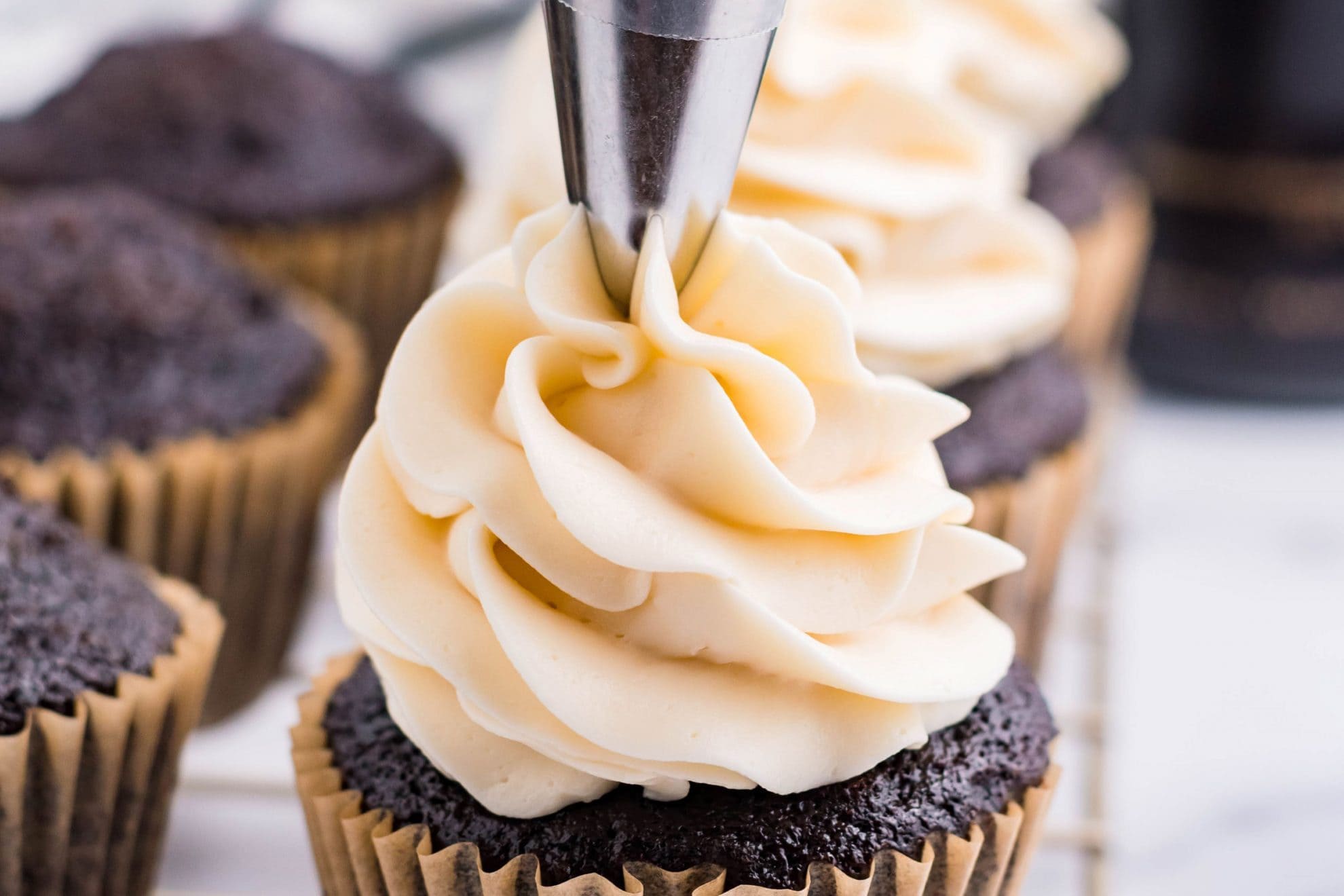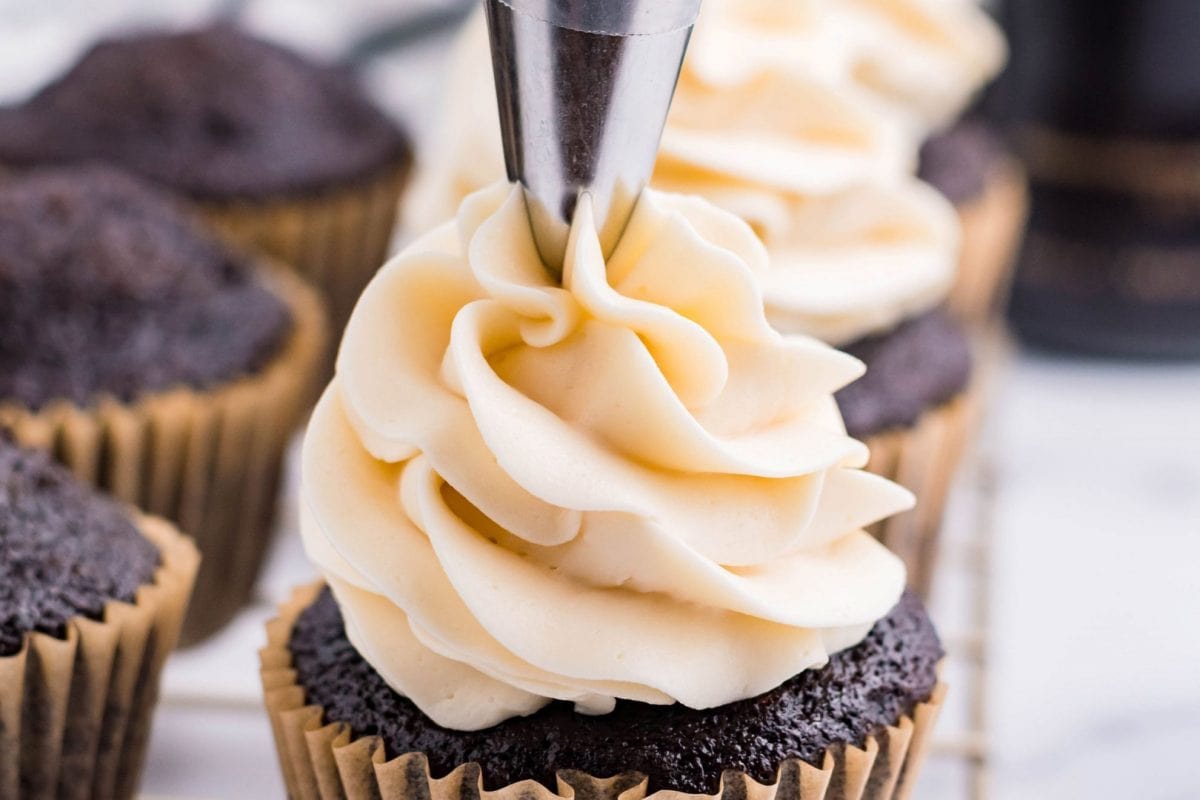 Do They Have Alcohol?
Yes and no. Of course beer and Irish cream are on the ingredients list, but since the cupcakes are baked, the alcohol will bake off leaving only a reduced Guinness flavor.
But the frosting is another story. It does not cook, so the alcohol content stays in the frosting. For an adult event, boozy cupcakes are perfect. But for the kiddos… not so much. It's small, but still there.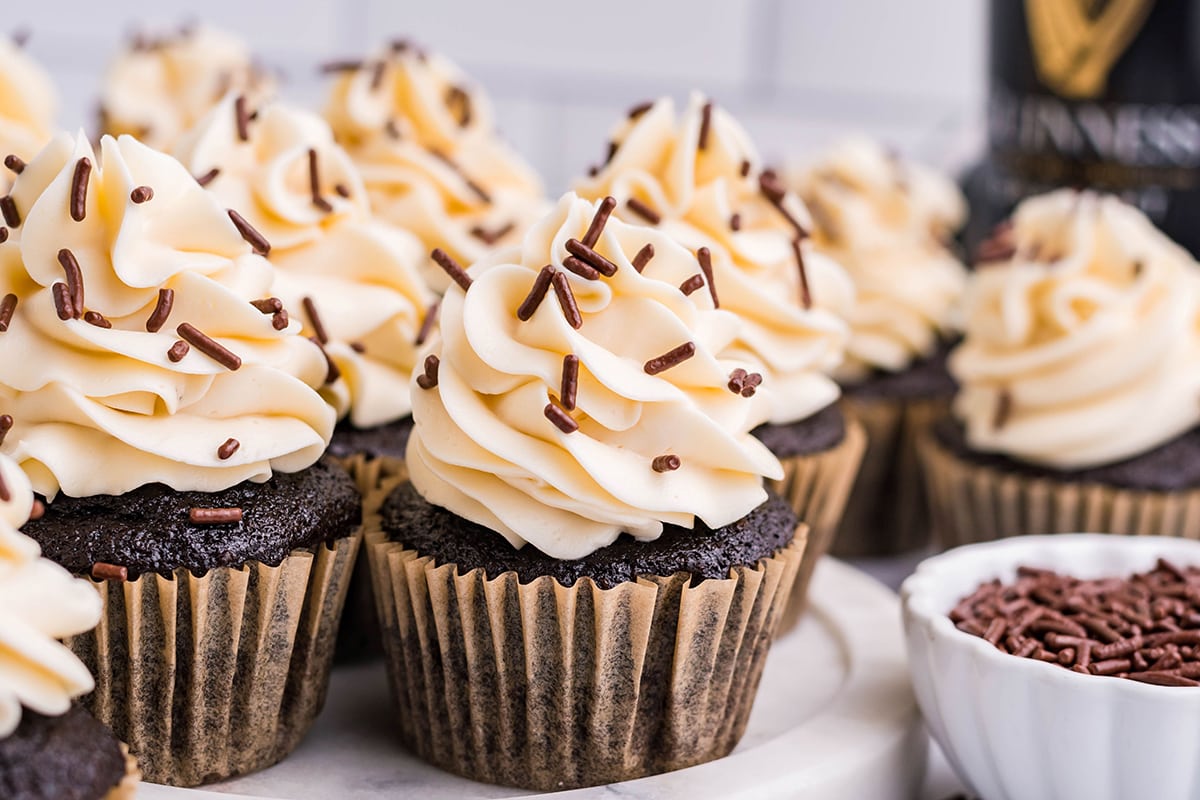 To make the frosting safe and kid friendly, swap out the Irish cream for Irish or sweet cream coffee creamer or straight up heavy cream.
Storage & Freezing
Cupcakes should be stored in an airtight container at room temperature for up to 5 days. While they will last for this long, cakes are generally best enjoyed on the day of or after baking.
If you want to freeze Guinness cupcakes, wrap well in aluminum foil or plastic wrap without frosting. Allow to thaw unwrapped at room temperature for 30-40 minutes. Then make the frosting and top.
You can freeze them with frosting. If you can a cupcake tin that fits in the freezer great, but I have a few plastic cupcakes containers leftover from the grocery store that I keep around to freeze just 6 without squishing the frosting.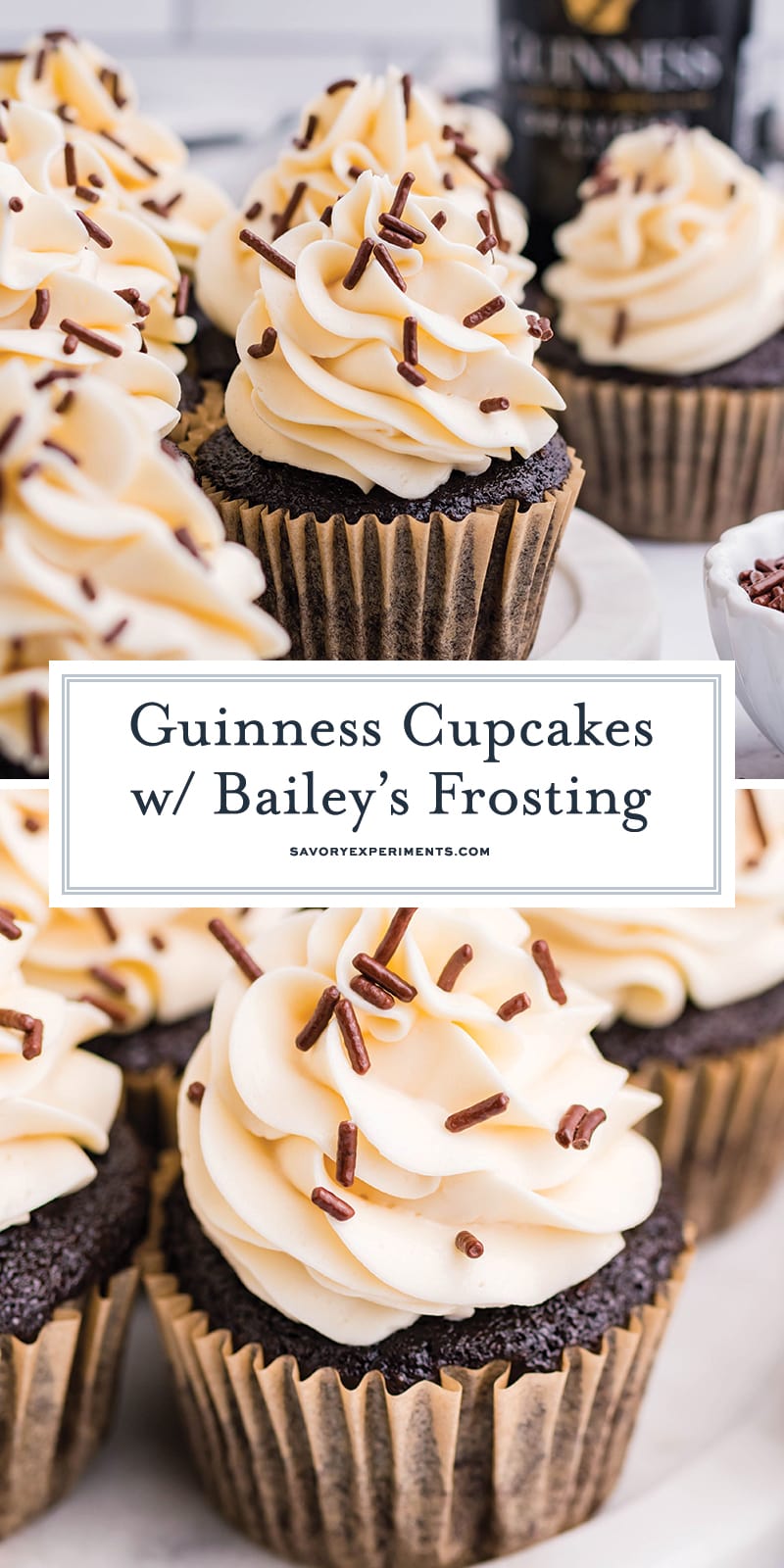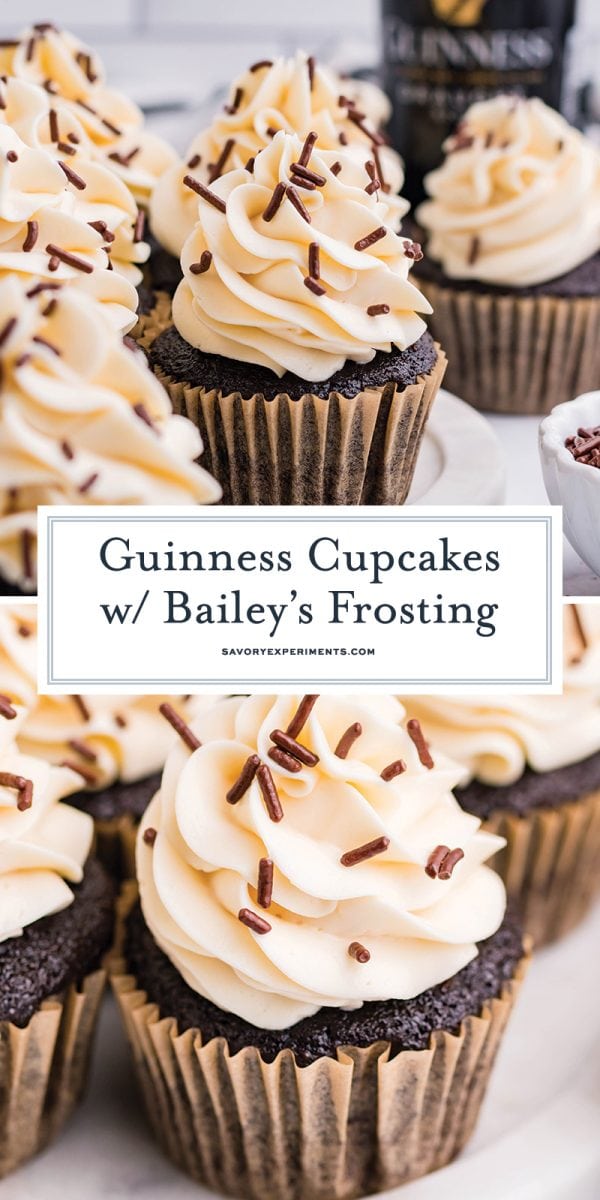 More Cupcake Recipes: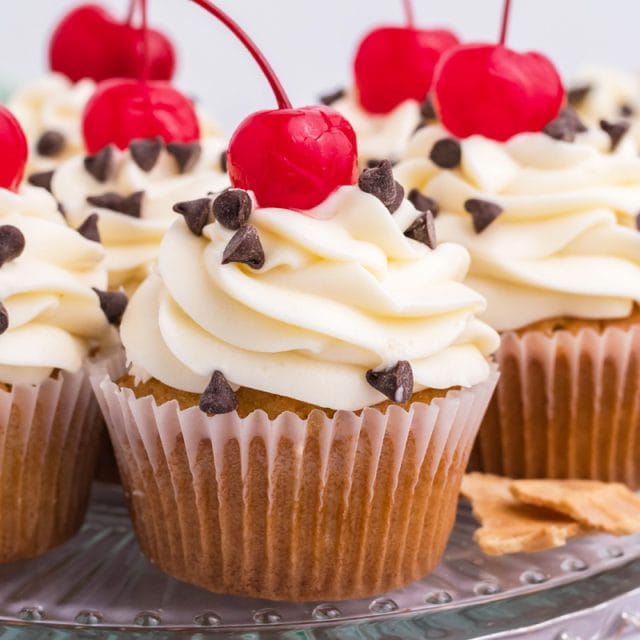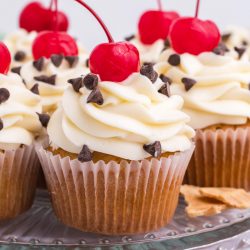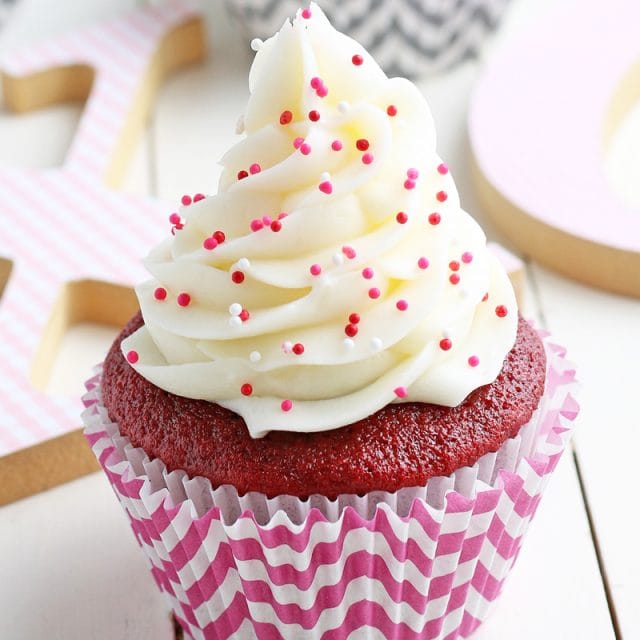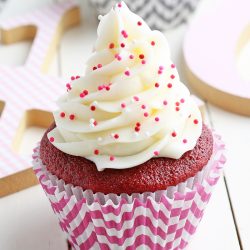 Red Velvet Cupcakes
A light yet decadent cake topped with a velvety cream cheese frosting makes these Red Velvet Cupcakes the BEST! Chocolate, vanilla and tang!
See The Recipe!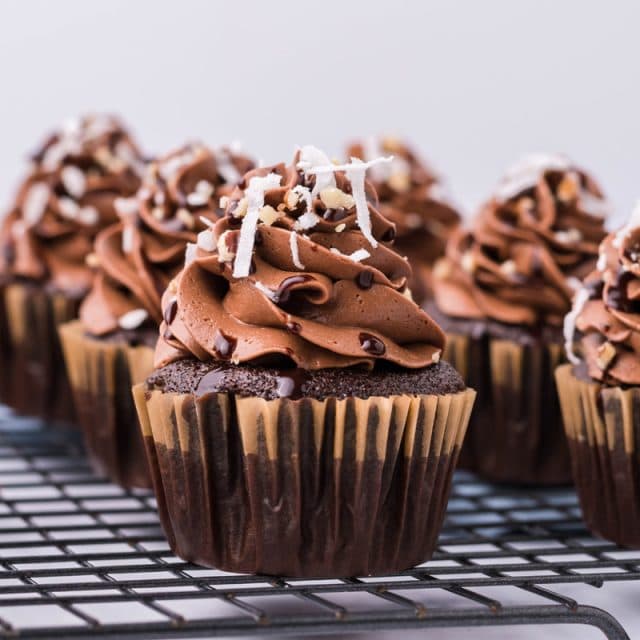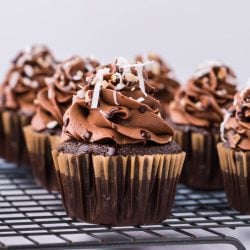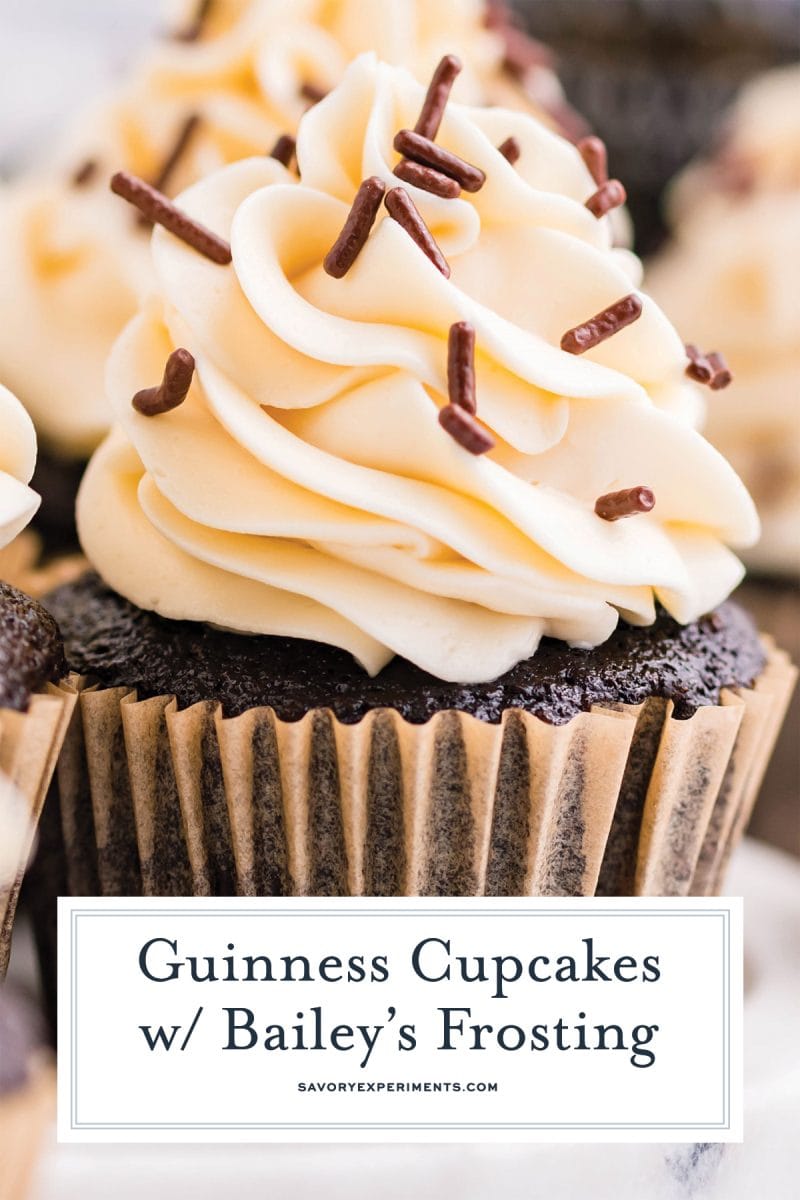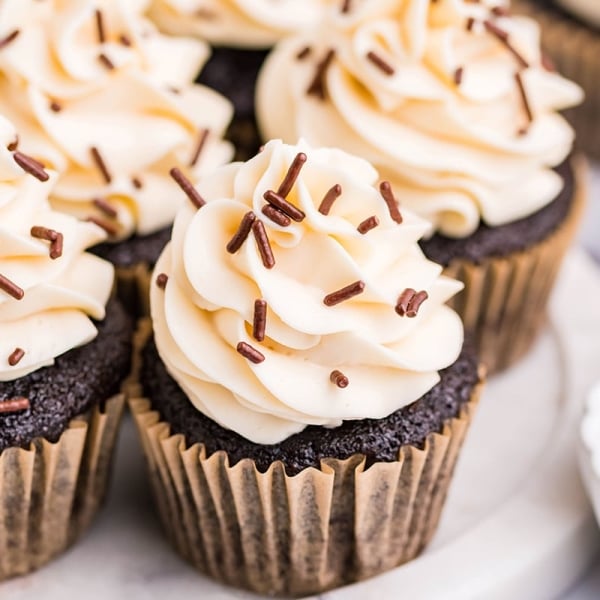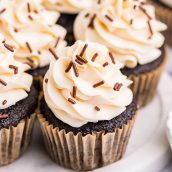 Guinness Cupcakes with Bailey's Frosting
Chocolate cupcakes laced with Guinness Stout Beer and topped with fluffy Irish cream Bailey's frosting. Perfect for St. Patrick's Day!
Instructions
Guinness Cupcakes:
Preheat your oven to 350°F and add 16 cupcake liners to a muffin tin and set aside.

In the bowl of a stand mixer, equipped with a whisk attachment, add the flour, sugar, cocoa powder, baking powder, baking soda, espresso powder and salt. Whisk until all ingredients are combined.

Slowly pour in the milk, Guinness, vegetable oil, eggs, and vanilla extract into the dry ingredients and mix until there are no dry spots. Do not overmix.

Evenly divide the batter between 16 cupcake liners and bake at 350°F for 15-16 minutes or until a toothpick inserted in the center of the cupcakes comes out clean.

Allow to cool for 5 minutes in the pan then transfer to a wire rack to cool completely.
Bailey's Frosting:
Add the softened butter into the bowl of a stand mixer equipped with a paddle attachment and cream for 2-3 minutes until smooth.

Scrape the sides and bottom of the bowl. Pour in vanilla extract and mix well.

Add the powdered sugar one cup at a time. Fully combine after each addition. Scrape the sides and bottom of the bowl and mix until well combined.

With your mixer on low speed. slowly pour in the Bailey's Cream. Once combined, increase speed to high for 2-3 minutes.

Add frosting to a piping bag equipped with a large star tip (I used a Wilton 1M).

Pipe a generous swirl of frosting on top of each cooled cupcake.

Add sprinkles on top of each cupcake, if desired, and serve.

Keep cupcakes in an airtight container at room temperature for up to three days.
Notes
*Can substitute heavy cream.
Nutrition
Calories:
296
kcal
,
Carbohydrates:
36
g
,
Protein:
2
g
,
Fat:
16
g
,
Saturated Fat:
9
g
,
Polyunsaturated Fat:
3
g
,
Monounsaturated Fat:
4
g
,
Trans Fat:
1
g
,
Cholesterol:
52
mg
,
Sodium:
219
mg
,
Potassium:
112
mg
,
Fiber:
1
g
,
Sugar:
28
g
,
Vitamin A:
397
IU
,
Calcium:
36
mg
,
Iron:
1
mg