How do you make a cup of homemade hot chocolate even more fun? With homemade hot chocolate stir sticks!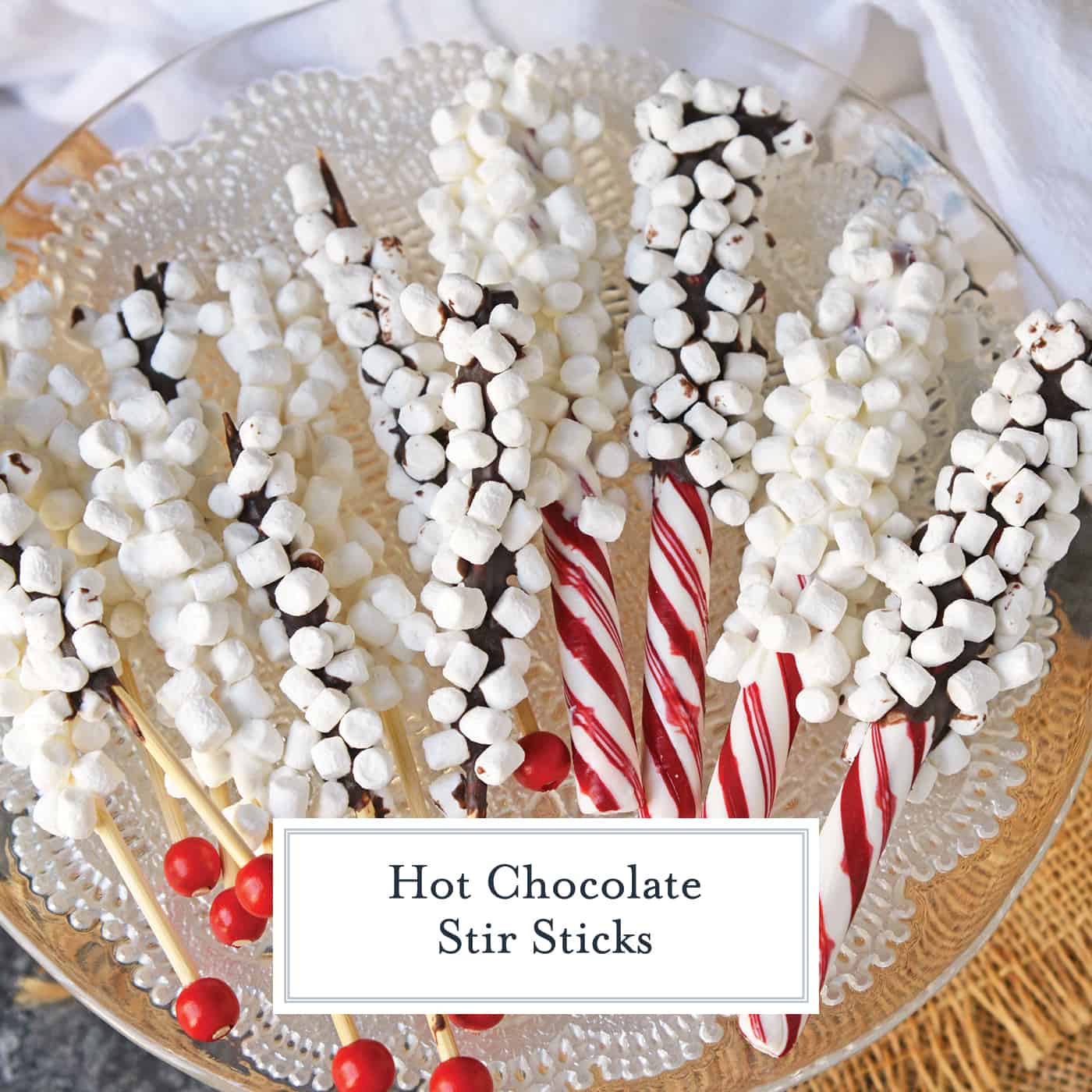 These Hot Chocolate Stir Sticks are a twist on chocolate spoons that will make any cup of hot chocolate extra special, either by adding some extra milk chocolate or delicious peppermint.
Hot Chocolate Stir Sticks
As I mentioned in my White Hot Chocolate, one of my favorite things about the cold weather (and trust me, there are very few!) is warming up inside with a steaming mug of hot chocolate.
Bonus points if I'm doing so while it's snowing outside or there's a holiday movie on TV and I have a warm, comfy blanket on my lap.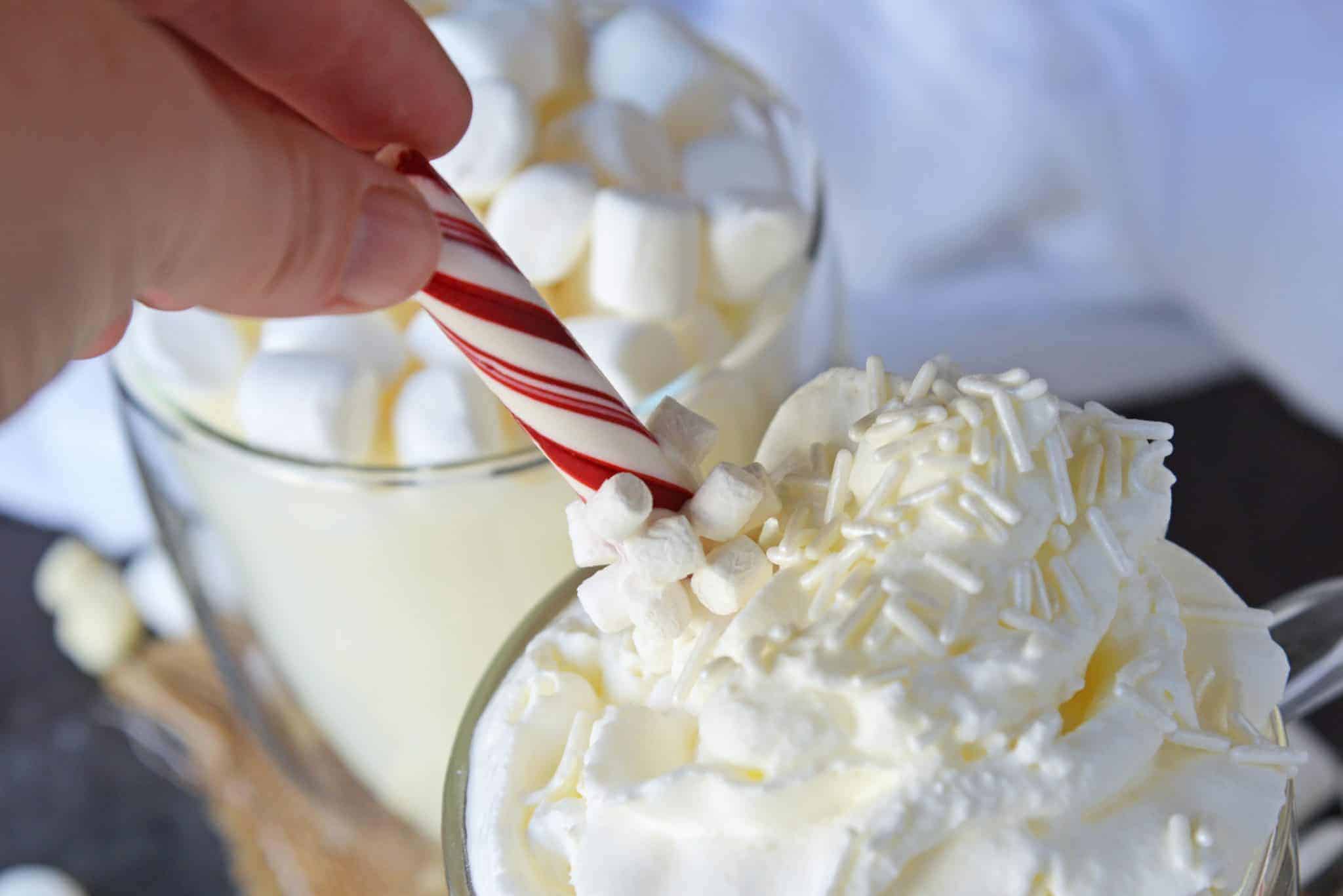 But beyond being my favorite way to unwind at the end of a long, cold day, homemade hot chocolate is a great family drink to enjoy with guests during the holidays.
Kids love it, adults love it, and it's super easy to make. Everyone wins.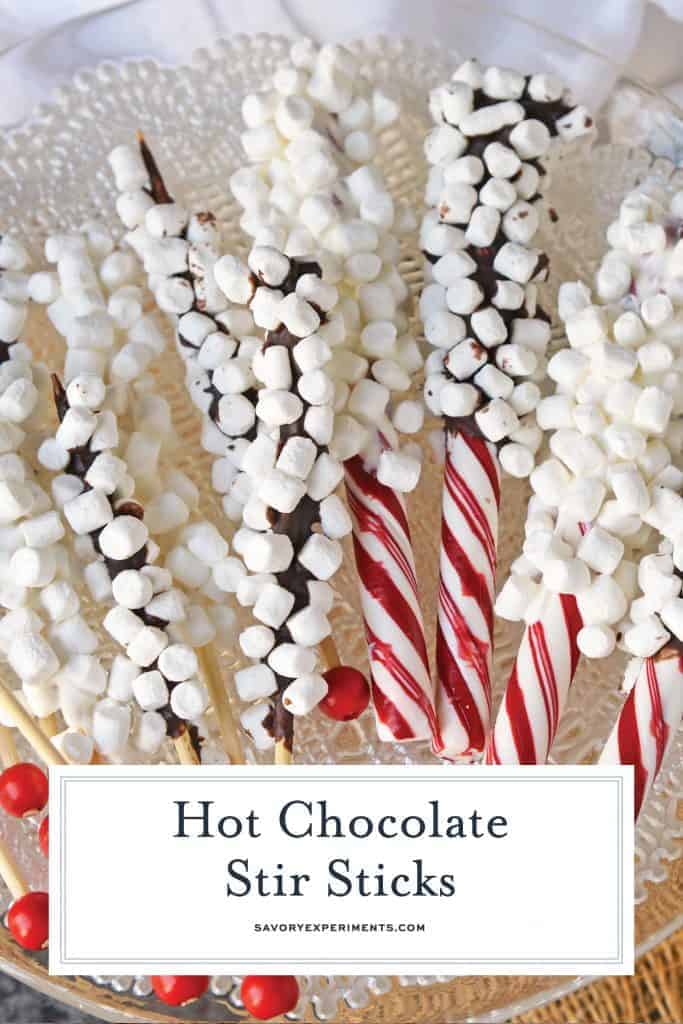 How to Make
When serving hot chocolate to friends and family, I like to go a bit above and beyond handing them a basic mug of hot chocolate. I like to include something a little special, like these Hot Chocolate Stir Sticks.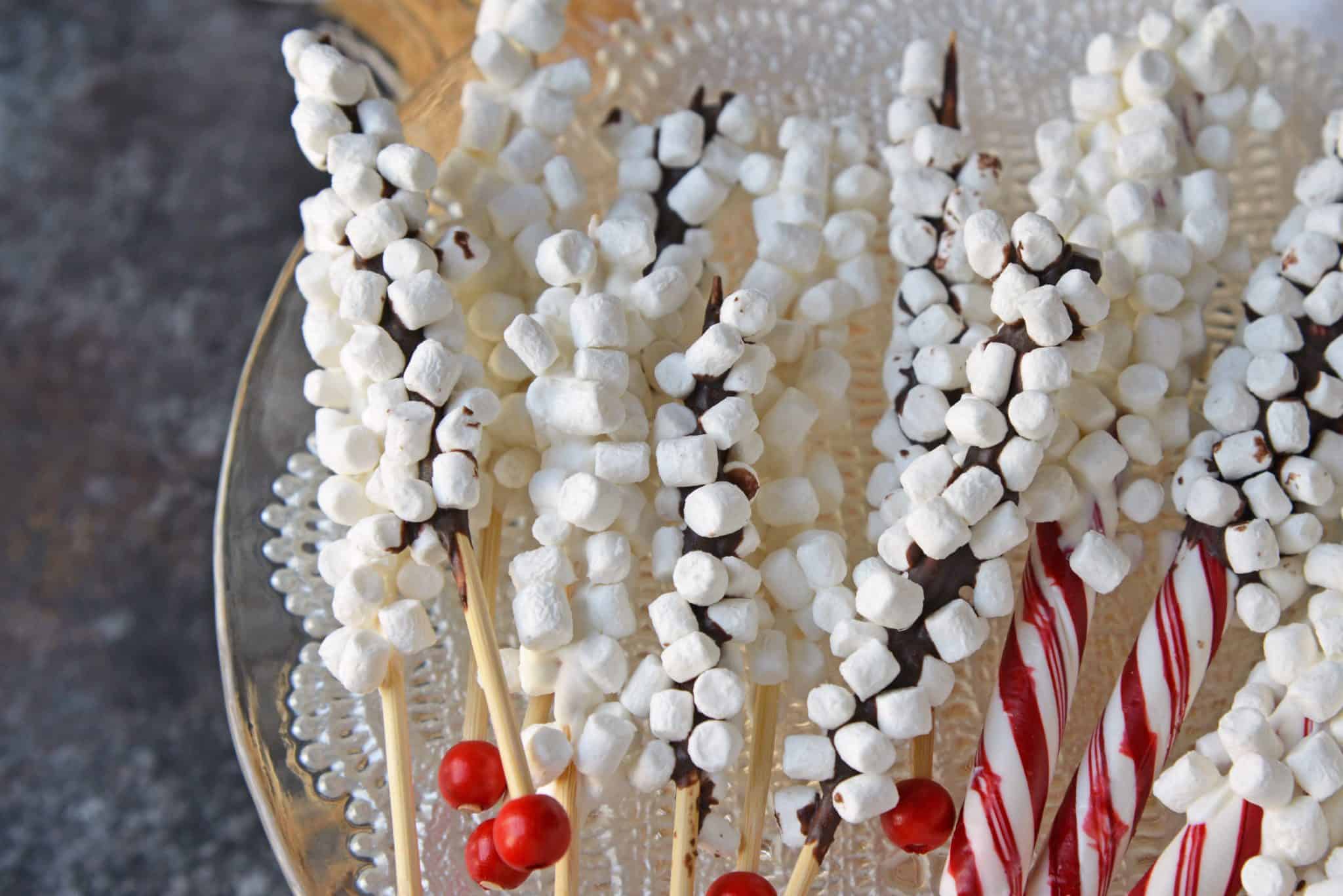 My inspiration for these hot chocolate stirrers came from chocolate spoons and recipes I found for hot chocolate on a stick.
I make these Hot Chocolate Stir Sticks two ways – one using wooden sticks and the other peppermint. Both include chocolate and marshmallows but I like to have the option of deciding whether or not to add the peppermint flavor to my drink.
Personally, I think my homemade almond hot chocolate with the peppermint chocolate spoon is the perfect combination.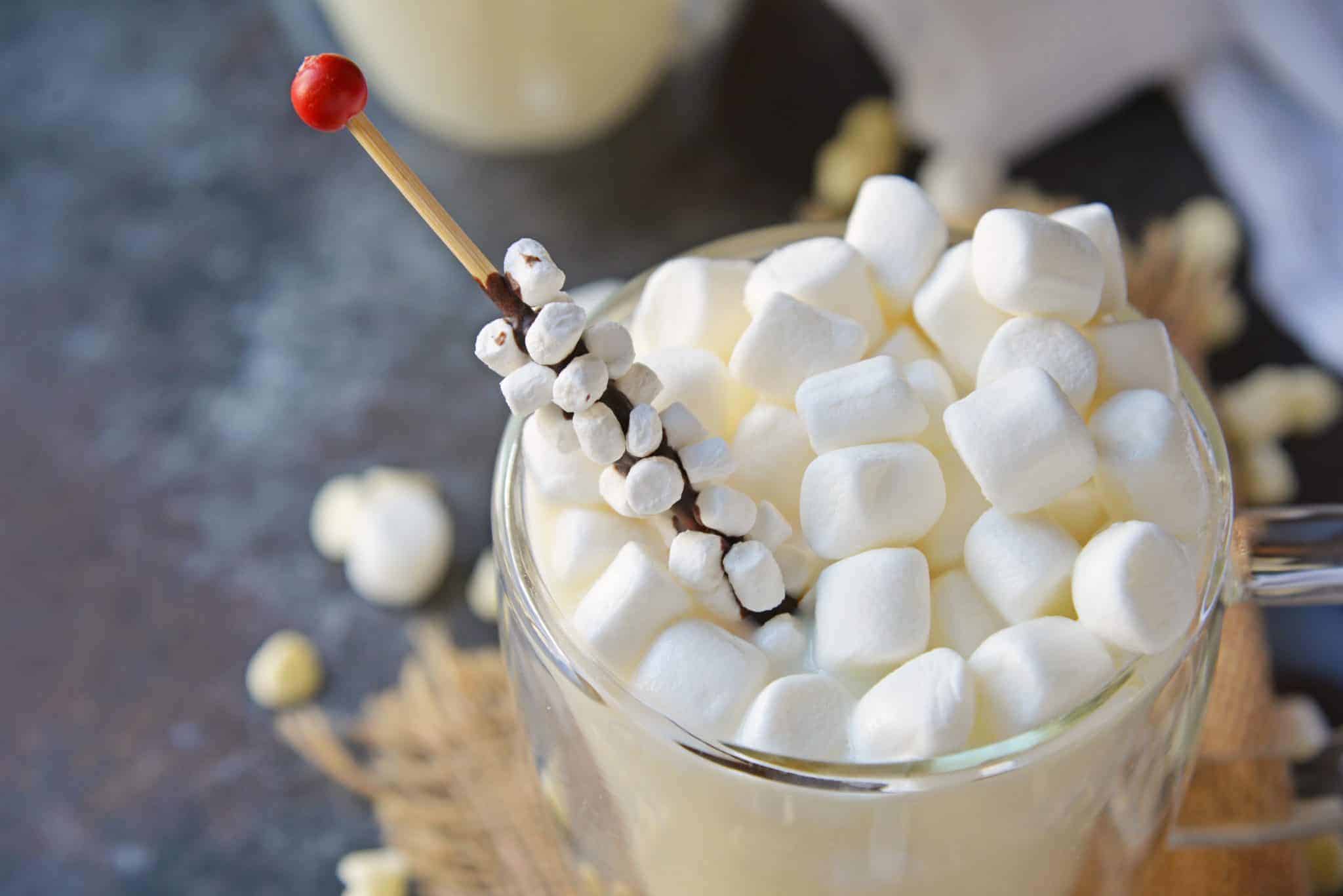 Chocolate
You can make these using any type of chocolate you'd like – white, milk or dark. I like to get creative and mix a white chocolate spoon in a milk chocolate hot chocolate or vice versa. Using a chocolate made for melting is helpful- something like almond bark or CandyMelts.
If not, use baking chocolate or chocolate chips and add 1 teaspoon of fat- like butter or Crisco to help it melt creamy. Follow instructions below on melting chocolate.
Hot chocolate stirrers are a fun thing to display at a holiday party, allowing guests to pick between different types of chocolate and the stick or peppermint. The peppermint hot chocolate on a stick is all about the holiday flare!
Tips for melting chocolate:
Melting chocolate, like many other things in the kitchen, is chemistry and science.
You need the optimal temperature to make sure your chocolate melts to a silky-smooth consistency, don't do it over high heat, keep it at medium.
Skip the microwave and use a double boiler. The microwave heats too fast and too hot.
If you do need to use the microwave, use it at 50% power or defrost mode and go slow, 15 second intervals.
Don't fully boil the water in your double boiler. Get it hot enough to melt the chocolate, but not to a rolling boil.
Put the top pot on with chocolate after the water has come to temperature.
Stir constantly while melting. It should only take a minute or so.
Use immediately and while shiny.
If chocolate gets too hot, it gets clumpy and matte.
You can try to revive it by adding 2 teaspoons of vegetable shortening, but sometimes you are better off just starting over.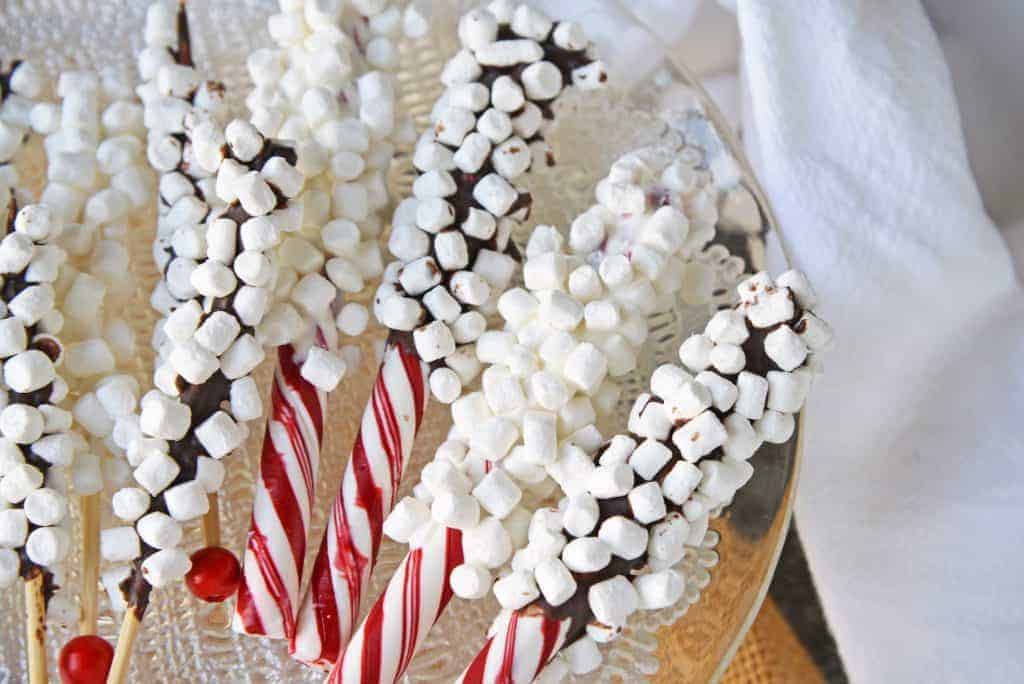 More festive holiday treats!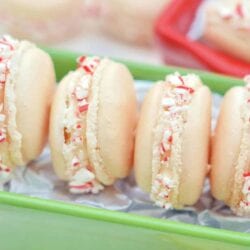 Peppermint Twist Macarons
Peppermint Twist Macarons are an easy macaron recipe with a buttercream filling. Perfect recette macarons for Christmas cookies and holiday parties.
View this recipe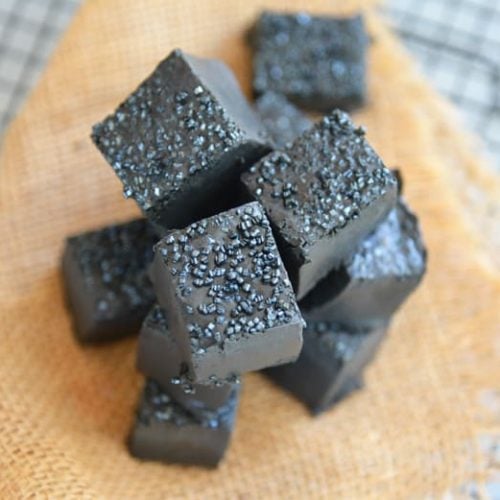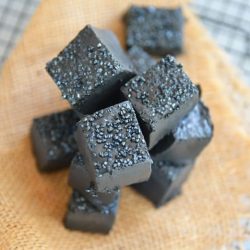 Christmas Coal Candy
This Christmas Coal Candy is the perfect fudge recipe for Christmas! Give as a gag gift to someone who needs coal for Christmas.
View this recipe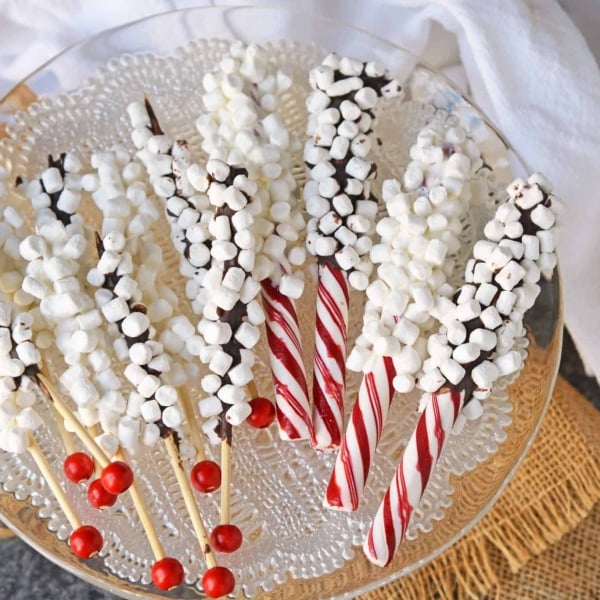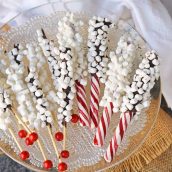 Hot Chocolate Stir Sticks
Hot Chocolate Stir Sticks will take your homemade hot chocolate to the next level. Like chocolate spoons, they add marshmallows and more to your drink!
Ingredients
peppermint sticks or wooden sticks

3

ounces

chocolate

, melted
Instructions
Using a spoon, cover peppermint sticks or wooden sticks in melted chocolate.

Immediately roll in mini dehydrated marshmallows.

Place on a parchment lined plate and allow to set.

Serve with your favorite hot chocolate!

If you've tried this recipe, come back and let us know how it was!
Nutrition
Calories:
59
kcal
,
Carbohydrates:
9
g
,
Fat:
2
g
,
Saturated Fat:
1
g
,
Sodium:
5
mg
,
Potassium:
24
mg
,
Sugar:
7
g
,
Calcium:
2
mg
,
Iron:
0.2
mg