'Tis the season for curling up on the couch with a hot beverage. This Almond Hot Chocolate is one of my favorite hot chocolate recipes for chilly evenings.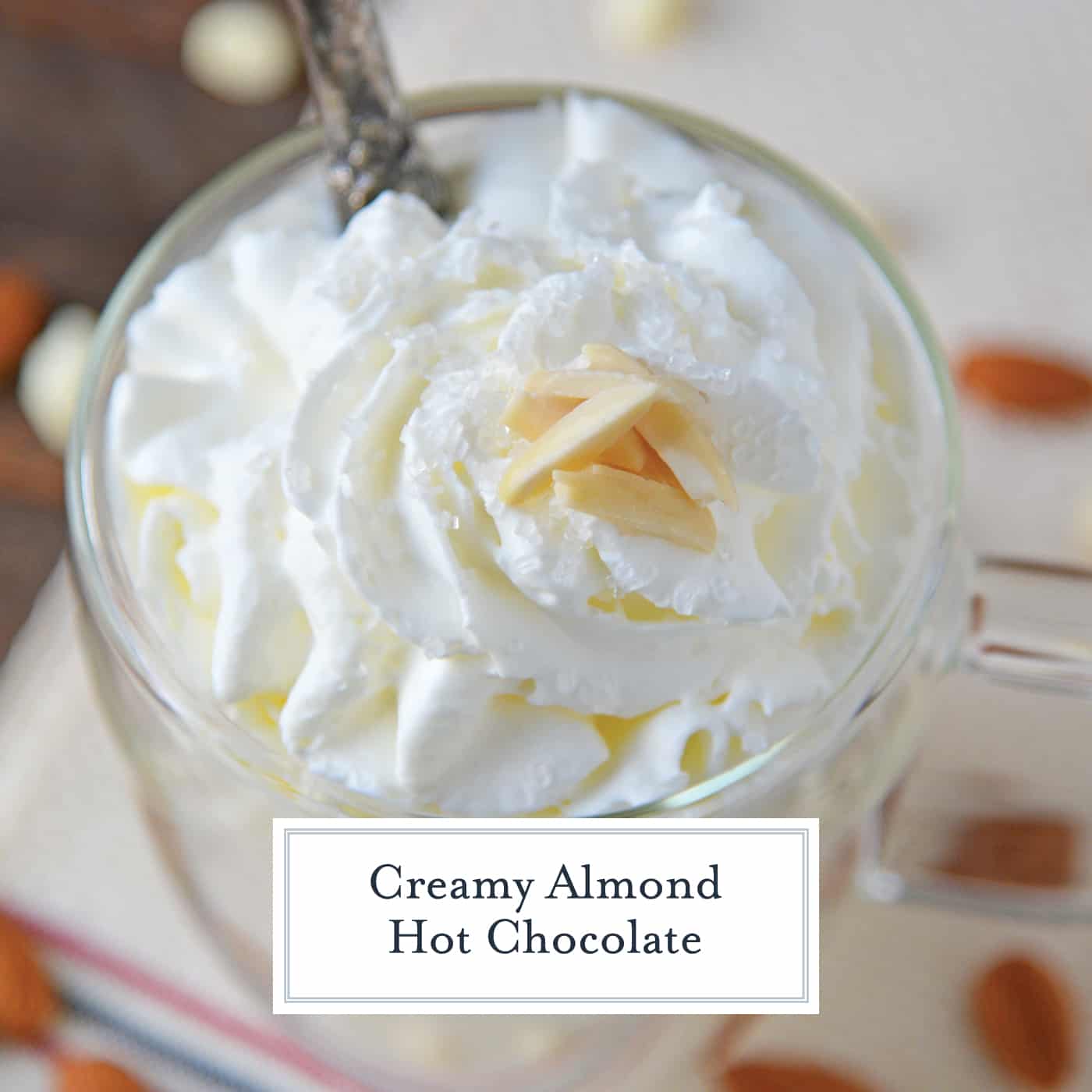 This Almond Hot Chocolate is one of the tastiest and easiest white hot chocolate recipes for a chilly evening. Made with only a few ingredients, it's a simple hot chocolate that's full of flavor.
As you may have noticed, I've been on a roll lately trying out different hot chocolate recipes. As the evenings get cooler, I'm finding more and more reasons to curl up on the couch with a hot beverage. It's just so comforting and cozy!
Interestingly enough, I grew up on hot cocoa. As the name suggests, it is simply powdered cocoa mixed with some milk and sugar and while delicious, I like something a bit more decadent.
So when it came time to make things in my own kitchen, it was hot chocolate all the way.
I had finally perfected my White Hot Chocolate recipe, so I decided to take it up a notch. The wheels started turning and I kept asking myself, what could I add to my favorite hot chocolate recipes to make them even better?
One of my favorite flavor combinations is white chocolate with almonds. Let's just say I had a light bulb moment – white hot chocolate with almond flavoring! This Almond Hot Chocolate recipe was born and has been made regularly in my house ever since.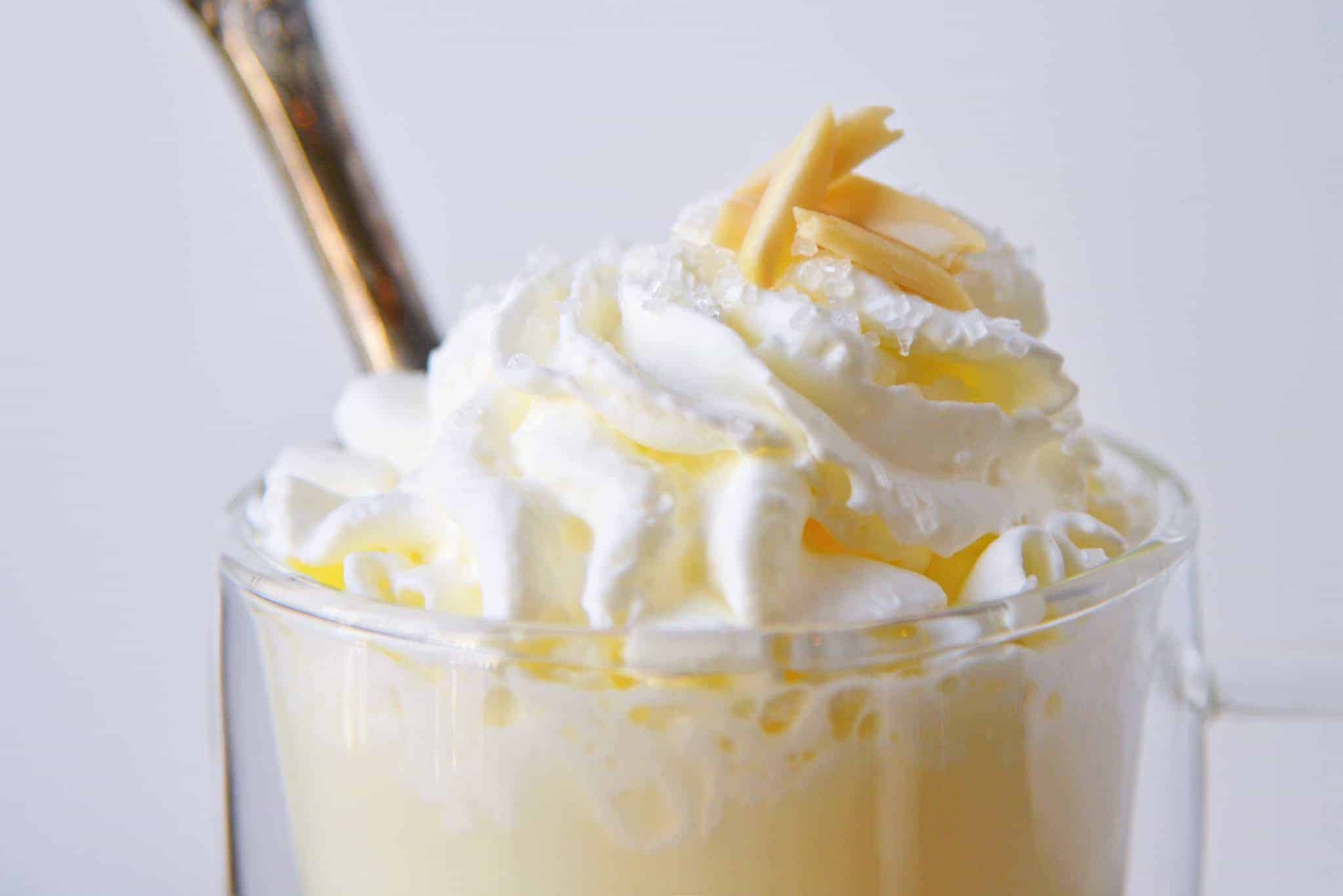 This hot chocolate recipe is made with white chocolate, vs dark chocolate or milk chocolate like so many other homemade hot chocolates are. What's the difference between white chocolate and regular chocolate?
Fun fact: White chocolate technically isn't chocolate at all! It is made of cocoa butter, milk, sugar, and sometimes soy lecithin. So while there isn't any chocolate in it, it is referred to as "chocolate because of the chocolate solids (cocoa butter) it contains.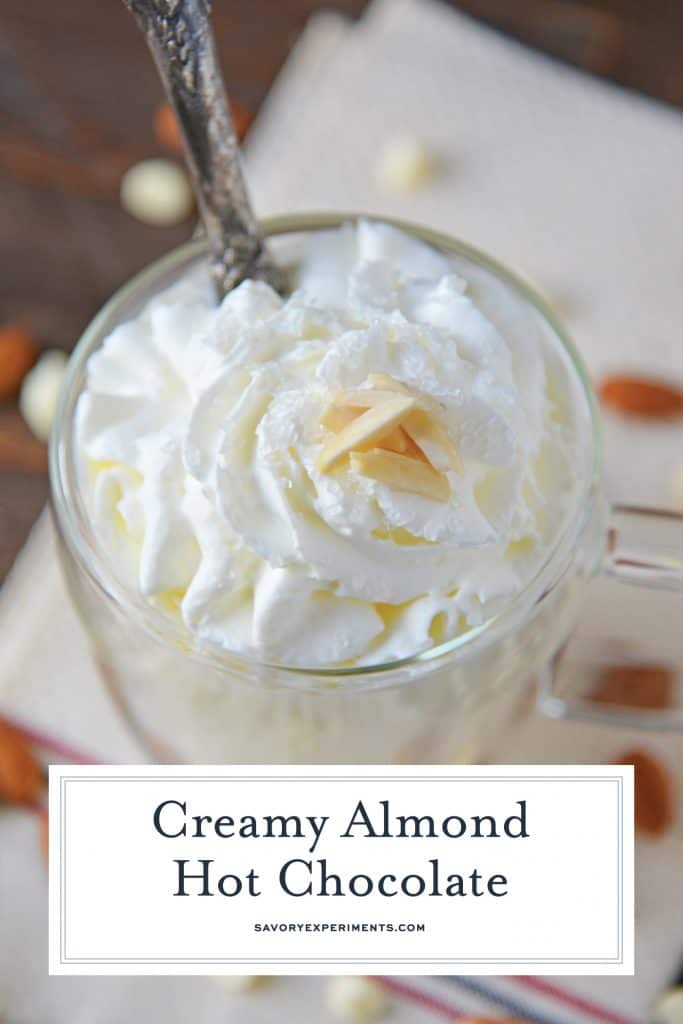 Personally, I prefer white chocolate to milk or dark chocolate in my hot chocolate recipes because the taste is sweet and smooth but not as strong as traditional chocolate.
I find it's much more adaptive to any other ingredients I might add because it has such an even-keeled flavor. Plus, it does not carry the caffeine that regular chocolates have making it stress-free to drink in the evenings.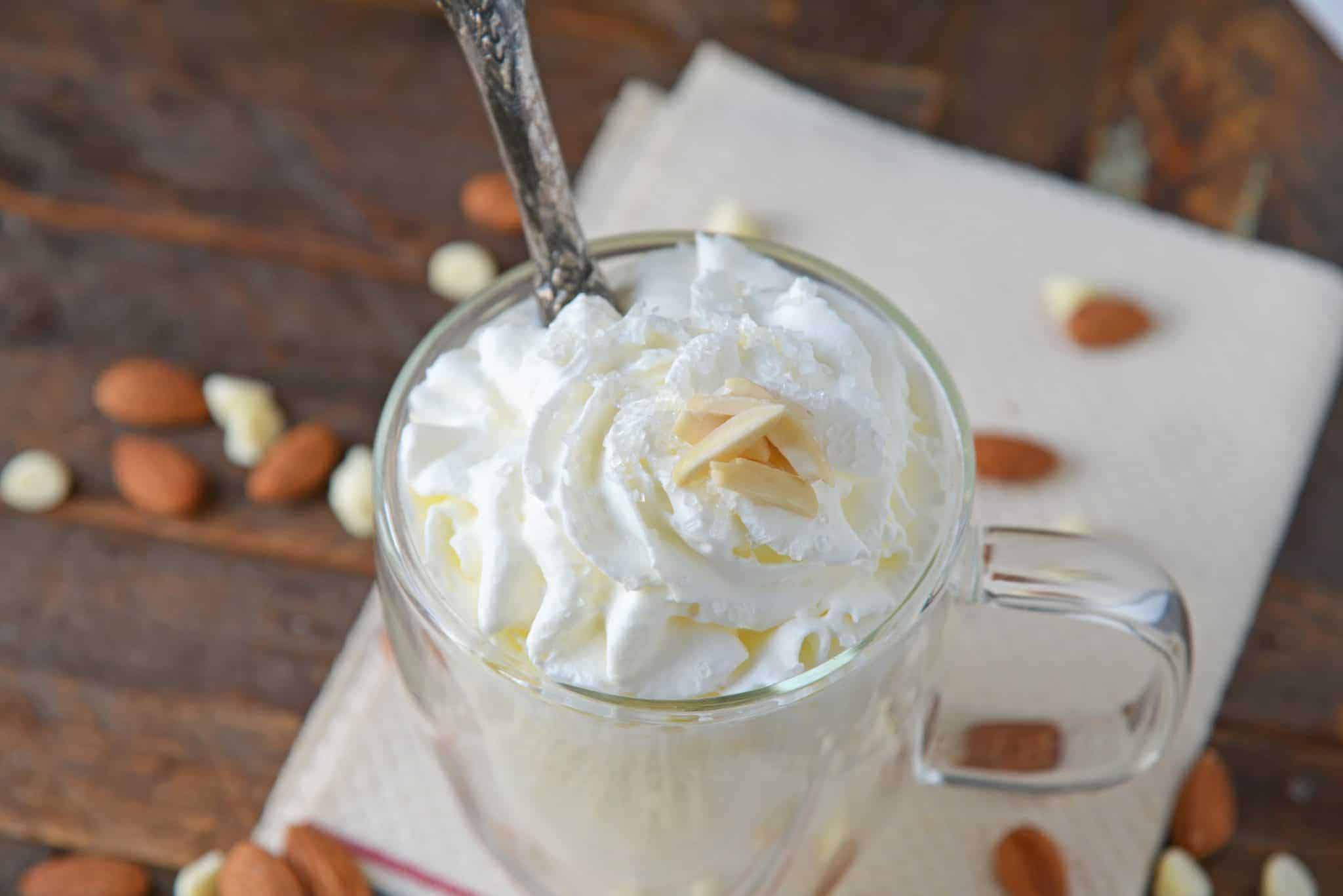 So how did I turn my White Hot Chocolate into Almond Hot Chocolate? I simply added almond extract to my white hot chocolate recipe. Be careful not to add too much almond extract or you might end up with a drink that tastes a bit artificial.
For toppings, I am 100% partial to the classics; whipped cream and/or marshmallows. If you don't add any toppings, you only need 3 ingredients to make this delicious drink.
As with my other hot chocolate recipes, I like to serve Almond Hot Chocolate with my homemade hot chocolate stir sticks.
Since you like this hot chocolate recipe, you may like these other easy holiday favorites: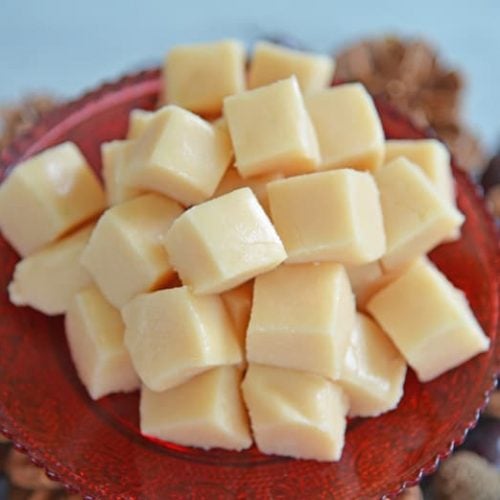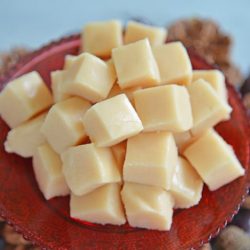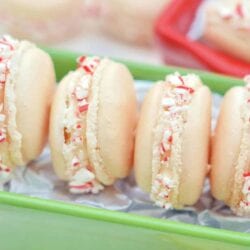 Simple Macaron Recipe
Peppermint Twist Macarons are an easy macaron recipe with a buttercream filling. Perfect recette macarons for Christmas cookies and holiday parties.
See The Recipe!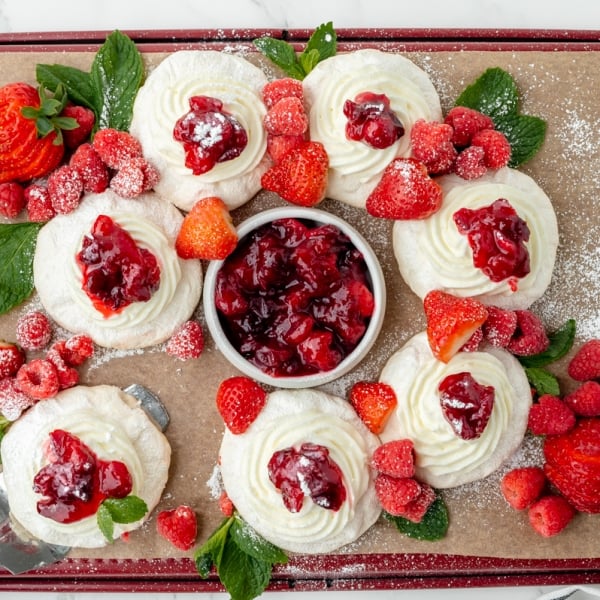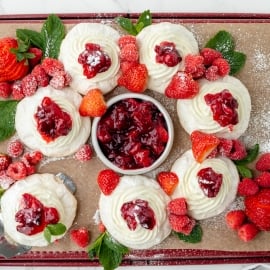 Holiday Meringue Wreath
If you're looking for the perfect showstopping holiday dessert, look no further than this Meringue Wreath! A beautiful holiday pavlova with whipped cream and fresh berries.
See The Recipe!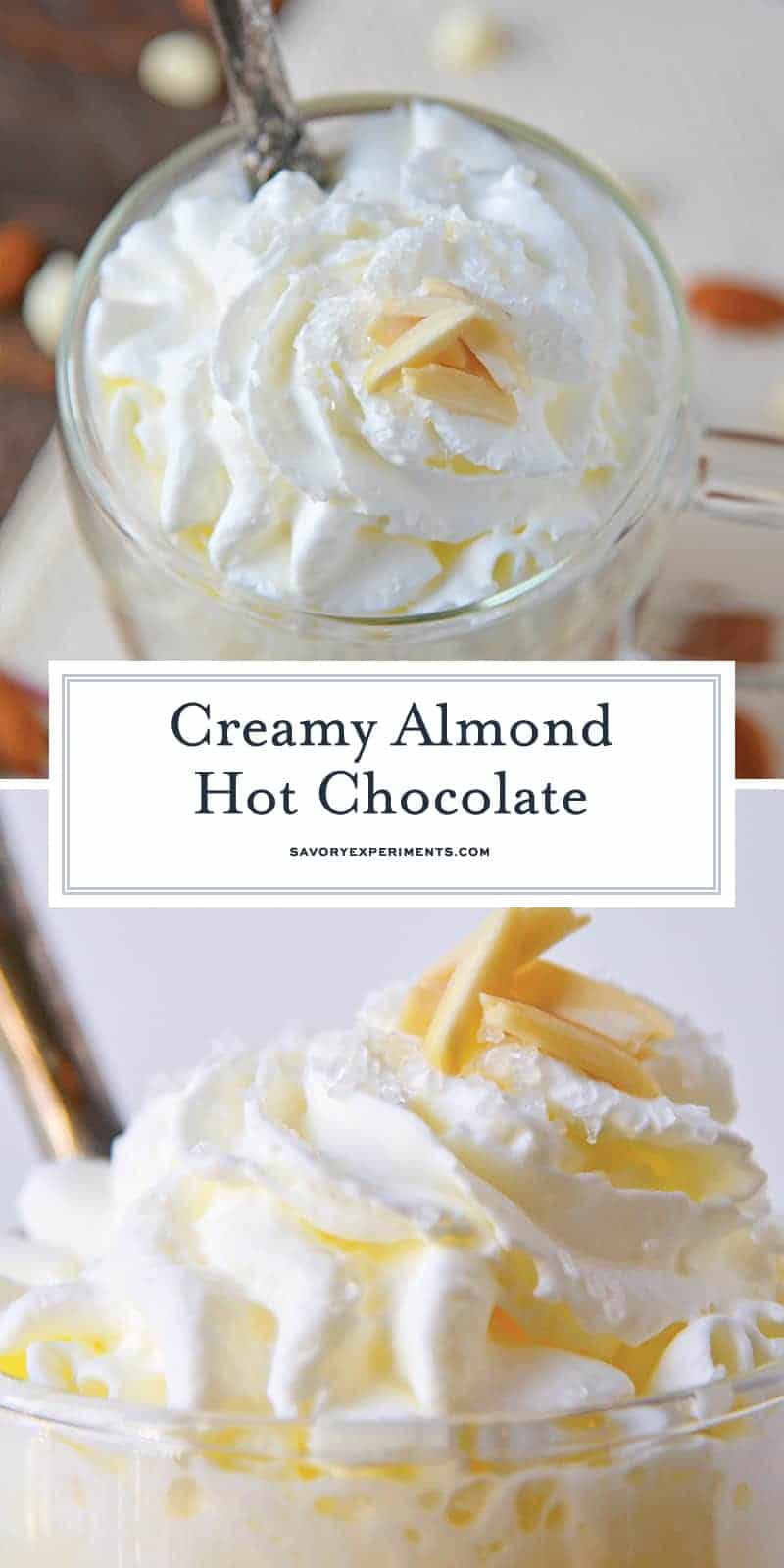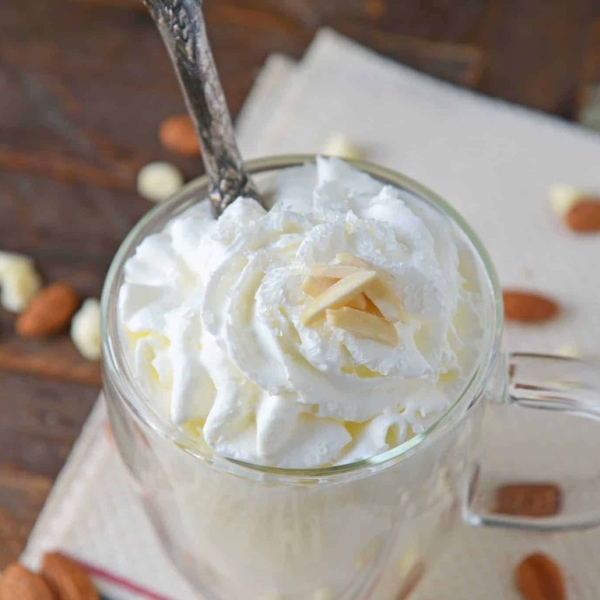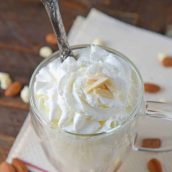 Almond Hot Chocolate
Almond Hot Chocolate is one of the most delicious white hot chocolate recipes to enjoy on a chilly night. Perfect for serving guests at parties too!
Instructions
Heat milk in a heavy bottom saucepan over medium heat.

Reduce to low heat and add white chocolate chips and almond extract, stirring until completely melted.

Remove from heat and ladle into cups.

Garnish with toppings of choice and hot chocolate stir sticks.

If you've tried this recipe, come back and let us know how it was!
Nutrition
Calories:
394
kcal
,
Carbohydrates:
38
g
,
Protein:
10
g
,
Fat:
22
g
,
Saturated Fat:
13
g
,
Cholesterol:
33
mg
,
Sodium:
145
mg
,
Potassium:
450
mg
,
Sugar:
39
g
,
Vitamin A:
410
IU
,
Vitamin C:
0.2
mg
,
Calcium:
365
mg
,
Iron:
0.2
mg