Easy breakfast egg muffins are the best healthy breakfast idea! Low carb, easy to make and freezable, they are literally lazy person's answer to meal prep. I like to think of them as mini frittatas and then I feel all fancy. They are also a great recipe for the keto diet, so I hear.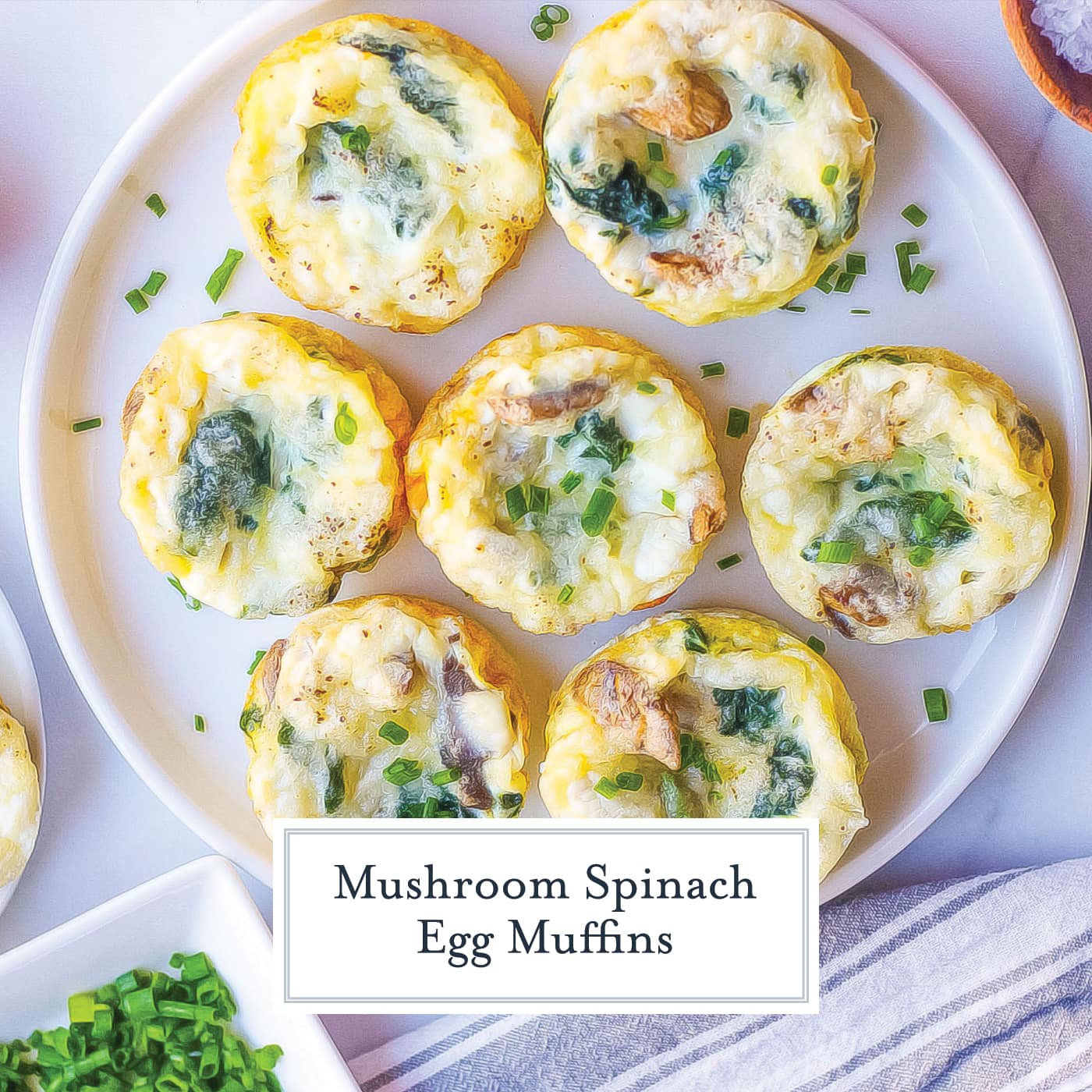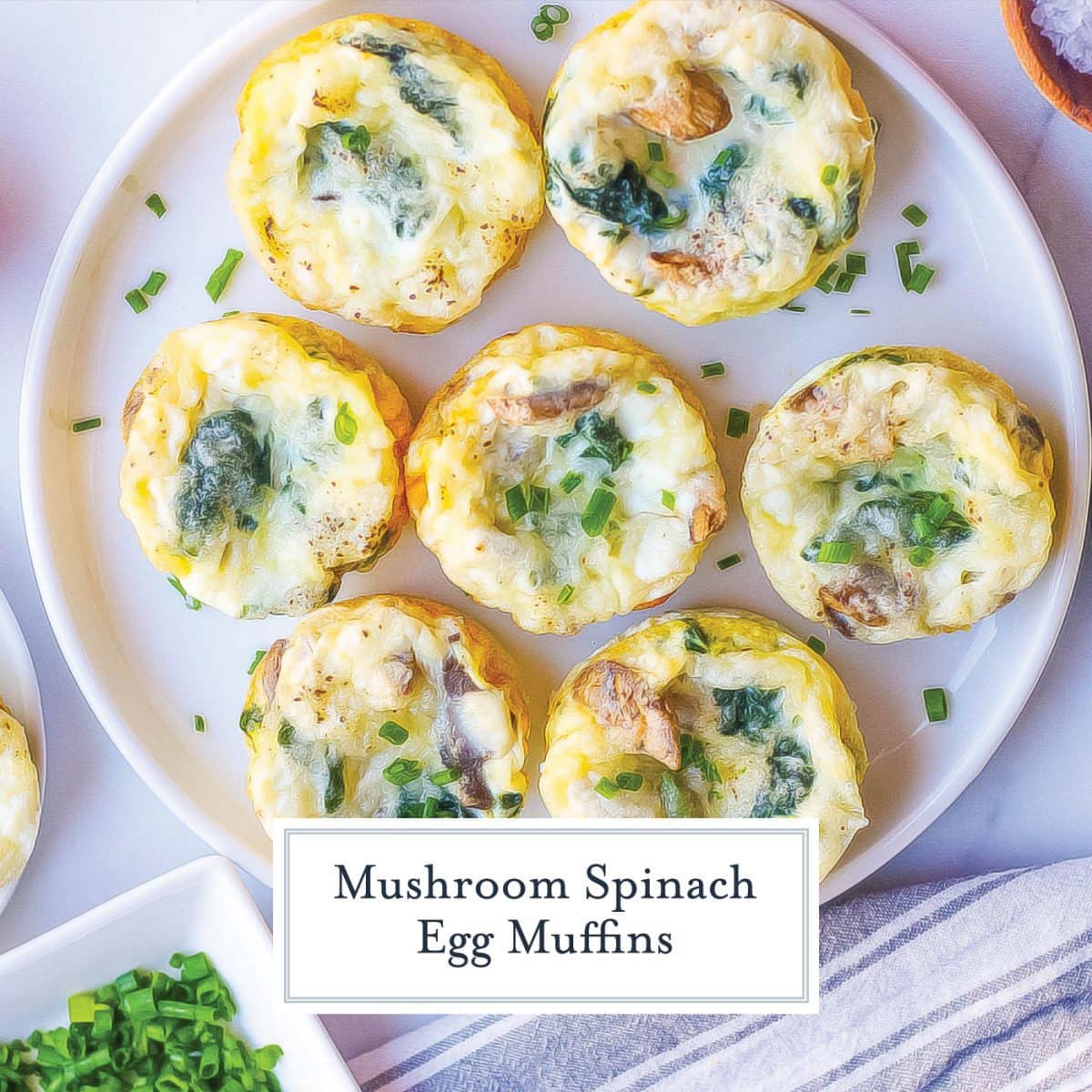 This is also the perfect recipe for large gatherings or brunch. Make them in large batches in a 24 count muffin pan. With simple ingredients and easy prep, it won't break the bank or your schedule. They can even be made ahead.
Egg White Muffin Cups
Breakfast. In recent years, the importance of breakfast differs between the "gotta refuel" camp and the "intermittent fasting" camp. I often eat dinner early and run in the morning, so I need to eat. But I also have two little kids that need to get to school and then get my work day started. Ok, enough about me, we all have busy mornings.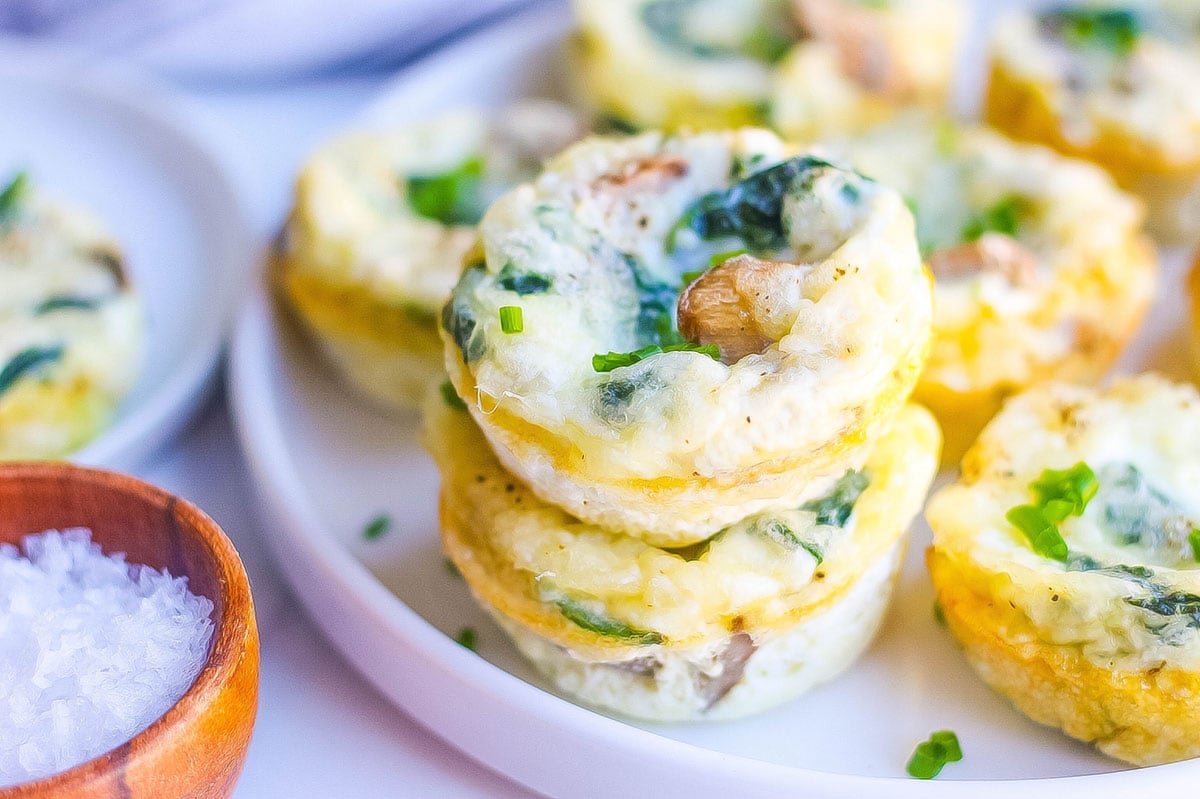 Muffin tin eggs are my answer. I am generally not much of a meal prep person, but I can throw a batch of these in the oven, let them cool and then freeze. I can easily defrost as many as I want, when I want them and if I don't get to them because a bowl of Cinnamon Toast Crunch was calling my name, they last for several months.
The kids also enjoy them, calling them egg cupcakes. I personally think that is a stretch, there is only so far I can take egg whites.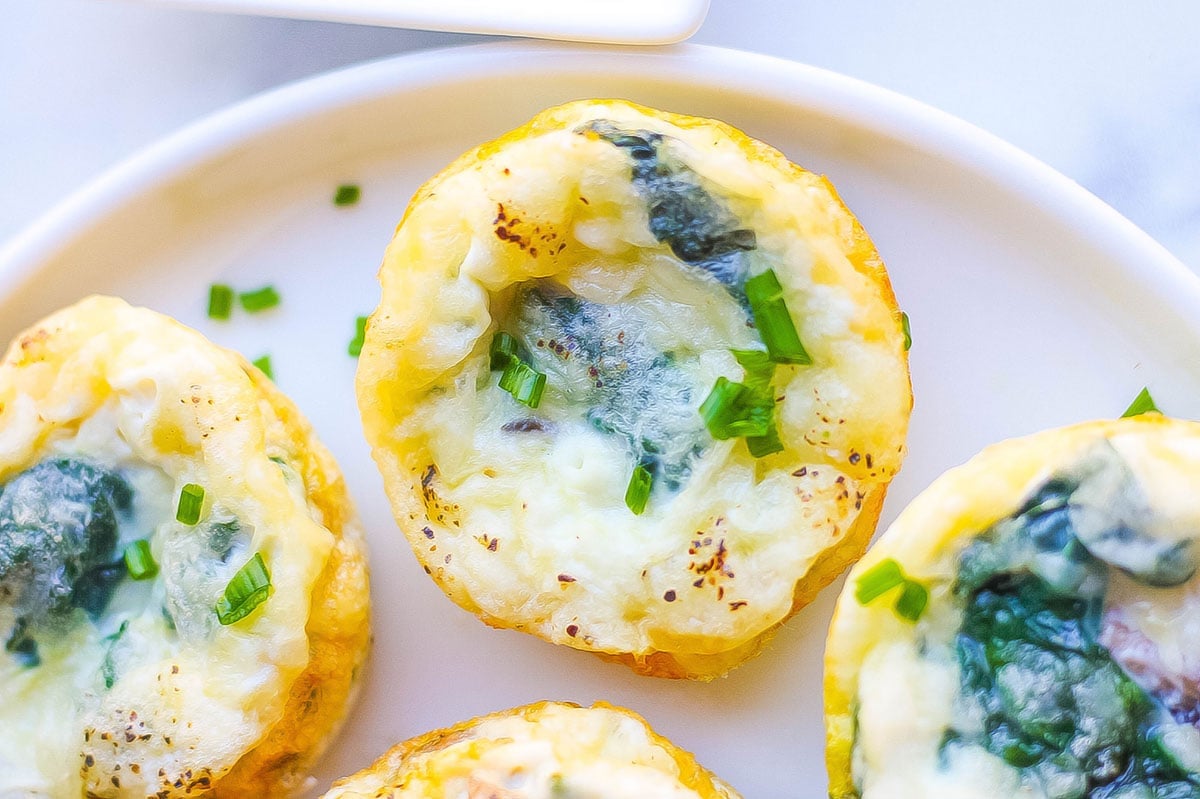 Ingredients
Egg Whites– Crack your own eggs and save the yolks for making hollandaise or grab a carton of just egg whites at the store. You can also opt for whole eggs, you can use one per cup or 6 together. Whisk them well then evenly divide. For fluffy eggs, place them in a large bowl and whisk well to introduce air into the egg mixture.
Fresh Baby Spinach– I use the smaller kind so I can skip the prep of having to chop anything, but normal spinach is fine too. Avoid frozen because even after thawing, it has a lot of moisture.
Mushrooms– We use baby bellas or white button mushrooms, but feel free to get even fancier and use oyster, shiitake or cremini.
Cheese– I like a blend of mozzarella and Swiss cheese, but the cheese, type of cheese and how much cheese is open to your taste.
Fine sea salt and black pepper- I generally use coarse salt, but since it won't really have time to dissolve, fine is best.
Cooking Spray- This is just to prevent sticking. Melted butter, olive oil or any neutral oil will do the trick. If you make them frequently enough, think about granning a silicone muffin tin.
Chives- You know I love onions! Omit or also use green onions (scallions) for a heavier onion flavor.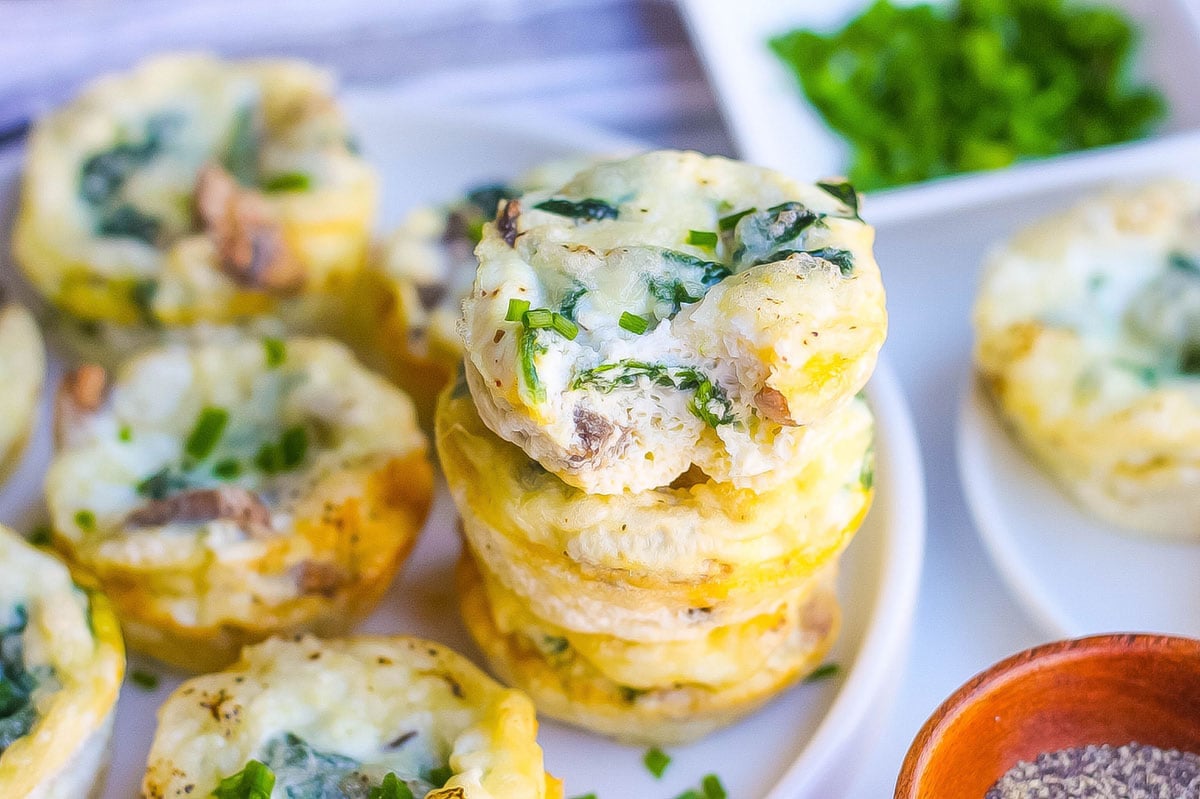 How to Make Egg Muffins
Prep the muffin tin, heat oven and heat a large skillet over medium heat.
Add the spinach and mushrooms, allowing veggies to sweat and reduce, removing excess liquid. You can throw in in raw, but I don't suggest this if you plan to freeze them. The overall texture is better with them cooked.
Remove them to a paper towel lined plate to remove more residual liquid, pat dry.
Equally divide the spinach mixture, cheeses and egg whites between each tin. Season with a sprinkle of salt and pepper.
Bake until set and then enjoy hot or allow to cool fully before freezing. Not letting them cool can result in rubbery eggs on the flip side, so don't skip this step.
Top with freshly chopped chives.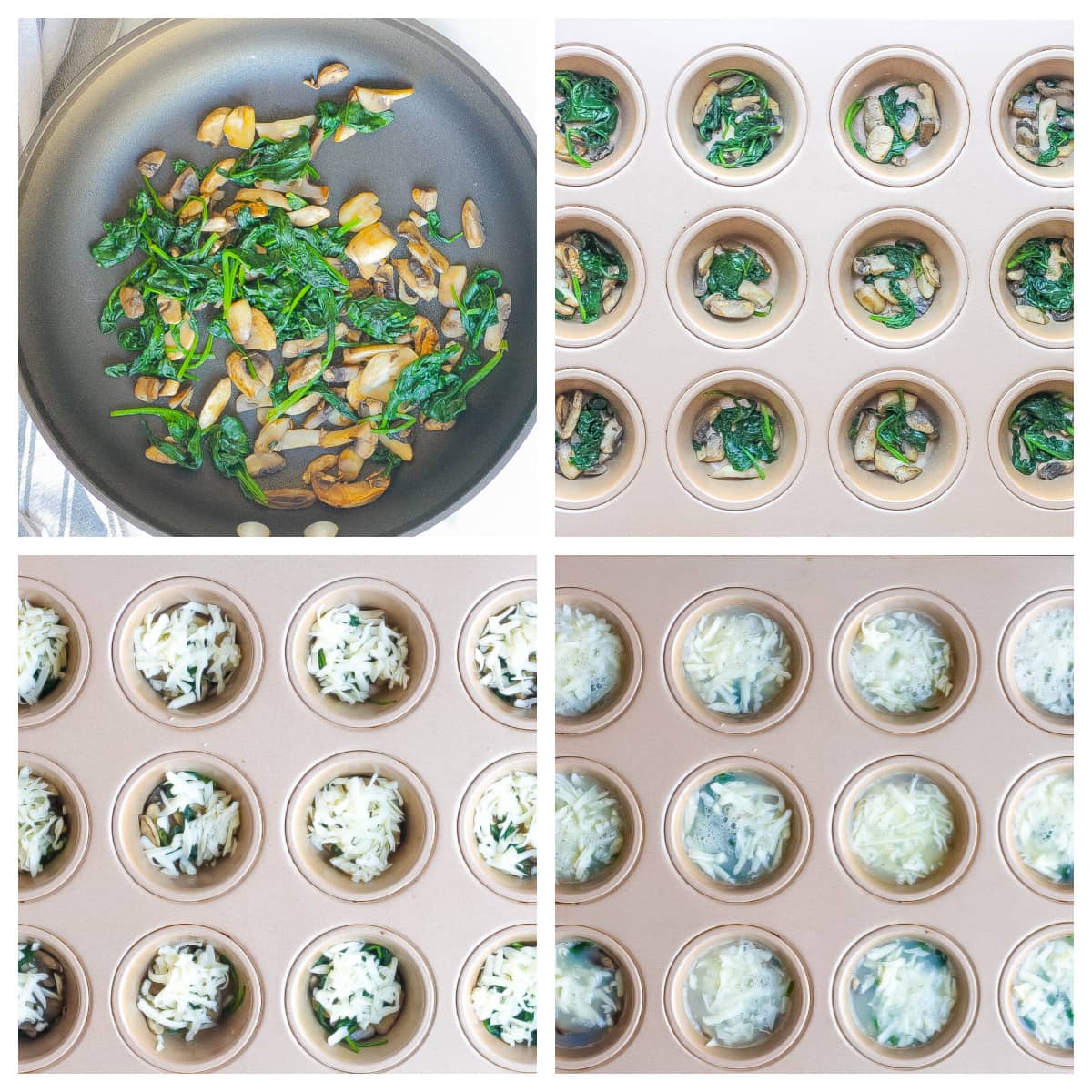 Variations
As you can imagine, the options to customize are as long as they are for omelettes. Just on this site, we also have Western, Chimichurri and Florentine varieties, but here are a few more ideas to get your gears turning. Stay away from veggies with high moisture like tomatoes, which can make them soggy and not freeze as well.
Bell peppers (use a variety to make it colorful!)
Switch up the cheese- cheddar cheese, Monterey, parmesan cheese
Garlic powder, onion powder, Italian seasoning
Fresh garlic or onion (I like red onion to keep things pretty)
Fresh herbs
Bacon or crumbled sausage- or just top with crispy bacon
Red pepper flakes
Hot sauce or Tabasco sauce
Make them into egg sandwiches by placing between two toasted English muffins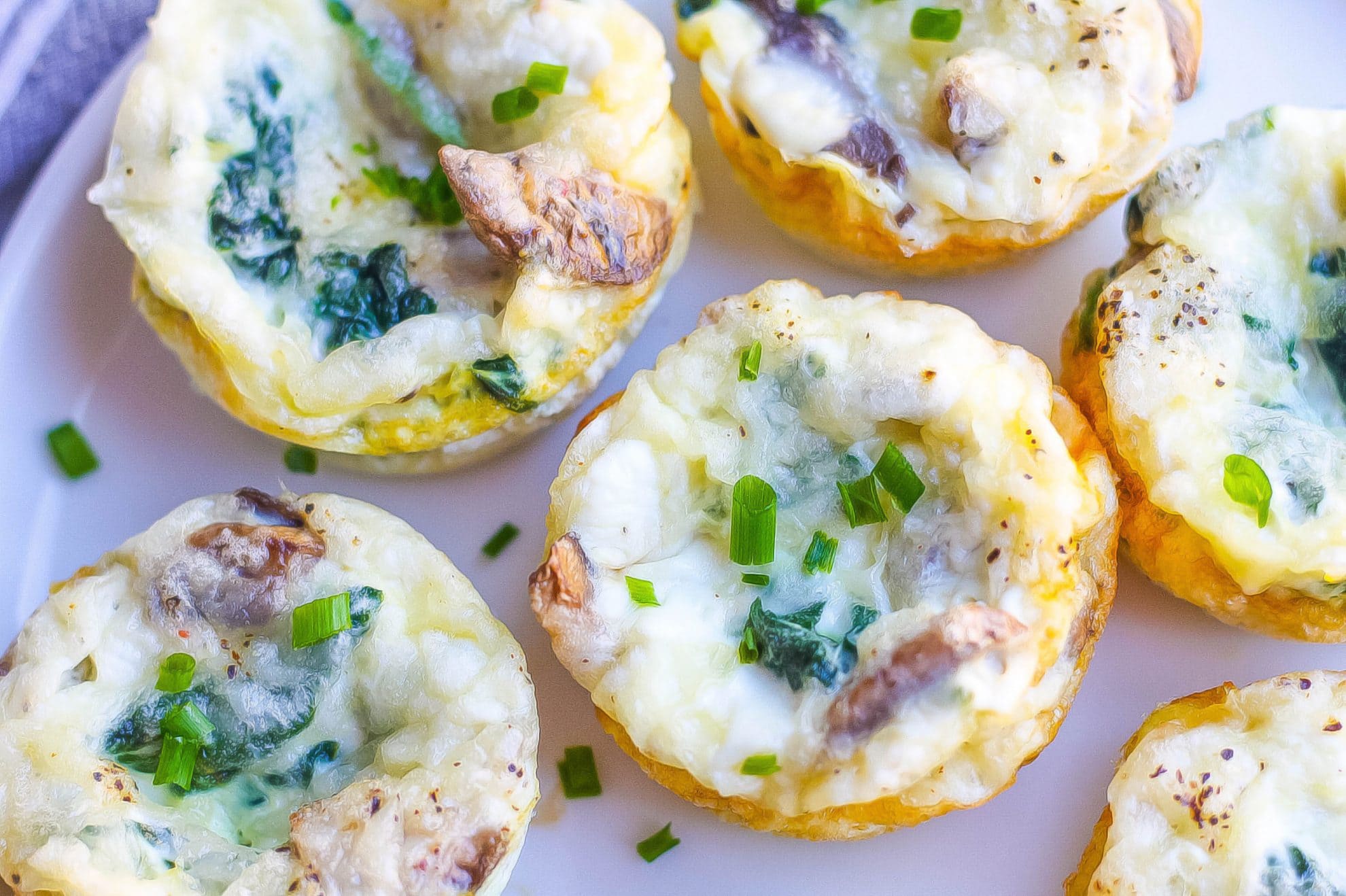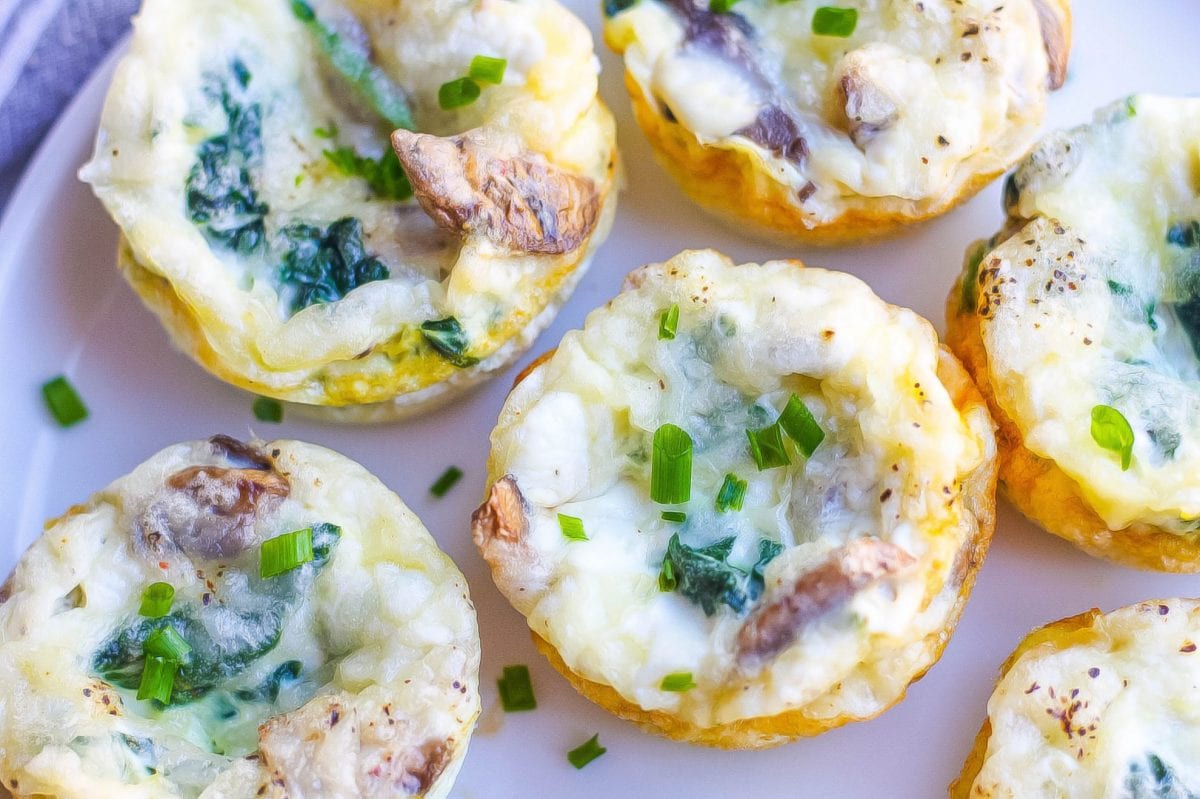 Freezing & Defrosting
Store cooked egg white muffins in an airtight container in the fridge for up to 5 days. If freezing for a long time, wrap each cup individually in aluminum foil or plastic wrap and then place in an airtight plastic bag.
To make after freezing, wrap the egg cups in a paper towel to absorb excess condensation. Heat for 30 seconds to 1 minute on high. Times can vary greatly from microwave to microwave.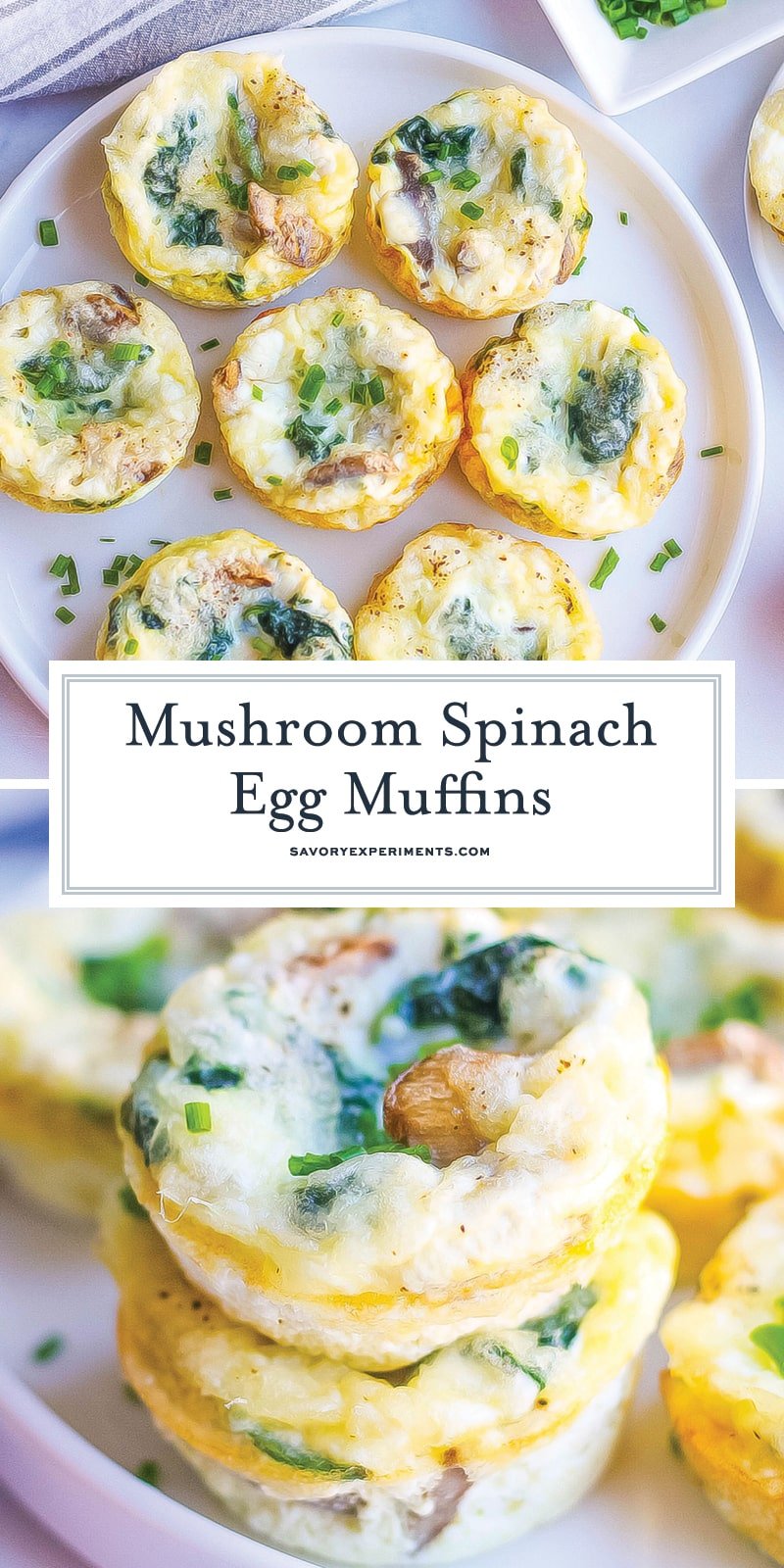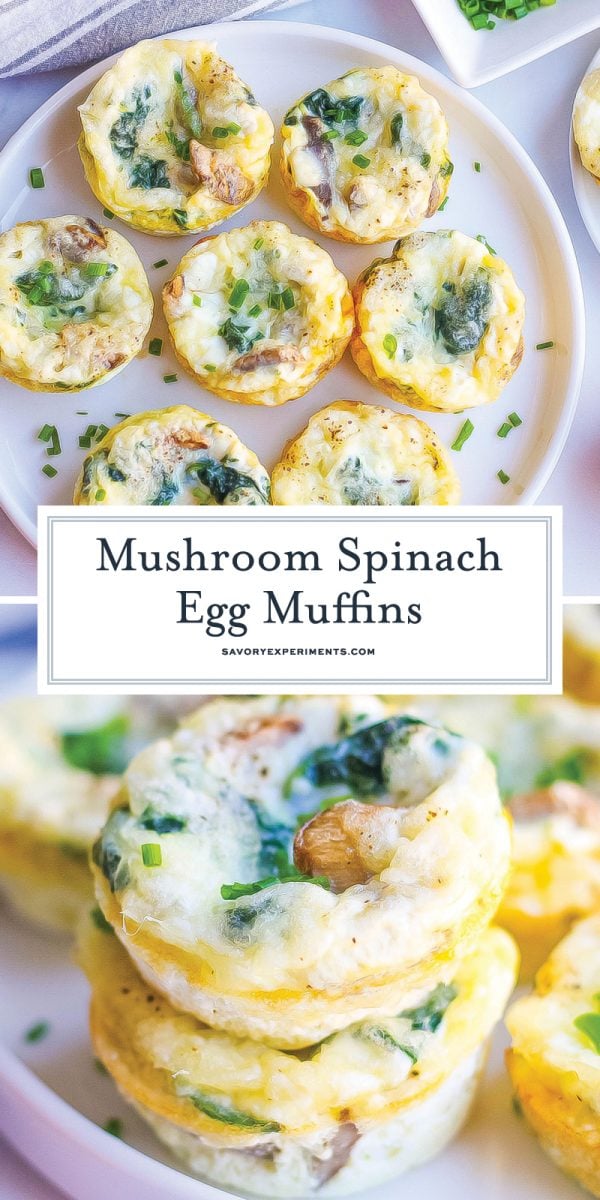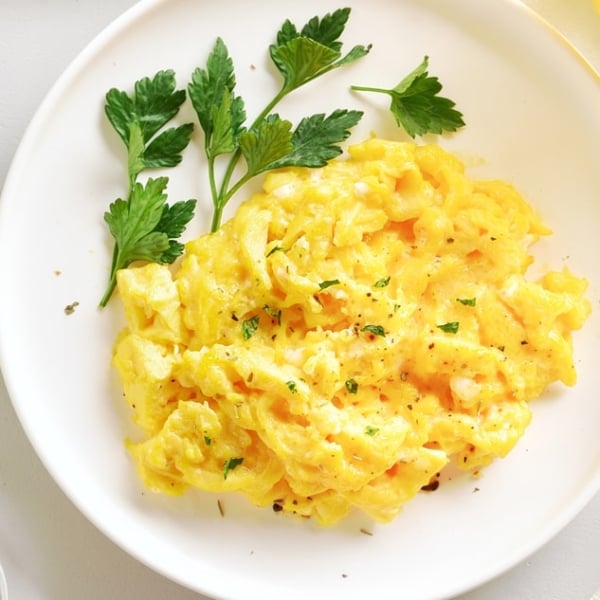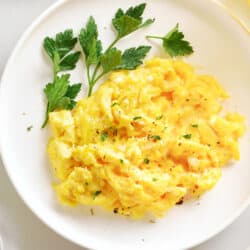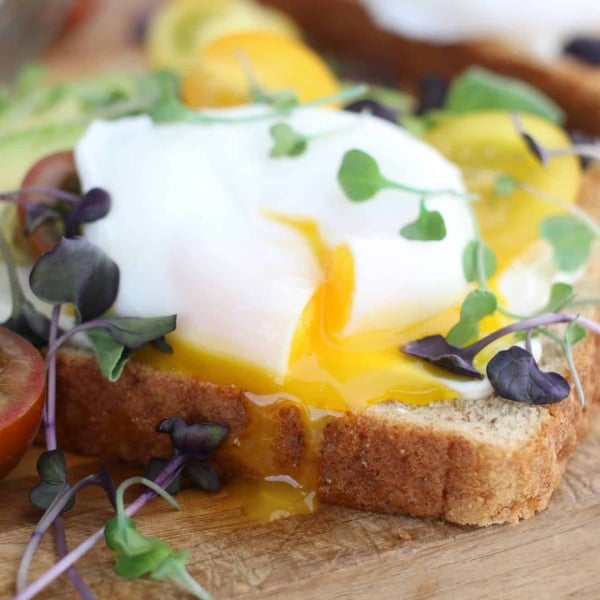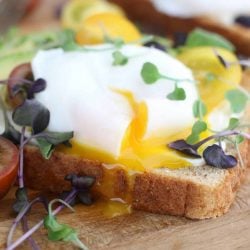 How to Poach an Egg
Poached eggs aren't difficult and can actually be done easily at home. It's time to break free and start making these eggs right in the comfort of your own kitchen.
See The Recipe!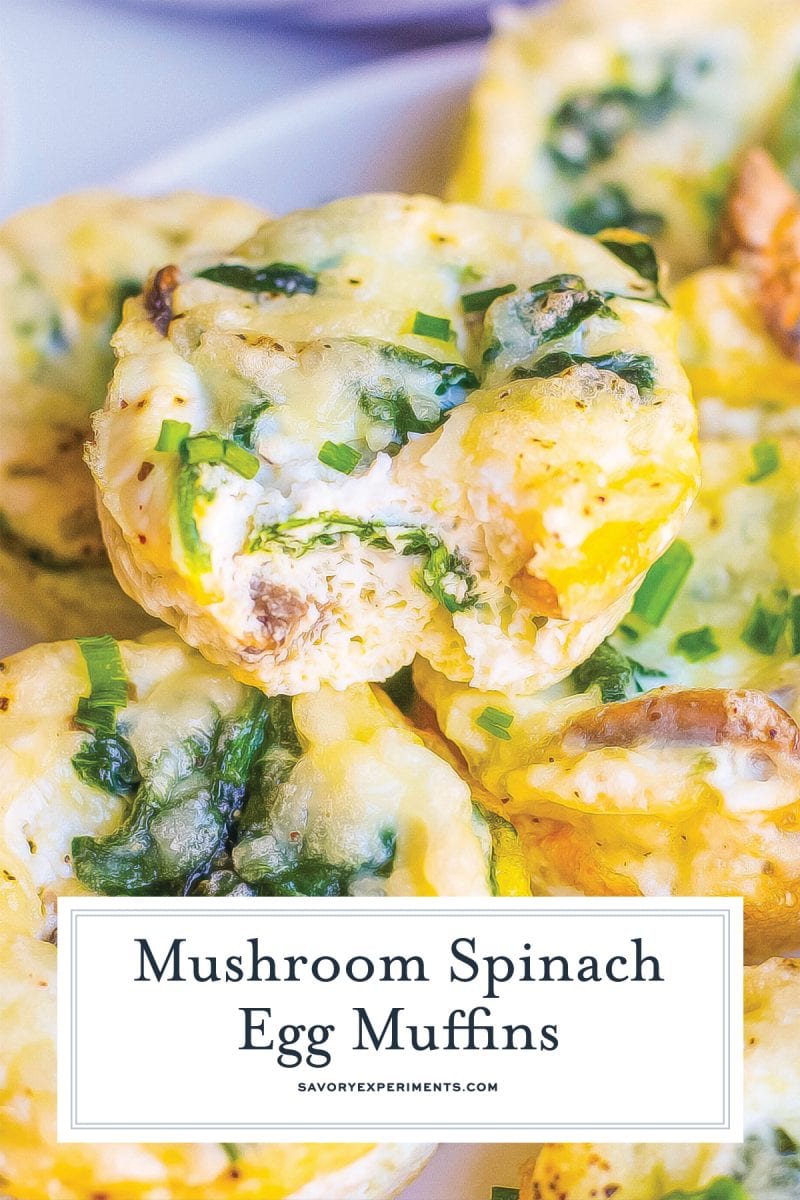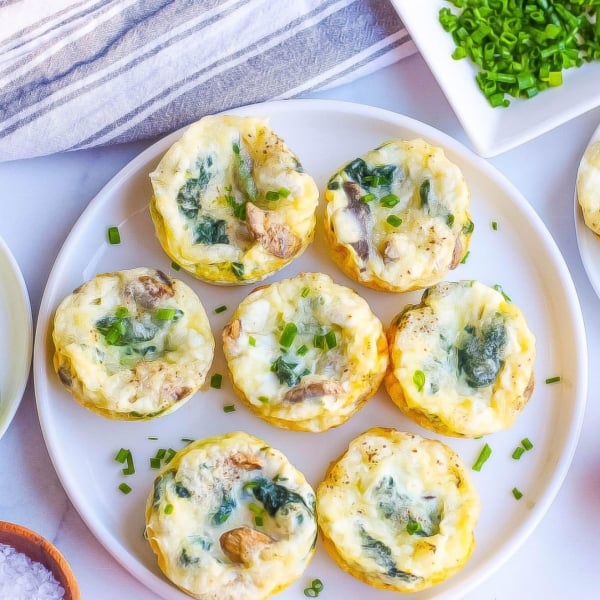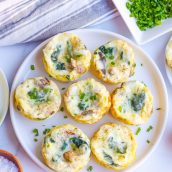 Mushroom Spinach Egg Muffin Recipe
Mushroom Spinach Egg Muffins are the perfect idea for making ahead to freeze in individual serving sizes, or for guests for brunch or breakfast!
Instructions
Heat oven to 350°F. Coat a 12 cup muffin tin with cooking spray. Set aside.

Heat a medium skillet coated with cooking spray over medium-high heat.

Add the spinach and mushrooms. Cook until the spinach is wilted and mushrooms have reduced in size. Remove to a paper towel lined plate.

Equally divide the spinach mixture, cheese and eggs into 12 muffin tins. Season each cup with a sprinkle of salt and pepper.

Bake for 12-15 minutes, or until set. Top with chopped chives.

Serve immediately or allow to cool fully before freezing.

If you've tried this recipe, come back and let us know what you think in the comments or ratings.
Notes
To freeze, allow Spinach and Mushroom Mini Casseroles to cool completely. Put in airtight plastic bags and freeze. To re-heat place in microwave on a plate covered with a paper towel for 1 minute, watching carefully because heating times differ greatly in microwaves.
Nutrition
Calories:
41
kcal
,
Protein:
5
g
,
Fat:
1
g
,
Saturated Fat:
1
g
,
Cholesterol:
5
mg
,
Sodium:
65
mg
,
Potassium:
106
mg
,
Vitamin A:
520
IU
,
Vitamin C:
1.6
mg
,
Calcium:
55
mg
,
Iron:
0.2
mg