This Italian Shrimp Omelette comes packed with flavors and textures, creating a delicious dish! This is the perfect recipe to serve for brunch and special occasions!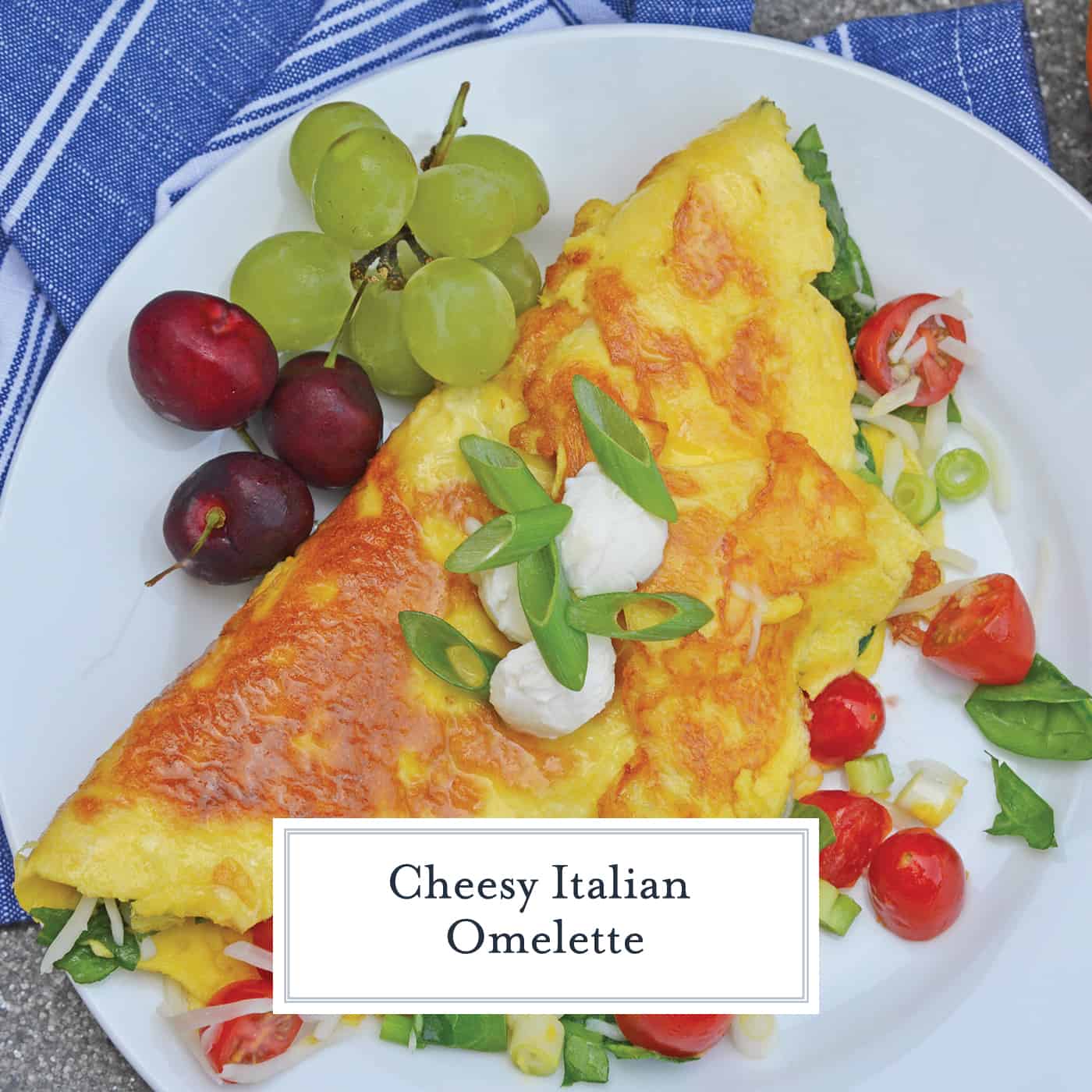 A Shrimp Omelette is a savory omelette that uses shrimp, scallions, spinach, tomatoes and fresh mozzarella cheese. The perfect recipe for those of us who love brunch!
Shrimp Omelette? I see your gears turning and for a long time I was a skeptic about seafood at breakfast. It was silly, really, considering I love seafood any other time of day.
Why not breakfast? But shrimp with eggs…. I don't know about this. The conclusion: deliciousness!
I finally tried a Maryland Shrimp Omelette- shrimp, old bay, cheddar… basically crab dip engulfed by egg. It was a life changing event. I am now and forever comfortable with seafood omelettes, especially shrimp omelettes!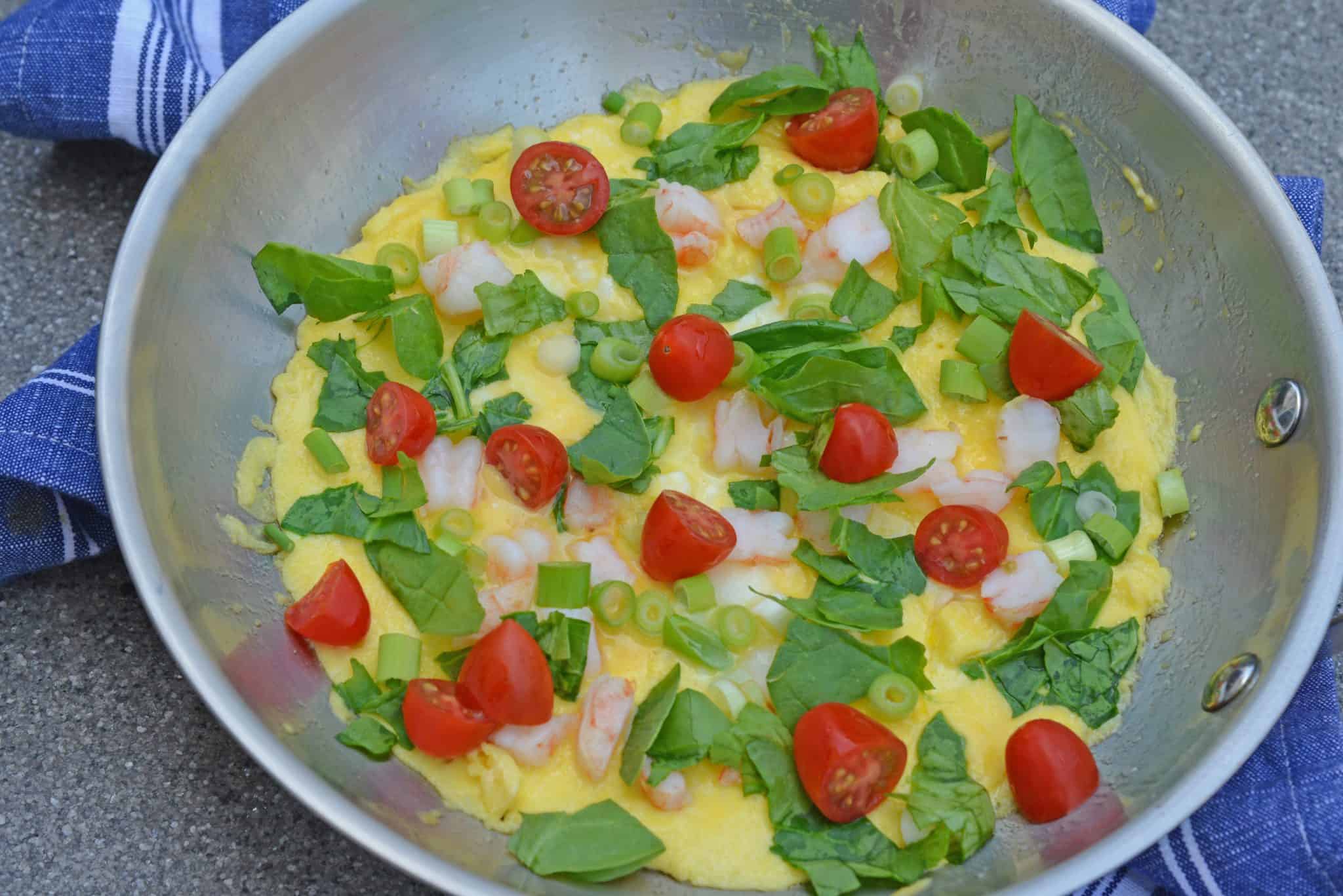 Making this for years I generally make it when I have leftover shrimp or plan to make a couple extra if I am making them for dinner the night before.
I generally have the other ingredients in my pantry and/or refrigerator. If I am missing one, or have to use a different kind of onion, no biggie,  it still tastes good.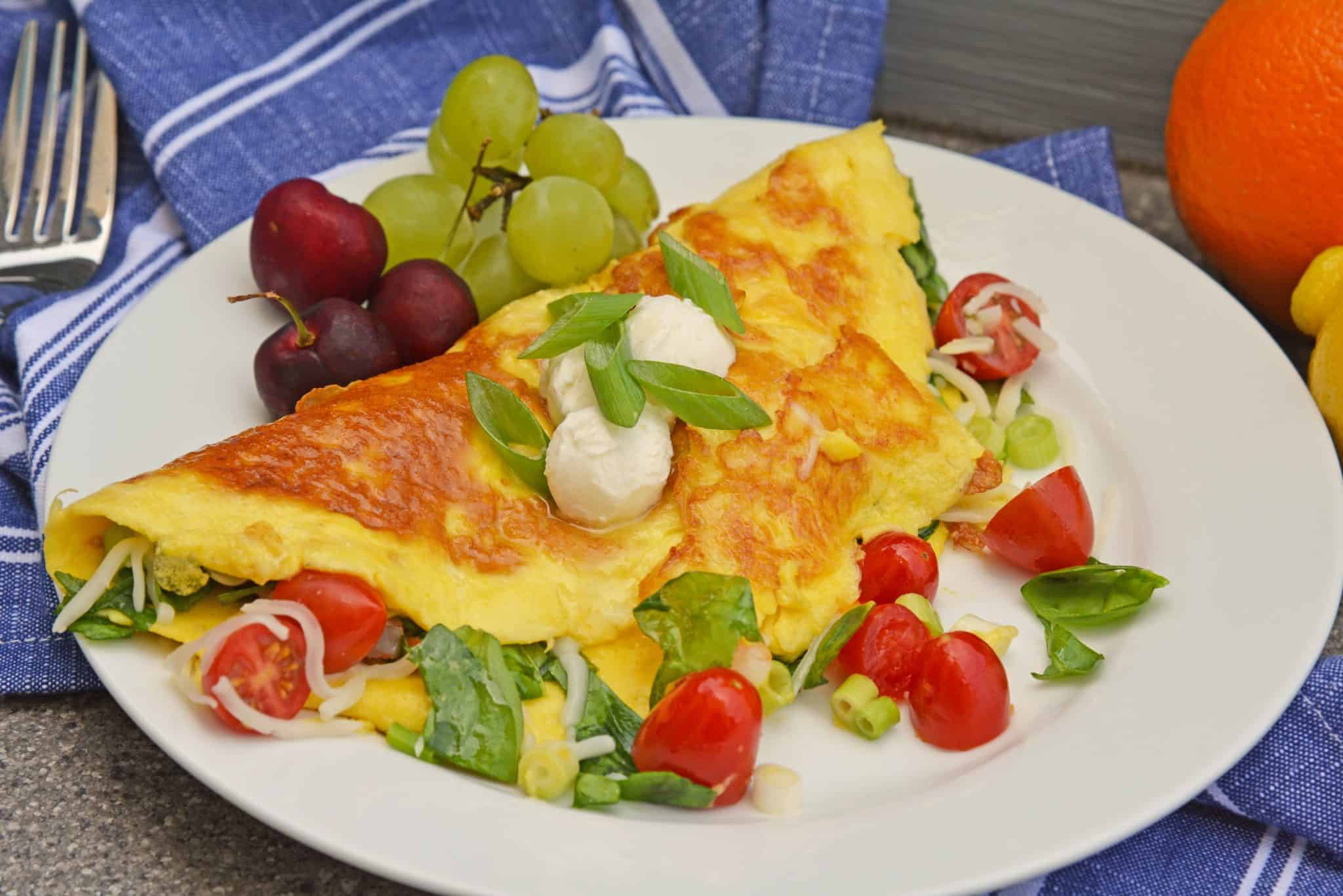 Because it is so rare, one usually doesn't know what a perfect omelette should look like. And it is quite challenging to create! So here's how to cook an omelette!
The number one thing I look for: no brown on the outside. It should have a buttery sheen of pure, golden yellow egg. It should also be just slightly runny inside and super fluffy.
I know what you are thinking. You are looking at my Shrimp Omelette and thinking, hers has brown!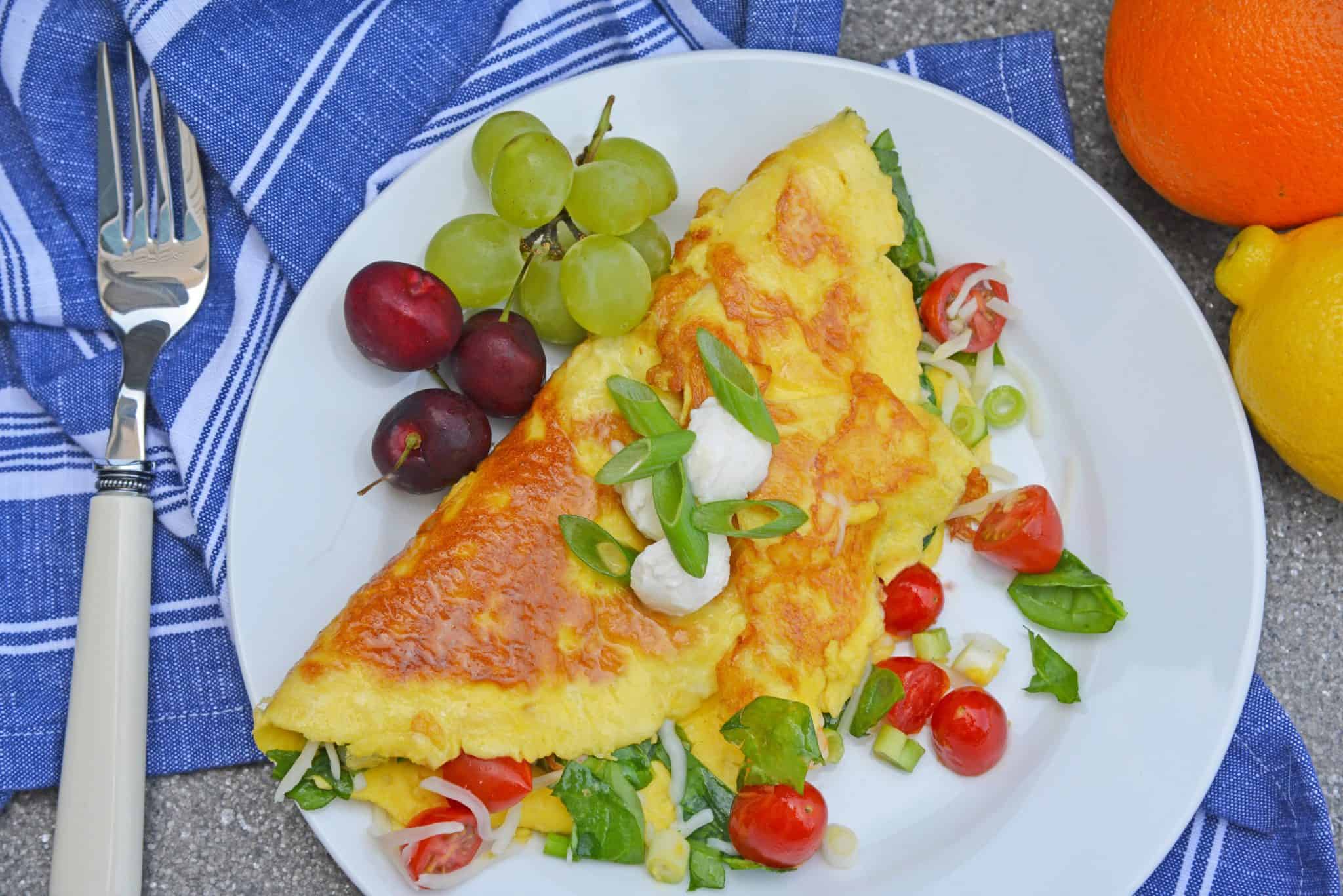 It does! Because here at Savory Experiments we eat everything we photograph and this Italian Shrimp Omelette was on its way to hubby, who requests a "well done" omelette. So be it. Do your best and don't beat yourself up!
If you loved this Shrimp Omelette recipe, check out some of these easy breakfast recipes:
Tools for making the perfect Shrimp Omelette:
Non-Stick Pan
– master chefs will tell you that even they use a non-stick pan when making omelettes. Have at least one on hand.
Wide Spatula
– It just makes it easier to a lovely omelette flip!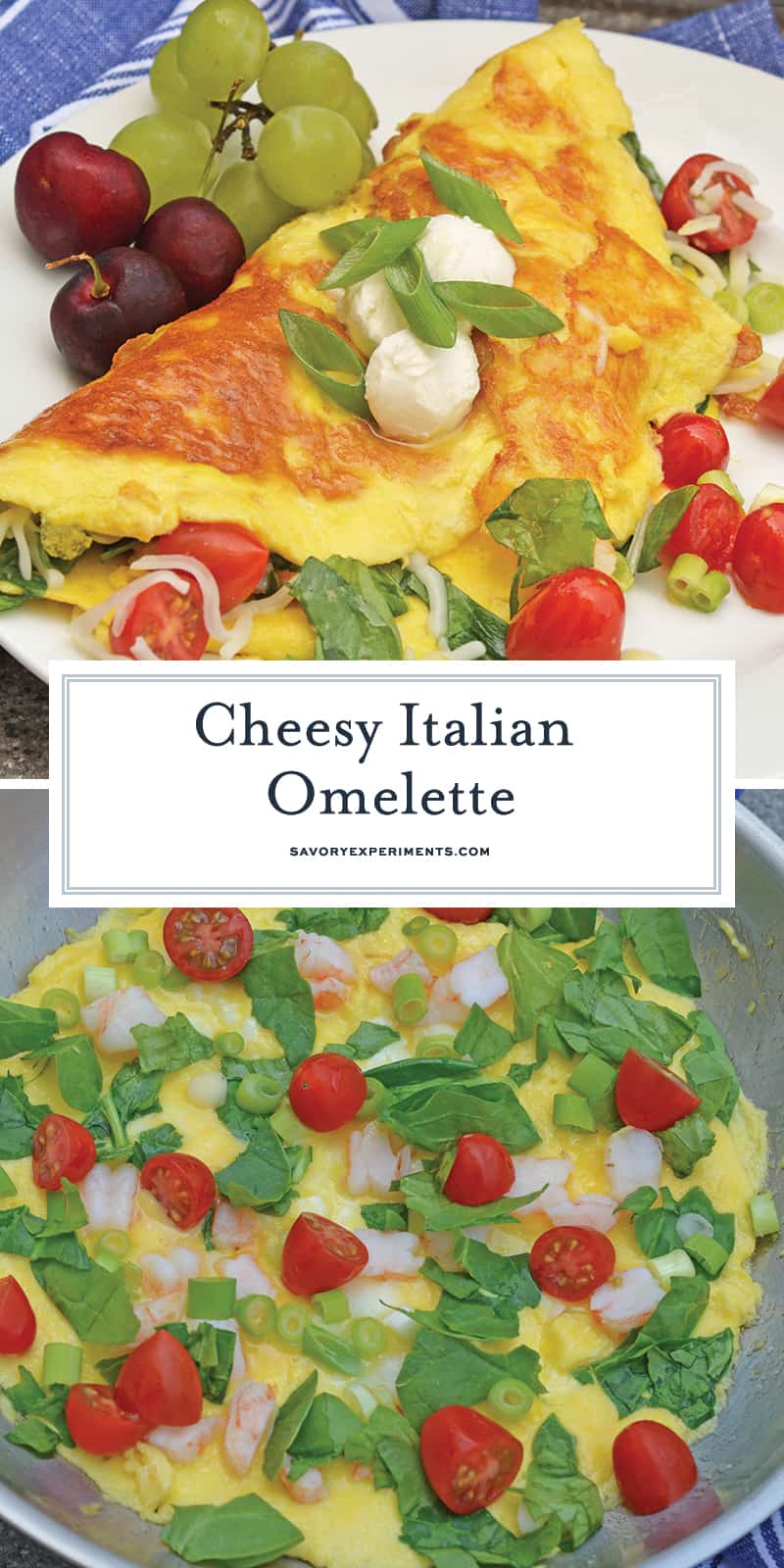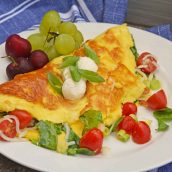 Print Recipe
Italian Shrimp Omelette
Italian Shrimp Omelette is a savory omelette using shrimp, scallions, spinach, tomatoes and fresh mozzarella cheese. The perfect recipe for brunch!
Ingredients
1-2

tablespoons

butter

3

eggs

1

tablespoon

milk or cream

2-3

shrimp

chopped into bite size pieces

1

scallion

white and greens chopped

1/4

cup

spinach leaves

4

grape tomatoes

halved

1/4

cup

mozzarella cheese

shredded (extra for topping)
Instructions
Start by heating butter in a medium frying pan over medium heat, don't rush the process by trying to cook faster.

Whisk together eggs and milk or cream or use a blender to infuse extra air and make them super fluffy.

Pour eggs into frying pan, allowing them to set. Cook for approximately 1 minute.

Top with shrimp, scallion, spinach and grape tomatoes.

Eggs might bubble a little bit. Prick the bubble to promote even cooking.

Flip, add more butter if needed.

Cook for another 1-2 minutes.

Carefully fold over omelette as you transfer to the serving dish. Top with another sprinkle of mozzarella cheese if desired. Enjoy!
Nutrition
Calories:
454
kcal
|
Carbohydrates:
5
g
|
Protein:
26
g
|
Fat:
36
g
|
Saturated Fat:
18
g
|
Cholesterol:
594
mg
|
Sodium:
573
mg
|
Potassium:
385
mg
|
Fiber:
1
g
|
Sugar:
2
g
|
Vitamin A:
2860
IU
|
Vitamin C:
13.7
mg
|
Calcium:
233
mg
|
Iron:
3
mg