Everywhere we went people snickered "I wouldn't come here with a baby." Well why not?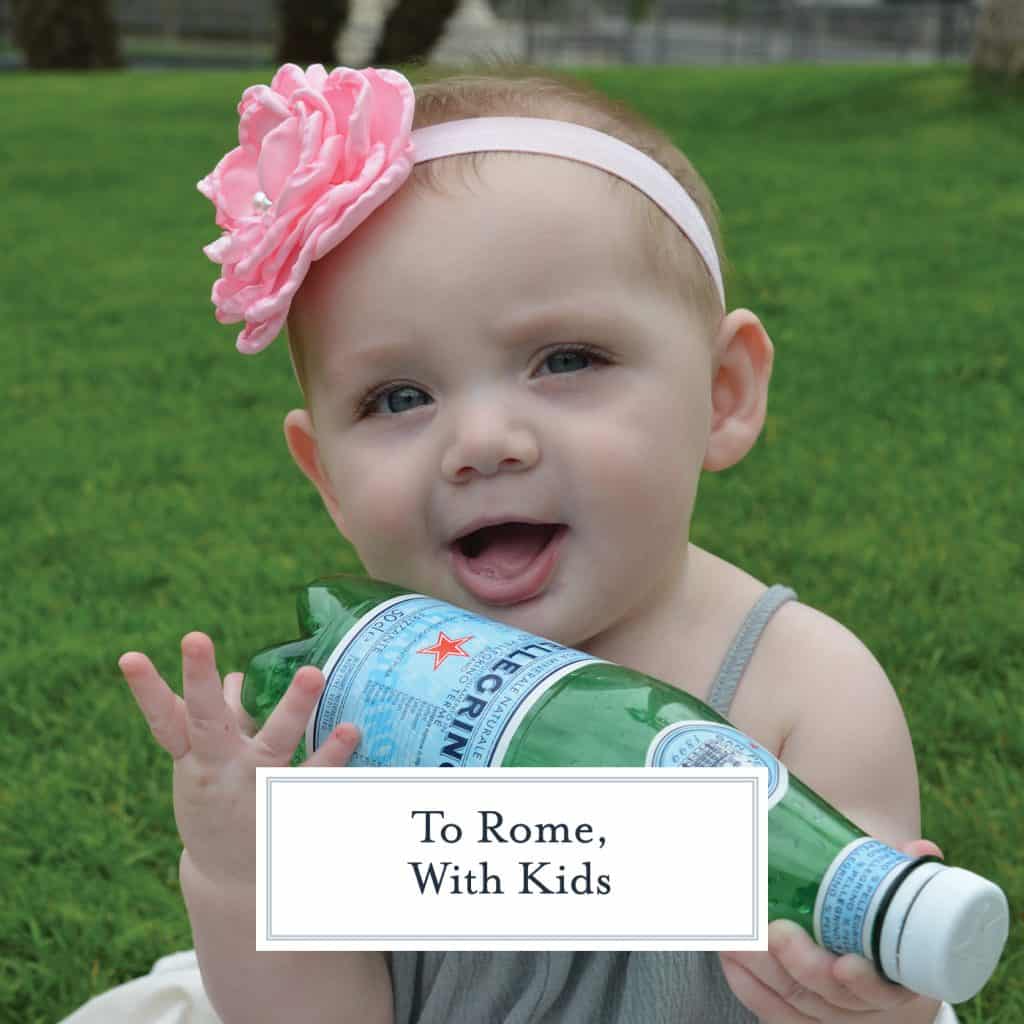 Tips for Traveling to Rome with kids. Must-have items and tips for a fun vacation!
In fact, Italy is a very child friendly place and with a little planning and research, an enjoyable vacation for all. It's not like Italians don't have bambinos and tote them around.
We actually found Italians to be more accommodating and doting on our little one that any place in the states.
Here are my best tips for traveling to Rome with kids, especially a baby.
ONE. Italians love babies!!! Literally the moment we stepped off the plane, airport staff were babbling to her with a "ciao, bella!" She made friends every place we went and practically the entire hotel staff at the River Palace Hotel knew her name by the end of the first day.
TWO. Diapers, wipes and general baby items are available at local pharmacies, which are every few blocks in Rome. Travel with what you need for transit, plus a few more for emergencies and purchase more when you arrive.
Know that pharmacies have a green "+" outside, but not all carry the same items. Some are geared towards high end products, serums and fragrances while others carry essentials, first aid and baby items.
THREE. Diaper changes in Italy are a little challenging, as most facilities don't have the space for a changing table in the toilets. However, I did find that most places, especially restaurants, were extremely accommodating and even allowed us to use private offices and break rooms for changing diapers.
I would suggest having a changing mat because there might be a few on-the-fly and/or on the floor nappy changes. To stroller or to baby wear, that is the question.
There are a few places that strollers aren't practical or allowed, but the vast majority actually give you priority service with a pram, as the Italians call them. At the Vatican Museums, we were whisked to the front of line, up a lift and entered the Sistine Chapel through the back entrance, without even asking.
The cobblestone streets seem to be people's largest worry and yes, while they are considerably bumpy and a large wheeled stroller would be best, a quality umbrella stroller can also do the trick and be less bulky and heavy. We took a MacLaren Globetrotter.
Lightweight, easy to fold, built in shoulder strap, rain guard and undercarriage for small storage, it more than met our needs. It has shocks to absorb some of the bumpy ride, but we also knew that the wheels are easily replaceable could be refitted when we returned home. We've also heard good reviews off the Uppababy G Luxe.
The one place you might prefer to baby wear is the Colosseum if you are doing the underground tour.
FOUR. We walked an average of 10 miles per day and while my Ergobaby is awesome, 10 miles with a 20 pound chicken strapped to my chest didn't sound enjoyable.
FIVE. At the time we took our trip, I was done breastfeeding, but bambina was still drinking formula.
She isn't too fussy over milk temperature, so I wasn't worried about heating her bottle, but nearly every restaurant we visited asked graciously if they could heat it up for her. I saw a few women publicly breastfeeding and the museums had signs for diapering and nursing.
SIX. How do I get an infant around Rome? Easy! It is a walking city, so you don't really need a car seat, just a stroller.
You can take mass transit from the airport into the city and go from there or get a car service and request a car seat. We rented a car and just left the car seat in.
SEVEN. What is the deal with car seats in Italy? Car seats are required by law, just like in the states.
However, I was very annoyed with our car rental company who wouldn't confirm that they would have a car seat. You could request one, but then it was "based upon availability".
It ended up being free to check her car seat, so despite it being a pain to carry, we brought it along. Another alternative is to rent baby equipment when you arrive.
We did purchase a backpack carrier for the seat to help protect it and get it through the airport.
EIGHT. Cribs, or baby cots, are available at many hotels, but not all. Make sure you inquire. Our hotel did offer cribs, but we were heading to two rental houses that did not, so we needed a place for our little one to sleep.
Although we love our Pack N' Play for home and road trips, it really isn't all that practical for air travel. Especially when you also have suitcases, a car seat and stroller. Oh, and the baby (or babies!)
NINE. The Guava and BabyBjorn were my top two choices for travel cribs, but then I found the KooJoee PopUp Baby Tent.
After taking out the mattress and pillow, which are SOOO not safe, it was actually pretty neat. A little baby tent, zipping shut to prevent any escapes, but large enough to allow some rolling.
There isn't any type of cushion after taking out the mattress, but hey, those crib mattresses are just as stiff. This is only practical when baby can't sit up on their own.
We laid the baby tent on a carpeted floor and she was just as content as napping on her playmat in the family room. Bonus, it folds up and is light, so you can tuck it into your suitcases.
Other cities and their "baby friendly":
Venice– We saw more strollers here than any place else, but ironically it is the hardest to navigate due to all of the bridges that are usually a flight of stairs up and a flight down.
The wheelbase on our umbrella stroller was just a tad too short to be able to waddle up and down, so we found ourselves carrying it. We justified that this made us not feel guilty about the delicious food consumed.
San Gimignano– Very stroller friendly. Despite being a medieval town, the cobblestones are fairly flat. It is hilly, but that is manageable after stomping the steps of Venice.
Florence– As stroller friendly as Rome with narrow sidewalks, heavy traffic and cobblestones that can be a little bumpy.
Positano and the Amalfi Coast – Any of the Amalfi coast, hillside towns are going to be challenging with a stroller, but overall, we were glad we had one.
We did have to pick it up and carry it up and down a few flights of stairs and pushing it back up the giant hills to get back to the car was a workout.
Capri– Capri was very stroller friendly, as was the ferry we took there.
Check with your form of transportation though. We took the NGL speed ferry, which accommodates a lot of people and takes only 30 minutes.
We rolled her right on and right off. Many of the tours and boat transports are on much smaller vessels that might not be as accommodating for an infant.
Pompeii– This isn't so much the city of Pompeii as it is the archeological site, which was the only place we visited that a carrier would have been more practical than a stroller.
The old cobblestones are very large and have many holes, making it challenging to walk, let alone stroll. We did a 2 hour walking tour and were in the site for a total of 3 hours. You could easily spend all day here, so it really depends on how long you plan to stay.
If you rented a stroller with larger wheels, like an Uppababy, you should be fine.
Must-have items for traveling to Italy with kids:
Now that you are armed with a few travel tips for Rome with kids, here is your 3 day itinerary! Have fun!
Make sure to check out more of our travels from Italy– we are sure they will help you plan your best Italian holiday!