I rarely watch the Food Network. Although I love the shows, I start to get anxious and twitch with inspiration and idea overload!
I scribble down ideas of my own… many of which I never get to, others I make right away like this Matterhorn Cake from Sweet Surrender.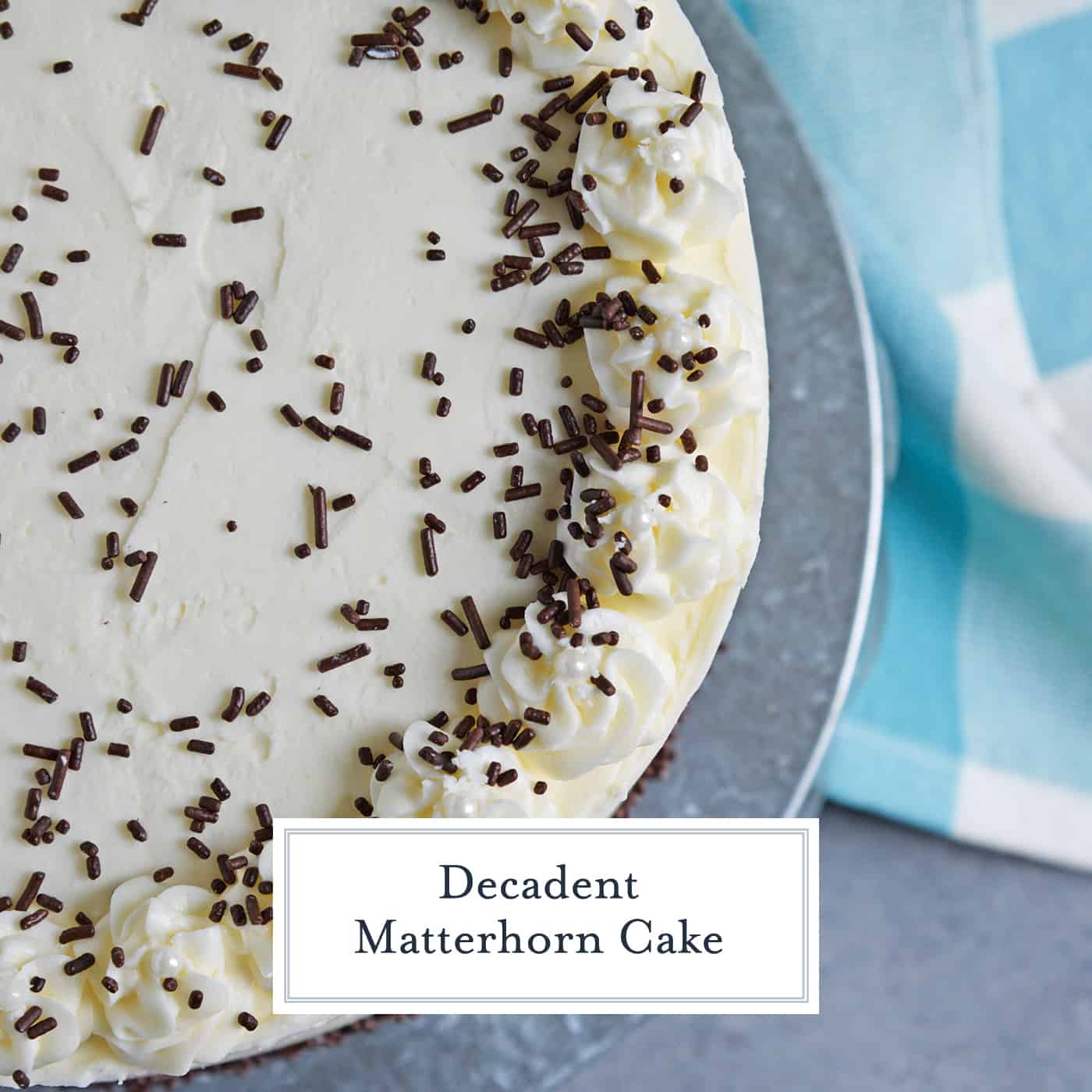 The Matterhorn Cake from Sweet Surrender is a chocolate layer cake using almond and vanilla with a rich cream cheese buttercream frosting.
Matterhorn Cake
While watching Best Thing I Ever Ate Giada swooned over a chocolate layer cake with buttercream icing from Sweet Surrender Bakery in Bakersfield, California.
Because the prospect of traveling to Bakersfield to try a slice of cake is not on my immediate agenda I tried to find a replica recipe to taste the extreme delight Giada had described.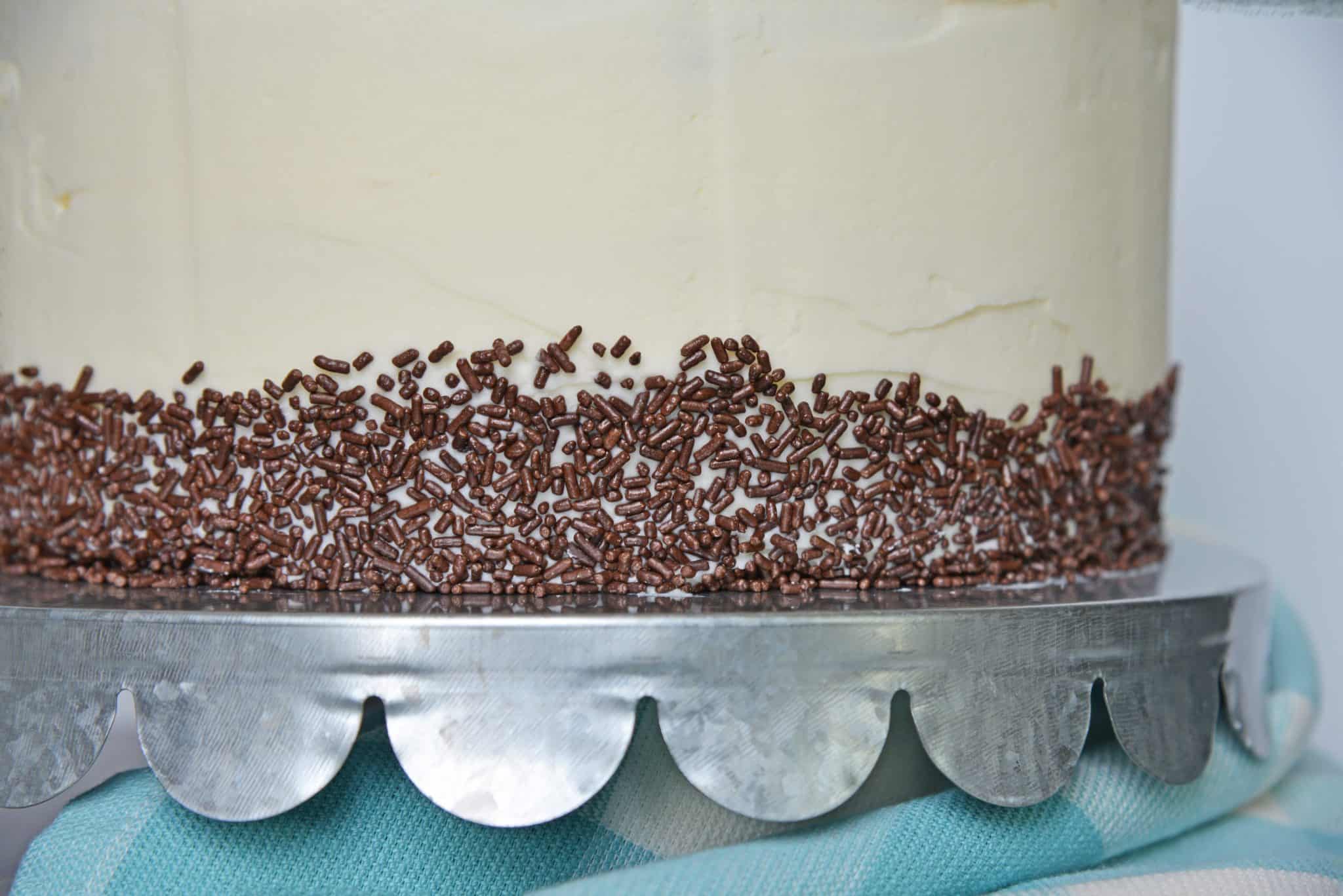 To my surprise there was very little; except a Google thread stating the same question I had "where do I find the recipe for Sweet Surrenders Matterhorn Cake?" One individual posted the recipe claiming to be the "real deal".
Since I have never had the original Matterhorn Cake I can not tell you if it is similar. What I can tell you is that makes a monster of a cake! Three moist layers of light chocolate cake separated by melt-in-your mouth buttercream frosting.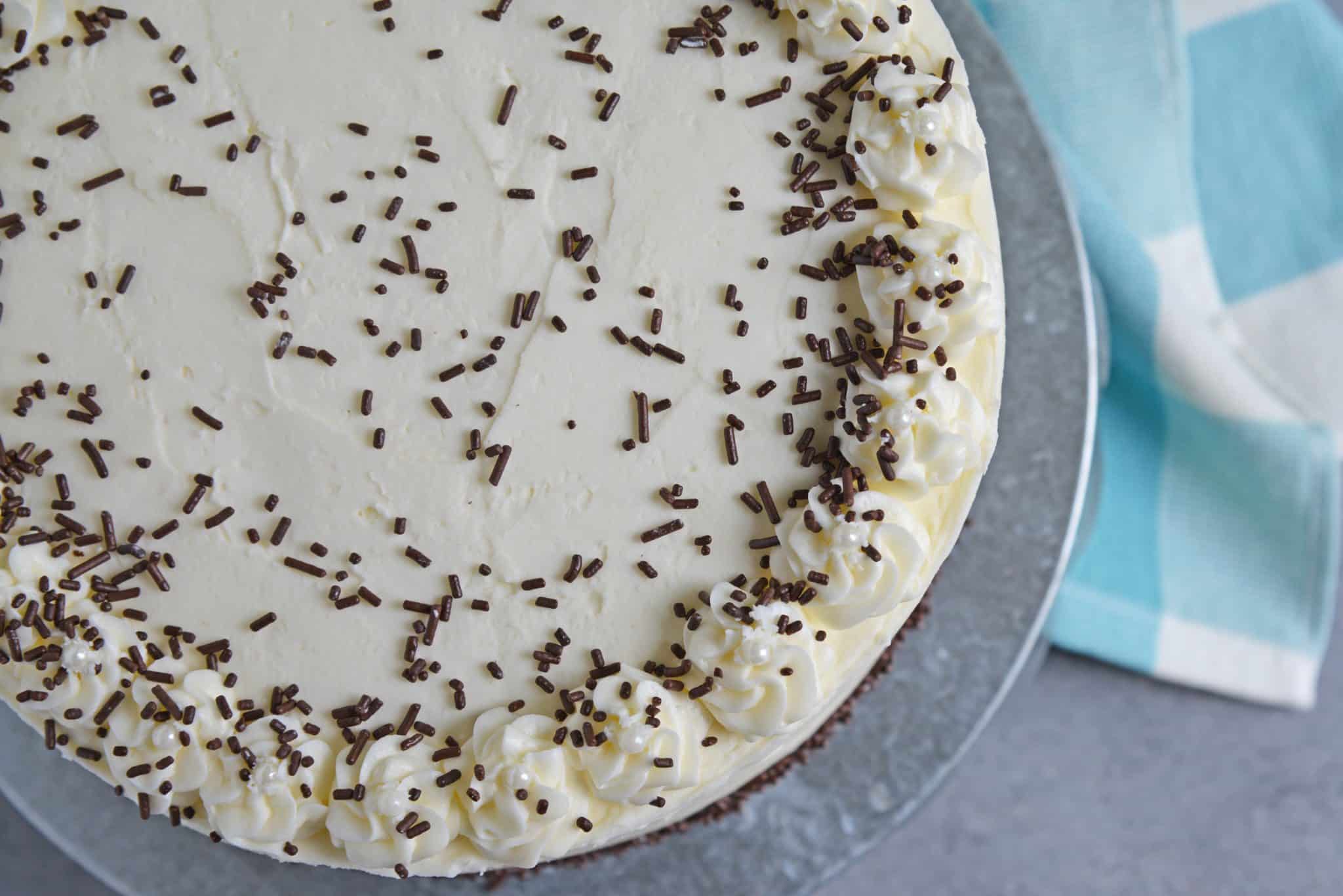 Adding both vanilla and almond flavor gives this cake unique and robust flavor that is hard to put your finger on. It is hard to imagine the real Matterhorn Cake tasting any better than what I created in my kitchen.
The Real Deal
And then an employee of Sweet Surrender emailed me with the REAL Matterhorn Cake recipe! Can you beleive my excitement?
Turns out the real recipe doesn't use almond extract or cake flour, but you know what what? I liked those two elements, so I kept them on as my own.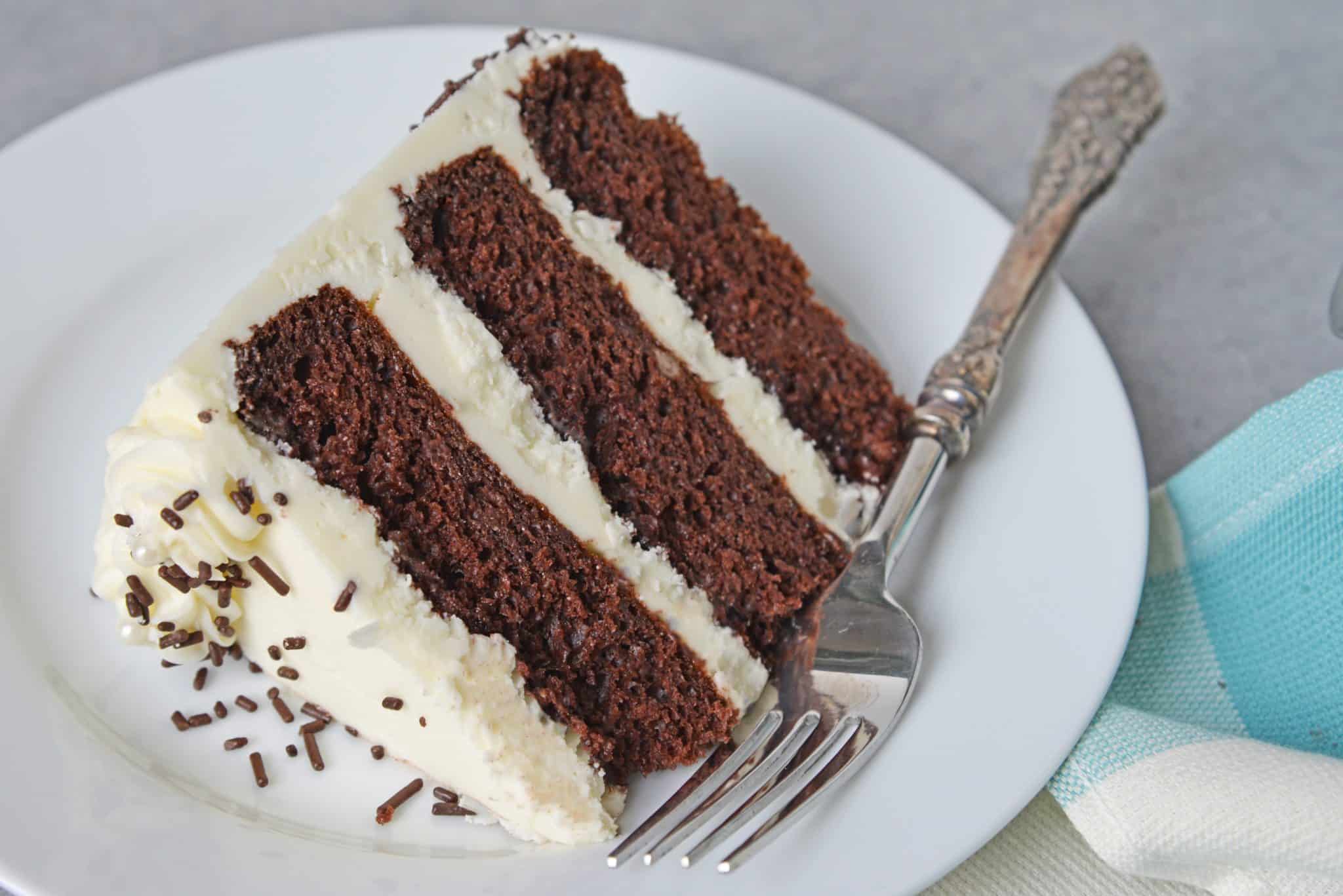 I have also updated the frosting since originally posting to a cream cheese buttercream. I still use a clear vanilla extract.
Clear vanilla is used for the purpose of color alone and is actually vanilla flavored, not pure vanilla. If keeping the frosting a snowy white is not a priority for you, then by all means use regular vanilla.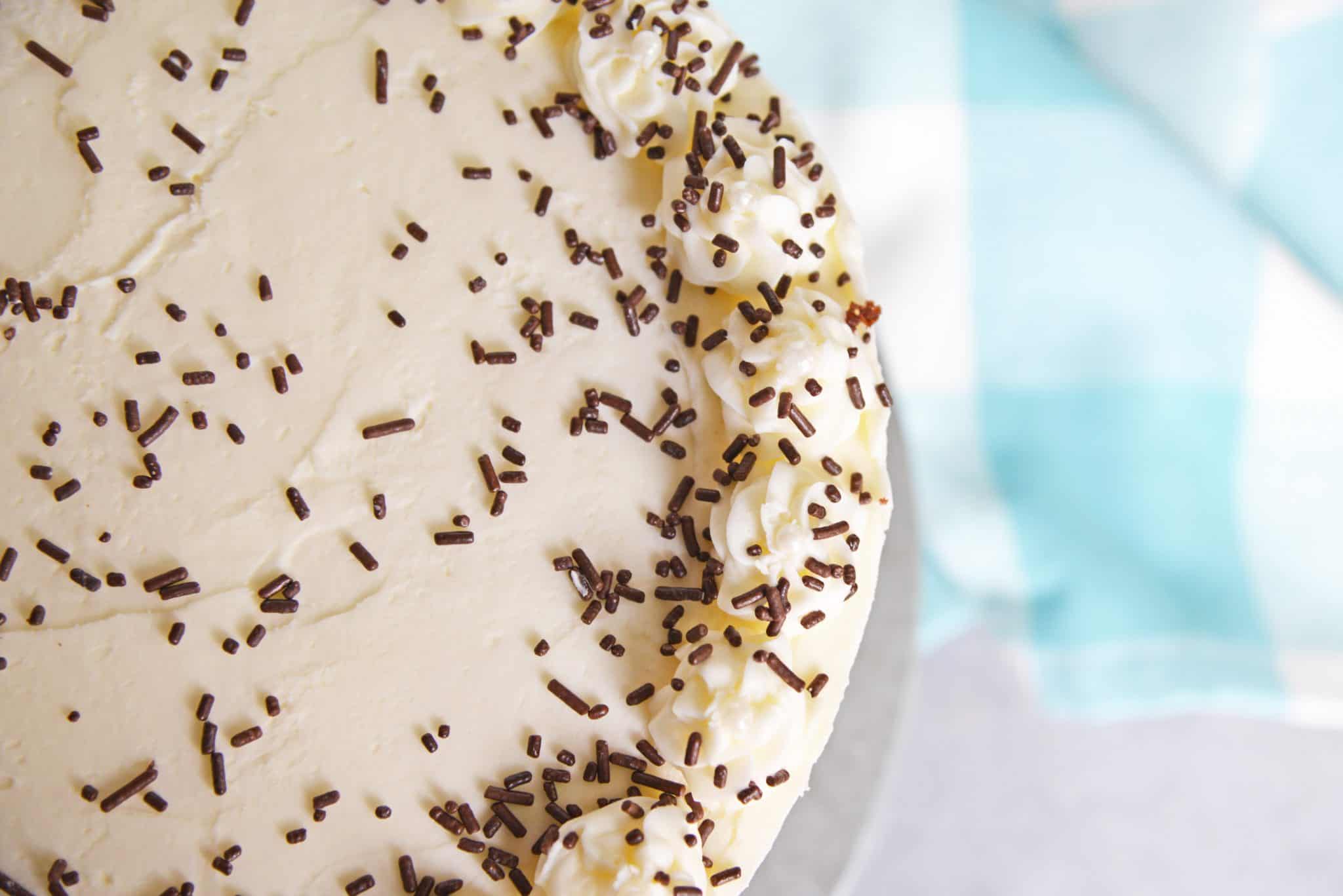 Cake flour has a higher starch content and is finer than all-purpose flour, resulting in tender, fluffier layers. Softasilk is the primary brand found in chain grocery stores. You can use all-purpose if you'd like.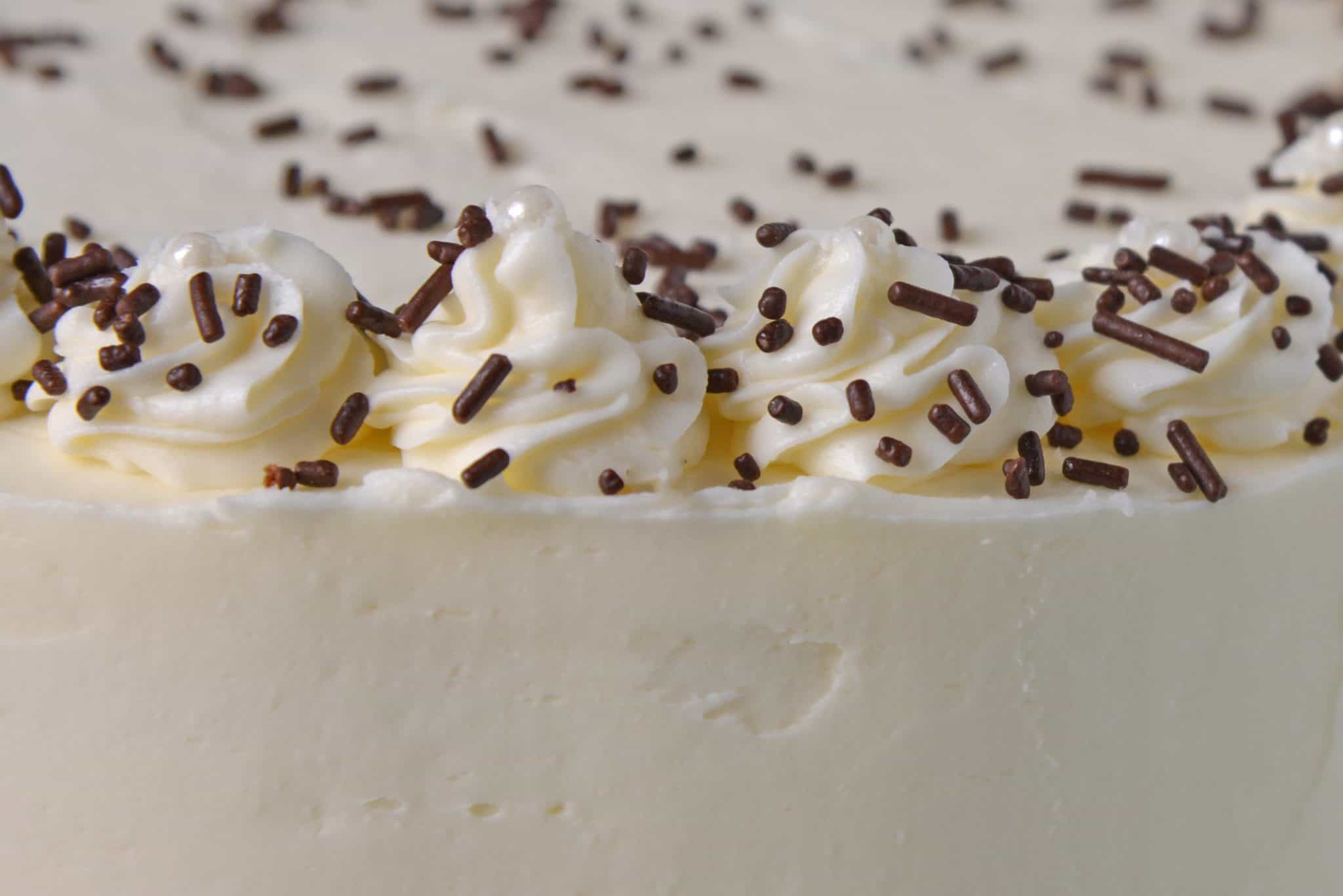 I do recommend using 3 cake pans and cooking all the cakes together. It just saves time. You can also use a kitchen scale to make sure they are all equally full.
A spring form pan will work, but a basic cake pan lined on the bottom with parchment and butter will also do just fine. They are cheaper and easier to clean.
One more thing I hear a lot of is people who are struggling to get flat topped cakes. Read my friend Liv's post on getting flat tops every time! You can also trim the top with a serrated knife should you need to. Flat, symmetrical cakes are always easier to stack.
If you liked our Chocolate Layer Cake, check out these other decadent cake ideas!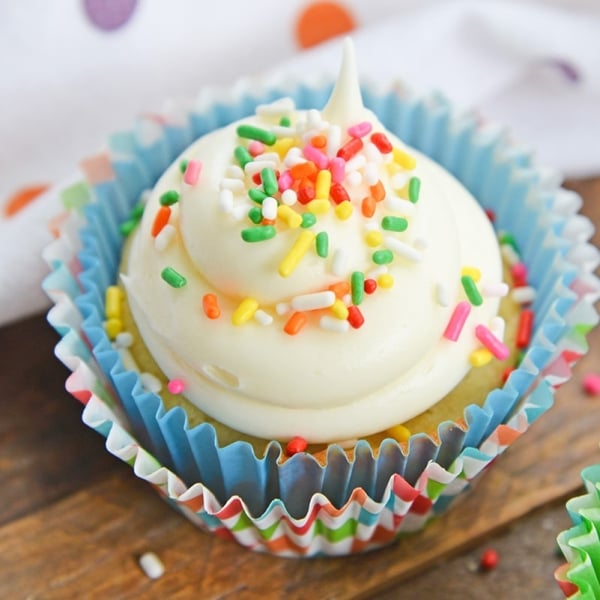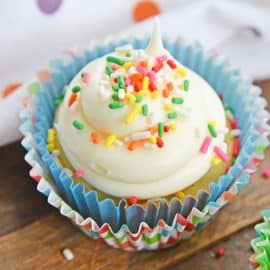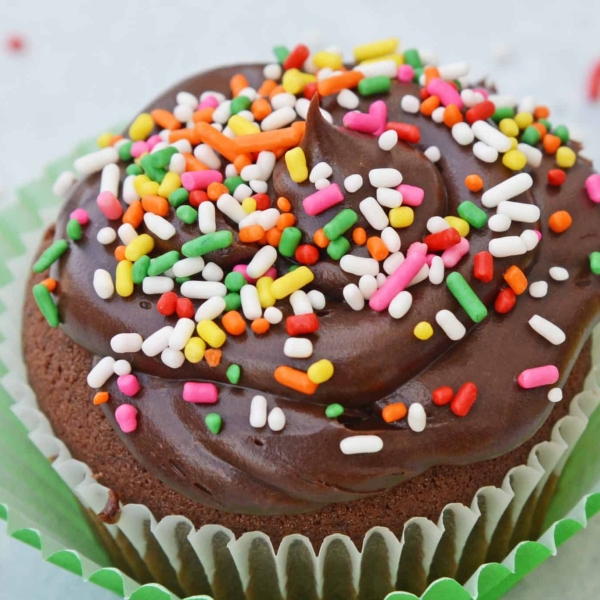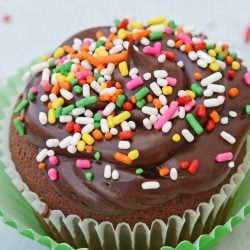 Tools for making the Matterhorn Cake:
Stand Mixer– I lived for a long time without one. My life was changed when I finally bit the bullet and bought one. Just do it and thank yourself later.
Spatulas– have a lot on hand, thank me later!
Cake Pans– Just go ahead and buy three. It is so much easier than trying to cook the same cake three times.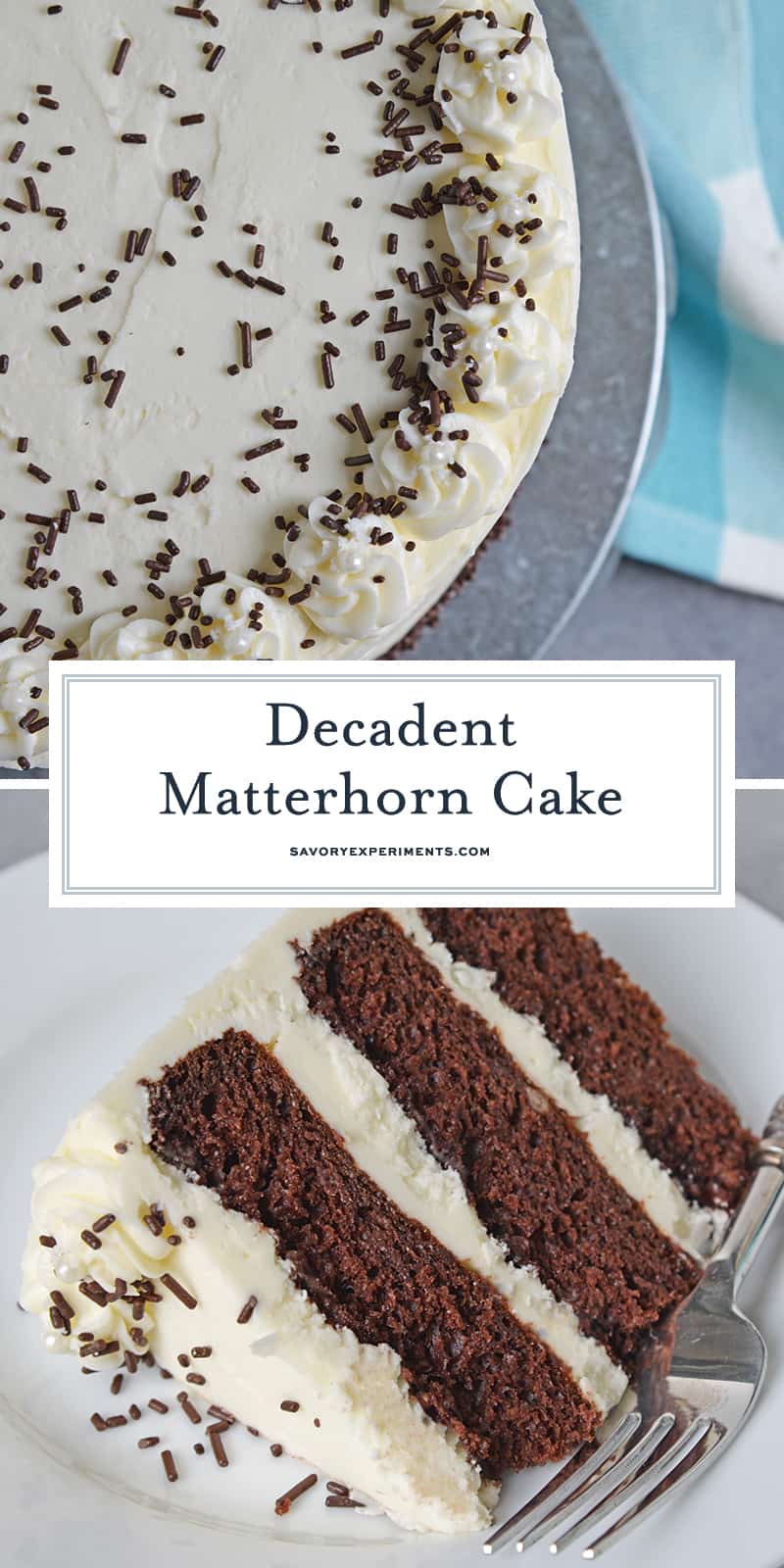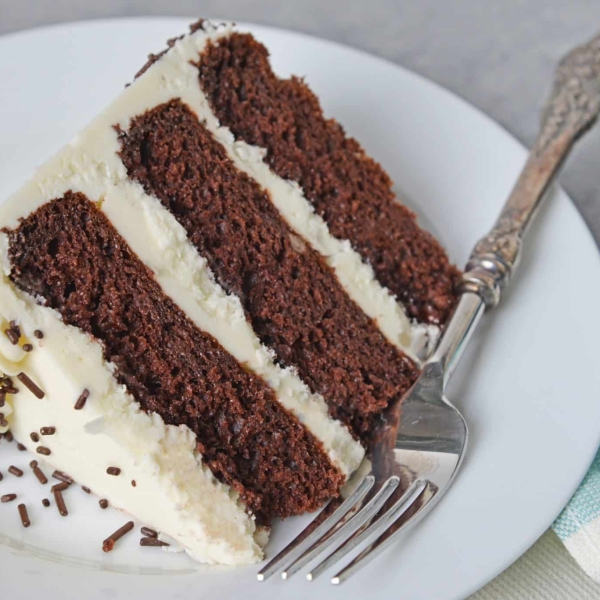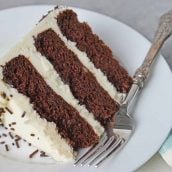 Matterhorn Cake – Chocolate Layer Cake
The Matterhorn Cake from Sweet Surrender is a chocolate layer cake using almond and vanilla with a rich cream cheese buttercream frosting.
Instructions
Preheat oven to 350 degrees. Coat 3 8-inch circular cake pans with butter. You can use cooking spray, but butter works and tastes better.

In the bowl of a stand mixer fitted with the paddle attachment or a large mixing bowl using a hand mixer, add cream together the butter and sugar until light and fluffy, approximately 2 minutes. Add the eggs and extracts, mixing to combine.

In a medium mixing bowl, sift together the flour, cocoa powder, baking soda and salt.

Alternate adding the dry ingredients with the buttermilk until just combined. Do not overmix.

Equally divide cake batter between 3 cake pans. Bake for 28-30 minutes or until cake passes toothpick test.

Remove and allow to cool before inverting to a cooling rack. Cool complete before frosting.

When cake is cool, beat cream cheese with butter until fluffy and fully combined, approximately 5 minutes. Add the powdered sugar, clear vanilla, cream and salt. If frosting is too thick to spread, add 1 tablespoon milk. If too runny (if your butter is too soft) add additional powdered sugar.

Place one layer of cake on serving tray, top with frosting, top with next layer and so on. Frost the sides with a crumb layer and allow to set.

Frost cake with remaining frosting and decorate as desired.

If you've tried this recipe, come back and let us know how it was in the comments or ratings.
Nutrition
Calories:
794
kcal
,
Carbohydrates:
133
g
,
Protein:
8
g
,
Fat:
29
g
,
Saturated Fat:
18
g
,
Cholesterol:
109
mg
,
Sodium:
1028
mg
,
Potassium:
486
mg
,
Fiber:
4
g
,
Sugar:
113
g
,
Vitamin A:
890
IU
,
Calcium:
184
mg
,
Iron:
2.2
mg