Let me get this off my chest: I am a horrible cake decorator. I am not being modest in any sense of the word.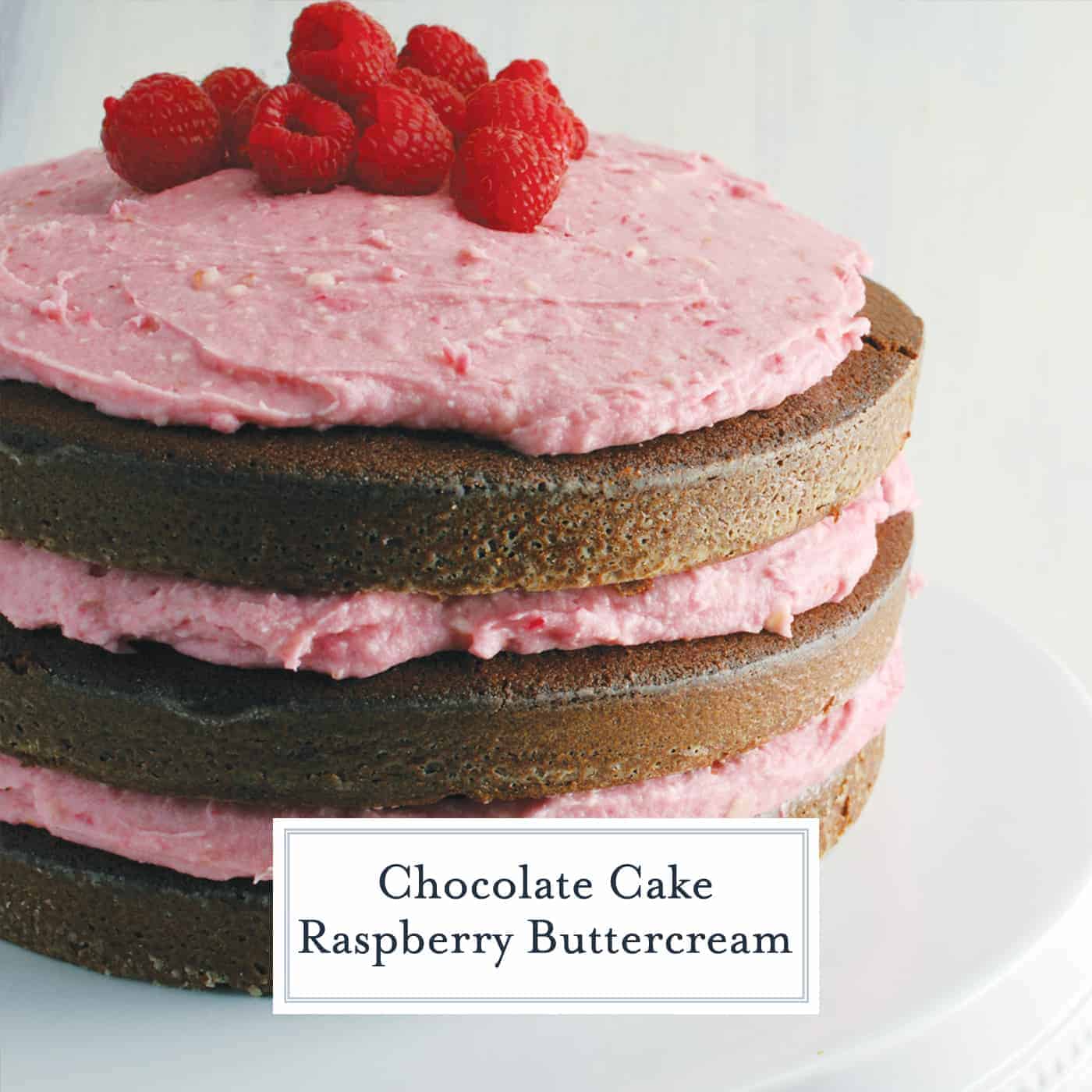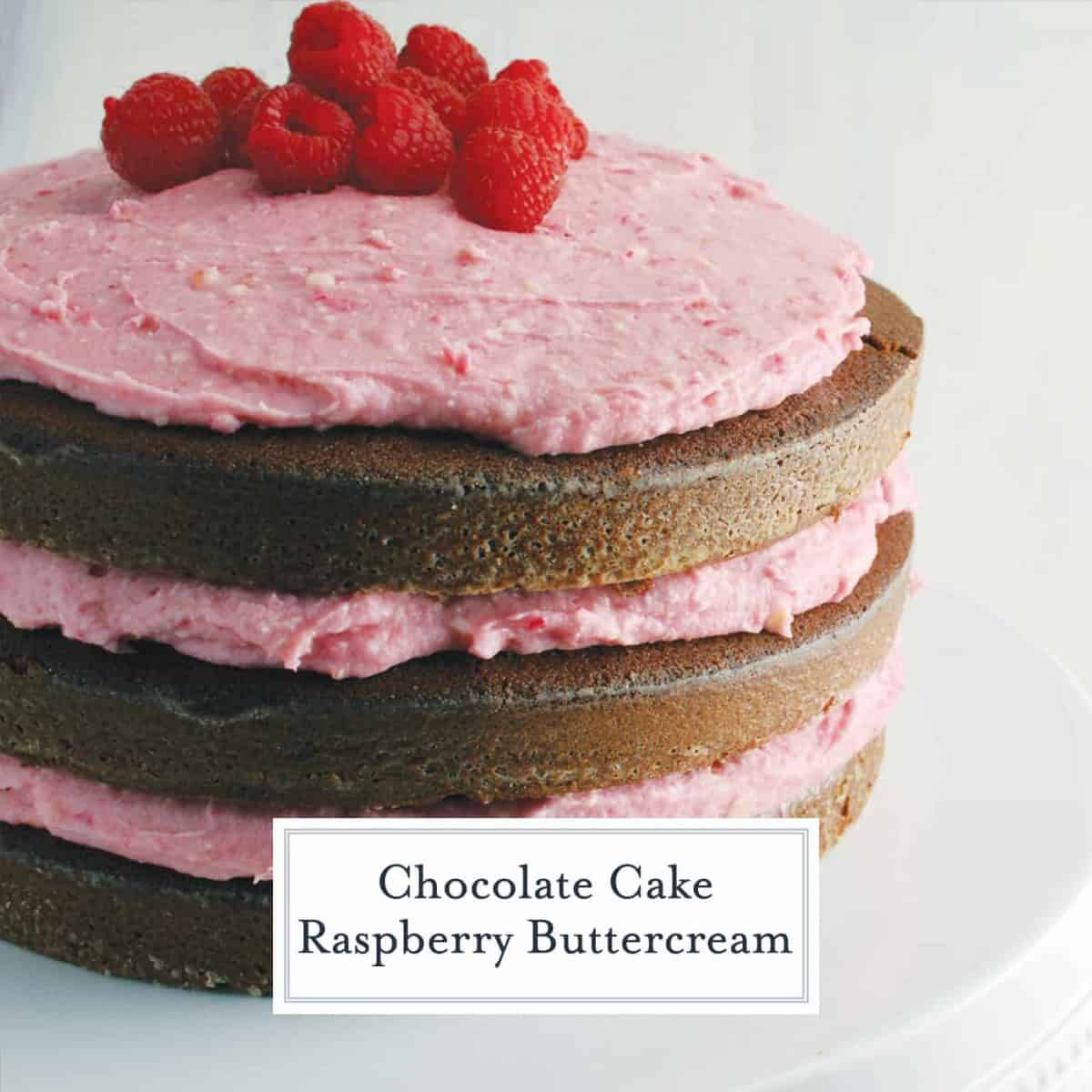 It is the honest truth and with that said, I have also learned how to compensate for my lack of skill. Embellishments and frosting techniques can cover the lack of my skills in a snap.
Naked cakes are all the rage right now, so I created a three-layer Chocolate Cake with Raspberry Buttercream. Yum!
My Chocolate Cake with Raspberry Buttercream is referred to as a "naked cake." I am sure you have seen these around. Not only are they fun to look at, but they are so much easier than putting together a perfectly frosted masterpiece.
This is 100% considered one of those frosting techniques I mentioned earlier and gloriously, the naked cake movement takes all of the stress away from decorating and replaces it with ease.
Flour left on some of the cake when it comes out of the pan? Don't sweat it! It is only going to add character. Frosting squishing out? Not to worry!
This is all part of the fun and it's totally fine. Take a deep breath and move with a free hand.
This style of cake is all about highlighting the components of the cake. You can hold back and have the frosting not meet the edges of each cake. You can make more frosting and have it squish out the sides a bit.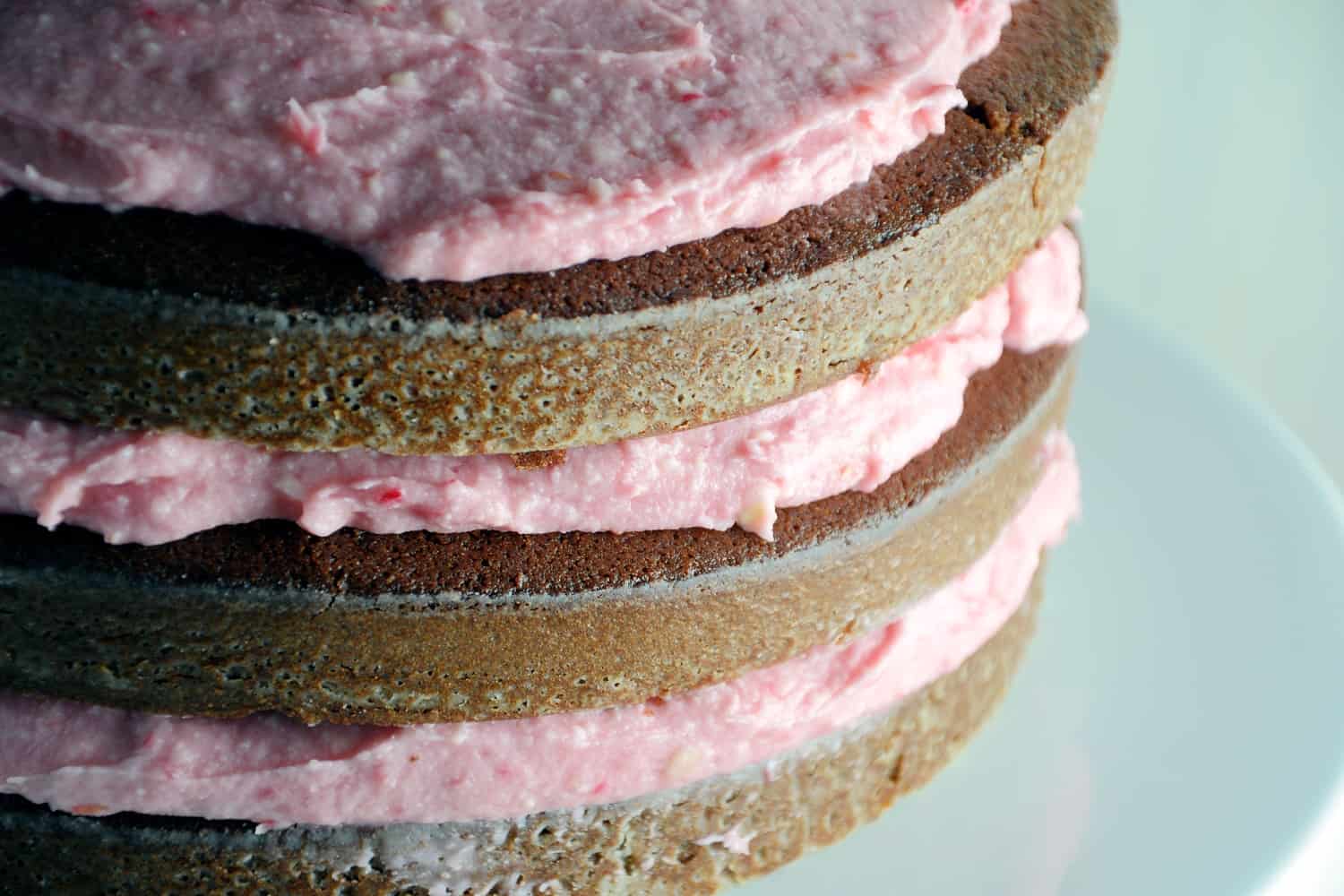 Take this technique and apply it to almost all layered cakes in your repertoire. I swear it will give you a whole new appreciation for things and could help up your anxiety in the kitchen.
The recipe for Chocolate Cake with Raspberry Buttercream took me three tries to get right. I was struggling with the first two steps of the recipes. I wanted more of a rich chocolate flavor but without it being dense.
Plus, a delicate and tender crumb would lend itself a bit better to the light, bright and floral flavor of the raspberry. Basically, I need the perfect combo. Not too sweet, not too totally chocolaty with rich, velvety buttercream.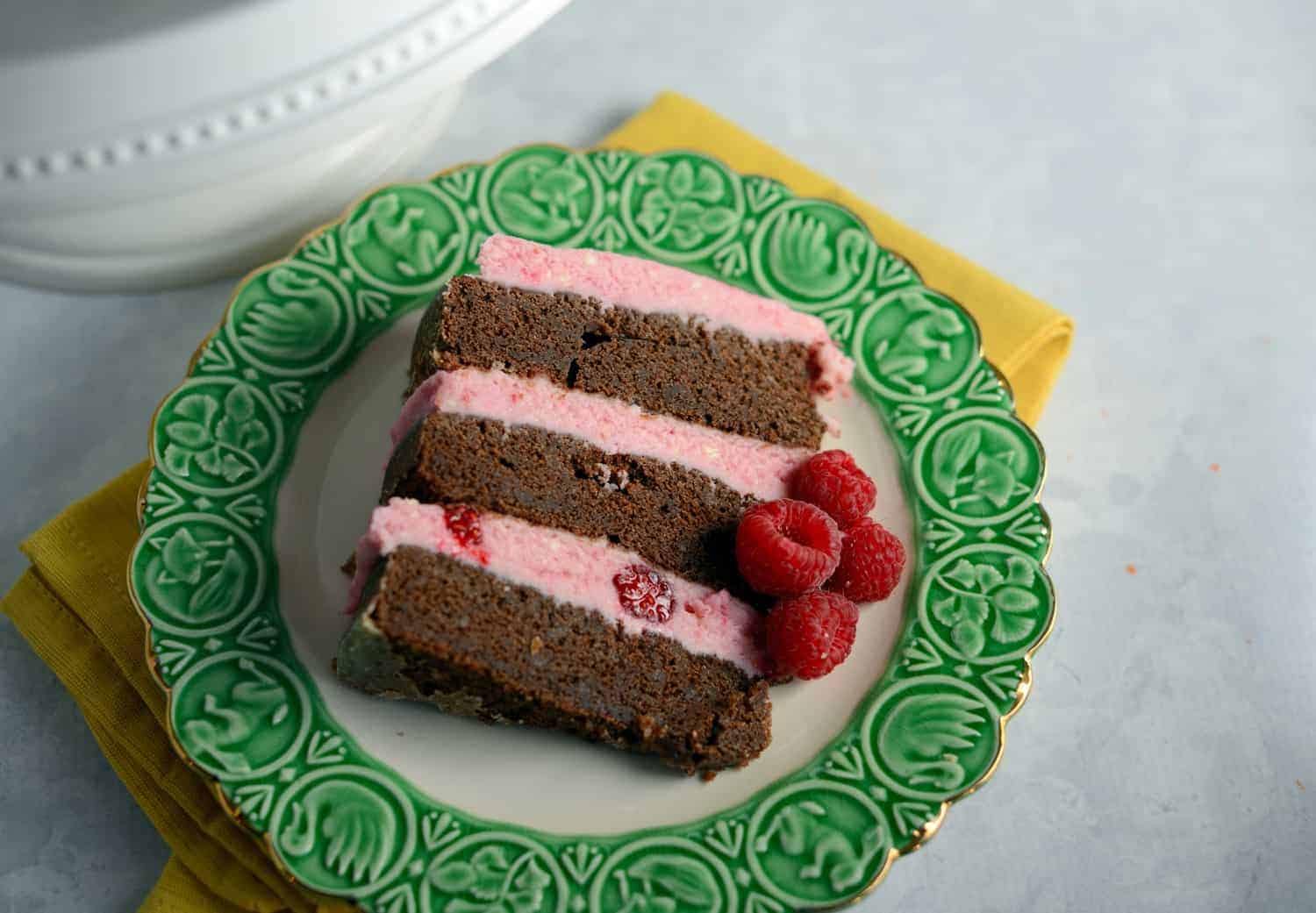 This cake is perfect for birthdays, parties, and even on Valentine's day with its gorgeous pop of pink color. Plus the buttercream layers are absolutely addictive.
If you are feeling sassy, throw some more raspberries in each layer of frosting. It certainly can't hurt!
Chocolate Cake with Raspberry Buttercream is simple, yet sophisticated and beautiful. I hope you enjoy!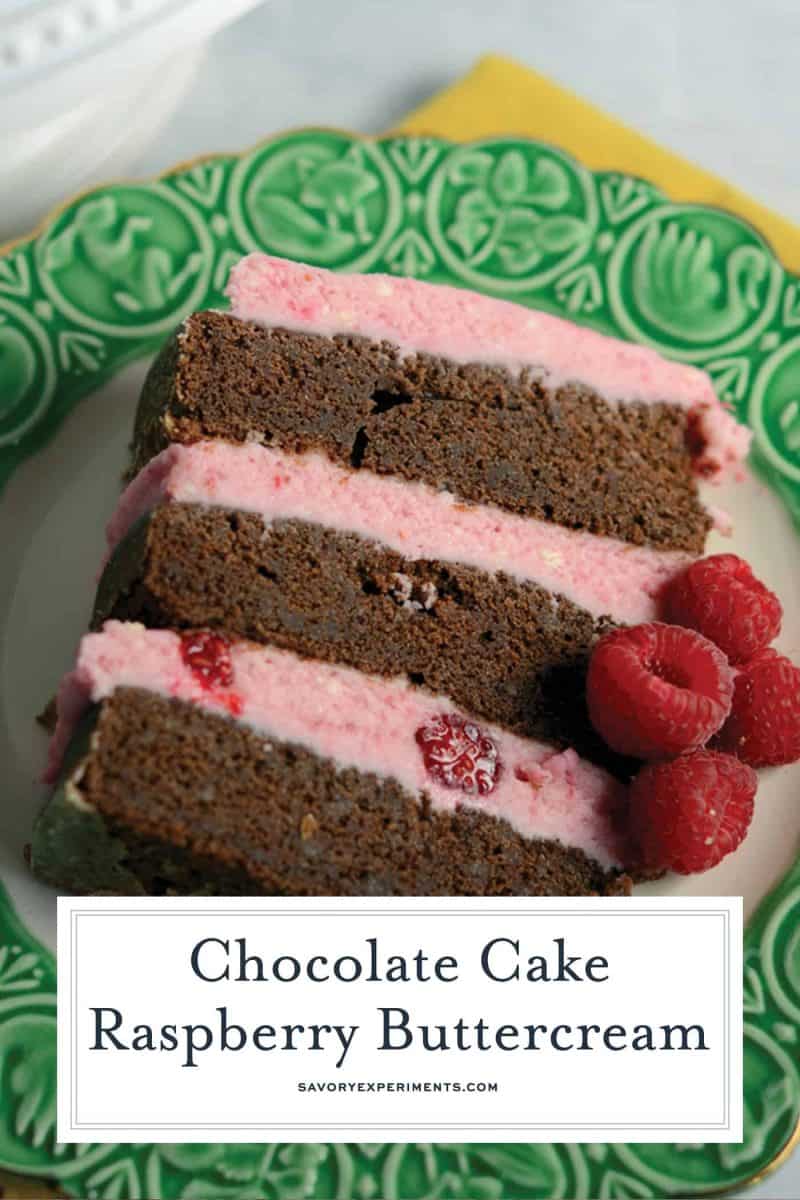 If you like this chocolate cake recipe, you will also love these: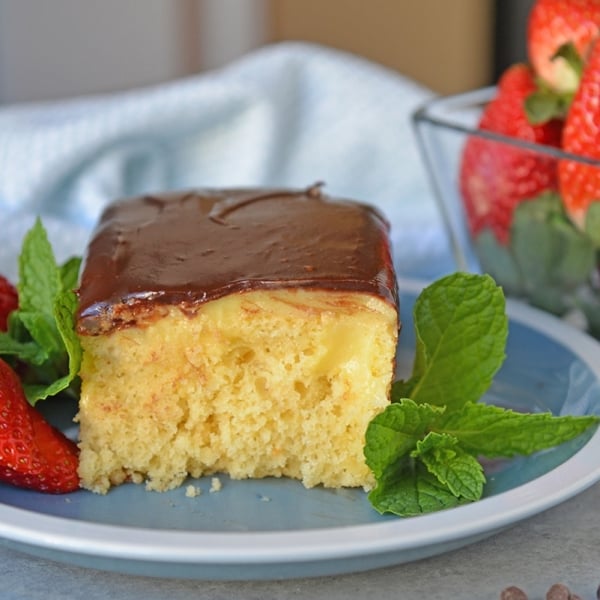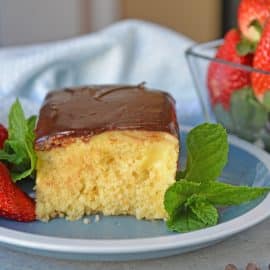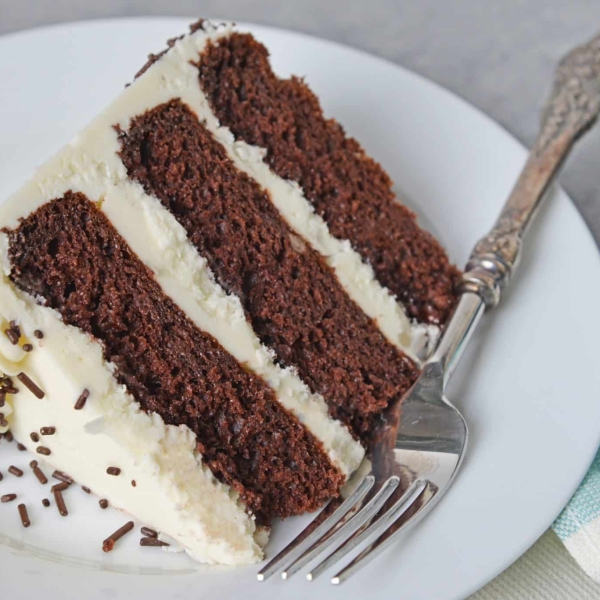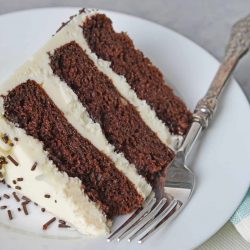 Matterhorn Cake
The Matterhorn Cake from Sweet Surrender is a chocolate layer cake using almond and vanilla with a rich cream cheese buttercream frosting.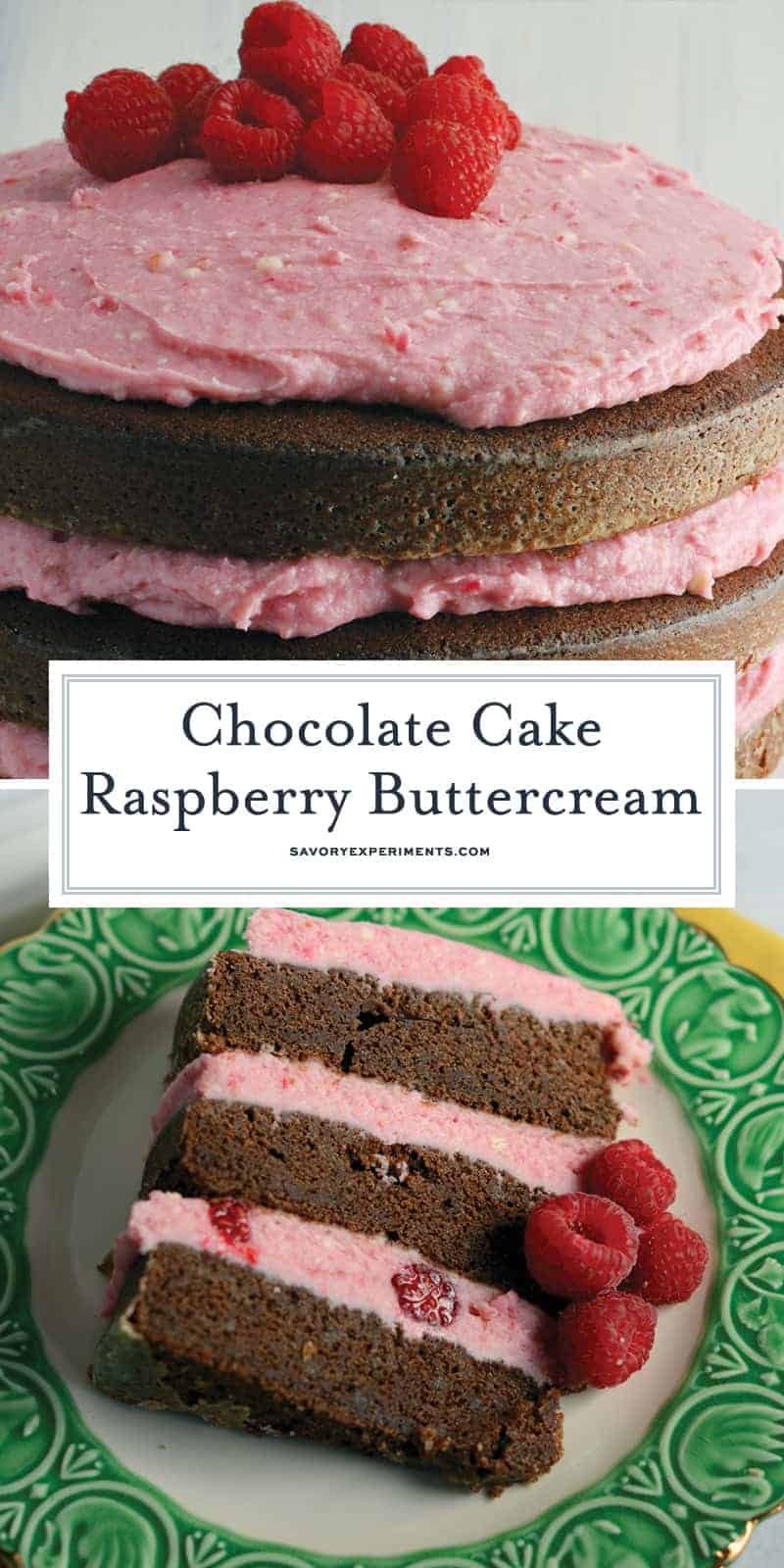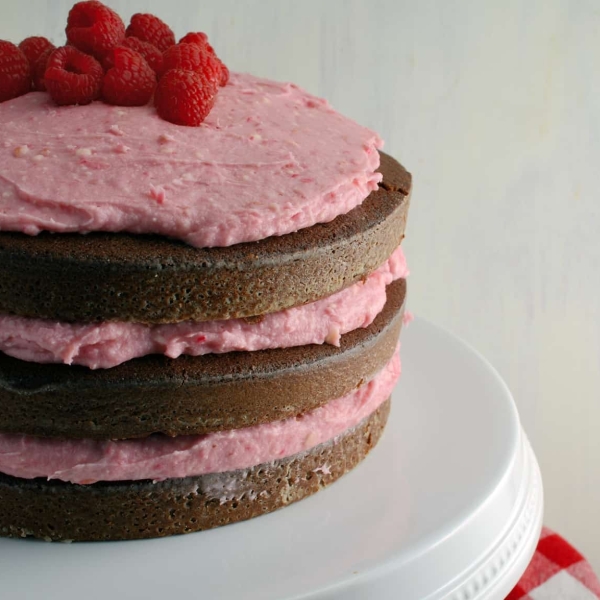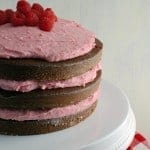 Chocolate Cake with Raspberry Buttercream
Naked cakes are all the rage right now, so I created a three layer Chocolate Cake with Raspberry Buttercream. Yum!
Ingredients
Raspberry Buttercream Frosting:
Instructions
Preheat oven to 350 degrees. Line the bottom of 3 9-inch circular cake pans with parchment paper. Lightly coat with cooking spray and flour, tapping out all excess.

In a large mixing bowl or in the bowl of a stand mixer, cream together butter and sugar.

Add eggs, one at a time, until fully incorporated.

Sift together cake flour, cocoa powder, baking powder, baking soda and salt, set aside.

Add vanilla and then alternate adding dry mixture with heavy cream until fully combined.

Evenly pour into cake pans. Bake for 25-30 minutes, or until the cakes pass the toothpick test.

Allow to cool for 15 minutes before turning out onto cooling racks to fully cool.

Make buttercream frosting and add 1 pint fresh raspberries, blending until the frosting tints pink and raspberries are broken up. This will change the consistency, so you will need to add powdered sugar until it reaches a spreadable consistency. This will vary greatly depending on the moisture in your berries.

Place the first layer of cake on a serving stand. Slather 1/2-1 inch of frosting onto the cake with a few fresh raspberries, place another layer of cake and repeat until all layers have been frosted, including the top layer. Finish with a pile of fresh raspberries on top.

If you've tried this recipe, come back and let us know how it was!
Nutrition
Calories:
564
kcal
,
Carbohydrates:
63
g
,
Protein:
7
g
,
Fat:
33
g
,
Saturated Fat:
20
g
,
Cholesterol:
156
mg
,
Sodium:
182
mg
,
Potassium:
230
mg
,
Fiber:
2
g
,
Sugar:
42
g
,
Vitamin A:
1100
IU
,
Vitamin C:
0.1
mg
,
Calcium:
64
mg
,
Iron:
1.6
mg