These Sugar Cookie Cups will spice up your dessert life! You'll never have to choose between cookies and ice cream again! They can be filled with many things – ice cream, frosting, candy bits and more!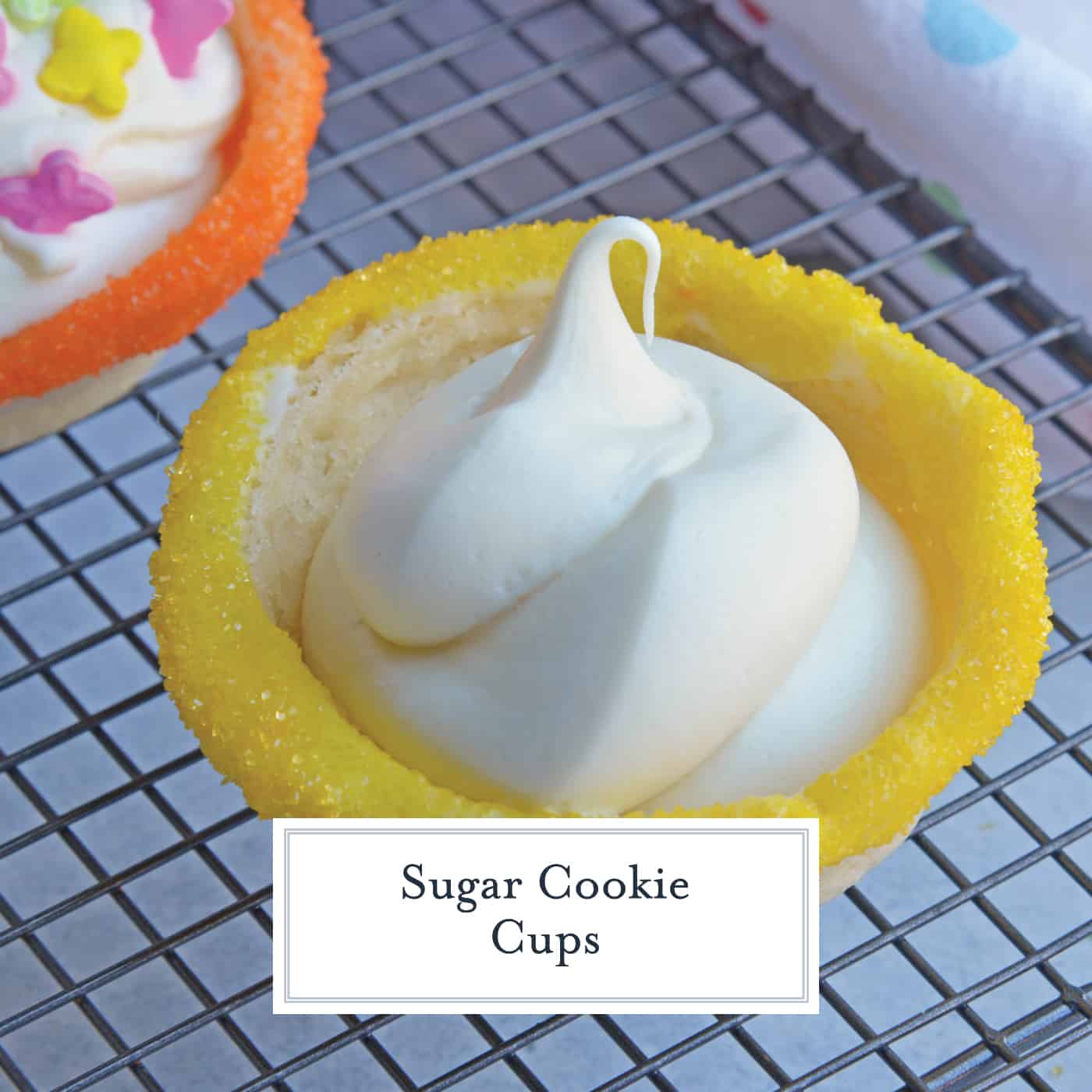 This Sugar Cookie Cups recipe puts a spin on your typical ice cream cone. Why choose between cookies or ice cream when you can have both! This recipe shows you how to make sugar cookie cups the easy way!
We regularly put cookies into ice cream and use waffle cones as a dish, so why not make the cookie into the bowl?
I originally saw someone attempting to do a chocolate chip cookie cup on Pinterest, however my initial attempts failed (with dough melted all over my oven). So I moved on to my next best idea.
I was able to succeed with sugar cookie dough, which if well mixed, will hold its shape fairly well during baking. Therefore making it the ideal cookie dough to use for this!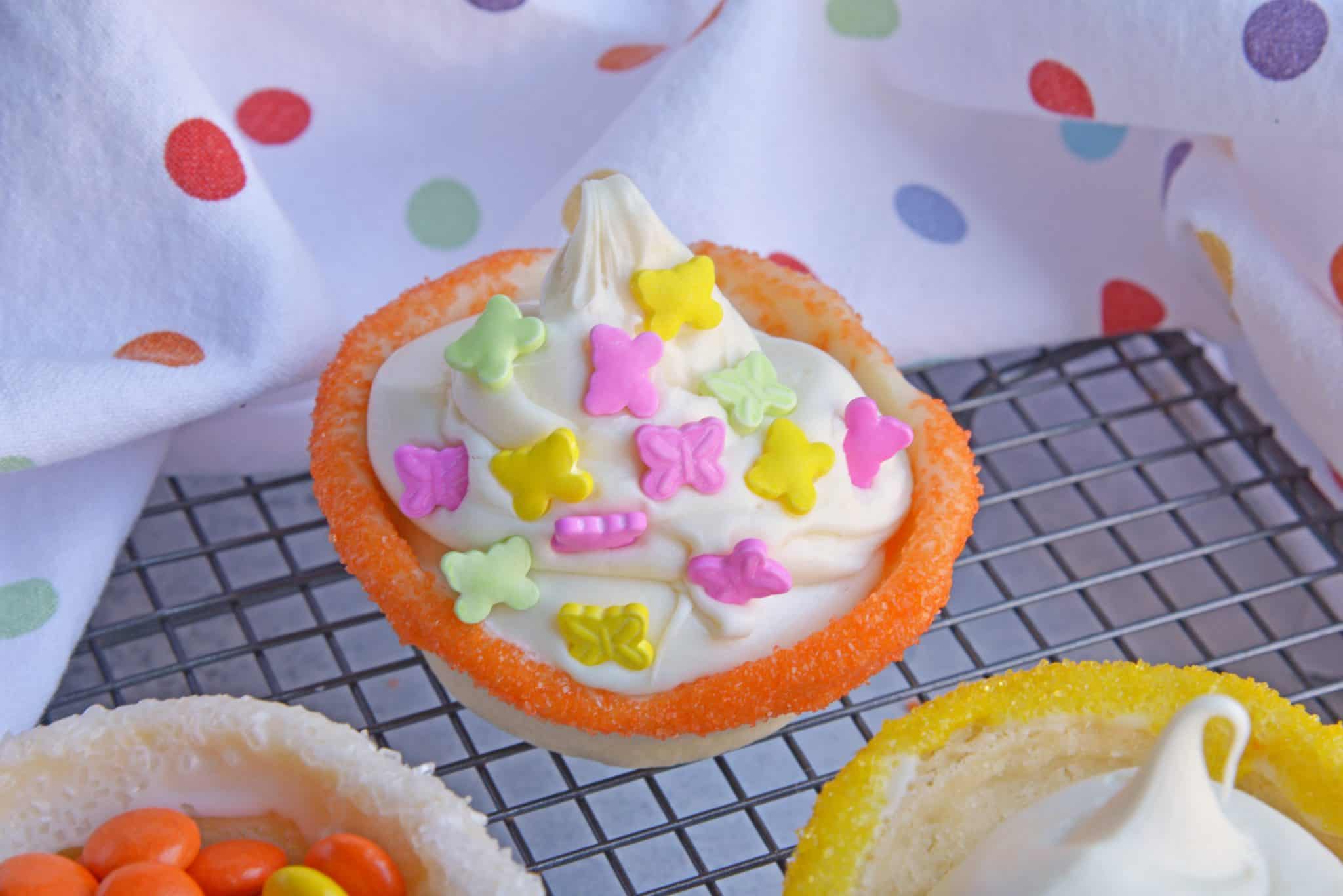 Why an inverted muffin pan you ask? Because the thickness of the dough takes away from space in the cup- you do want more ice cream, don't ya?
Here I pictured two varieties, glazed and un-glazed. The glazed tends to work better because it creates a barrier from the cookie to ice cream allowing the cookie to maintain its consistency and not get soggy.
You can decorate the outside however just as you would a regular sugar cookie before baking. Another bonus to this recipe, this sugar cookie dough doesn't require chilling!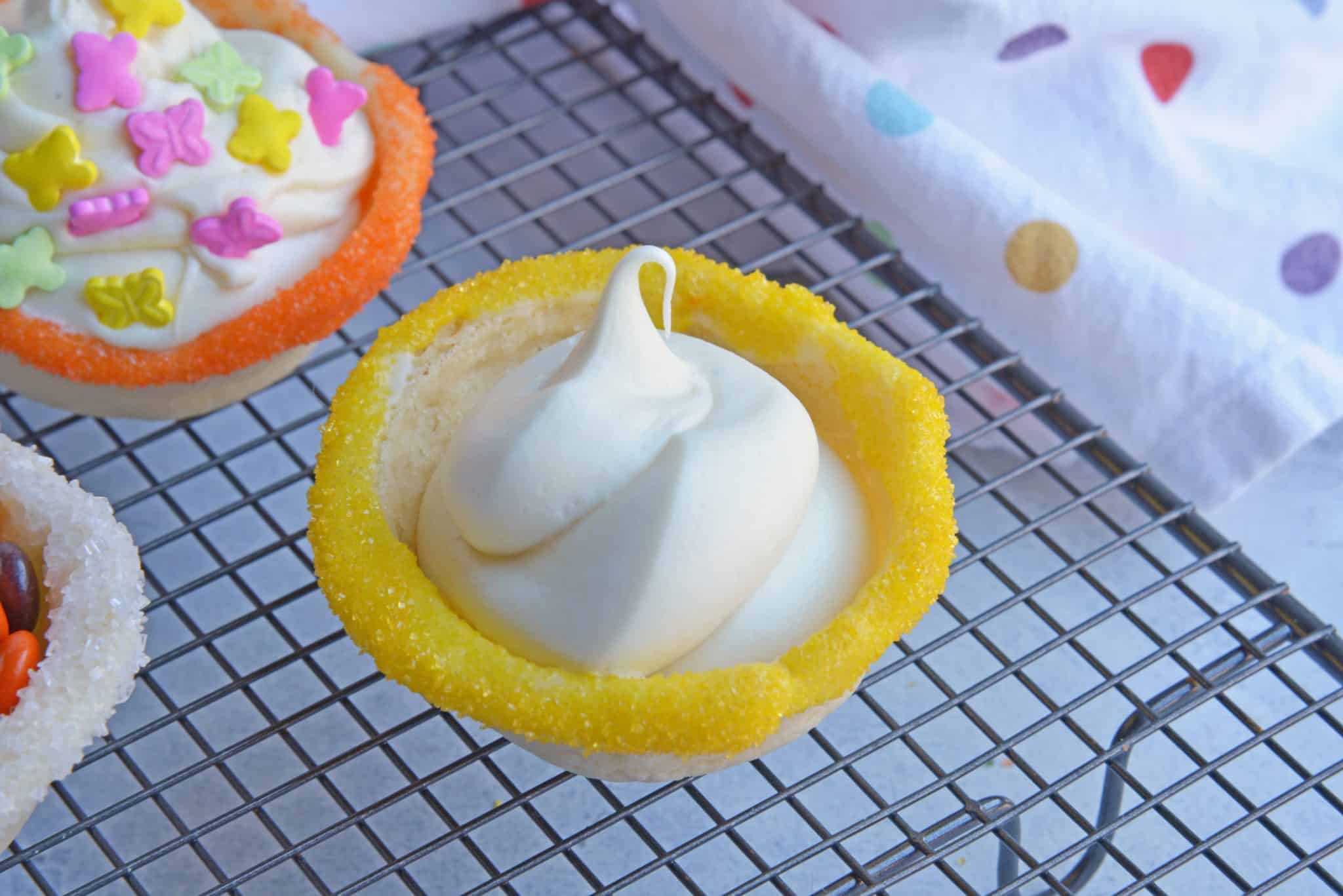 Sugar cookie cups are great for those days where ice cream on its own just isn't enough. They don't even take long to make which means you won't be slaving around the kitchen all day.
As well as they're utterly delicious! Just scoop your favorite ice cream right into the center of the cup and top it with whatever your heart desires. You'll be thanking me later trust me.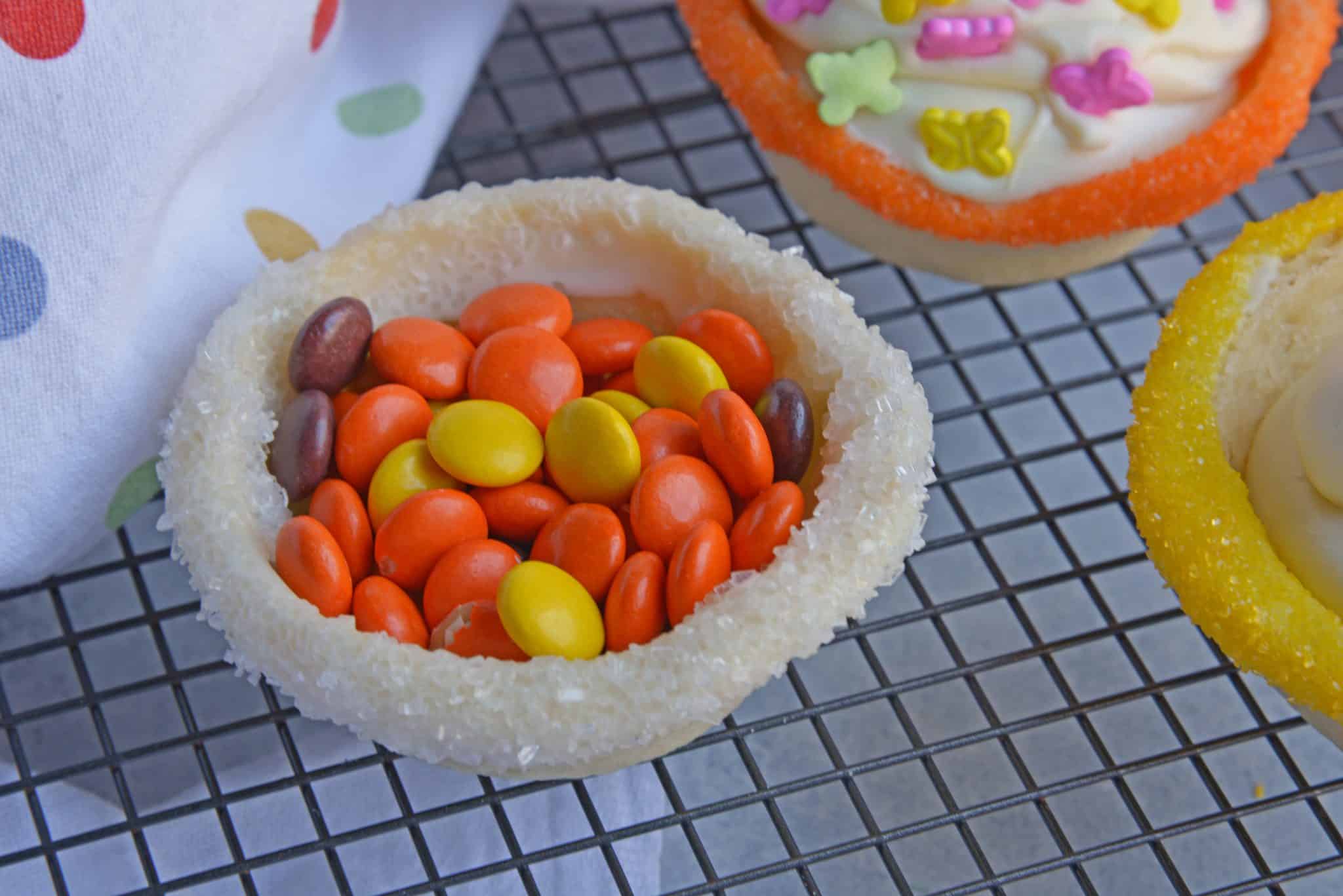 If you loved these Sugar Cookie Cups, you'll enjoy these other easy dessert recipes:
Tools for making Sugar Cookie Cups:
Muffin Tins – most recipes call for 24 muffins or cupcakes, so having two saves oodles of time not messing with baking two batches of everything.
Stand Mixer– I lived for years without one and I can tell you with 100% confidence that life with one is easier and it is worth the investment.
Rolling Mat– For rolling out any dough or cookies or just protecting your counters and work space!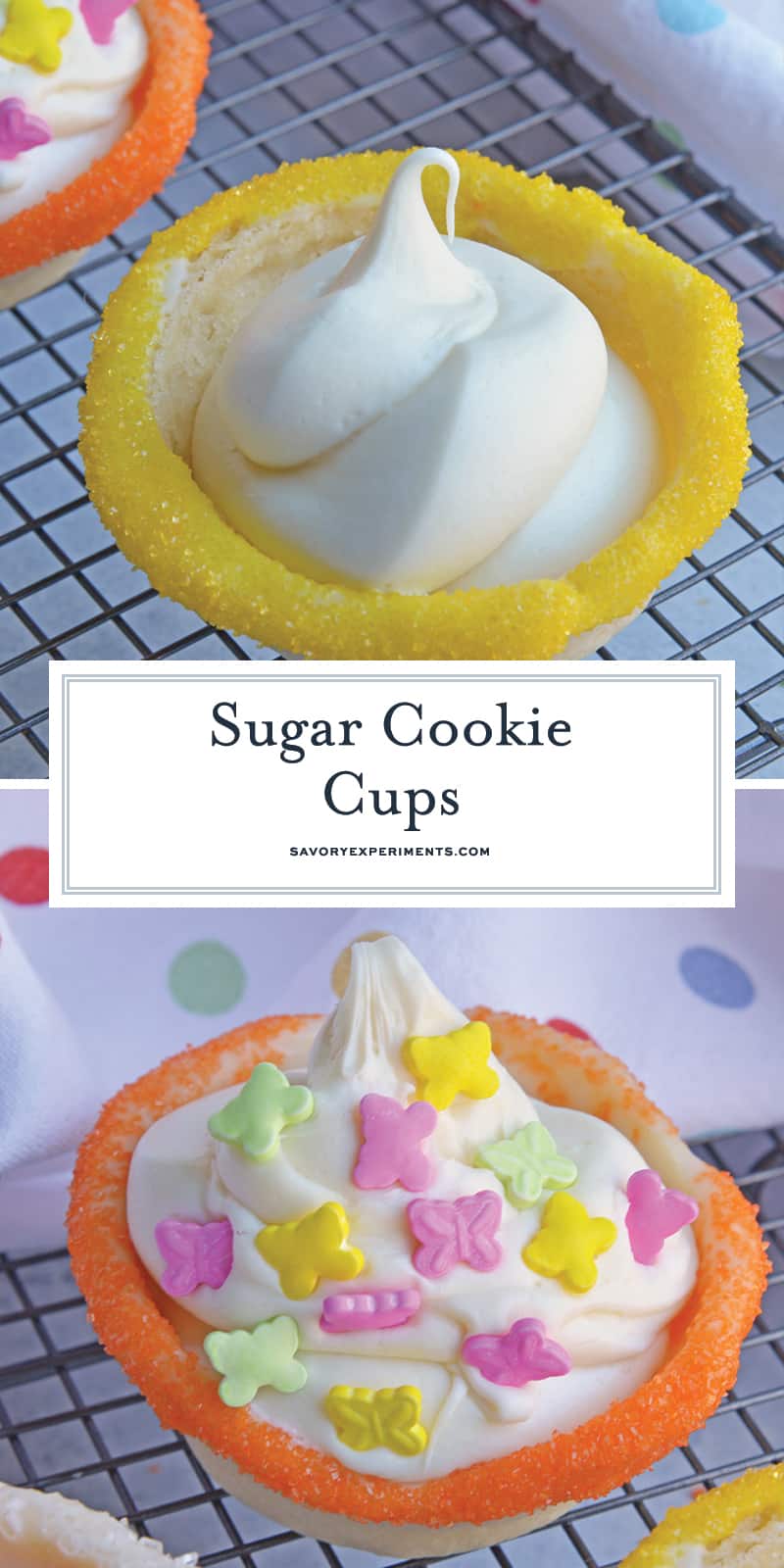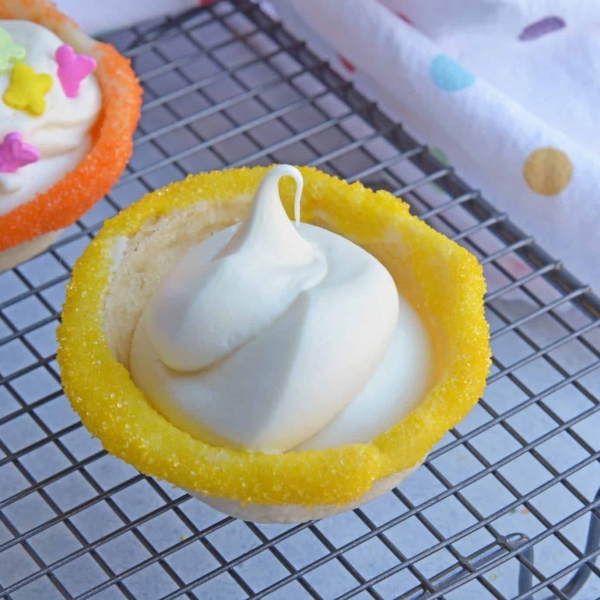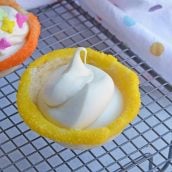 Sugar Cookie Cup Recipe
This Sugar Cookie Cups recipe puts a spin on your typical ice cream cone. Why choose between cookies or ice cream when you can have both!
Instructions
Preheat oven to 325 degrees.

Combine butter, sugar, eggs and vanilla in a large mixing bowl or stand mixer.

In a separate bowl, whisk together flour and salt.

Combine wet and dry ingredients, mixing until combined.

Roll doll on a lightly floured surface to 1/4 inch thickness. Using a 3-inch round cookie cutter, cut dough.

Flip a muffin tin upside down and place sugar cookie circles on each inverted well, molding around each.

Bake for 10 minutes or until edges are lightly browned. Remove and allow to cool for 5 minutes before gently popping off.

Allow cups to cool completely.

If using the glaze, Combine all glaze ingredients in a small bowl, adding water until a smooth consistency. Dip each sugar cookie cup rim into the glaze and then decorate with desired sprinkles and embellishments.
Nutrition
Calories:
181
kcal
,
Carbohydrates:
28
g
,
Protein:
1
g
,
Fat:
6
g
,
Saturated Fat:
4
g
,
Cholesterol:
23
mg
,
Sodium:
87
mg
,
Potassium:
19
mg
,
Sugar:
19
g
,
Vitamin A:
215
IU
,
Calcium:
6
mg
,
Iron:
0.6
mg