As soon as the holidays begin to approach, I am ready to start baking cookies and this is one of the first recipes I reach for. They remind me of my mother's Iced Oatmeal Cookies that we'd bake together when I was a little girl, but with the addition of maple.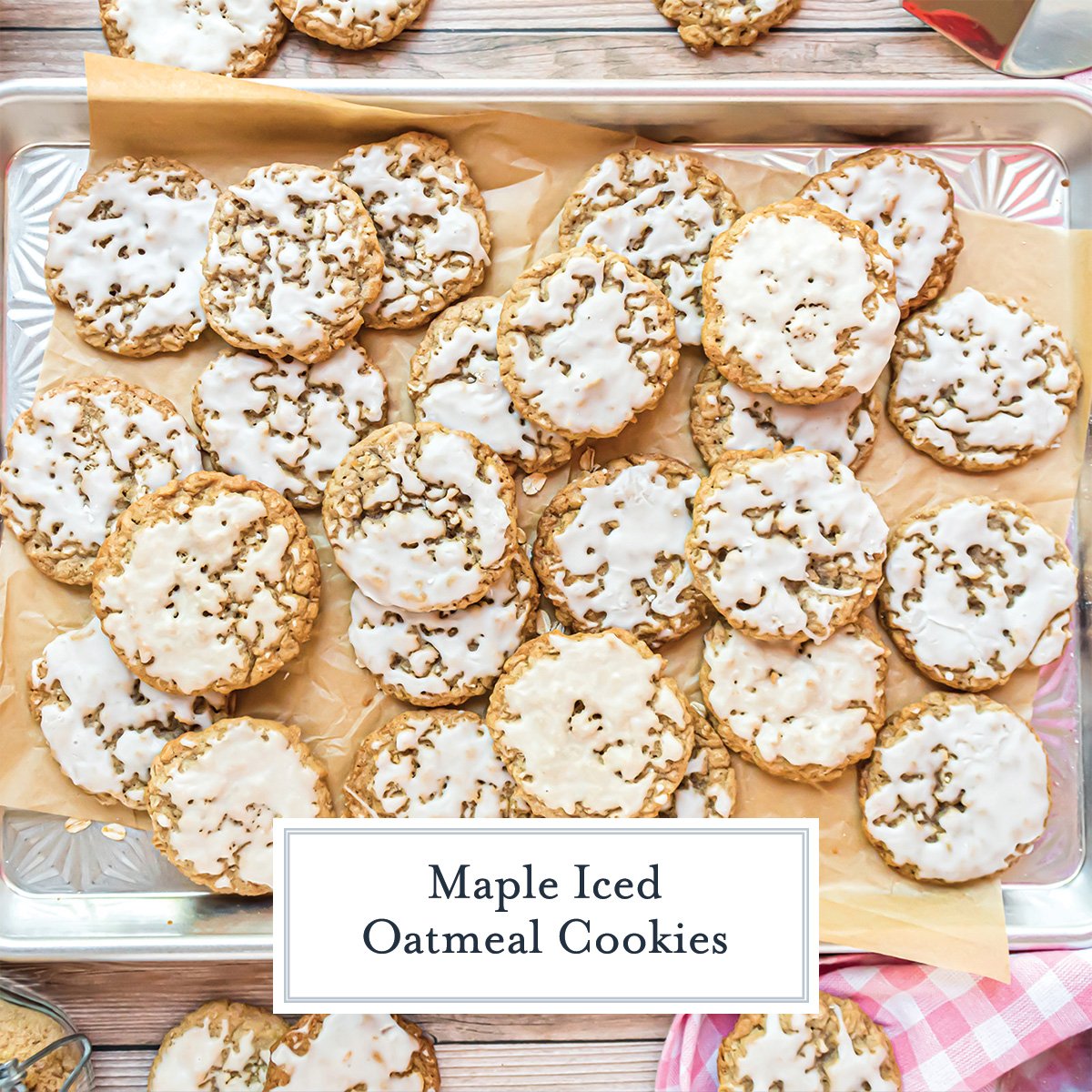 Made with old fashioned oats, these chewy cookies have the perfect texture. I love the way the maple icing slightly crinkles and cracks when you bite into it, and the cookie itself is super moist.
Soft & Chewy Oatmeal Cookies
These cookies also hold up well to dunking in coffee or milk and you can even use them to make ice cream sandwiches if you freeze them for a few minutes beforehand. Of course, you could also just scoop ice cream on top.
Of course, you don't have to wait until the holidays to make these either. There's no specific time of year for these and they're amazing year-round — and you can feel a little healthy sneaking those oats into your sweets.
Next time you're looking for cookie recipes for a cookie swap, party, or to give as a gift, try out these pretty iced oatmeal cookies.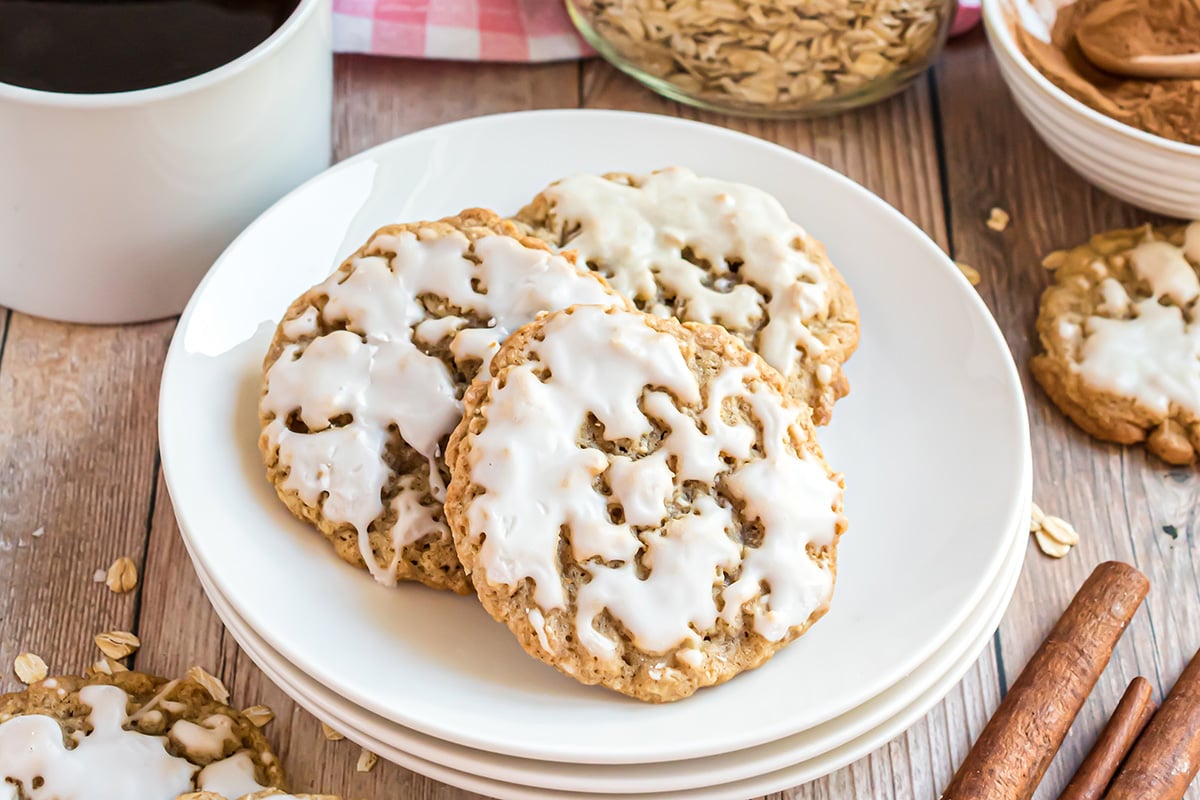 Why Our Cookies Rock
A chewy cookie topped with a thick icing that's perfect for any occasion- these old fashioned iced oatmeal cookies are the best!
Perfect for any occasion – These pretty cookies are ideal for any type of year and work as well at a cookout as they do at a birthday party for little ones.
Convenient – The best thing about this recipe is that most of the ingredients are likely already in your kitchen so you can whip these up anytime.
Customizable – There are a bunch of variations that you can try, or you can come up with your own creative substitutions or additions.
Sentimental – These are the kinds of cookies that make so many people think of the holiday season and baking cookies with Mom.
Pretty – The m aple icing on these cookies makes them feel fancy and you can either dip them or drizzle it over top.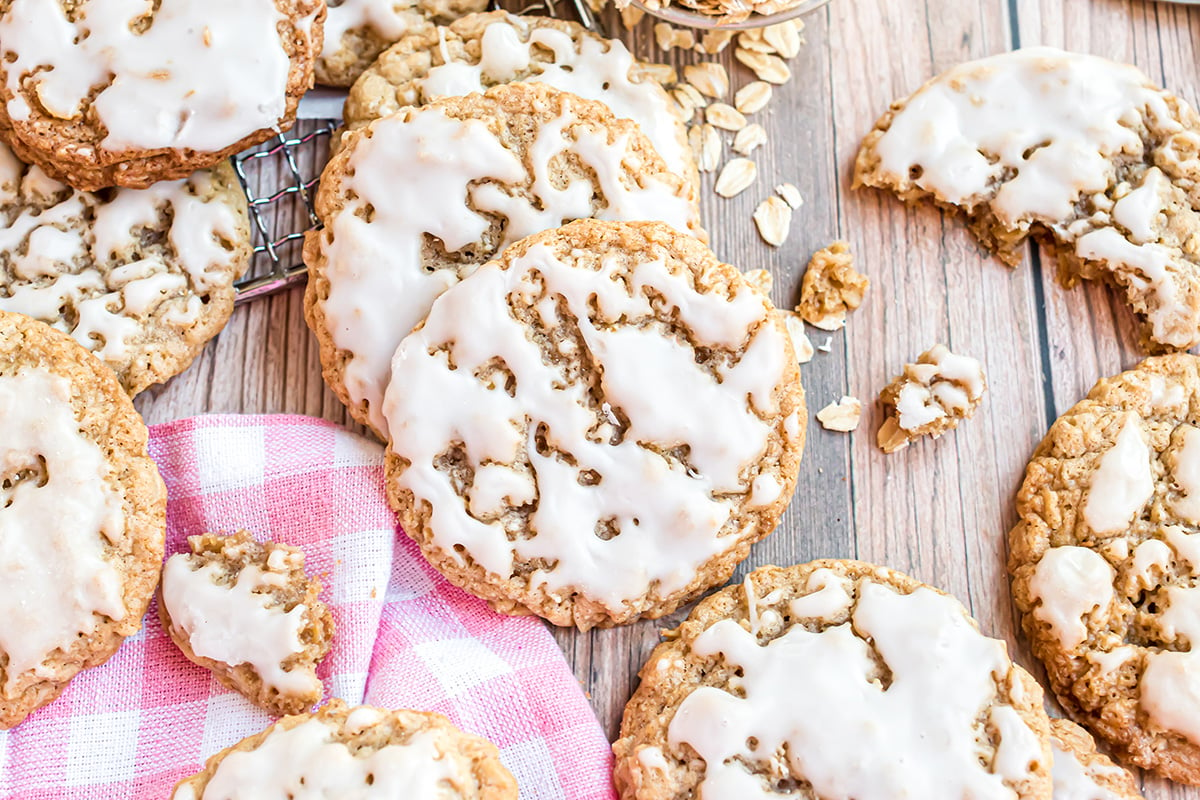 What Do I Need to Make Oatmeal Cookies?
The ingredient list looks lengthy, but these are pretty standard kitchen staples. Don't feel intimidated.
Old-fashioned rolled oats – Using old-fashioned oats results in a moist oatmeal cookie. Avoid using quick oats or instant oats which can cause the cookies to turn out dry and crumbly — they won't have the chewy texture you're looking for.
All-purpose flour – Be sure to use all purpose and not self-rising. They are not interchangeable.
Baking soda – This ingredient helps the cookies to rise while cooking.
Kosher salt – I prefer to use Kosher salt but you can substitute another variety if you prefer. Avoid omitting since it helps to elevate the flavor of the other ingredients.
Cinnamon – This helps to round out all of the flavors in this cookie and is always a good pairing with oats.
Unsalted butter – Soften the butter to room temperature either by leaving it on the counter prior to baking, or microwaving at intervals. Melted butter (though not hot) will work as well.
Light brown sugar – Be sure to pack the brown sugar when you put it in the measuring cup to ensure that you have the right amount.
Granulated sugar – The granules of this sugar are the perfect size to easily dissolve when mixed with the other ingredients.
Eggs – Using room temperature eggs helps to make it easier to mix the dough. Leave them on the counter prior to baking.
Vanilla extract – You may already have vanilla in your cabinet or you can grab it from the grocery store, but if not you can make vanilla extract easily.
Powdered sugar – Sift the powdered sugar into a bowl ahead of time so that it mixes easily without clumping. Using confectioner's sugar helps to make this icing smooth.
Milk – Full fat milk is ideal for this but you can use lower fat milk if needed.
Maple Syrup– We highly suggest using a grade B maple syrup. It is the first press and thus has the most robust flavor. Vanilla extract or maple extract can also be used.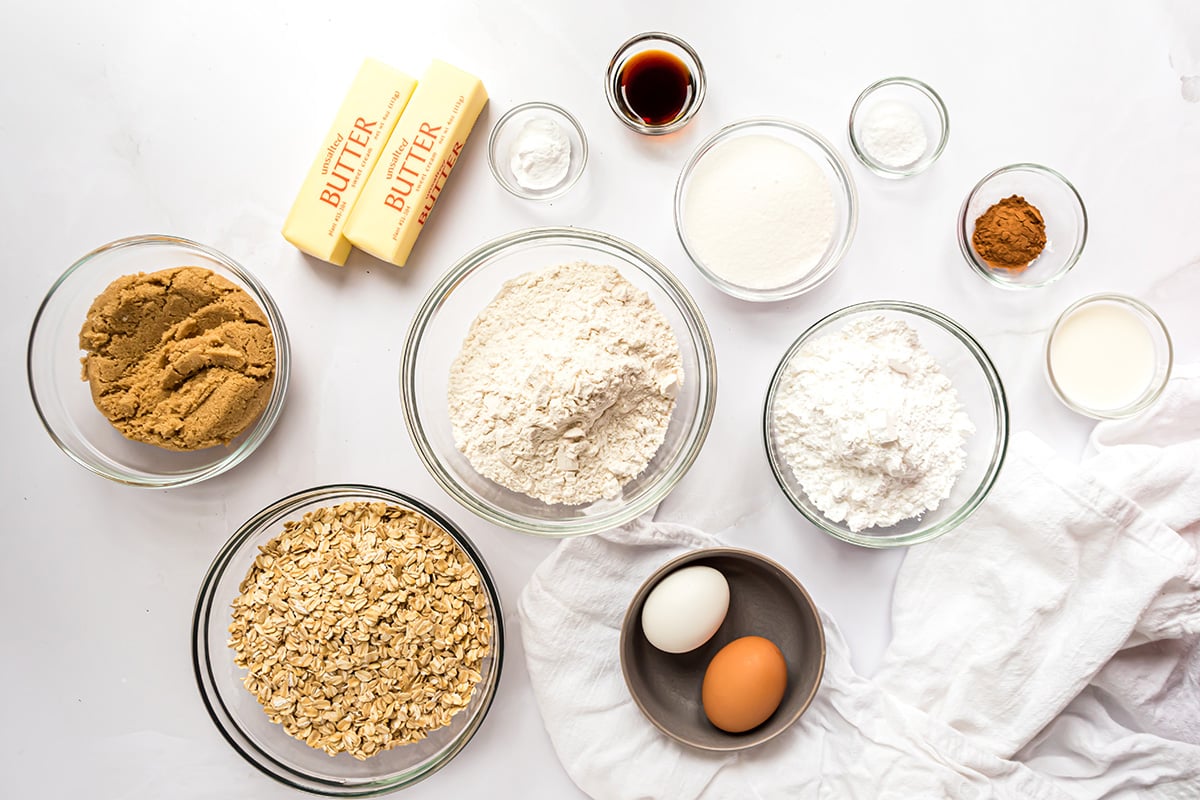 How to Make Iced Oatmeal Cookies
Making them is easy! Use our step-by-step guide and enjoy.
Dry ingredients. Add the oats, flour, baking soda, salt, and cinnamon to a medium mixing bowl. Combine them evenly, then set aside.
Cream butter and sugars. In a large bowl of a stand mixer fitted with a paddle attachment (or using a hand mixer), mix together the butter, brown sugar, and granulated sugar on medium speed until they are completely combined.
Add eggs and vanilla. Add the eggs and vanilla extract and beat on high until fully incorporated.
Combine dry and wet ingredients. Slowly add the dry ingredients while mixing on low speed. Fully combine the ingredients, but be careful to avoid overmixing which could cause the cookies to be hard.
Chill dough. Wrap the dough in plastic wrap or store it in an airtight container. Chill in the refrigerator to allow flavors to combine and the oats to absorb moisture.
Scoop dough. Using a spoon, cookie scoop, or melon-baller, scoop the dough, then form small balls and place on the prepared baking sheet lined with parchment paper.

Bake and cool. Bake the cookies until they have lightly browned, crisp edges. After baking, allow them to remain on the baking sheet briefly. Then, move the cookies to a wire rack to fully cool.
Make icing. Pour the powdered sugar into a small bowl or pie plate. Using a shallow bowl will make it easier to ice the cookies once the icing is made. Combine the maple syrup and milk until you reach the desired consistency.
Dip cookies. Once the cookies have reached room temperature, dip the tops into the icing (or drizzle the icing over top). Be sure to allow cookies to cool completely before dipping.
Allow icing to set. Return iced cookies to the wire rack. Allow the icing to set before serving. Store between sheets of parchment paper.

Variations
There are a few ways to make these old-fashioned oatmeal cookies special and your own.
Dried fruit – Try mixing raisins, craisins,, or other dried fruit into the dough before baking.
Chocolate – Instead of the icing, try drizzling chocolate over the cookies.
Alternative flours – Experiment using oat flour or almond flour for a lower carb cookie or gluten free cookie.
Chips – Add peanut butter, butterscotch, or chocolate chips to the cookie dough before baking.
Food coloring – Choose a color that you love and add it to the icing for a colorful cookie.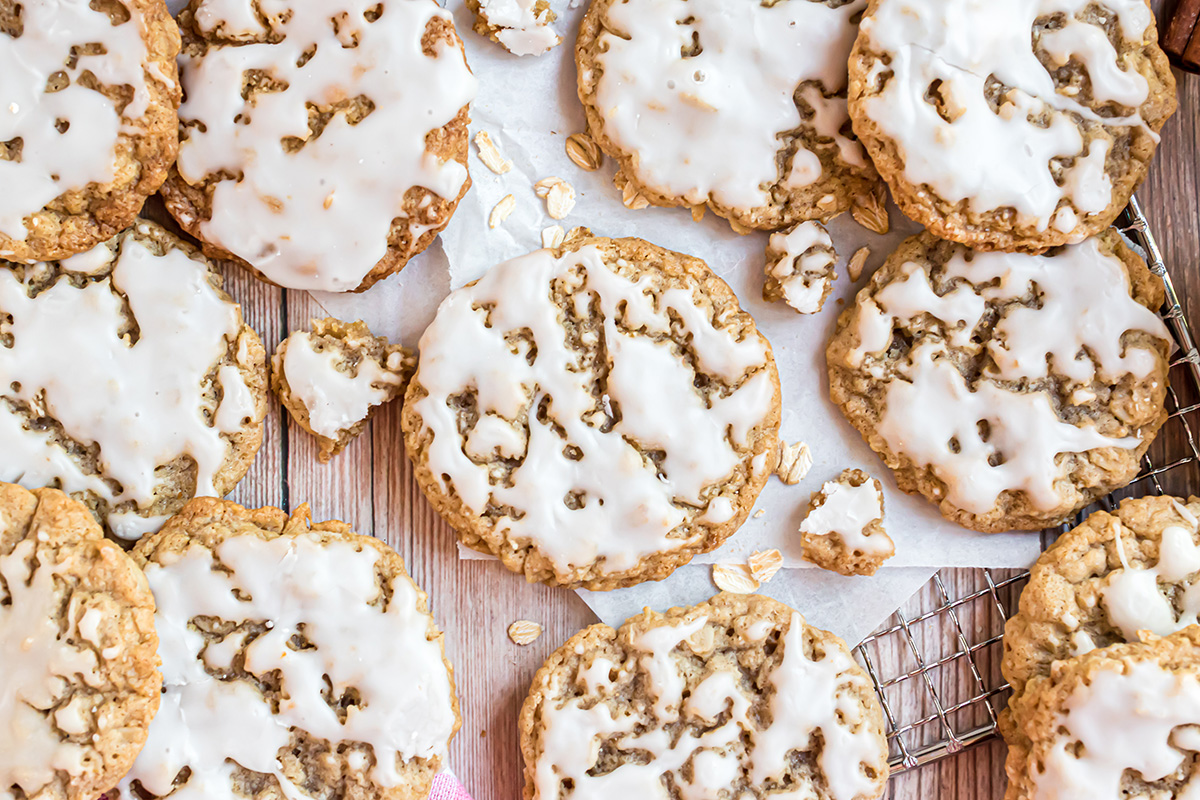 Storage & Freezing
How Do You Store Oatmeal Cookies?
Store cookies in an airtight container or your cookie jar. You can also wrap them tightly in plastic wrap. Store in the refrigerator for up to a week or in the freezer for 3-4 months.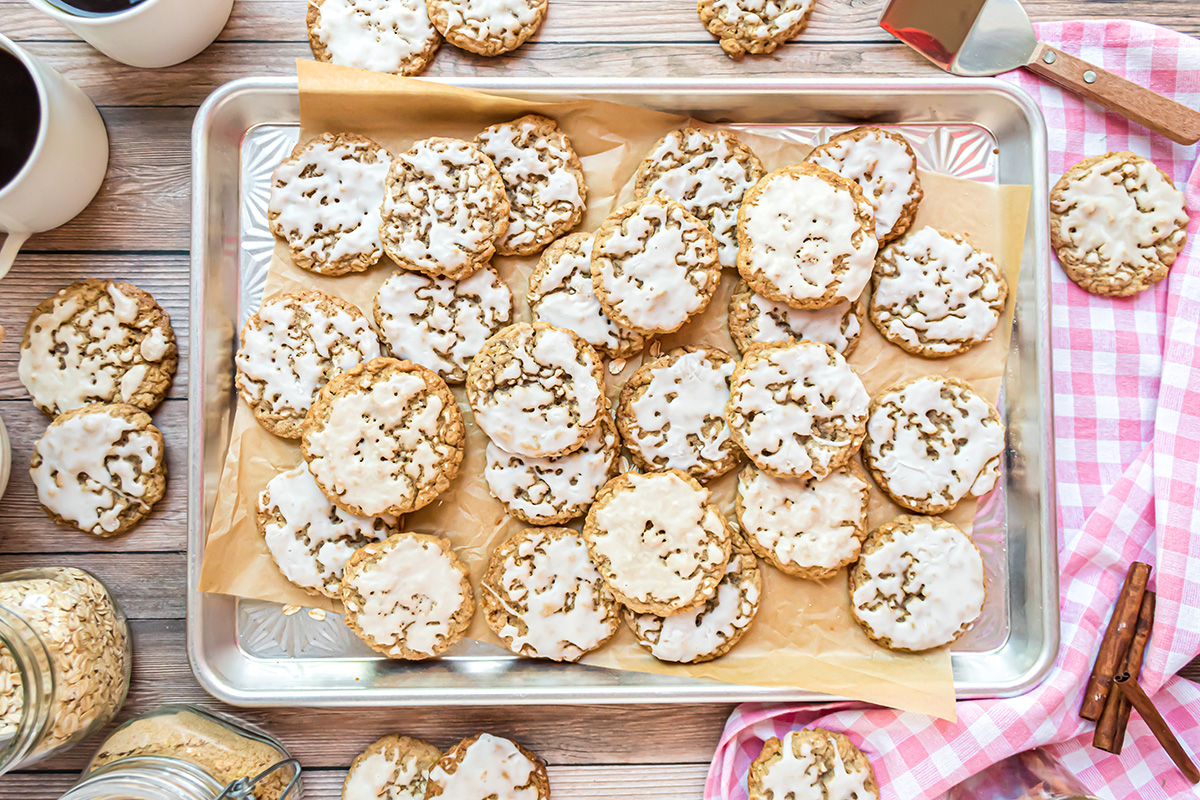 Can you Freeze Oatmeal Cookies?
If you want to freeze the unbaked cookie dough, form each dough ball and wrap them tightly, then place them in freezer bags.
You can also freeze individual cookies or a whole batch if you want to make them ahead of time. Place in an airtight plastic bag and release as much air as possible to avoid freezer burn. Freeze for up to 6 months.
To thaw cookies, whether it be a whole batch or individual, thaw at room temperature. Frozen cookies will inevitably lose some moisture, but microwaving them for just 10 seconds wrapped in a damp paper towel will soften the butter and bring a small amount back.