These Maple Iced Oatmeal Cookies are sure to be a crowd pleaser! This chewy oatmeal cookies recipe will change your perspective on the typical boring oatmeal cookies you're used to.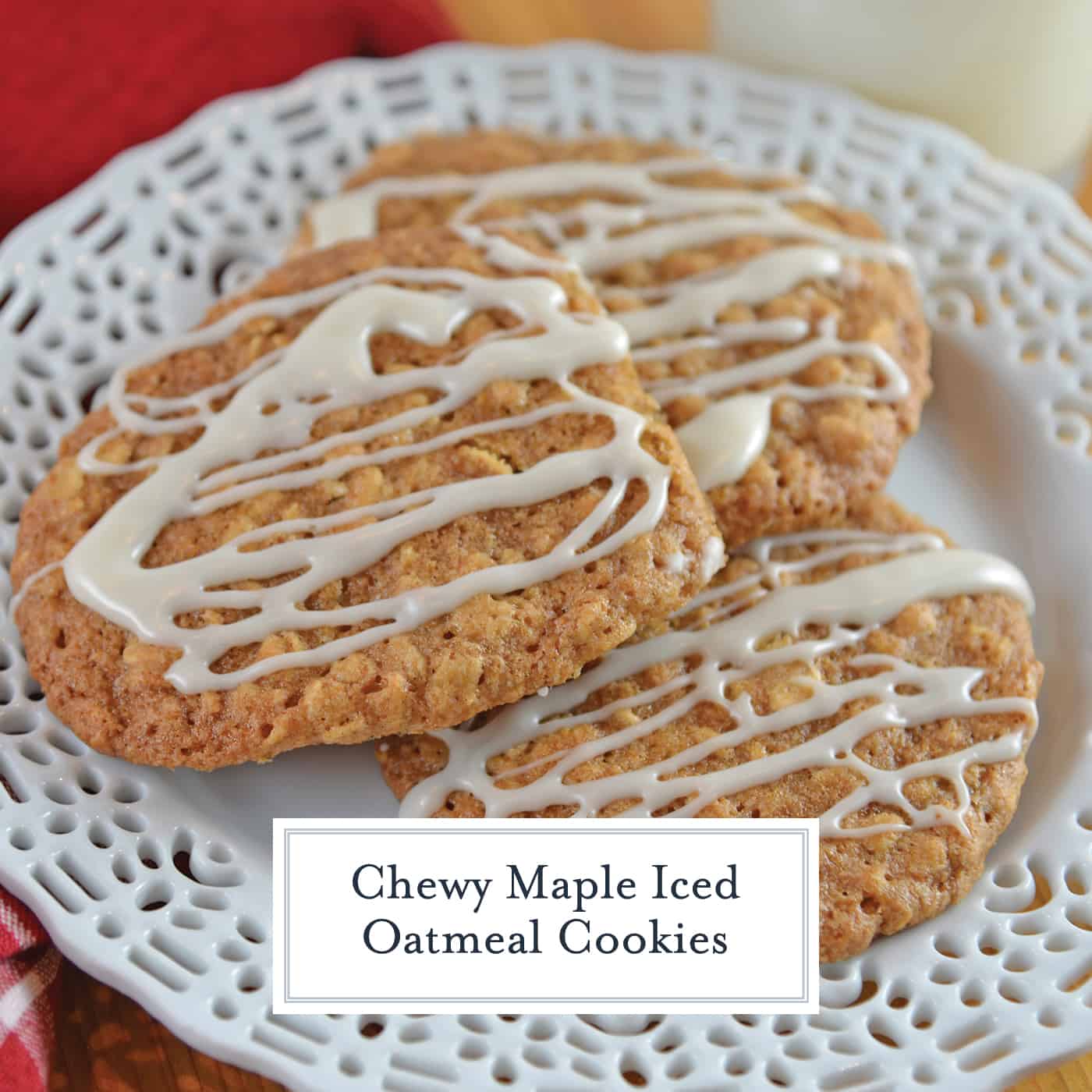 Maple Iced Oatmeal Cookies take your traditional oatmeal cookies and turn them up a notch by adding a delicious maple glaze. These iced oatmeal cookies are so easy to make and turn out perfectly soft and chewy every time!
Maple Iced Oatmeal Cookies are another request from a dear friend who wanted oatmeal cookies, but with some special requirements. An oatmeal cookie without raisins. No chocolate. Just oatmeal.
Well "just oatmeal" is pretty darn boring. And if we are being totally honest, I really dislike oatmeal!
I've tried overnight oats and instants oats and oats topped with so much sugar and fruit, they have clearly lost any nutritional value and I just don't like them.
About the only way I can stand oats is in cookie form. But even them, the texture and flavor is sometimes bland and dry. So now my cookies had even higher standards to live up to.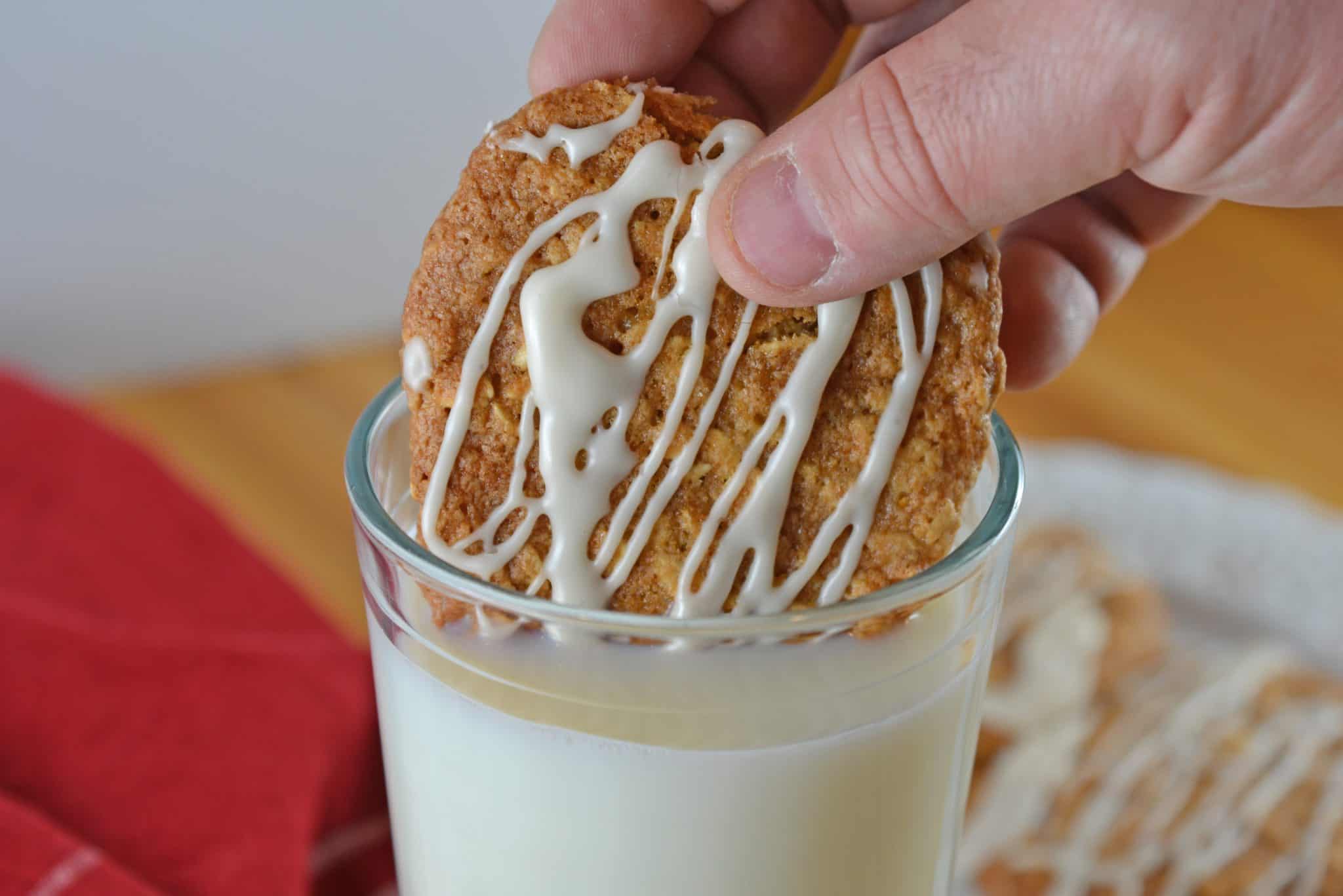 There is a reason why traditional oatmeal is sold or topped with sweet fruit flavors and loaded with brown sugar; because otherwise it tastes like cardboard.
In order to hide the ingredients needed to add taste and produce a yummy "plain oatmeal cookie" I used applesauce and maple syrup glaze. Applesauce adds natural sugar and lightens the texture from chewy to fluffy.
I stepped up a plain powdered sugar glaze using maple syrup instead of milk or water. But be careful here and make sure you are using real maple syrup!
So much of the stuff sold at the store isn't the real deal, just maple flavored sugar water. Real maple syrup might even be a little more watery than you would expect. But when you taste that real maple flavor, you'll be glad you spent the extra dollars.
I also like using my insulated baking sheet for Maple Oatmeal Cookies. Instead of just being a slab of metal, insulated allows air to circulate all around the cookie for more even baking. Once you go insulated, you'll never go back!
If you allow the icing to set fully, Maple Glazed Oatmeal Cookies can be easily stored in an airtight container for up to a week without sticking to each other.
Here are even more cookies!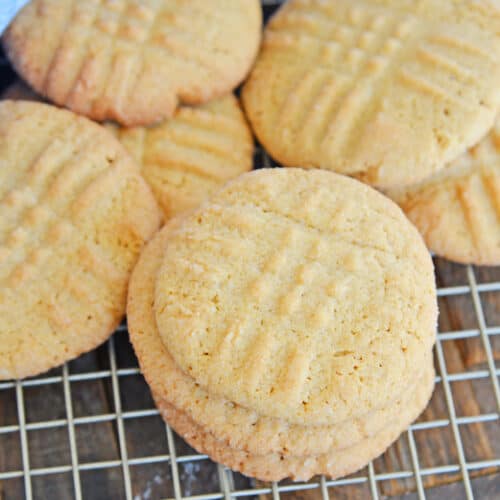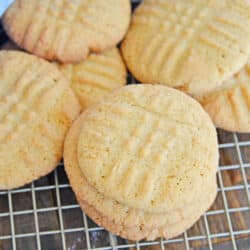 Soft Peanut Butter Cookies
Soft and chewy Peanut Butter Cookies made from scratch with a few pantry essentials.
View this recipe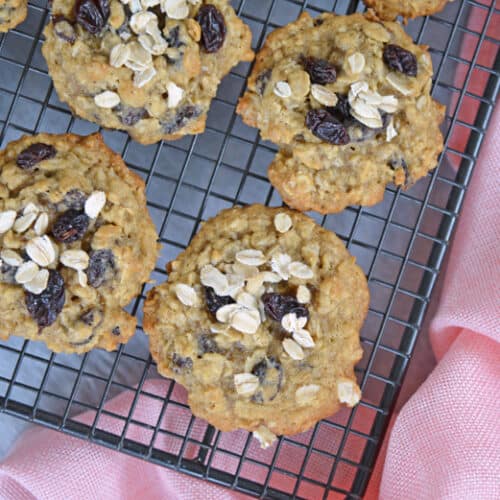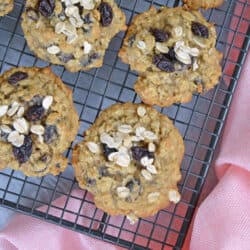 Oatmeal Raisin Cookies
Chewy on the inside and crispy edges, these Oatmeal Raisin Cookies are going to blow your mind!
View this recipe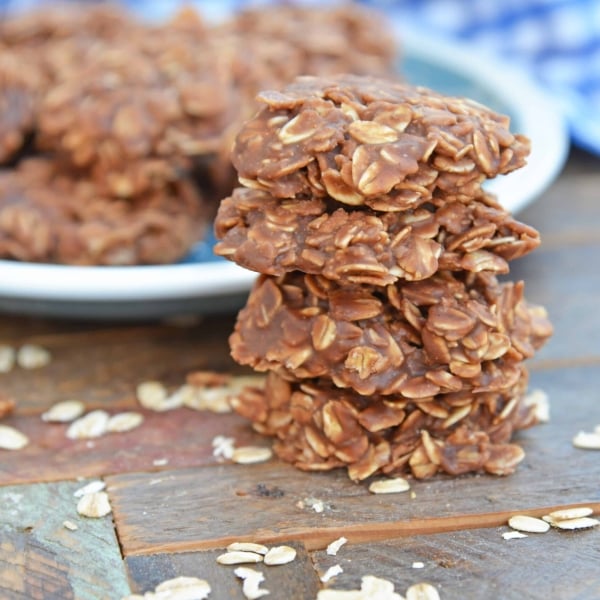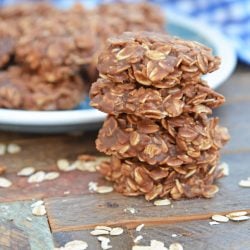 Classic No Bake Cookies
If you've always thought oatmeal no bake cookies were difficult, this classic no bake cookie recipe will change your mind. With these tips, you'll end up with the perfect peanut butter no bake cookies every time!
View this recipe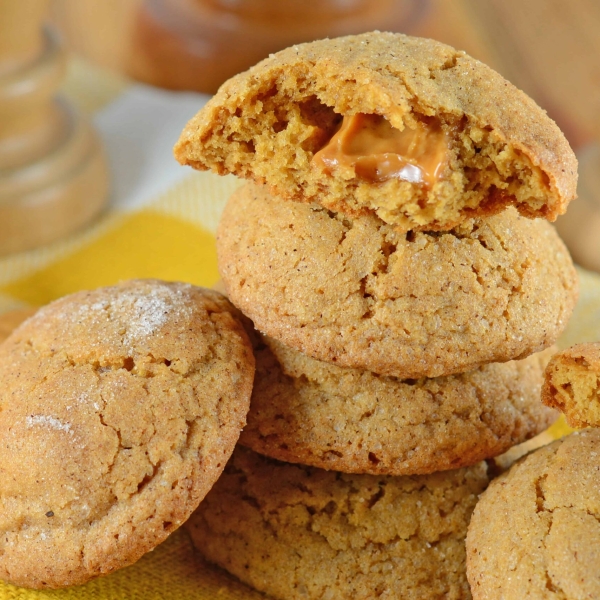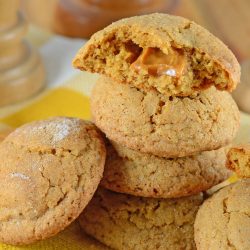 Caramel Apple Cookie Recipe
Caramel Apple Cookies are the easy and mess free way to enjoy caramel apples! Apple spiced cookie dough stuffed with gooey caramel is the best apple cookie recipe you will ever taste!
View this recipe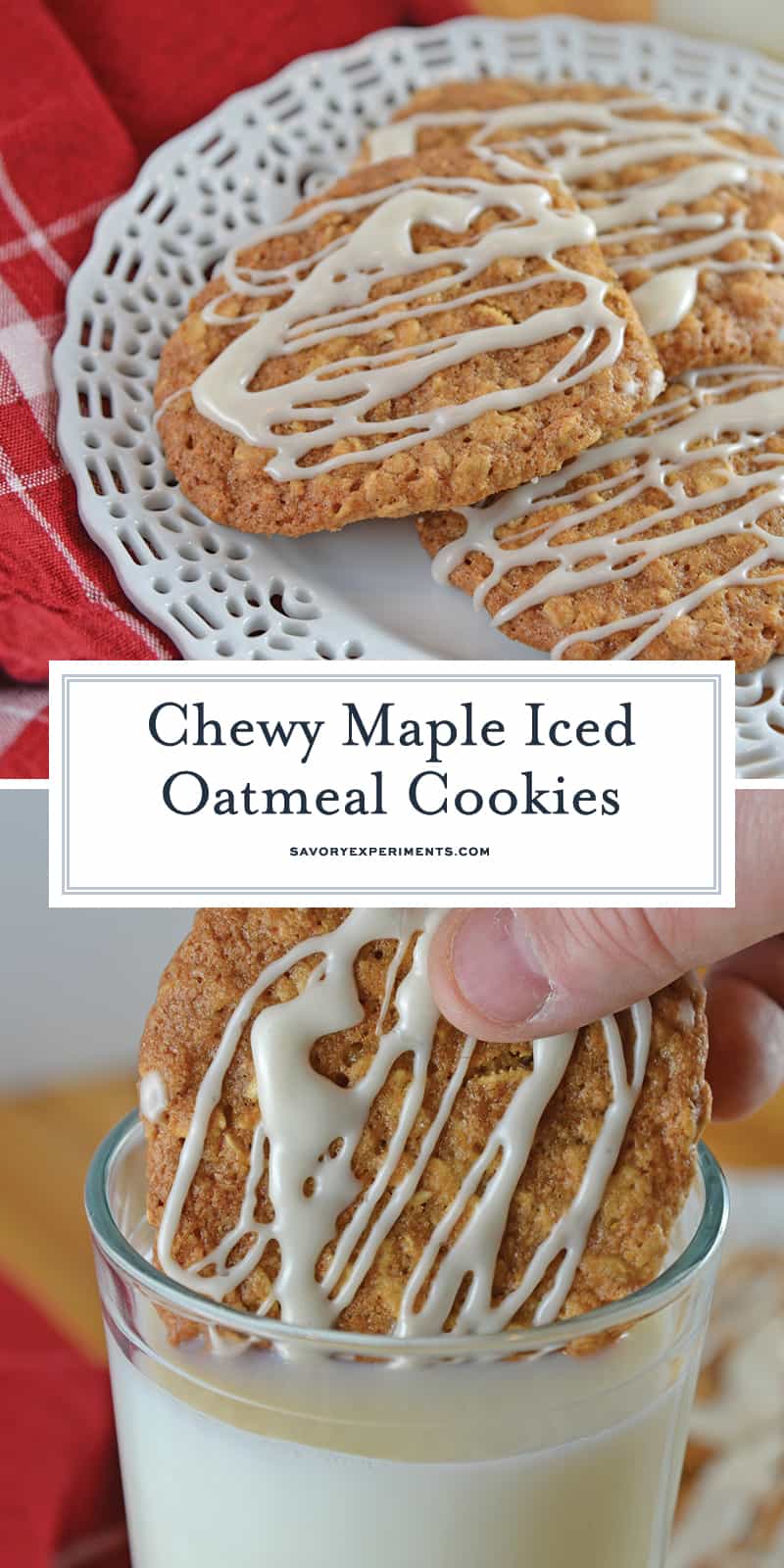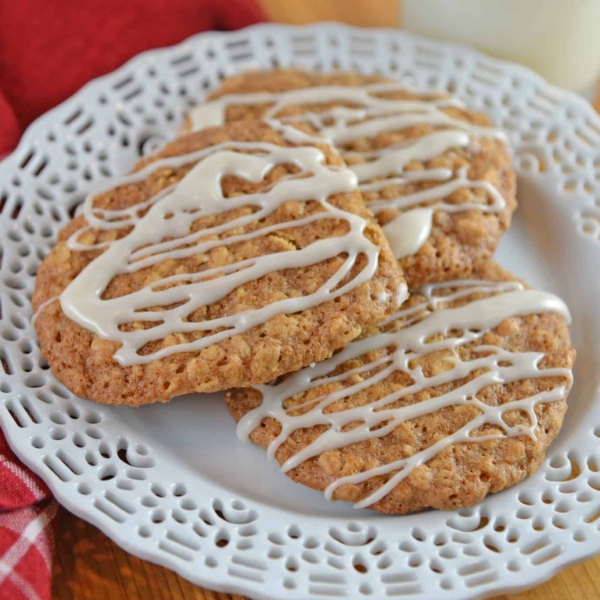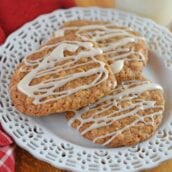 Maple Oatmeal Cookie Recipe
Maple Oatmeal Cookies take traditional oatmeal cookies up a notch with a maple glaze. Always a crowd pleaser, these cookies are great for parties and BBQs!
Instructions
Preheat oven to 350 degrees. Line a baking sheet with parchment paper.

Whisk or sift together flour, baking soda, baking powder and salt in a large bowl, set aside.

In a large mixing bowl or stand mixer fitted with a paddle attachment, cream together butter and sugar. When blended, add egg and applesauce. Continue to mix in oats and then slowly add dry ingredients until oatmeal cookie dough is formed.

Drop 1-2 tablespoons of oatmeal cookie dough approximately 2 inches apart on the cookie sheet. Bake for 13-14 minutes or until oatmeal cookies are just barely light brown and set. Remove and allow to cool.

Combine powdered sugar and real maple syrup in a small bowl to make maple glaze. Whisk until there are no lumps. If mixture is too thick, add additional water until it can easily be drizzled.

Drizzle each oatmeal cookie with maple glaze and allow to set. Serve with a big glass of milk or vanilla ice cream.

If you've tried this recipe, come back and let us know how it was!
Nutrition
Calories:
167
kcal
,
Carbohydrates:
36
g
,
Protein:
1
g
,
Fat:
1
g
,
Saturated Fat:
1
g
,
Cholesterol:
9
mg
,
Sodium:
43
mg
,
Potassium:
45
mg
,
Sugar:
29
g
,
Vitamin A:
55
IU
,
Calcium:
15
mg
,
Iron:
0.5
mg