Flour tortillas, filled with chicken, salsa and cheese and baked until hot and crispy. Homemade chicken taquitos are an easy meal with simple ingredients that are sure to become a favourite.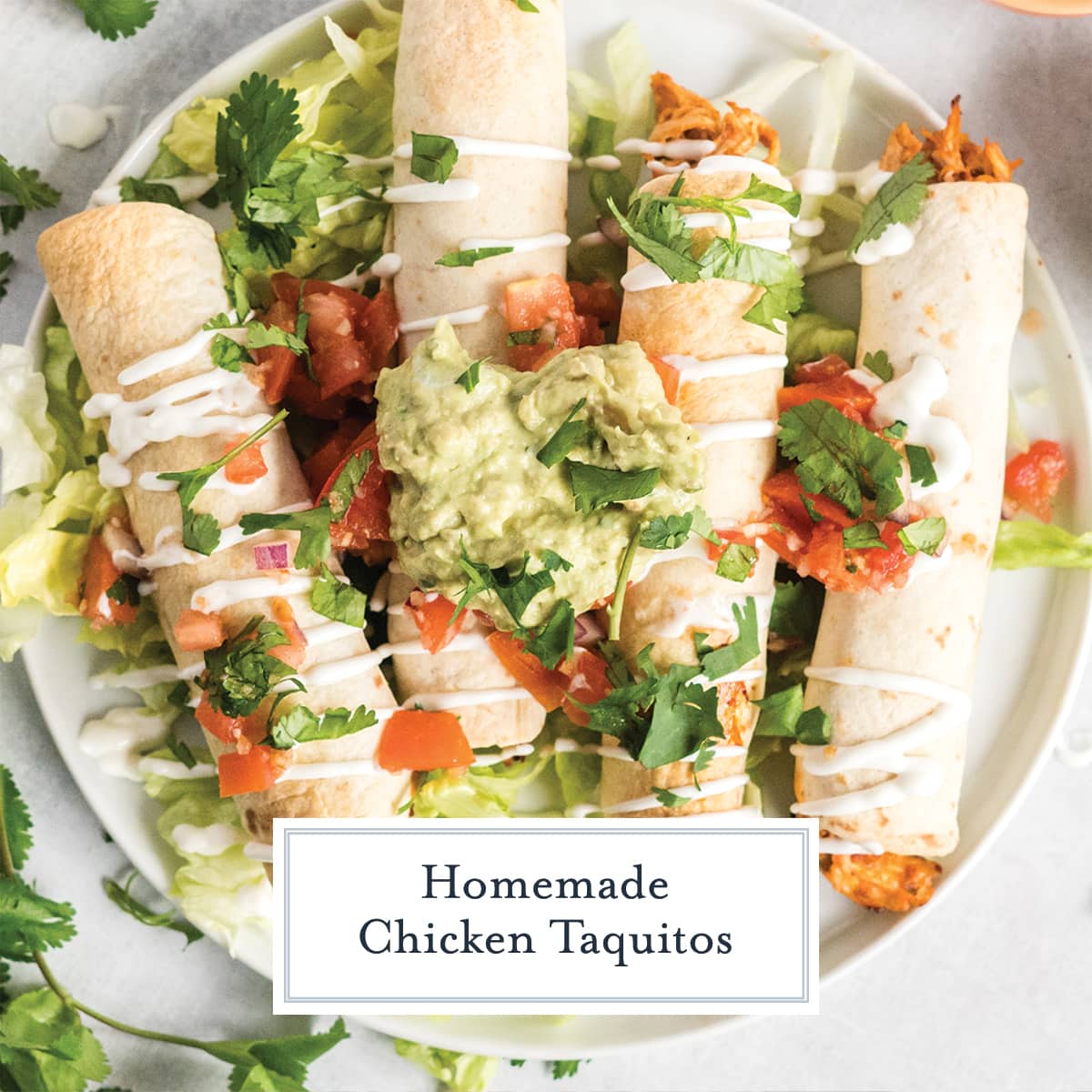 What is a Taquito?
Taquitos are basically little rolled up tacos that are then baked or fried so the outside is nice and crispy.
They can be filled with chicken, beef, or beans. I've even seen them made with shrimp. Once they are hot and crisp you can serve them with a variety of dipping sauces or toppings.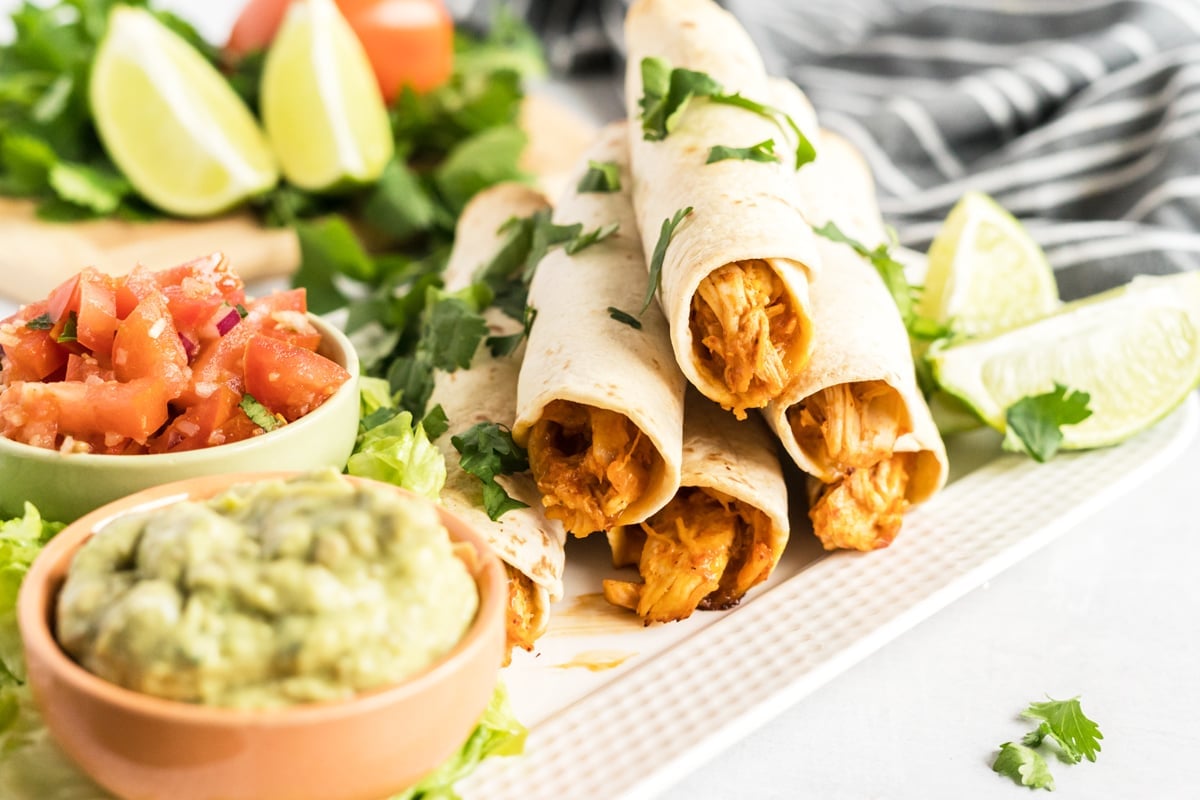 They make a great meal or appetizer, and it is easy to make a large batch to serve a crowd.
I like them because they are easy to eat with my hands and they don't tend to be as messy as traditional tacos, which means I can sit on the sofa, watch a movie, and eat dinner without my filling spilling everywhere.
They also make a great lunch when reheated and you can keep a batch in the freezer ready to go.
Flautas vs Taquitos
Things are about to get a little tricky- not really, but kind of. Typically speaking, flautas are made with flour tortillas and taquitos are made with corn tortillas.
However, most restaurants even many store bought and commercially prepared taquitos are also flour tortillas. People tend to enjoy them more with flour tortillas, but prefer the name taquito, so when we were doing our research for the recipe, we decided this was the most appropriate.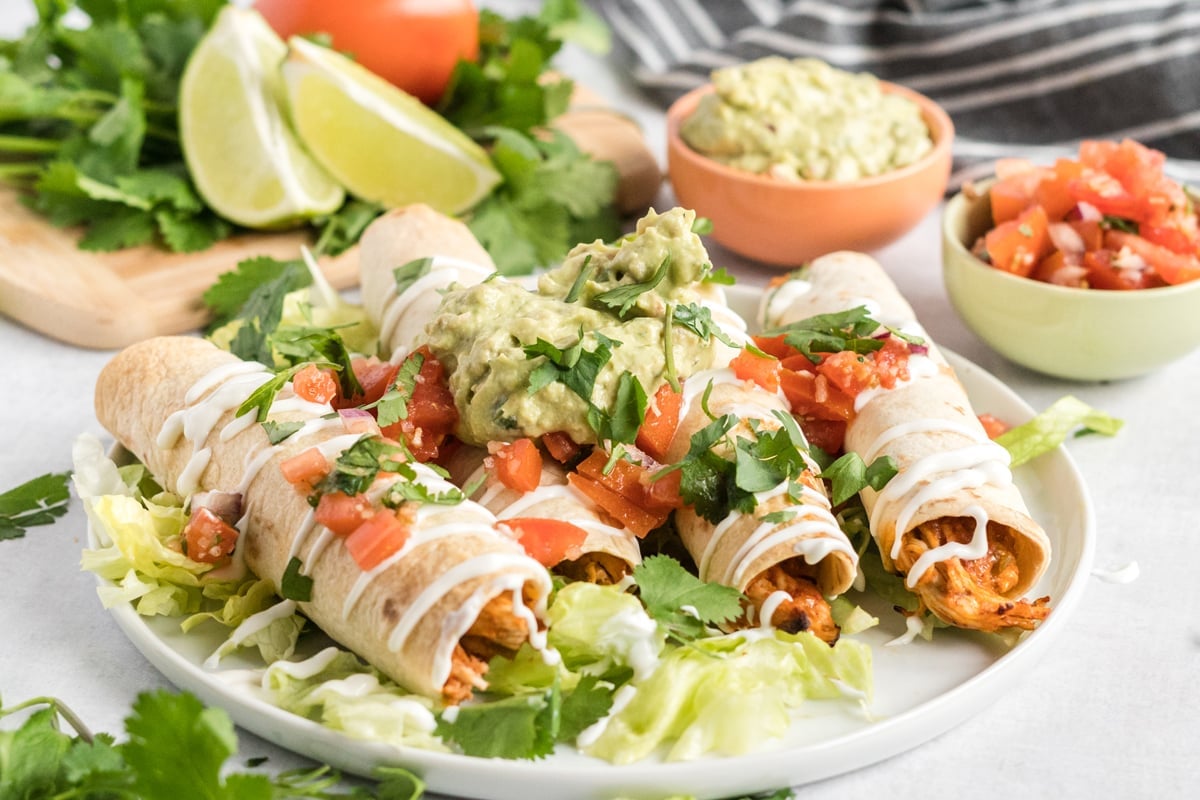 Chicken Taquito Recipe Ingredients
Baked taquitos are super easy and quick to make, especially if you are baking them. Here is what you'll need.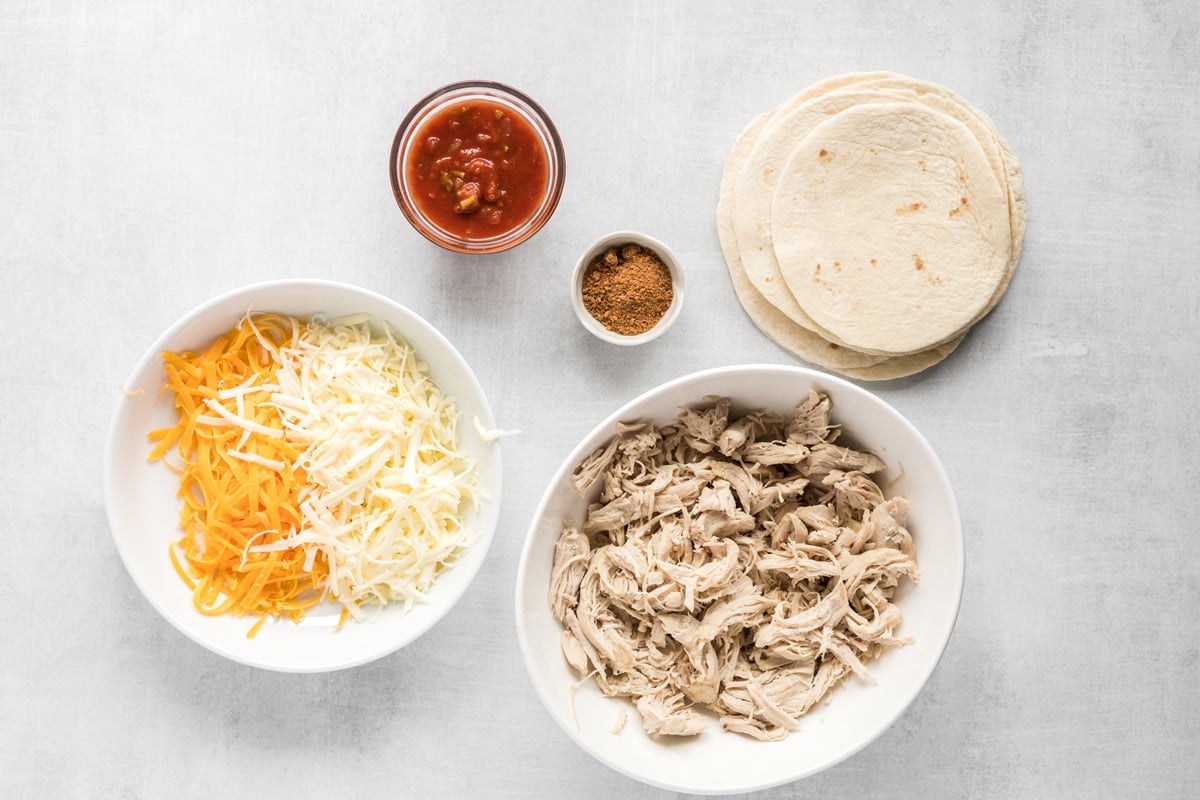 Cooked chicken
Monterey Jack Cheese
Cheddar Cheese
Taco Seasoning
Flour Tortillas
Tips for Baked Taquitos
The recipe calls for precooked chicken. Use leftovers from another meals, a rotisserie chicken from the store or even the frozen chicken strips.
Also feel free to bake or slow cooker your own chicken breasts or thighs.
Of course, feel free to make them with other proteins or even make a blend.
How To Make Taquitos
One. Mix the shredded chicken, prepared salsa, taco seasoning and cheese in a medium size bowl.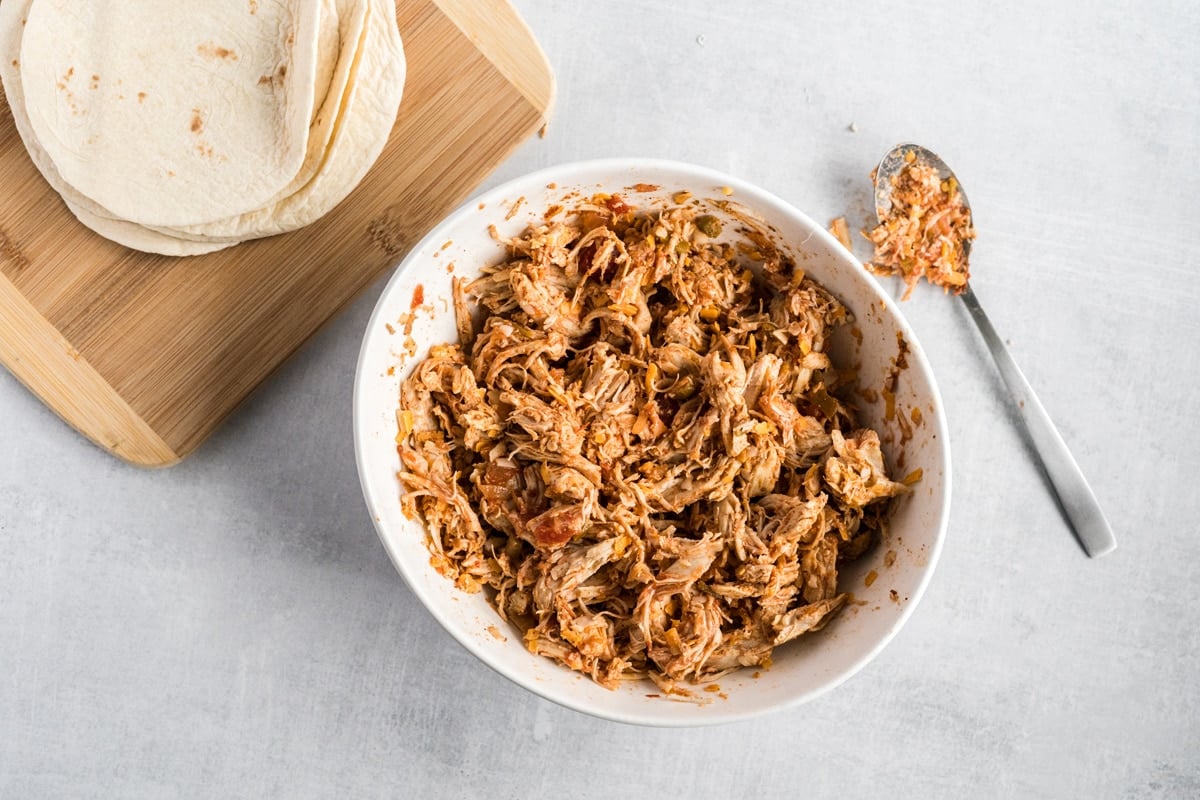 Two. Spread 3-4 tablespoons of filling down the middle of a tortilla then roll it up.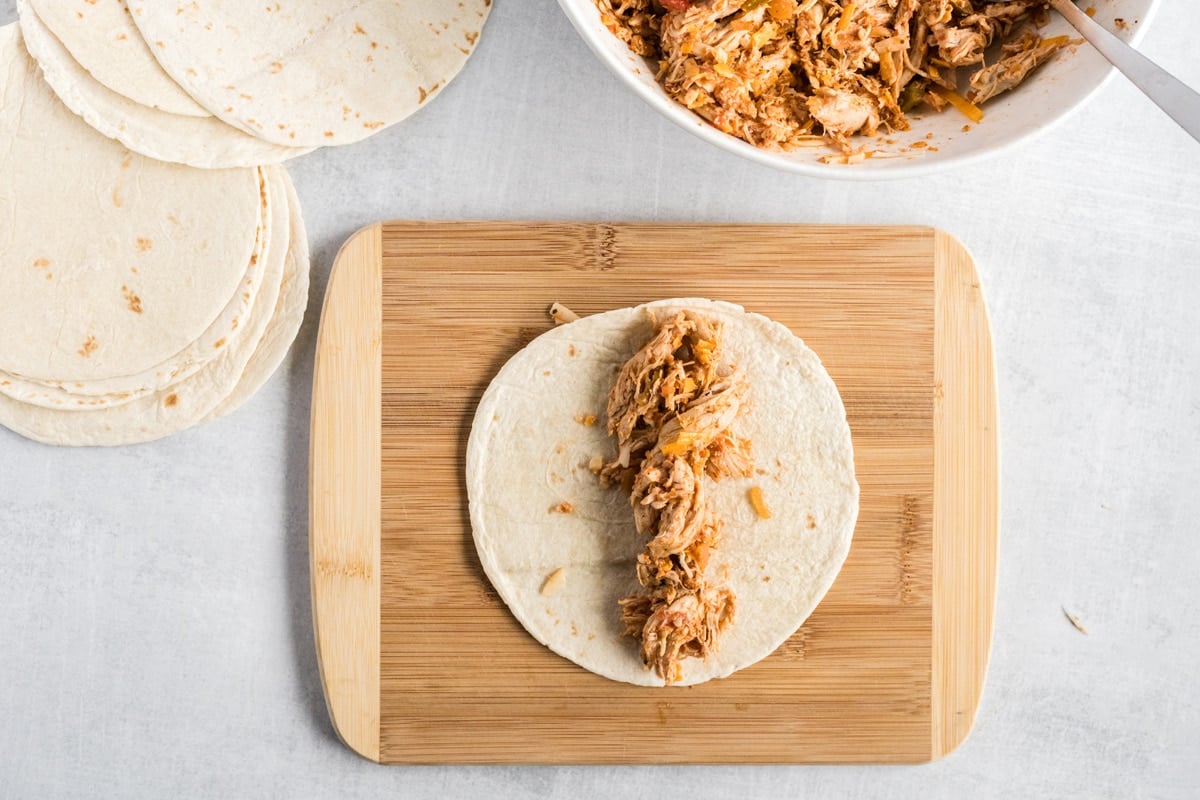 Three. Place the rolled taquitos seam side down on a baking sheet that has been sprayed with non-stick spray or lined with parchment paper.
Four. Spray the tops of the taquitos with olive oil spray or lightly brush with a bit of oil.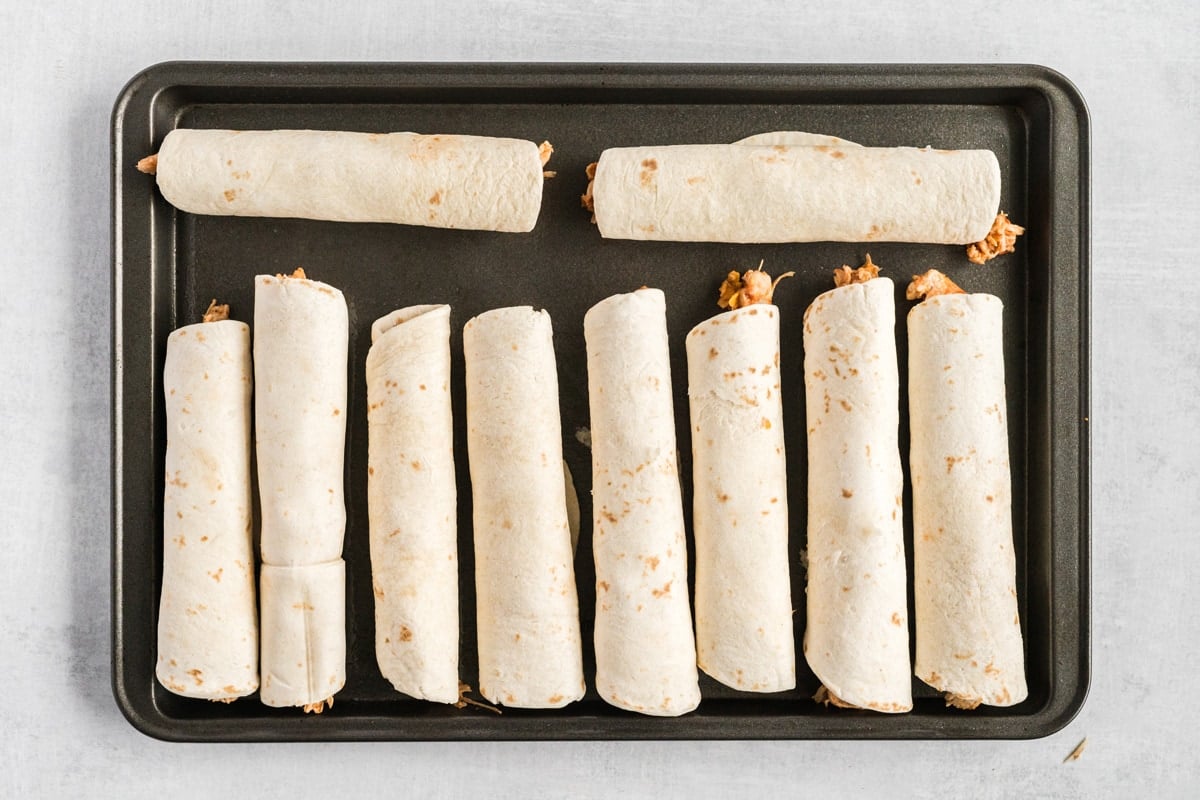 How long to cook taquitos in the oven?
Five. Place in the oven at 350 degrees for approximately 25 minutes until the cheese is melted and taquitos are lightly crispy.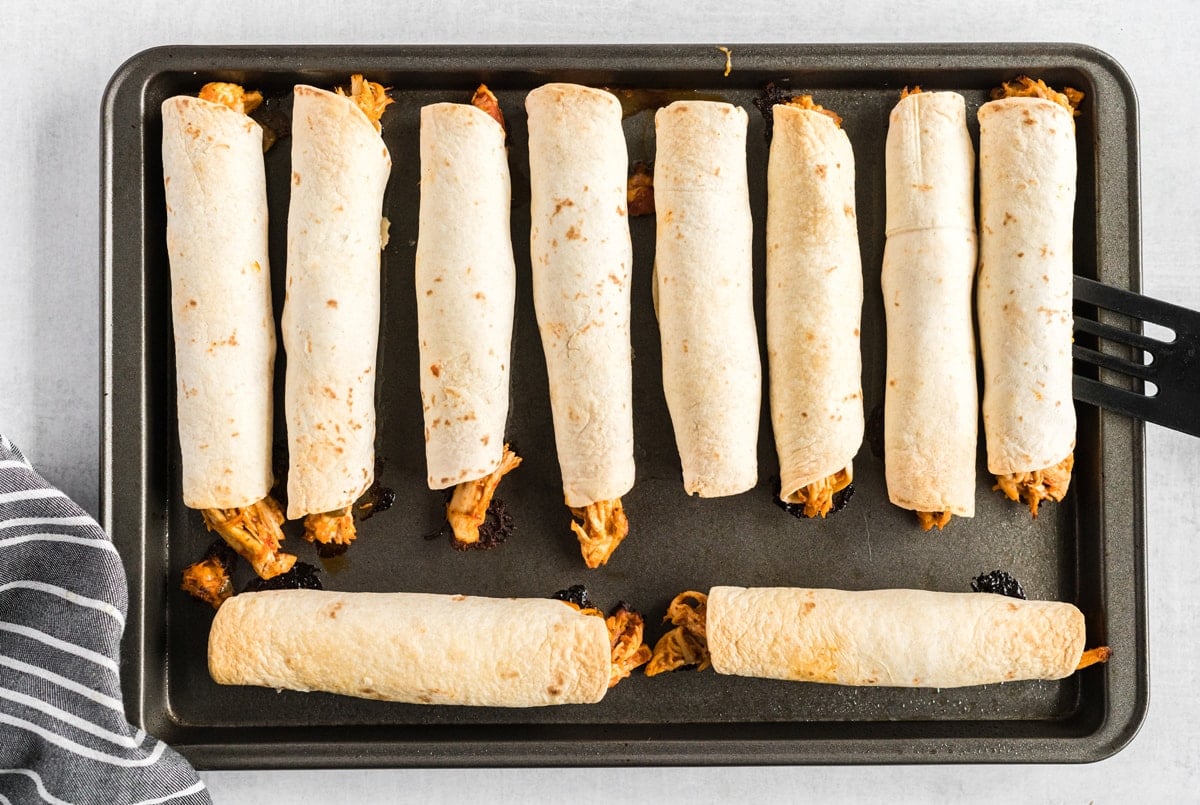 Remove from the oven and serve with your favorite toppings and sauces.
How to Fry Chicken Taquitos
If you prefer, you can fry your chicken taquitos instead of baking them.
Fill the tacos just as if you are going to bake them, but secure the seam by placing a toothpick through the taquito to hold them closed.
Place a deep, heavy bottom skillet on the stove and fill with about ½ inch of oil. Heat the oil on med-high heat until it reaches 350 degrees. If you don't have a thermometer you can drop a small piece of tortilla into the oil, if it sizzles and begins to bubble the oil is ready.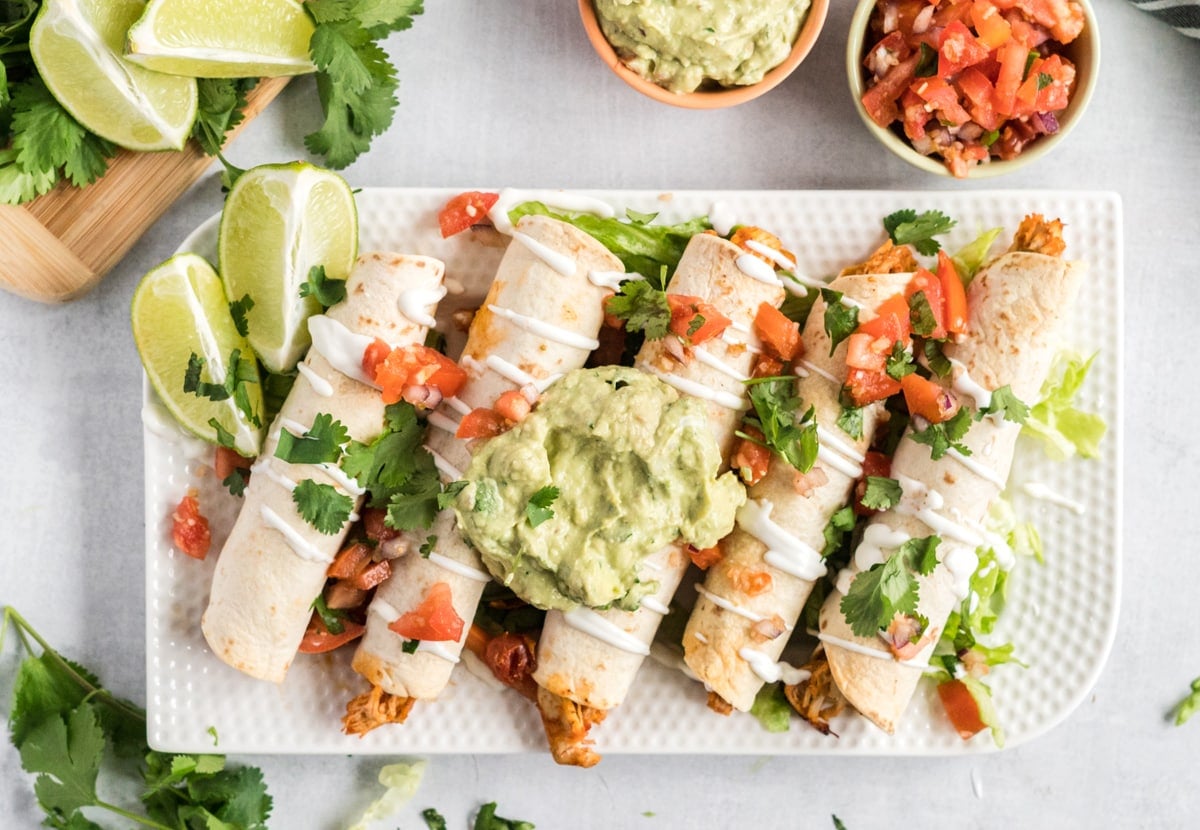 Using tongs, carefully lower the taquitos into the oil. Cook for about 2 minutes until the bottom is crisp and golden then very carefully turn the taquitos and cook for a few minutes more.
Remove from the oil and place on a plate lined with paper towel.
If you have a deep fryer you can also use that instead of frying these on the stove top. Heat the fryer to 350 degrees and once it has reached temperature carefully lower the taquitos into the fryer using tongs to place them in the basket and then cook for about 4 minutes.
Air Frying Homemade Chicken Taquitos
Fresh, homemade taquitos won't need as much time in the AF as frozen and you'll get the crunch from deep fried without all the grease.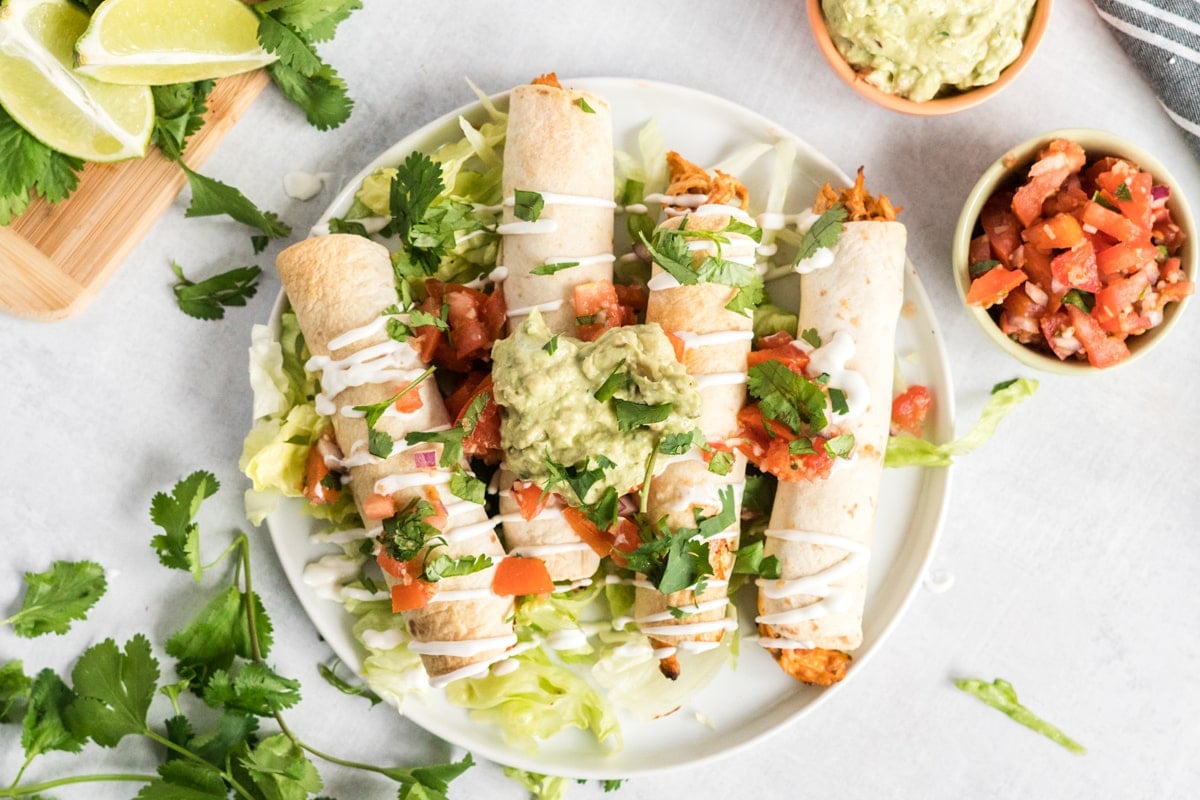 Preheat to 350 degrees and lightly spray the tortillas with cooking spray. Place into the AF basket, being careful not to crowd them, and cook for 6 minutes, turning halfway through cooking.
How to store and reheat Baked Chicken Taquitos
Taquitos are easy to freeze and make a great grab and go lunch or snack.
You can freeze either before or after cooking them.
To freeze before simply fill and roll the taquitos and place seam side down in an airtight container, place a piece of wax or parchment paper between layers to keep them from sticking together.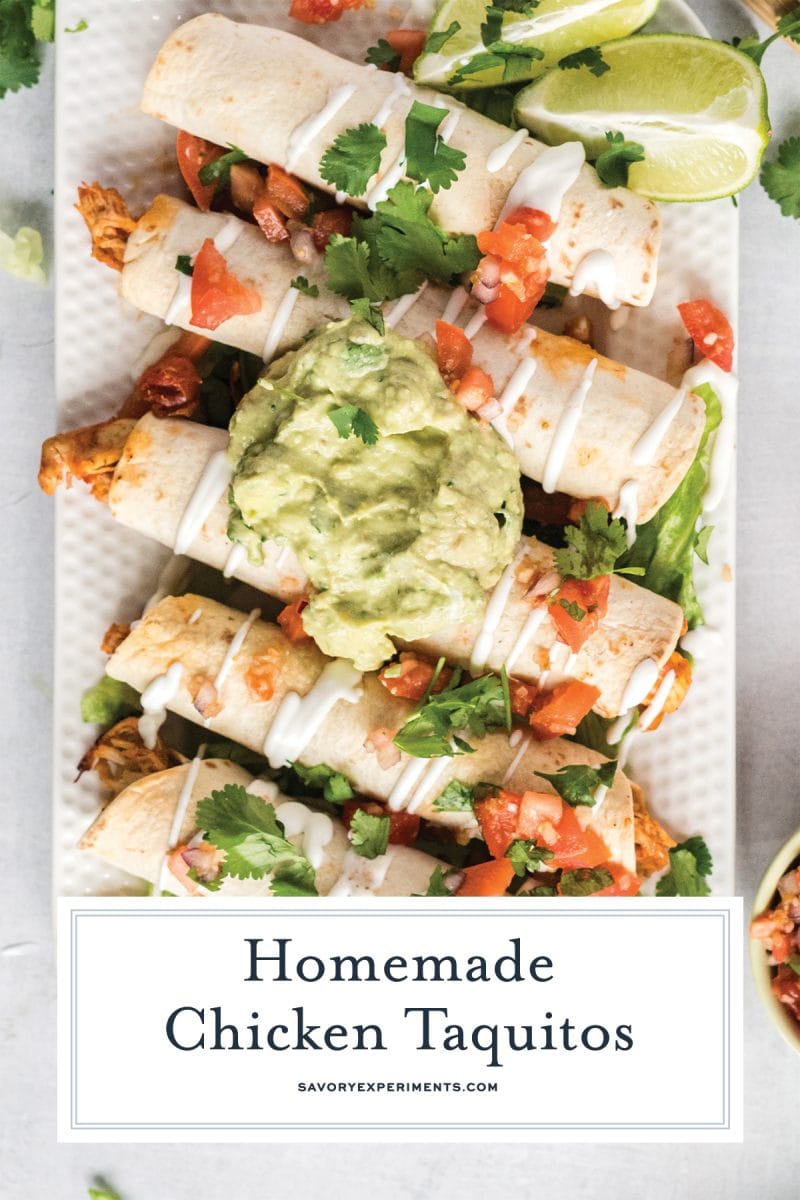 When it comes time to bake, remove from the freezer, place on a baking sheet, cover with foil and bake at 350 degrees for 15 minutes, then remove the foil and bake an additional 20 minutes or until cheese is melted and taquitos are crispy and golden.
To freeze after cooking just wait for them to cool then store in an airtight container or ziplock bag.
You can reheat pre-cooked frozen taquitos in the microwave or in the oven.
How to serve Homemade Chicken Taquitos
One of my favorite things about taquitos is the endless amount of toppings and sauces you can serve them with.
Sometimes I might keep things really simple and just serve them with a dish of salsa and sour cream, but sometimes I like to load them up with everything I can think of.
Some suggestions for serving are:
Salsa
Queso
Crumble cotija
Sour cream
Sliced tomatoes
Sliced avocado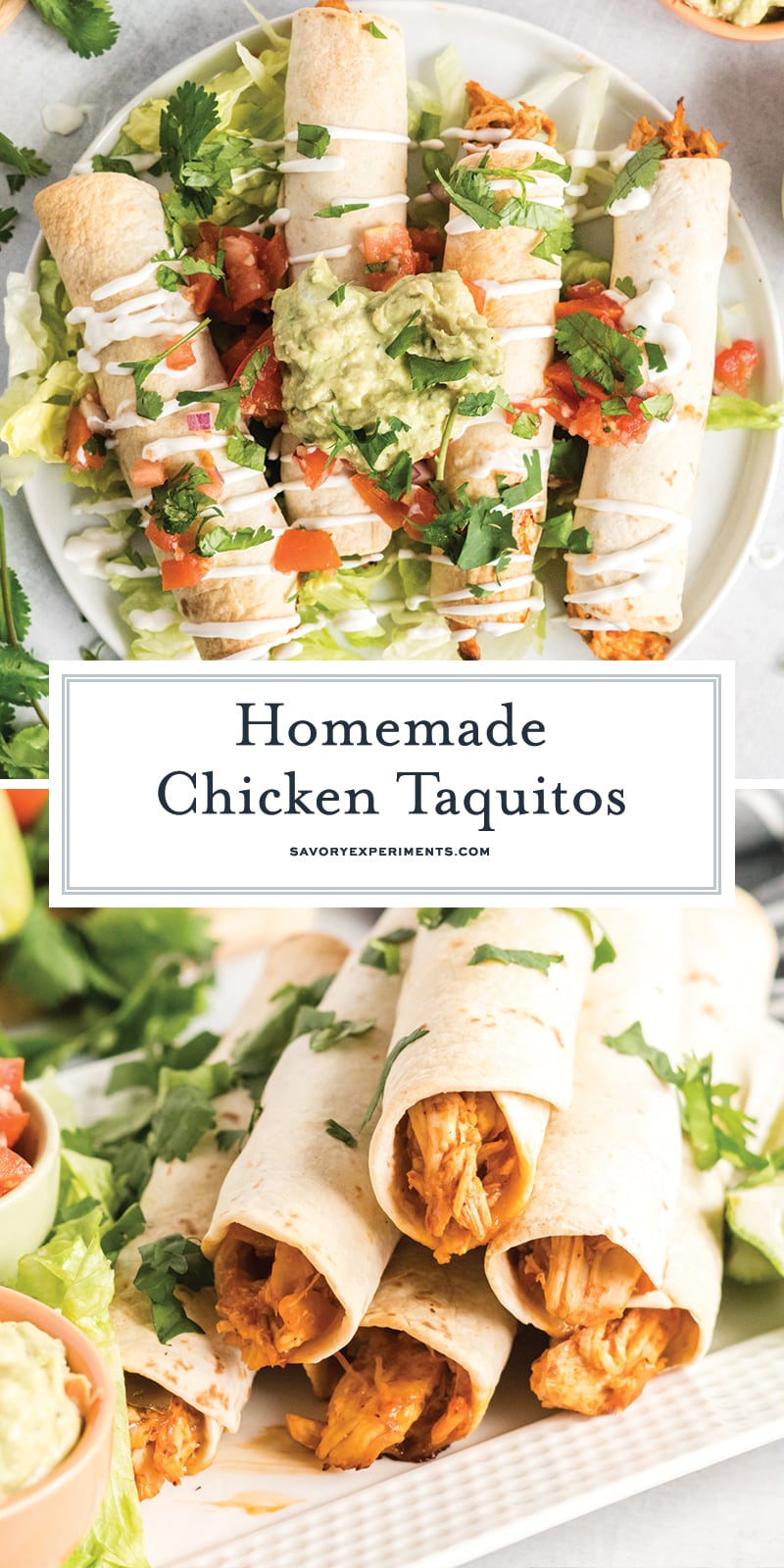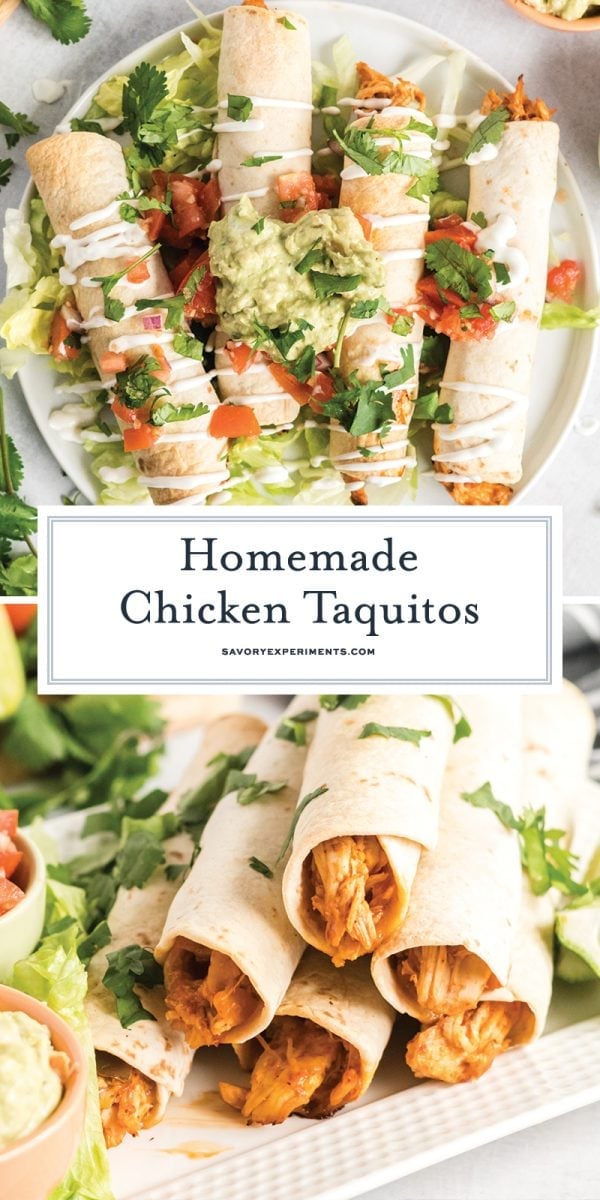 More Mexican Inspired Appetizers