These raspberry cheesecake bars are the perfect dessert both in terms of texture and flavor. The crunchy graham cracker crust complements the slightly lemony, creamy cheesecake filling while the fresh raspberry swirl lends both tart and sweet flavors.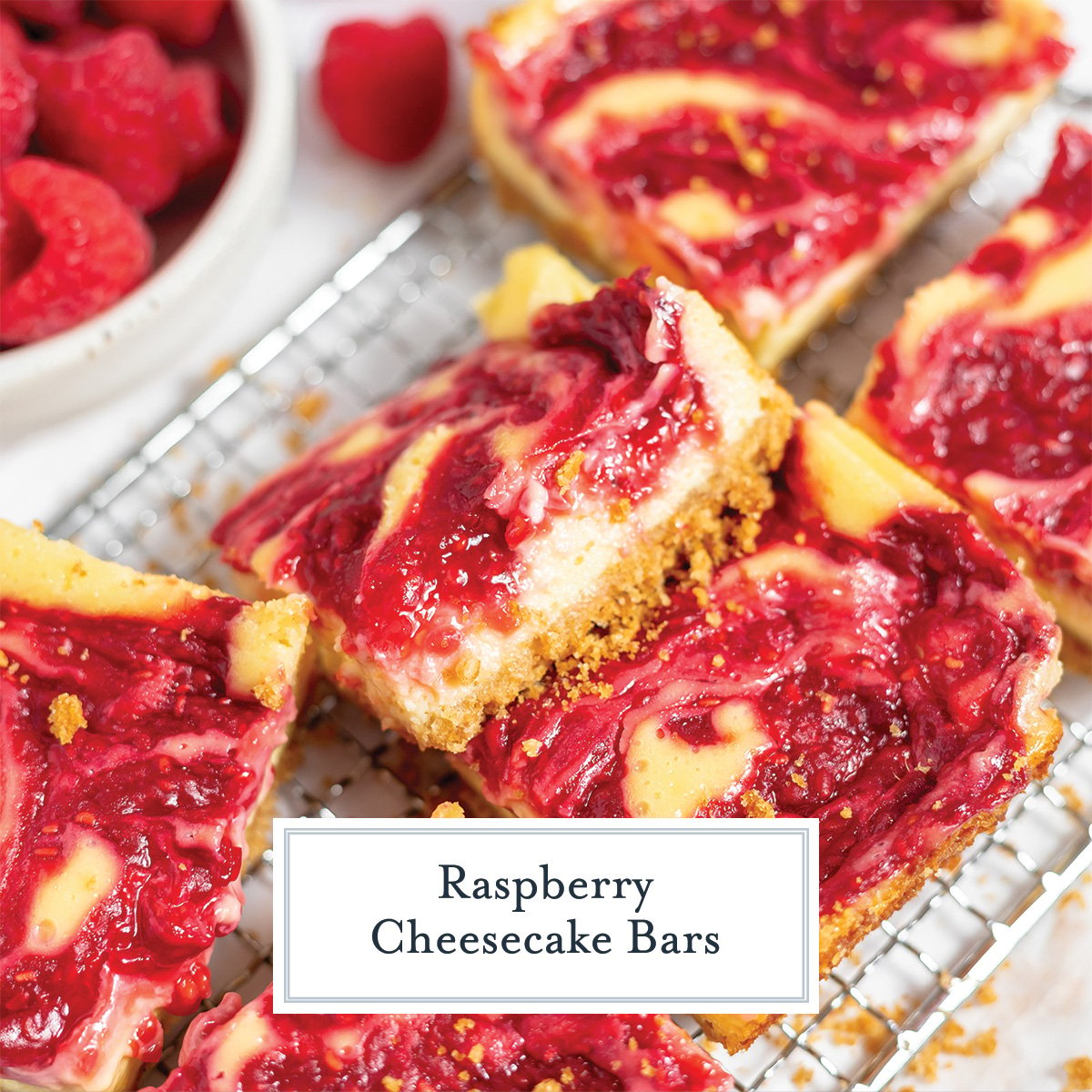 It's heaven on a plate!
The next time you're looking for an easy cheesecake recipe that you can serve at nearly any type of gathering (or just enjoy at home) try these easy raspberry cheesecake bars.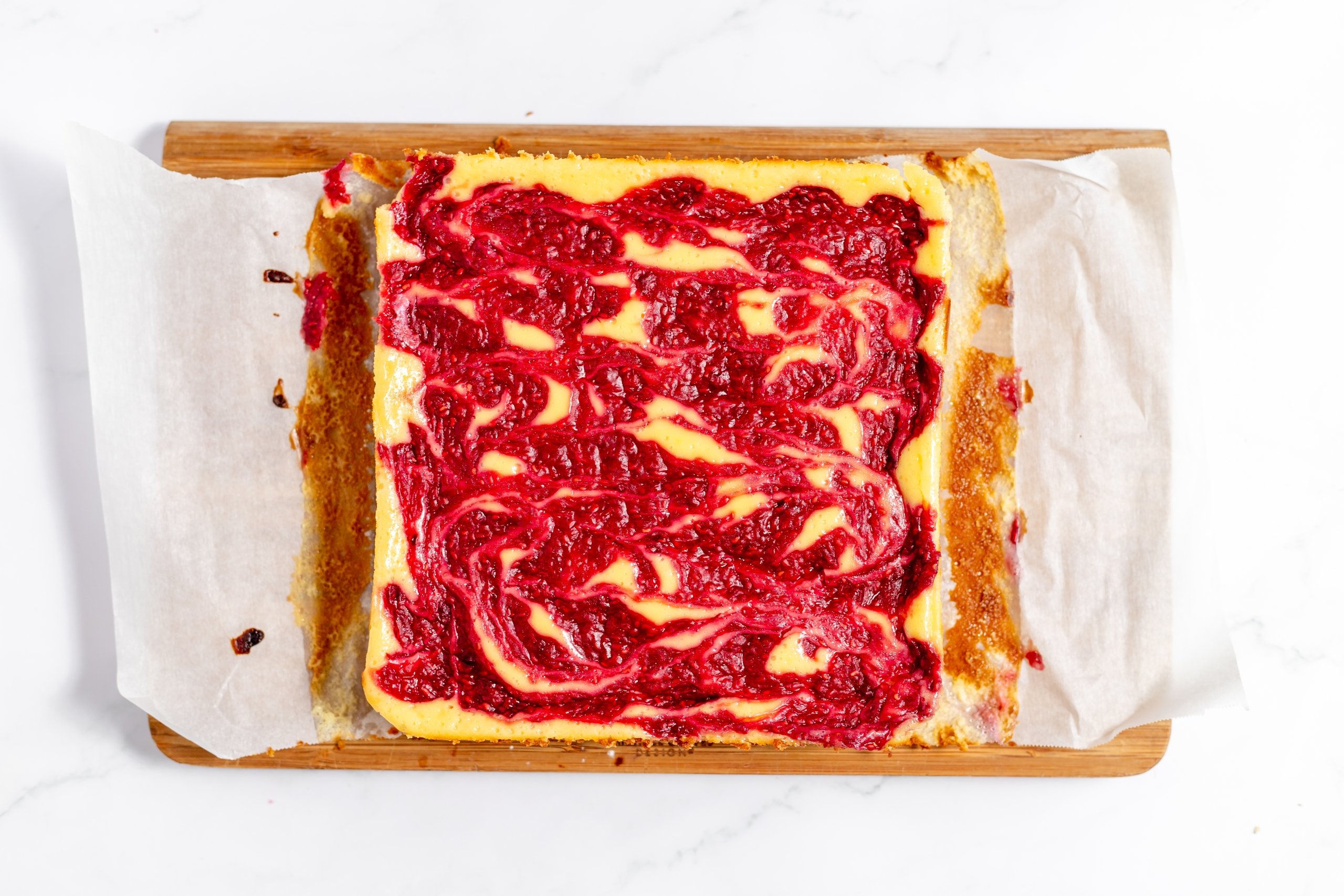 Why You'll Love Raspberry Cheesecake Bars
If you're a fan of cheesecake you're going to love these creamy, fruity bars.
Easy – Even though there are a few different parts that need to be made before combining them all, each one only requires a few simple steps.
Delicious – The sweet and tart raspberry swirl is the perfect compliment to the creamy and slightly tangy cheesecake.
Versatile – These bars are great to pack in lunch boxes or keep in the fridge for a sweet snack. But you can also serve them for special occasions like baby showers and birthdays.
Ingredients For Creamy Cheesecake Bars With Raspberry Swirl
There are 3 different parts to this recipe but each only requires a few ingredients.
Raspberries – You can choose to use fresh raspberries or frozen. Allowing frozen raspberries to thaw will make the process of making the swirl go more quickly.
Cornstarch – This will help thicken the swirl.
Lemon juice – Citrus adds a bright flavor.
Sugar – White sugar is all you need for this.
Graham crackers – Choose your favorite brand.
Granulated sugar – The white sugar you likely already have in your cabinet will work well.
Butter – Melt the butter in intervals in the microwave then let it cool slightly before preparing the crust.
Cream cheese – Softening the cream cheese will help make it easy to mix with the other ingredients.
Vanilla extract – We prefer pure over imitation extract.
Sour cream – This helps to add that touch of traditional tangy flavor to the cheesecake
Eggs – Large eggs are the ideal size.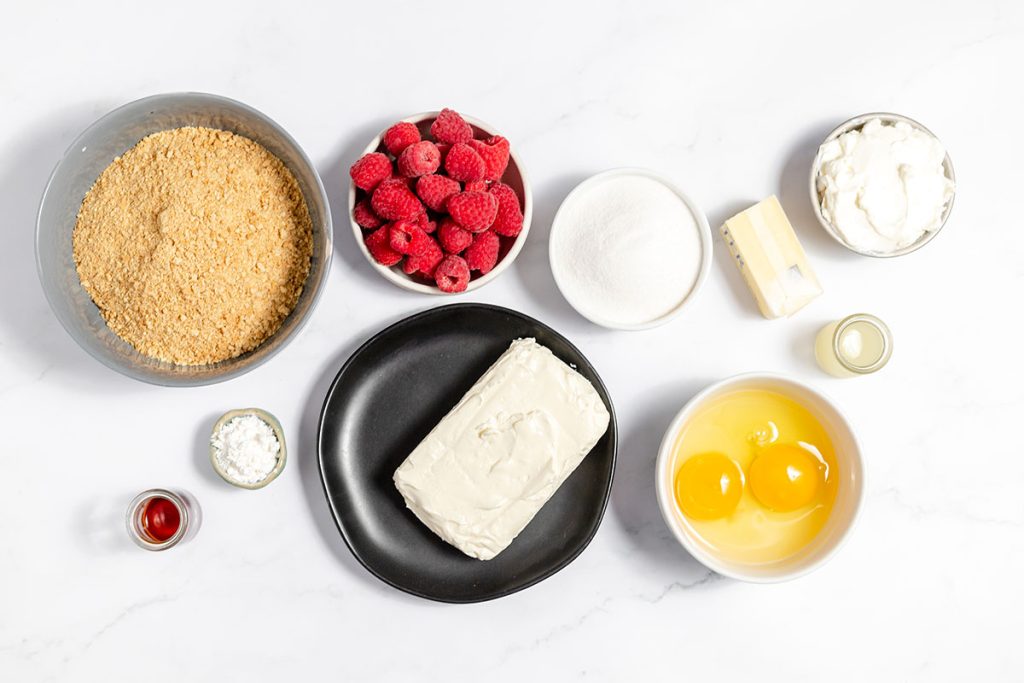 How To Make Easy Cheesecake Bars With Raspberry Swirl
Since there are several different elements to this cheesecake, it helps to have all of the ingredients and kitchen tools set out ahead of time.
For the Raspberry swirl:
In a small saucepan, combine raspberries, cornstarch, and lemon juice.
Stir while mashing the raspberries until cornstarch has entirely dissolved.
Add the sugar and continue to cook until the raspberry mixture becomes thick.
Remove pan from heat and all it to come to room temperature.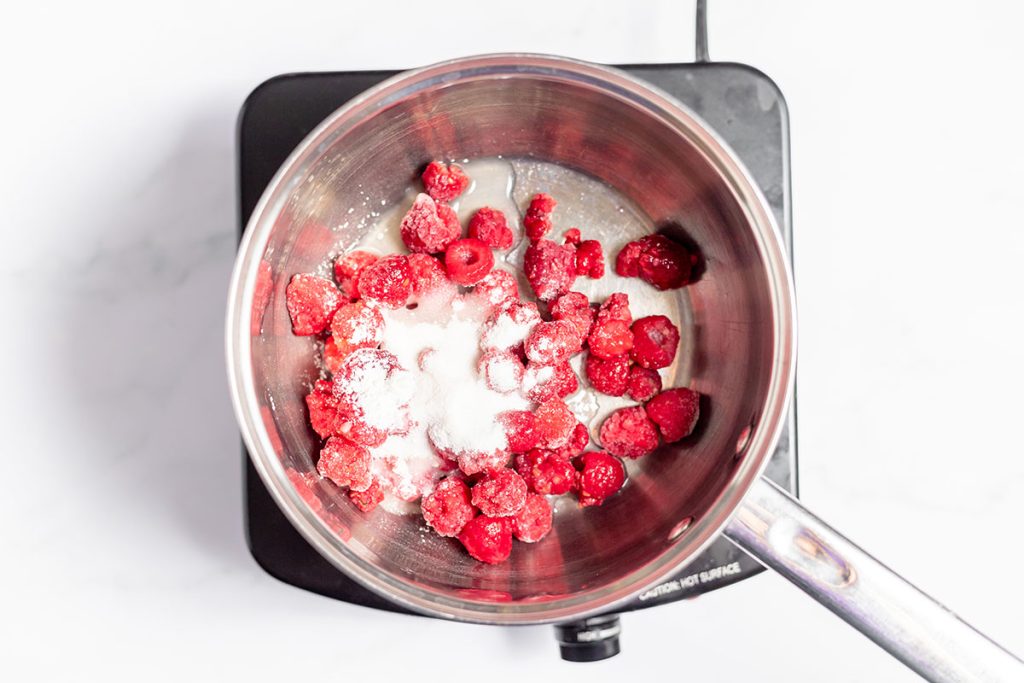 To make the crust:
In a food processor, blend the graham crackers until they are the texture of fine sand.
Stir graham cracker crumbs together with sugar and melted butter.
Press mixture into the prepared pan.
Bake until golden brown.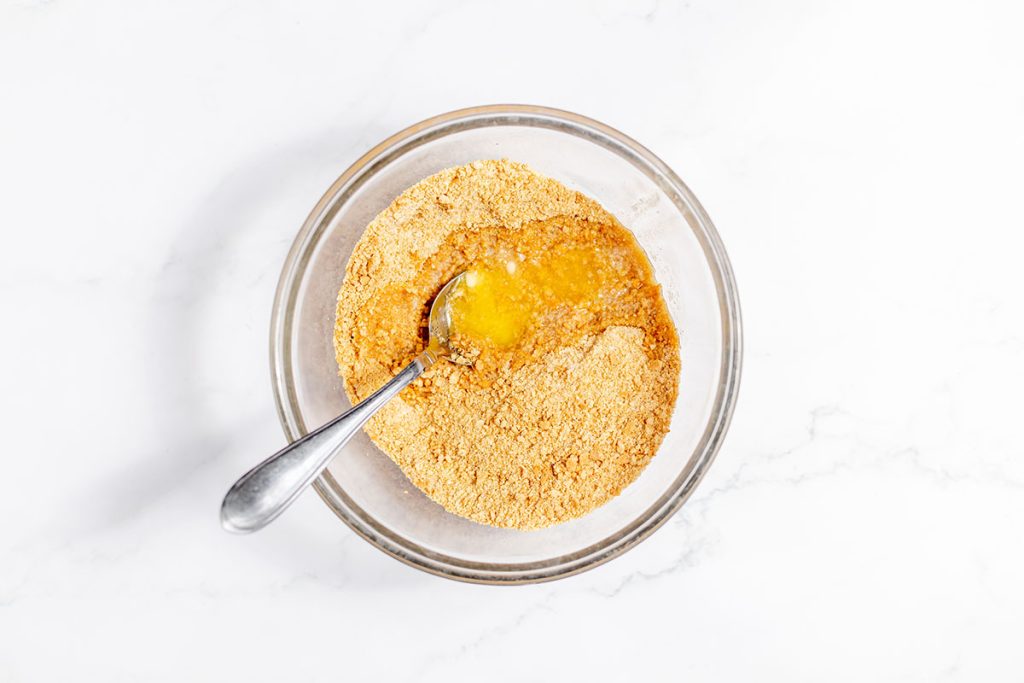 For the filling:
In a large bowl of a stand mixer with a paddle attachment (or use a hand mixer) blend cream cheese, granulated sugar, vanilla, sour cream, eggs, and lemon juice together until the mixture is a silky smooth consistency.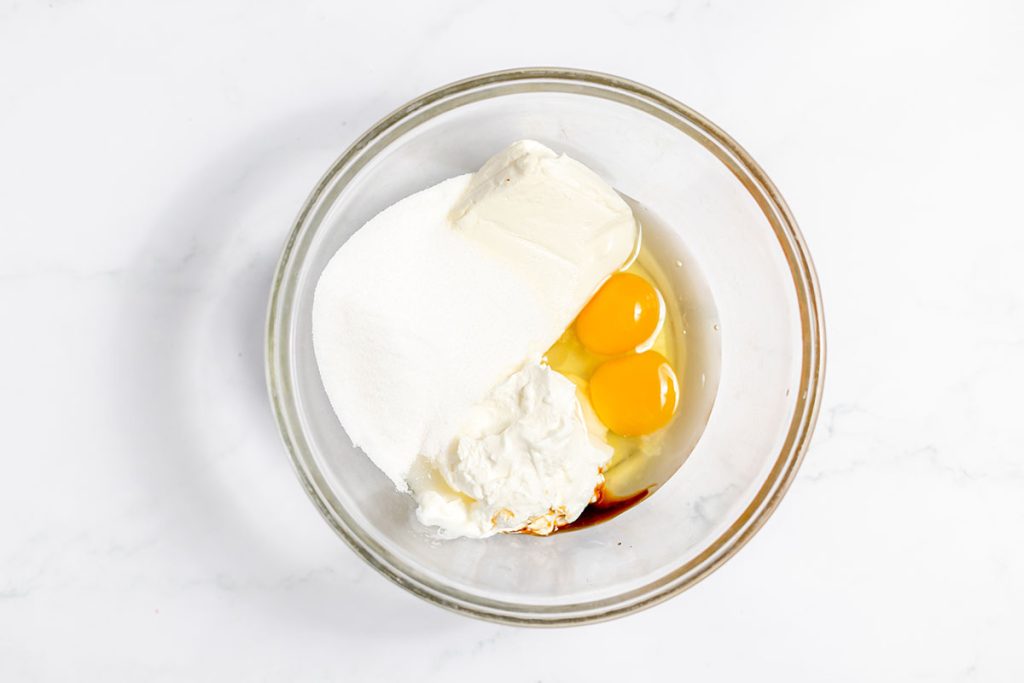 Put it all together:
Pour the cheesecake batter into the baked crust.
Spoon raspberry sauce onto various spots on top of the filling.
Use a butter knife to swirl the raspberry sauce.
Bake cheesecake until the center is set.
Remove cheesecake from the oven and allow to cool to room temperature before slicing and serving.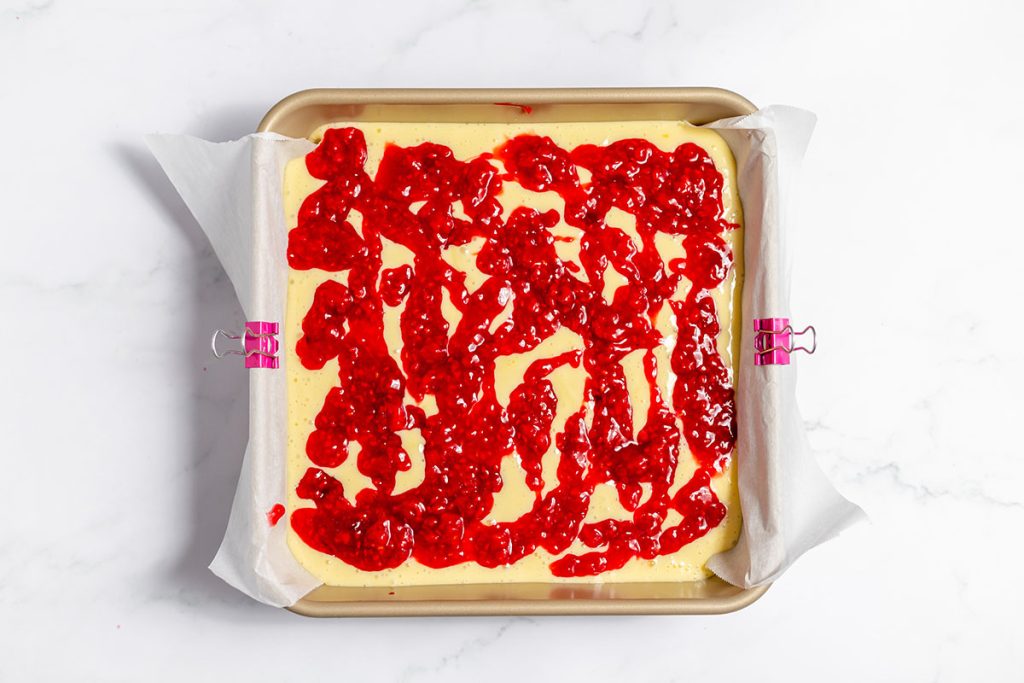 What to Serve with Raspberry Swirl Cheesecake Bars
We like to serve these delicious bars with whipped cream, fresh fruit, ice cream, or white chocolate chips on top as a garnish.
On the side, a big, cold glass of milk is amazing but we also enjoy having it with white hot chocolate or White Chocolate Coffee. For the adults, you can also try whipping up an espresso martini or a French martini.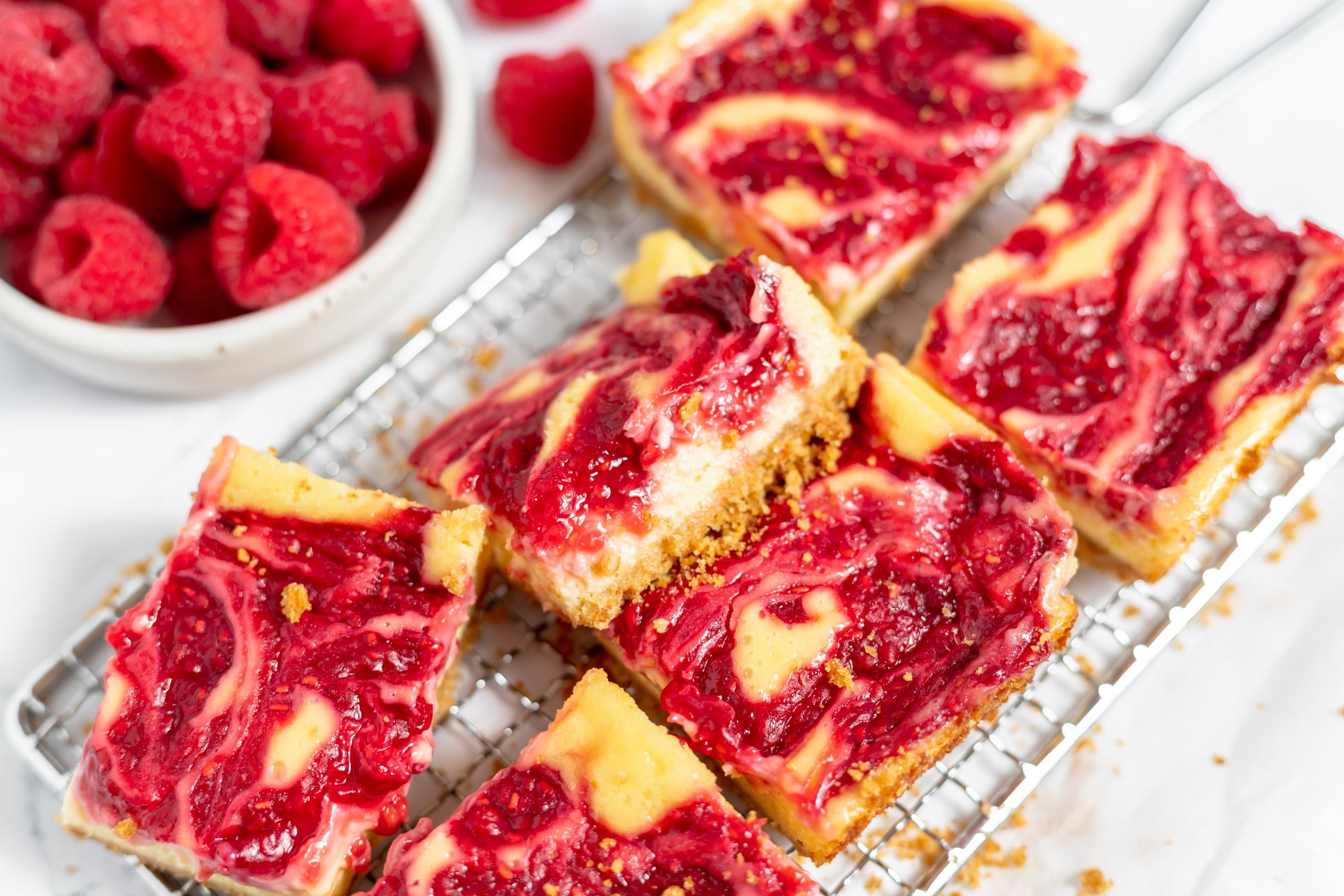 Variations
These sweet and creamy bars are pretty perfect just as they are, but you can make some swaps, too.
Fruit – Use other strawberries, blueberries, or your favorite fresh fruit instead of raspberries.
Sugar – Swap out the sugar for your favorite alternative sugar.
Extract – Substitute almond extract for some or all of the vanilla extract.
Zest – For more lemon flavor, sprinkle some lemon zest on top of the cheesecake.
Raspberries – Instead of making the raspberry swirl, buy raspberry preserves, raspberry jam, or a sweetened raspberry puree. Or, use homemade jam.
Crust – For a sweet crust, add a bit of light or dark brown sugar.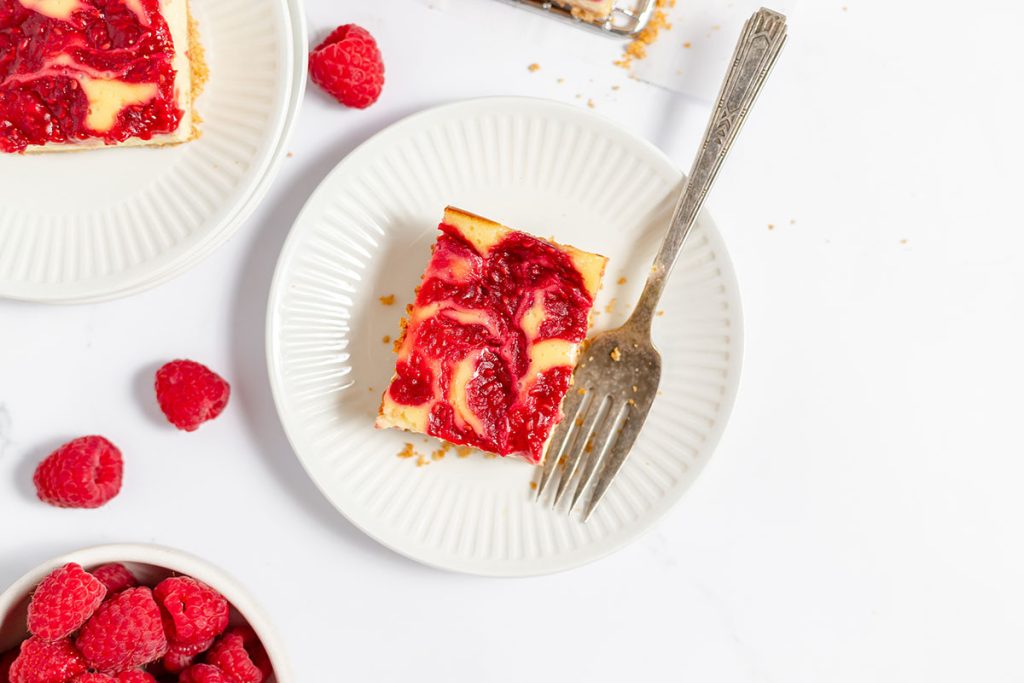 Storage, Make Ahead and Freezing
Once the bars have cooled to room temperature you can easily store them in the fridge or freezer.
Make ahead: You can make the crust or the filling ahead of time and store for up to 24 hours. Combine them when ready to bake the crust with the filling inside.
Refrigerator: Store cheesecake bars in the refrigerator in an airtight container or wrapped in plastic wrap (or aluminum foil) for 3-4 days.
Freezer: Freeze cheesecake bars in a freezer-safe container or freezer bag for up to 3 months. To keep bars from sticking together, store in a single layer and/or separate with parchment paper.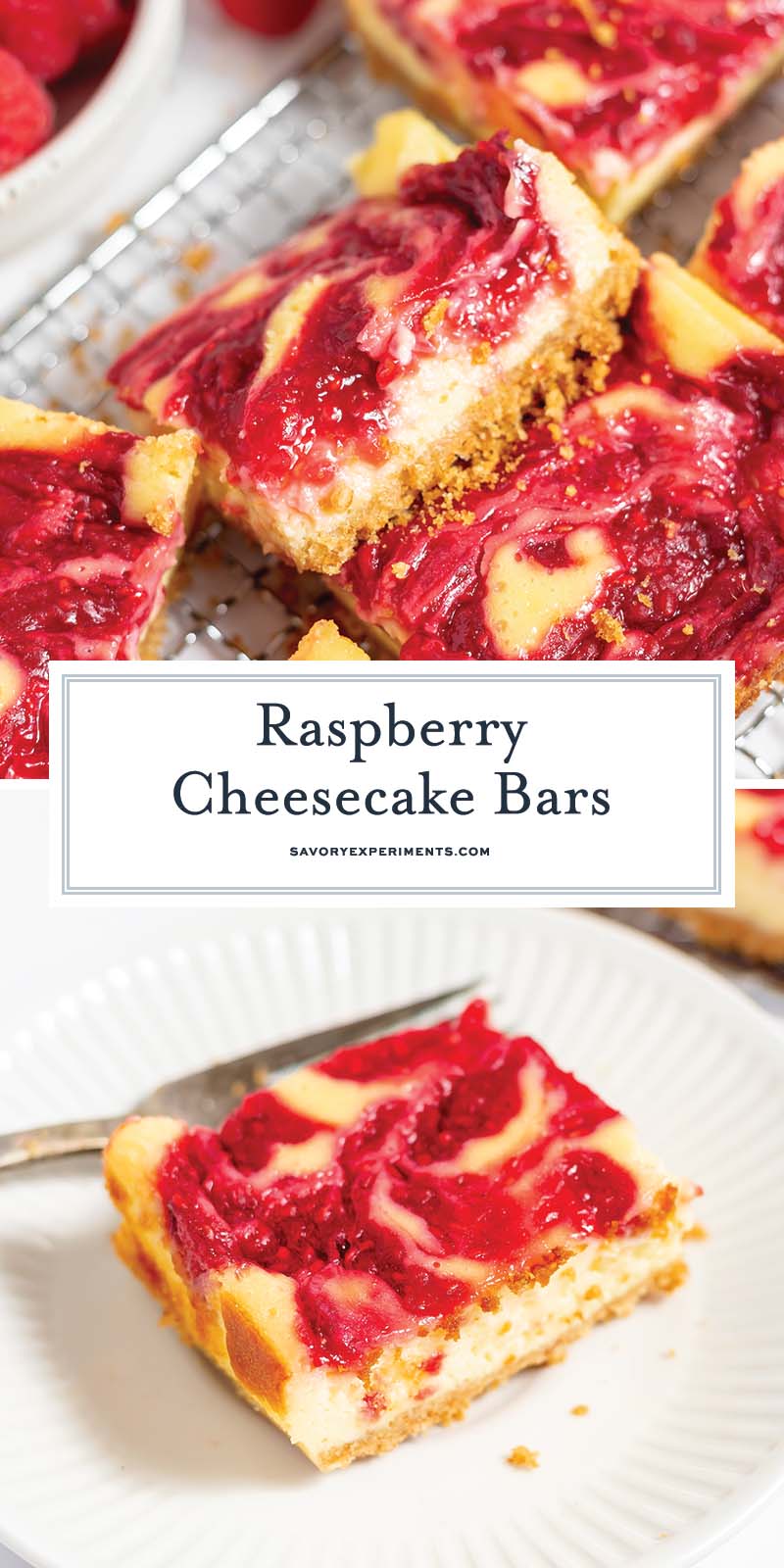 More Dessert Bars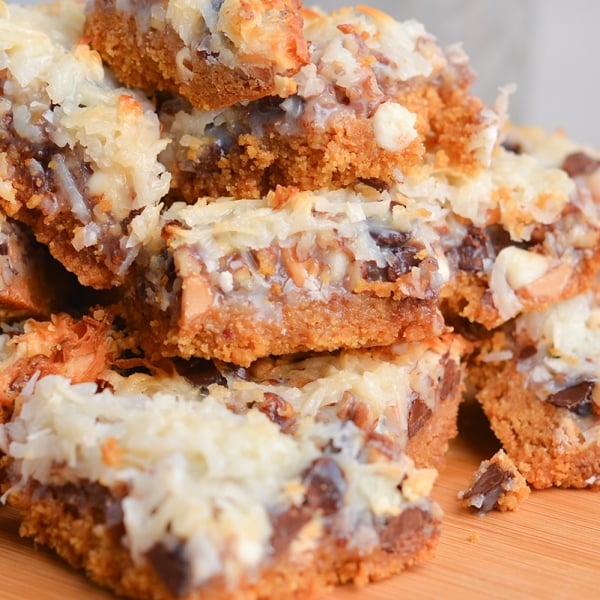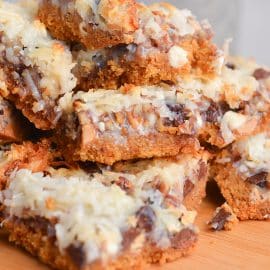 Magic Bar Recipe
Combining chocolate, coconut, pecans and graham crackers, these EASY Magic Bars are the ultimate decadent dessert for any occasion!
See The Recipe!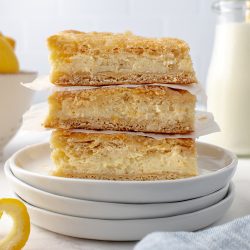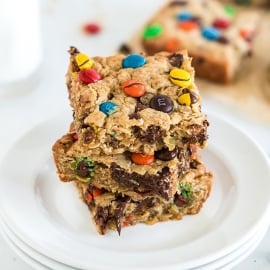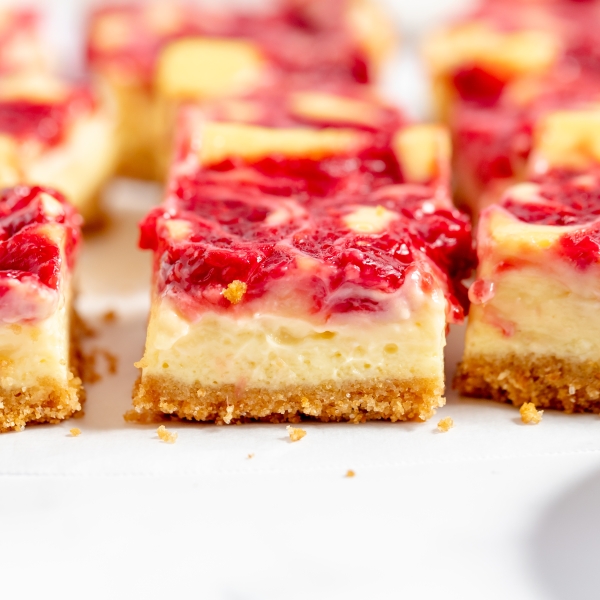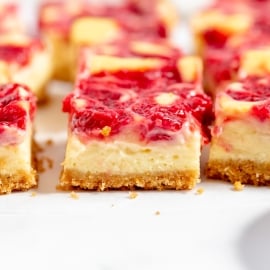 Raspberry Cheesecake Bars
Raspberry Cheesecake Bars are the perfect dessert with the crunchy graham cracker crust, creamy cheesecake filling and fresh raspberry swirl!
Instructions
For the Raspberry swirl:
In a small saucepan over medium heat, combine the raspberries, cornstarch and lemon juice. Place the raspberries into a small saucepan. Mash slightly as you stir.

Stir in the sugar. Continue cooking until the mixture is thickened and no foggy.

Remove from heat and let it cool while you make the crust and cheesecake filling.
For the crust:
Preheat the oven to 350ºF. Coat an 8×8 baking dish with cooking spray.

In a medium mixing bowl, combine the graham crackers crumbs, sugar and melted butter. Press the mixture into the prepared pan using the back of a spoon.

Bake the crust for 10 minutes. Remove and set aside.
For the filling:
In the bowl of a stand mixer fitted with a paddle attachment or a large mixing bowl using an electric mixer, beat the cream cheese until smooth.

Add the sugar, vanilla, sour cream, eggs, and lemon juice and beat until fluffy.
Put it all together:
Pour the cheesecake filling over the crust.

Dot the cheesecake with raspberry sauce, and swirl with a butter knife or toothpick.

Bake in center of oven for 25 minutes (still at 350°F), until center is just set and no longer jiggly.

Remove from oven and let cool before cutting into squares.

If you've tried this recipe, come back and let us know how it was in the comments or star ratings.
Nutrition
Calories:
279
kcal
,
Carbohydrates:
35
g
,
Protein:
5
g
,
Fat:
14
g
,
Saturated Fat:
7
g
,
Polyunsaturated Fat:
1
g
,
Monounsaturated Fat:
4
g
,
Trans Fat:
0.003
g
,
Cholesterol:
71
mg
,
Sodium:
195
mg
,
Potassium:
127
mg
,
Fiber:
2
g
,
Sugar:
26
g
,
Vitamin A:
504
IU
,
Vitamin C:
7
mg
,
Calcium:
65
mg
,
Iron:
1
mg