These monster Rice Krispie treats are so much fun! This easy recipe takes the original version to the next level with fun colors, frosting, and candy eyeballs.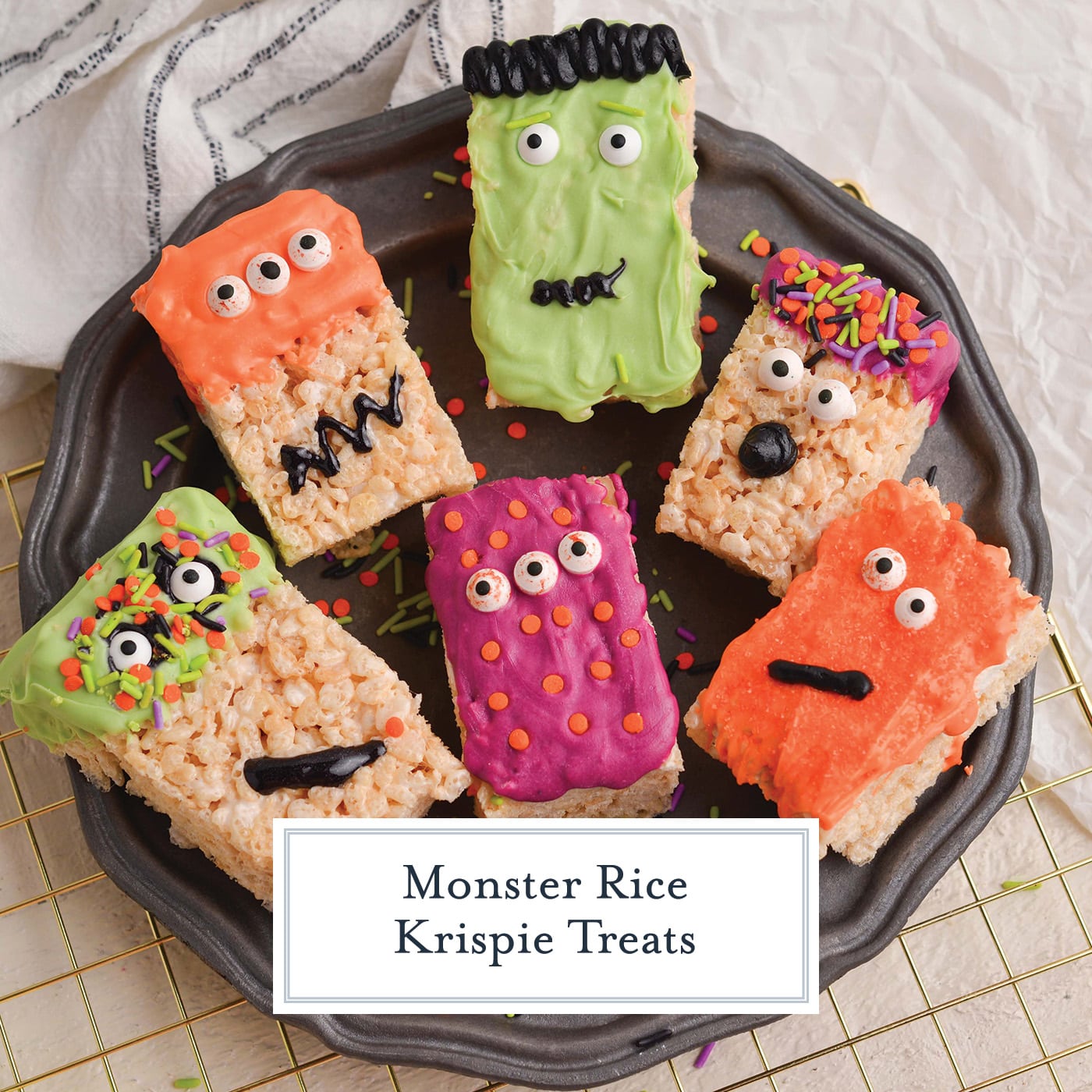 If you're looking for a festive Halloween treat to serve at a party or on Halloween night before trick-or-treating or giving out candy, these are for you. Plus, the recipe is so simple that the whole family can get into the Halloween spirit while making these together!
The next time you're looking for a fun way to make an easy dessert for Halloween, definitely check out these festive treats!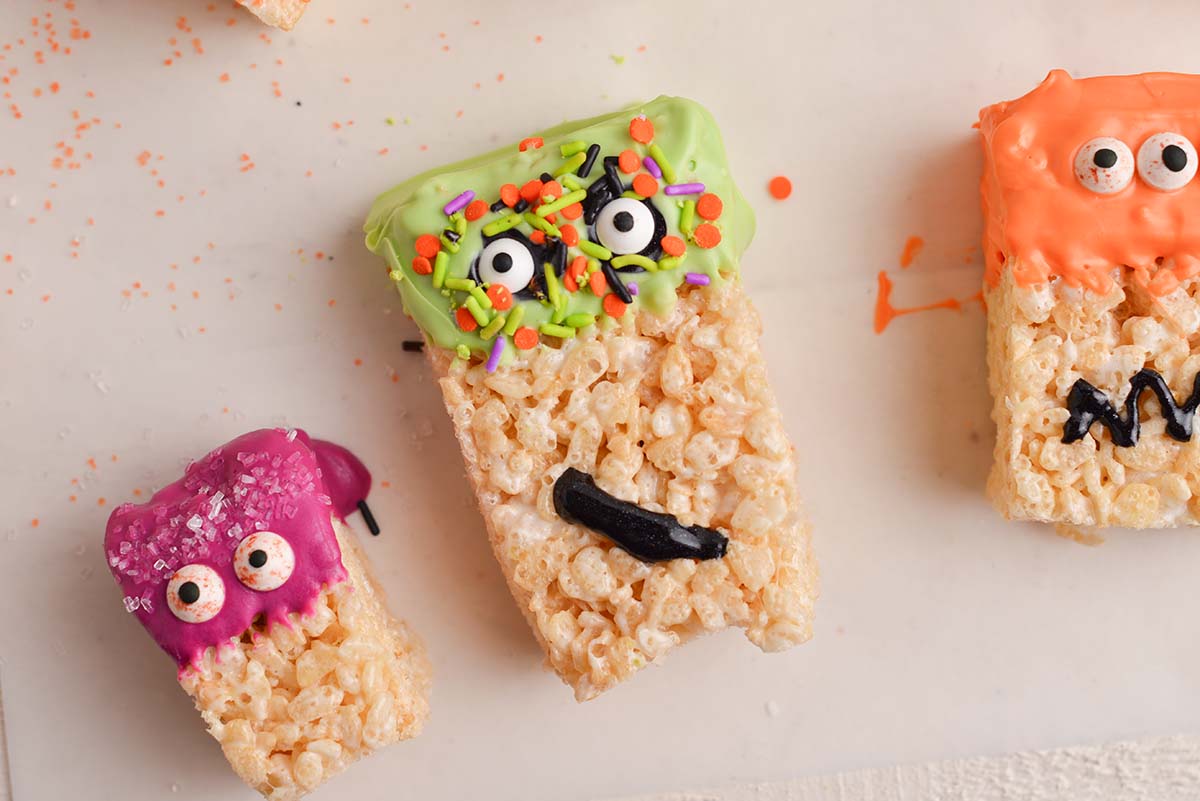 Why You'll Love Monster Rice Krispie Treats
There are lots of reasons to love these Halloween-themed sweet treats.
Eye-catching – These brightly colored treats are a hit at Halloween parties or packed in lunches.
Tasty – These are full of all of the flavor of the original treats, plus a little extra sweetness from the candy melts and frosting.
Easy – You can whip these up quickly and only have one pan to wash afterward.
Customizable – It's easy to get creative with these fun treats.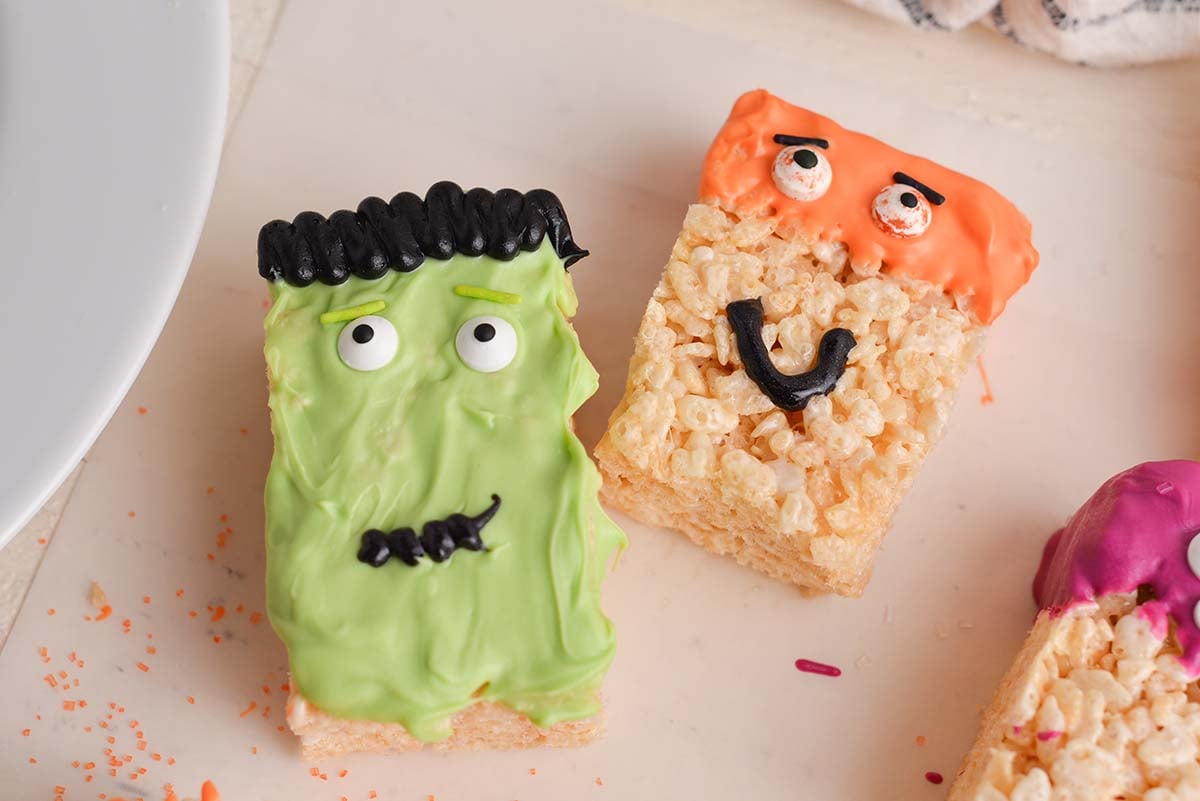 Ingredients for Homemade Rice Krispie Treats for Halloween
You only need a few simple ingredients to make this fun dessert.
Salted butter – While we usually use unsalted butter for baking recipes, since there is no other salty addition, you can use salted butter for this recipe.
Large marshmallows (or mini marshmallows) – Either size will work, but it may be helpful to tear larger marshmallows into smaller pieces so that they melt more quickly.
Rice Krispies cereal – You can use the brand name or a generic store version.
Candy melts – Use equal parts of magenta, lime, and orange candy melts. Or, choose your own favorite colors.
Candy eyeballs – You can find fun candy googly eyes at a grocery store or craft store — or look for them online. Get them all in one size, or get a variety and alternate between small and large candy eyes when decorating.
Black frosting (with pen tip) – Use this to decorate your treats after frosting. Or, you can also melt black candy melts and drizzle or pipe it over the treats.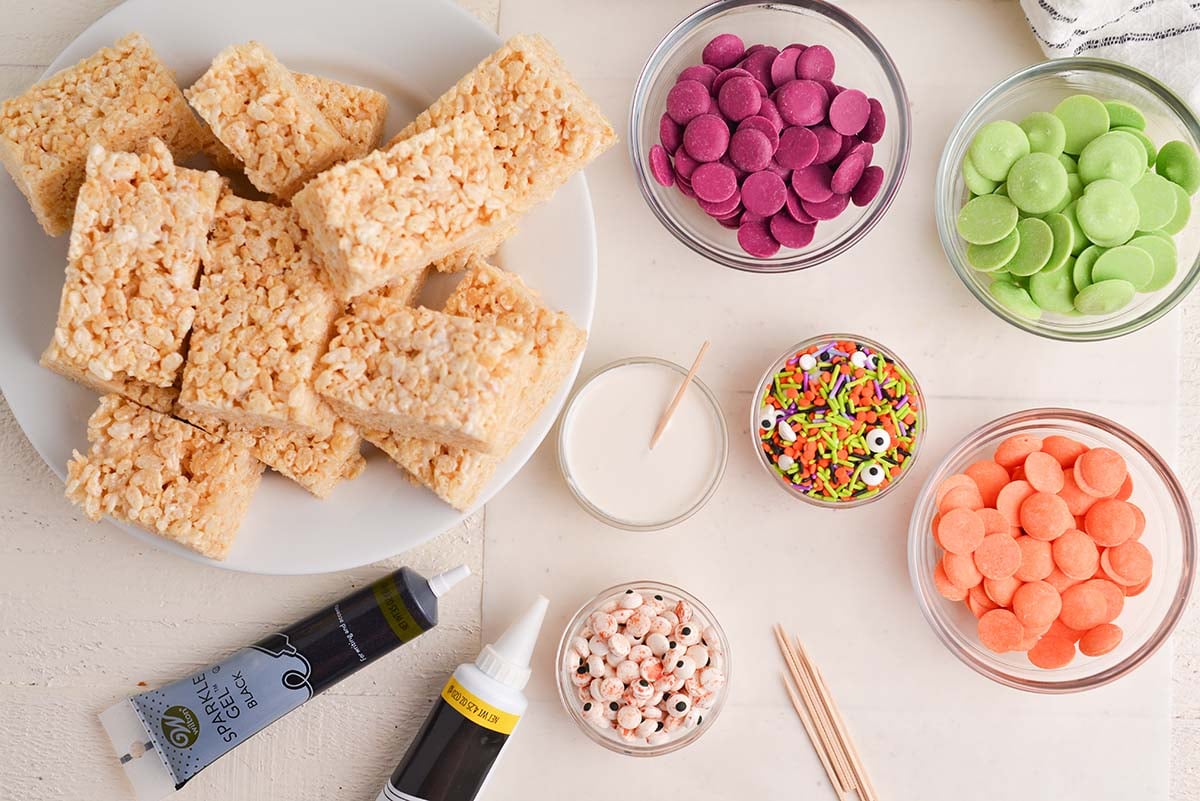 How to Make Monster Rice Krispie Treats
These are as easy to make as classic Rice Krispies treats — you just have the added step of decorating them.
Place butter into a preheated heavy-bottom saucepan or large pot and melt.
Pour the marshmallows into the pan with the butter and mix together until melted and smooth.
Take the pan off of the stove before pouring Rice Krispies into the melted marshmallow and butter mixture.
Use a rubber spatula to press the Rice Krispies into the pan that's been sprayed with nonstick spray.
Let the Rice Krispies cool to room temperature.
Once the Rice Krispies have cooled, use a sharp knife to slice them.
Melt the candy melts in separate bowls.
Dip the treats into the melted candy and decorate with frosting and eyeballs.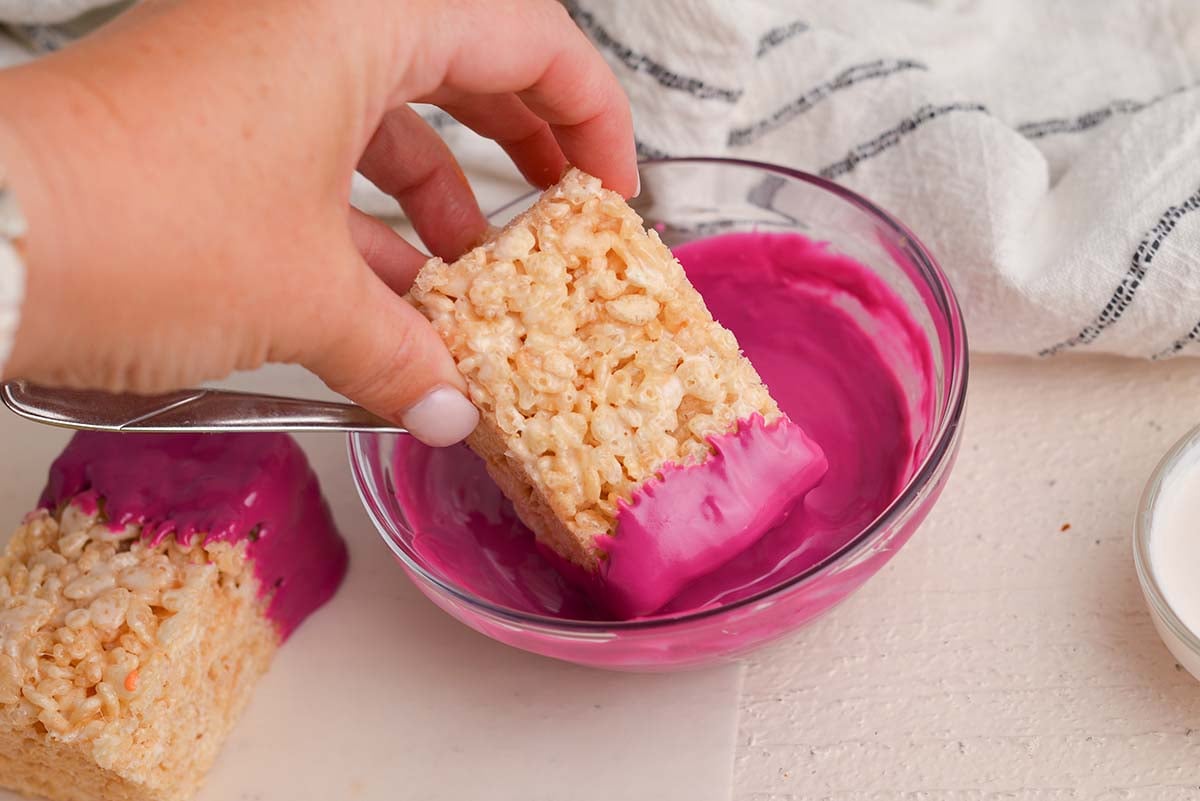 What to Serve with Monster Rice Krispies Treats
These fun Halloween treats are fantastic snacks all on their own, or you can serve them with a big glass of cold milk or hot chocolate. You can also serve them with ice cream or chocolate pudding or drizzle them with melted chocolate, white chocolate, chocolate sauce, or salted caramel.
If you're trying to keep things fun and festive, you can serve them with things like Mummy Oreo Cookies, Ghost Cookies or even Monster Bark.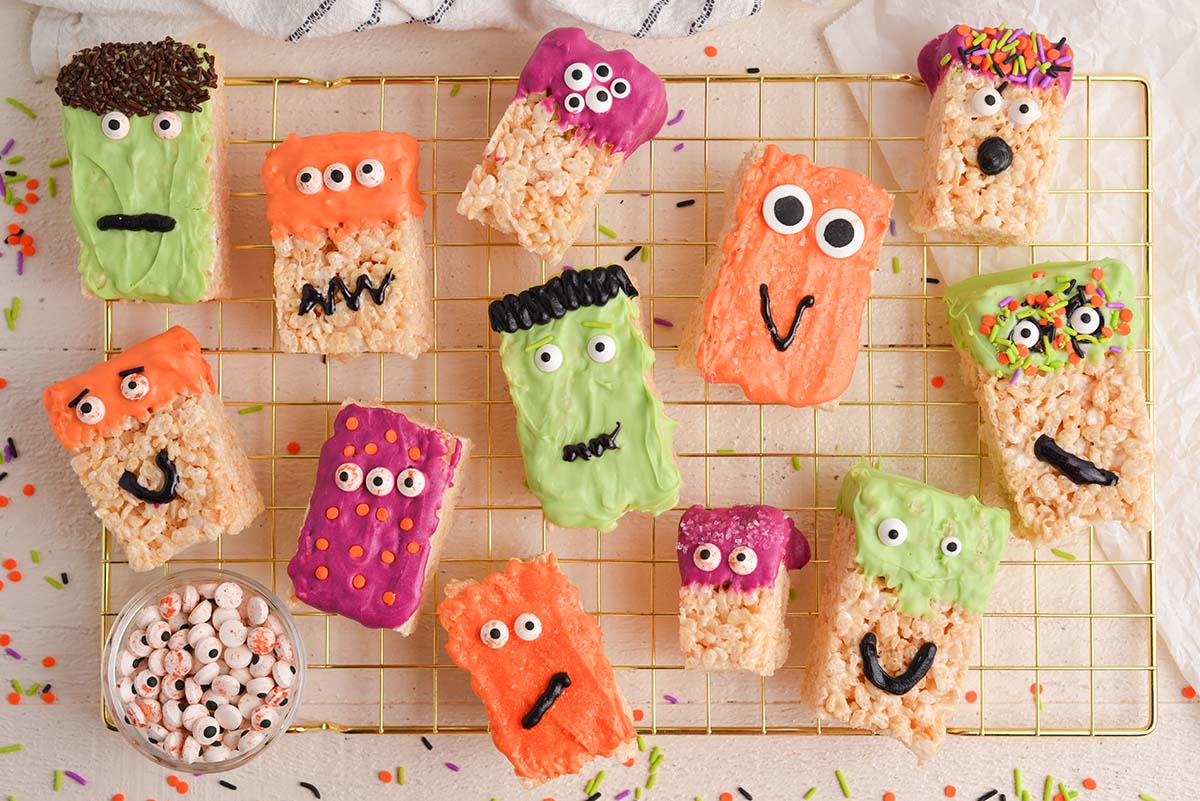 Variations on Homemade Rice Krispies Treats
There are lots of ways to jazz up these cereal treats. These are just a few ideas.
Fluff – 7 ounces (1 ½ cups) of marshmallow fluff can be swapped for the marshmallows
Cutters – Use cookie cutters to make fun shapes.
Nuts – Fold in crushed nuts for some added texture and flavor.
Dried fruit – Stir small pieces of dried fruit into the Rice Krispies for a pop of color and sweetness.
Coloring – For a fun twist, try adding food coloring to the marshmallow mixture before adding the Rice Krispies. Try using green for some fun Frankenstein Rice Krispie treats.
Nut butters – Add creaminess and nutty flavor by stirring in peanut butter or almond butter.
Chocolate chips – Mix mini chocolate chips in with the Rice Krispies.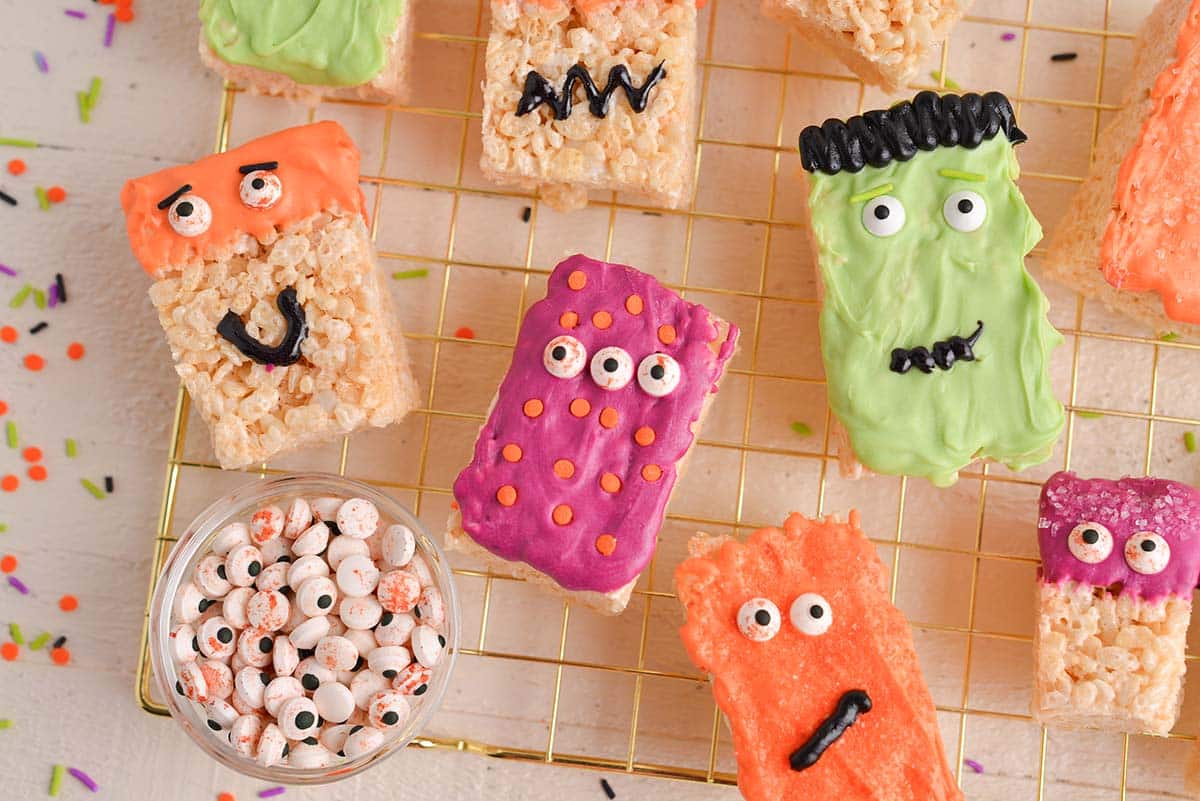 Storage
Store Rice Krispie monster treats in an airtight container or resealable plastic bag. To minimize sticking, separate layers with parchment paper or wax paper.
Make-Ahead: You can make the treats ahead of time, and then dip and decorate when ready.
Refrigerator: While the treats will stay fresh on the counter for 2-3 days, you can also store them in the refrigerator for up to a week.
Freezer: Freeze Rice Krispie treats for up to 3 months. If you want to be able to pull out one at a time, wrap them tightly in plastic wrap.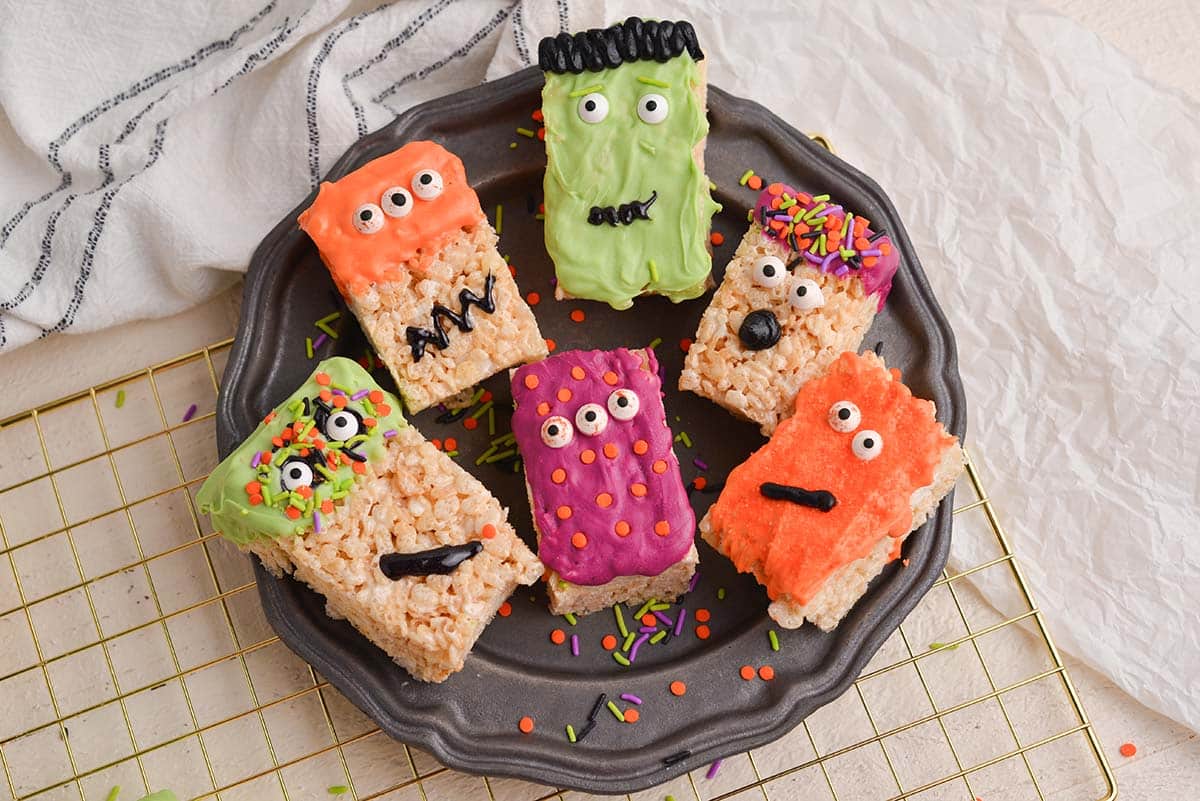 Common Questions About Monster Rice Krispie Treats
Why are my Rice Krispie treats hard as a rock?
If you heat the marshmallow and butter mixture too quickly or at too high of a temperature, the treats can become hard. Instead, cook the mixture at a lower temperature and give the mixture time to melt and become smooth.
Do you put Rice Krispie treats in the refrigerator?
Rice Krispie treats can be stored in the refrigerator, but they can be stored on the counter in an airtight container, too.
What happens if you put too much butter in Rice Krispie treats?
When making sweets, it's important to be precise when you measure. Using too much butter can result in Rice Krispie treats that may not stay together and have a wet texture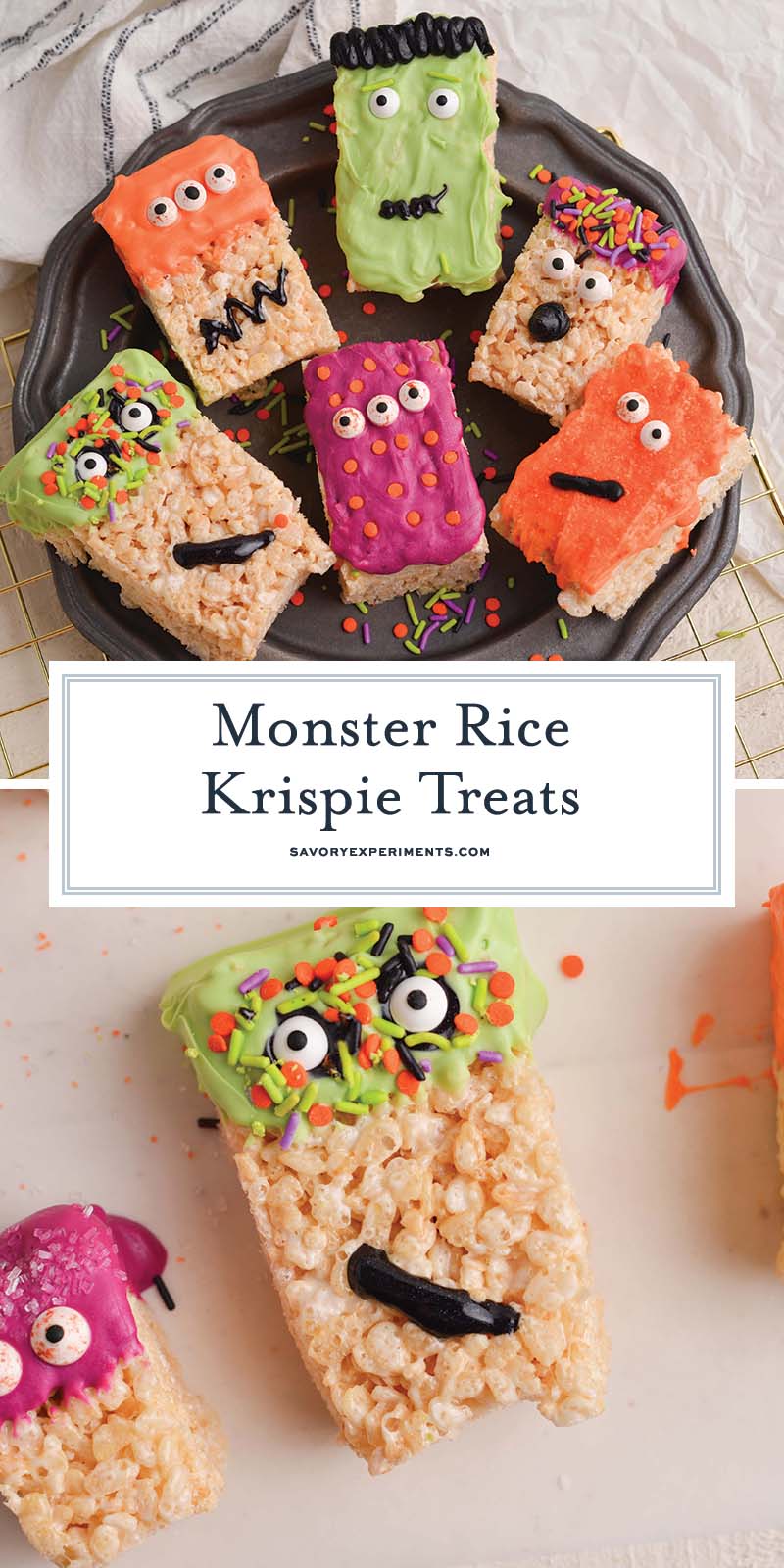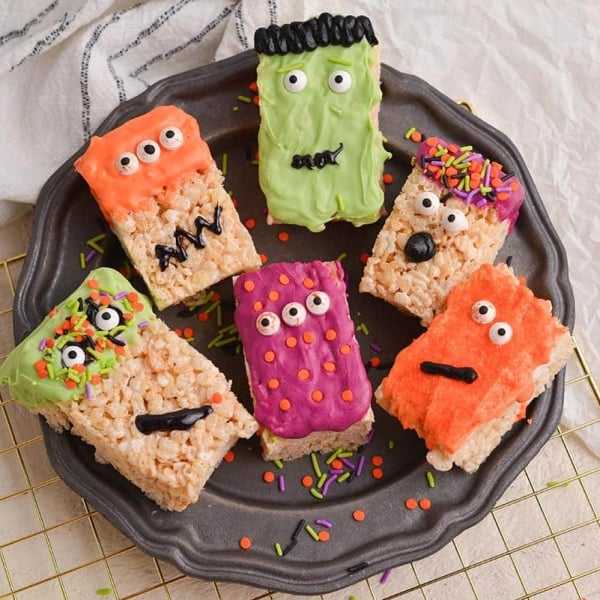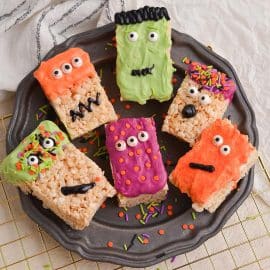 Monster Rice Krispie Treats
This EASY Monster Rice Krispie Treats recipe takes the original version to the next level with fun colors, frosting, and candy eyeballs!
Ingredients
4

tablespoons

salted butter

10

ounces

large marshmallows

, or 5 1/2 cups mini marshmallows

6

cups

Rice Krispies cereal

3/4

cup

magenta candy melts

3/4

cup

lime green candy melts

3/4

cup

orange candy melts

candy eyeballs

1

tube black frosting with pen tip
Instructions
Coat a 9×13 pan with cooking spray. Set aside.

Melt the butter over low heat in a large, heavy bottom saucepan. When melted, add the marshmallows and stir until smooth.

Remove from the heat and stir in the Rice Krispies cereal until fully coated.

Using buttered spatula or wax paper evenly press mixture into the prepared pan. Allow to cool fully.

When cooled, cut into rectangles, squares or other shapes.

Melt each color of candy melts in a microwave-safe bowl according to package directions.

Dip each Rice Krispie treat into the chocolate as desired, either the whole face or just one half.

Decorate as desired with frosting and/or candy eyeballs.

If you've tried this recipe, come back and let us know how it was in the comments or star ratings.
Notes
Microwave Instructions: Heat the butter and marshmallows on HIGH for 3 minutes in a large microwave safe bowl, stirring after 2 minutes. Stir until smooth. Fold in the rice krispies cereal and then continue by placing into a prepared 9×13 baking dish. Microwave cooking times may vary based on wattage, watch carefully and use a bowl bigger than you expect because marshmallows expand.
Nutrition
Calories:
255
kcal
,
Carbohydrates:
43
g
,
Protein:
1
g
,
Fat:
9
g
,
Saturated Fat:
7
g
,
Polyunsaturated Fat:
0.2
g
,
Monounsaturated Fat:
1
g
,
Trans Fat:
0.2
g
,
Cholesterol:
10
mg
,
Sodium:
142
mg
,
Potassium:
20
mg
,
Fiber:
0.1
g
,
Sugar:
26
g
,
Vitamin A:
1048
IU
,
Vitamin C:
9
mg
,
Calcium:
3
mg
,
Iron:
4
mg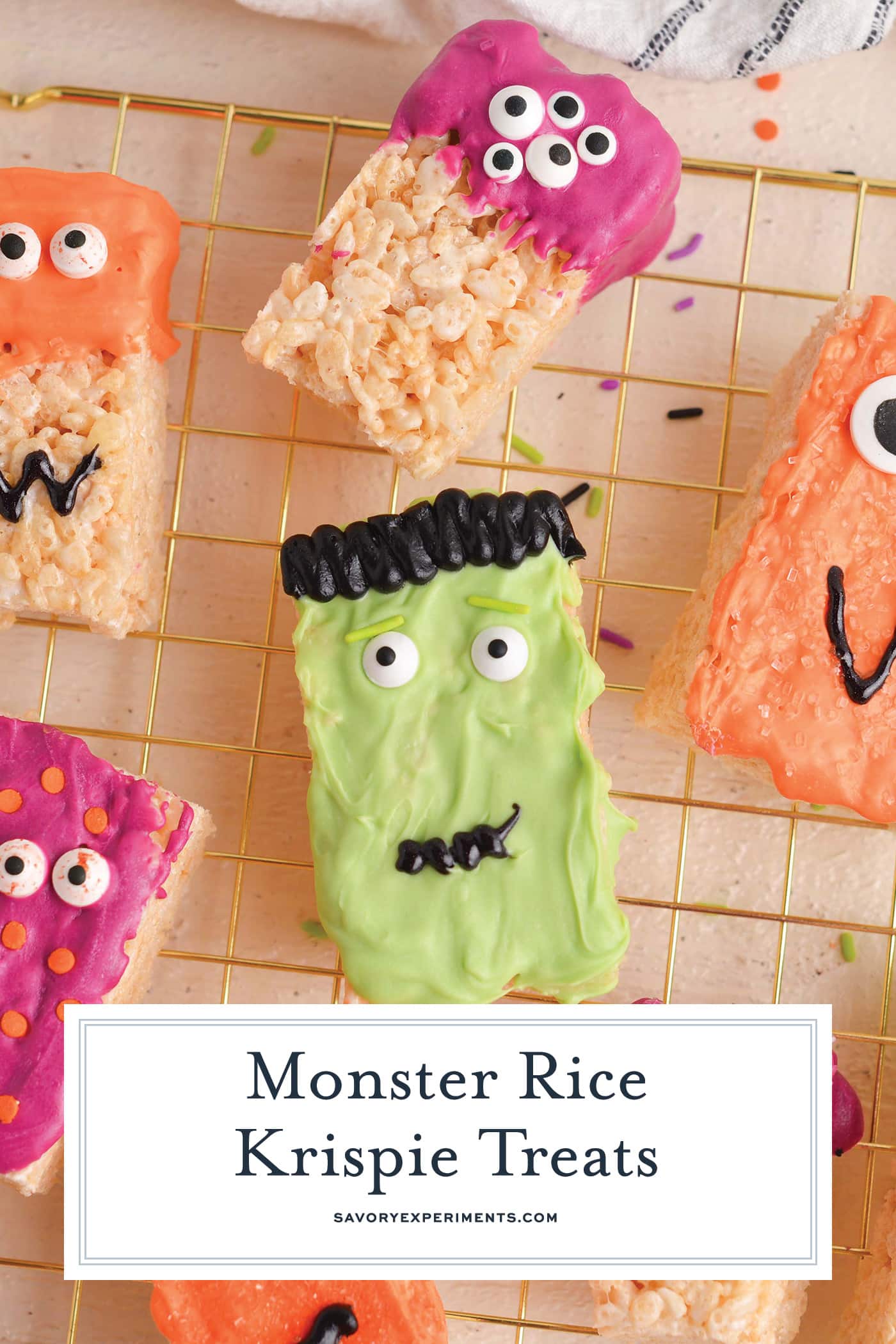 HAPPY HALLOWEEN!!!
Welcome to 2023's #HalloweenTreatsWeek event!
If you're new here, Welcome! If you're a returning haunt, welcome back!
#HalloweenTreatsWeek is a yearly Halloween blogging event that is hosted by Angie from Big Bear's Wife . You'll find that this fun and spooky event is an online, week-long event that is filled with some frightfully fun Halloween treats and recipes from some fantastic Halloween loving bloggers!
For this years 6th annual #HalloweenTreatsWeek event we have 18 hauntingly talented bloggers that are sharing their favorite Halloween recipes throughout the week! You can following the hashtag #HalloweenTreatsWeek on social media to collect all of these frightful recipes to use at your own Halloween parties and events!
Make Sure to check out all of the fun Halloween recipes that we're sharing this week!
Today's Halloween Offerings: