As far as desserts go, there are few things I love more than a slice of cheesecake. And to be fair, I've never met a cheesecake I didn't like.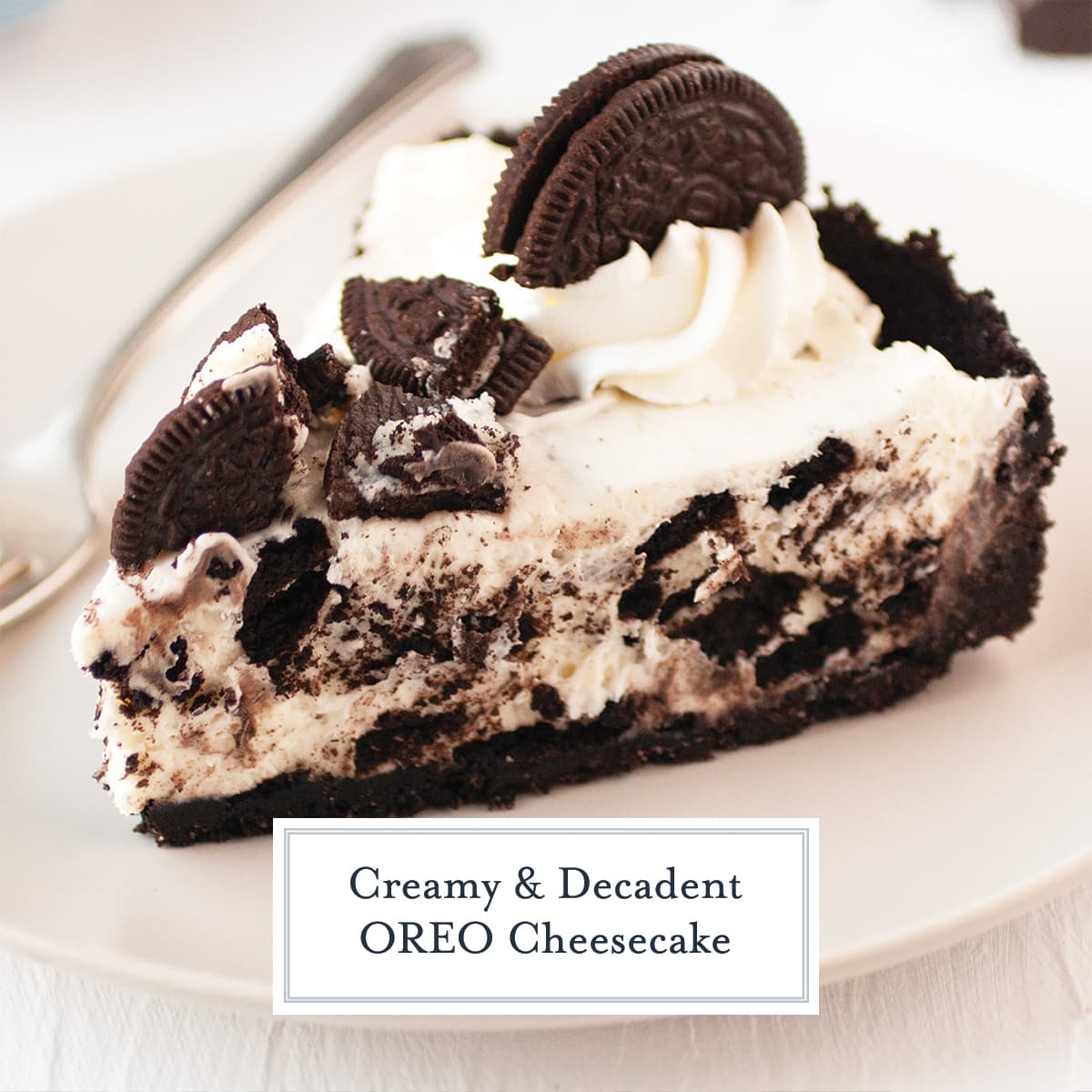 Flavored, plain, sauced, no-bake, overbaked, in an Instant Pot, cracked- no matter how they are made or what they look like, they are all delicious.
The Best Oreo Cheesecake Recipe
It's a good thing this cheesecake doesn't have the issue of tasting better than it looks. The darn thing is gorgeous! Considering we all know I am a terrible sweet decorator, you know it is all super easy to make and decorate.
So let me tell you about this decadent no bake dessert and why it is SO much better than the others…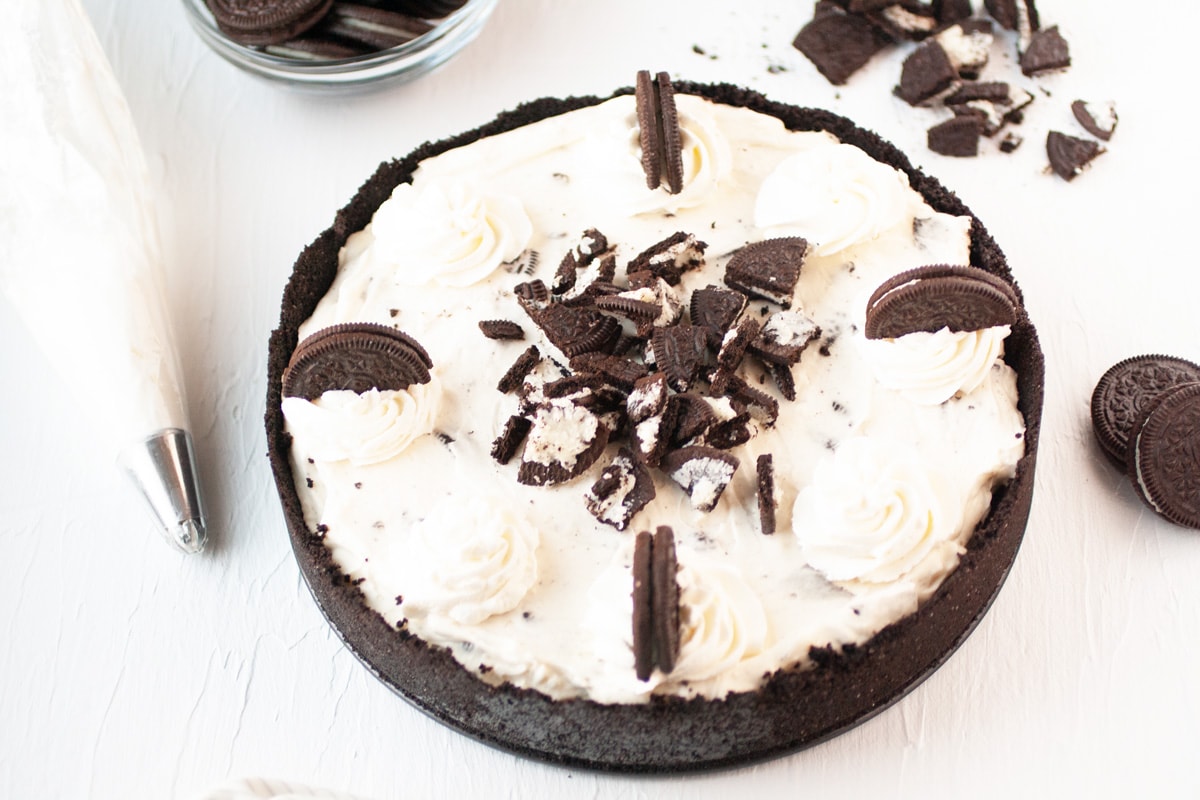 It all starts with an OREO cookie crust. Make your own, buy one, or even just buy OREO cracker crumbs in the baking section to skip a step.
Next, the OREO cheesecake filling. The filling boats white chocolate, cream cheese, whipped cream, OREO cream fillings (the white stuff) and crumbled cookies.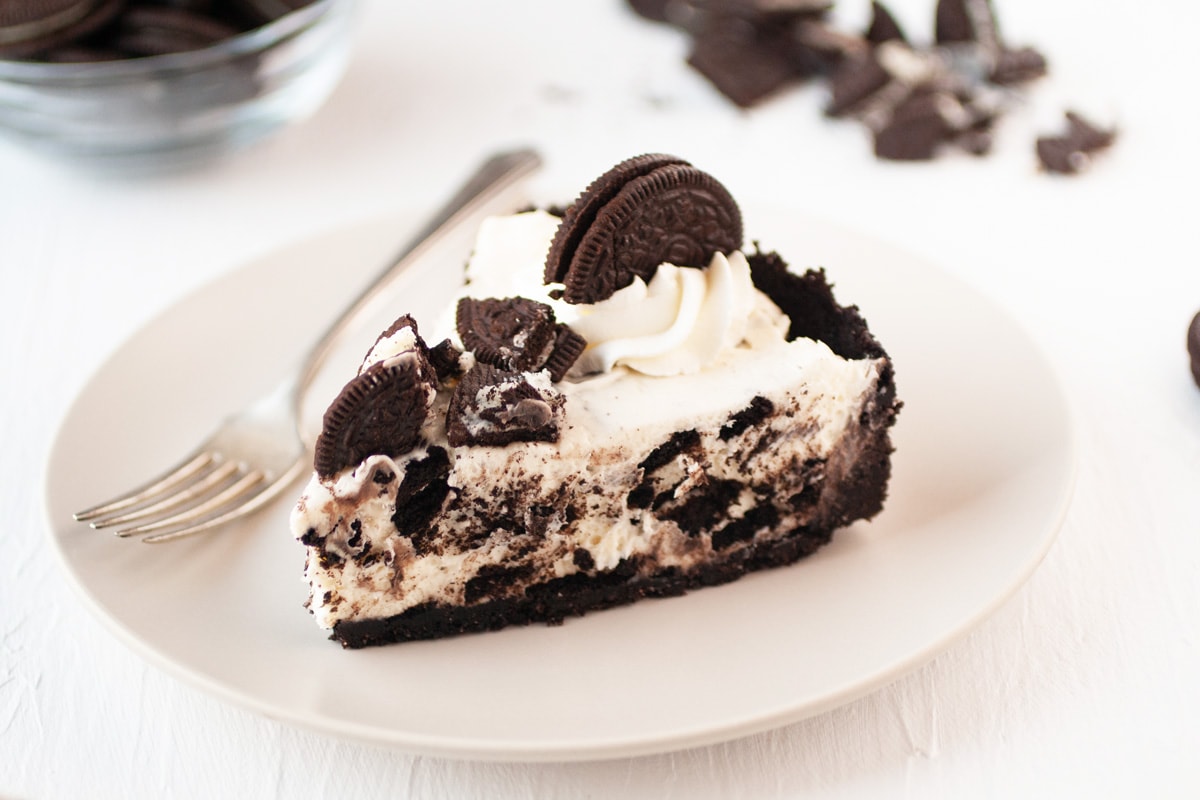 And the showstopper topping is whipped cream and cookies. This is serious OREO cookie and cheesecake heaven.
How to Make OREO Cheesecake
For this project, your best bet is to buy a Family Size or Party Size box of cookies. You'll need a lot!
Next, remove the filling from some of the OREOs, resisting the urge to eat it as you go. Make the crumb crust from the cookie pieces and reserve the filling for the filling of your cheesecake, this is what makes it extra special and extra OREO-y.
The crust is made of sugar, OREOs and butter, pat it into your pie plate, a DEEP dish (2.5 inches deep) and bake to set.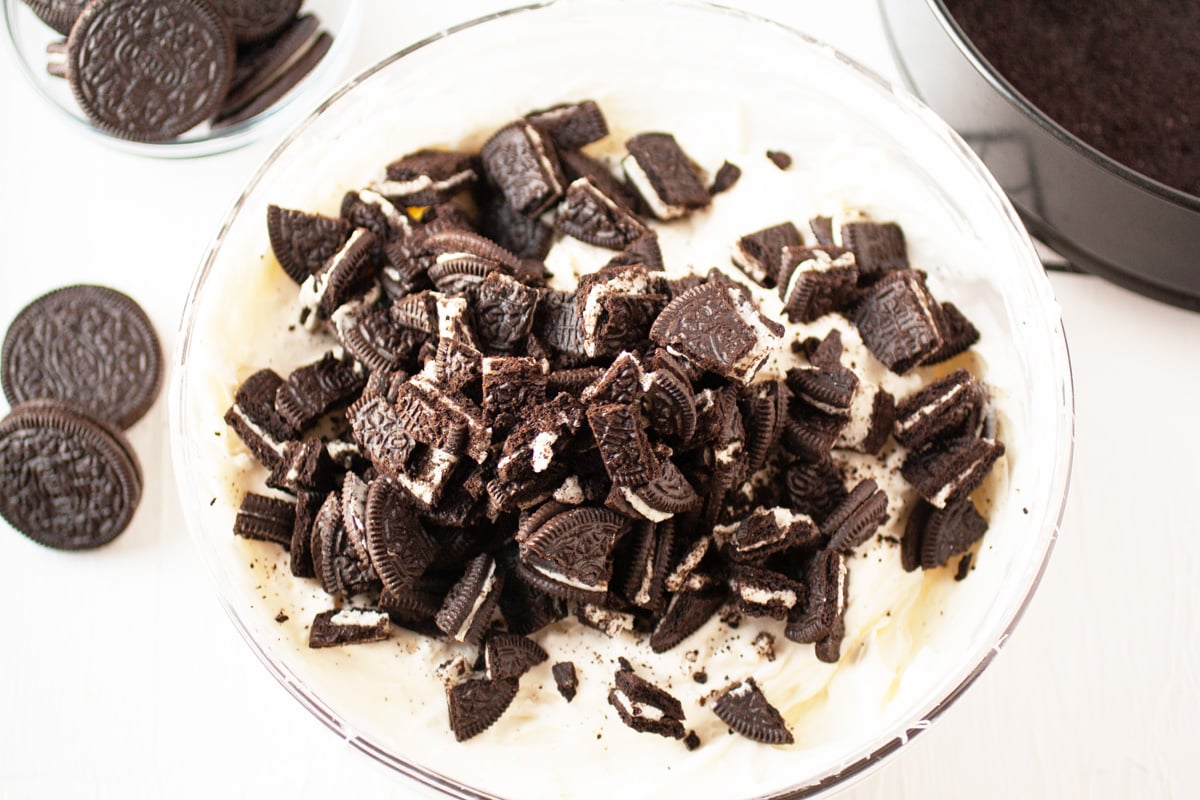 Here is where things get GOOD. The filling.
Melt OREO cream filling with white chocolate and whisk together.
Beat heavy cream until light and airy, then whip some with the cream cheese, reserve the rest for folding.
Mix cream cheese with white chocolate mix and crushed cookies and then fold in the rest of the whipped cream by hand. This leaves it light and fluffy instead of heavy and dense.
Place over cooled crust and chill.
Then make the whipped cream topping and decorate.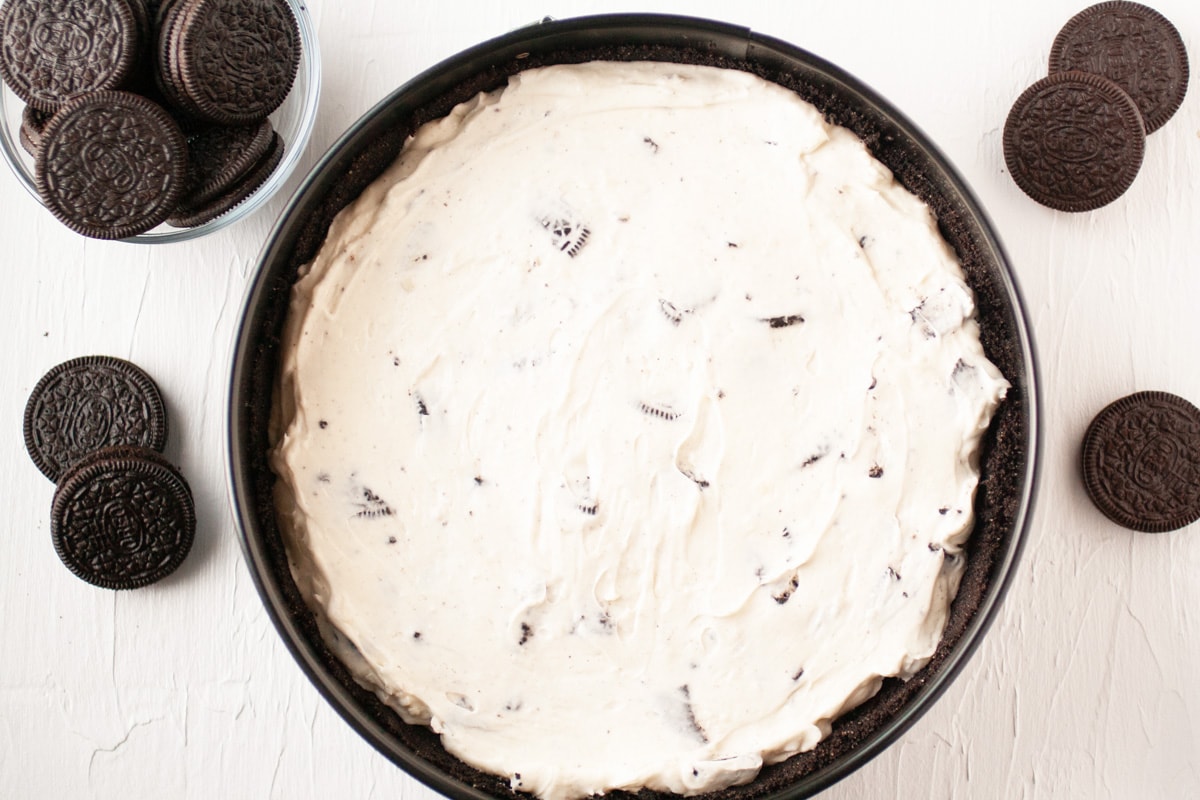 Decorating
We all know I am a terrible decorator when it comes to desserts, which is why something like this appeals to me. I can handle cookie crumbles, whipped cream and whole cookies and the cake looks divine.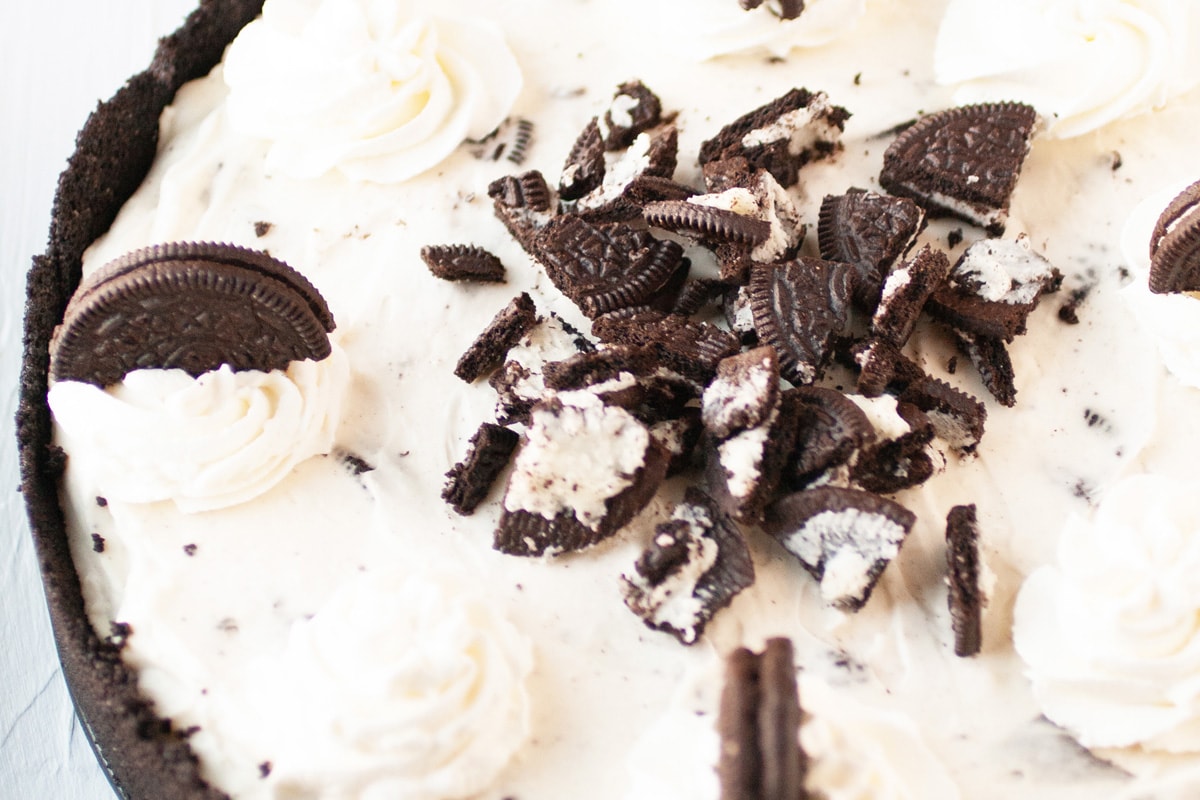 But here are a few other ideas if you want to get all crazy.
Chocolate fudge or chocolate ganache drizzle
Festive sprinkles- find embellishments that match whatever you happen to be celebrating, even that is just being grateful for the day. By the way- rainbow sprinkles are best for that.
Cream cheese frosting– I love a rich cream cheese frosting on cheesecake, but beware that it is hard to spread without doing a little damage to the cake. Make sure to soften the frosting well and possibly even place the cheesecake in the freezer to make it taunt before attempting.
Use flavored OREOs. Don't stop at just chocolate cream. Use the blond vanilla cookies or any other flavor that floats your boat!
You can even use the filling for Chocolate Chip Cookie Cheesecake Bars!
Storage & Freezing
No bake cheesecakes tend to be best enjoyed within a day of creating. Cookies will still taste great beyond that, but will start to lose their snap. It can be eaten up to 5 days after preparing, just keep in the fridge!
While you can freeze this cake, do so before decorating the top with whipped cream. Do this after thawing. Cookies will defrost a little soggier than they went in.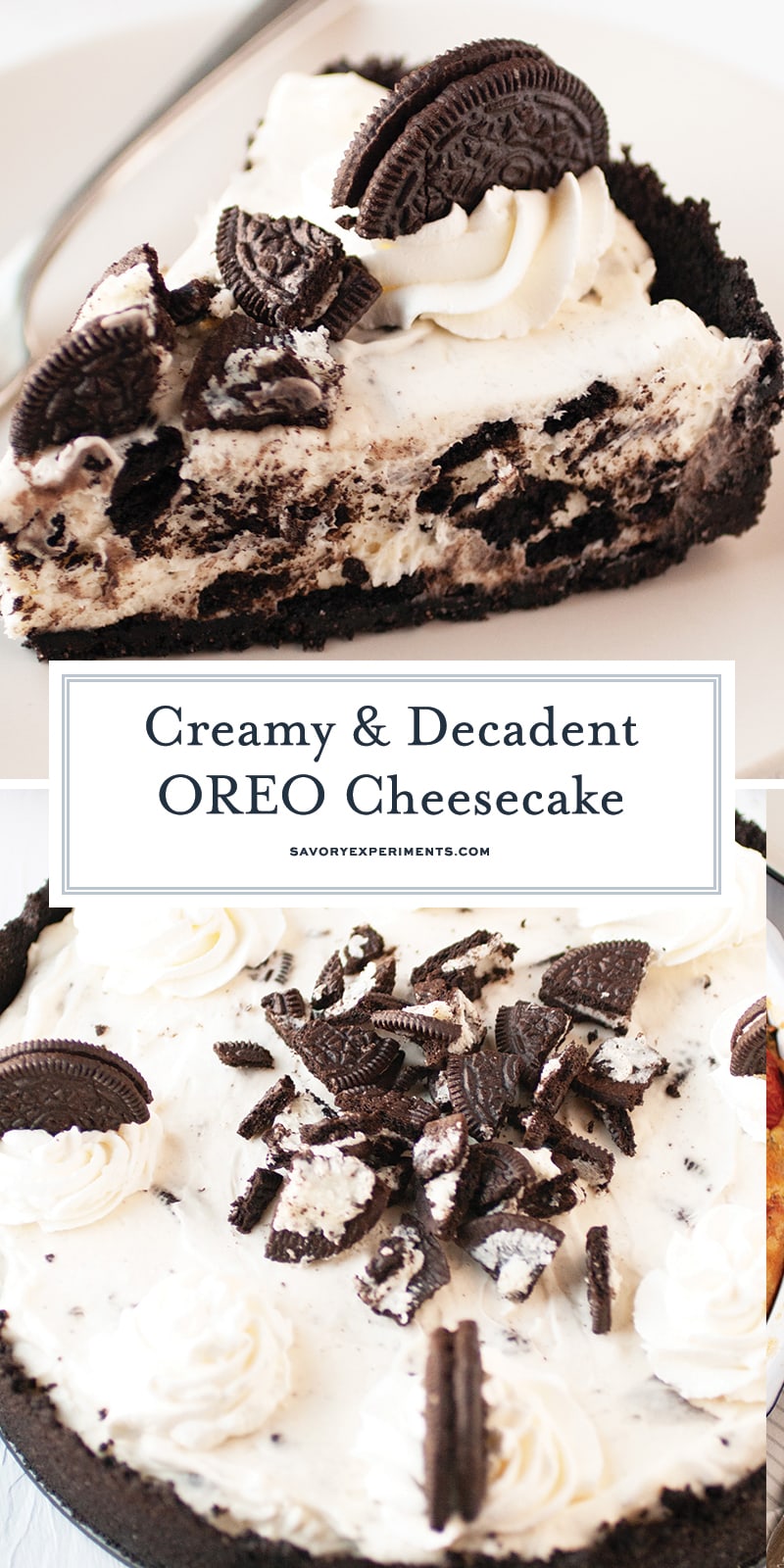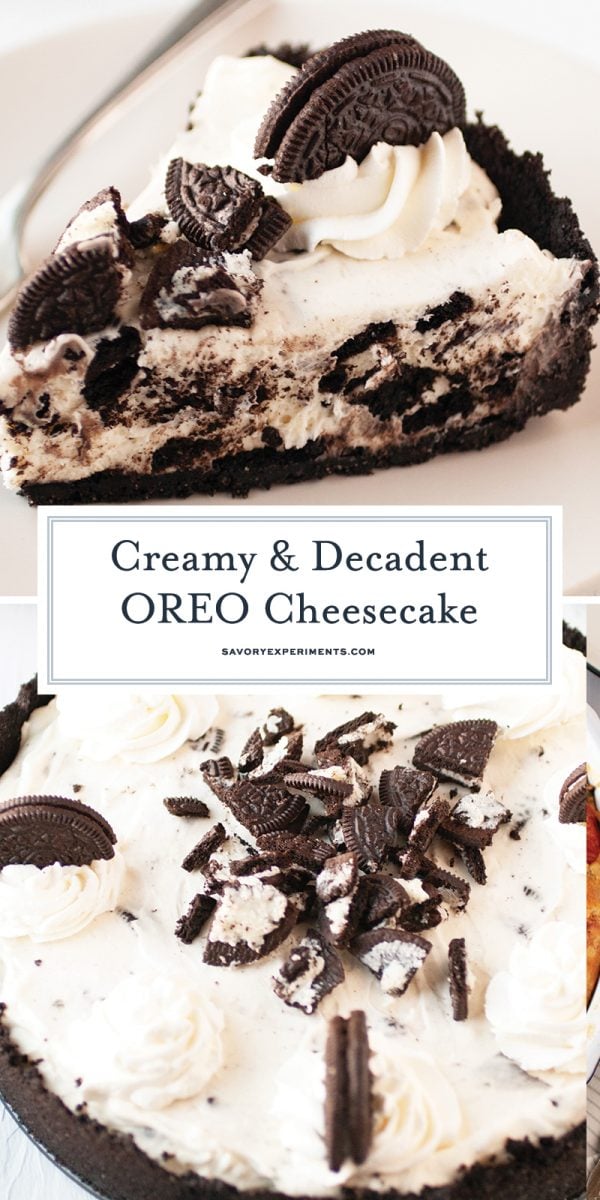 More Desserts with OREO Cookies: