This post is sponsored by Mondelēz International, but all opinions are my own.
The holiday season brings so much excitement and bliss to our home. For years, it was just my husband and I, but now we have two little ones and try to create a new family tradition each year.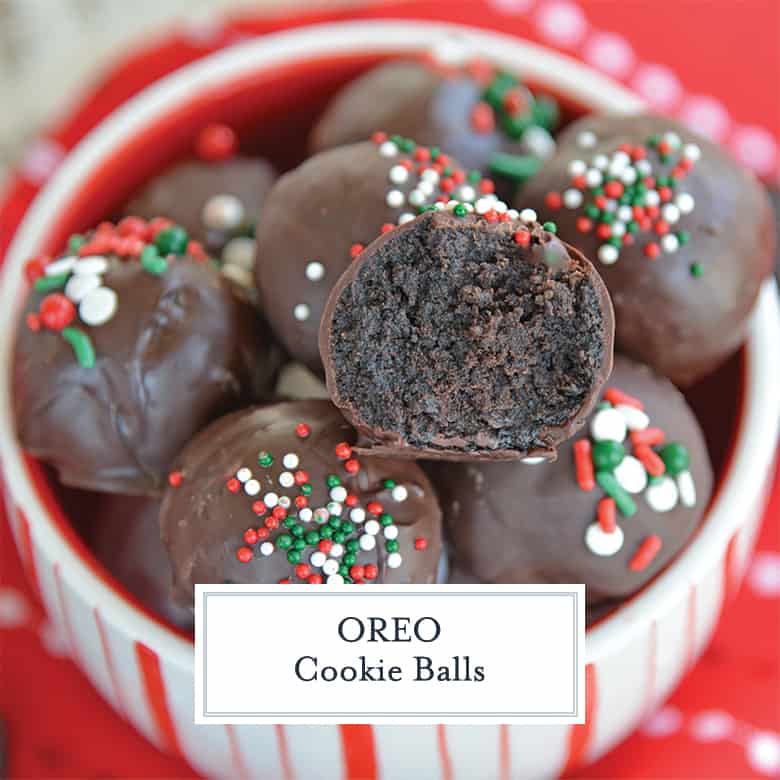 Holiday Sprinkled Oreo Cookie Balls are an easy no bake dessert perfect for the holiday season and great to make with kids. No cookie tray or party is complete without them!
Best Recipe for Oreo Balls
One of my favorites? Making Christmas cookies with my daughter. She gets SO excited to help me in the kitchen and get her hands dirty. However, she is only two, so whatever we make needs to be fairly simple and forgiving.
Holiday Sprinkled Oreo Cookie Balls are the perfect choice! Using just 4 ingredients, they come together in a snap with no baking and are positively delicious.
FACT: Sometimes Oreo Cookie Balls are called Oreo Truffles!
In fact, they are one of my favorite things to give or receive as part of a cookie tray and I make a triple batch for any holiday parties. They go super fast.
Oreo Balls Recipe Ingredients
Brick cream cheese – Brick cream cheese has less water, so it will hold up better than the spreadable kind. For the same reason, we prefer a full fat cream cheese to reduced fat options.
Oreo cookies – They wouldn't be Oreo balls without Oreos! The most classic is original oreos, but feel free to have fun and use other flavors.
Holiday Sprinkles – These can be made all year, but they tend to make a large appearance at the holidays. Take them up a notch with using sprinkles.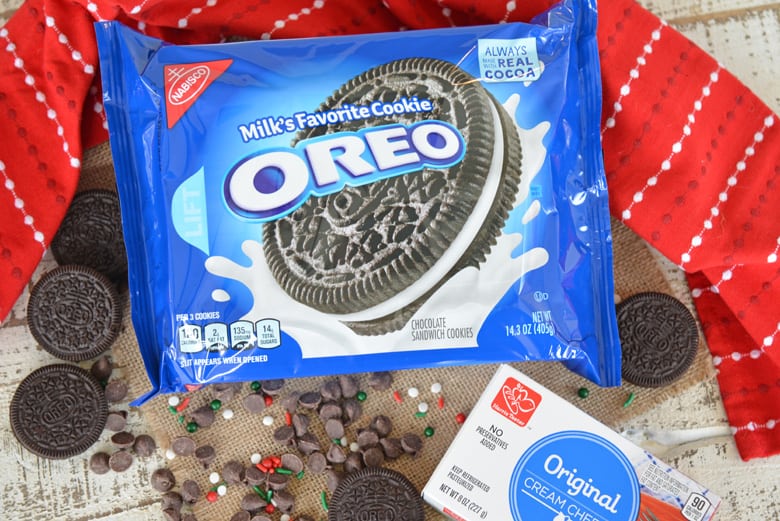 How to Make Oreo Cookie Balls
How do you make Holiday Sprinkled Oreo Cookie Balls? It is easy!
PRO TIP: For quick and easy Oreo Cookie crumbs, pulse them in a food processor. You can even mix crushed OREO Cookies with the cream cheese in the food processor as well.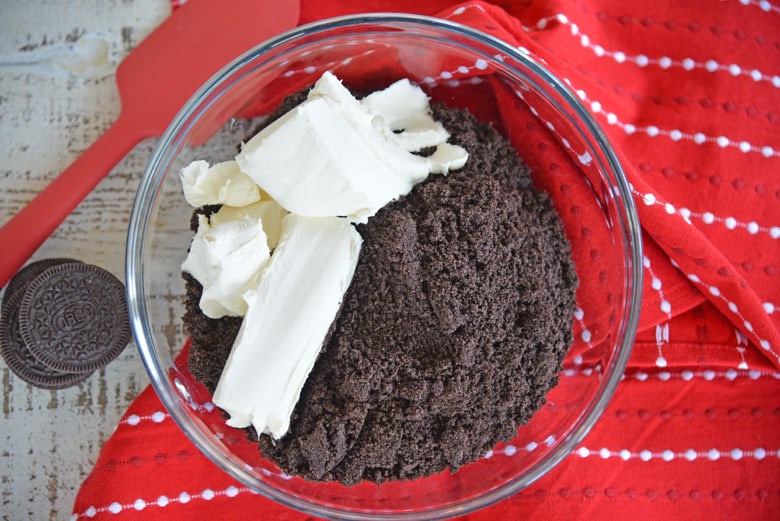 ONE. Start by taking a package of milk's favorite cookie, OREO, and crushing the cookies into crumbs.
The two methods I like best are using a food processor or placing the cookies in an airtight plastic bag and crushing them with a rolling pin.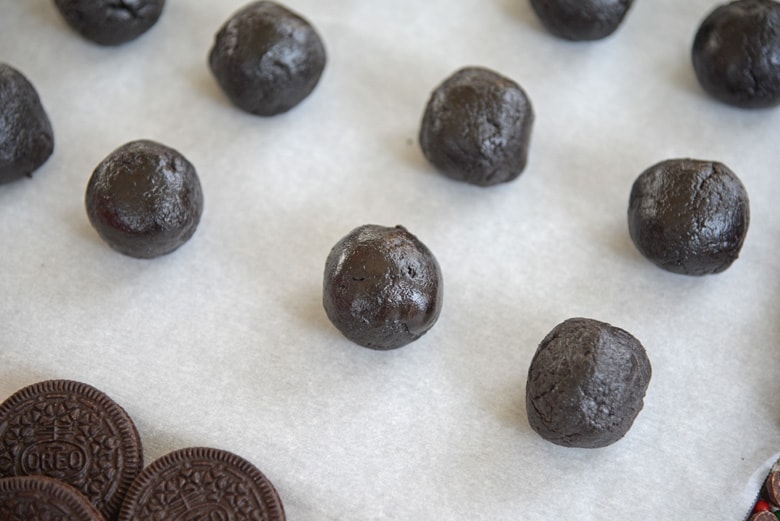 TWO. Then mix the cookie crumbs with softened cream cheese. Form into two-bite balls (about 1-inch each) and chill.
PRO TIP: Place chocolate dipped Oreo Cookie Balls onto a rimmed baking sheet lined with wax or parchment paper so the holiday sprinkles you choose will be contained and not make a mess.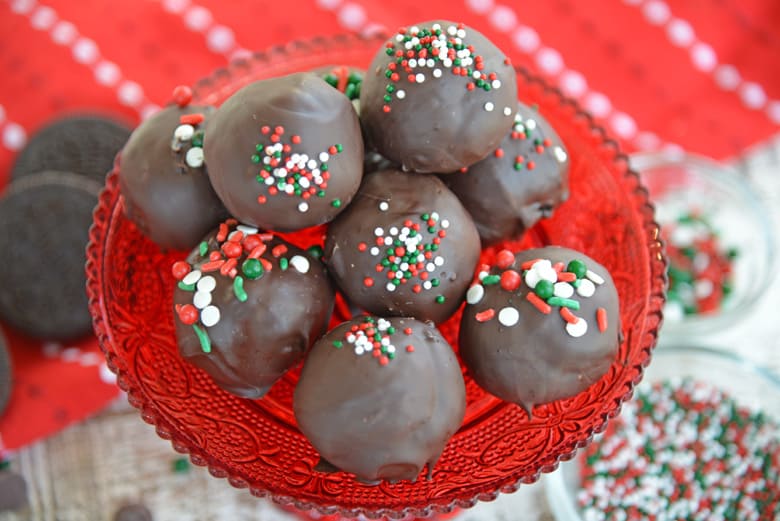 THREE. Dip into melted chocolate, decorate and voila! Holiday Sprinkled Oreo Cookie Balls! What you choose to decorate them with it totally up to you.
Oreo Ball Decorating Ideas:
My favorites are holiday sprinkles or sparkling sugar, but here are a few other ideas.
Additional crushed OREO cookies
Drizzle with more melted chocolate
Crushed peppermint
Holiday candy
Hard icing décor
Thick salted caramel sauce
Decorating icing
The only step I wouldn't let the kiddos be a part of is melting the chocolate. One, because it is hot and two, because it can be a bit tricky.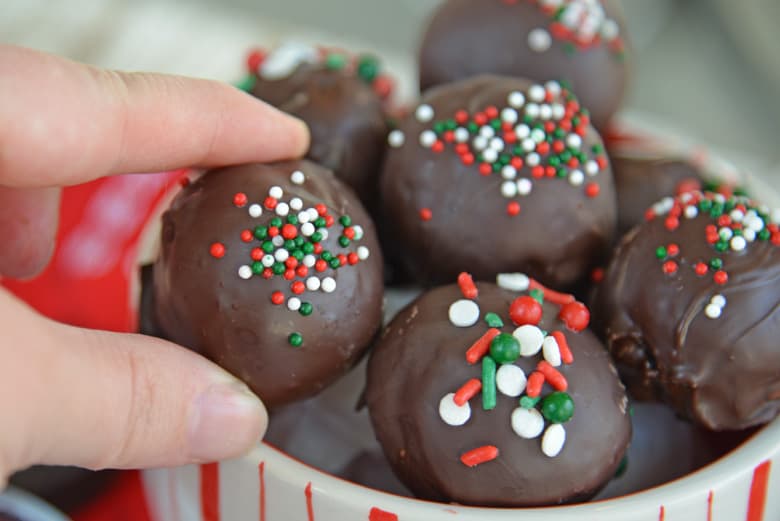 In fact, I was just chatting with a few of my blogger friends about some of the things we struggle with in the kitchen and we unanimously agreed that coating anything with melted chocolate takes a little practice, so here are my helpful tips.
Oreo Balls Recipe Tips: Melting Chocolate
Melting chocolate, like many other things in the kitchen, is chemistry and science.
You need the optimal temperature to make sure your chocolate melts to a silky-smooth consistency, don't do it over high heat, keep it at medium.
Skip the microwave and use a double boiler. The microwave heats too fast and too hot.
If you do need to use the microwave, use it at 50% power or defrost mode and go slow, 15 second intervals.
Don't fully boil the water in your double boiler. Get it hot enough to melt the chocolate, but not to a rolling boil.
Put the top pot on with chocolate after the water has come to temperature.
Stir constantly while melting. It should only take a minute or so.
Use immediately and while shiny.
If chocolate gets too hot, it gets clumpy and matte.
You can try to revive it by adding 2 teaspoons of vegetable shortening, but sometimes you are better off just starting over.
Oreo Cookie Balls Recipe Tips: Best Way to Dip Oreo Balls
I've read a lot of tricks for dipping Oreo Cookies Balls in melted chocolate, but after trial and error, I've found the easiest way is with a fork.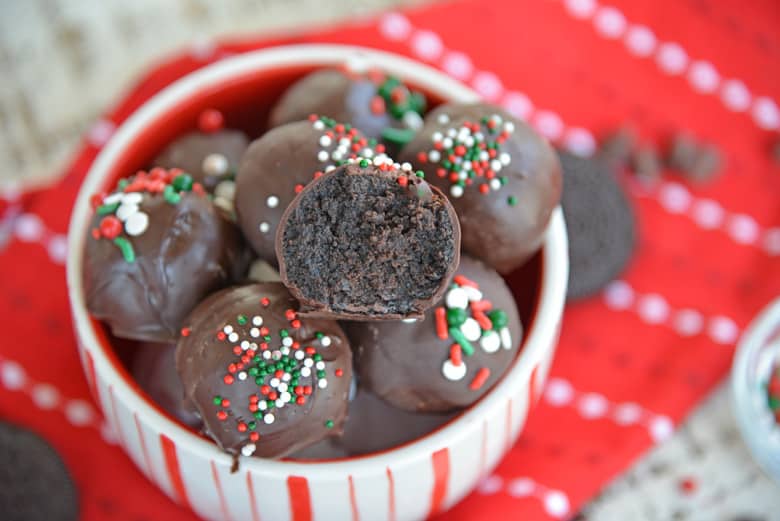 Working one at a time, place a chilled ball into melted chocolate, turning gently to cover. Lift out with a fork and tap on the outside of the bowl. This will let the chocolate fall smoothly on the outside.
Scrape the bottom of the fork on the rim of the pan to prevent having too much pool on the bottom while cooling. Use a toothpick or another fork to push it off the dipping fork onto your baking sheet.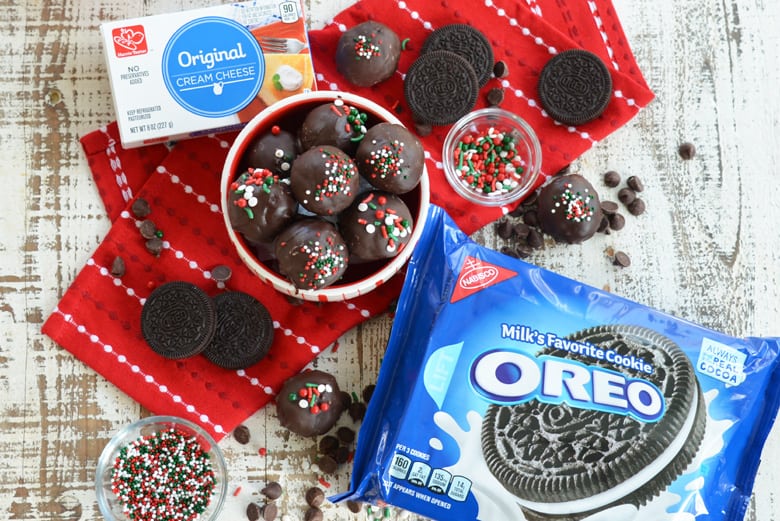 We hope you love these OREO truffles as much as we do!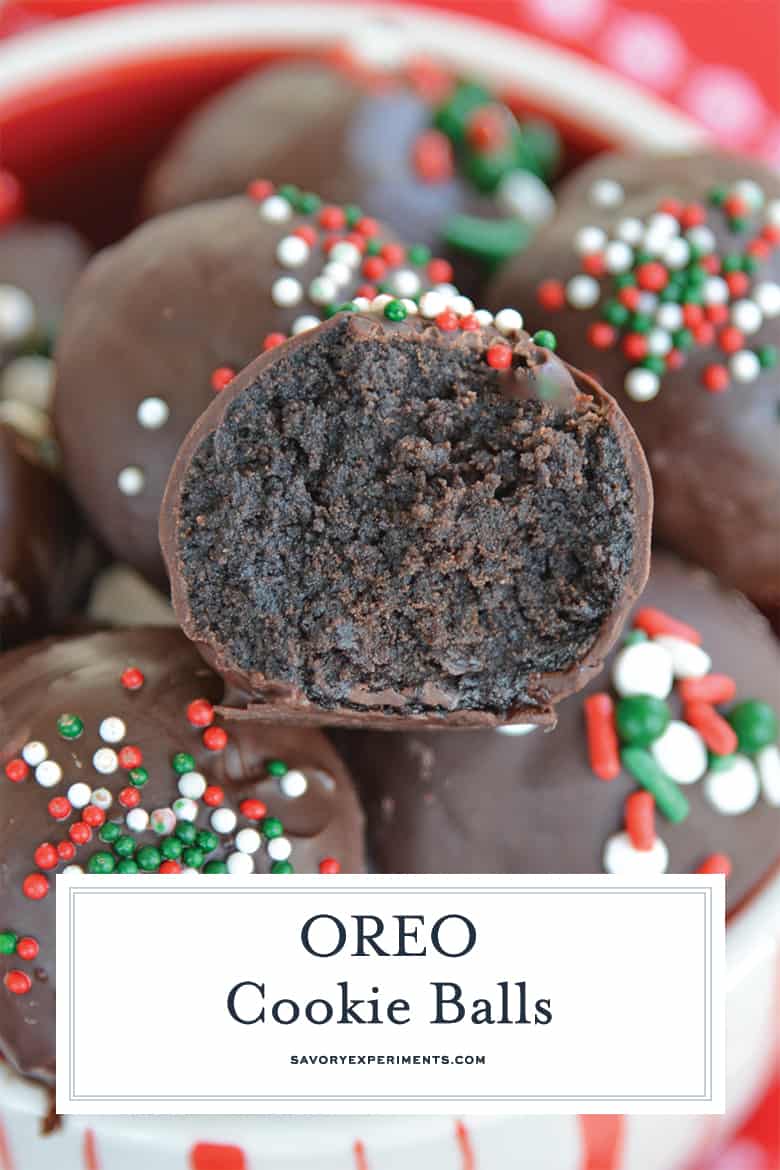 Cookie Balls Storage
How should I store my Oreo Cookie Balls?
If that is the case and I don't own a special chocolate covered items refrigerator, then where do I put them? Listen- they are fine in the fridge, just know that they might potentially sweat a little. They will still taste perfectly fine.
Can you freeze oreo balls?
Yes, you can freeze Oreo balls. Place them on a baking sheet in a single layer to freeze initially, then transfer them to an airtight container or freezer bag. They can be stored in the freezer for up to 2-3 months, and you can thaw them in the refrigerator before serving.
Oreo Cookie Balls Recipe FAQs
Why does chocolate sweat?
Chocolate sweats when the temperature changes too rapidly, the moisture releases. Chocolate covered anything is best kept somewhere between refrigerated and room temperature.
How do you crush Oreo Cookies?
You can crush them using a food processor, blender or in a plastic bag using a rolling pin.
How do you keep oreo balls from cracking
To prevent Oreo balls from cracking, make sure the Oreo cookie and cream cheese mixture is well-blended and evenly moist. Additionally, chilling them in the refrigerator for an adequate amount of time before dipping them in melted chocolate can help maintain their shape and prevent cracking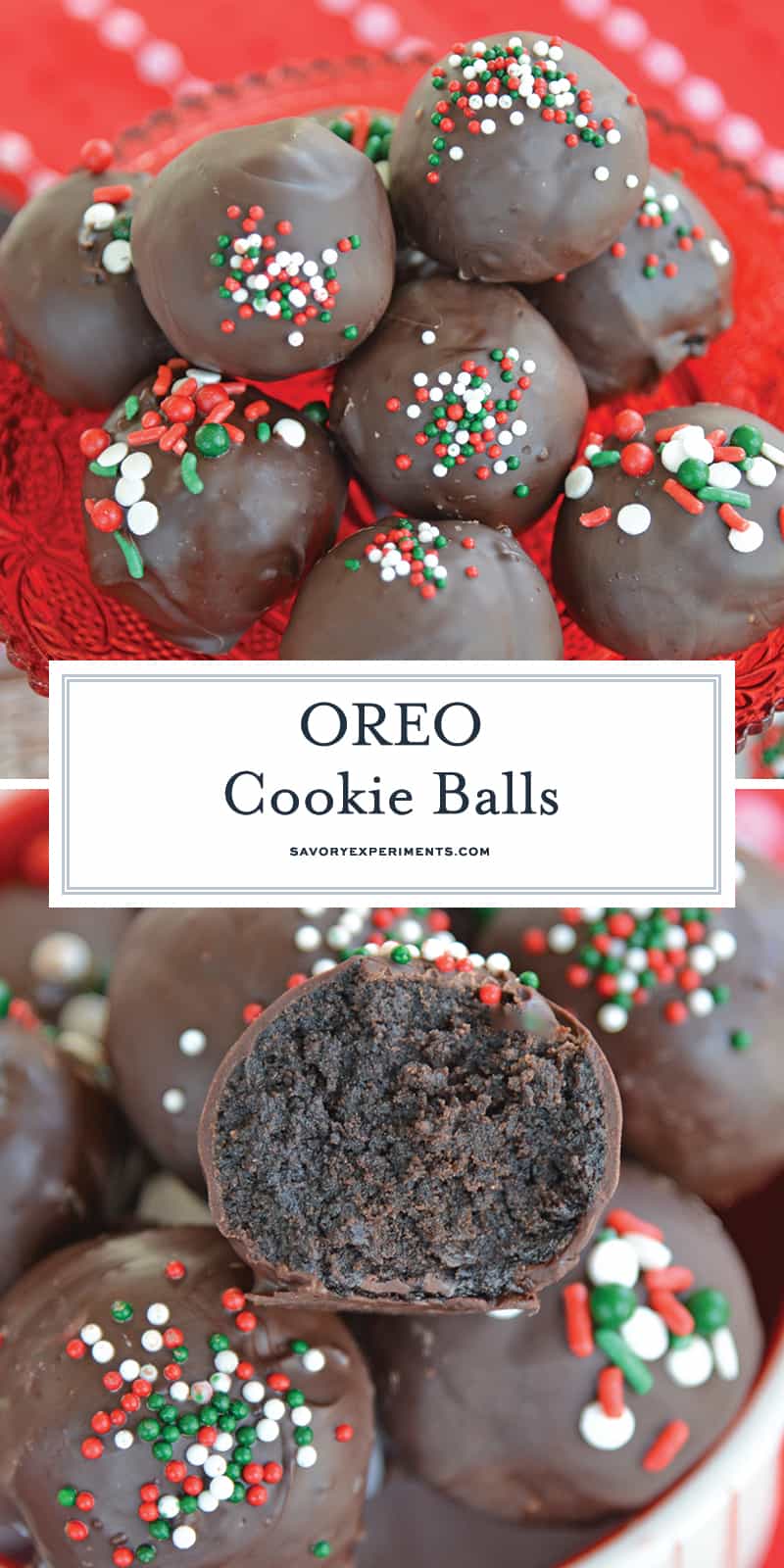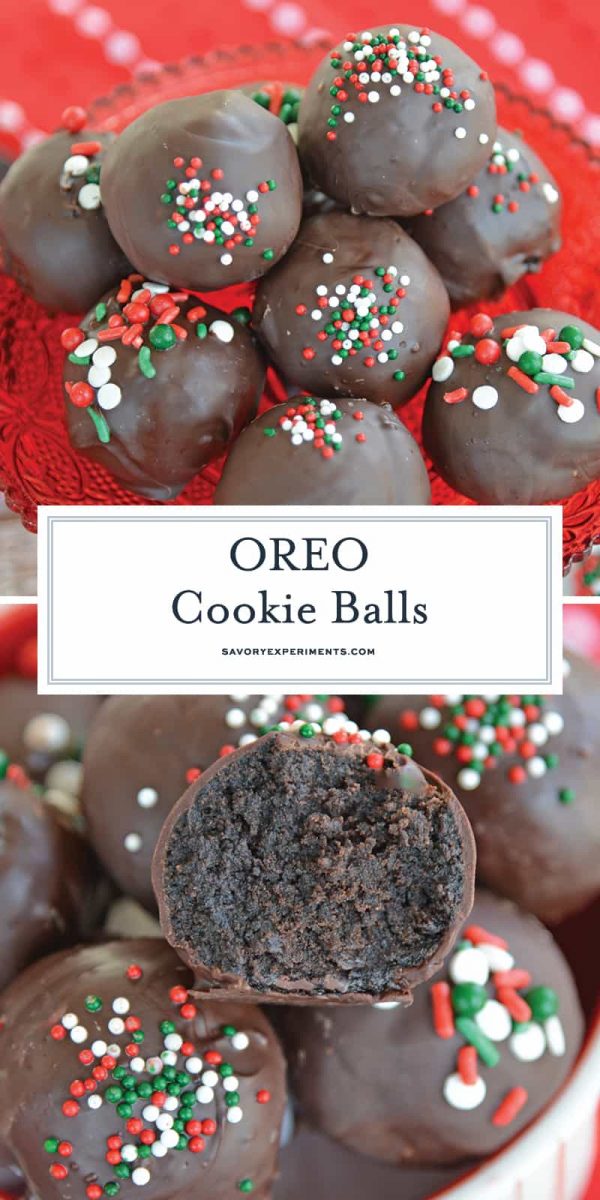 More OREO Desserts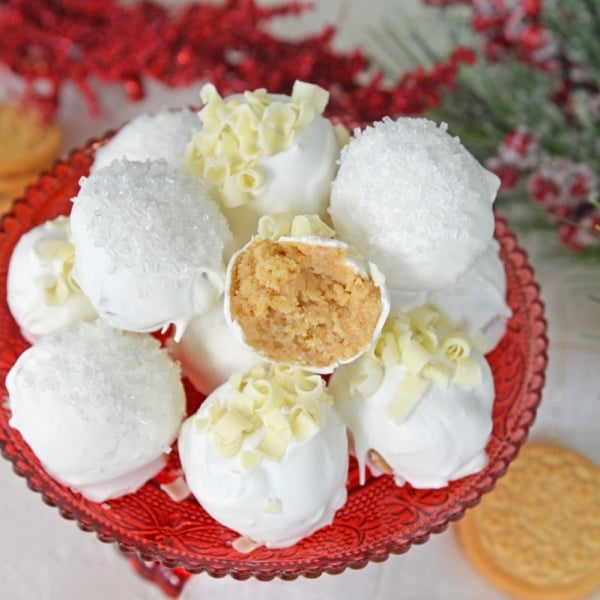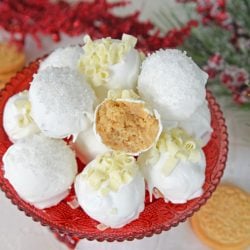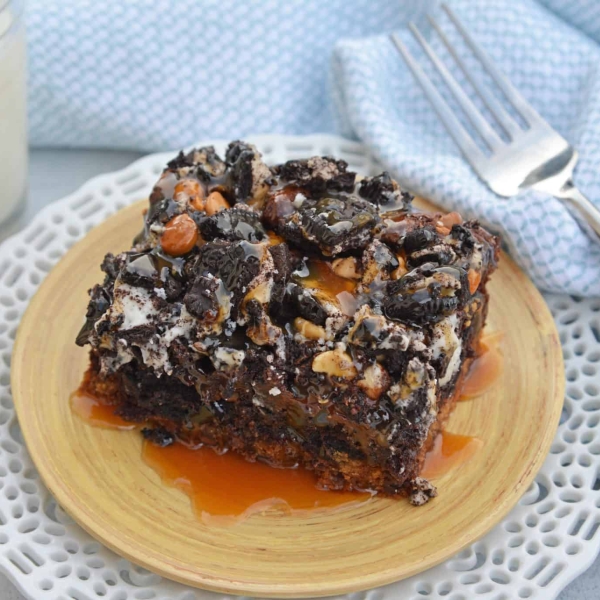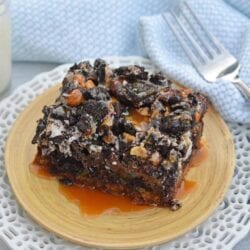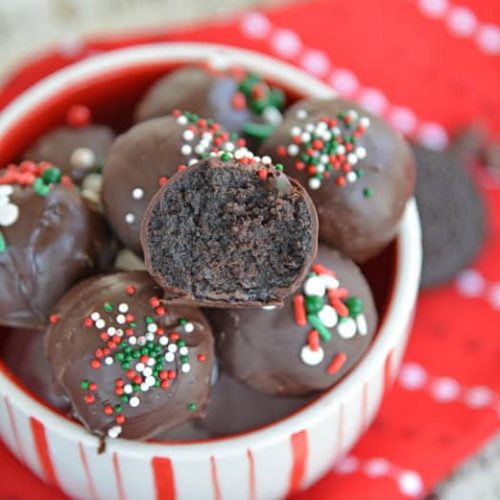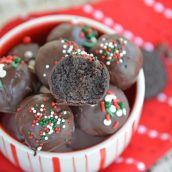 Holiday Cookie Balls
Holiday Sprinkled Oreo Cookie Balls are an easy no bake dessert perfect for the holiday season and great to make with kids. No cookie tray or party is complete without them!
Instructions
Mix softened cream cheese and OREO cookie crumbs until blended.

Shape into 30 (1-inch) balls. Place on waxed paper-covered rimmed baking sheet. Freeze 10 minutes.

Melt semi-sweet baking chocolate in a double boiler according to package directions.

Dip cookie balls in melted chocolate, turning to evenly coat all sides of each ball with chocolate. Return to lined baking sheet.

Decorate with sprinkles while still tacky.

Refrigerate 1 hour or until firm. Keep refrigerated.
Notes
Substitute melted white baking chocolate or milk chocolate.
Decorate cookie balls with additional melted chocolate or decorating icing in addition to the sprinkles.
Nutrition
Calories:
159
kcal
,
Carbohydrates:
16
g
,
Protein:
2
g
,
Fat:
10
g
,
Saturated Fat:
5
g
,
Cholesterol:
9
mg
,
Sodium:
92
mg
,
Potassium:
106
mg
,
Fiber:
1
g
,
Sugar:
10
g
,
Vitamin A:
107
IU
,
Calcium:
18
mg
,
Iron:
2
mg