If you're looking for a quick and easy lunch, this Mediterranean Hummus Bowl is perfect. Whip up your favorite homemade hummus (or store bought), throw on some healthy ingredients for toppings and you've got yourself a healthy lunch, snack or appetizer.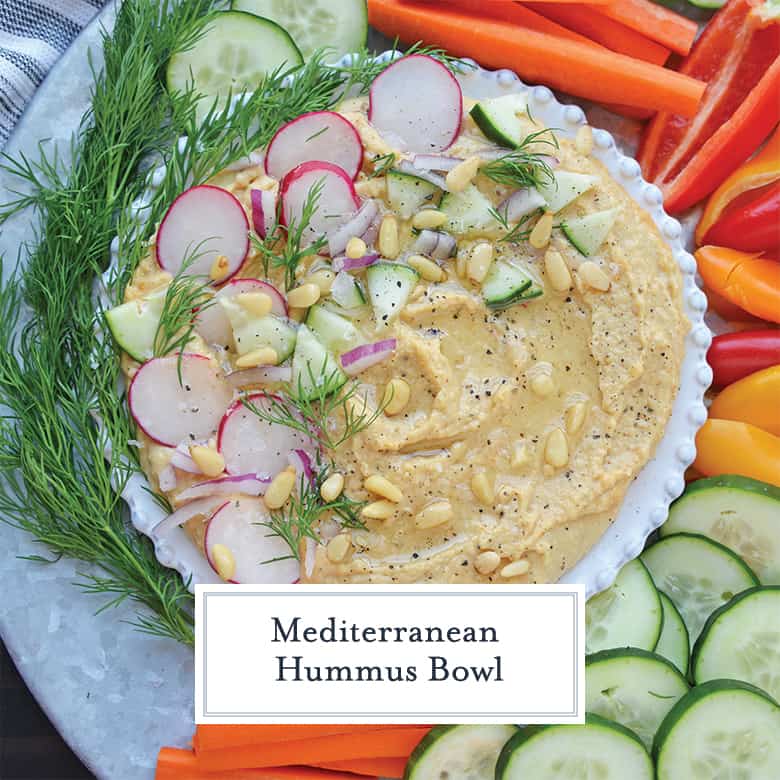 This Mediterranean Hummus Bowl is a great healthy lunch, snack or appetizer. Using homemade hummus and lots of fresh toppings, you can't go wrong!
If you haven't started to incorporate hummus into your life, now is the time. It meets criteria for a variety of specialty diets, has many health benefits and also tastes great.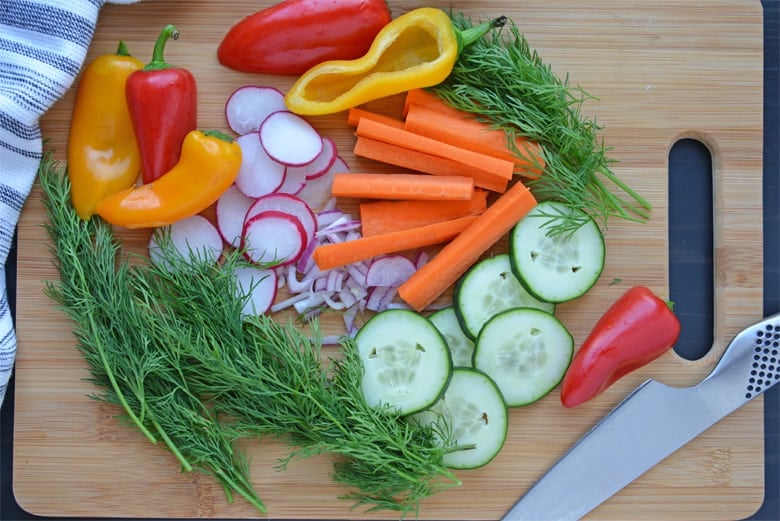 I was a late bloomer when it came to hummus. My initial Exposure was to a flavorless, gritty spread that turned me off for years to come. But when the hummus food trend started to reemerge, I was forced to give a whirl.
I soon realized that my bad experience was isolated and when prepared correctly, hummus provided a delightful texture and taste achieved by no other food. I was officially a hummus convert.
If you think you don't like hummus, give it another whirl with this recipe and good, quality hummus.
Hummus can be used as a spread in lieu of mayo, butter or aioli, in soups and stews, on toast and flatbread or even in bowls, like my Mediterranean Hummus Bowl.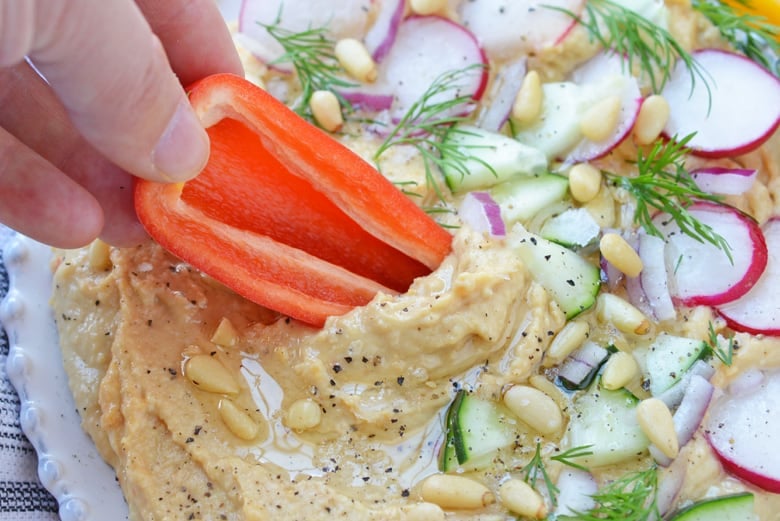 This hummus bowl recipe is no cook and served chilled or at room temperature, making it ideal for parties, holidays and summer gatherings. The toppings can vary greatly, but I am sharing some of my favorites at the end of the post… scroll on down…
Feel free to use your favorite flavor of hummus. While I love a good, spicy hummus like my Chipotle Hummus or Harissa Hummus, sometimes those bold flavors aren't the best for large gatherings. Aim for a neutral flavor like classic, roasted garlic or roasted red pepper hummus.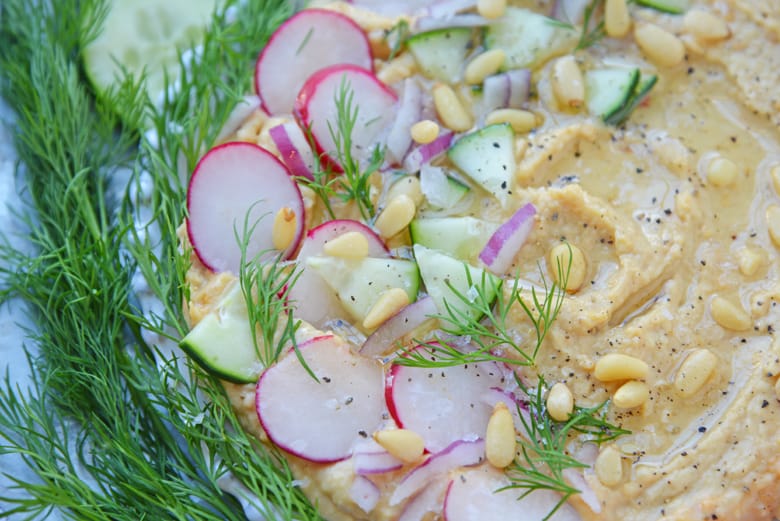 If you are making a homemade hummus, you will want to cook your chickpeas first. To do that, you will place about 30 ounces of canned chickpeas (also known as garbanzo beans) and one teaspoon of baking soda into a saucepan and cover with cold water. Bring that mixture to a low boil, stirring occasionally, and cook for 15-20 minutes.
PRO TIP: If using canned chickpeas, try several brands. Some are dry than others. Goya makes one of my favorites, but my store brand is also pretty good.
After the chickpeas reach a "squishy" texture, remove from the heat, dry and cool. In a food processor, combine the dried chickpeas, about 15 ounces of sesame tahini, 1/3 cup of fresh lemon juice and 1/3 cup water and blend until smooth.
If you'd like to add more flavor to your hummus, try adding some garlic or any other flavors or ingredients that tickle your fancy. The options are endless! I've listed links to a few hummus recipes below.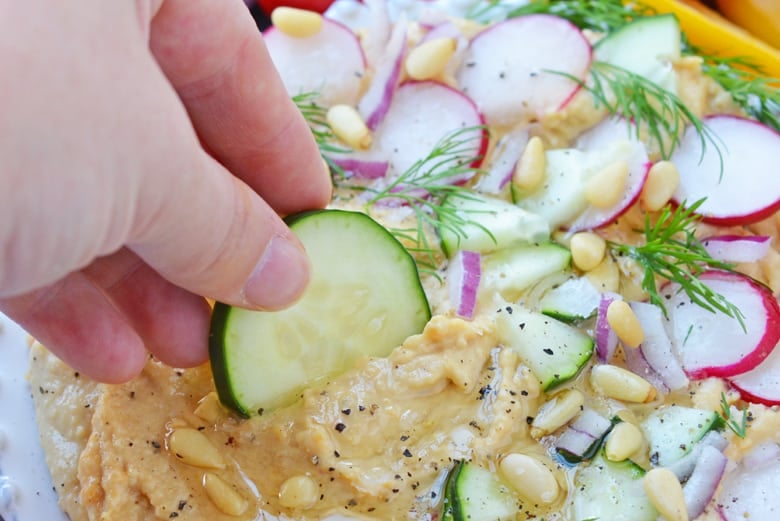 If you are using a store bought brand, chances are the toppings are artfully placed on top. Go ahead and give it a good stir to evenly mix all those goodies into the hummus.
You want your diners to taste all of those flavor bombs in each bite. Then decorate using your own unique toppings.
One topping I would not go without is a really good quality olive oil. A Good Extra Virgin Olive Oil will taste like, well, olives, while a poorly made one will taste like vegetable oil.
Gross. While people tend to favor Italian and Greek olive oils, I prefer to buy mine domestically.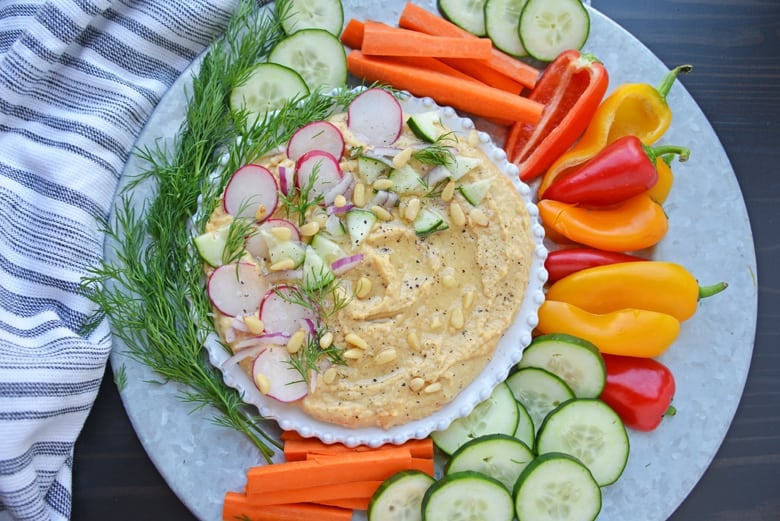 There are some great ones out there from all over the world, but the reporting of ingredients isn't always the same and you could find that your super expensive olive oil was actually cut with vegetable oil.
PRO TIP: Pine nuts taste better slightly browned even if you plan to serve them at room temperature. Browning releases their natural oils and enhances flavor while also adding a more sophisticated and varied color.
I also like to use pine nuts in my Mediterranean hummus bowl for a buttery crunch, but feel free to omit these if you are serving guests with tree nut allergies (or just to play it safe).
Hummus topping ideas:
Sun dried tomatoes
Fresh herbs
Dried herbs
Pickled red onions
Lemon zest
Lime zest
Sesame seeds
Black sesame seeds
Feta cheese
Roasted chickpeas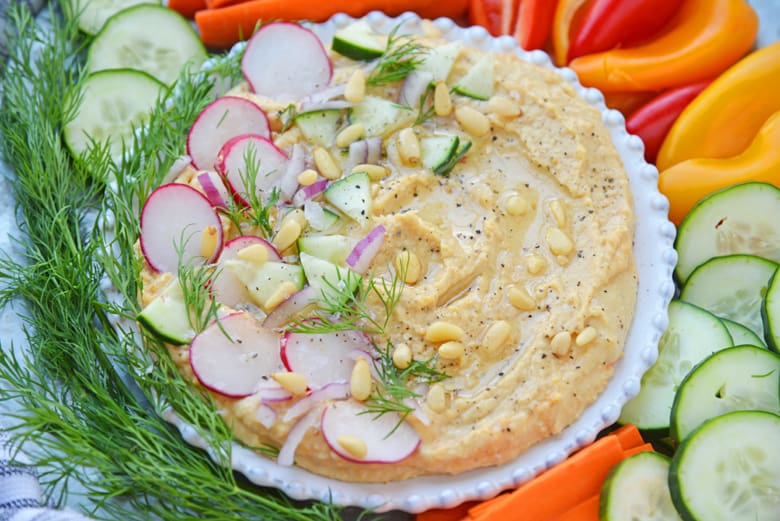 You can also get creative with items to dip into your Mediterranean hummus bowl. Pita chips and pita bread are probably the most popular, but here are a few more ideas:
Sweet peppers, halved or cut into strips
Carrot sticks
Celery sticks
Cucumber slices
Bagel chips
Pretzels
Cherry tomatoes
Crackers
Here are a few homemade hummus recipes you can use to create your bowl:
Tools for making hummus bowls:
Wood cutting board – wood won't dull your knives like plastic and if treated properly, has natural antimicrobial properties.
Good knife – Global is my favorite! They are worth the price, I promise. I am kind of obsessed with them and store them tucked away so no one else can use them. Including hubby. Hands off my good stuff!
Mini Food Processor– I use this thing daily! It is by far my most used kitchen appliance, it is small and I throw all the parts into the dishwasher, well except the base and cord, of course!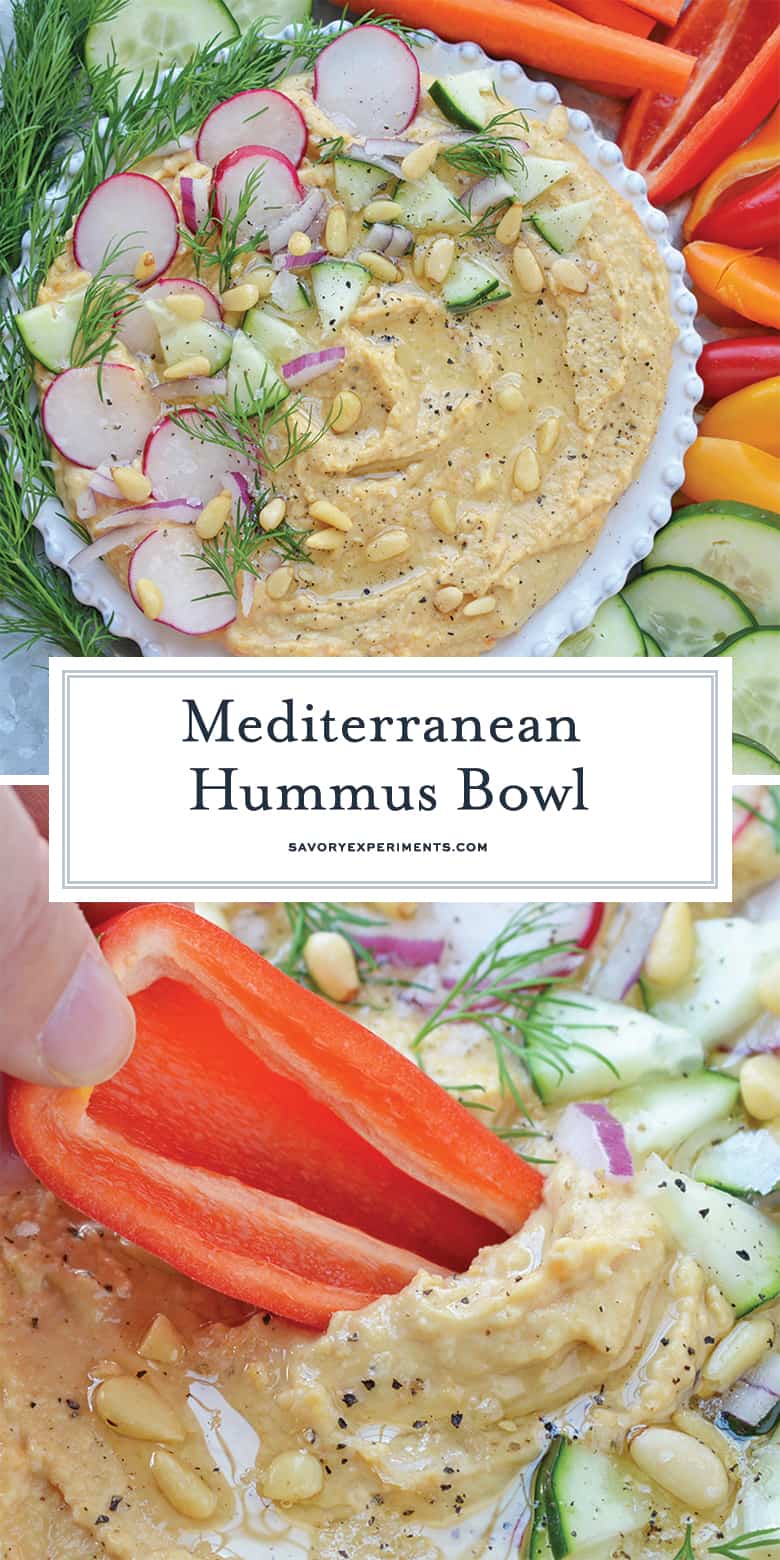 Questions you might have about how to make a hummus bowl:
Is it hommos, hummus or houmos? Depends on where you come from! Let's get the basic and most often asked questions out of the way…
What is hummus? The literal translation is "chick peas." Hummus ingredients typically include a blend of varying amounts of tahini (sesame seed paste), fresh lemon juice, garlic and olive oil. It is typically viewed as a Middle Eastern recipe.
Can I make my Mediterranean hummus bowl in advance? Sure! You can assemble your hummus bowl up to a few hours before serving, however I would advise you to wait to drizzle the olive oil until you are ready to serve.
Is hummus vegan? If you are making your hummus homemade, it is certainly very easy to make sure it's vegan! But if you're buying it at the store, check the ingredients to make sure there is no milk or cheese added.
Are chickpeas the same as garbanzo beans? It can be quite confusing when one recipe calls for garbanzo beans and one calls for chickpeas, but they in fact one in the same!
So if they are the same, why are there two names? That is because garbanzo is the Spanish term, while chickpea is the English term.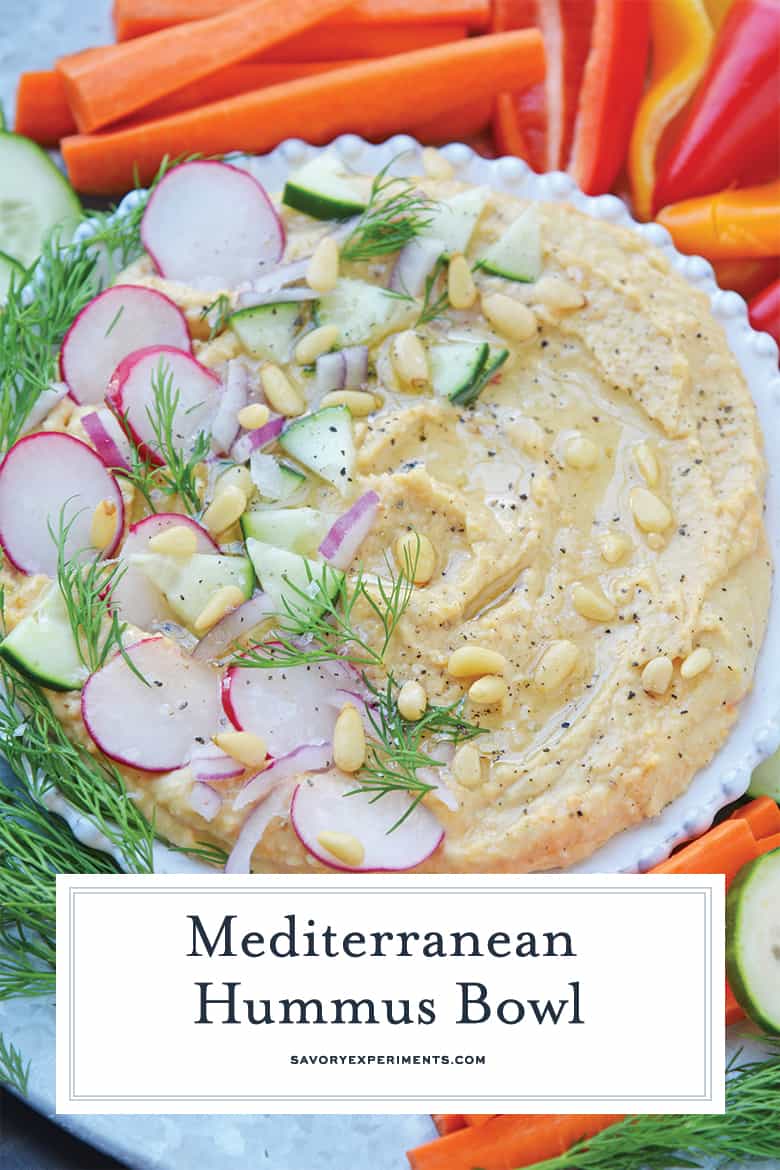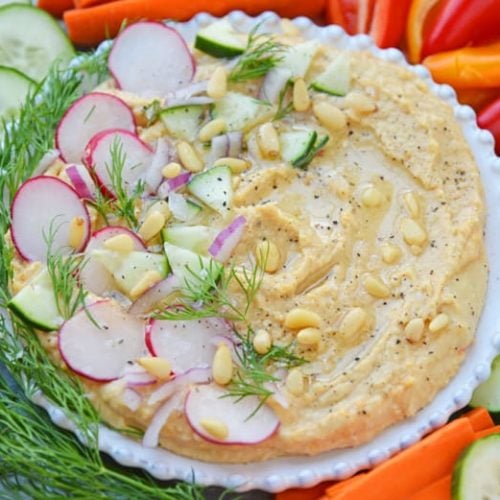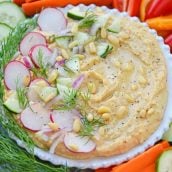 Mediterranean Hummus Bowl
This Mediterranean Hummus Bowl is a great healthy lunch, snack or appetizer. Using homemade hummus and lots of fresh toppings, you can't go wrong!
Instructions
Spoon hummus into your serving dish.

Top with desired toppings. I recommend that ones listed above.

If you've tried this recipe, come back and let us know how it was!
Nutrition
Calories:
143
kcal
,
Carbohydrates:
9
g
,
Protein:
5
g
,
Fat:
10
g
,
Saturated Fat:
1
g
,
Sodium:
234
mg
,
Potassium:
153
mg
,
Fiber:
4
g
,
Sugar:
1
g
,
Vitamin A:
25
IU
,
Vitamin C:
0.3
mg
,
Calcium:
23
mg
,
Iron:
1.6
mg