This homemade spicy hummus is super easy to make and super delicious to eat! Serve it up as a party appetizer with pita chips, homemade flatbreads, or crudites and you have a beautiful platter ready to go.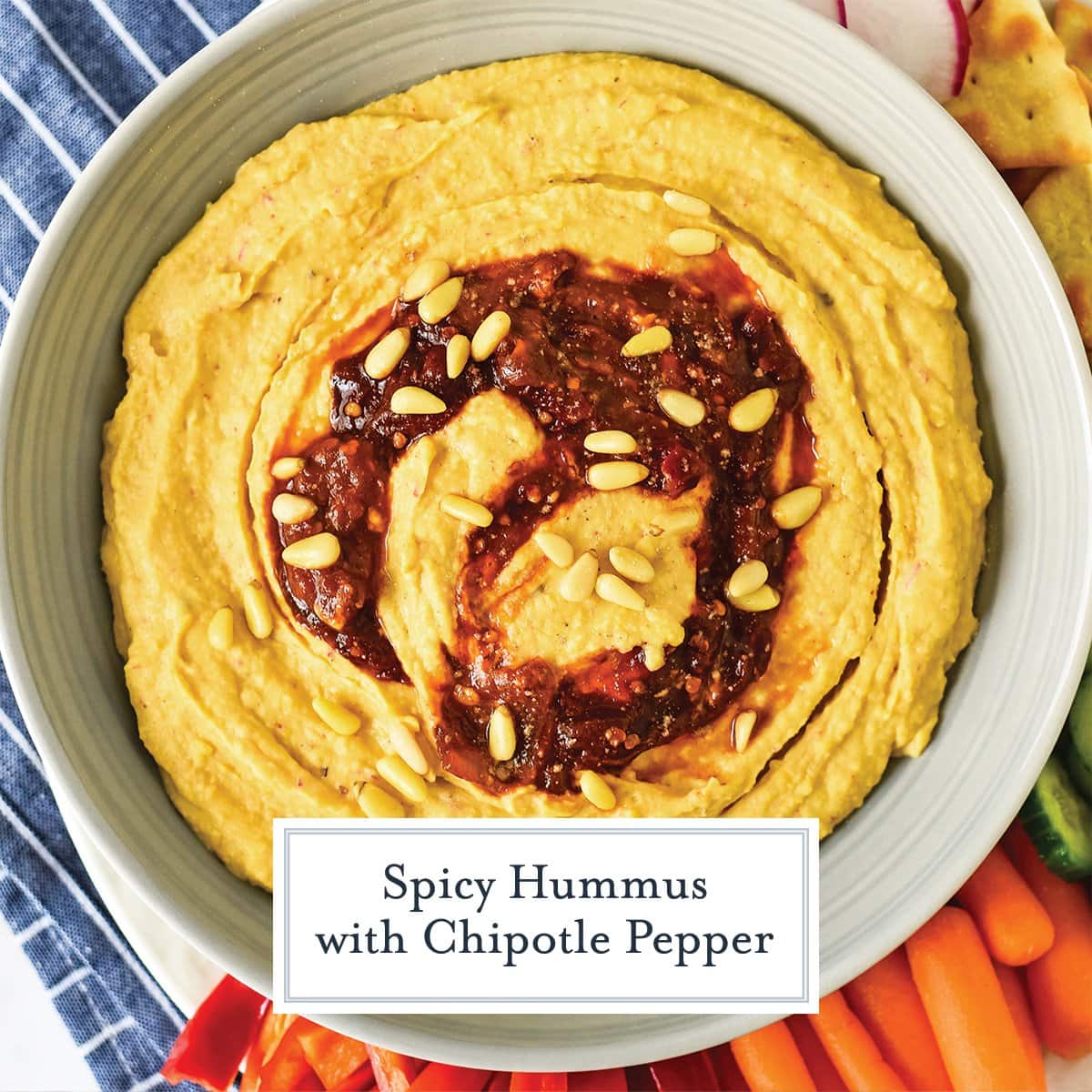 Spicy Hummus Recipe
Since the hummus food trend started over a decade ago, I jumped on the bandwagon. Justifying the fact that hummus is a healthier snack option, I could take down an entire container in one sitting. I would buy several containers of Sabra Hummus when it was on sale (that stuff is expensive) in my favorite flavors of chipotle and supremely spicy.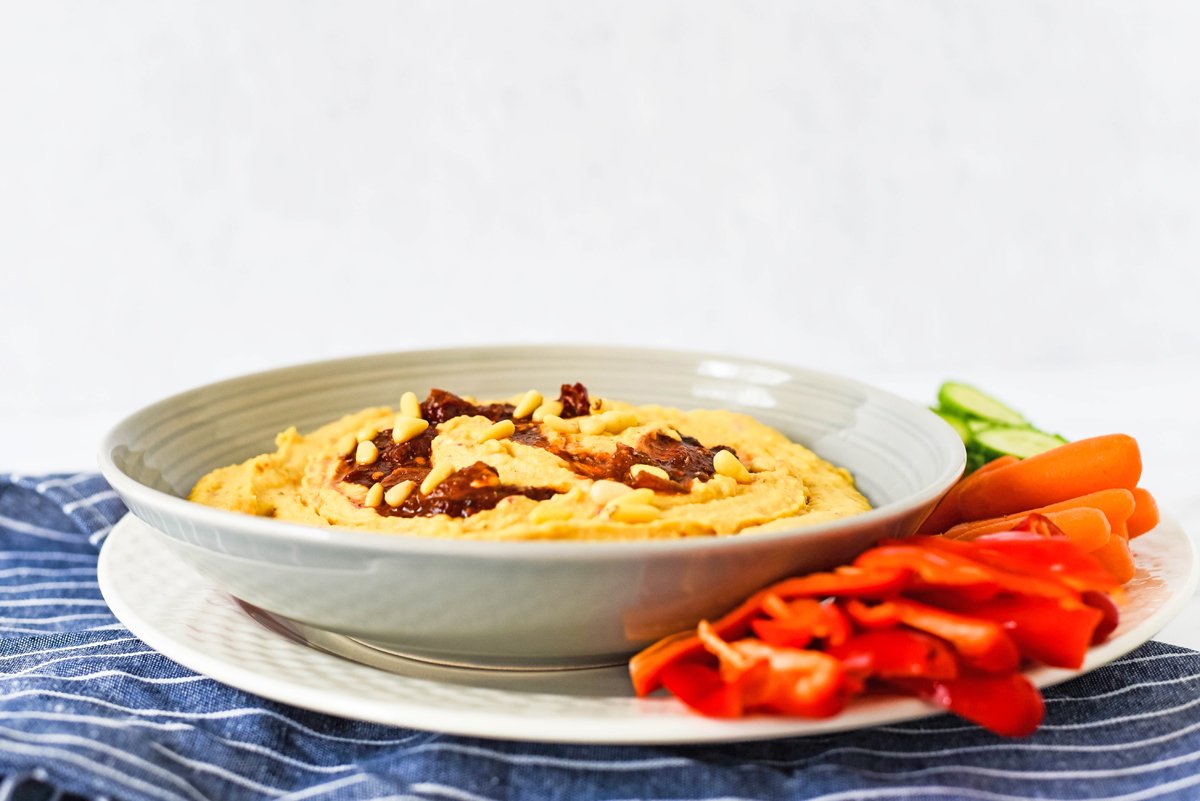 Since then they stopped making the Chipotle flavor, which I loved because not only was it spicy enough to make your nose run, but it has the smoky flavor of chipotle peppers which makes the whole thing more sophsiticated.
Homemade hummus is really simple to make and the base recipe of tahini (sesame paste), chickpeas and olive oil can be made into unlimited flavors. Think of the store bought flavors and then think outside of the box for so many varieties of homemade hummus recipes.
Different brands of canned chickpeas (sometimes labeled garbanzo beans) have different textures. For hummus, you want one that is smooth and velvety versus one that is more taunt that would be better for salads or sauteing. Experiment with them to find the best fit for you.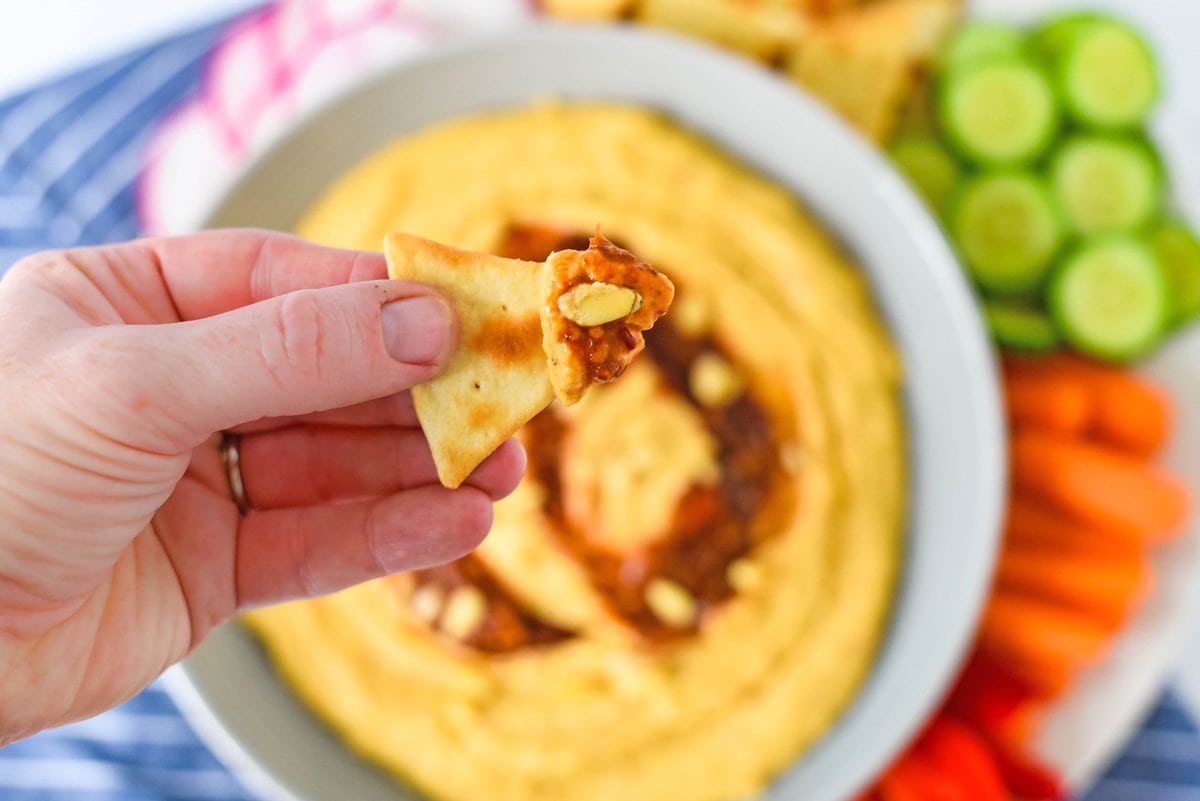 What is Hummus?
Hummus is a Middle Eastern savory dish that is usually used as a dip in Eastern cultures, but it can be used in soups, stews, as a sandwich spread, a topper for proteins or flatbread and more. It can be used as a condiment just like mayo or hot sauce.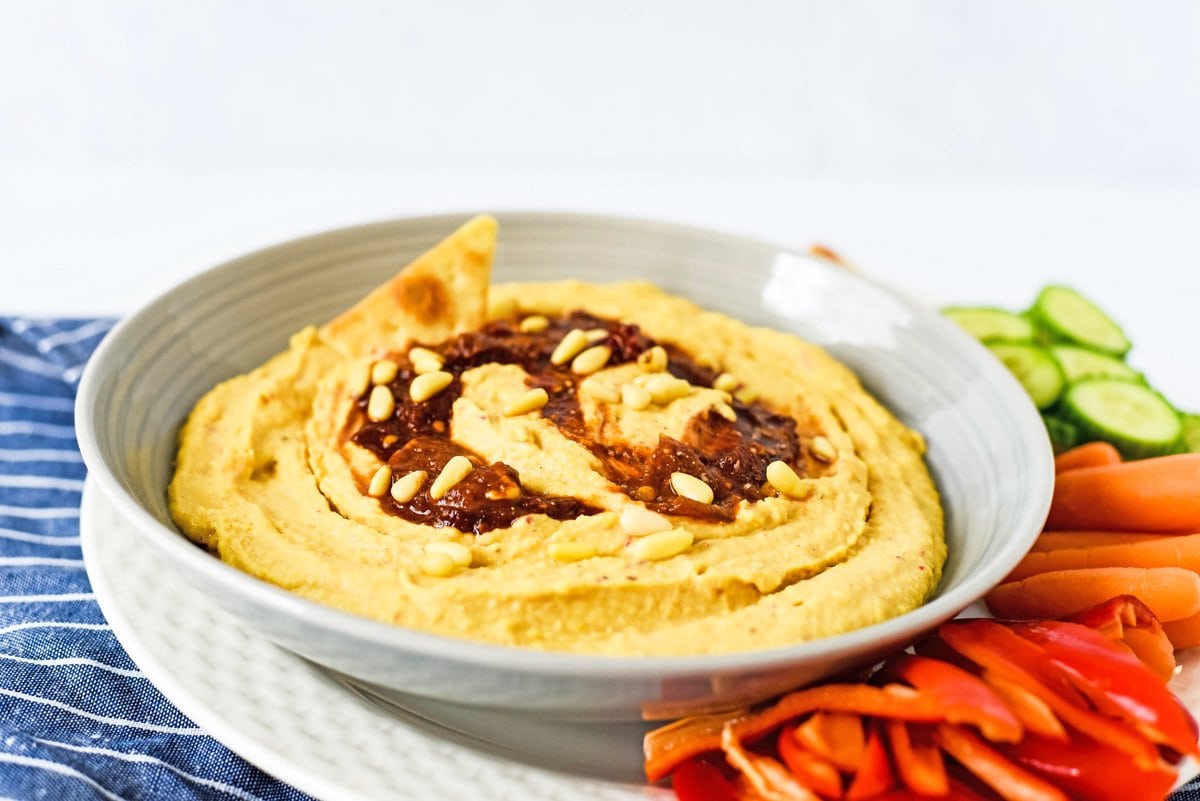 The base is simple and after you master it, possibilities are endless.
Tahini
Lemon juice
Chickpeas
Olive oil
Some of our favorite flavors are:
Toasted pine nuts
Roasted red peppers
Extra lemon with zest
You pretty much throw everything into the food processor and blend it until smooth and creamy. Easy peasy!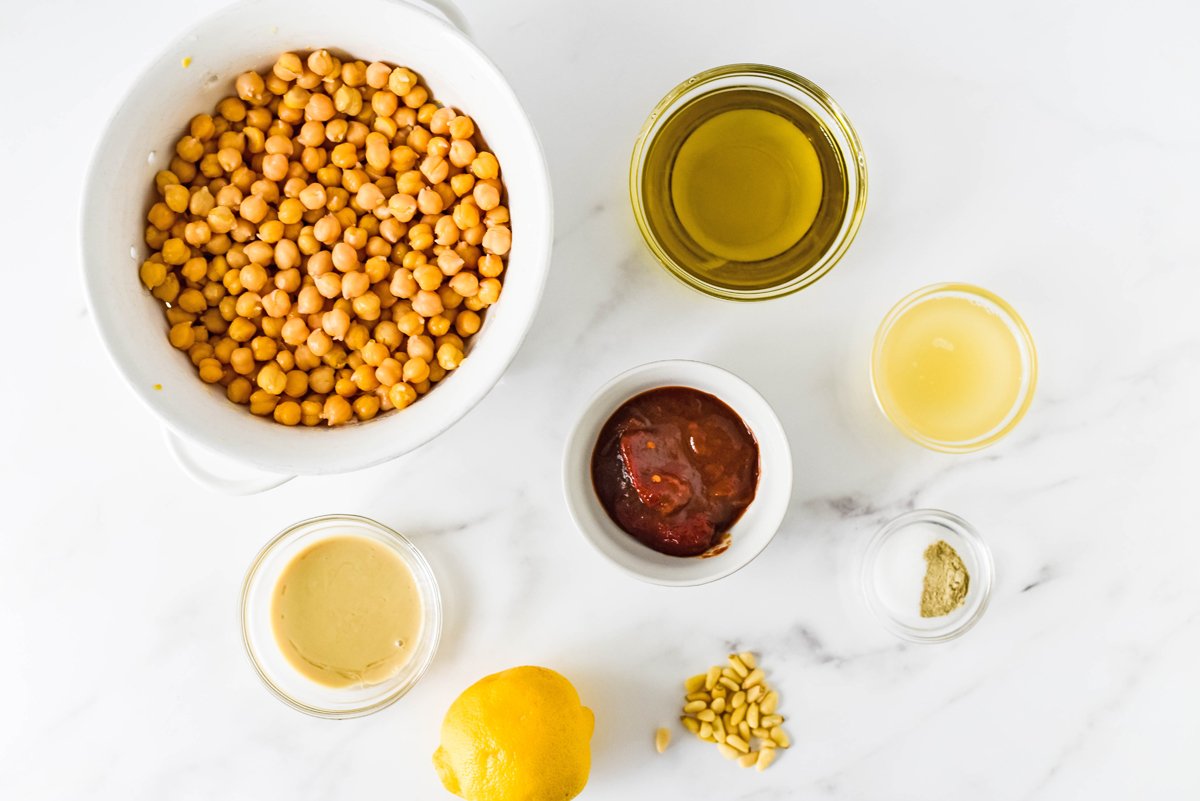 How to Make Spicy Hummus
To make hummus at home, you will need a good food processor or blender, it is the best way to get a nice, smooth texture. Old school, you would use a grinder, mortar and pestle or even a ricer.
Start by pulsing the chipotle peppers to get a nice texture. They come while. If you want to just make a base recipe and then top it with peppers, you can mince them on a cutting board instead of infusing the whole batch. I do this when I'm not sure if everyone will like brow beading spicy food.
Start with a small amount of liquid and the chickpeas, this allows them to thin out and smooth before adding the other flavors and coming to the correct consistency. Scrape down the sides as you go.
Add the tahini, olive oil and seasonings based on flavor and personal preference. You can use black pepper instead of white, I use white because it is milder and also doesn't create little flecks through my dip.
I top mine with more minced chipotle peppers, toasted pine nuts ad another drizzle of extra virgin olive oil. Toasting the pine nuts brings out natural flavors and oils. This is also a situation for a good olive oil, not one of the cheapo brands that likely blends olive oil with vegetable oil and doesn't actually have any flavor.
Serve with chips, fresh veggies like red bell peppers or yellow bell peppers, warm pita bread or anything else you serve with traditional hummus! My kids eat it with a spoon.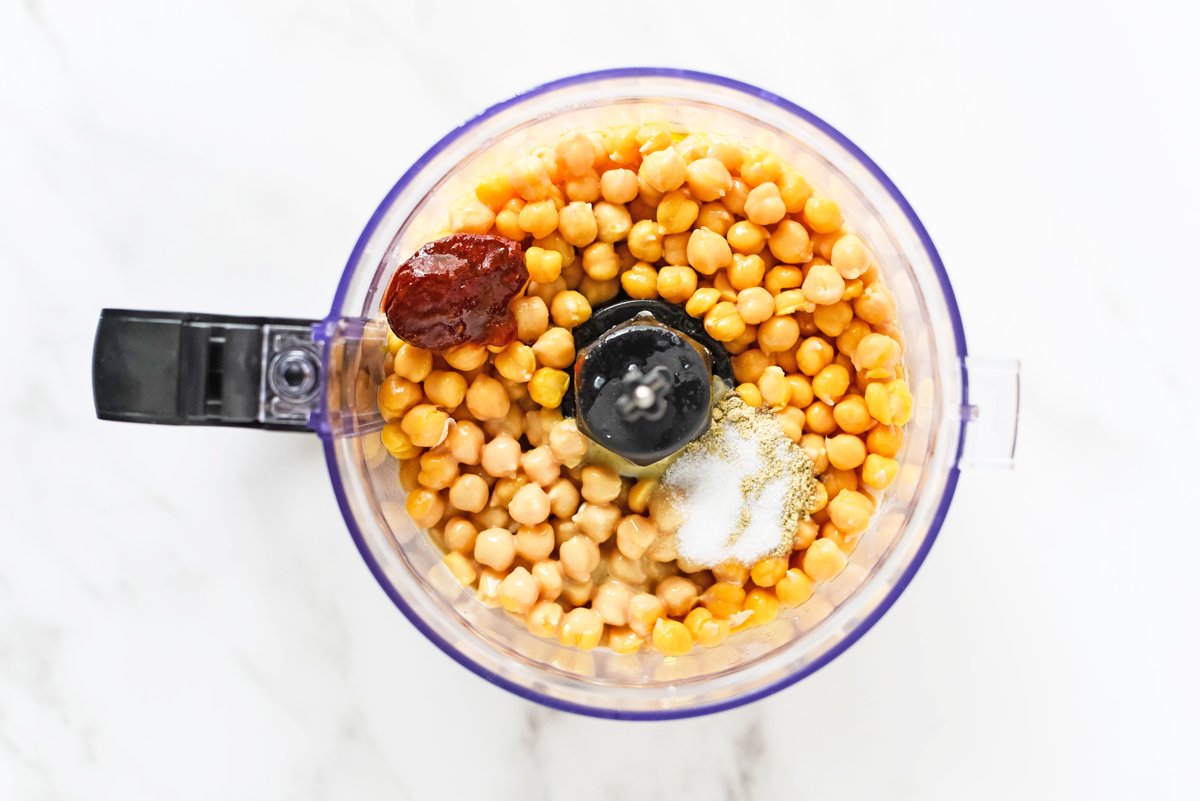 Spicy Hummus Variations
Swap out the tahini – You can substitute tahini with any of these other items, but it will drastically change the texture and flavor of your dip: Greek yogurt, nut butters (almond butter or peanut butter, sunflower seed butter, sesame oil
Make it spicier – Feel free to take the heat to the next level. You can do this by adding cayenne pepper, habanero pepper, or any hot peppers. These are all a great way to add a spicy kick for your taste buds.
Garlic – If garlic is your favorite flavor like it is mine, add some fresh garlic cloves to your hummus ingredients. It's a great addition to add a little kick to this delicious dip.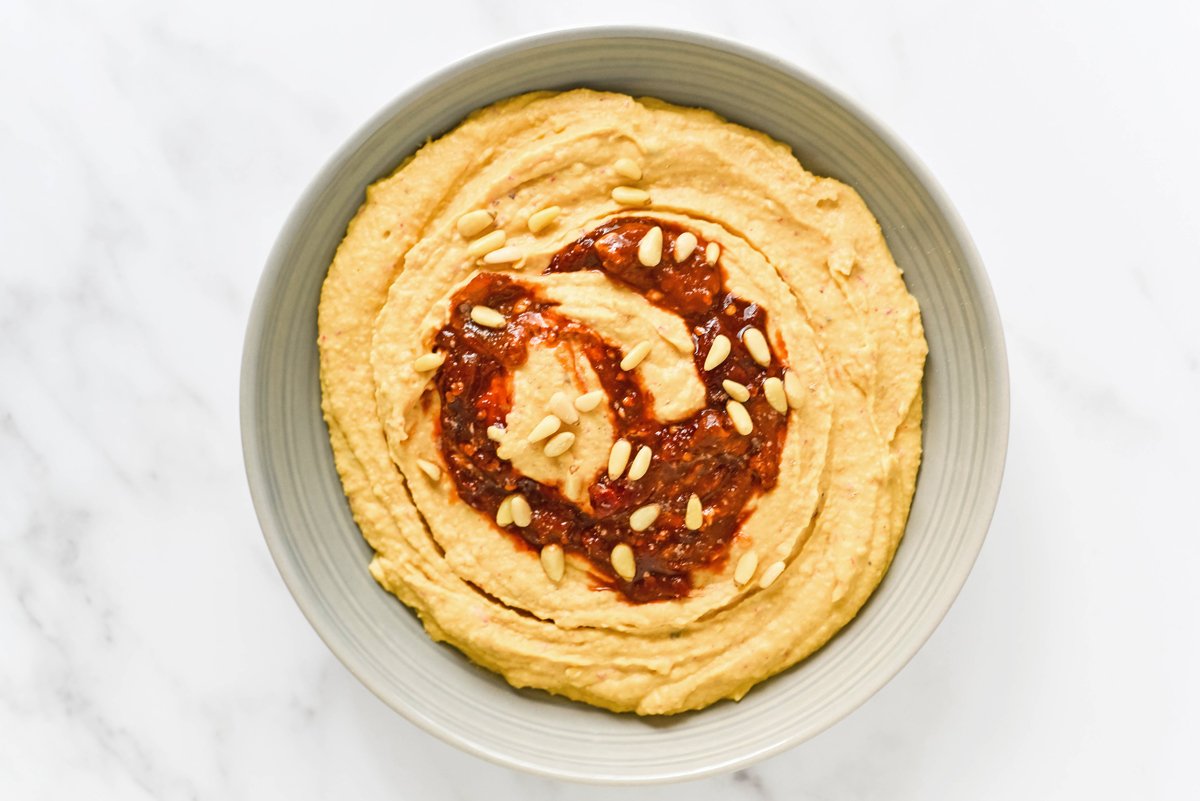 Chickpeas
Chickpeas, also sometimes packaged as garbanzo beans, are pretty much essential for hummus. Even other flavors of hummus like black bean or carrots will be blended with chickpeas.
If you want to make your own dried chickpeas, here is how to make your own chickpeas.
Soak dry chickpeas for 8 hours or overnight.
Drain your soaked chickpeas and transfer them into a saucepan.
Add cold water until you have twice the volume of the chickpeas. They will soak some up and you don't want them to get dry.
Bring the water to a boil, then turn the heat down and simmer the chickpeas for 45-60 minutes or until soft.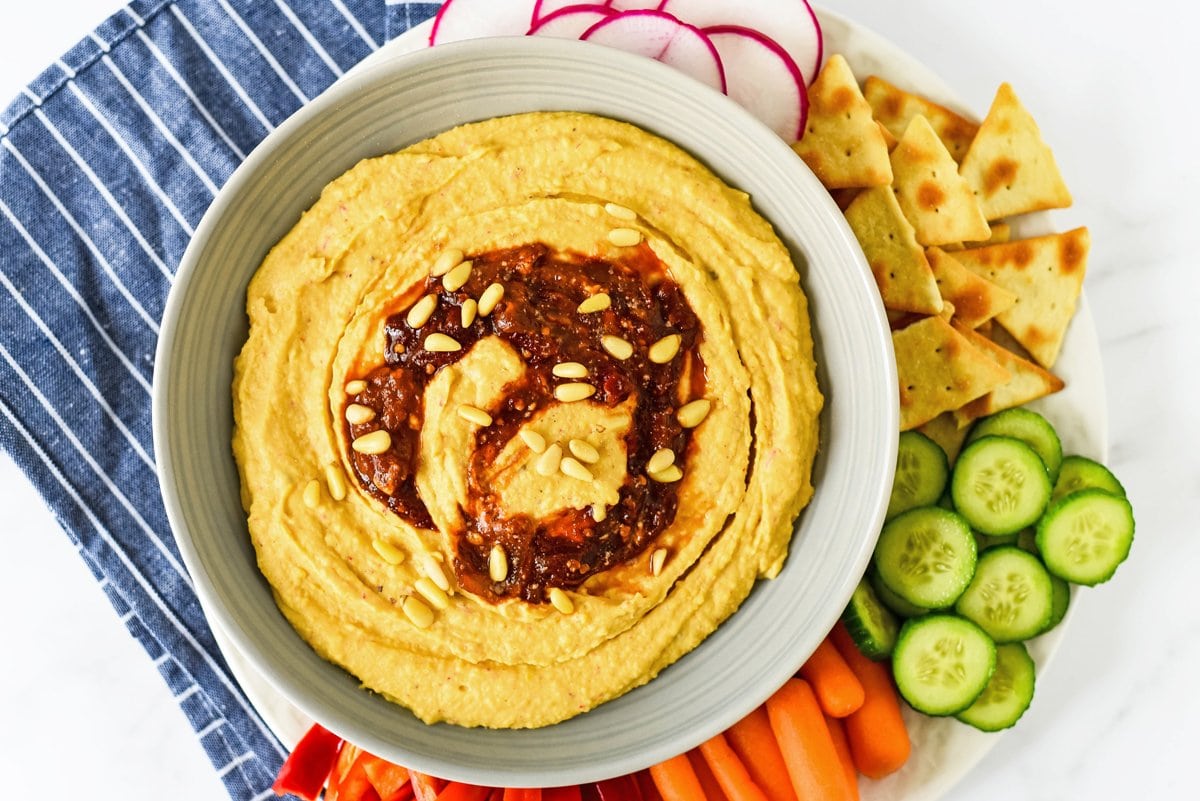 Storage, Make Ahead and Freezing
Storage: Since you are making it fresh, the shelf life isn't as long but it is even healthier without all those additives and preservatives. And it is made with tahini, which is sesame seeds, and that can go rancid.
Make Ahead: Hummus can be made ahead of time and stored in an airtight container in the refrigerator for up to a week. Who says it will even last that long with how great it is?!
Freezing: Hummus doesn't freeze well because of the water content and fresh ingredients. It will defrost mealy and loss its texture.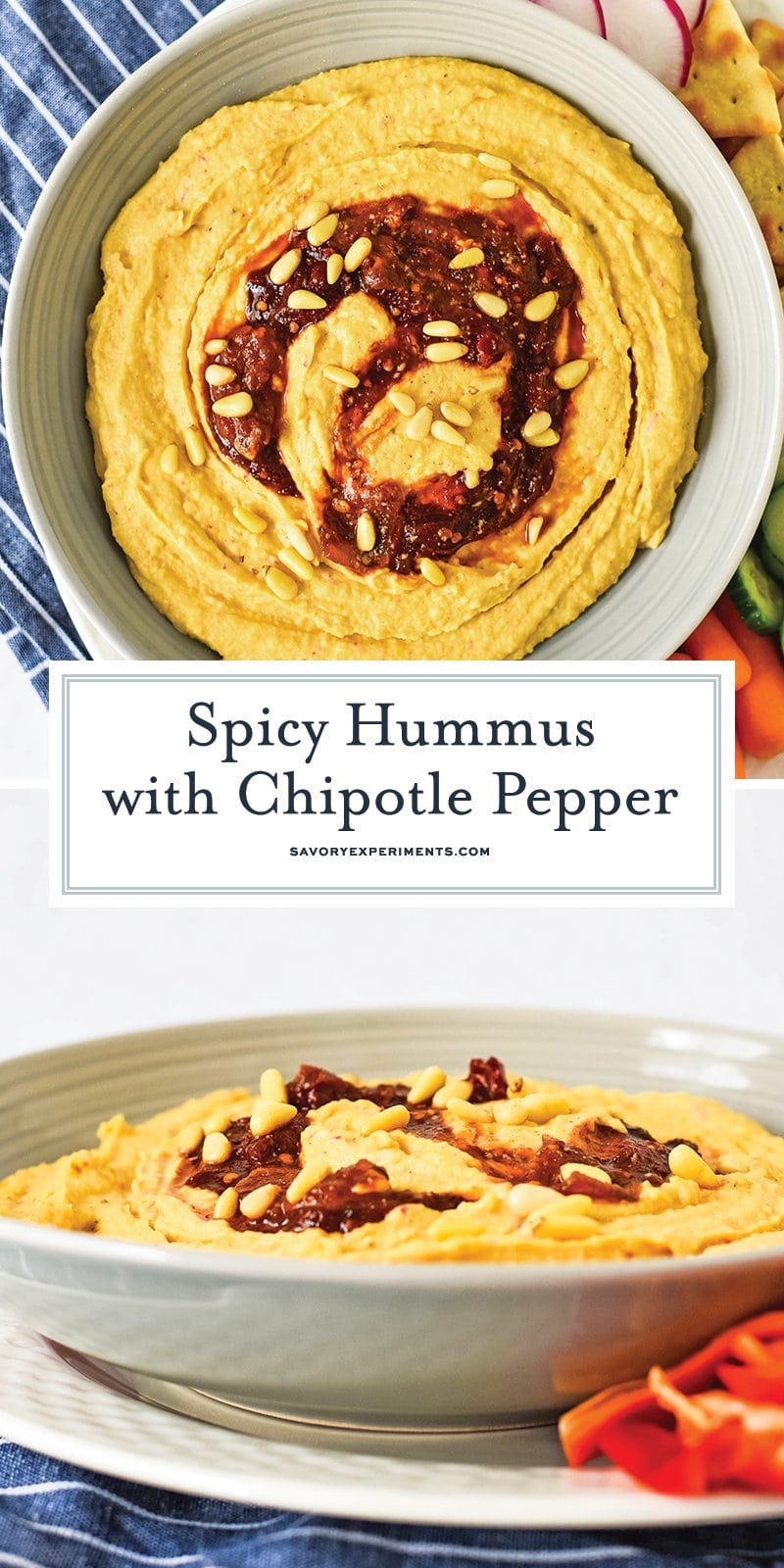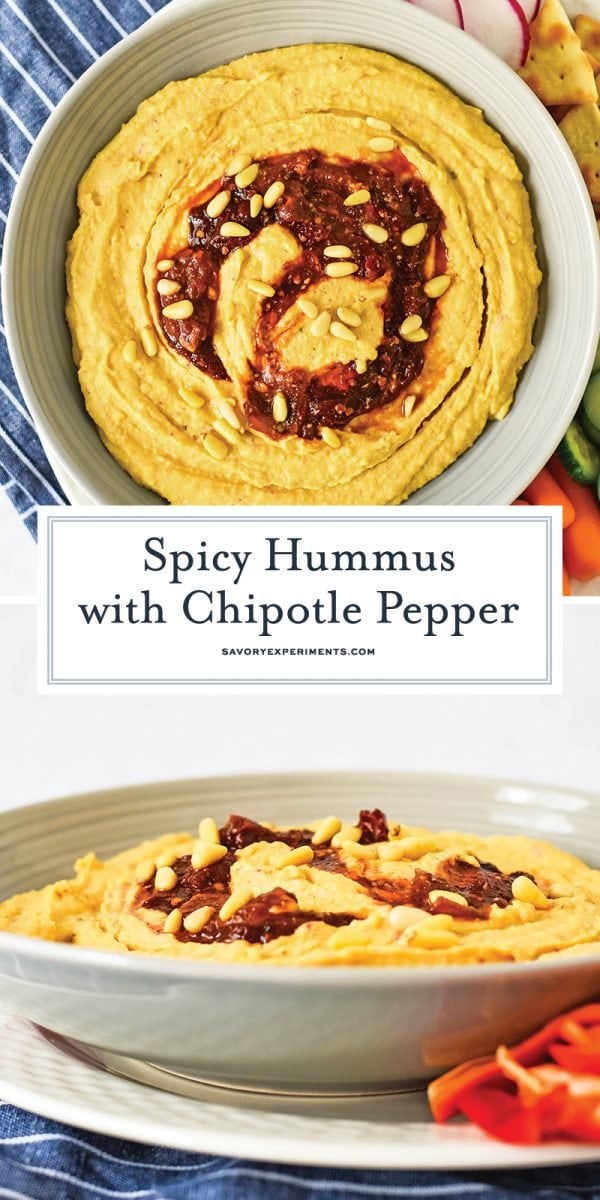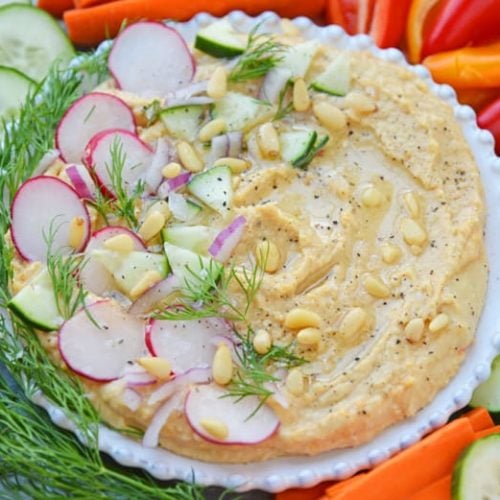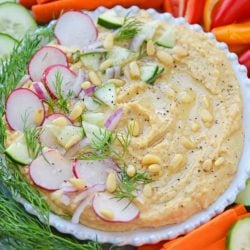 White Cooking Wine Couscous
White Cooking Wine Couscous with Garlic and Mint is the perfect spring side dish for pairing with lamb, chicken, seafood and fish. This mild and fresh couscous recipe can't be beat!
See The Recipe!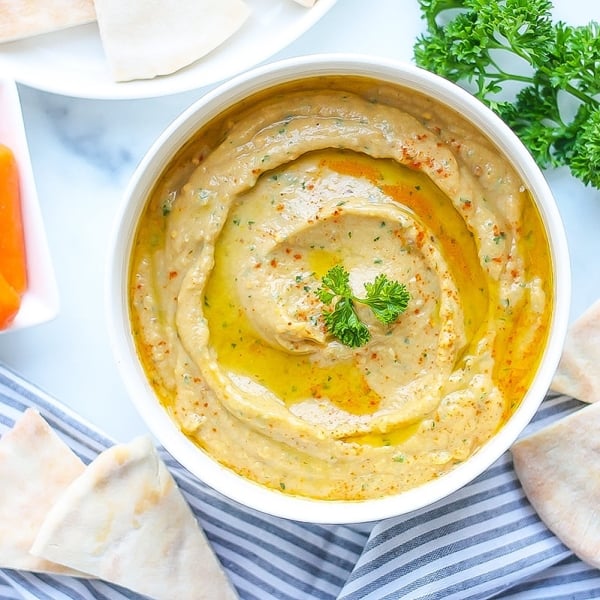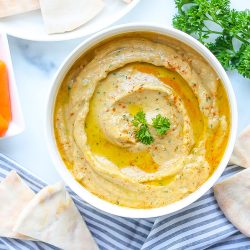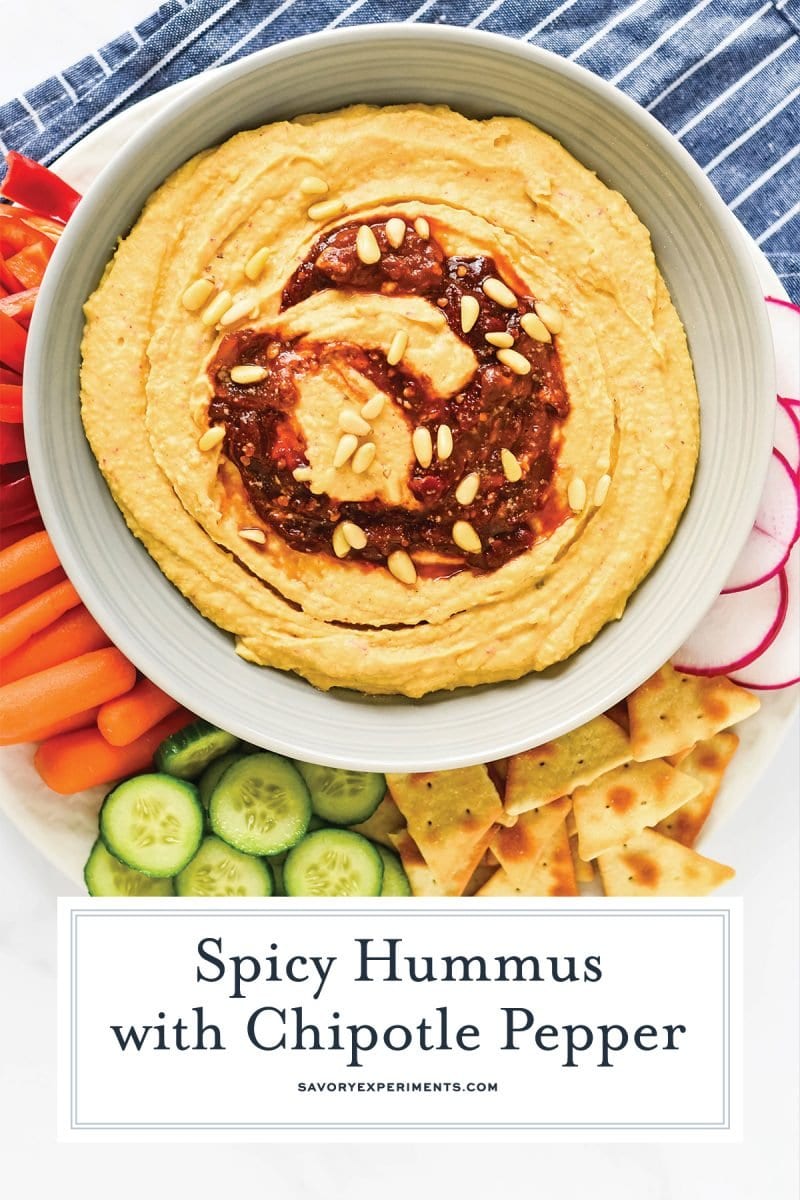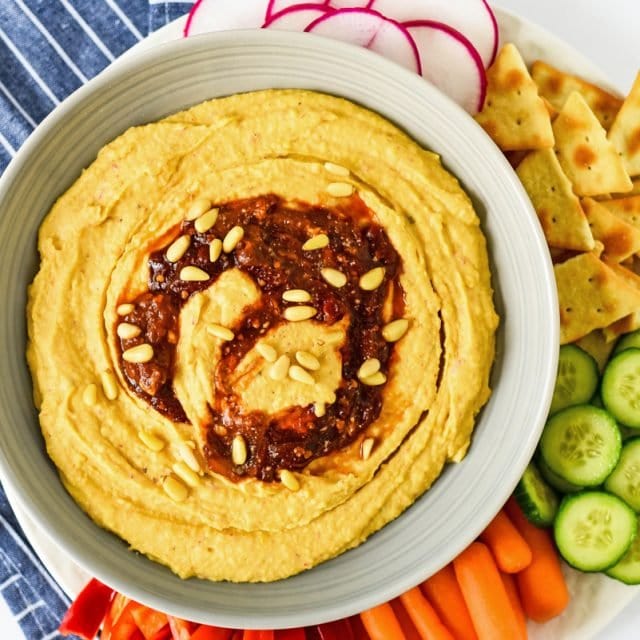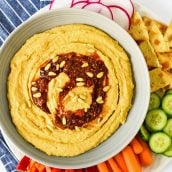 Chipotle Hummus
Chipotle Hummus is a spicy homemade hummus recipe. Easy to make and stores easily, it is the perfect party appetizer recipe!
Instructions
In a food processor, combine 1 tablespoon chipotle peppers with chickpeas and a small amount of olive oil. Blend until smooth.

Slowly add additional olive oil and tahini, then thin out with reserved chickpea liquid. You can also use water, it just doesn't have as much flavor. Season with the salt and white pepper according to personal preference.

Top with additional chopped chipotle peppers, toasted pine nuts and additional extra virgin olive oil (if desired).

If you've tried this recipe, make sure to come back and let us know how it was in the comments or ratings.
Nutrition
Calories:
210
kcal
,
Carbohydrates:
19
g
,
Protein:
6
g
,
Fat:
13
g
,
Saturated Fat:
2
g
,
Polyunsaturated Fat:
3
g
,
Monounsaturated Fat:
8
g
,
Sodium:
449
mg
,
Potassium:
216
mg
,
Fiber:
5
g
,
Sugar:
3
g
,
Vitamin A:
76
IU
,
Vitamin C:
1
mg
,
Calcium:
37
mg
,
Iron:
2
mg