This homemade hummus is super easy to make and super delicious to eat! Serve it up as a party appetizer with some pita chips or homemade flatbreads, or whatever you choose. 
It only takes 10 minutes to make, you and your guests won't be disappointed!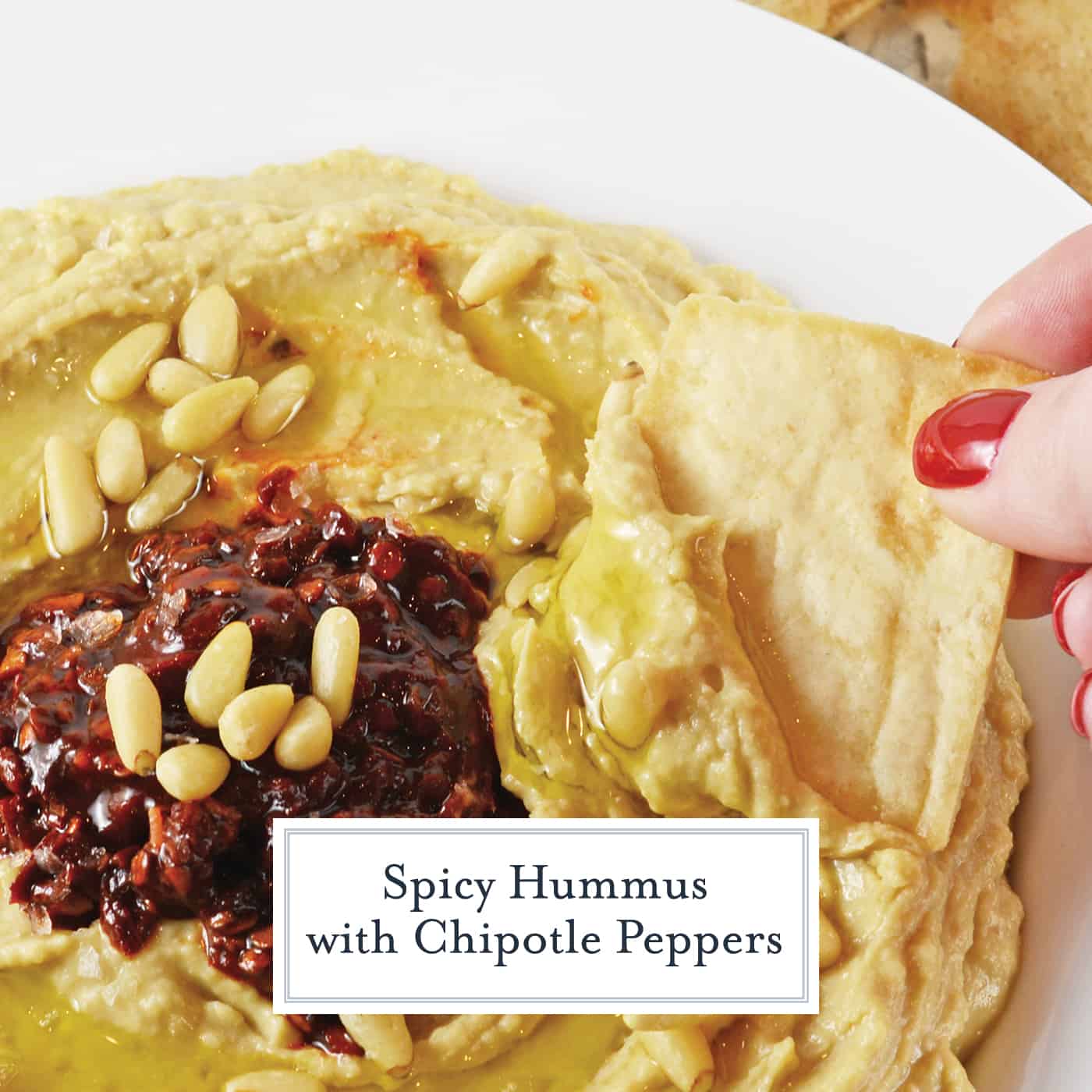 Spicy Hummus with Chipotle Peppers is a spicy homemade hummus recipe. This is the best hummus recipes to make because it is so easy and it stores great!
I hope you like spicy hummus! While I like milder flavors, I am a sucker for the ones that make my nose sweat, like Spicy Hummus with Chipotle Peppers.
Since the hummus food trend started several years ago, I jumped on the bandwagon. Justifying the fact that hummus is a healthier snack option, I could take down an entire container in one sitting.
Don't judge, okay?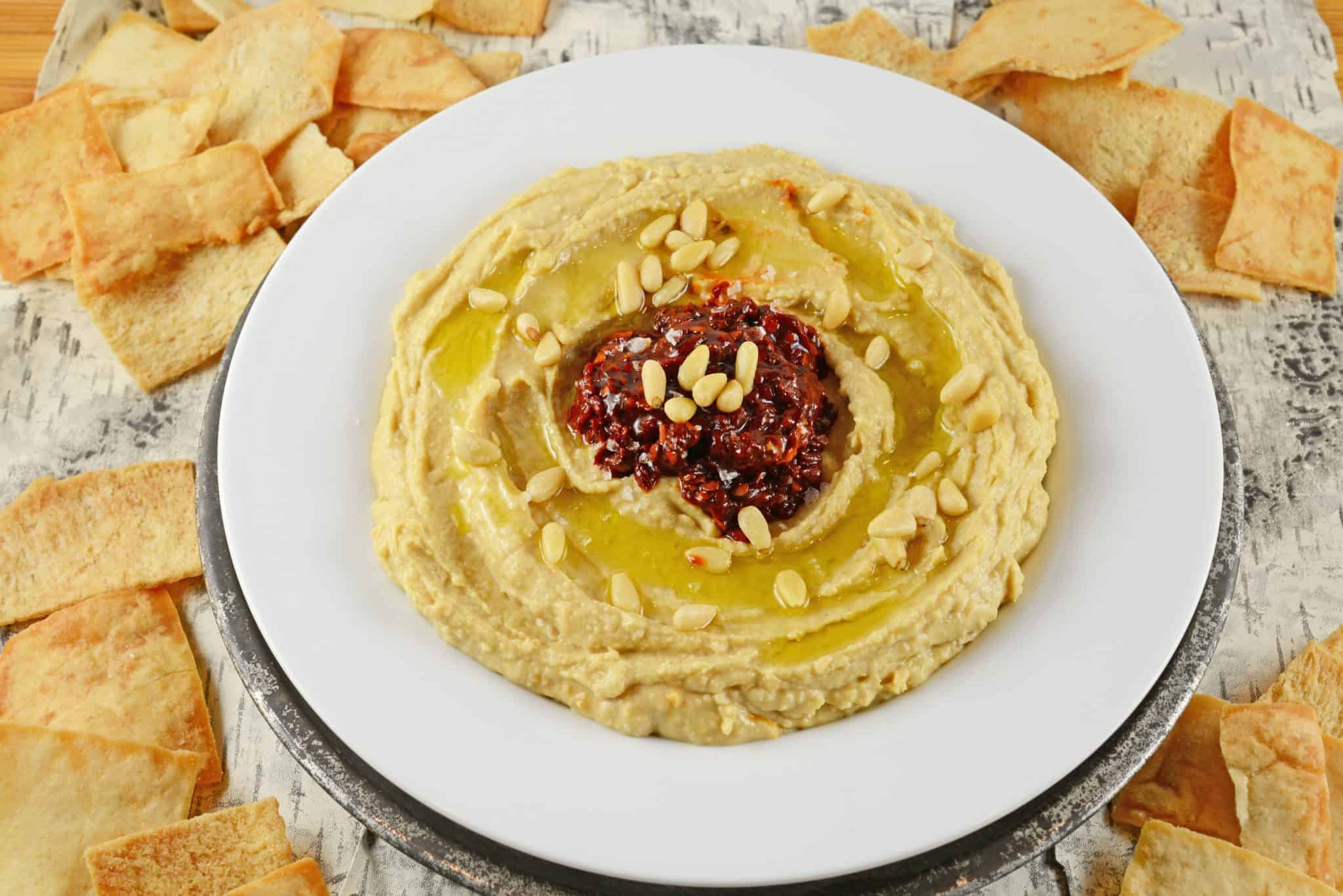 At $5 a pop, I had to start making my own. Homemade hummus is really simple to make and the base recipe of tahini (sesame paste), chickpeas and olive oil can be made into unlimited flavors.
Different brands of canned chickpeas have different textures. For hummus, you want one that is smooth and velvety versus one that is more taunt that would be better for salads or sauteing. Experiment with them to find the best fit for you.
What is hummus made from?
Use the same base to make garlic, roasted red pepper or carrot flavored hummus. Any flavor of hummus you can think of!
You pretty much throw everything into the food processor and blend it until smooth. Easy peasy!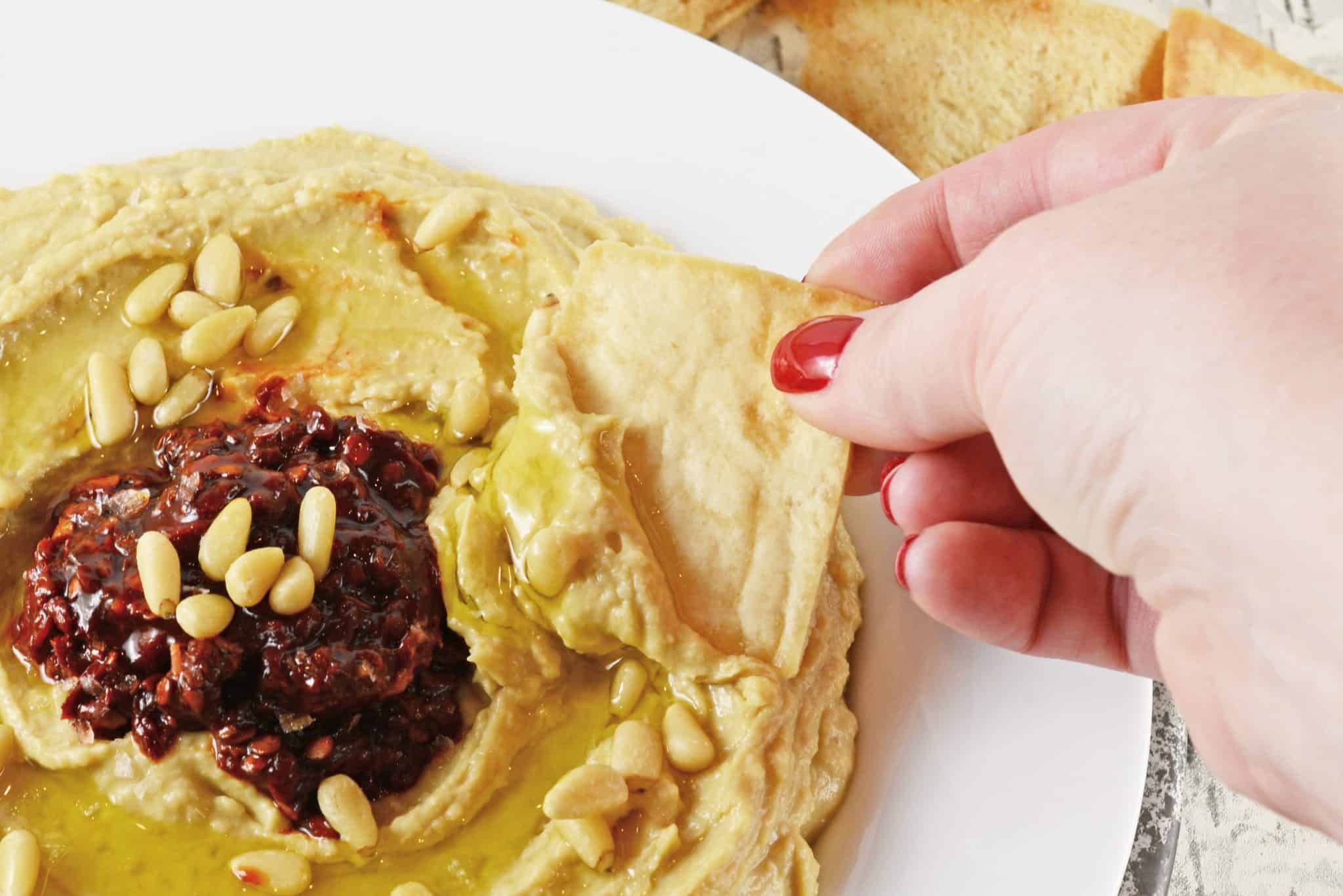 Hummus can be made ahead of time and stored in an airtight container in the refrigerator for up to a week. Who says it will even last that long with how great it is?!
Since you are making it fresh, the shelf life isn't as long but it is even healthier without all those additives and preservatives.
The only special equipment you will need is a food processor, but you can get a small one and work in batches. I serve mine with pita chips, homemade tortilla chips or whole wheat flatbreads.
Also use hummus on flatbread, or sandwiches!
Mediterranean Hummus Bowl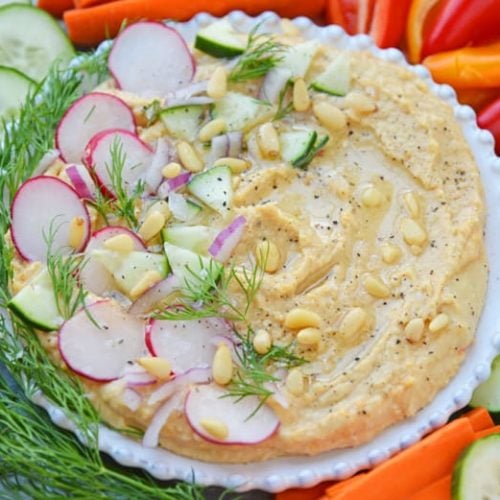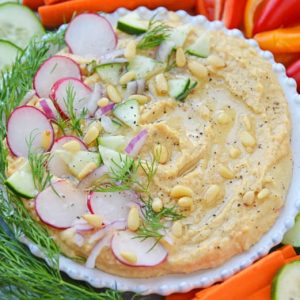 This Mediterranean Hummus Bowl is a great healthy lunch, snack or appetizer. Using homemade hummus and lots of fresh toppings, you can't go wrong!
White Cooking Wine Couscous
White Cooking Wine Couscous with Garlic and Mint is the perfect spring side dish for pairing with lamb, chicken, seafood and fish. This mild and fresh couscous recipe can't be beat!
Questions you might have about how to make homemade hummus:
Do I have to use tahini? The internet tells me you can substitute with"
Greek yogurt
Nut butters (Almond Butter or Peanut Butter)
Sunflower seed butter
Sesame oil
Can I freeze hummus? This is one I don't recommend freezing. It thaws very watery and with a grainy texture.
Do I have to use chickpeas? Chickpeas are pretty much essential for hummus. Even other flavors of hummus like black bean or carrots will be blended with chickpeas.
How do I make dried chickpeas? If you want to make your own, here is how to make your own chickpeas.
Soak dry chickpeas for 8 hours or overnight.
Drain your soaked chickpeas and transfer them into a saucepan.
Add cold water until you have twice the volume of the chickpeas. They will soak some up and you don't want them to get dry.
Bring the water to a boil, then turn the heat down and simmer the chickpeas for 45-60 minutes or until soft.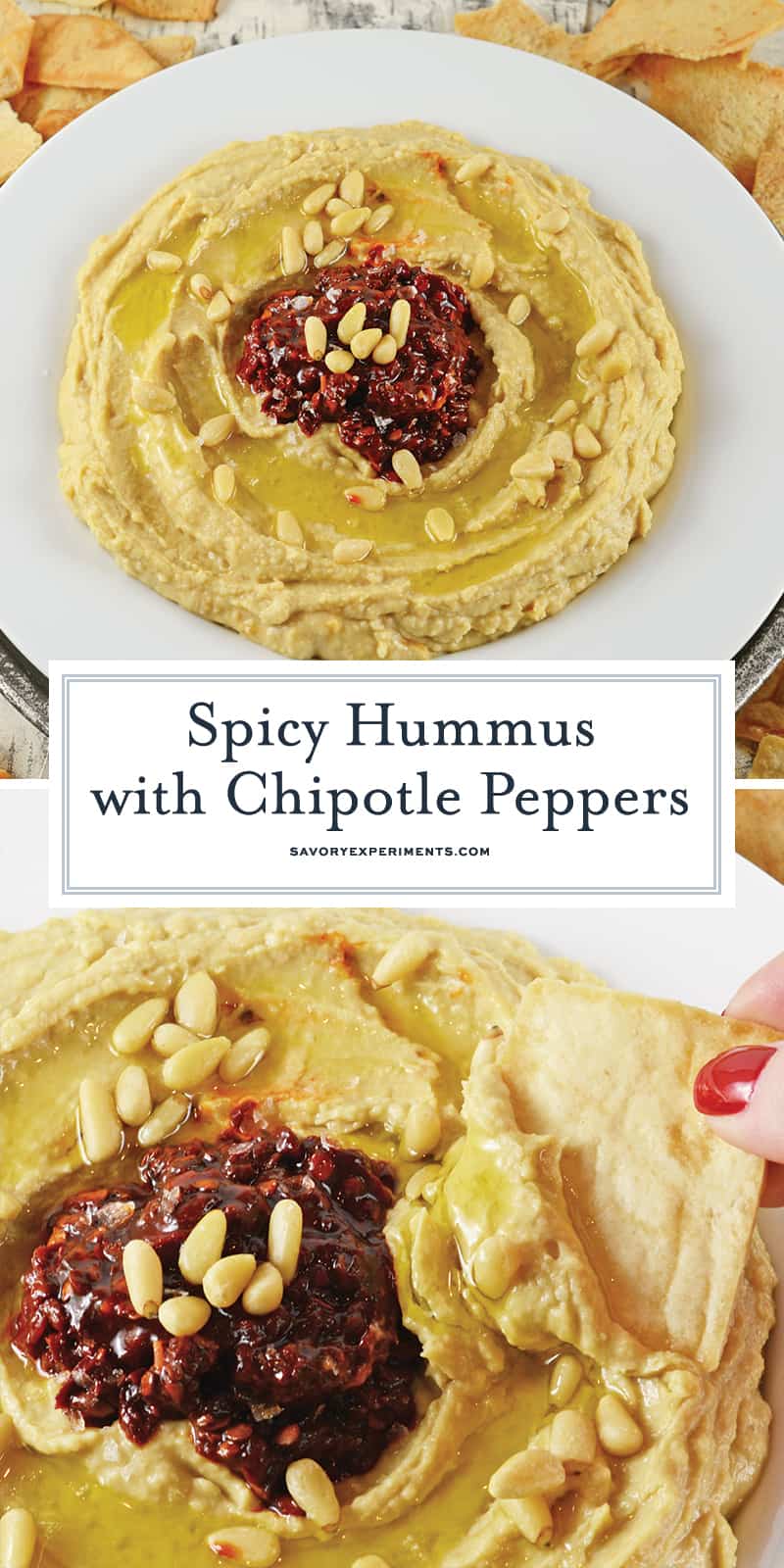 CONNECT WITH SAVORY EXPERIMENTS!

Be sure to follow me on social media, so you never miss a post!

Facebook | Twitter | Youtube
Pinterest | Instagram

Get our FREE 8 Day E-Course on How to Be a Better Home Cook. Sign up HERE!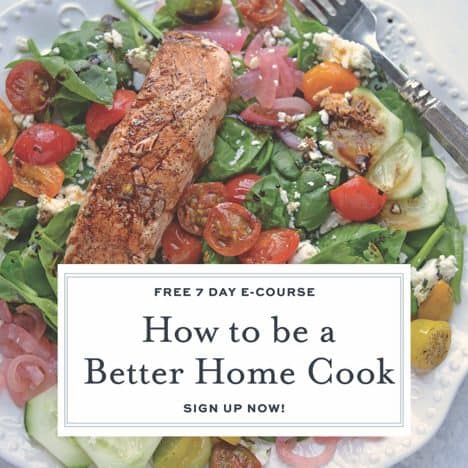 Chipotle Hummus
Chipotle Hummus is a spicy homemade hummus recipe. Easy to make and stores easily, it is the perfect party appetizer recipe!
Instructions
In a food processor, combine 1 tablespoon chipotle peppers with chickpeas, extra virgin olive oil, reserved chickpea liquid, tahini, fine sea salt and pepper.

Blend until smooth. Refrigerate until ready to serve.

Top with additional chopped chipotle peppers, toasted pine nuts and additional extra virgin olive oil (if desired).

If you've tried this recipe, make sure to come back and let us know how it was!
Nutrition
Calories:
1384
kcal
|
Carbohydrates:
114
g
|
Protein:
38
g
|
Fat:
89
g
|
Saturated Fat:
11
g
|
Sodium:
2861
mg
|
Potassium:
1311
mg
|
Fiber:
31
g
|
Sugar:
19
g
|
Vitamin A:
615
IU
|
Vitamin C:
8.8
mg
|
Calcium:
223
mg
|
Iron:
13.3
mg