With minimal ingredients and time you can whip up this Orange Fluff JELLO Salad for that next potluck, family gathering or picnic with ease. With only 6 ingredients, you can't get any more simple than that.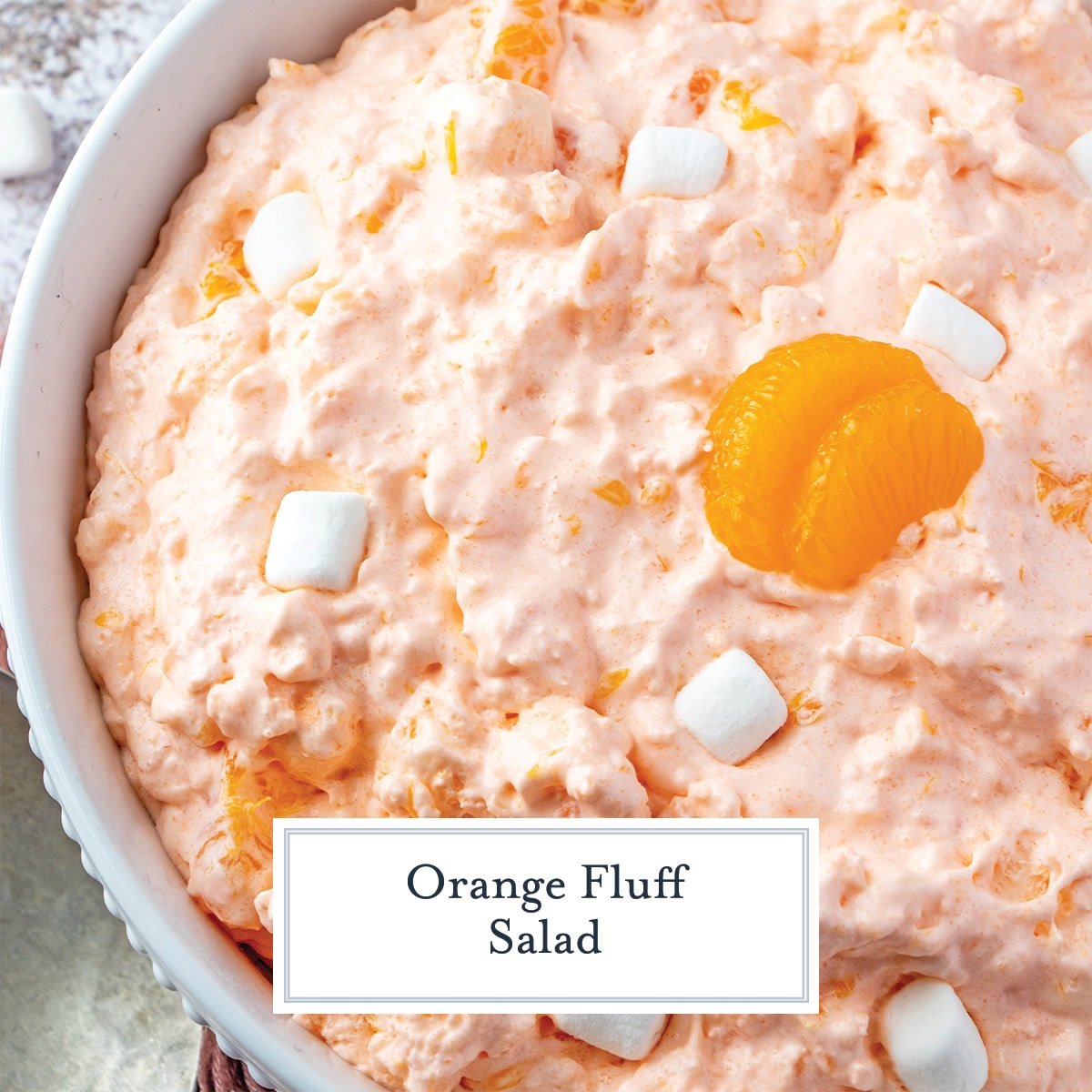 Orange Fluff Jello Salad
When it comes to Fluff Salads it really brings me back to my childhood and one of my grandparents or great aunts bringing these to all of our get togethers. One thing is for sure, they aren't a typical or traditional fresh fruit salad.
This is such a simple salad that you can do with a variety of different flavors as well such as pistachio, strawberry, cherry, etc and all you need to do is really just change out the fruits and gelatin you use.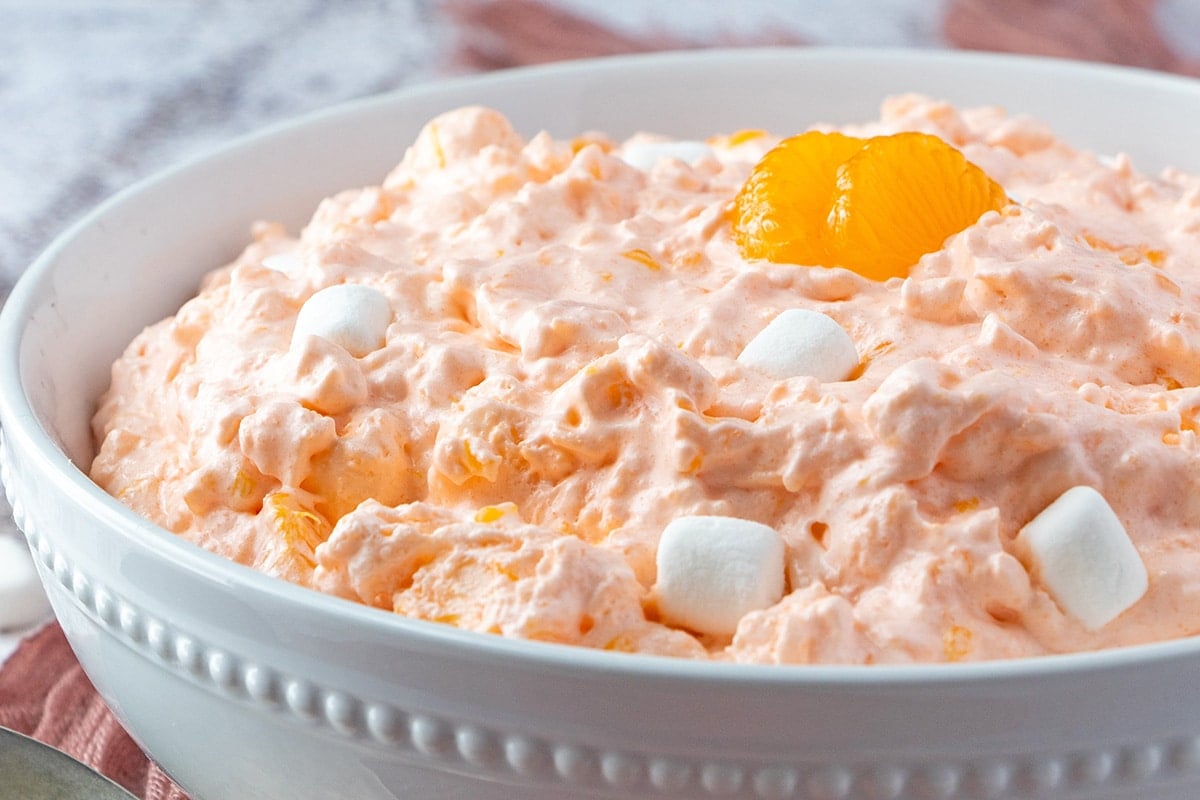 How much more simple can you get than that? In our house, simple is how we go and how we thrive and I'm sure a lot of people can relate to that.
Why is it called Fluff Salad?
If you've ever had it- you'd know. Because it is like fluffy little clouds!
So light and delicate, it melts in your mouth. A favorite on hot summer days and also for cold weather holidays, you can't go wrong with fluff.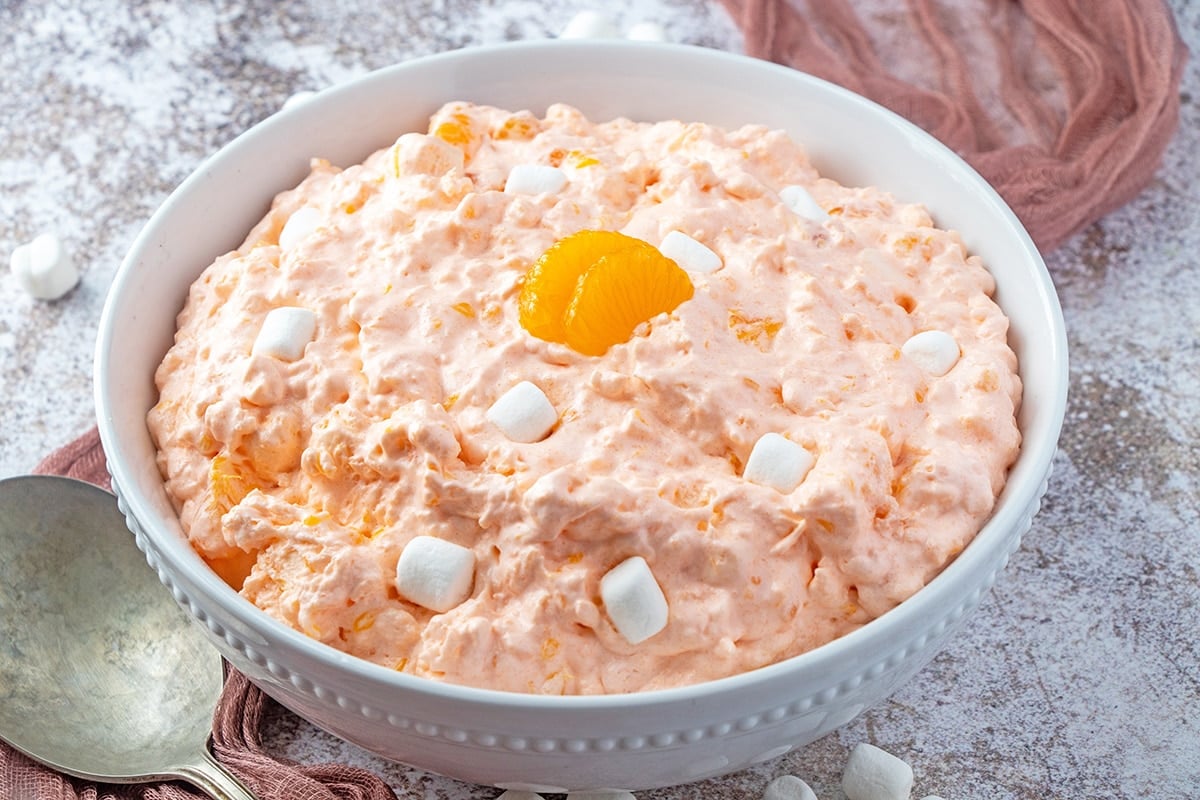 You'll Love Orange Jello Fluff Salad
Yes, it is called a salad, but doesn't have any leafy greens. Welp, no greens, really. But many "salads" don't like Snickers Salad or Watergate Salad. I mean sometimes it is called a mandarin orange salad which makes it sound a tad healthier.
Many folks do serve orange jello salad as a side dish, especially for potlucks and on holidays. But is is always controversial because it isn't a very savory dish, but then again, neither is a sweet potato casserole and no one complains there!
I like to think of orange jello fluff more as a dessert salad. Some might even call it orange creamsicle fluff or as my great aunt at family gatherings calls it "orange stuff".
What I do know for sure is that this is a great recipe and always a crowd favorite using simple ingredients and virtually zero time.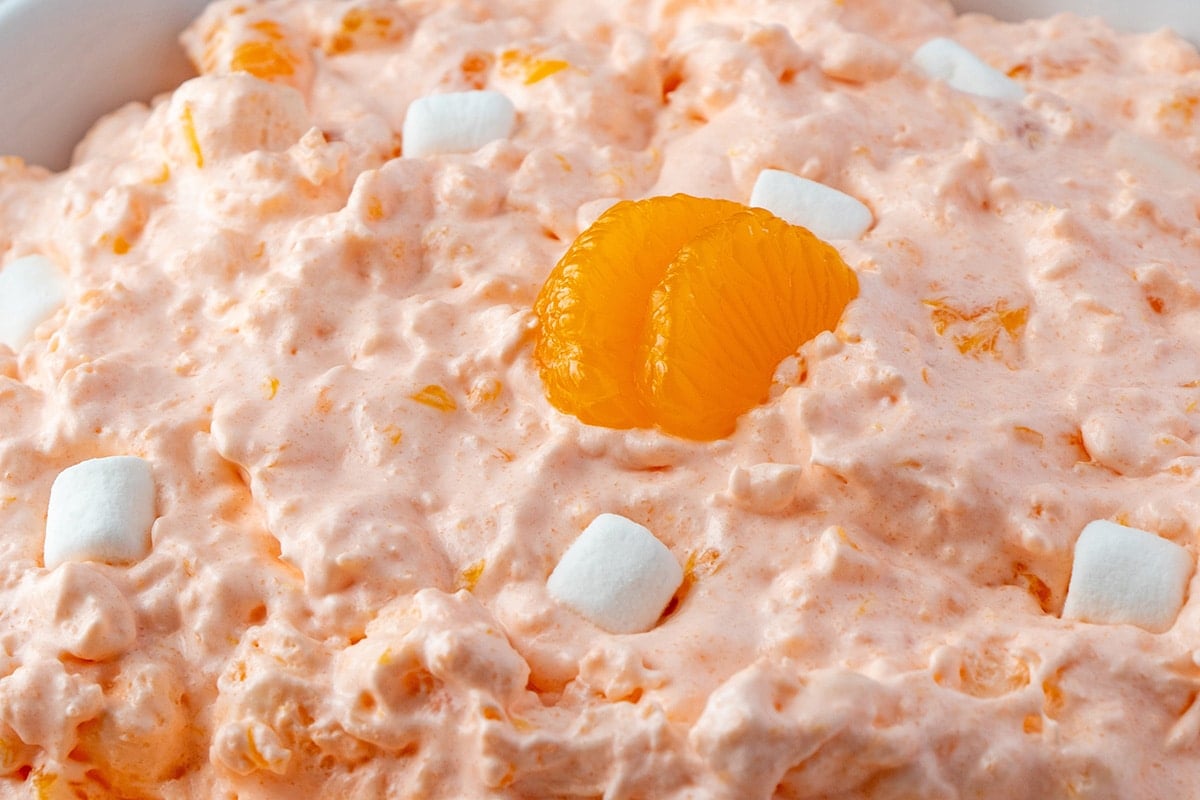 Orange Fluff ingredients
What ingredients do you need for this fluffy salad recipe?
Mandarin Oranges– use the canned kind so they are super soft, but be mindful to drain them first. They are watery as it is and you don't want runny salad.
Crushed pineapple– same goes with the crushed pineapple. You want the juicy goodness, but not so much that your fluff goes flat.
Cottage cheese– this, my foodie friends, is the game changing ingredient. I used to use pudding mix for the extra creamy factor, but soon discovered from a friend that cottage cheese does the same trick but with extra emphasis on the creamy and a little less sweet.
Orange gelatin- Any type will do! The orange hue and color will depend greatly on the brand you buy. Some are darker than others.
Whipped topping- I do suggest using whipped topping instead of whipped cream. Whipped topping is made from hydrogenated vegetable oil and there is more stable and won't fall. Whipped cream has the tendency to melt.
Mini marshmallows – Minis are best for the structure of the salad, but it you have big ones, use kitchen shears to snip them into smaller pieces. The variety color pastel mini marshmallows are also fun to use. I put a few more on top as garnish. Cool Whip is the prefered brand for this.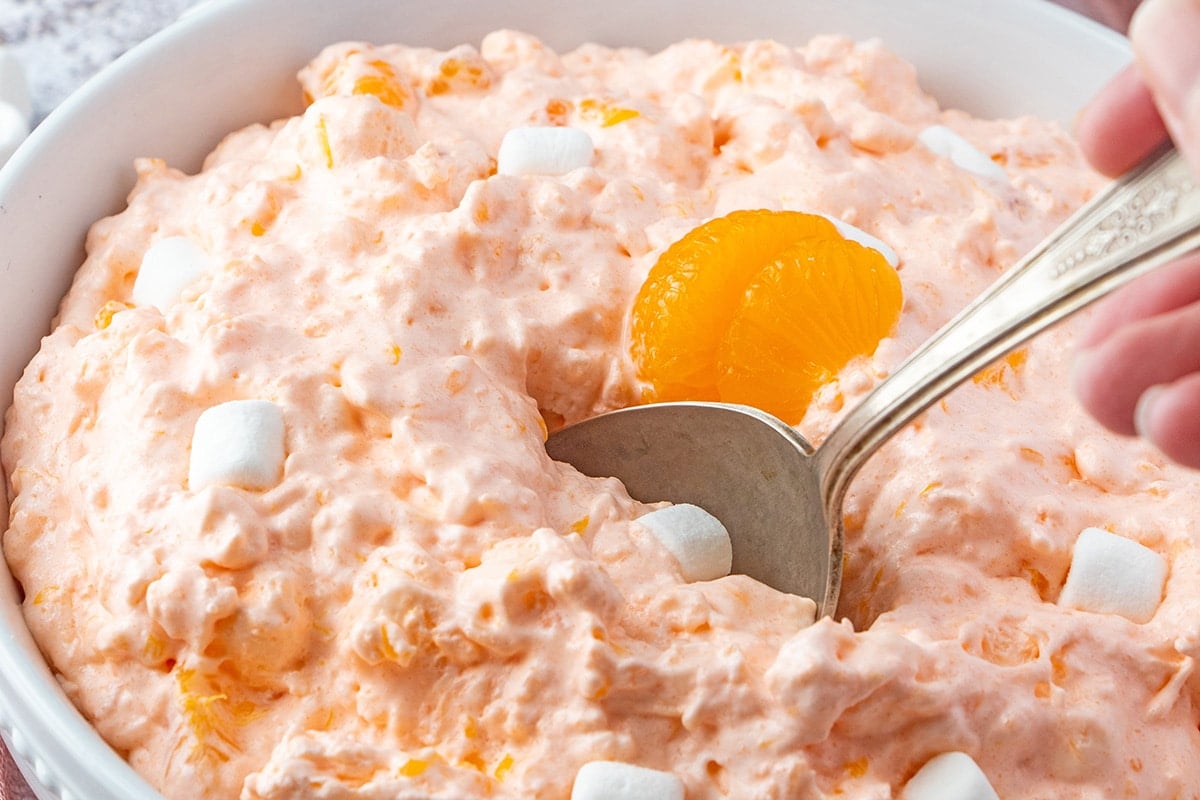 How to Make Orange Fluff Salad
Like stated before this is such a simple recipe to make.
Start off by mixing your oranges, pineapple and cottage cheese in a large mixing bowl until combined. Make sure you drain those fruits in a colander first! Too much liquid will give you a watery mess.
Using a rubber spatula, fold in the orange jello mix and mix it together so that it dissolves nicely, no streaks remain and the whole thing has orange flavor.
Fold in the whipped topping until everything is incorporated.
Lastly, fold in the marshmallows.
For best results, cover and chill so the gelatin has time to set up and thicken the mixture.
PRO TIP: This recipe can easily be doubled or tripled for large crowds and is great for potlucks!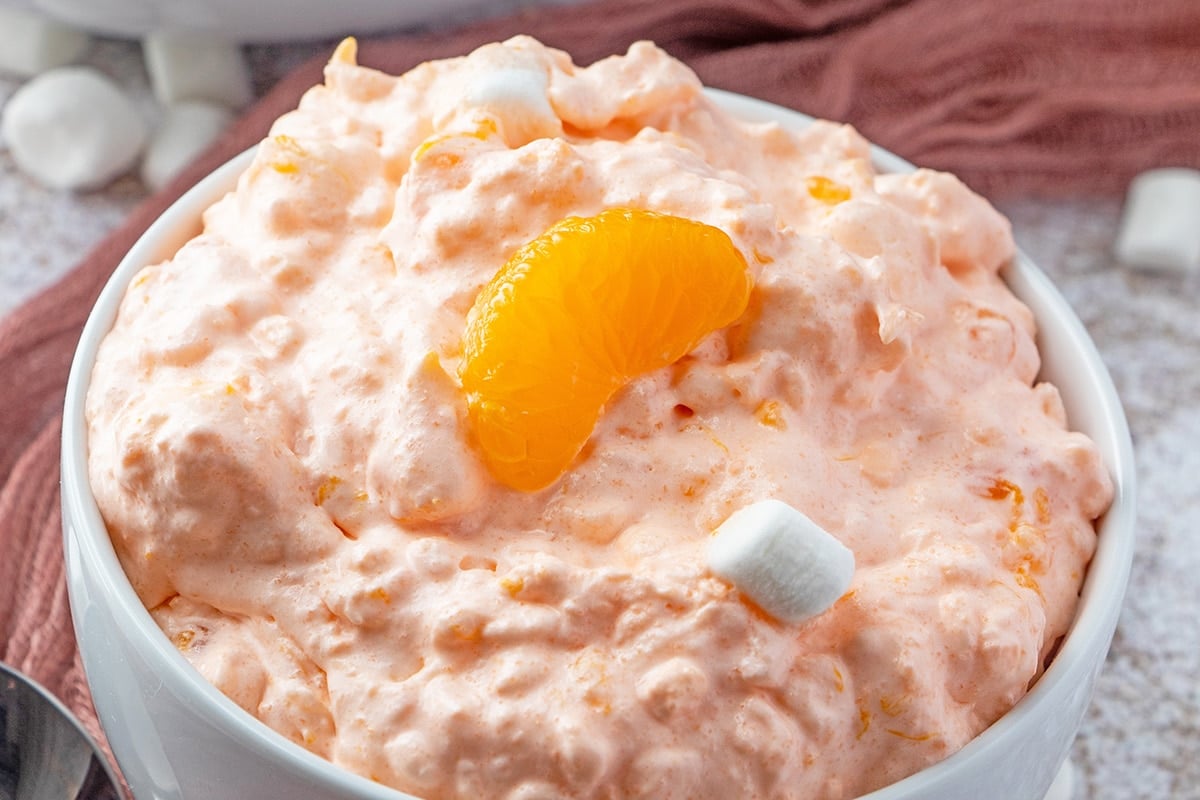 Orange Fluff Jello Tips & Variations
Use small or large curd cottage cheese.
Drain the pineapple and oranges as well as you can, otherwise the salad itself can turn out runny.
You can use pineapple tidbits instead of crushed pineapple if you like.
Also use cherry gelatin + cherry pieces.
Also use orange gelatin + fruit cocktail.
Add chopped nuts like walnuts or pistachios.
Add flaked coconut, sweetened or unsweetened.
Vanilla instant pudding mix can also be used to stiffen and flavor the jello mixture.
This Orange Fluff Salad recipe is as simple as they come, it whips up quick and is an easy dish to bring to any type of gathering.
What to serve with this Orange Fluff Recipe
Orange fluff salad is so vertsile that it can be served as a stand-alone dessert or as a side dish. It pairs well with other sweeter dishes like glazed ham or pork. As a dessert, I like to serve it with sugar cookies, or something with more body and texture, but not overwhelming flavor.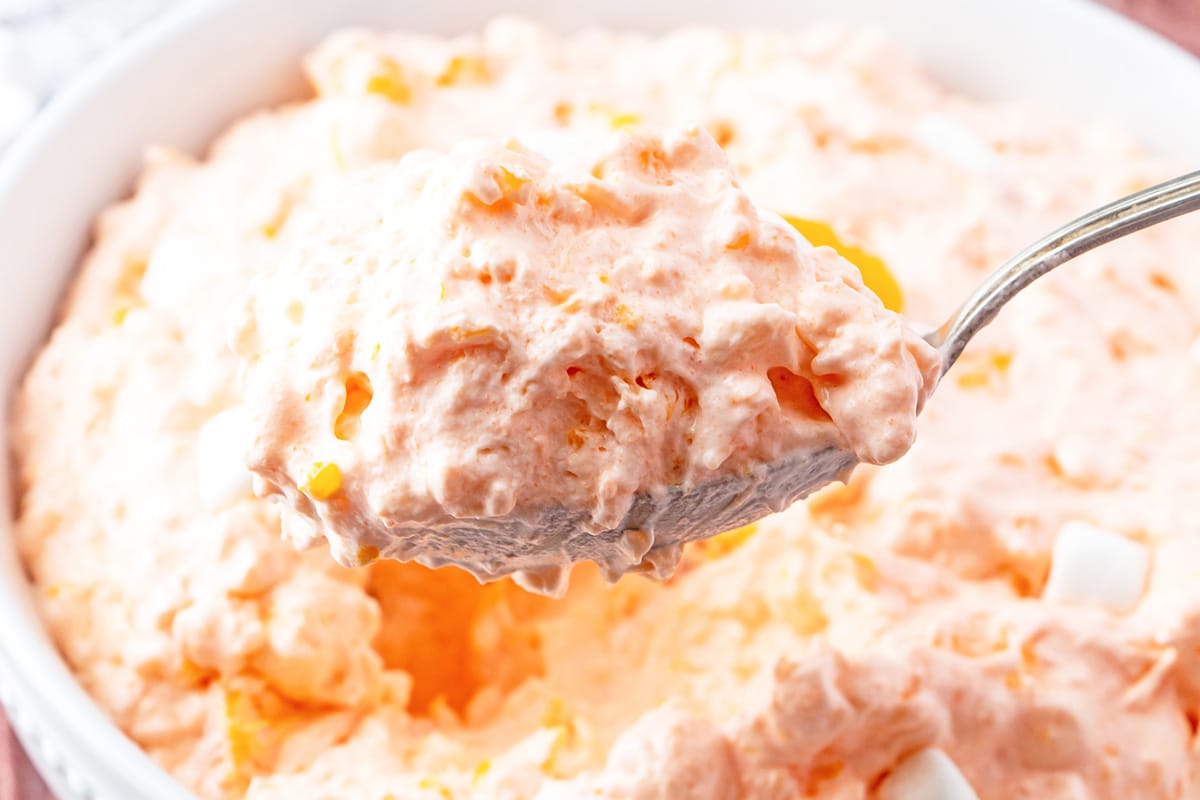 How to Pre- Make Orange Fluff Salad
Make Ahead & Storage: Orange Fluff is best served within a few hours of preparation or is has the tendency to get runny and melty. But since it is such an easy recipe, it should be easy to whip it up right before serving.
Cover tightly with plastic wrap or place into an airtight container and store in the refrigerator. It will stay good for up to 3 days, but the texture will be different. Stir before serving.
Freezing: I do not recommend freezing orange fluff.
How to store Orange Fluff
Store orange fluff in an airtight container in the refrigerator for up to 5 days. Give it a good stir before serving leftovers. I do not recommend freezing fluff.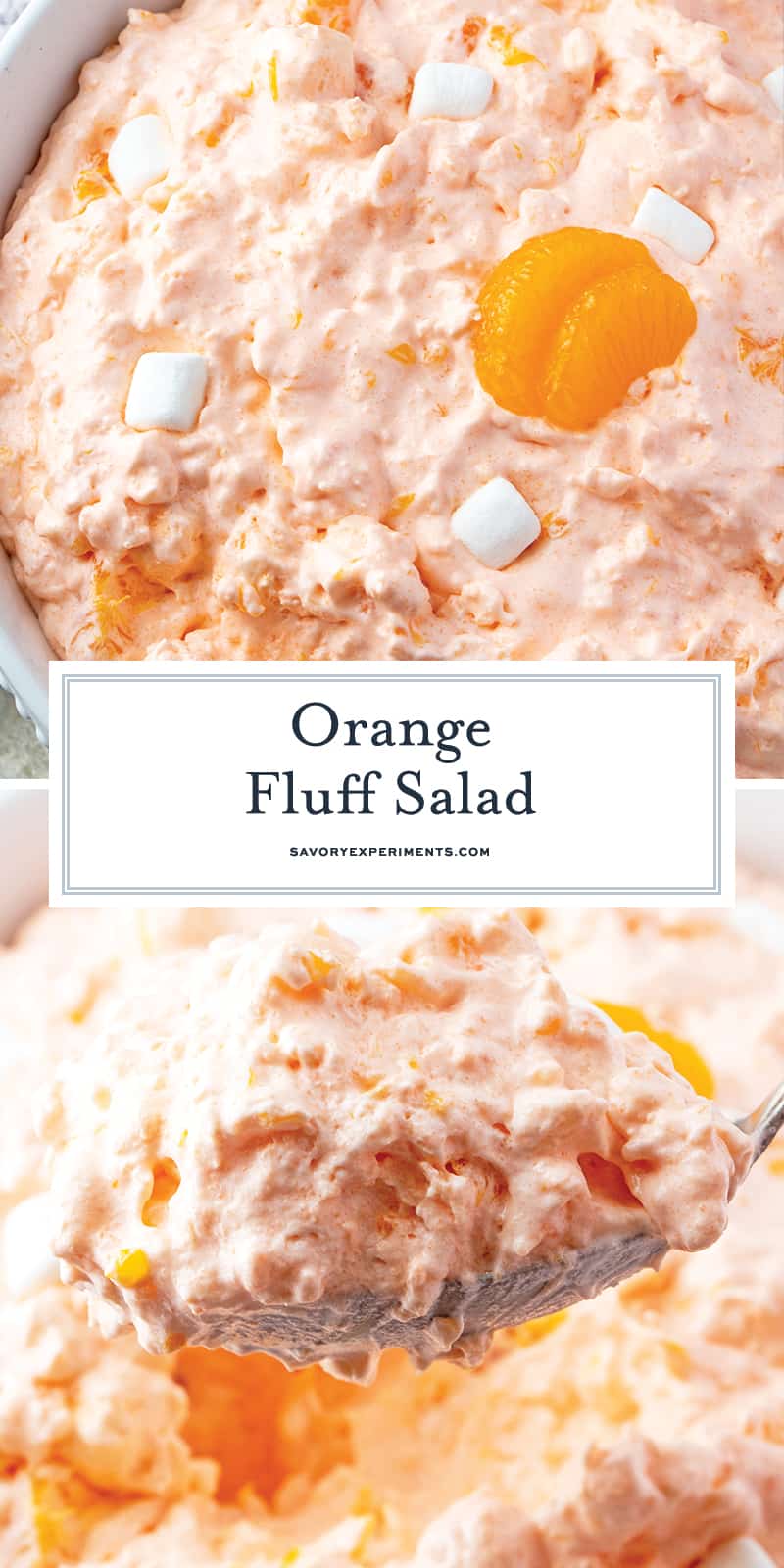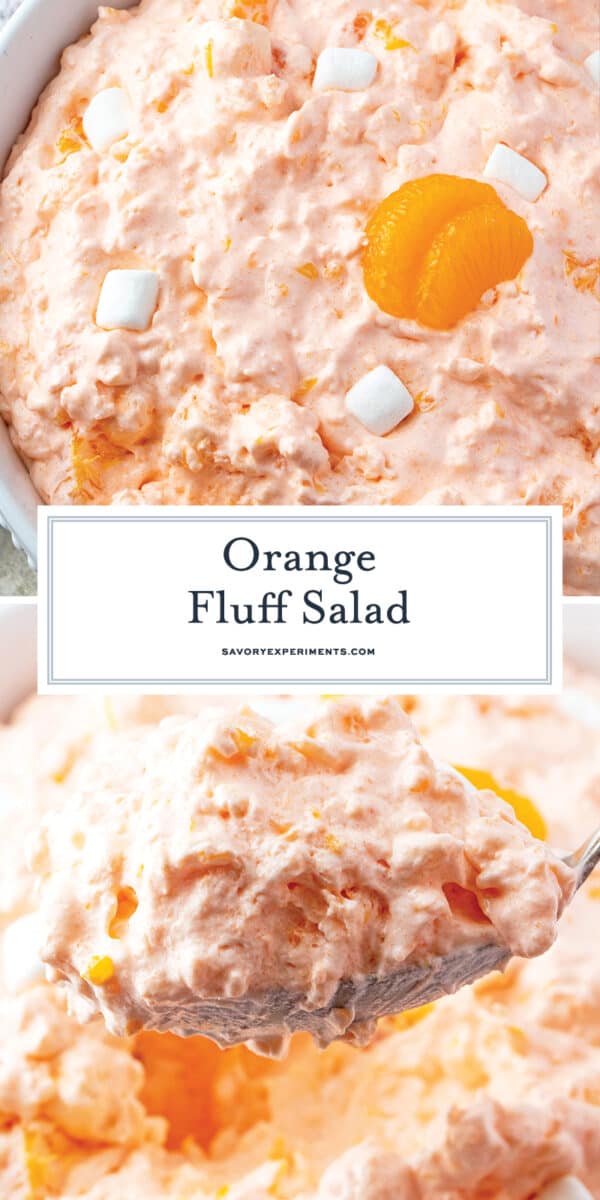 More Delicious Recipes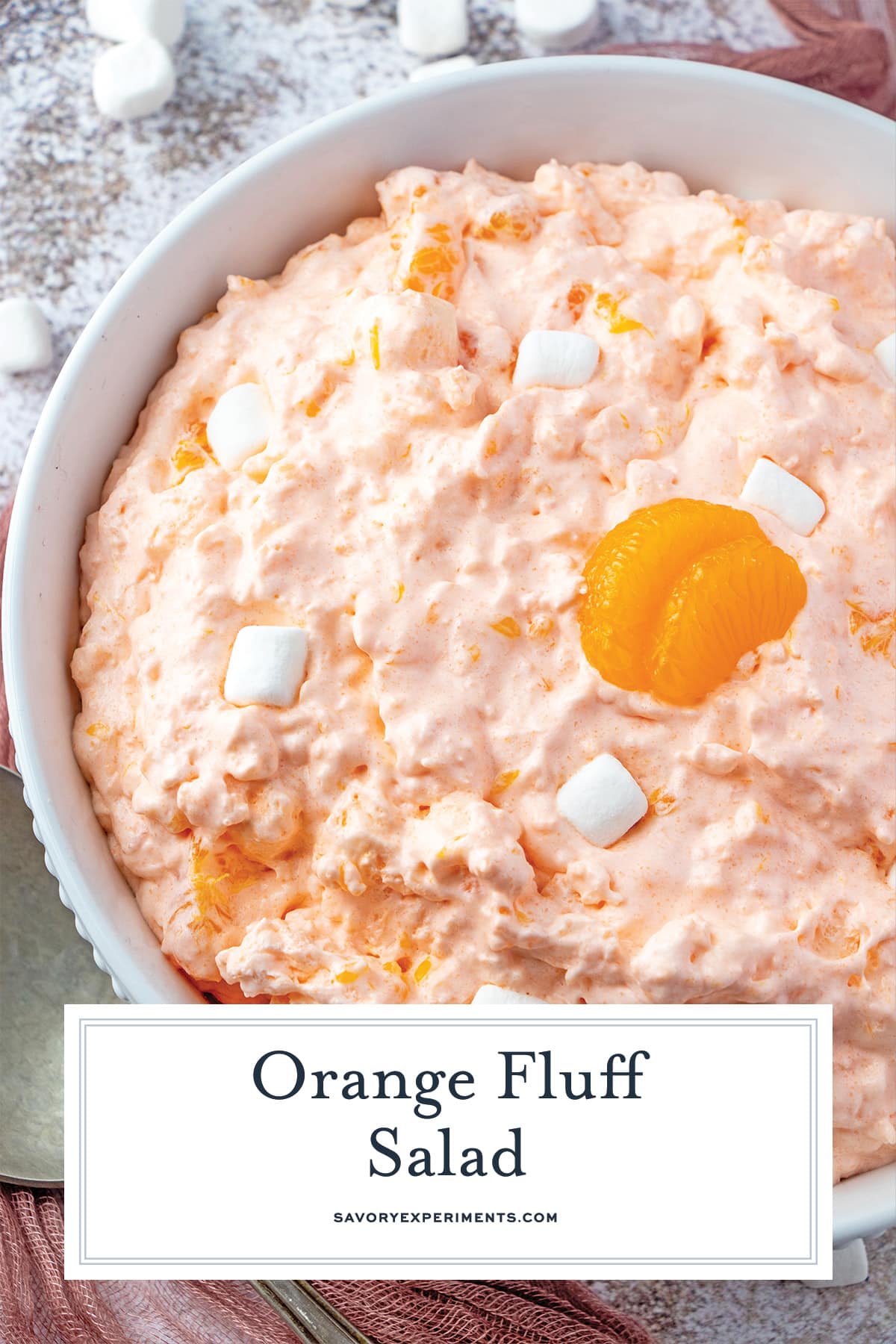 Delicious orange fluff salad is sure to be a family favorite if it isn't already!