Extra juicy, pillowy sweet and delicious toasted marshmallow strawberries are quick and easy to make. You can make them at home, but tastes just like roasted over a campfire!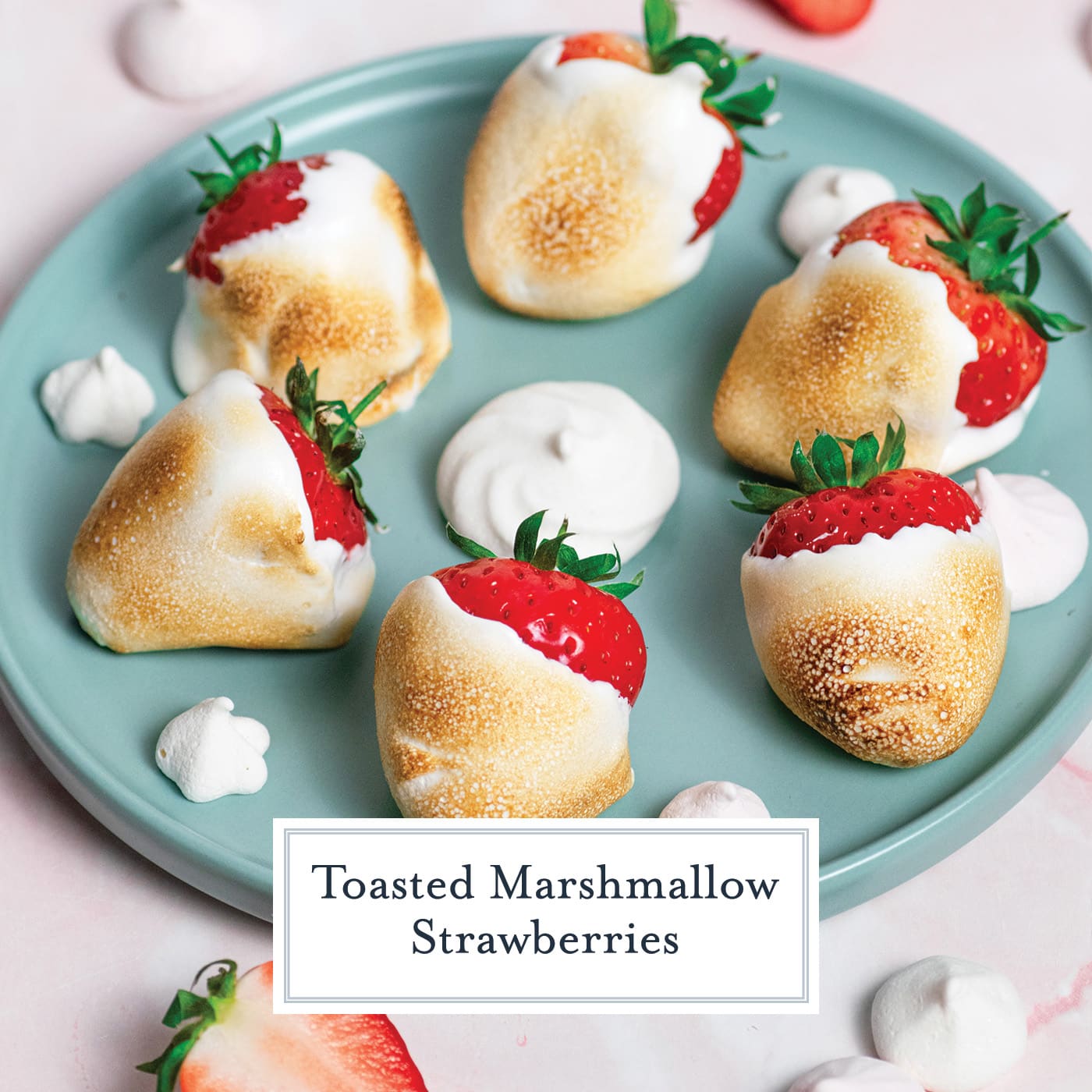 By now everyone know that everything toasted over a campfire is delicious. Throw in some marshmallows and you have a simple and delicious dessert! This recipe takes it up a notch by adding fresh and juicy strawberries.
What Are Toasted Marshmallow Strawberries?
Naturally sweet and tangy strawberries are dipped in marshmallow fluff, then toasted with a torch. The open flame gives a perfectly caramelized and smoky flavor that goes perfectly with the pillowy soft marshmallow and juicy strawberries.
This toasted marshmallow strawberries recipe is really simple to make and perfect for a summer cookout or lazy night in. Bring the campfire taste inside your home without all the hard work!
The prep time for this recipe is minimal and you can whip up a delicious campfire snack within minutes. So, if you're a fan of all things marshmallows, this recipe is for you!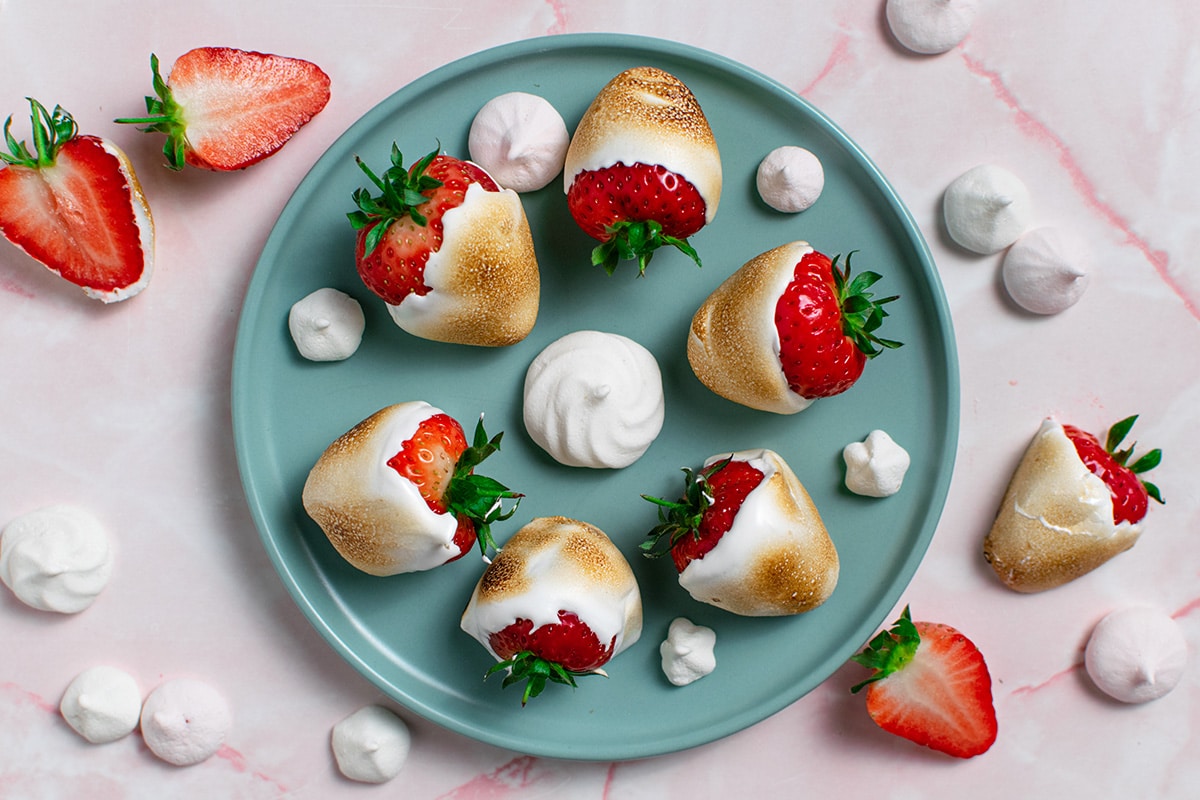 Why You'll Love These Toasted Marshmallow Strawberries
Juicy strawberries surrounded by pillowy soft marshmallow that is browned to perfection- what's not to love!
Simple ingredients: This toasted marshmallow strawberries recipe only requires 2 ingredients. You need strawberries and marshmallow fluff! Toast with a torch and you're all done.
Easy to make: There's no cooking required for this recipe, as preparation takes only minutes. In terms of tools, you will need a microwave and a torch (you can also use your stove).
Smoky and delicious: Gently torching the marshmallow covered strawberries gives them a smoky flavor, whilst still being pillowy soft. So within minutes you can get the flavors of campfire treats in your house – without any smoke!
Fuss free: There's no need to spend a long time lighting up a campfire, as this recipe only needs a torch. So making toasted marshmallow strawberries is incredibly simple, fuss free and most importantly mess free!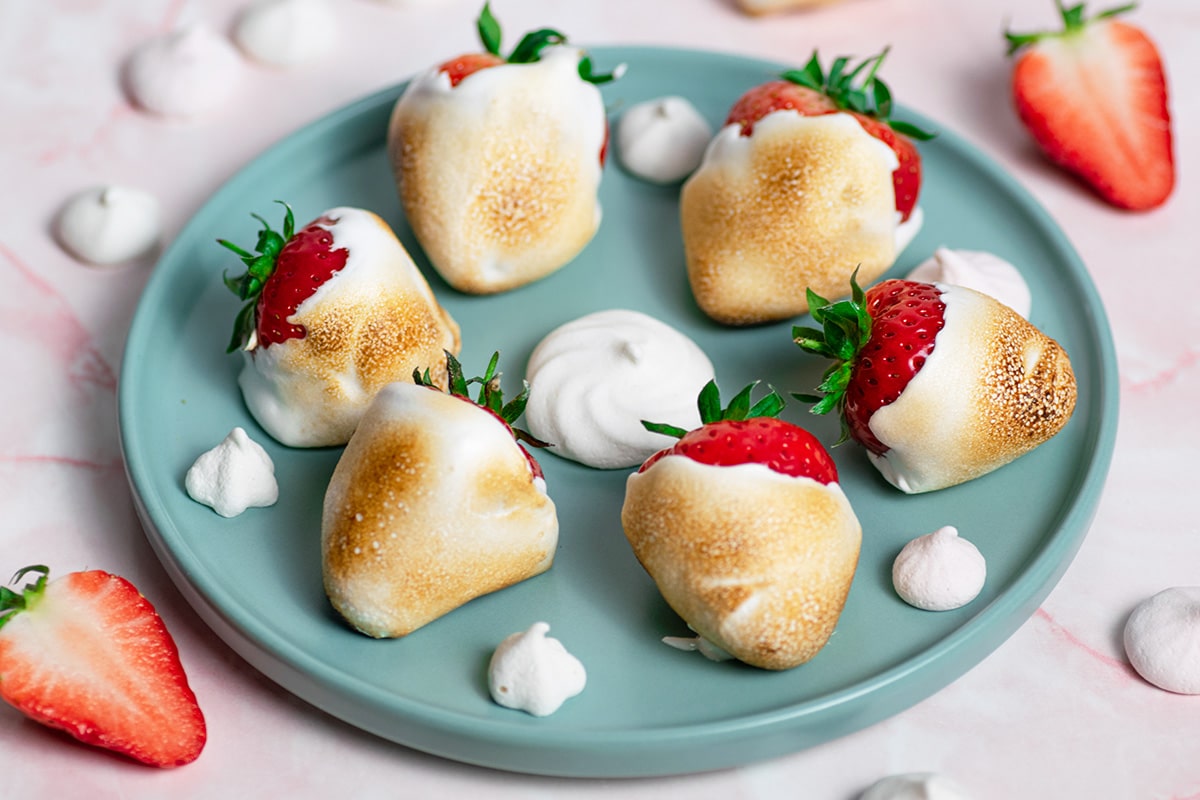 Special Equipment
Toasted marshmallow strawberries are super easy to make, and it's even easier if you use the right tools. Here's what you will need:
Microwave – used to gently melt the marshmallow fluff. This way it's easier to dip the strawberries and get an even coating.
Cooking torch – used to toast the marshmallow fluff and give it that smoky, caramelized flavor. I recommend using a butane torch or similar.
Skewers – it's much easier to stick the strawberries on a skewer before dipping them in marshmallow fluff. It's also better for safety reasons when torching the coating. Alternatively, you can also use a regular fork.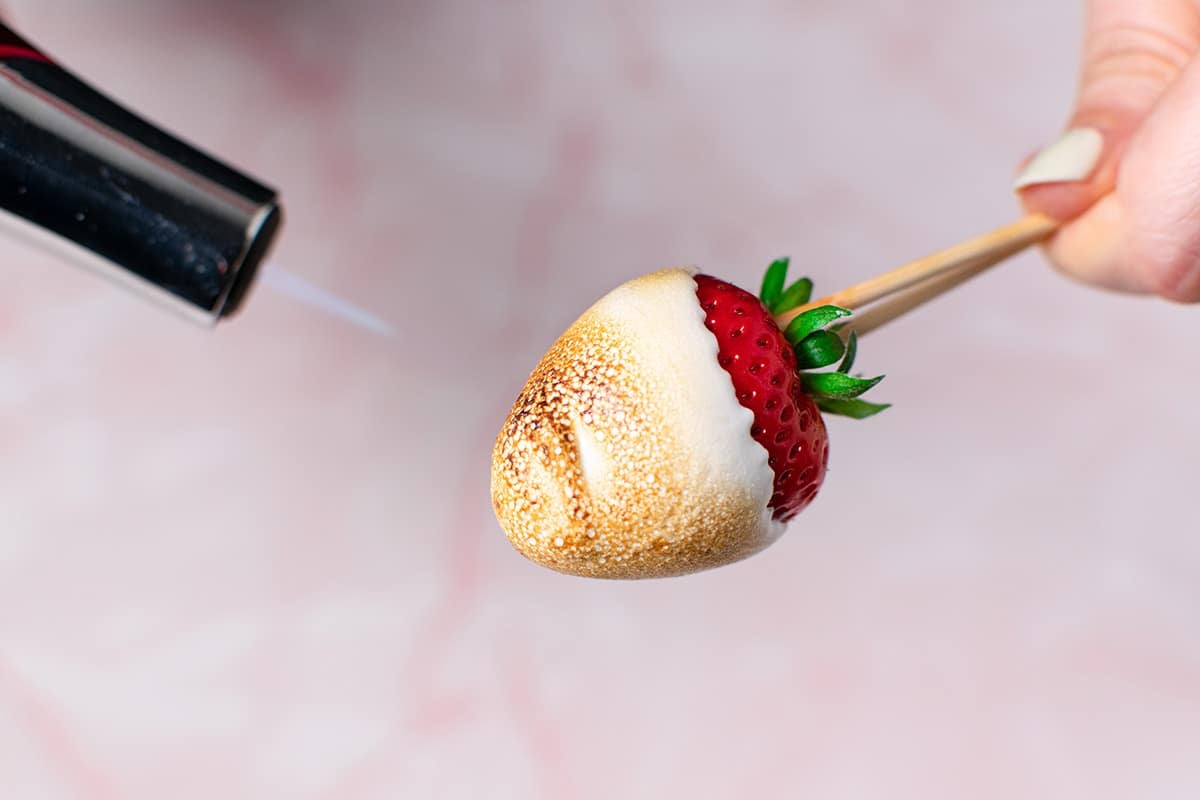 Toasted Marshmallow Strawberries Ingredients
The beauty of this toasted marshmallow strawberries recipe is that it's really easy to make and only needs 2 ingredients:
Strawberries – I recommend getting the freshest strawberries for a naturally sweet flavor. Frozen strawberries don't work well in this recipe, as they get soggy when thawed.
Marshmallow fluff – any type of fluff will work. You can mix it up and use different flavors like strawberry or caramel.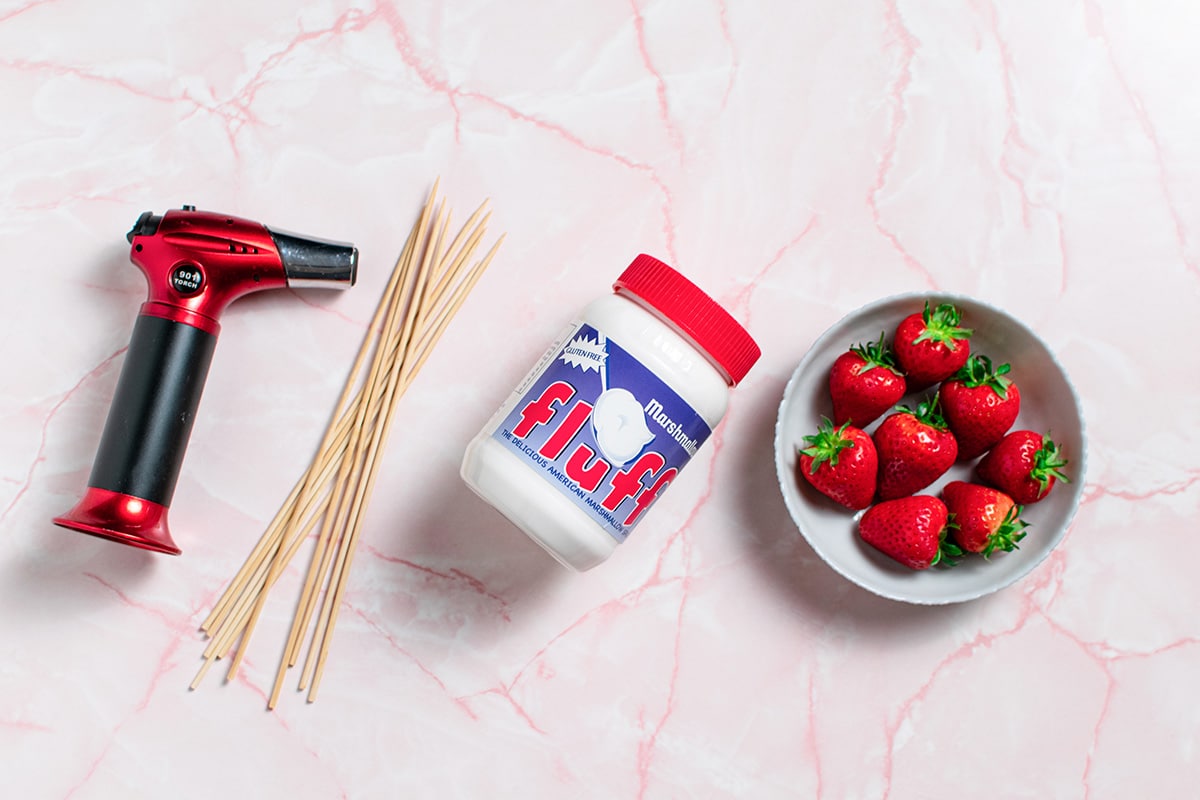 How to Make Toasted Marshmallow Strawberries
You are going to love how easy it is to make these delicious strawberries!
Skewer strawberries. Stick the strawberries on skewers.
Soften marshmallow. In a medium bowl, microwave marshmallow fluff until slightly softened.
Dip strawberry. Dip each strawberry into marshmallow fluff, twisting to remove an excess.
Toast marshmallow. Using a torch, gently toast the marshmallow coating.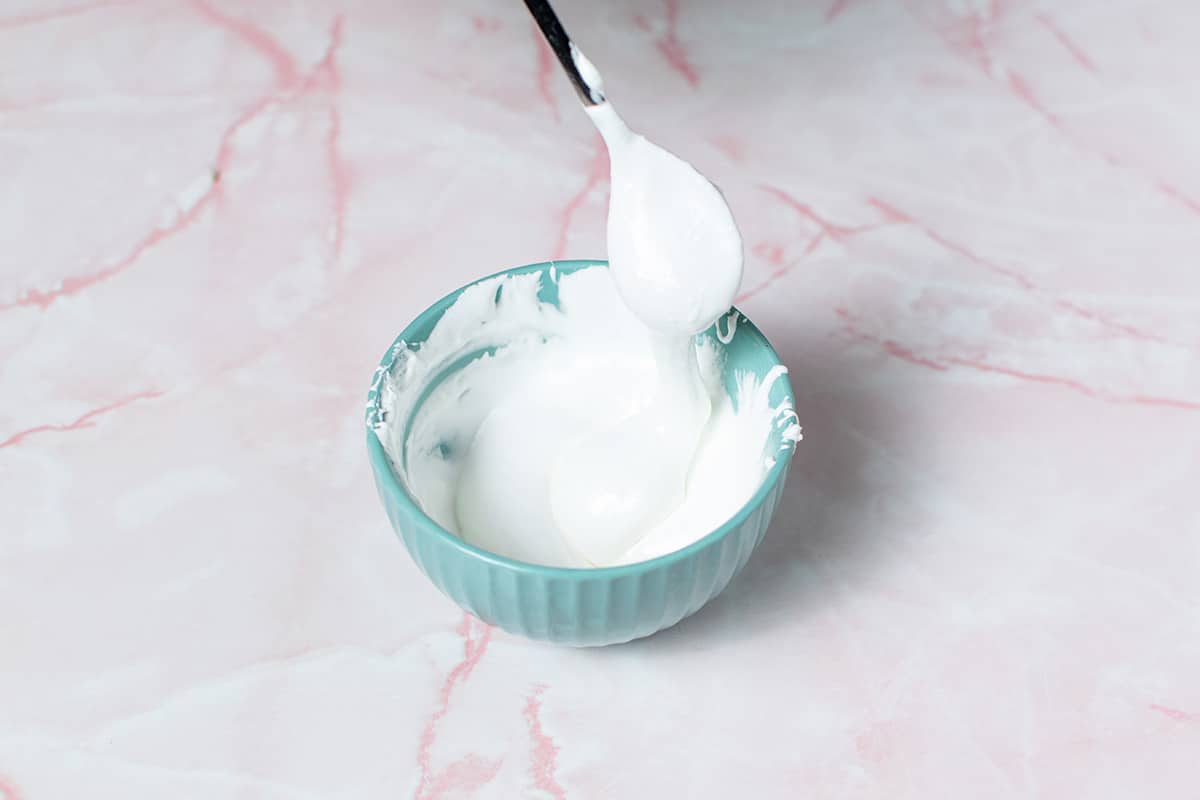 Flavor Variations
This toasted marshmallow strawberries recipe is highly customizable, so you can make it according to your own taste. Here are some of my favorite flavor variations:
Chocolate – dip the strawberries in melted chocolate or Nutella before dipping in marshmallow fluff
Strawberry fluff – for even more strawberry flavor, switch plan marshmallow fluff with strawberry flavor
Cinnamon – sprinkle some cinnamon powder over the toasted strawberries for a spicy kick. Only do this after toasting, as cinnamon burns very easily.
Cream cheese – core the strawberries and fill with cream cheese for a tangy and creamy flavor
Sauces – after toasting, you can use any of your favorite sweet sauces to top the strawberries. I recommend chocolate, caramel or strawberry sauce!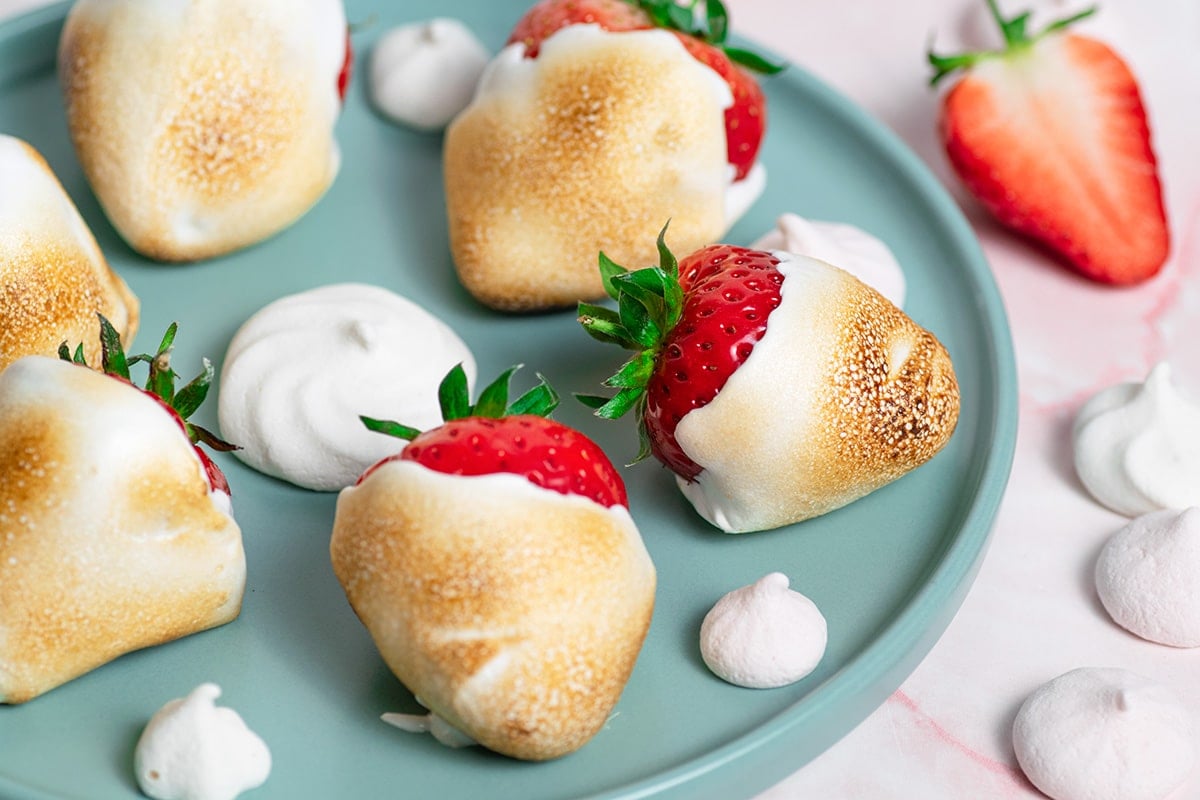 Tips & Tricks
Firm strawberries – Choose firm and fresh strawberries for the best flavor. Soft or overly ripe strawberries don't hold their shape too well.
Softened fluff – A few seconds in the microwave is all it takes to soften the marshmallow fluff. If used unsoftened, the fluff is too thick and doesn't coat the toasted marshmallow strawberries evenly.
Use skewers – it's much easier to maneuver the strawberries when dipping them into marshmallow fluff when placed on a skewer. It's also mess-free and protects your fingers when torching.
Chocolate twist – if you're feeling extra, dip the strawberries in chocolate first. Let the chocolate set completely, then dip in marshmallow fluff and toast. It's ridiculously tasty! You can also serve with a drizzle of chocolate sauce.
Turn when torching – When using a culinary torch, it's very easy to burn the marshmallow if you keep the flame in one location for too long. To avoid this, keep turning the skewer around to toast the marshmallow evenly on all sides.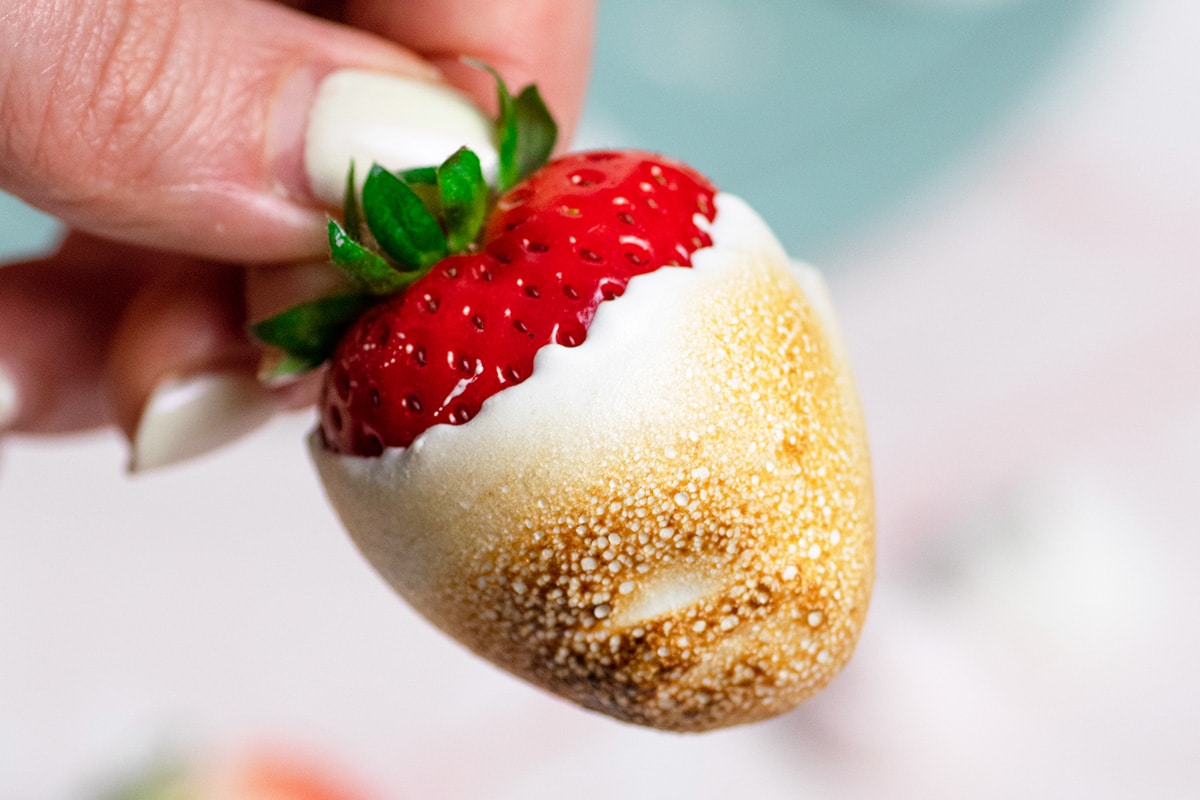 Storage and Freezing
Storage: For the best flavor and texture, I recommend eating these toasted marshmallow strawberries immediately. If you must save them, store in an airtight container in the refrigerator for one day.
Freezing: I do not recommend freezing these toasted marshmallow strawberries. The berries will not thaw well.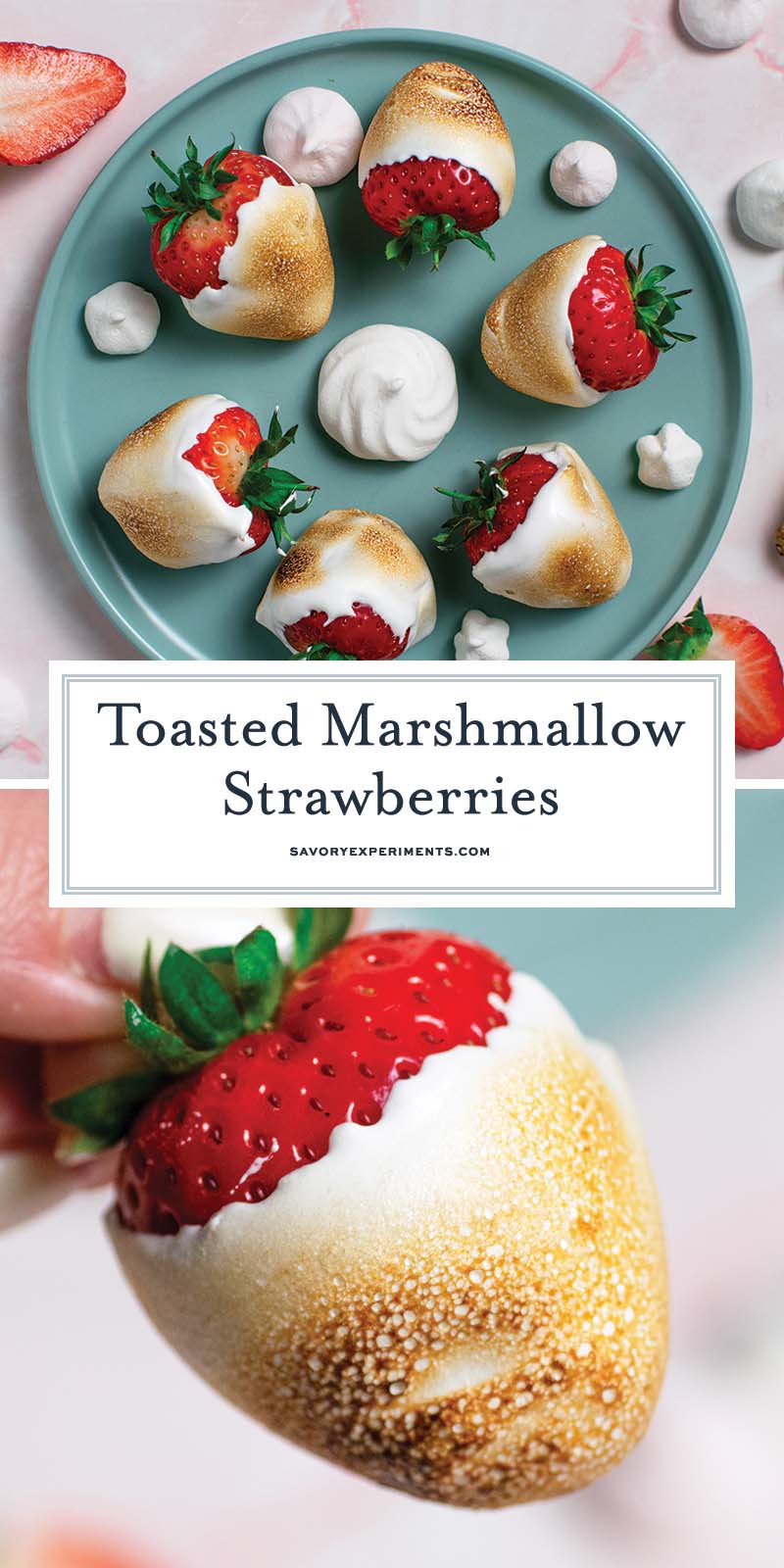 More Strawberry Recipes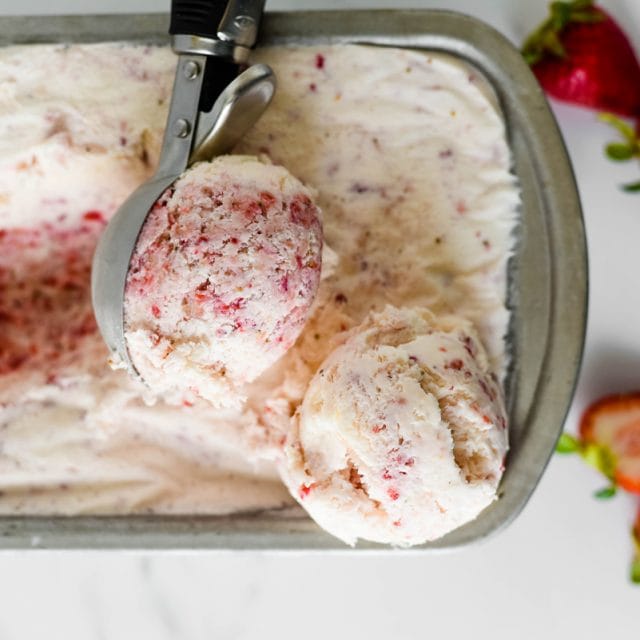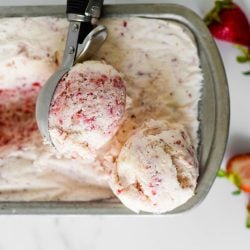 No Churn Strawberry Ice Cream
This homemade Strawberry Ice Cream is an easy no churn ice cream recipe. With great real strawberry flavor and a luscious, creamy texture, you won't believe how simple this is to make!
See The Recipe!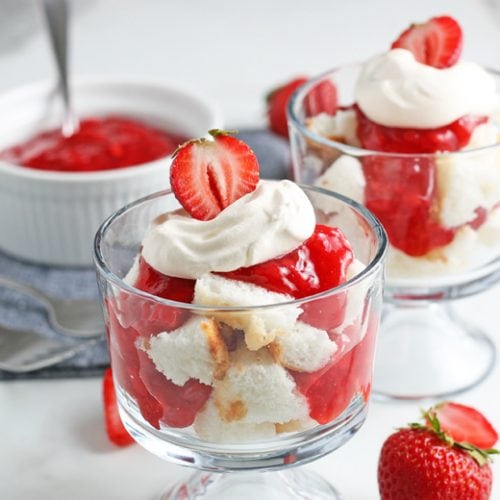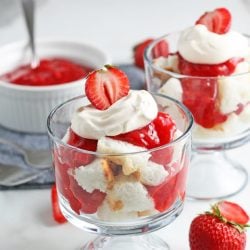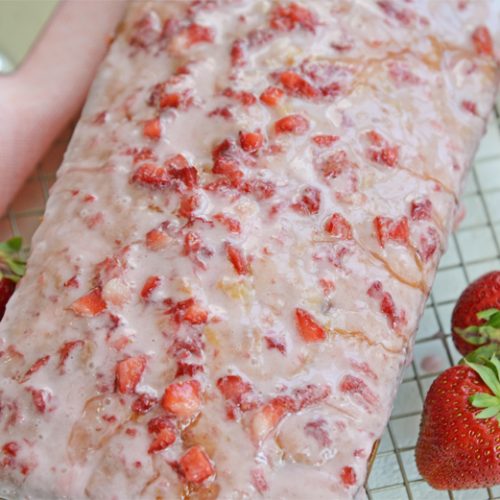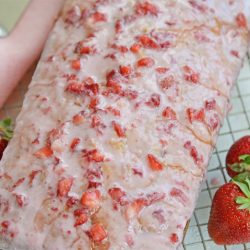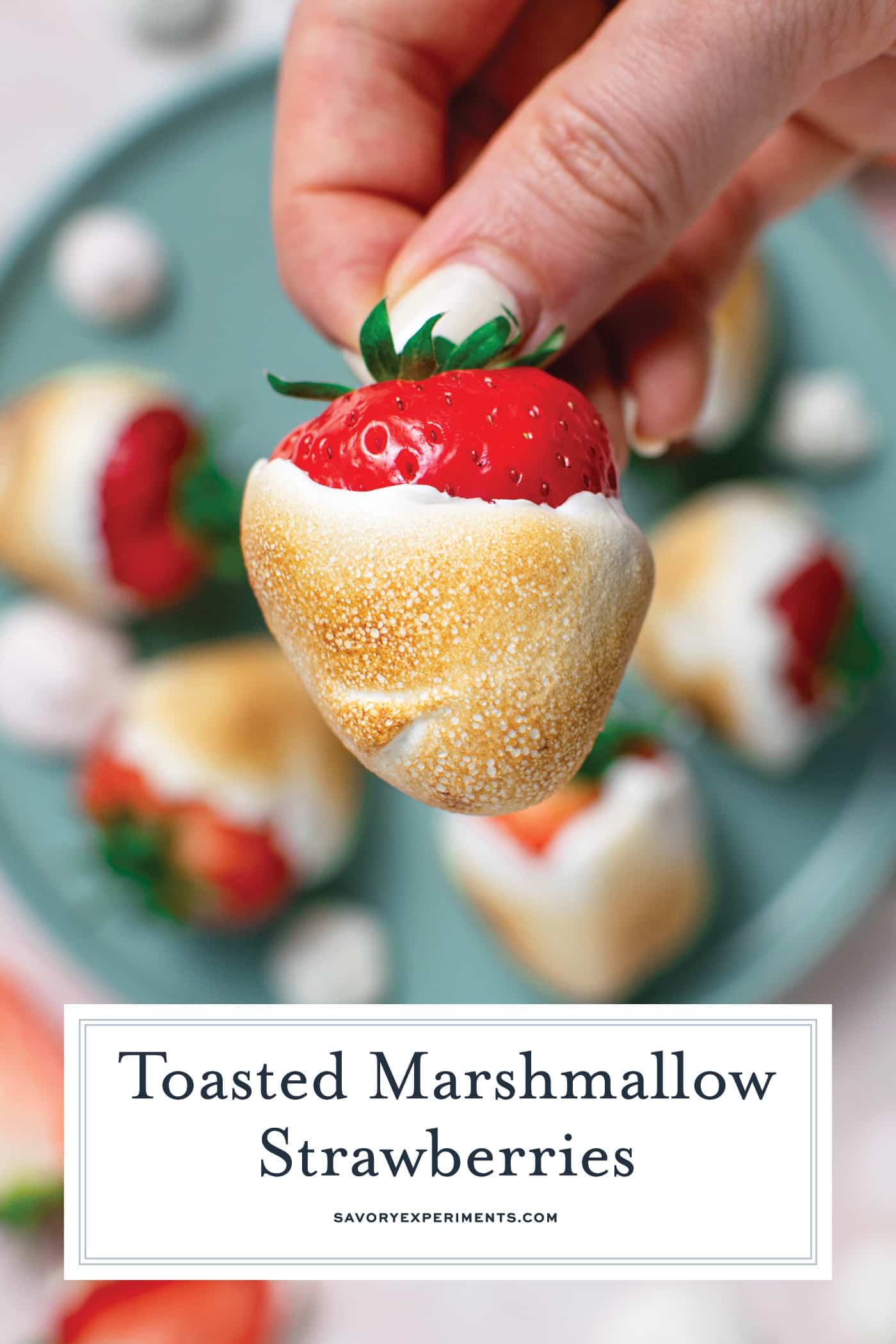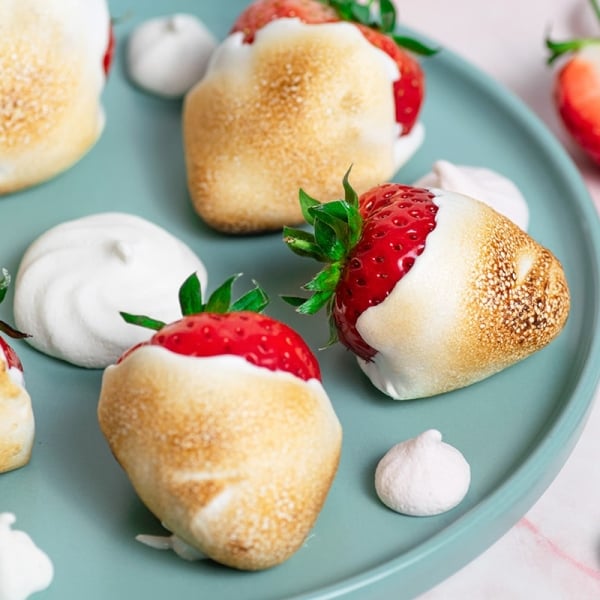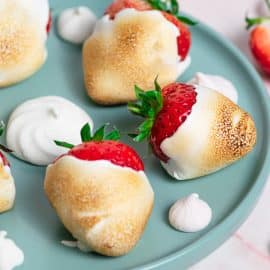 Toasted Marshmallow Strawberries
Extra juicy, pillowy sweet and delicious toasted marshmallow strawberries are quick and easy. Tastes just like roasted over a campfire!
Instructions
Wash and dry strawberries completely. Stick each on a long skewer, then set aside.

In a medium heat-safe bowl, add marshmallow fluff. Microwave for 15 seconds until slightly softened, then give it a good mix to loosen up.

Dip each strawberry in softened marshmallow fluff, twisting it around to cover evenly.

Using a torch on its lowest setting, gently toast the marshmallow. Rotate the skewer around whilst torching to prevent burning and get even caramelization.

Enjoy immediately with a drizzle of chocolate sauce!

If you've tried this recipe ,come back and let us know how it was in the comments or star ratings!
Nutrition
Calories:
36
kcal
,
Carbohydrates:
10
g
,
Protein:
0.1
g
,
Fat:
0.04
g
,
Saturated Fat:
0.002
g
,
Polyunsaturated Fat:
0.02
g
,
Monounsaturated Fat:
0.01
g
,
Sodium:
0.1
mg
,
Potassium:
18
mg
,
Fiber:
0.2
g
,
Sugar:
7
g
,
Vitamin A:
1
IU
,
Vitamin C:
7
mg
,
Calcium:
2
mg
,
Iron:
0.05
mg